Share Setapp and earn free months: the top 3 strategies
Sharing means caring. With Setapp, sharing also means financial profits. Our new Referral Program lets you enjoy your Setapp membership for free as long as you keep referring people.
Why share Setapp (except because it's awesome)
Every time you share Setapp with a friend or stranger, there's a chance they will like it and sign up. Once they pay their first membership fee, you get rewarded with a free month. Aaaaand the person who joins gets a free month too!
1 successful referral = 1 month of free Setapp
You can share your referral link as many times as you like. If you keep racking up free months like crazy and get to use free Setapp forever — we don't mind. This means you're doing a great job spreading the word and deserve great rewards. And believe us, you're going to get those rewards!
On average, 1 out of every 4 referrals brings you a free month of Setapp.
So if you share your referral link, say, 20 times, you'll get 5 months of free Setapp in return. And if you get a bit creative about your sharing strategy, you can achieve even better results. So what's the strategy? Obviously, you can hit social media. But how do you make sure your message grabs attention?
We've put together 3 effective strategies on how to share your referral link so that you bring real value to your friends and community — and also get rewarded yourself.
Know what you're doing and don't need any tips? Great! Just grab your link here and share it anywhere you like.
1. Nothing works better than a personal story
This is why Marques Brownlee has over 13 million subscribers on YouTube. Instead of writing a generic message about why people might like Setapp, focus on why you like it. Review a specific app, talk about tasks Setapp helps you with, etc. Here are a few ideas.
Tell about that one app that impressed you
Setapp is all about discovery — once you dig in, you keep finding dozens of awesome utilities you never knew you needed. The problem is new users don't find them very easily. Like, did you know Setapp has an app that can record audio from the past? Exactly! You'll hardly find it right away because you just won't think about searching for it.
As a seasoned Setappian, you can help other people discover those hard-to-find but super useful apps. And, of course, earn your free months!
Share the news
Generic posts don't grab attention. New information does. People scroll through Facebook and Twitter feeds mainly for two things — they either want to learn something or be entertained. To entertain, you'll need some Jimmy Fallon experience. But helping people learn something is much easier. Here are just a few examples of messages you could share:
Hey, did you know CleanMyMac X now works on M1 Macs? The Setapp version too!
Setapp just released this new feature called Collections — apps curated for specific use cases like streaming, writing, etc. There's also a great Starter Kit collection for new members that sets you up with the best apps in one click. This is something the App Store should have done a long time ago!
The iOS version of NotePlan is now on Setapp! This is so cool, now I can access my notes on all devices.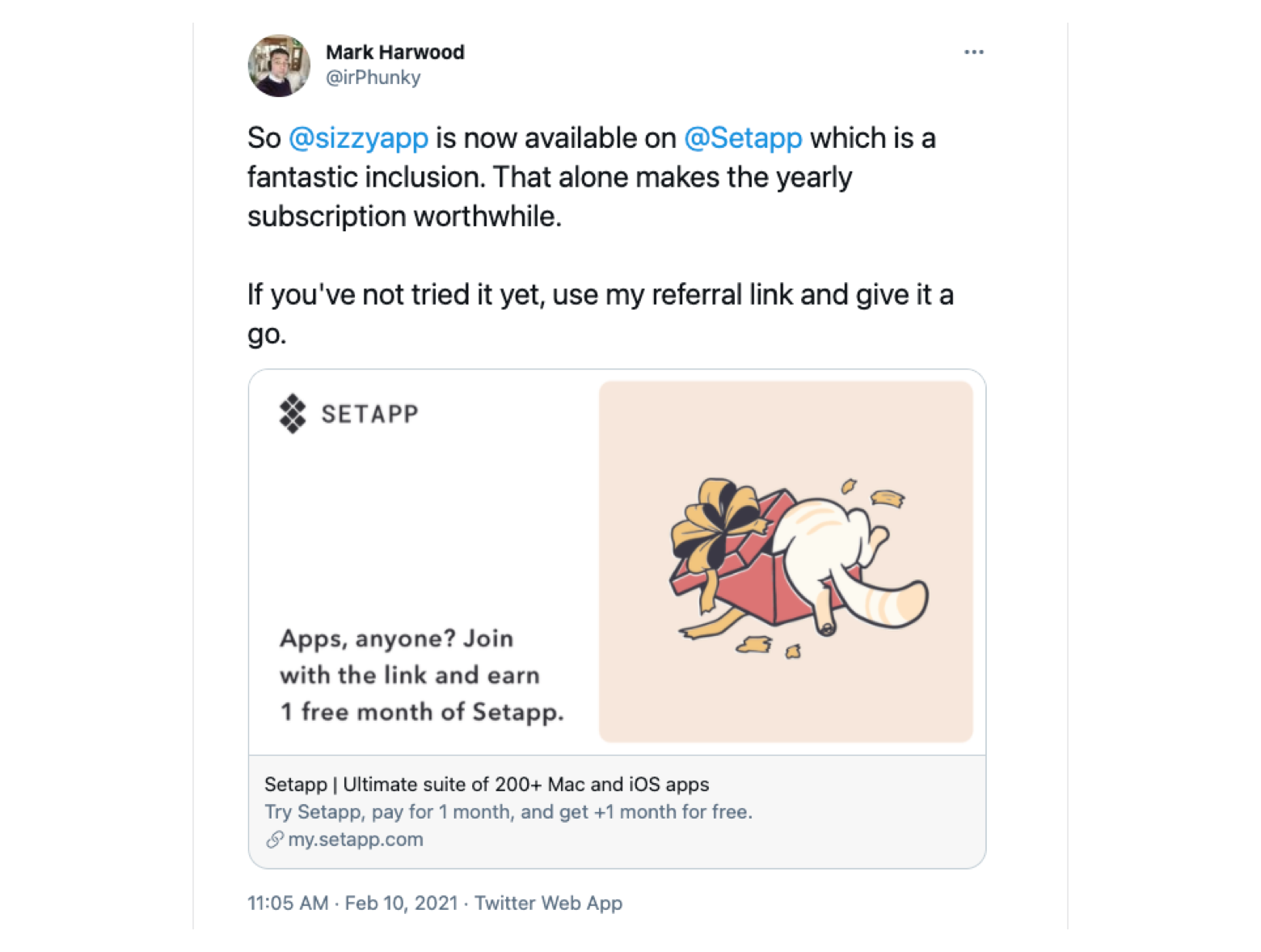 Tip: If you post on Facebook, make sure you do not include the link in the body. The link should go in the first comment — this will give you a better reach.
Promote your workflow
Setapp has 240+ apps but you're probably regularly using not more than 20. What are they? And how do they help you be more productive in your daily routine? Maybe you're a designer and have a community of colleagues who would like to improve their design flow. Or you've found some apps that can automate certain tasks for every Mac user. Share your insights, people love that!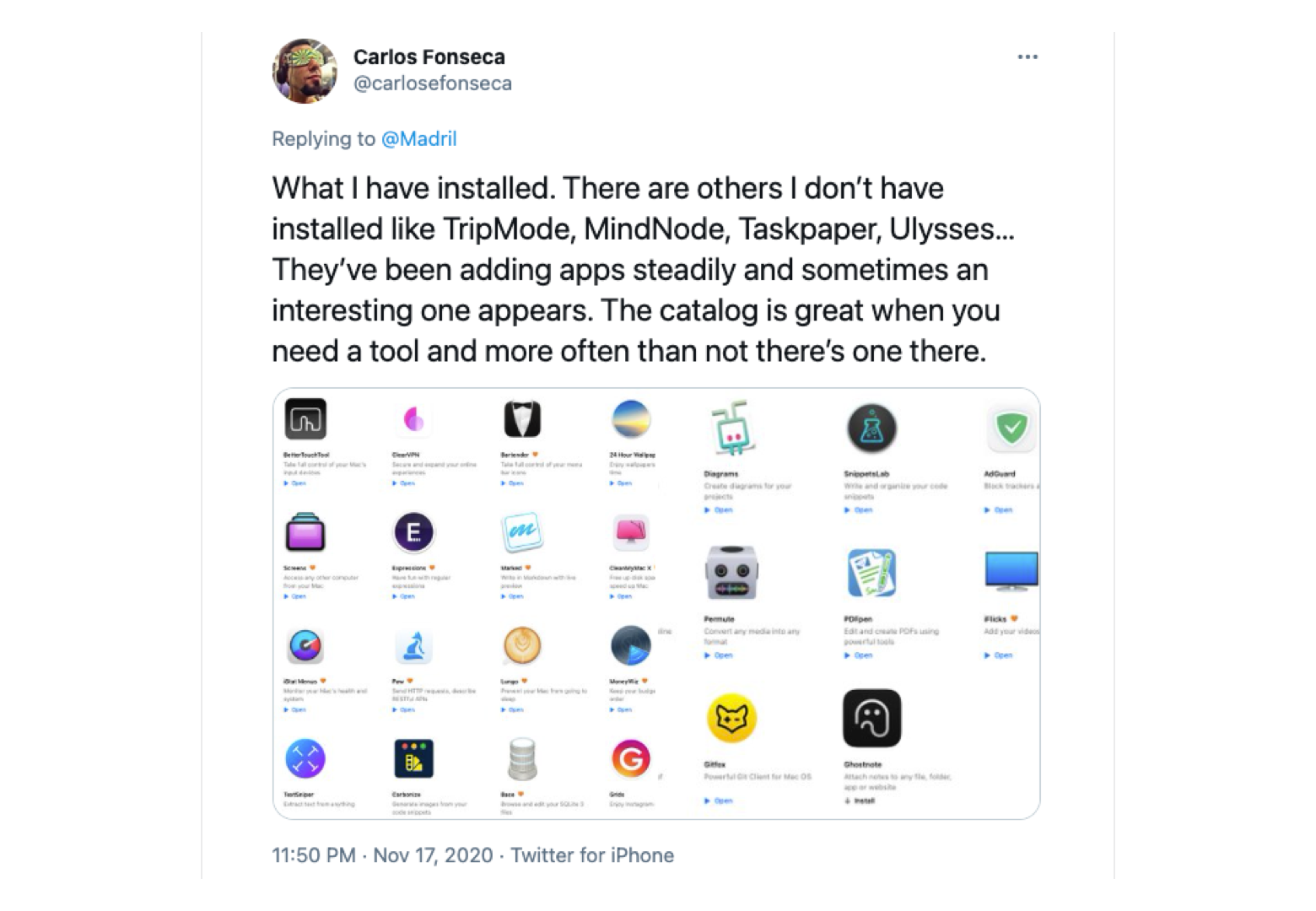 Tip: If you share your personal story on social media, do not include your referral link in the initial post. Your primary goal is to grab attention. Once you see that people like and comment, drop your link in the comments or PM those who seem to be interested.
2. Have a blog or podcast? You can hit the jackpot!
If you already have an audience you interact with through a blog, YouTube channel, or podcast, don't reinvent the wheel. Create an honest review of Setapp or, even better, tell something specific about how Setapp fits your life. Throw the referral link in the description, and see free months pouring in. See how Divi Chat did it.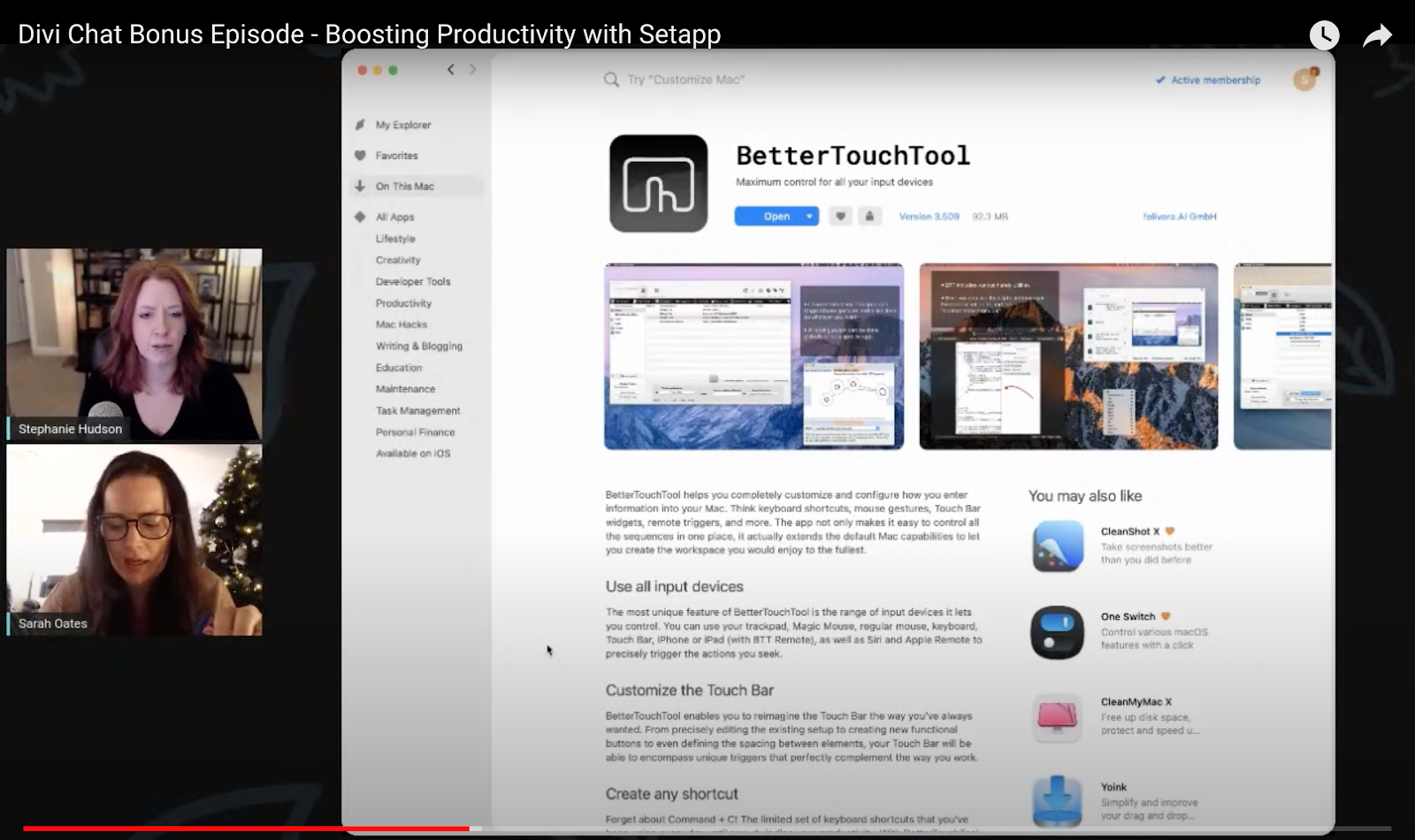 Tip for podcasters: People tend to skip pre-roll and outro (advertising at the beginning and at the end of a podcast episode). To achieve a better reach, mention Setapp naturally, making it part of a podcast — the so-called baked in ads.
Localized reviews work great
Even with a small audience, you can reach amazing results. Just do what you usually do, stick to your agenda, and connect with your audience naturally. If your speak Malaysian on your blog or podcast, create the review in Malaysian. Don't be afraid to do that — even if Setapp is not localized in your language. While the majority of your audience probably doesn't know about Setapp, you have a great chance to introduce something new to them.
In fact, we at Setapp see that localized reviews working great all the time. Recently, a blogger from Kuwait, ElZeeR, posted a Setapp review on his YouTube channel and got his yearly membership covered (even though the video got a relatively small number of views).
8-minute video in Arabic > 5k views > 23 people joined > 23 free months for ElZeeR.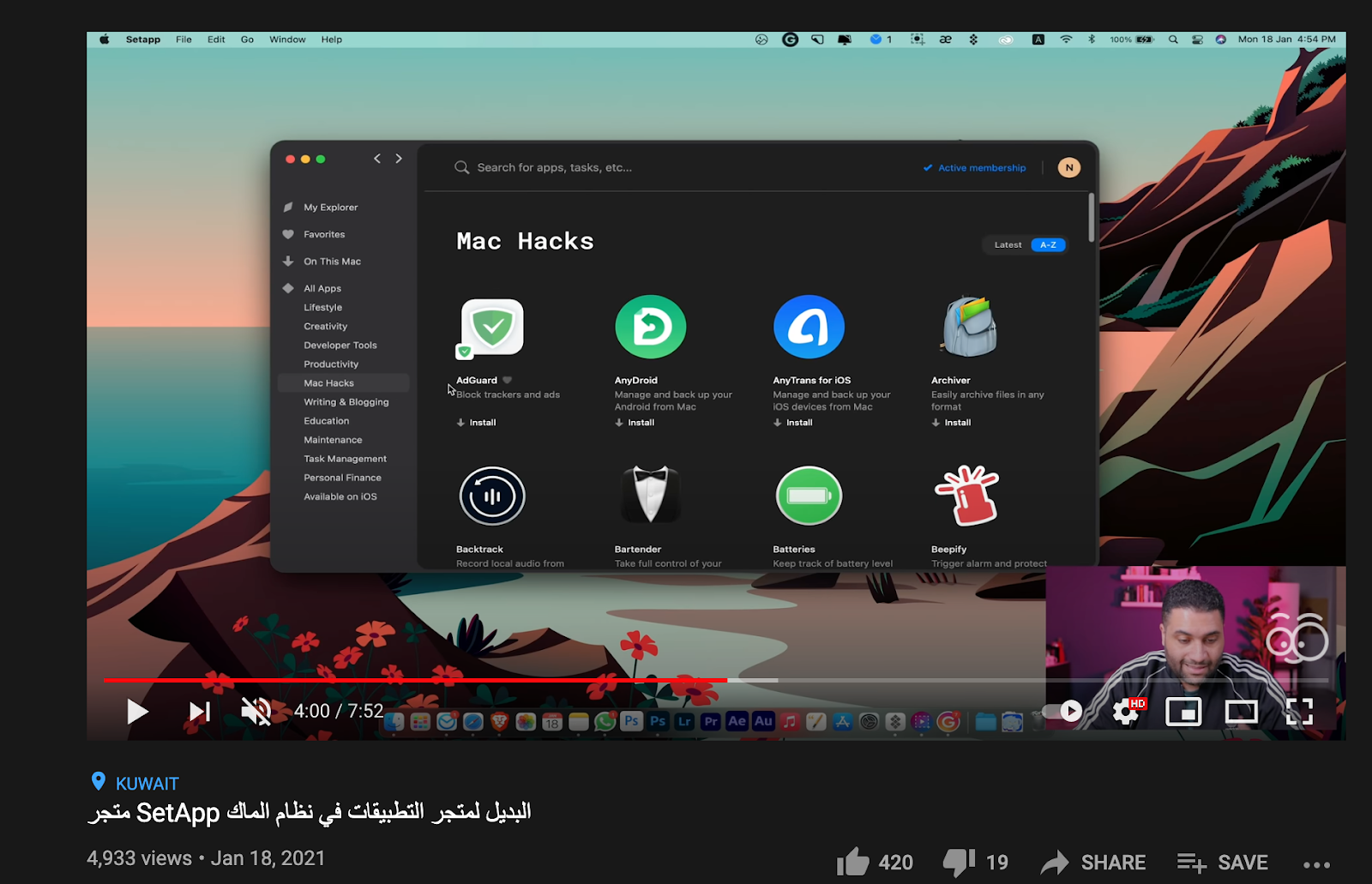 Just think about it. A blogger with a small local audience does an 8-minute review, posts it to his YouTube channel, and gets free Setapp for 23 months. Plus, 23 people who sign up with his link, get 1 free month each. Great ROI, don't you think?
3. Help a friend (or a stranger) in need
Join Reddit discussions. Follow treads about all things Apple, comment on posts about apps, interact with people who're interested in boosting their workflows.
Be a Quora expert. Similar to Reddit, you can look into Quora questions and try to be helpful there. Get creative about your strategy — for instance, instead of focusing on app-related questions, you might answer questions about creativity, remote work, productivity, etc.
Follow your favorite apps on Twitter. Whenever someone mentions the app, you can comment saying it's on Setapp and people could try it with your referral link (make sure your comment is relevant though). Andrew did a great job here.
Tip: For everything, there's a season. Make sure you're particularly active around the time of Apple Keynote events and major OS updates — this is when Mac and iPhone users hit Reddit and Twitter to discuss the news.
Ready to share? Here's how:
Go to your Setapp account > Invite friends. Or just click here.
Copy your referral link and share it anywhere.
You'll be notified once people join Setapp and make their first payment.
Both you and the person who joins get a free month of Setapp.