Here's how you can benefit from Setapp's search functionality to always have the right tools and toolkits for solving your tasks.
It all starts with a task
We believe it's easy to boost your productivity if you start thinking tasks, not apps. Don't bother googling app names, just go to the Setapp search bar and type in your task. It could be "edit video," "turn on VPN," "blog," or anything you want to do.
If you know what you're looking for
Type in the name of the app. In fact, it's enough to type in the first two or three letters, Setapp will be updating search results as you type.
Leverage AI search
Setapp offers built-in AI search functionality. When you type in your request, AI looks around for more than just an exact match, it tries to find the most relevant app for your task, highlights your requested keywords in app descriptions and also suggests relevant app lists and how-tos.
Setapp's smart search is so thorough, it even looks through user reviews!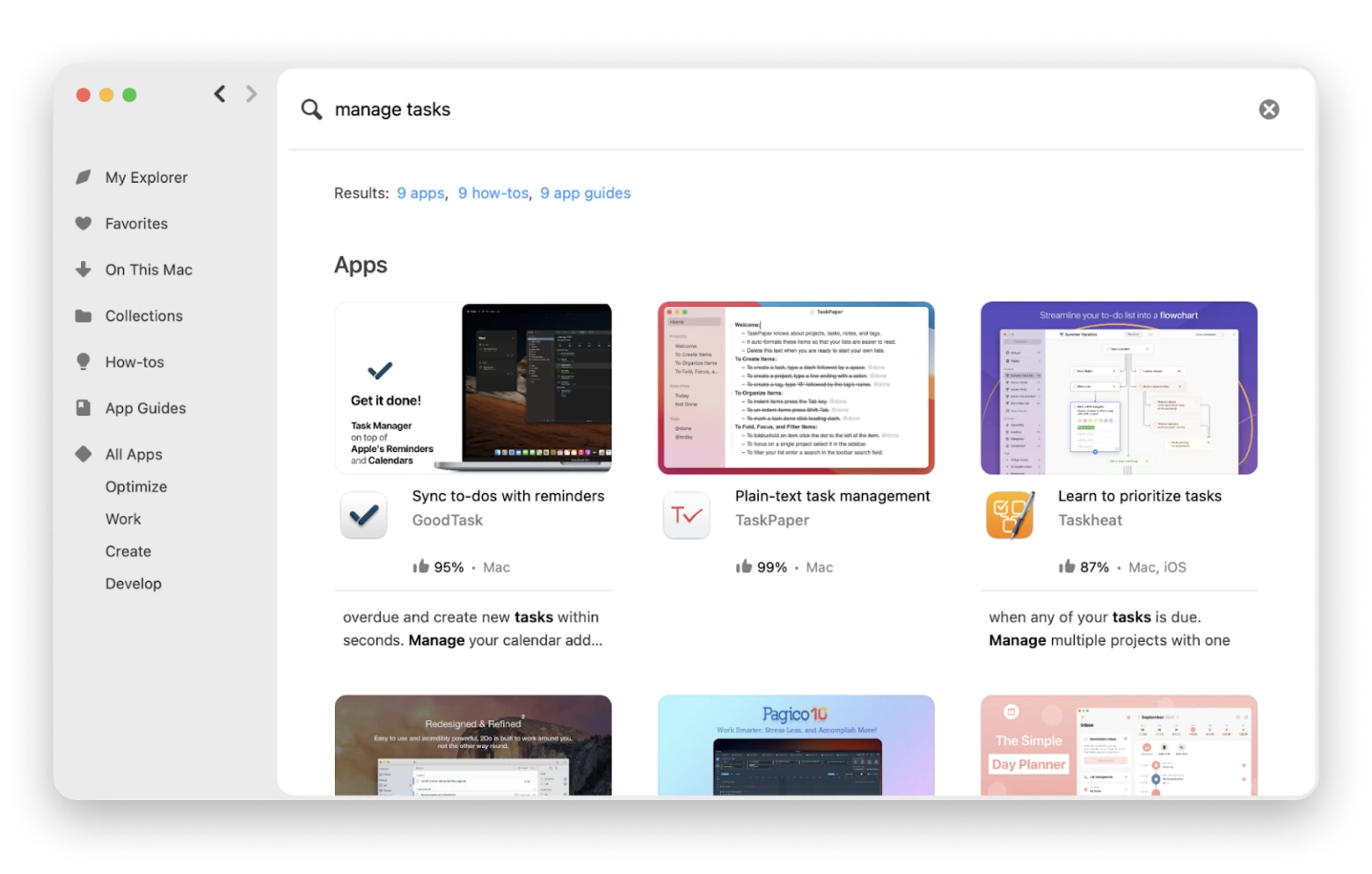 Benefits of AI-powered search
Sorts results by relevancy
Highlights your search query in app description
Searches how-tos and app guides
Does a search even in user reviews
Ask Setapp Assistant
Don't feel like searching? Finding the right tool for your task has become even easier with Setapp's AI-based assistant.
This interactive tool can answer your questions about Setapp and using apps on Setapp in real time. Just type what you want to know or what task you need done and Setapp Assistant will generate a response or app recommendation.
Setapp Assistant brings your work with Setapp to a new level as you don't have to use any search or app discovery tools at all. All you need is knowing what task you have at hand and just typing it into the assistant. Get app recommendations, install, and get it done!
P.S. And if you don't know where to start, ask Setapp Assistant anything, even — if Setapp was a movie character, who would it be?
What you get with AI functionality in Setapp
Easy way to discover apps on Setapp
More relevant app search results
App recommendations personalized to your exact query
Less effort trying to craft the right search query
More time for actually getting things done instead of looking for a tool to do it
If Setapp doesn't have the app you're looking for
It will suggest alternatives. Setapp doesn't have all the apps, naturally. But it knows about many apps. So if you search for Figma, the app that is not available in Setapp, you'll be suggested the apps like Flinto and Mockuuups Studio — great alternative solutions for creating prototypes and mockups.
Search faster from the Launcher
We know it's tedious to open Setapp every time you want to search for a solution, so we've taken the search to the menu bar. Use Setapp Launcher — the menu bar helper — just as you use Spotlight. Type in your task and get instant solutions.
Hopefully, Setapp has everything you need to solve your daily tasks. And if there are the apps you'd like us to add, join the Setapp Members group on Facebook and suggest it in the comments to the featured "Suggest an app" post. Or, contact us at [email protected].