Setapp walkthrough: 5 hacks you should learn
We do our best to make Setapp your best buddy — friendly, chill, and as uncomplicated as possible. Still, no one is perfect. Learn these 5 hacks to navigate through Setapp confidently.
1. Find suggestions on My Explorer
Your first stop in Setapp is the Explorer with personalized suggestions, how-tos, recently added and newly updated apps. The Explorer updates with new content every week, so make sure you check it out regularly.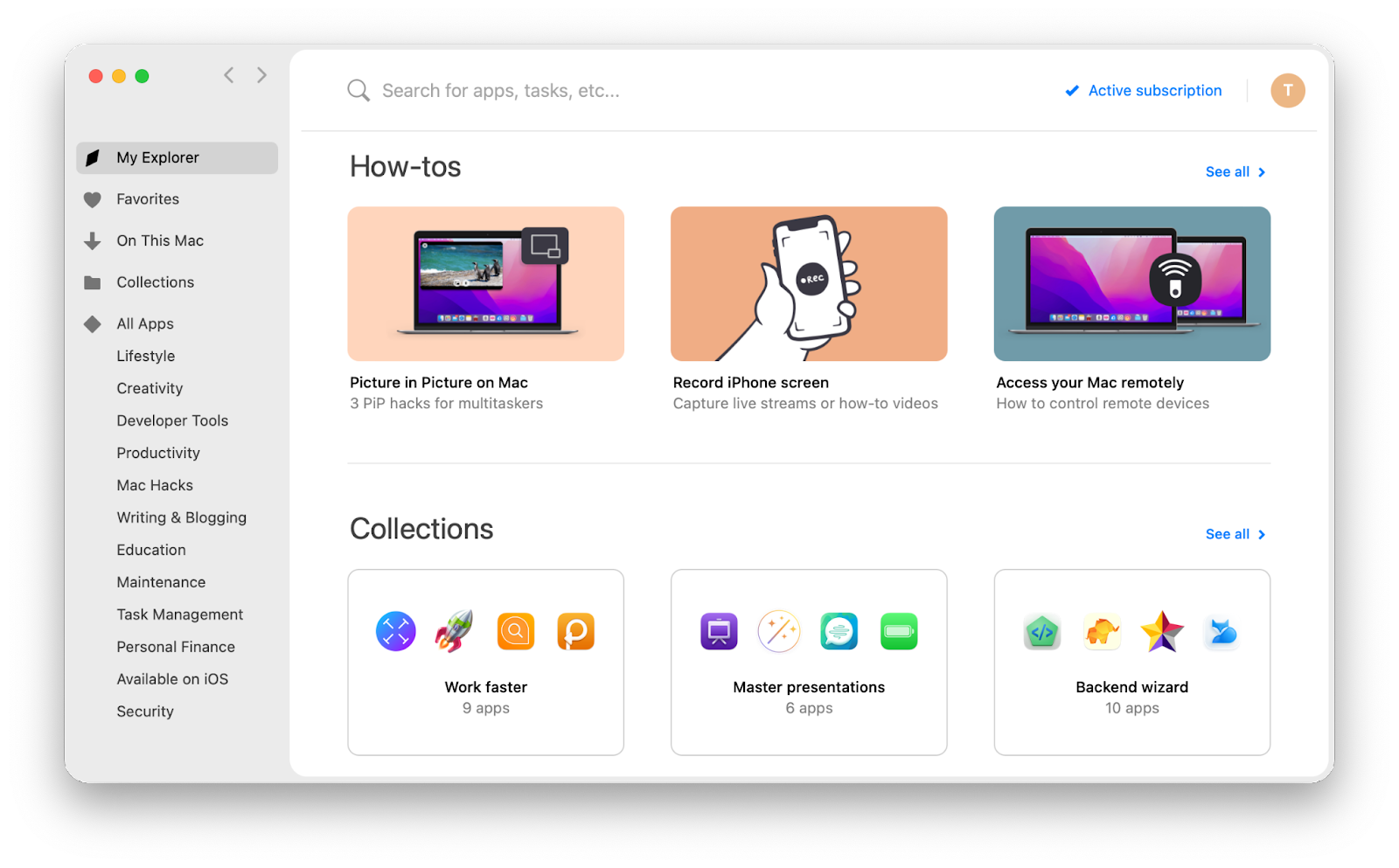 2. Use the search
You don't need to know the name of the app, it's enough to describe what you want to do. While Setapp has a menu bar helper, you don't even have to open the app every time you want to use search – just press Ctrl-Shift-Space and access the search field from anywhere.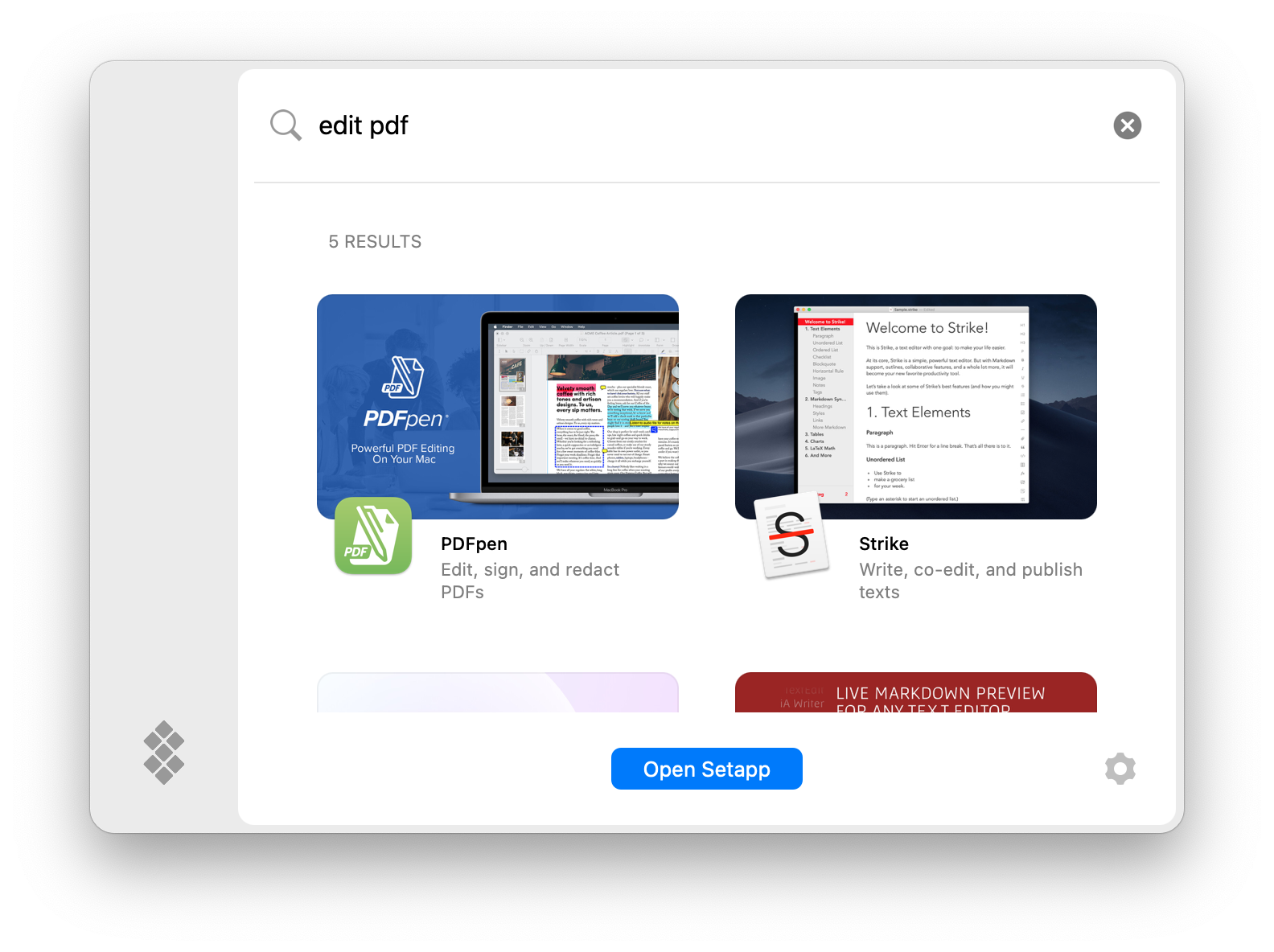 3. Explore apps by function
Access All Apps to see all the apps available. Be ready for a long scroll — Setapp has 230+ apps right now, and it's expanding fast.
Explore apps across categories such as development, writing, etc.
Return to the previous screen just as you do in your browser on Mac – using the arrows in the upper left corner.
Preview apps. If you click on any app, you'll see its detailed preview with screenshots and key features.
Install by clicking the Install button in the preview menu or under the app name in the list.
Some apps can be installed on both Mac and iPhone — look for the "iOS app" button on the app preview page or check out the Available on iOS category.
Click On This Mac to see all Setapp apps currently installed on your computer.
Open the app if it hasn't been launched automatically. Once the app is installed, the Install button will be replaced by Open.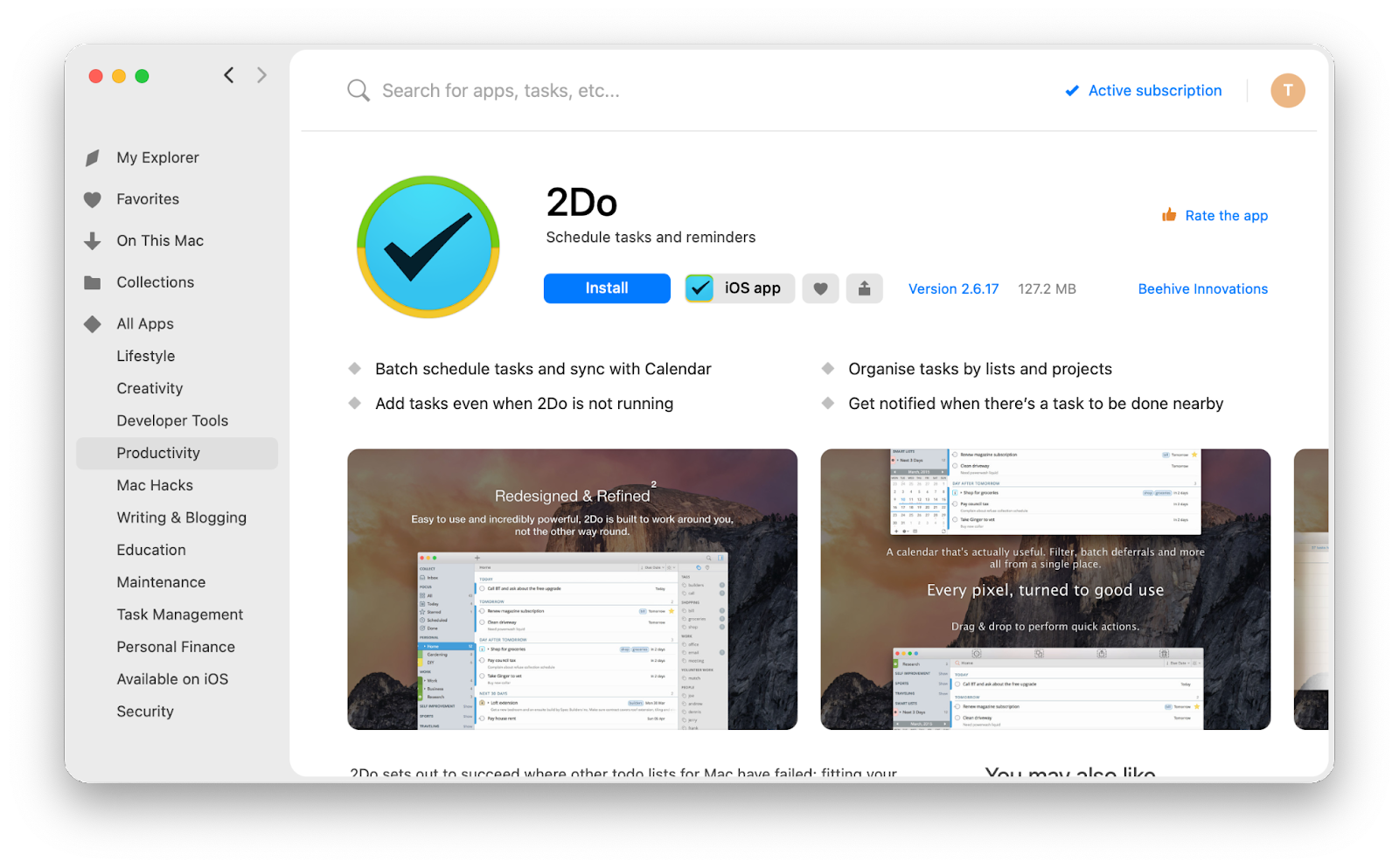 4. Save your favorites
Click the heart button if you're in love — with the app, of course. This app will appear in your Favorites list. The beautiful thing is you can install all your favorite apps in one click.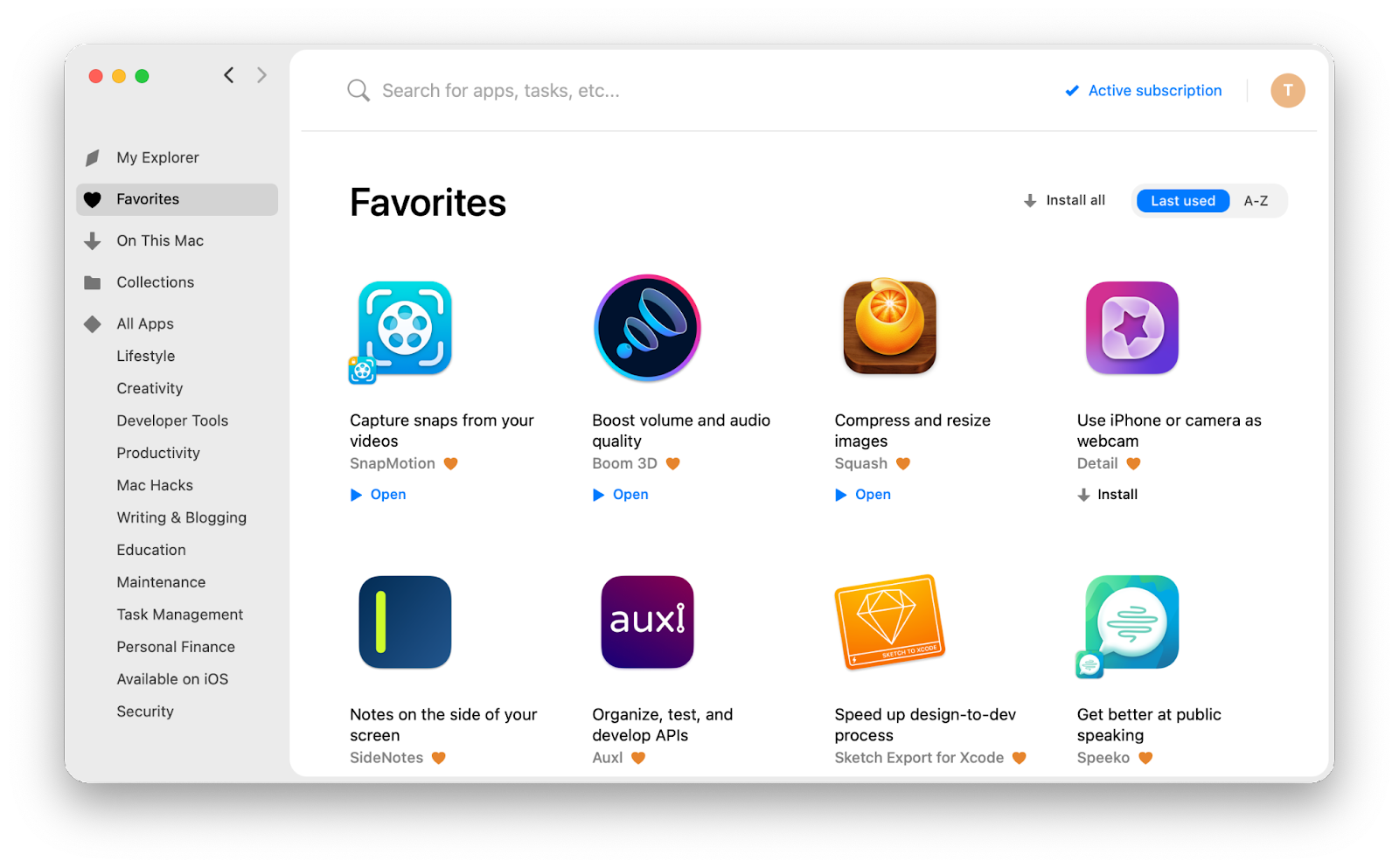 5. Install collections
A collection is where Setapp apps join forces to help you solve tasks and hit new milestones. You can get a screen capturing toolkit, a shortcut for developers, a collection of apps that help securely update macOS, etc.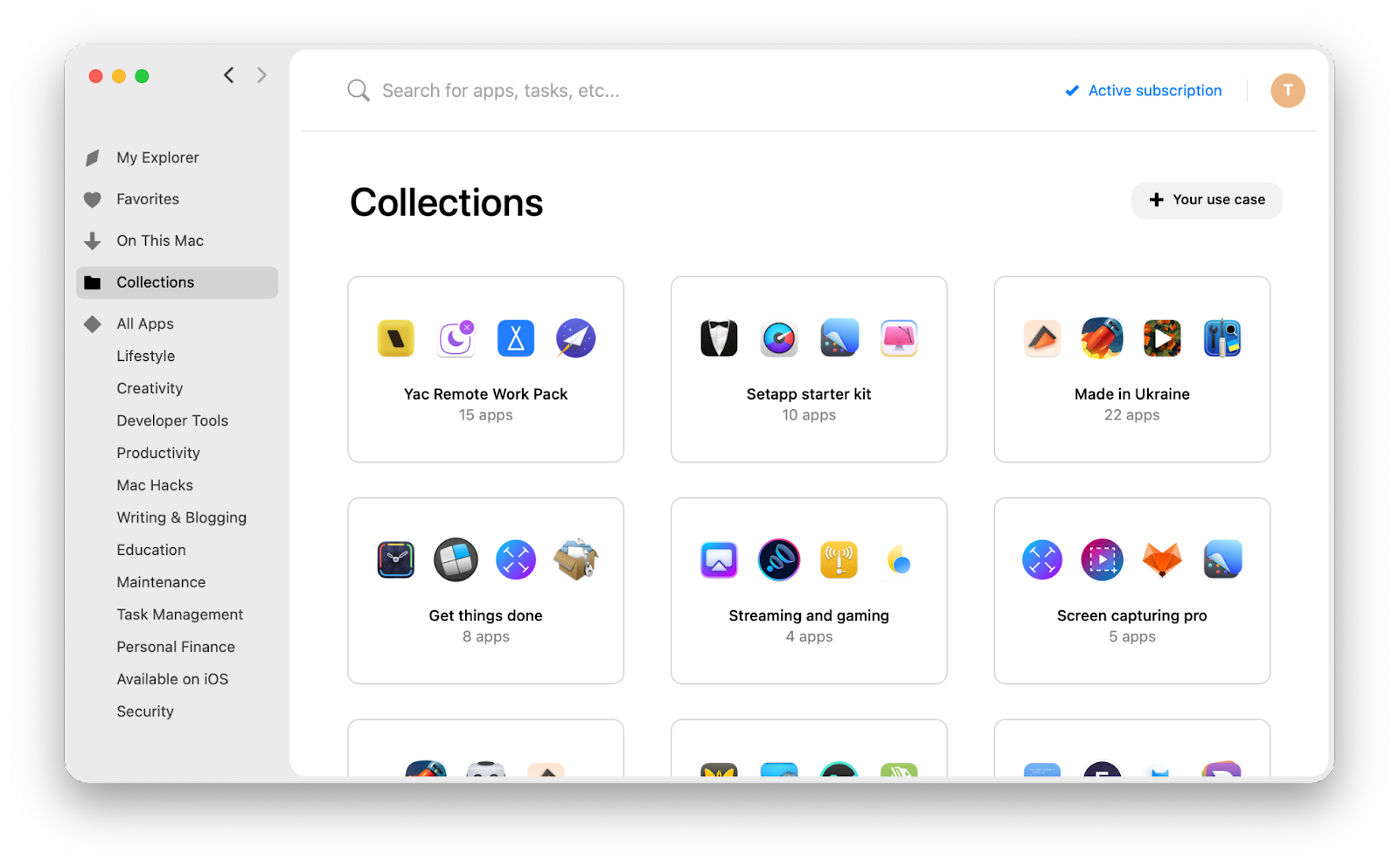 P.S. Why not just buy apps separately?
Unlike most alternatives, Setapp is not a store, it's a productivity platform where you'll find solutions for your tasks — and you have access to all these solutions. It's both cost and time-effective to use Setapp rather than buy apps separately. Plus, there's a recommendation system that suggests tools based on your flow, which will help you boost your performance enormously.