Setapp Personal Plan vs Setapp for Teams: Which one should you get?
Setapp is a subscription service for Mac and iPhone apps. For a single monthly or annual fee, you get access to 200+ apps, instantly. It's kind of like a curated App Store that you fully own as long as you're subscribed. In this guide, we compare Setapp Plans so you can choose the one that works best for you.
Choose a Setapp plan that fits your life
You can join Setapp with a Personal Plan and use it on any of your Macs (work or personal) as well as iOS devices. Another option is to join with a Teams Plan (also called Setapp for Teams) and get unified access to the same suite plus some exclusive apps not available with Setapp Personal for your entire team. Which one should you choose?
In fact, Setapp's Personal and Teams plans share many of the same features. With both plans, you get a range of apps that you can use ad-free and limitlessly. All apps are updated automatically at no extra cost.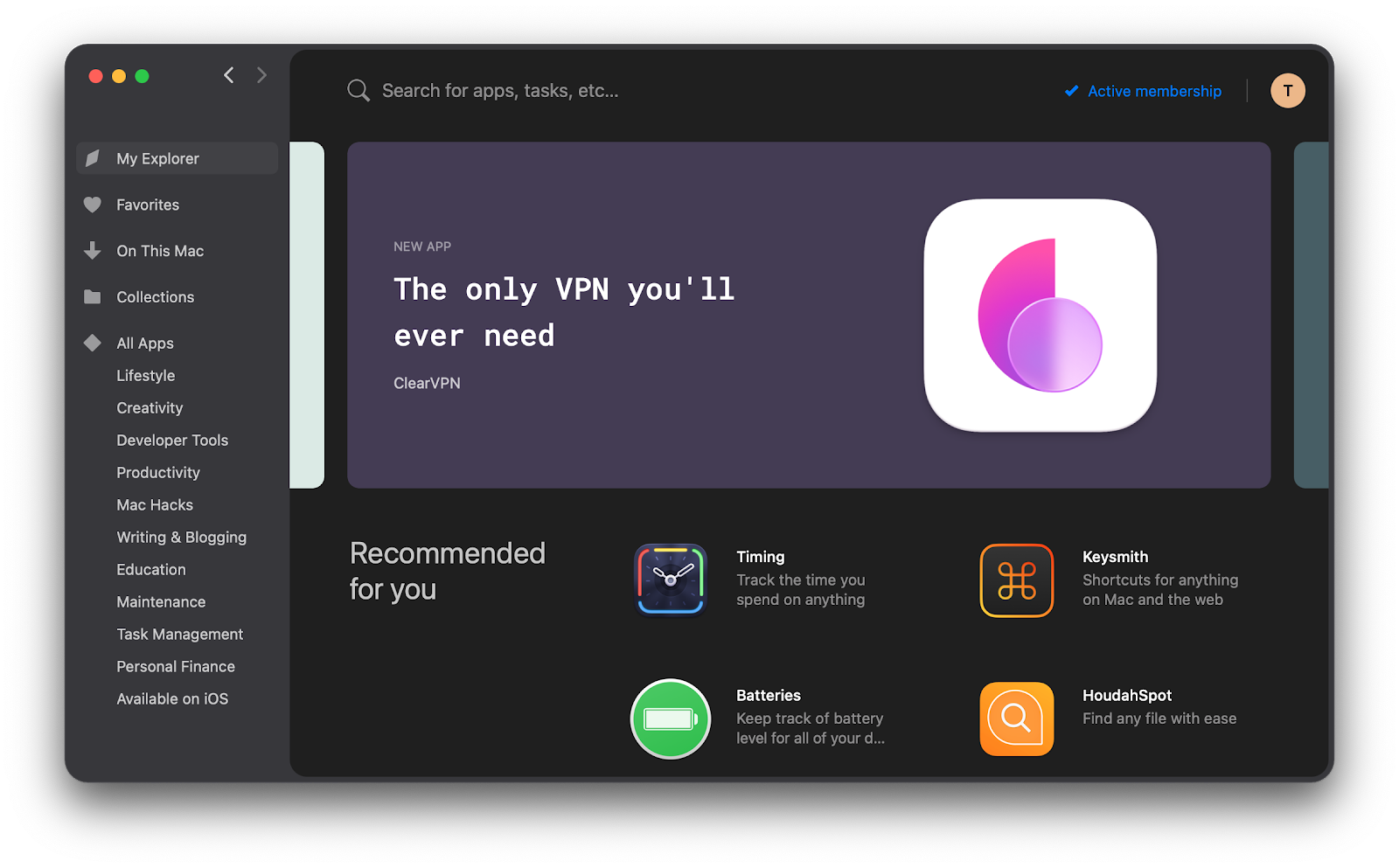 Where the plans really differ is when you want to use them for more than one person. While it's easy to add extra devices with a personal plan, you can't extend the membership to your teammates' computers. That's where you'll need Setapp for Teams.
Easy setup for multiple people with Setapp Teams Plan
Here's why the Teams plan works great if you need to distribute apps to a group of people:
Simple invite flow. A team owner sends an invite from their online account by typing a person's email address. An invitee joins from the email. That's it. As an admin, you need zero tech expertise to roll out the whole thing.
Single billing for all apps and Macs. Save a huge amount of time by paying once for everything your team needs. You can pay monthly or annually.
It gets even easier with Jamf. Setapp for Teams supports deployment via Jamf, which means you can install and configure Setapp on all Macs at once without sending personal invites. Team members will simply join with a team key.
Remote app management. Team owners can disable access to specific Setapp apps on all Macs in a few clicks. For instance, you can blacklist VPN apps, streaming apps, or any other tools that your team won't need at work.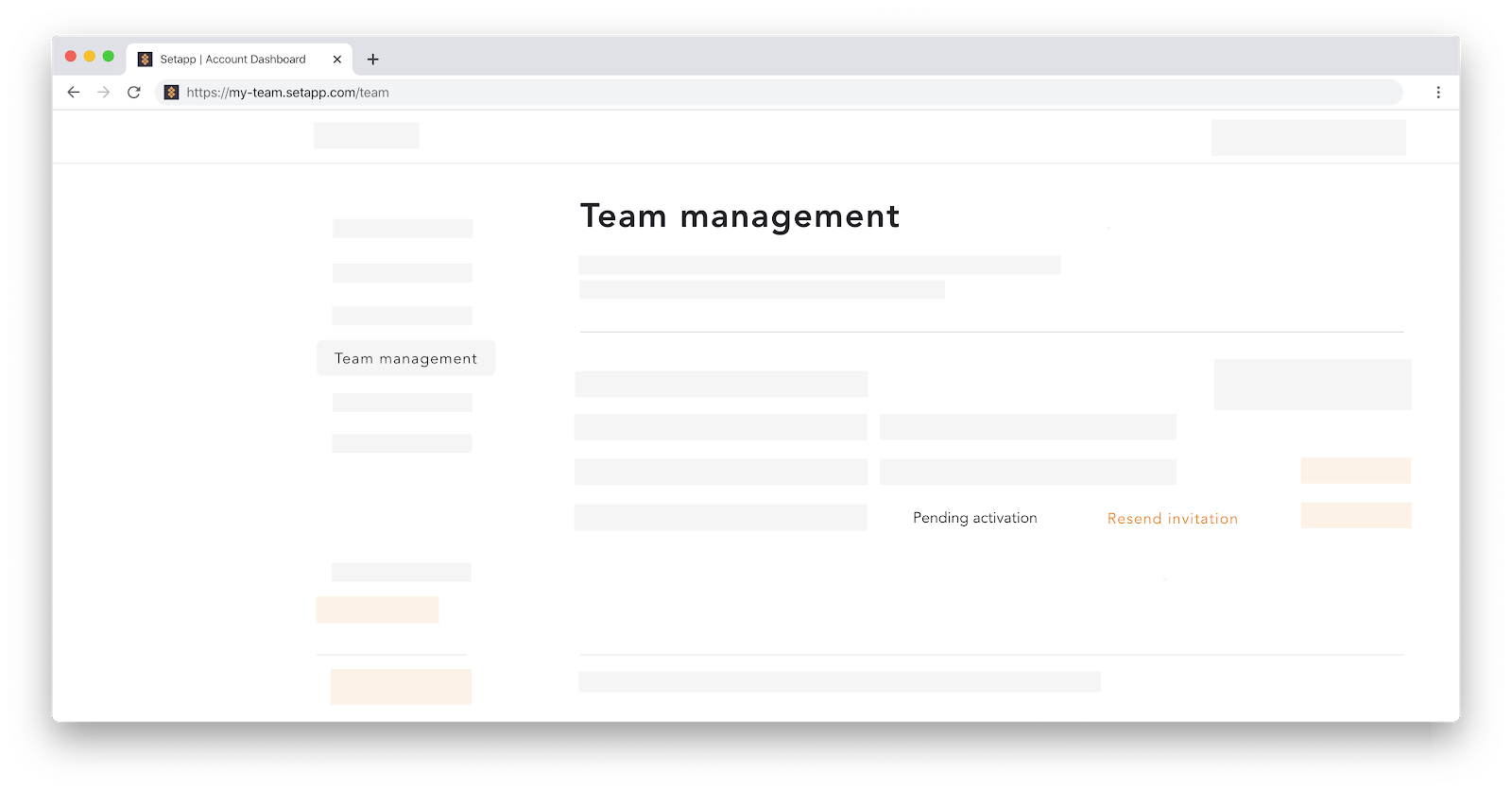 For more details on how to manage Teams membership, check out our support portal.
Exclusive apps with Setapp Teams Plan
Setapp for Teams is premised on collaborative work. So its exclusive apps will mainly help you streamline and solve team tasks. Right now, there's only one exclusive app available with a Teams Plan — Newton Mail — the other 200+ apps are the same you get with Setapp's Personal Plan. But the feature is there and you may expect more exclusive apps coming soon.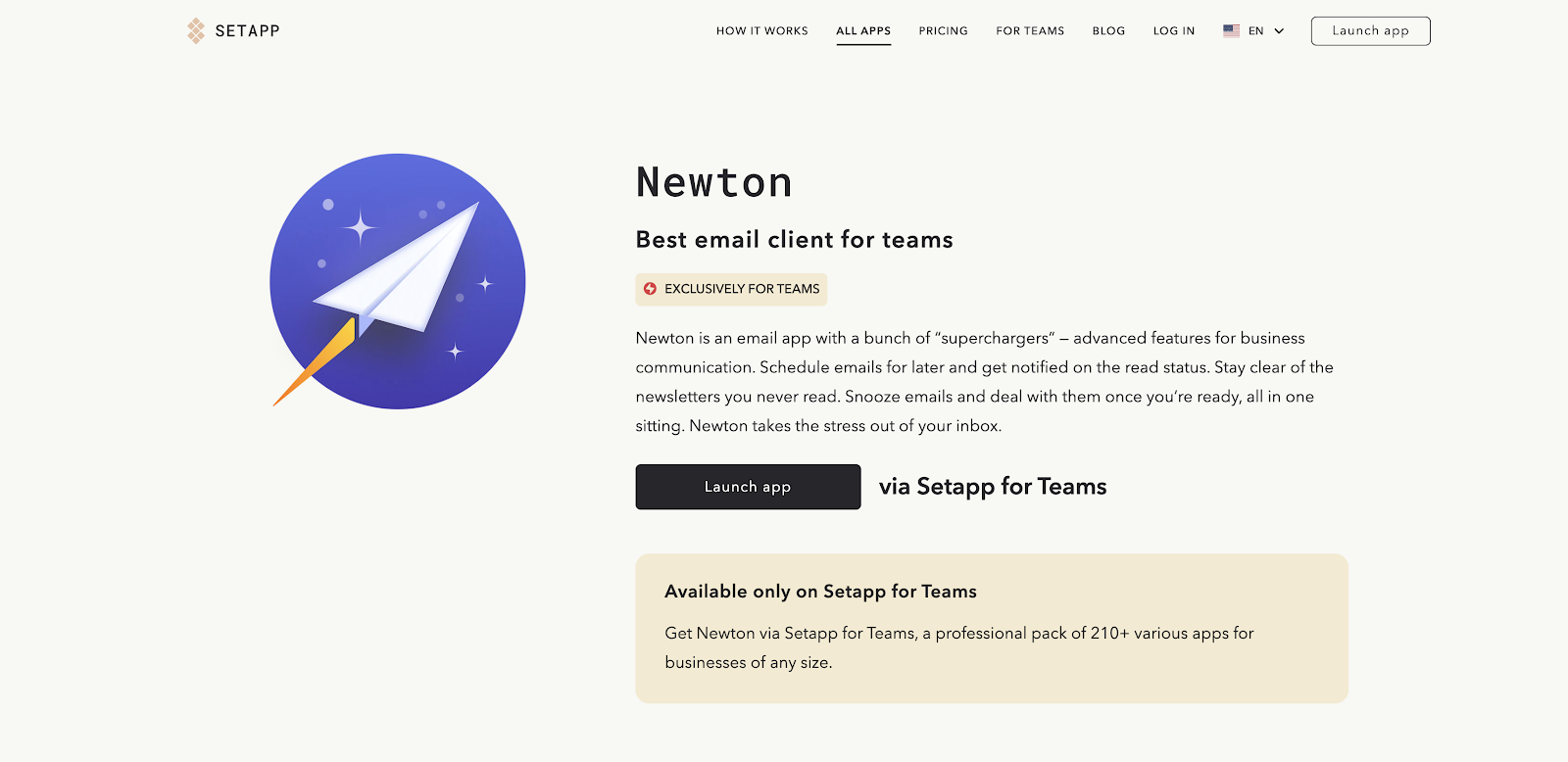 All features at a glance
As we've mentioned before, with both Setapp plans you get the same apps (except for the Teams' exclusive) and a very similar process of discovering and installing apps. However, there are some differences in terms of where you intend to use Setapp — at home, at work, or both. Let's look at the key features once again to help you make up your mind.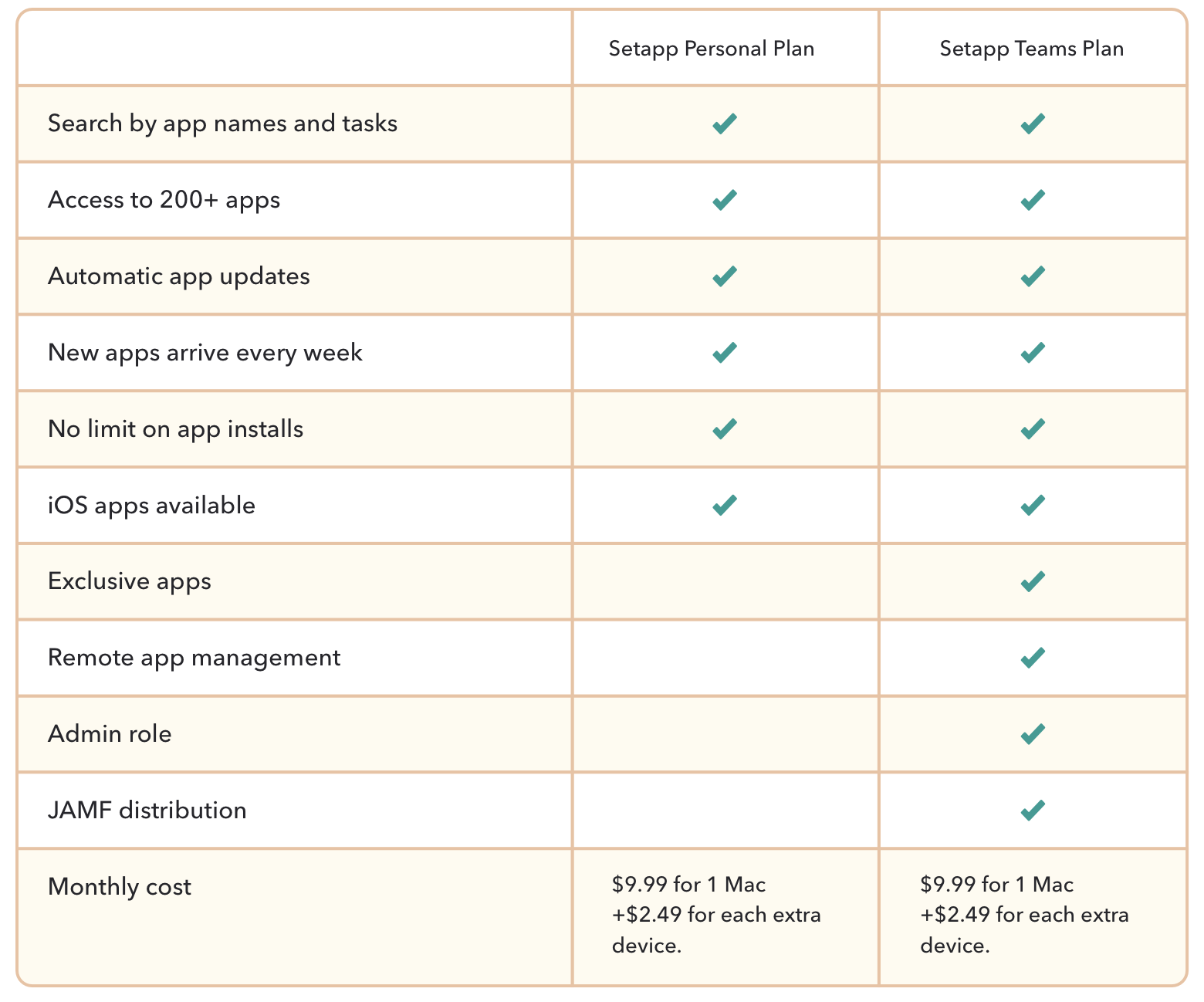 Who will benefit from Setapp Personal Plan?
Professionals

Creators

High achievers

Individuals who want to be more productive on Mac and iPhone

Anyone, basically.
Unless you want to use Setapp solely for work purposes, you should get started with a Personal Plan. Let's say you're a developer and you use apps like CodeRunner and Expressions for your work projects. At home, you often use ClearVPN to unlock streaming content. And then you also spend a few hours every week working on your own project — this is where apps like 2Do and Timing come into play. Setapp Personal Plan gives you the freedom of discovering and using apps anywhere across Mac and iPhone devices, for whatever purposes.
Get started with Setapp Personal Plan.
Who will benefit from Setapp Teams Plan?
Businesses of any size

Startup owners

People who want to equip their teams with all the tools they need

Managers who're tired of dealing with app licenses.
Setapp for Teams is like Slack — but for many tasks, from time management to writing to coding. It enables greater team collaboration than the personal plan. Even more so, it takes away the pain of app licensing and invoicing that your team's admins have to deal with. Plus, if a team already buys some apps, Setapp for Teams could potentially save them a good deal of money. In other words, if you want to use Setapp at work, go Teams.