Best AI apps for iPhone and Mac
In today's digital landscape, AI-powered apps and services like ChatGPT and Midjourney have become the talk of the town. From popular everyday tools like Notion and Todoist to renowned offerings from tech giants like Google and Microsoft, the integration of advanced AI features has become the norm, revolutionizing the way we complete tasks with speed and efficiency.
If you're looking to ride the wave of AI innovation, now is the time. Using AI to streamline and enhance your daily activities isn't just a trend; it's a necessity. If you neglect the power of AI, you risk being left behind while those who harness its potential soar ahead.
In this article, we present a carefully curated selection of the eight best AI apps for your Mac and iPhone. Ready?
What is the AI app?
Let's start by exploring what an AI app is.
An AI (artificial intelligence) app is a software app that uses advanced algorithms and machine learning techniques to perform tasks, replicate human-like intelligence, and enhance the user experience.
Examples of good AI apps include virtual assistants like Siri, Alexa, and Cortana; search engines like Google and Bing; AI-powered photo editors like Lensa; language translation apps like Google Translate; personalized recommendation systems in streaming platforms and e-commerce sites; and AI chatbots like ChatGPT.
These are just some of the most popular AI software products. However, there are many more innovative apps to explore. Let's dive deeper into the world of AI apps and discover some remarkable ones.
Are you looking for an AI writing app? We've got you covered. Is there any AI to edit photos in our list? Of course! If you're seeking an AI scheduling assistant or an AI calendar app, you're in luck too. So.. to the list.
AI-powered writing assistant
Whether you're a professional writer, a student working on an assignment, or someone who simply loves to express yourself through words, AI writing apps can take your skills to new heights. These innovative tools harness the power of artificial intelligence to increase your writing speed, generate creative ideas, improve grammar and spelling, and provide valuable assistance throughout the writing process. Here is some of the best AI software for writing to start with.
Elephas
Do you spend a lot of time writing on Mac? Meet Elephas AI Writing Assistant, a fantastic tool that elevates your writing experience. Elephas helps you write emails giving hints, rewrites text to change its tone, fixes grammar mistakes, generates ideas, and more. This AI writer works across your other apps, so you can ask it for help wherever you need it. It also works on iPhone and iPad.
With Elephas, you'll enjoy a smooth writing journey, always supported by its intelligent suggestions and guidance. Give it a try.
Plus
Plus AI is a great writing companion that brings a whole new level of ease to the writing process. With features like writing, rewriting, summarizing, translating, explaining, and replying to a text, Plus AI becomes a reliable ally for writers. Whether you're working on an article, an email, or any other written content, Plus AI is there to lend a helping hand, saving you time and providing valuable assistance.
TypingMind
Looking for a better interface for ChatGPT? Check out TypingMind. With its intuitive and easy-to-use interface, the app offers an improved experience for interacting with ChatGPT in 2023. What we liked the most is that, on the contrary to ChatGPT, you can use TypingMind without having to log in again and again
One of the outstanding features of TypingMind is its chat folders, search and export capabilities. This makes it easy to find important information when you need it, as you can easily organize and search your chat history.
The prompt library is another great feature of TypingMind. You can easily generate ideas, start conversations and explore different scenarios with ChatGPT by having a library of prompts at your fingertips. This saves time and helps you start your conversations with ease.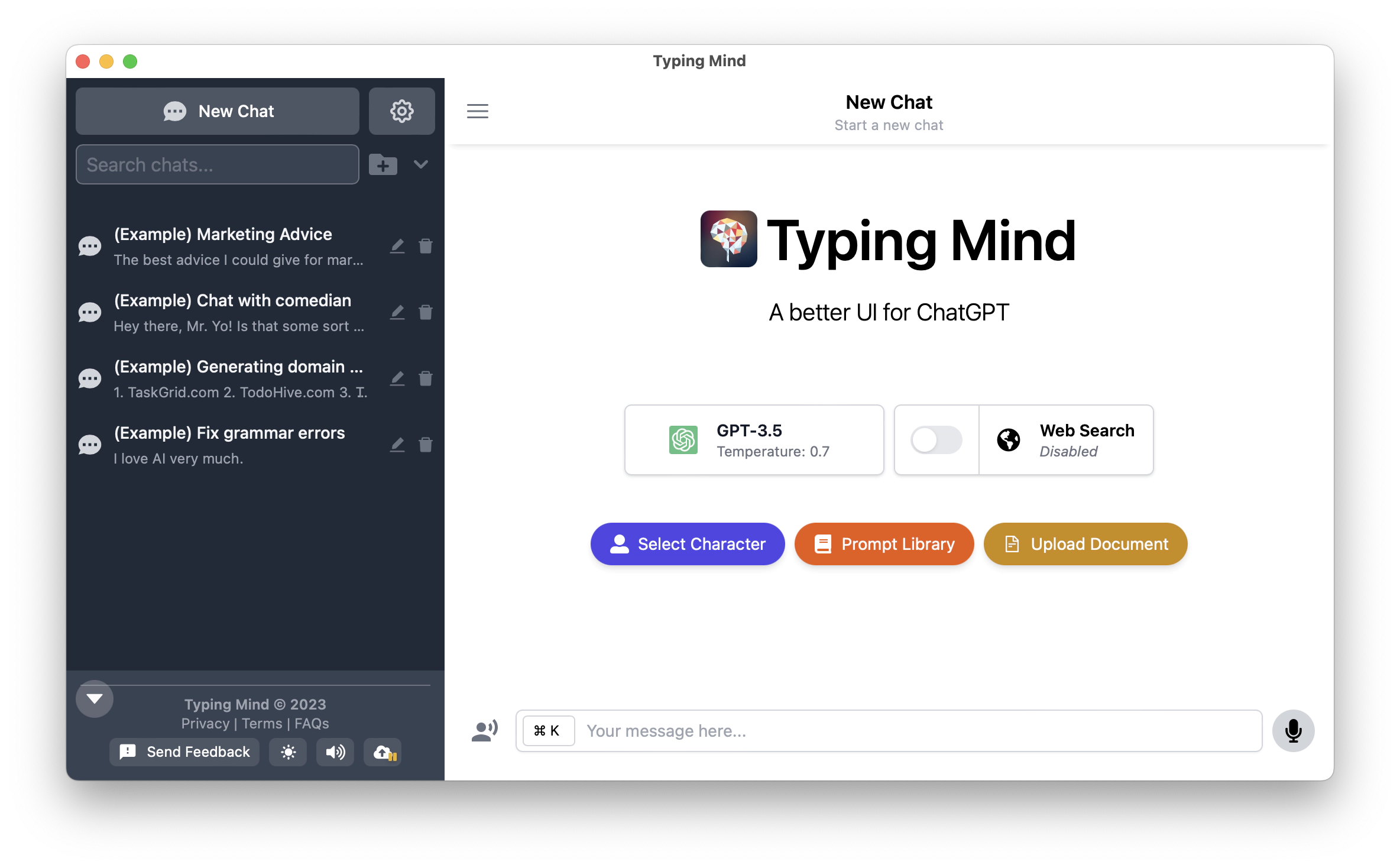 TypingMind features built-in AI characters for chatting. From stand-up comedians to professional chefs or software developers, you can choose a character and ask them questions, text prompts, or explanations.
Craft
Craft, an app to create beautiful, well-structured documents, has an AI assistant that brings a multitude of benefits to writers. With its help, you can turbocharge your writing speed and breeze through your composition process. Craft provides clever suggestions and sparks creative ideas to conquer writer's block. It also offers handy proofreading abilities, catching grammar mistakes and spelling errors while offering helpful suggestions for improvement. Additionally, the tool includes a language translation feature, making it a breeze to translate text between languages.
With Craft, you can supercharge your writing efficiency and productivity, all while ensuring your content is top-notch.
Canary Mail's Copilot AI assistant
Nowadays, email has become a common way to talk to people in the fast-paced business world. But the huge number of emails that professionals get every day can be overwhelming, which can lead to inefficiency and less work getting done. In answer to this problem, Canary Mail has made an AI writer that will change the way people send and receive emails.
Copilot, an AI tool from Canary, is made to help users write different kinds of emails, whether they are for work, school, or personal issues. Copilot will create a well-written email that meets your needs if you just tell it what the email is about.
Maybe Copilot will be the savior that will help you reduce stress and improve work-life balance?
AI photo editing software
People say that a picture is worth a thousand words, but sometimes, you just can't show what you saw with your eyes using just your camera. Make little adjustments to your picture. See how it has changed now? Fortunately, you don't need to learn Photoshop to edit your shots because there are so many awesome, easy-to-use editing tools out there. Let's take a look at artificial intelligence software for photo editing and see how you like it.
Luminar Neo
If you want to have professional-looking photos every time you use them, try Luminar Neo. It makes your images look like they were edited by a professional, and you don't spend much time on editing.
Luminar is run by an advanced artificial intelligence engine that changes itself based on your preferences and what you want to do with each picture.
It comes with a lot of different tools and features, like dozens of filters and effects. It also has tools for all kinds of photography, like portraits, landscapes, fashion, building, nature, and so on. But the best part is the templates, which make it easy to make shots from different devices look the same.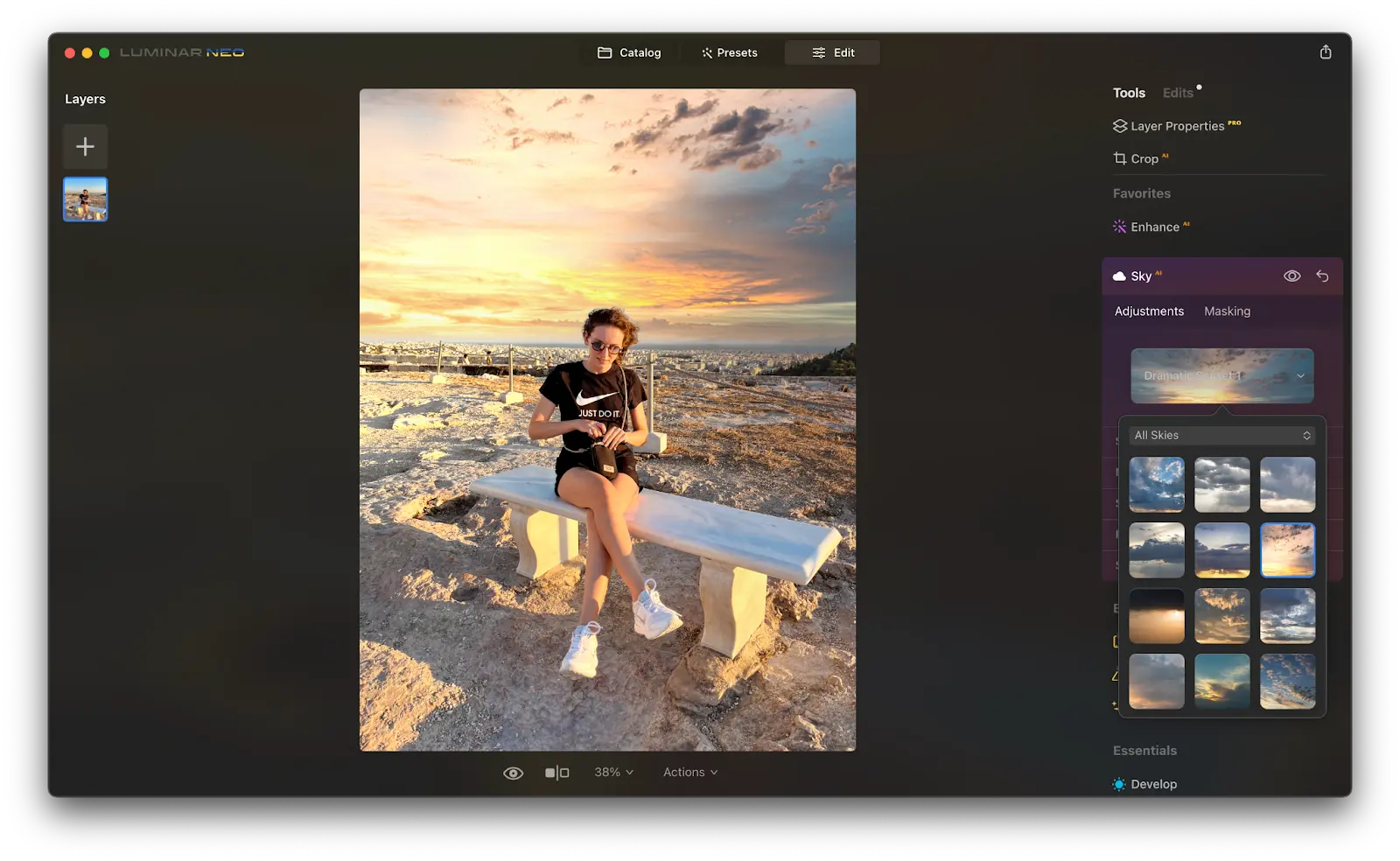 In general, Luminar Neo has all the tools you need to make your photos come to life, and if you want an alternative to Photoshop but don't want to spend hours learning how to use another complicated program, Luminar Neo is one of the best AI photo editing software choices.
PhotosRevive
There are photo editors that only work in very specific situations. Have you ever wanted to add color to a black-and-white picture, for example? We usually change our shots from color to black and white, not the other way around. But imagine if you could bring your grandma's old pictures back to life!
PhotosRevive is an AI app that changes the colors of pictures and gives them a new look. You can upload any black-and-white image, even if it has spots or other flaws, and wait for it to turn into color.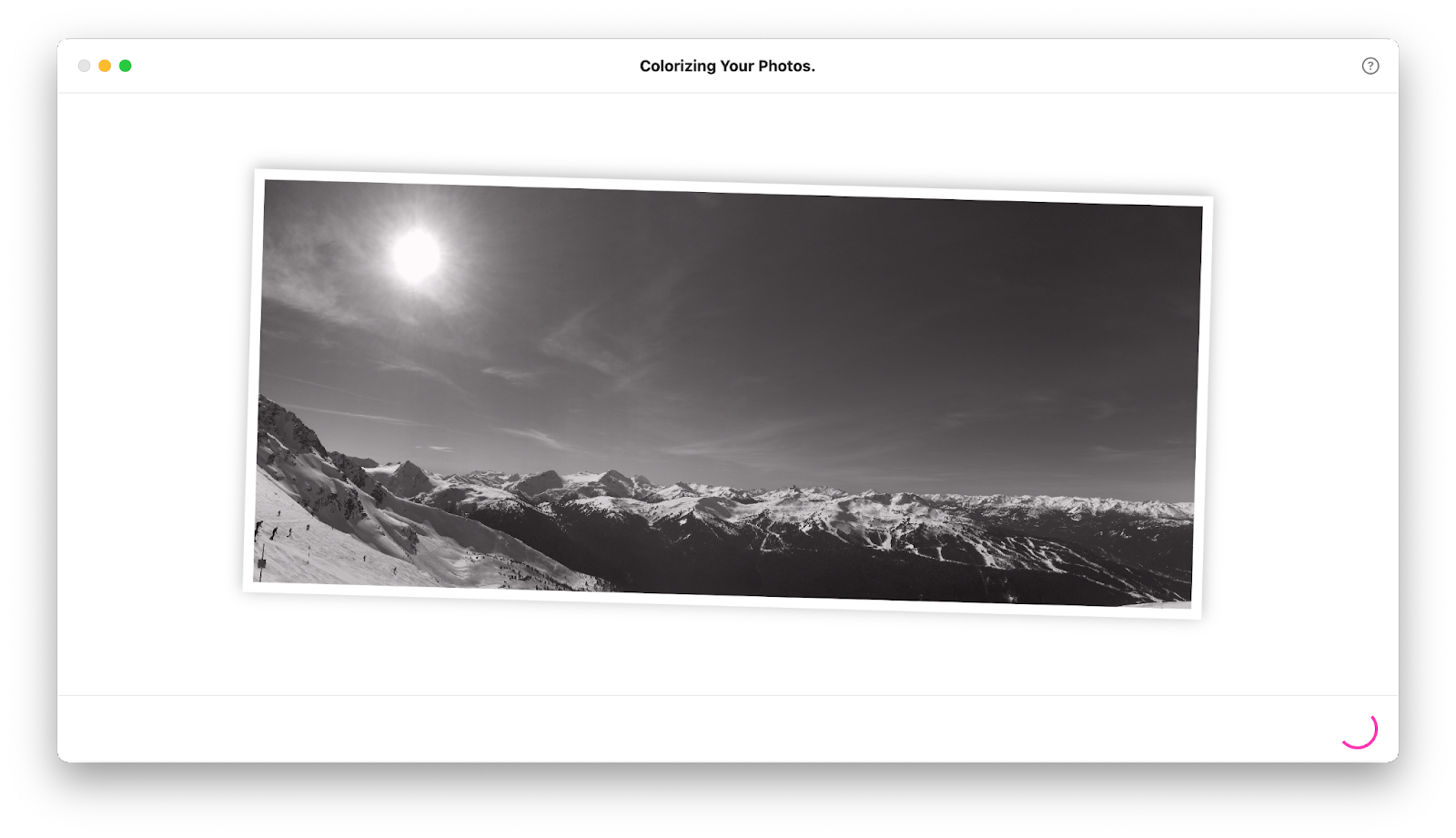 Discover more photo editing apps for your Mac.
Al assistant in task management and goal achievement
This article won't be complete without mentioning a great AI assistant for task management.
Task management can help us live more organized and productive lives by letting us set clear goals, rank tasks in order of importance, and stay on track with our responsibilities. It can also help us feel less stressed and achieve more.
Taskheat
Building a task flow using an AI assistant like Taskheat can be incredibly beneficial to achieving your goals. With its AI capabilities, Taskheat can generate customized tasks based on existing input, saving you time and energy. You don't need to constantly remind yourself of upcoming deadlines – the app's intelligent features will automatically remind you of everything you need to get done.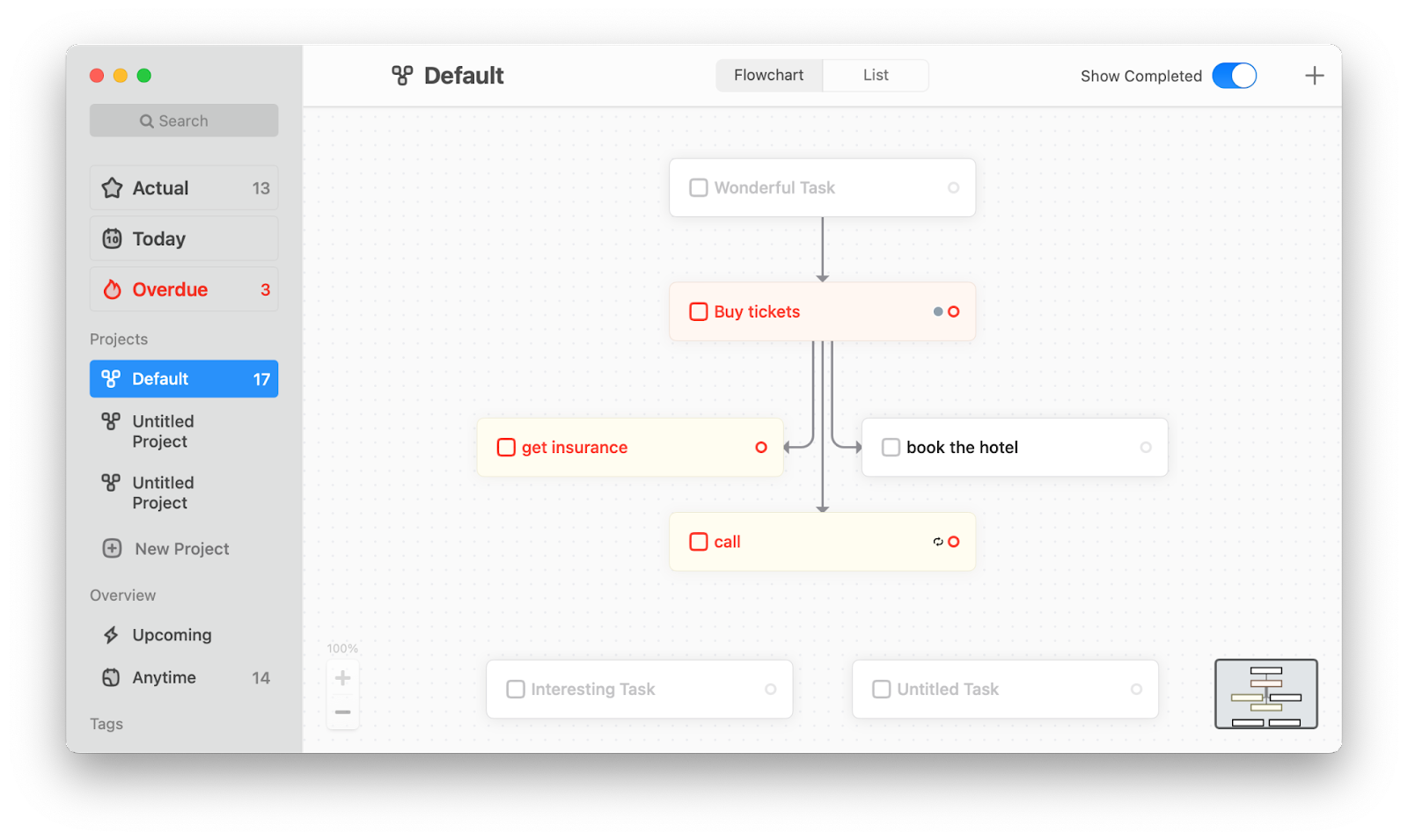 Plus, all your task scheduling and progress tracking can be done in one centralized place, so there's no need to shuffle through multiple calendars or tons of emails.
The best way to get artificial intelligence software
If you're excited by the idea of exploring a variety of AI-powered apps for your Mac and iPhone, you'll want to check out Setapp, a comprehensive platform that offers a curated collection of the best apps, including the ones mentioned in this article, all in one subscription.
By subscribing to Setapp, you get access to 240+ apps for your Mac, iPhone, and iPad that can revolutionize your daily workflow and increase your productivity. Say goodbye to the hassle of searching and purchasing individual apps and enjoy the convenience of having a wide range of the best tools at your fingertips. All apps are free during a seven-day trial. Try them today and find your new favorites!