Best Al writing assistant software for Mac, iOS, and the web
The market for AI-powered writing assistants is expected to grow rapidly, reaching approximately $6.5 billion by 2030. Since AI writing assistants are here to stay, it's important to learn about the best tools in the industry. In this article, we will guide you through the top AI writing software and explain how you can use it.
How AI can help writers' workflows
AI writing assistant software can help you write more clearly and concisely by breaking down long paragraphs into smaller, more manageable pieces. It is also good at dealing with grammar, spelling, and style.
Writers often face writer's block (that is, they can't start writing). That's when such AI apps come in handy because they can suggest a few ideas and even write an entire article for you. Your task is only to edit it well because AI-generated content may not always be perfect and is more likely to require human intervention for refinement.
Top 8 AI writing assistant software
There are many personal Al writing assistants available, each with its own unique features and capabilities. To find the one that best suits your needs and preferences, we recommend you experiment. Below are some popular AI writing tools. Let's see how they can help you improve your copy and speed up your writing.
1. Elephas
In our opinion, one of the most convenient assistants is Elephas. Whether you're working in a Google Doc or Notes, this tool is available from the menu bar and can be launched with a single click. You can ask it to rewrite a selected paragraph or the entire text, with a pre-selected tone. Elephas can also fix grammar mistakes, translate into different languages, and much more. The Super Brain feature allows you to import your data as PDF, DOCX, a web page, via Obsidian or Roam, and work with it to generate email responses, documents, and even chat with your data!
Available on macOS and iOS.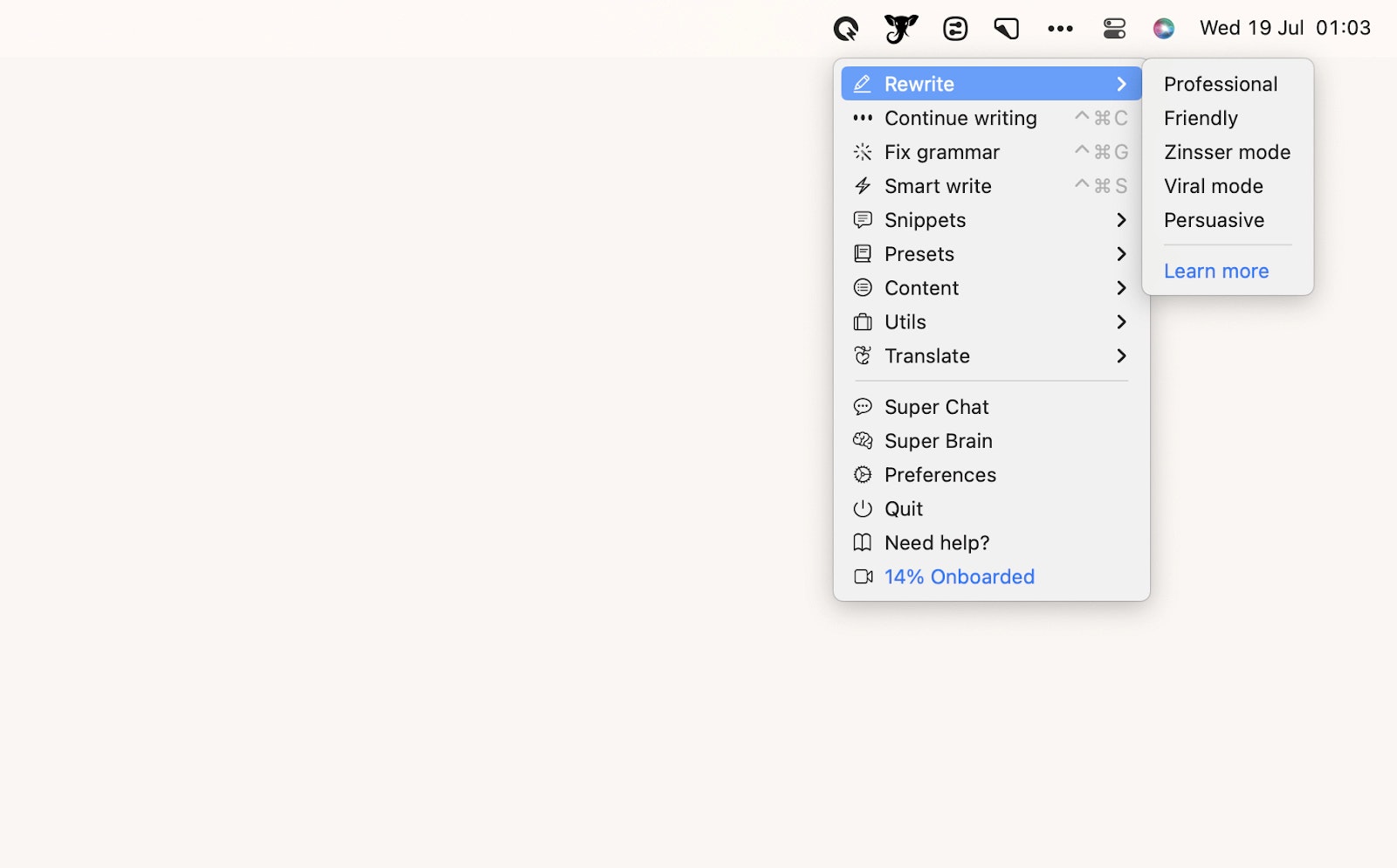 2. TypingMind
We really like TypingMind's intuitive interface. Even someone who is not good with technology can use the app with ease. Do you want TypingMind to generate a text for you, rewrite it or answer a question? Select a character according to your preferences. For example, you can have a journalist, technical writer, stand-up comedian, financial advisor, and others write for you. All your conversations with the AI chat are stored in the app, so you can return to them at any time.
Available on macOS and the web.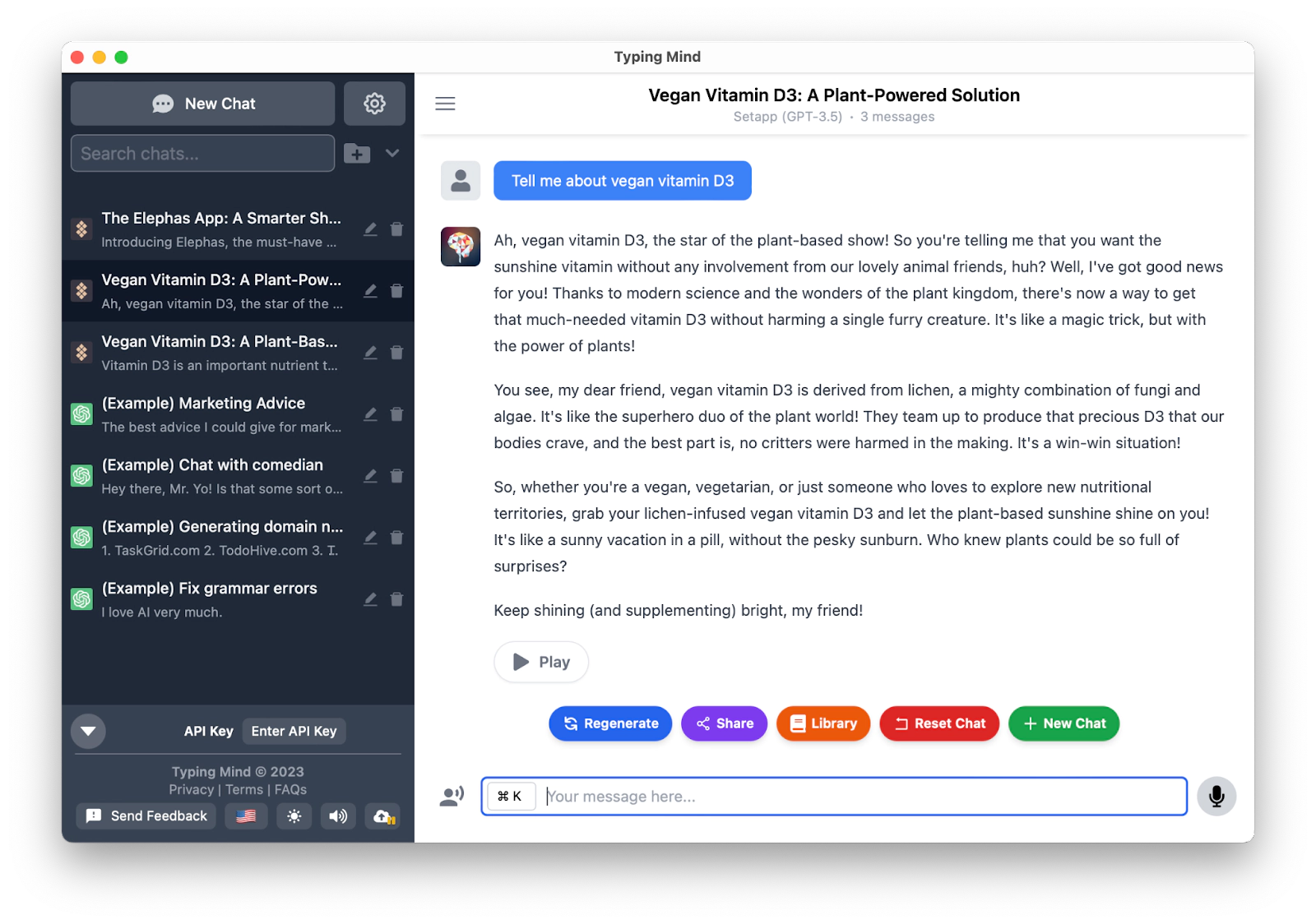 3. Craft (Craft AI Assistant)
Our third AI-powered app on the list is called Craft. It is a versatile tool that can help students organize educational materials, designers structure their team's design language, and writers streamline their workflow.
Craft provides an AI assistant to increase productivity with features such as faster writing, idea generation, document summarization, paragraph rewriting, social media post creation, proofreading, and translation. In addition, Craft allows users to add images, videos, and files to their documents, style content with multiple options, create highly structured documents, collaborate with up to 5 users, and easily share and export their work.
Available on macOS, iOS, and the web.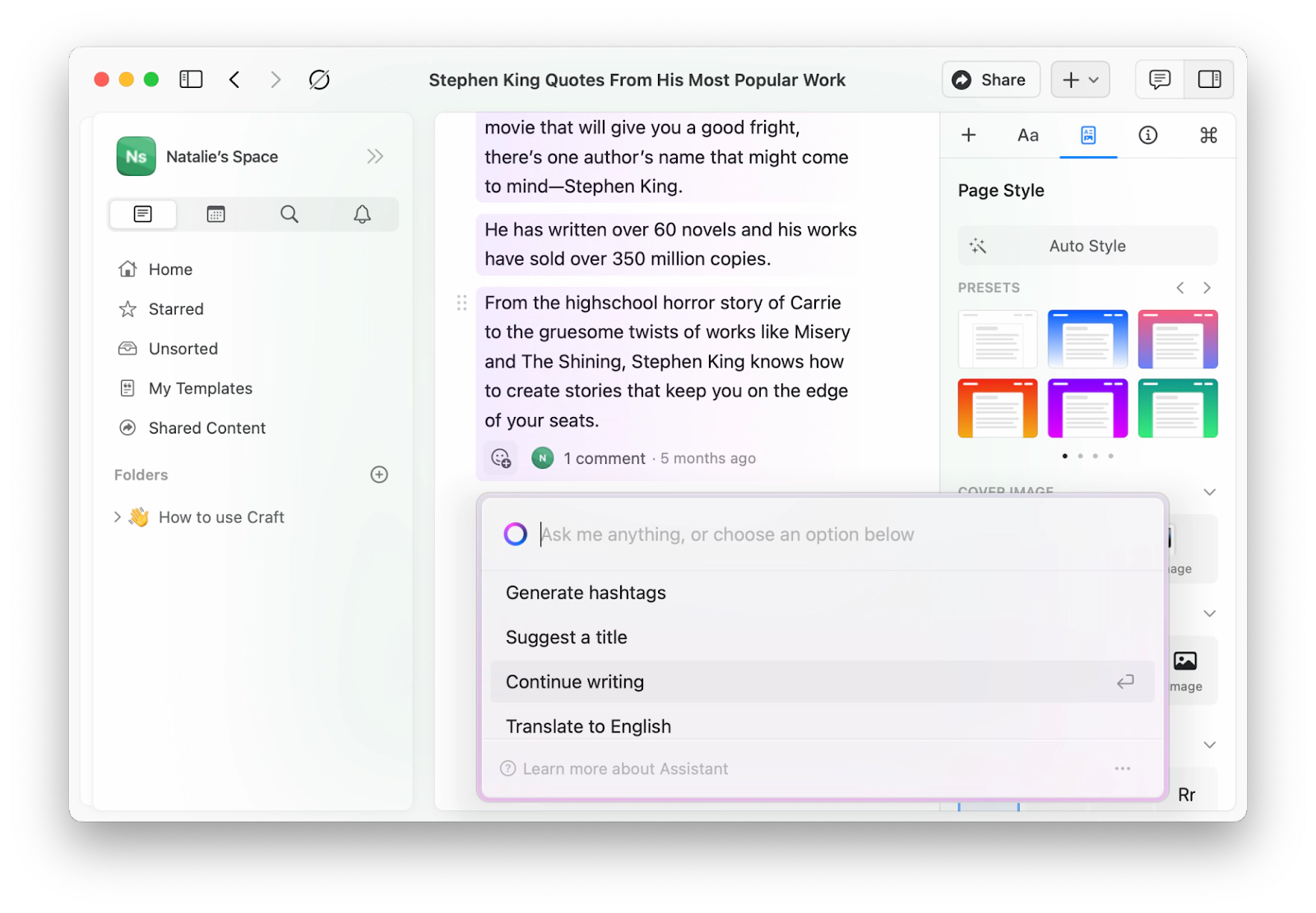 4. Grammarly
Anyone who works with text has probably heard of Grammarly. This writing assistant already uses AI to streamline the editing process. Grammarly can help you with spelling, punctuation, and grammar. But in March 2023, they released something even better – GrammarlyGO. This AI writing assistant for content creators can generate ideas, write, rewrite, adjust tone, and more.
Available on macOS, iOS, Windows, Android, and the web (+ browser extensions).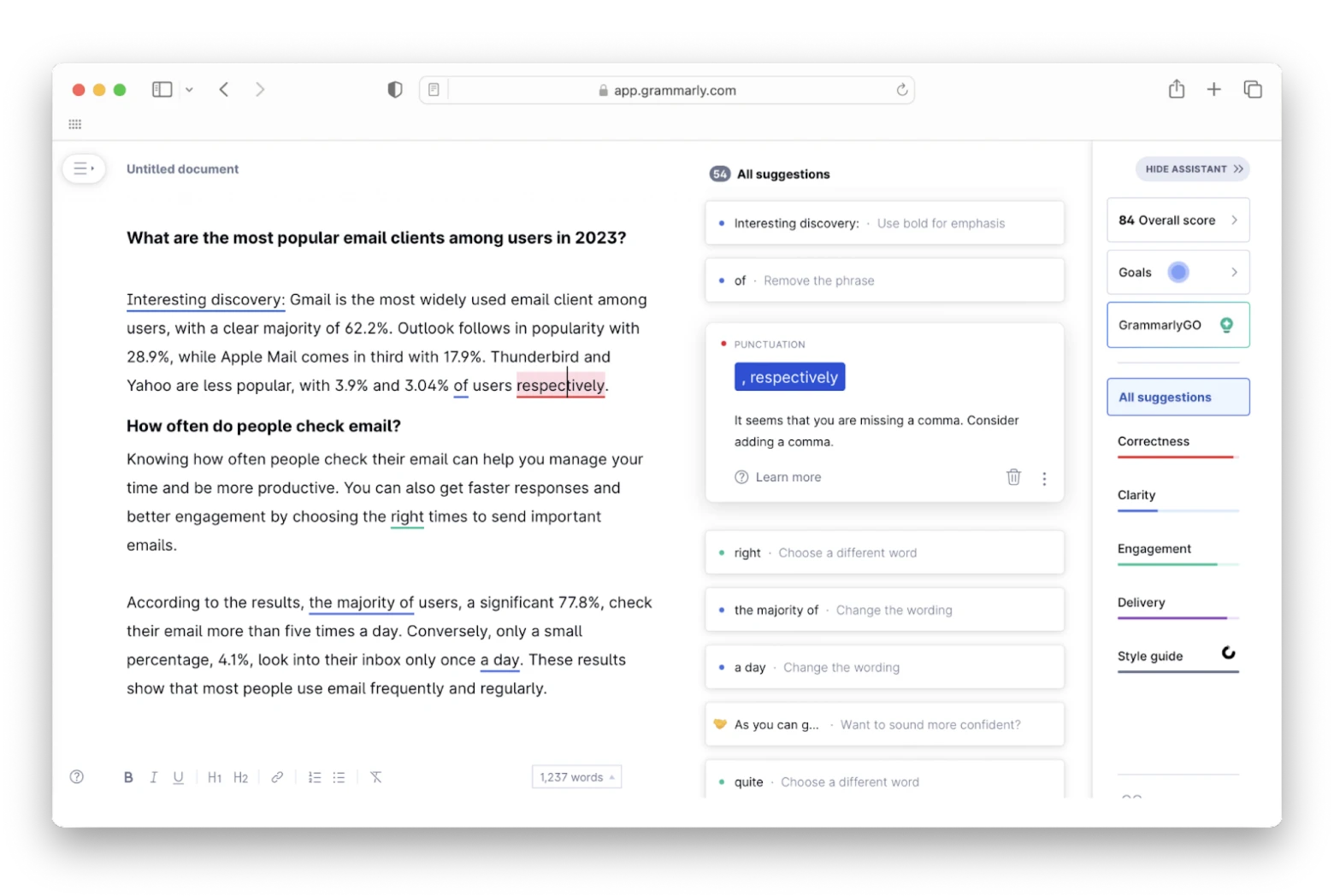 5. Plus
If you want an app that will be easy to use but will perform the writing tasks well, you should try Plus. This assistant works wherever you work. Select text in any app and press Option + Space to open the AI assistant. You can ask Plus to explain, improve, summarize, translate the selected text, and copy the result with a single click.
Not quite satisfied with your writing? Plus can rewrite it, check spelling and grammar, or simplify the language. Just give it a first draft and let AI polish it to perfection.
On top of that, Plus enables you to save time reading long articles, emails, or other texts. Just ask it to summarize them for you. You can also get explanations on complicated topics and quickly translate any text.
Available on macOS.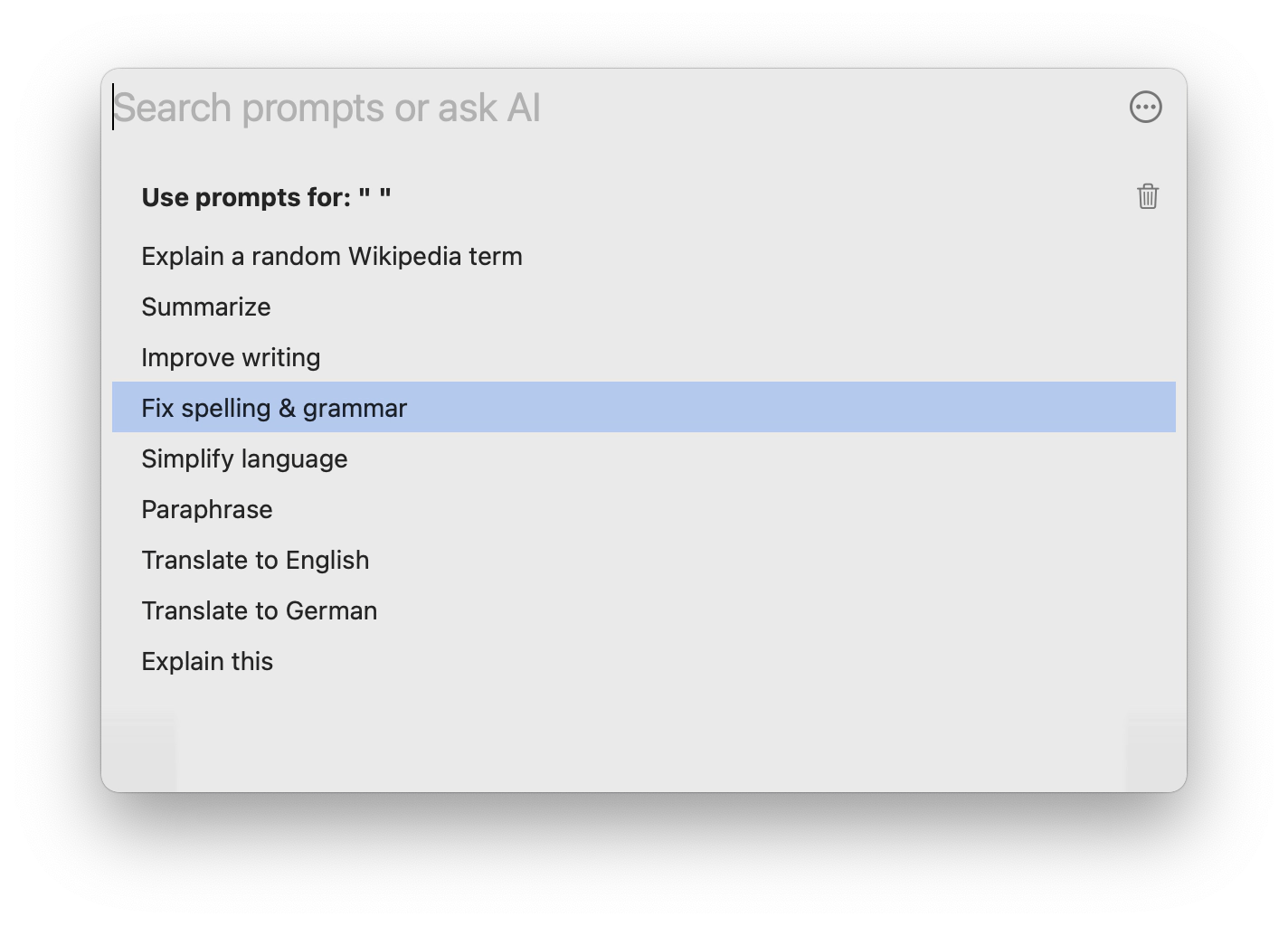 6. Ulysses
Anything else interesting? Absolutely! It's Ulysses. The app works much like Microsoft Word or Google Docs, but it's packed with powerful features you won't find anywhere else. Ulysses comes with a built-in library of templates, so if you're not sure what kind of content you're going to create – just open one.
Speaking of AI, Ulysses' built-in grammar and style checker helps you avoid mistakes and strike the right tone. Suggestions for capitalization, punctuation, semantics, redundancy, style, and more are available for over 20 languages.
Available on macOS and iOS.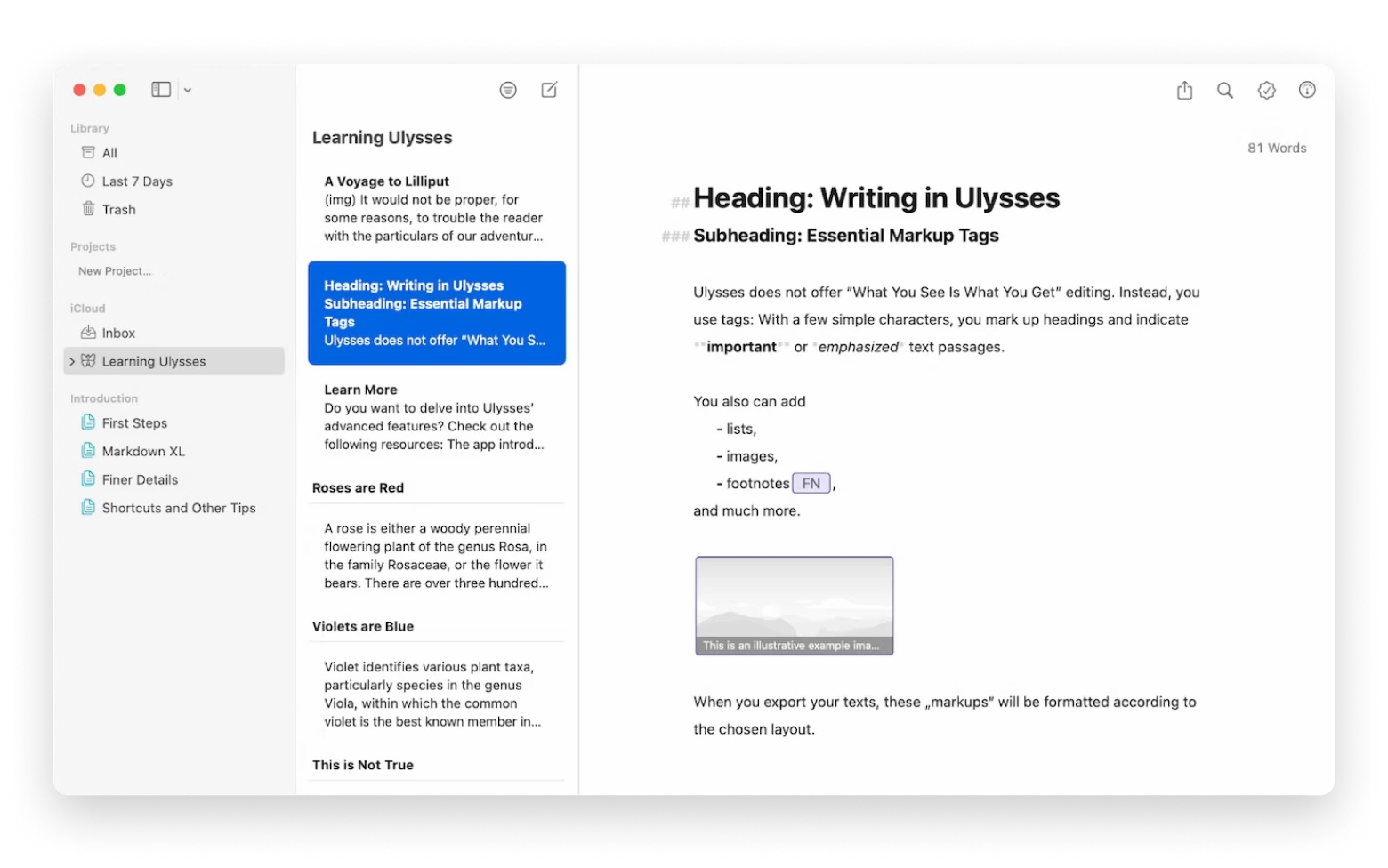 7. MonsterWriter
While MonsterWriter may not include all the features of the above-mentioned AI assistants, such as rewriting, grammar corrections, and tone adjustments, it still stands out as a highly useful app worth trying. MonsterWriter excels at formatting your text in a smart and efficient manner, allowing you to focus solely on crafting your ideas and delivering engaging content.
MonsterWriter's most prominent features include complex formatting options such as adding headings, tables, footnotes, images, code snippets, hyperlinks, and cross-references within your text.
Available on macOS.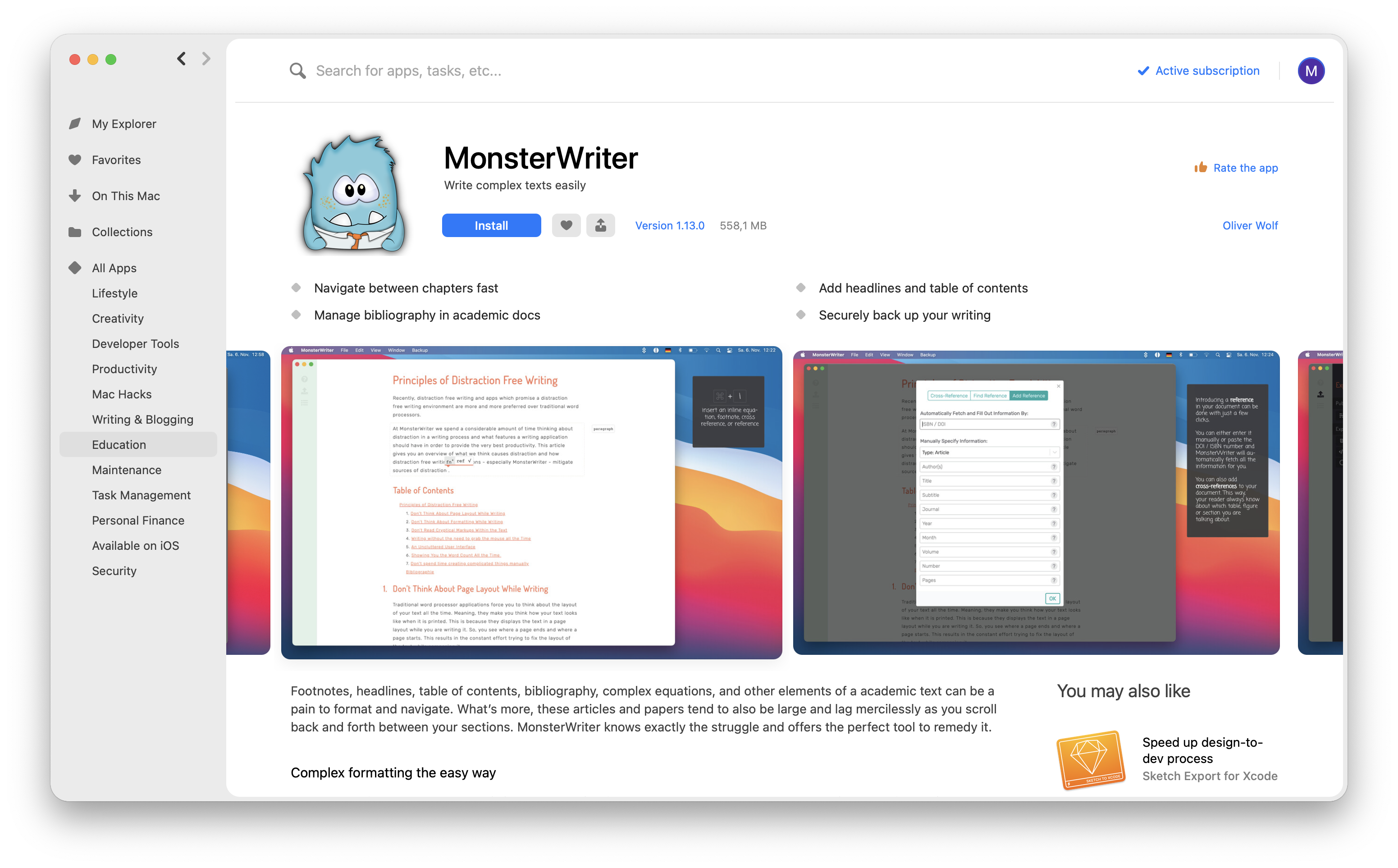 8. Spark Mail's AI assistant
Want to improve your email communication by leveraging AI?
Spark Mail's AI assistant lets you quickly create personalized drafts, eliminating writer's block and minimizing mental effort.
With additional quick reply options, you can create replies in seconds, saving valuable time. For a more personalized and detailed response, simply add additional context to create a response based on the email and context provided.
For example, if you need to set up a meeting for tomorrow at 10AM and want to write an engaging message, just click Generate a reply, add context about your meeting, and Spark +AI will generate a draft for you.
Available on macOS and iOS.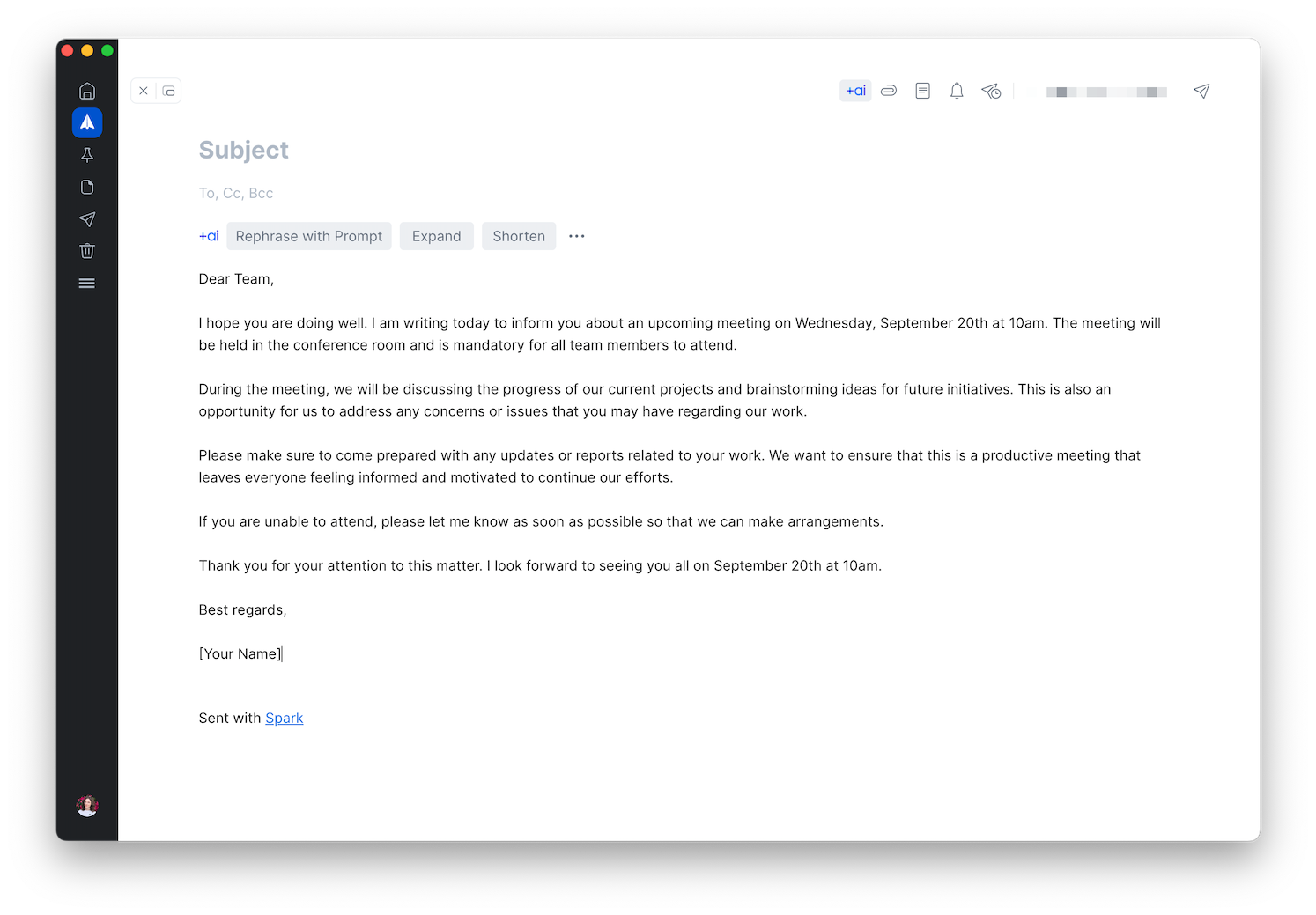 How to choose the best AI writing assistant

The choice of AI writing assistants is huge and keeps growing, but the best deal you can get is Setapp, a subscription service for Mac and iOS that gives you access to almost all the apps we mentioned in this article. These are Elephas, TypingMind, Craft, Plus, Ulysses, MonsterWriter, and Spark Mail's AI assistant. You'll also have the chance to discover over 240 apps for almost any task on your Mac, iPhone, and iPad. Try Setapp free for seven days, then $9.99 per month.
FAQ
Can Al help with writing?
AI can help a writer research content ideas, write, rewrite, explain, summarize, translate, and more. It can also provide great headline options. On top of that, AI can quickly pull up statistics, allowing a writer to create interesting, accurate content without spending hours on research.
Is Al a threat to writers?
AI and human writers are often seen as direct competitors. But that's usually not the case. AI tools can cover black-and-white areas of a topic, but gray areas are more subjective. So only humans can do it all properly. Search engines may also flag AI-generated content because it resembles published material since they pull from the same sources.
Overall, AI writing generators may save time, but humans still need to be involved and quality-check articles.
Is Al the future of writing? (Will Al replace writing jobs?)
In the near future, AI tools are expected to serve as writing assistants rather than replacements for writers. Although AI won't replace writers, there are predictions that writers who use AI will replace writers who don't.
To be fair, we can say that low-skilled writers will be the first to be replaced by AI writing tools. If you are such a writer, you should start thinking about how to differentiate your services and increase your expertise.