Top text into speech tools for Mac
Voiceovers are essential for many businesses and can be used for various types of content like video courses, corporate training, tutorials, games, etc. However, creating voiceovers is expensive and time-consuming. For example, hiring a professional actor for a 5-minute long voiceover can cost you $300-$1500. Ouch?
Did you know that Artificial Intelligence (AI) technology can generate synthetic voices close to human voices? With the help of dedicated tools, you can convert text into speech and use the result for various purposes, saving time and money. In this article, we'll discuss AI voice generators and the options to turn text into lifelike speech. Let's get started.
Al voice overs tips
Just like other tools, not every voice generator is worth using. Some make a synthetic sound, others don't support your language. That's why you need to read this article till the end because we'll cover some of the best text-to-speech tools. But before we get to this, here are a few essential things you should keep in mind when considering an AI voice over generator.
Voice generators have gotten a lot better in the past few years. Artificial voices have become a lot more real, up to the point where it's often almost impossible to tell them apart from voices of real people. However, a computer-generated voice still can't beat a professional actor in many aspects. For example, an AI text to speech generator isn't as good with emotions (anger, sadness, etc.) as a real human voice.
Furthermore, the computer-generated voices you use will not be unique to your brand. This is because most Al voice generators only have a few hundred stock voices that are used by thousands of businesses. So if you want customers to recognize your brand by voice, Al voice generators might not be the best choice for you.
Anyway, if you want to proceed, the best tip here would be to find a natural-sounding voice generator.
How to turn text into lifelike speech
Let's start with the easiest method. Speech Central makes it easy to convert text to speech with just a few clicks and can be used for various purposes, from listening to articles and emails to creating a natural human voiceover for your content. Here's how to use the app:
Download and install the Speech Central app
Once it's installed, add your text via the "+" button at the top
Then double-click on it. You'll see the gear icon. Click on it
In the Speech tab, you can choose the voice, adjust its speed, volume, and more
Once you've put in your text and adjusted the settings, click the "Play" button to hear your text spoken
If you like the way your text sounds, you can save it as audio. For this, go to File > Export Audio File.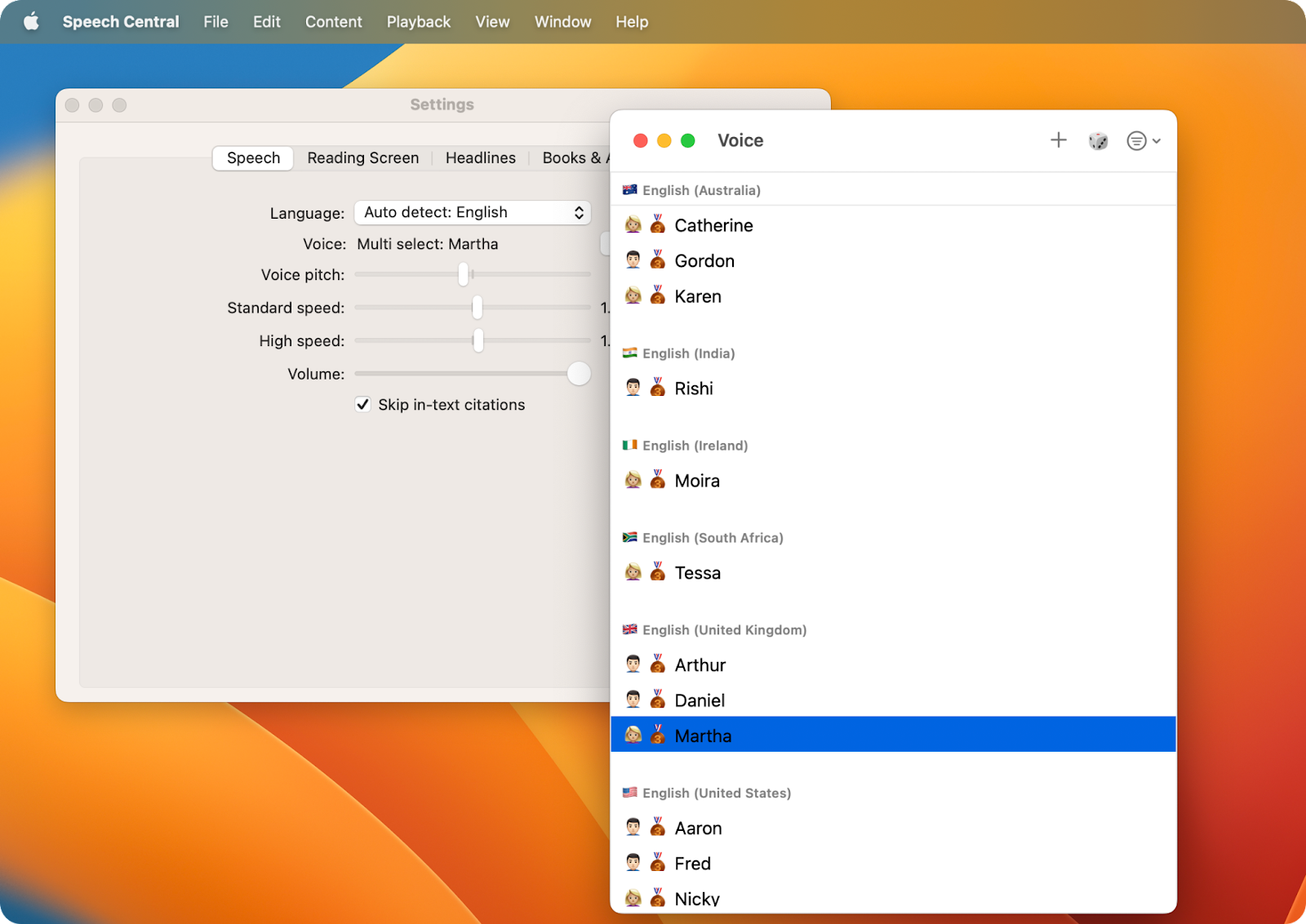 Best text-to-speech tools and AI voice generators
Now, let's take a look at more voice generator options and evaluate their pros and cons.
Murf for human-like voices
Murf is one of the best and most popular AI voice generators on the market. Murf's voices are natural-sounding and can be used in almost any field. You can choose from more than 120 voices in 20 languages. The tool is especially popular with podcast creators, teachers, product developers, and business people.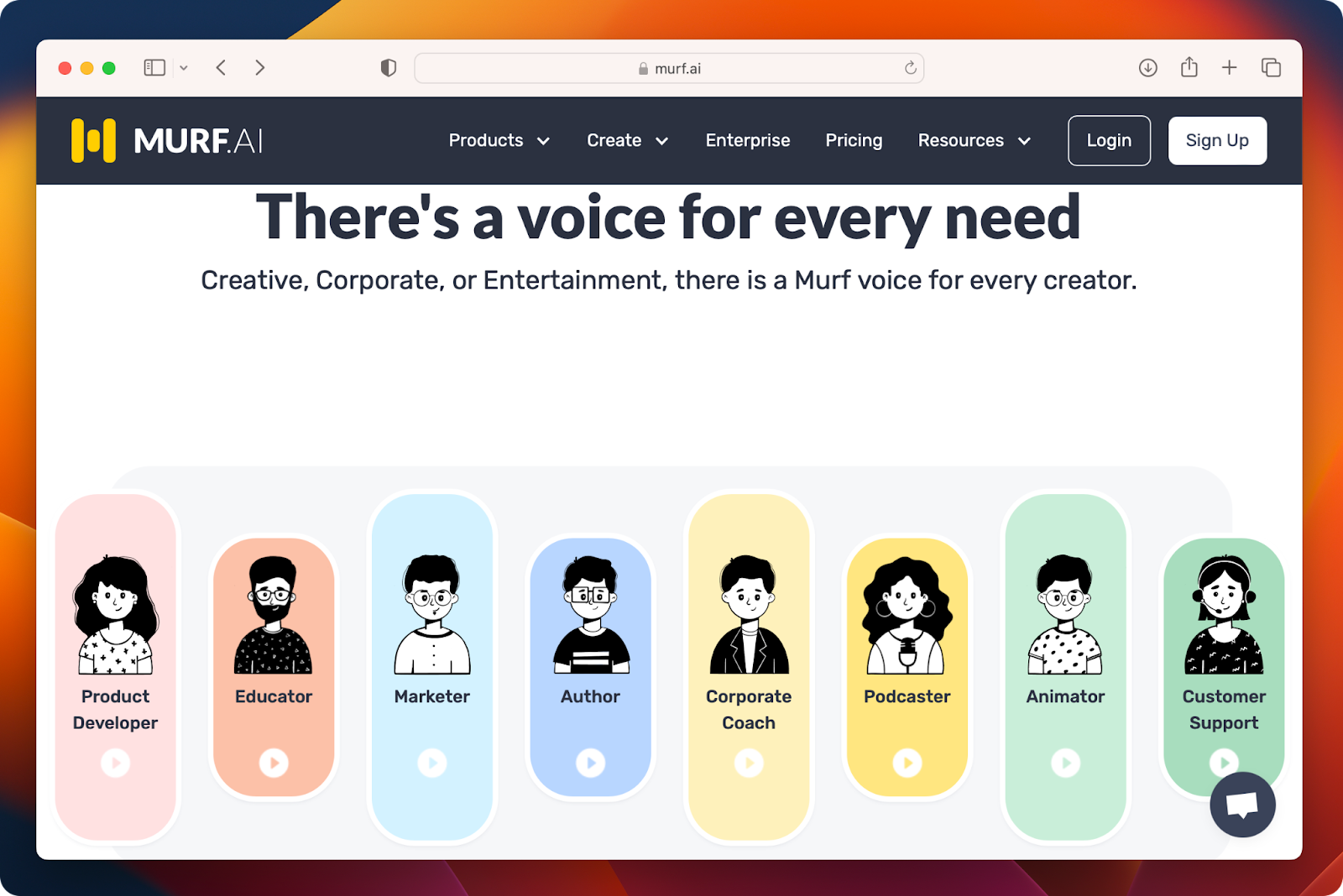 Murf's key features
A lot of voices and languages to choose from
Styles of speaking that show emotion
The ability to change the pitch and tone of your voice
Support for both audio and text input.
Downsides:
Pricey for individuals: the premium plans are great for businesses that make a lot of voiceover content, but they may be too expensive for individuals.
Pricing:
Free: $0/mo
Basic: $19/mo
Pro: $39/mo
Enterprise: $49/mo*
*prices are lower when billed annually.
Synthesys voice generator
This platform is at the forefront of making algorithms for videos and voiceovers that can be used for business. Imagine if you could add a natural human voice to your website, explainer videos, or product tutorials without hiring a professional actor. Synthesys Text-to-Speech and Text-to-Video technologies turn your script into lively and exciting media presentations, saving you time and money. Many similar services don't allow editing audio once it's produced. Synthesys does!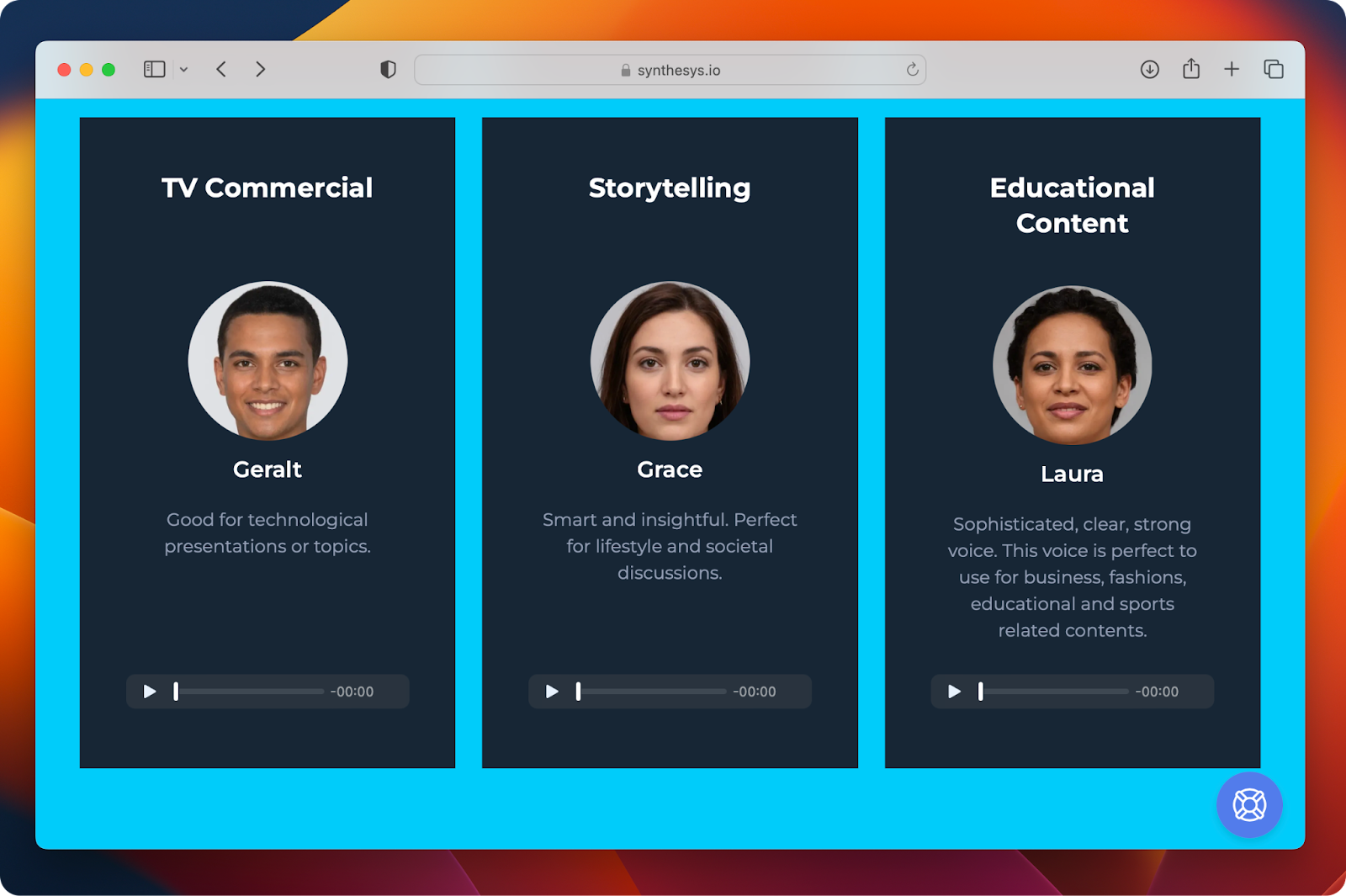 Synthesys' key features
A big library of professional voices: 35 female, 30 male human-like voices
A variety of tones and reading speeds
66+ languages and 254 different voices.
Downsides:
No free trial
Sometimes, the generations process is time-consuming
Pricing:
Audio: $29/mo
Human Studio: $39/mo
Audio and Human Studio: $59/mo*
*prices are lower when billed annually.
Lovo.ai text-to-speech tool
Lovo is a powerful tool that can help you turn text into speech. It's especially helpful for people who don't want to record their own voices and work with games, audio ads, e-learning, and audiobooks. You can choose the age, gender, accent, emotions, etc. Some of the best companies in the world, like Nvidia, use this AI voice generator.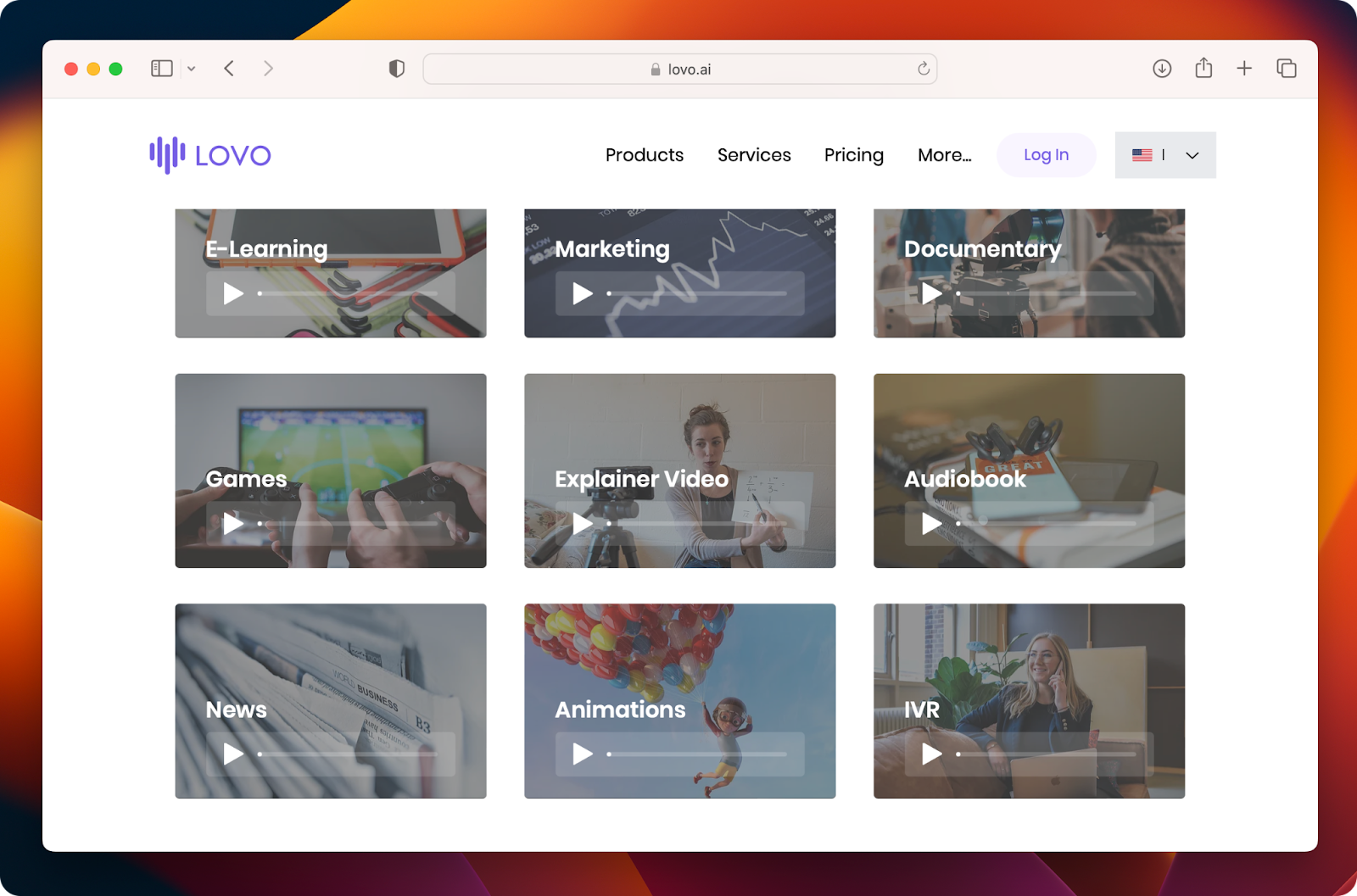 Lovo's key features:
Over 180 voices and 33 languages in a collection
Super realistic voices
A free basic plan for personal use with a limited number of voiceovers per month
Free trial.
Downsides:
The emphasis option is currently limited to a few voices only.
Pricing:
Free: $0/mo
Personal: $24.99/mo
Freelancer: $74.99/mo*
*prices are lower when billed annually.
Speech Central – the easiest text-to-speech tool
Users like the voices on Speech Central because they sound like real people. You also have options for controlling different parts of the speech component. You can change the speed, volume, and pitch of the reading voice, which makes the user experience much better. Multiple languages are supported.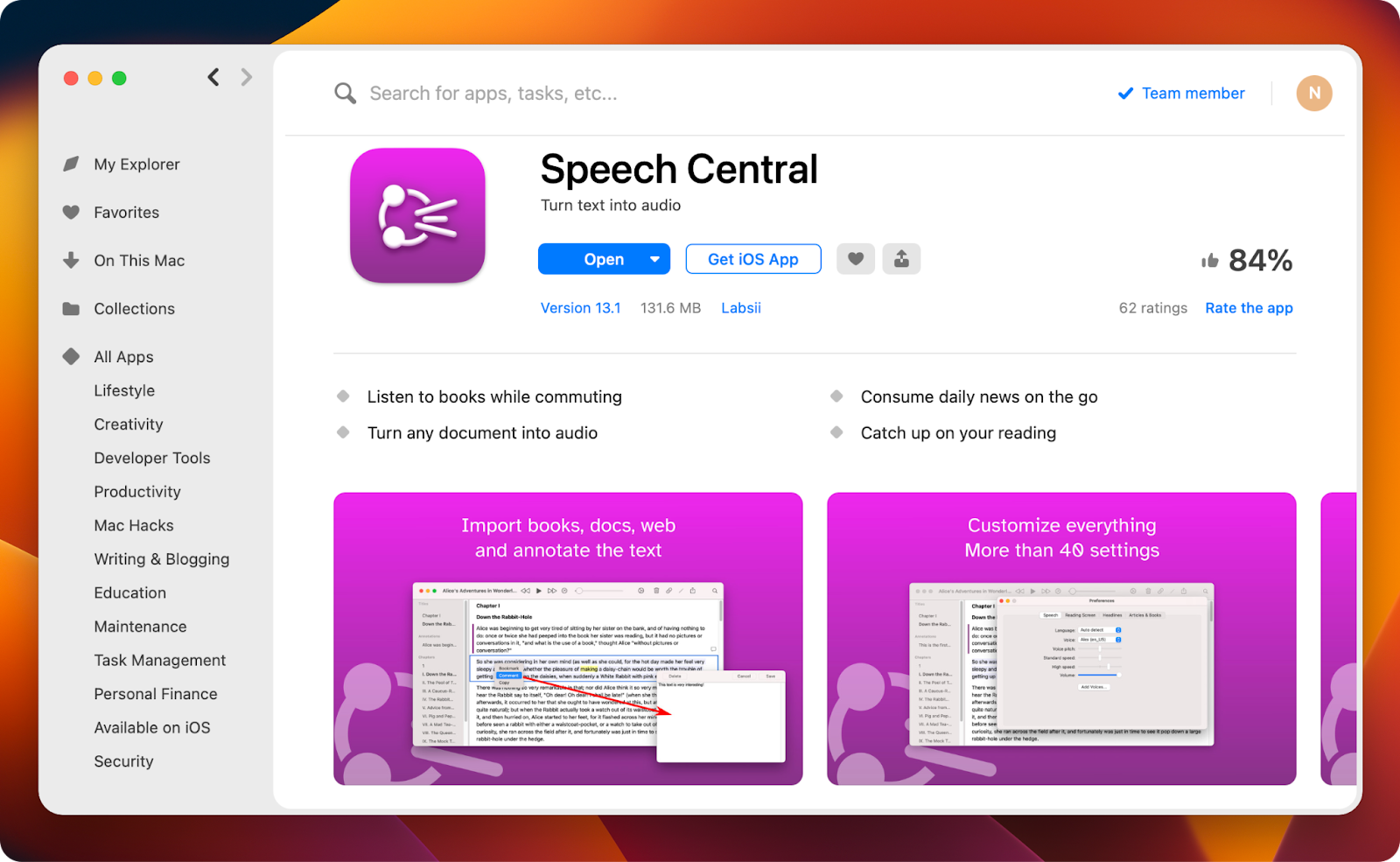 Speech Central's key features
Different languages with different accents
Realistic text to speech voices
Wide support for document formats
OCR function to import the text from the scanned PDF or even your camera
Free trial.
Downsides:
Some users wish to have more customization options.
Pricing:
$9.99/mo if purchased via Setapp. With such a subscription, you get access to 240+ apps for various purposes.
What are the benefits of AI voiceover?
As you can see, computer-generated voiceovers are typically much cheaper than human voiceovers while also providing a high degree of consistency and accuracy. In addition, they can be used to create voiceovers in a wide variety of languages and dialects, making them incredibly valuable for international campaigns and projects.
Furthermore, the use of computer-generated voiceovers allows for rapid turnaround times, as the voiceover can be completed in a matter of minutes. In contrast, human voiceover artists may require days or even weeks for completion.
Another advantage of AI voiceovers is flexibility. Voiceover scripts can be quickly modified to accommodate changes in a message without having to re-record or hire a voiceover artist, potentially saving both time and money. Additionally, computer-generated voiceovers allow for easy experimentation, as one can test multiple versions of the same script to determine which works best.
So it's definitely worth trying!
How to transform any text into speech: solved
Choosing the best AI voiceover for your project can be daunting, but hopefully, this article will help you find one. Take the time to experiment with different tools because only this way you can find out what works best for you. Fortunately, some of the apps we've mentioned are available for free for a short period of time, so you can try them out.
Speech Central and Speeko, which we've mentioned above, are also available to you right away at no cost through a 7-day trial of Setapp, a platform that houses more than 240 curated apps for every occasion.
Now that you have a list of the best voice generators, what are you waiting for? Go and create more engaging and higher-quality audio versions of your content.