How to use speech-to-text to dictate on Mac
How tempting is it to just talk at your computer and have it type what you say for you? If you've never tried writing documents with voice, this might be a good time to learn how to use mic to type on Mac for a number of reasons:
It saves time: dictation can be twice as fast as typing
It lets you multitask: use speech-to-text Mac to write up emails or chat messages hands-free
It gives you a chance to formulate your ideas while talking through them, which is sometimes easier than writing
It's just a great accessibility feature to know how to use
To understand how to voice type on Mac, let's first look at the process: when you speak into your Mac's mic, your voice gets recorded and sent to Apple to be converted to text. Chances are, you won't get perfect accuracy the first time you use voice dictation Macs provide. But it's designed to learn the characteristics of your voice and vocabulary, so the recognition improves considerably once you start using the feature regularly.
Ready to check if dictation on MacBook could become your thing?
How to enable dictation on Mac
Apple offers free dictation on Mac and iOS devices, so you don't really need to look for anything extra to enable Macintosh speech-to-text. Voice typing Mac is already built-in and works in all native text editors, messengers, and basically any app where you would type.
You can easily enable voice dictation Mac is offering from System Preferences:
Go to System Preferences in the Apple menu ➙ Keyboard
Click on the Dictation tab and select On next to Dictation
Read the pop-up warning on privacy ➙ Enable Dictation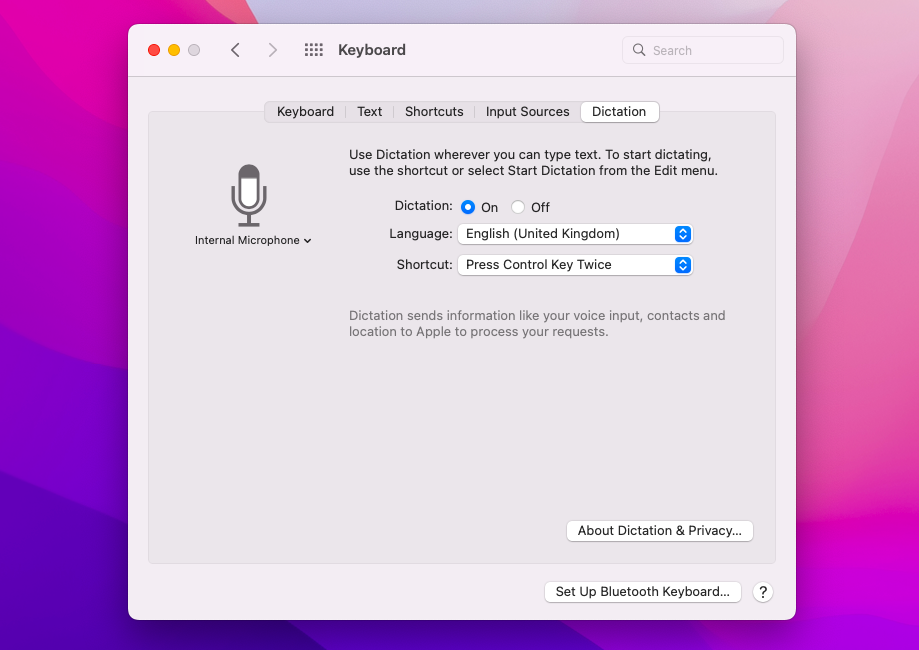 How to enable dictation on macOS Ventura
There's a slight difference on how you enable voice typing Mac on the latest macOS Ventura:
Go System Settings in the Apple Menu
Scroll down and choose Keyboard
Turn the toggle next to Dictation on
How to dictate on Mac
Once dictation is enabled, you can start using the speech-to-text Mac feature for writing your emails, texts, presentations, messages, web searches, and other tasks that normally involve typing.
You can choose one of two methods of how to use mic to type on Mac:
Enable a keyboard shortcut to start dictating right away once you place a cursor where you want your text to appear
Turn Dictation on from the Edit menu (choose Start Dictation)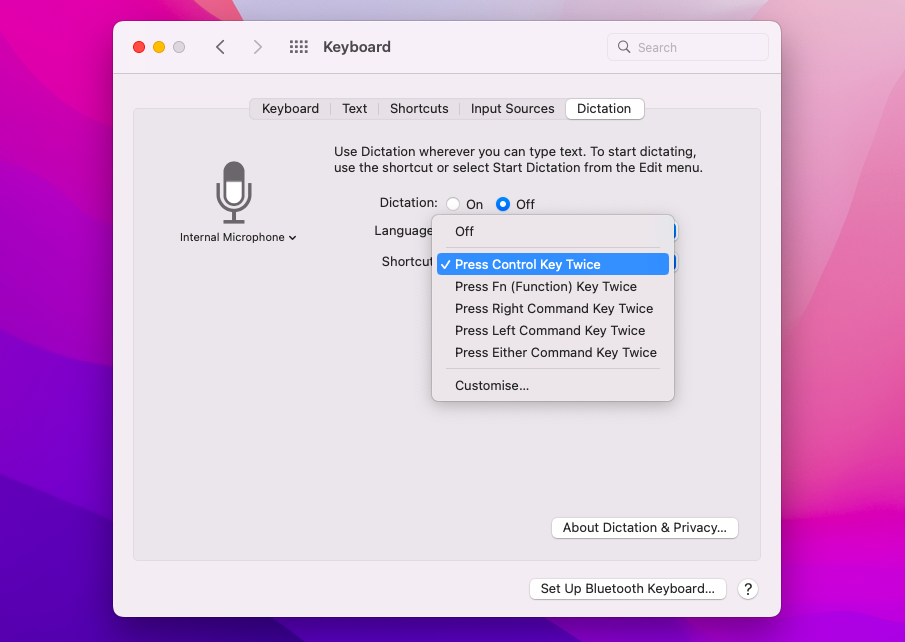 Once you see a microphone with fluctuating volume indicator appear on your screen, you can start dictating your text:
Speak clearly into the the microphone, trying to avoid mumbling
Another important tip on how to use dictation on Mac is to speak for about 40 seconds at a time, but remember that the mic turns off if you pause for more than 30 seconds
Pronounce the name of the punctuation mark you'd like to use — except for periods, commas, and question marks (those are inserted automatically)
Format with "new line" and "new paragraph" voiced where you need them
Press Enter when finished
You can learn more about Macintosh speech-to-text in our best dictation software for Mac article — in case you'd like to review Mac's capabilities compared to other popular voice typing apps.
How to format your dictated text with ease
Once you've learned how to voice type on Mac, it's great to also review some tools that can help you format the text you've just dictated. A great text editor that lets you edit, style, and publish from a single app is Ulysses.
Ulysses offers a built-in markup editor that structures texts with simple tags — which translates into perfectly formatted headlines, lists, images, and footnotes when exported. Other great reasons to choose Ulysses are:
Distraction-free writing: the app's interface literally resembles a blank sheet of paper with all functionality out of the way until its needed
Stats and productivity tools: set deadlines, visualize word count, turn to typewriter mode, etc.
Organization: everything you write is saved automatically to well-structured library that is stored in your iCloud
Super convenient export: you can export your texts as ebooks, PDFs, HTMLs, or publish without leaving the app to WordPress
Syncing across iOS devices: work on your texts wherever you are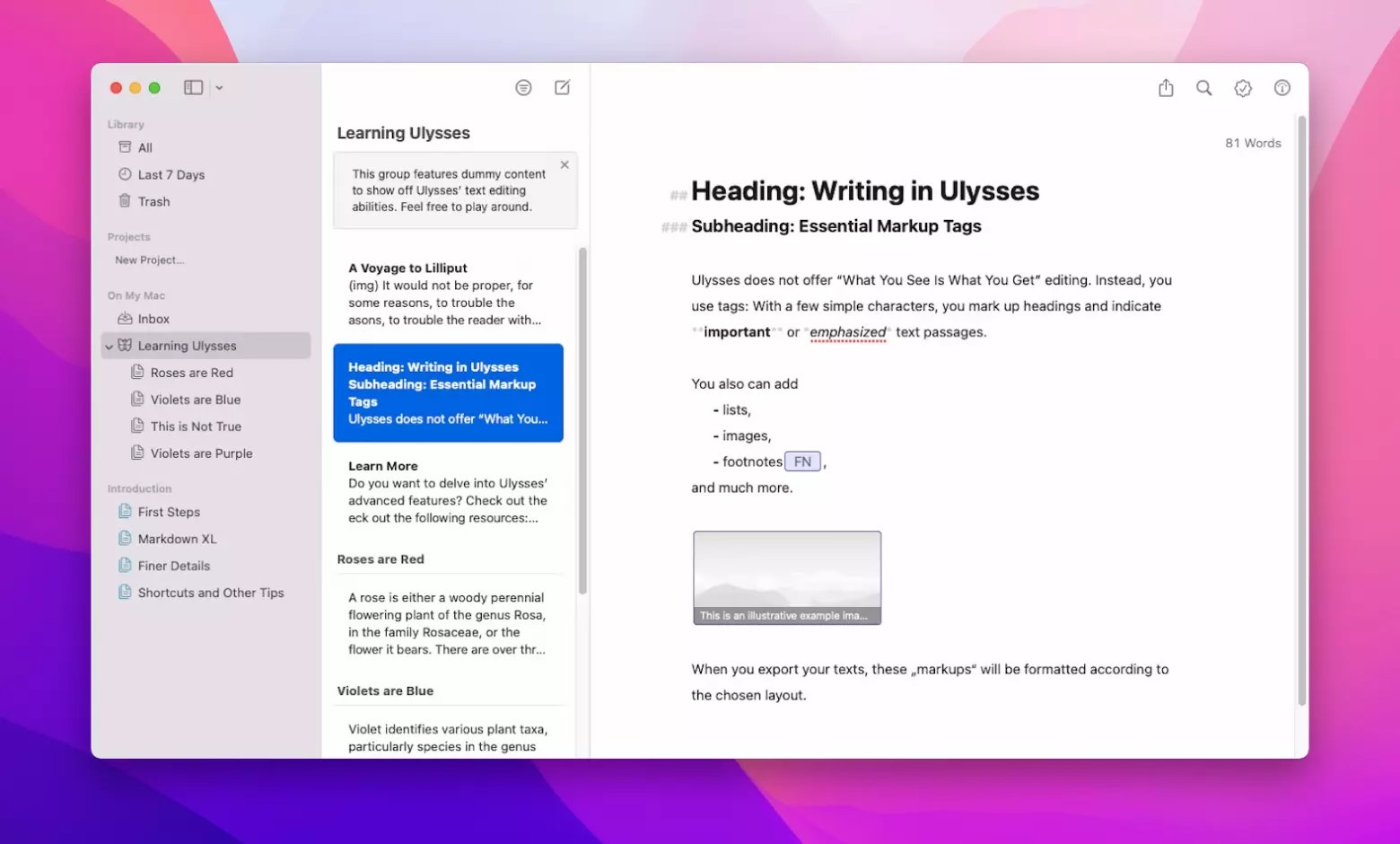 If you regularly work with big volumes of text from different sources and want to check them for errors, extra characters, improper capitalization, and formatting glitches, try TextSoap.
TextSoap is a text editor that helps you clean-up your copy with automated editing tasks called cleaners:
Choose from a library of built-in cleaners (100+ scripts) to take care of finding and replacing terms, removing extra characters and spaces, fixing grammar, etc.
Customize by scripting your own cleaners or creating custom combinations of cleaners
Use syntax highlighting feature and live text matching to see whether the expressions you write work as intended
Import and export saved and custom cleaners to share them with your team
Work on your document in other word processing apps thanks to TextSoap's flexible integrations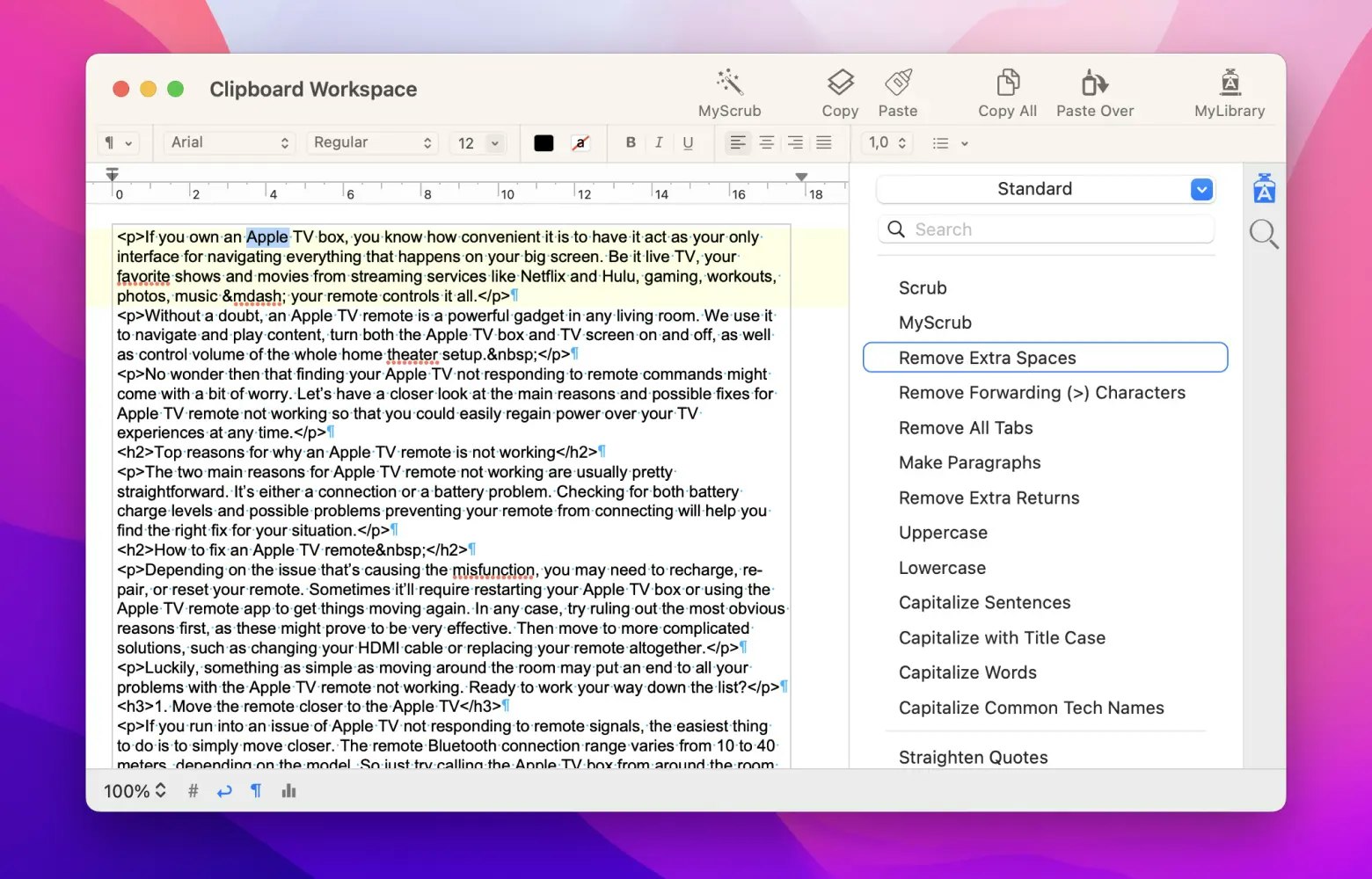 The best text-to-speech tool for Mac
It's interesting that you can benefit from reversing the process, too. Not only can you use dictation on MacBook to turn your speech into text — there's also a way to turn your texts into audio. To listen to your texts, online and offline, and save yourself from the need to look at your screen for hours, try Speech Central.
Speech Central lets you browse through the headlines from major news outlets (or any website you'd like to add) and bookmark the articles you find interesting. It can also read you any book or document you drop into the app. It's a great tool for multitasking that lets you customize your environment to make your listening a comfortable experience:
Export audio files for offline listening
Adjust voice settings: select a voice, adjust pitch, speed, and volume
Use keyboard shortcuts for most commands
Edit and annotate texts you are listening to
Make use of accessibility features such as support for DAISY books format, a dyslexia friendly font, and hands-free buttons on your headphones for dedicated actions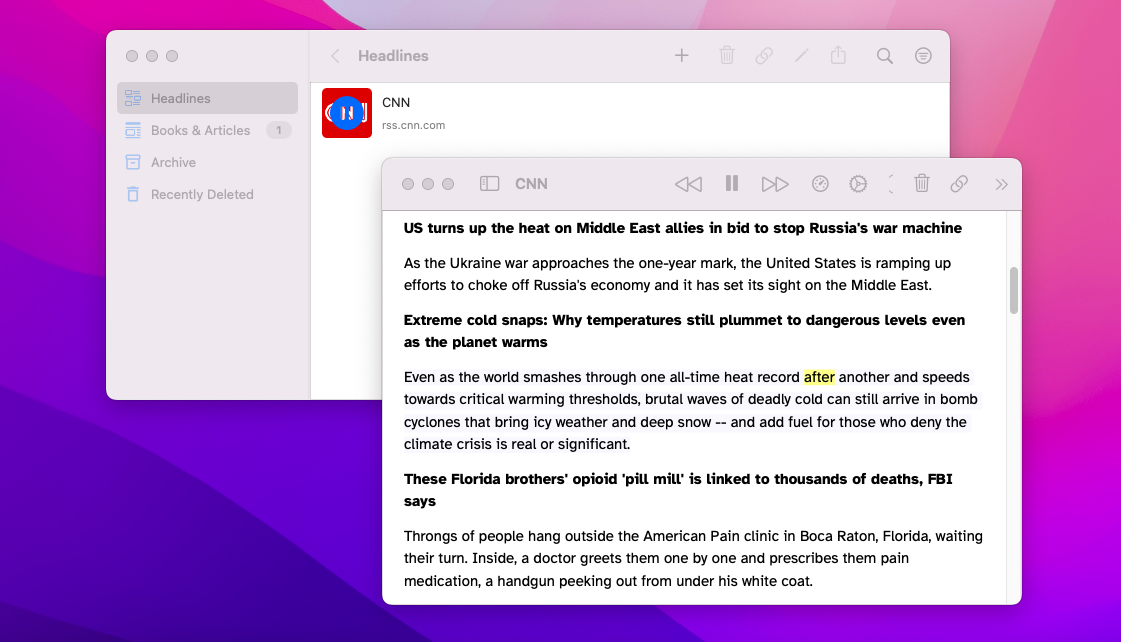 How to use dictation on Mac to save yourself time and effort
If the speech-to-text Mac feature is something you're interested to try, you're up for a whole new era of productivity. Dictation could quickly become your new super-skill that saves you ridiculous amounts of time spent on typing daily.
Once you know how to use dictation on Mac, make sure you also have the tools that let you handle formating. A great way to take care of all your text layout tasks is Ulysses. It uses mark-up editing tools and syncs your texts across Mac and iOS devices — so you can work on your documents and export perfectly formatted ebooks, PDFs, and blog posts from anywhere. Or use automated cleaners offered by TextSoap to clean up and format big volumes of text without breaking a sweat.
Also, remember that besides speech-to-text Mac also has effective text-to-speech capabilities. With Speech Central, you can finally get your eyes off the screen and have all the important long reads voiced for you instead of reading them yourself.
Don't pass on a chance to try Ulysses, TextSoap, and Speech Central for free with the seven-day trial of Setapp, a platform of high-performance, best-in-class iOS and macOS apps. Master dictation on MacBook to easily handle your text typing assignments, and check out more than 240 other options to boost your productivity.