Best audiobook app for Mac and iPhone
If you love to read but can never find the time to sit down with a physical book, let us tell you about the ultimate solution – audiobooks! They're like the perfect wingman for bookworms on the go. You can listen to your favorite novels and stories while driving, working out, or just chilling. It's like having your personal storyteller in your pocket.
So if you're looking for the best audiobook app for your Mac or iPhone, you've come to the right place. In this article, we'll explore several audiobook apps available and help you choose a good one for your needs.
Which is the best audiobook app?
Choosing the right audiobook app depends on your individual needs and preferences. However, there are certain features that good apps for audiobooks should have. Below are a few options to consider.
Large library. Ideally, the app should offer a wide selection of audiobooks. This allows users to explore different genres and authors and find books that match their interests.
Easy navigation. A good audiobook app should be easy to navigate, with a well-organized library and a user-friendly interface for us to be able to search for audiobooks easily. The app should include helpful features, such as bookmarks, speed controls, and sleep timers.
Compatibility with multiple devices. It's convenient if the app is compatible with various devices, such as your Mac, iPhone, or iPad, allowing you to switch between them easily.
Affordable pricing. The app should offer competitive pricing, including the option to purchase audiobooks individually or subscribe to a monthly service.
Audible, Apple Books, Audiobooks.com, Scribd, and Kobo Books are some of the most popular audiobook apps that meet most of these criteria. Each app has unique strengths and weaknesses, so it's essential to evaluate them based on your specific needs and preferences. We'll review these audio book apps in the next section. Keep reading.
Top best audiobook apps for Mac and iOS
Let's get down to the list of the best audiobook apps for Mac and iOS. Here are five of the most popular, along with a brief overview of their pros and cons.
Audible
This is probably the most well-known audiobook app out there. It has an extensive library of more than 200,000 titles to choose from, including exclusive content. It's also the fastest way to get bestsellers as they come out. And many audiobooks are only available on Audible. The app is easy to use, and the playback options are customizable. There are options to change the playback speed, select a specific chapter, go into sleep mode, or add a clip or a bookmark so that you can easily return to that part of the book.
On the downside, iPhone users can't purchase books directly from the Audible app due to contract restrictions, so you must download them using a computer. On top of that, with an Audible subscription, you can listen to only one audiobook per month as part of the basic membership plan. However, Audible also offers higher subscription tiers that allow you to listen to more books per month.
Pricing: Plans starting at $8.95/month.
Free trial: Yes.
Apple Books
You may want to check out Apple Books if you're an Apple user. It has a great selection of audiobooks and eBooks, and the app itself is integrated into your Apple ecosystem, making it easy to use. Apple Books offers over a million titles and includes many bestsellers, so you shouldn't have trouble finding your favorite.
Unlike Audible, which has a standard monthly subscription with several tiers to choose from, Apple Books has no membership. Although the app is free to use, most books are paid. Also, some audiobooks are expensive.
Pricing: No subscription fee. There are free and paid books.
Audiobooks.com
There are more than 300,000 books on Audiobooks.com, and 10,000 of them are free. The service costs $14.95 a month and comes with two audiobooks: one from the normal list and one from a new list of VIP titles every month. After that, you can buy any other books you want individually. You can get a good idea if you want to buy a book by reading a ten-minute sample. Both iOS and Android can run the Audiobooks.com app.
Pricing: Plans starting at $14.95/month.
Free trial: Yes.
Scribd
Scribd is not just about audiobooks; you can also get access to over two million eBooks, podcasts, and magazines like The New York Times and The Wall Street Journal. It contains hundreds of thousands of books and audiobooks for subscribers to choose from.
Scribd also has sheet music in their service, giving users access to the best music of the day. As a special touch, the app has a section called "Scribd Originals," which has titles that are only available on Scribd and come from its own original content production sector. It also comes with Scribd Audio, which lets you look through audiobooks that are only available on Scribd.
You can download books to listen to offline, add bookmarks, and do just about everything else that other reading apps do.
Speaking of cons, keep in mind that you don't get to keep the books you listen to. However, one of the things that really sets Scribd apart from Audible is that you can try out multiple books at once and avoid getting stuck with any bad ones. Unlike Audible, where you take a risk in choosing a new listen and may not enjoy it, Scribd offers the option to switch to another book if you start to dislike the one you're listening to or reading.
Pricing: Plans starting at $11.99/month.
Free trial: Yes.
Kobo Books
Kobo Audiobooks content is quite extensive. They have over 5 million titles for you to choose from. The only drawback is availability. Some new titles aren't available in all countries at the same time.
With Kobo, you can buy audiobooks without even subscribing to the service. It allows non-members to buy ebooks and audiobooks whenever they want for a cash price. This is pretty convenient if you're a light reader and just want to pick up an audiobook or two.
Kobo also offers subscribers monthly credits that can be used to purchase titles. Members receive one credit per month, which is the cost of most books in their library. Additional credits can be easily purchased if you need more per month, and unused credits roll over to the next month. There are no expiration dates or restrictions on unused credits.
Speaking of cons, keep in mind that you can't listen to Kobo audiobooks on your computer.
Pricing: $9.99/month.
Free trial: Yes.
Is there an app for free audio books?
Have you ever wanted to listen to your favorite book but can't find an audiobook version? Or maybe you just want to create your own audiobook from a text document. With Permute, you can quickly and easily turn any text into an audiobook.
Install and open Permute
Click on the Permute's Workshop in the bottom-left corner
You'll see a pop-up asking you to open preferences. Click Open Preferences
Choose Workshop in the left sidebar
Then check the Text to Speech box

Go back to the main Permute window and click the Permute's Workshop in the bottom-left corner one more time
You'll see an option to drop a text file for conversion as well as an option to choose voice and speed for your audiobook
Wait until Permute finishes the conversion.
Another app you may want to try is Speech Central. It can read aloud any webpage article, textbook, or document with just one click. Here's how to use Speech Central:
Install and open Speech Central
Click the "+" button at the top to add your text. Choose Import File
When the file is added, double-click on it. You'll see the gear icon. Click it
In the Speech tab, you can choose the voice, adjust its speed, volume, and more
Once you've put in your text and adjusted the settings, click the "Play" button to hear your text spoken.
Finally, we recommend you try Curio to listen to news and stories from iOS devices and the web. The app offers a curated selection of high-quality audio content from popular publishers like The Guardian, The Financial Times, and The Washington Post, among others.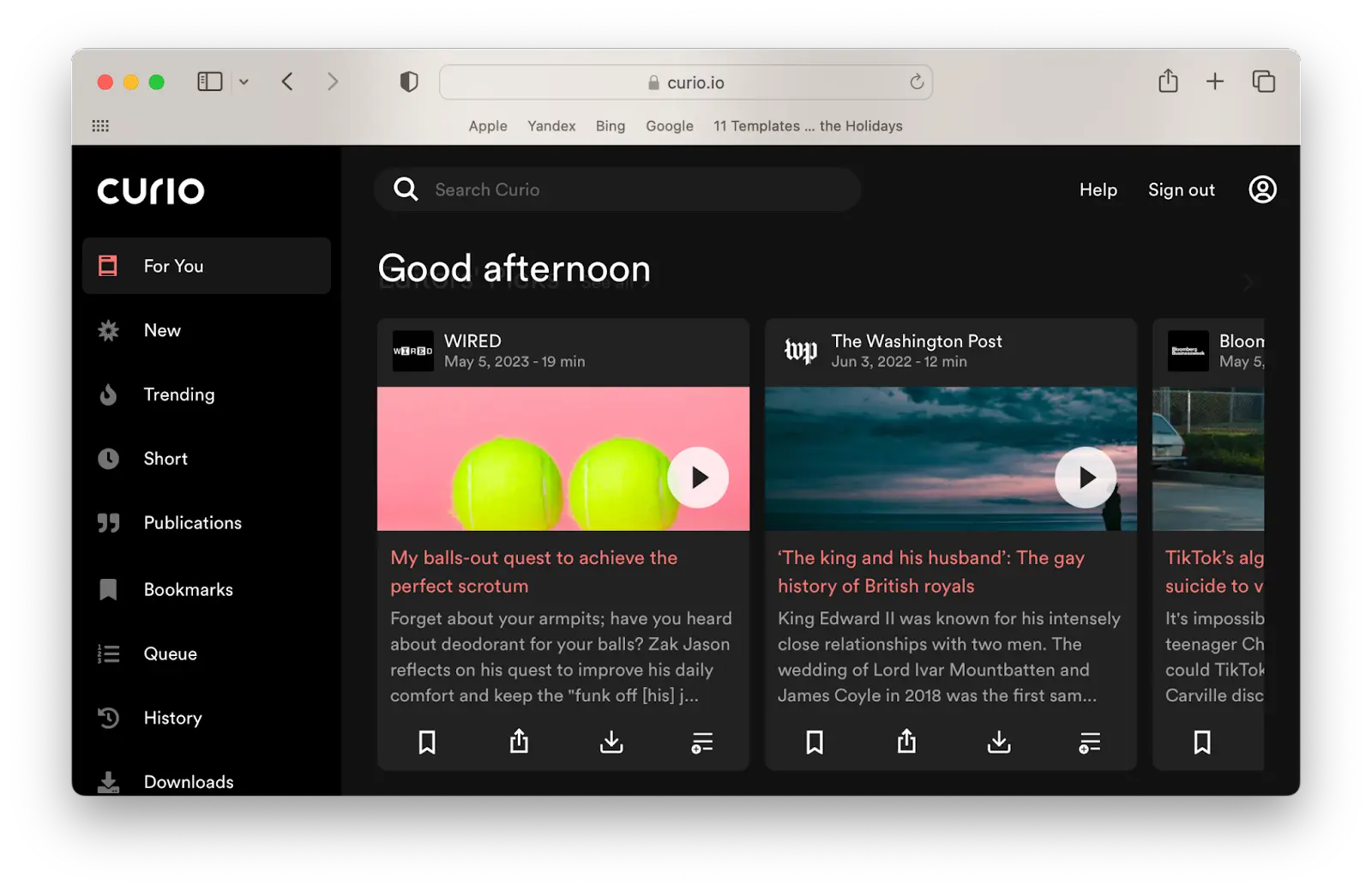 In addition to its vast selection of audio content, Curio has a user-friendly interface that allows you to easily search and discover new content. You can save your favorite stories, create custom playlists, and even download content for offline listening.
Apps for audiobooks: Final thoughts
Audiobooks offer an easier way to digest a book. We can listen to audio content at the gym or during our morning commute, which helps us maximize our time and provides an escape from our otherwise boring tasks. But with so many audiobook services to choose from, which one do you pick up? Audible is undoubtedly the most popular, but how do other Audible alternatives compare? In this article, we reviewed five audiobook apps, such as Apple Books, Audiobooks.com, Scribd, Kobo Books, and Audible.
On top of that, we introduced to you other great apps, namely Permute and Speech Central. Use them if you want to turn any text into audio. Try Curio if you wish to listen to news and stories carefully selected for you. All these apps are available on Setapp, a platform that offers dozens of fantastic Mac, iPhone, iPad, and web tools to tackle any task. By signing up for a 7-day free trial, you can explore all of the Setapp apps mentioned in this article and many more.
Now that you know how to choose the best app for audio books, may you find joy and inspiration in everything you listen to!