The best photo editing software for Mac in 2023
Since our phones are always with us, we take dozens of photos a day for a variety of purposes, from selfies that we share with friends to payment receipts we need to keep to the images we plan to use for blog posts or websites.
This proliferation of photography and a wide range of use cases for images now means that not only professionals need to make all those photos look great. Sometimes we need to crop our shots, adjust the color, apply a specific filter, or watermark them for online sharing.
So how do we choose a photo editing tool that caters for our needs and skillset? Let's find out.
How to pick photo photo editing software for Mac
Photo editors differ wildly by their pricing, features, ease of use, speed, and specific goals they help you with. There are default tools that come pre-installed with macOS — such as Preview and Apple Photos — but they only work for very basic things like cropping or annotating. Maybe paying a little bit for the tool you're going to use every day and which is going to save you hundreds of hours makes sense.
That being said, there's no one answer to what's the best free photo editor for Mac. It depends on what you need to do and how much time you want to spend learning.
Here's what we recommend looking into when evaluating photo editors:
Price. Of course, there is fancy design software that will let you experiment with stunning photo effects. And if you're a pro photographer, it's worth investing in one of these tools. But note that they are usually pretty expensive and charge you on a subscription basis.
Frequency of updates. If you're paying for software, check if you'll need to pay extra for the updates. Keeping your photo editor up to date will be essential to your flow.
Features. Think of the most common use cases your photo editor should cover for you. It doesn't matter which bells and whistles an app offers if it can't satisfy your primary needs.
Learning curve. Note that you might need to take a day off to master professional tools like Adobe Photoshop. Make sure you're aware of the learning curve.
Best photo editing apps for Mac
In general, any good photo editor Mac frees up a lot of your time by automating certain repetitive tasks. On that note, let's go through some of the best paid and free photo editing software for Mac and mention which use cases each one fits really well.
Luminar Neo
Luminar Neo is an AI-powered photo editing software that can help you perfect your shots with simple tweaks and fixes suggested by mighty AI algorithms. Use the app's tools to analyze your photo and adjust its basic settings, fix portrait imperfections, remove noise or unwanted background items, enhance details and colors, add dramatic elements like augmented sky or sunrays. Save your editing settings to use on future shots or implement Luminar Neo's own preset looks for defined, polished results.
Price: Free to try with Setapp, then $9.99/month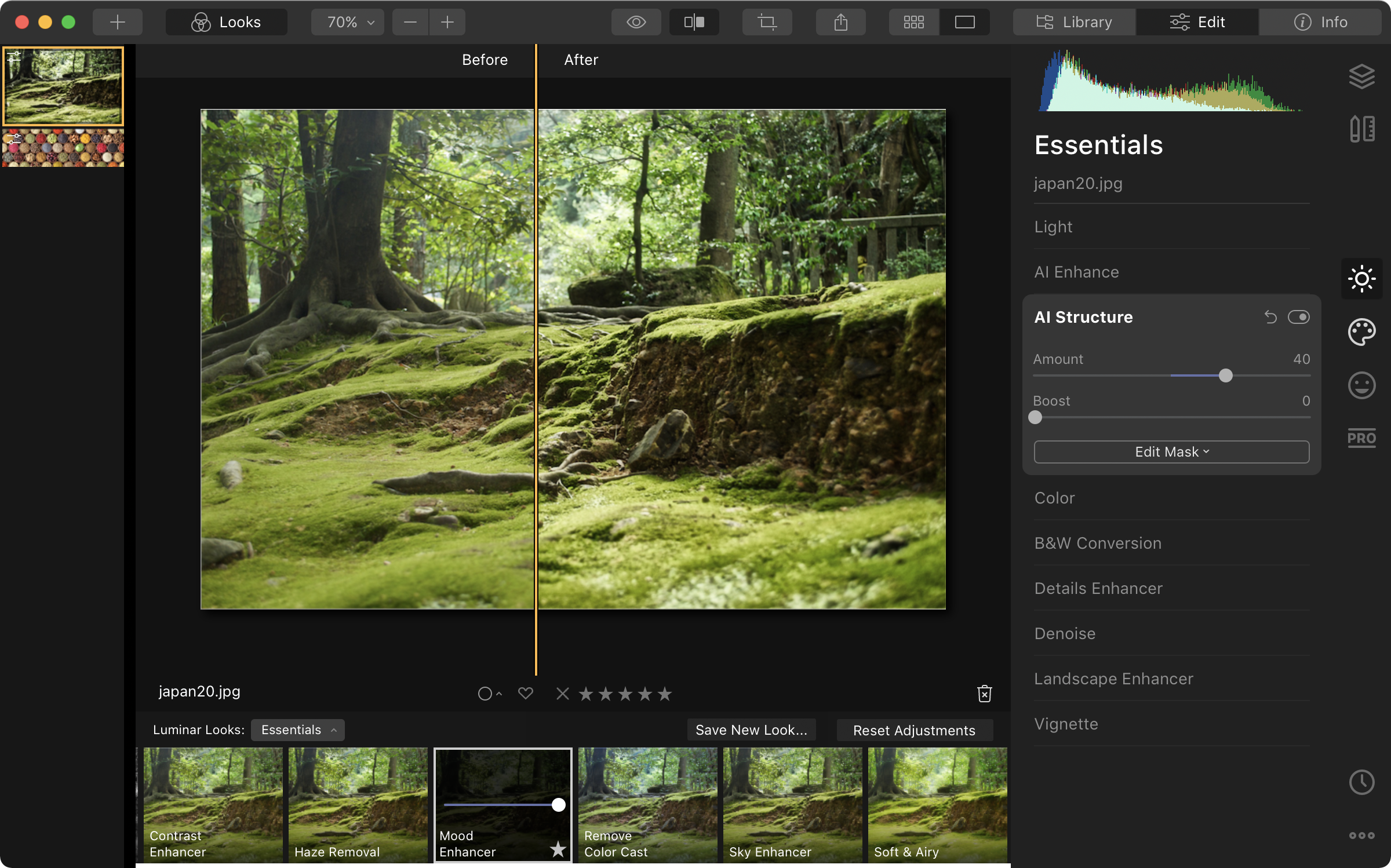 Adobe Photoshop
If you're looking for the ultimate Mac image editor that would truly allow you to bring your photographs to the next level, it would probably be Adobe Photoshop.
Nothing is more iconic in the retouching world than Photoshop. First released in 1990, Photoshop has continued to be the most comprehensive and advanced photo editing software for Mac. It's not perfect though — it requires a lot of computing power, is difficult to learn, doesn't have a photo organizer, and is the most expensive tool on the list. But if you need to reimagine your images, Photoshop will help you get there.
Price: $20.99/month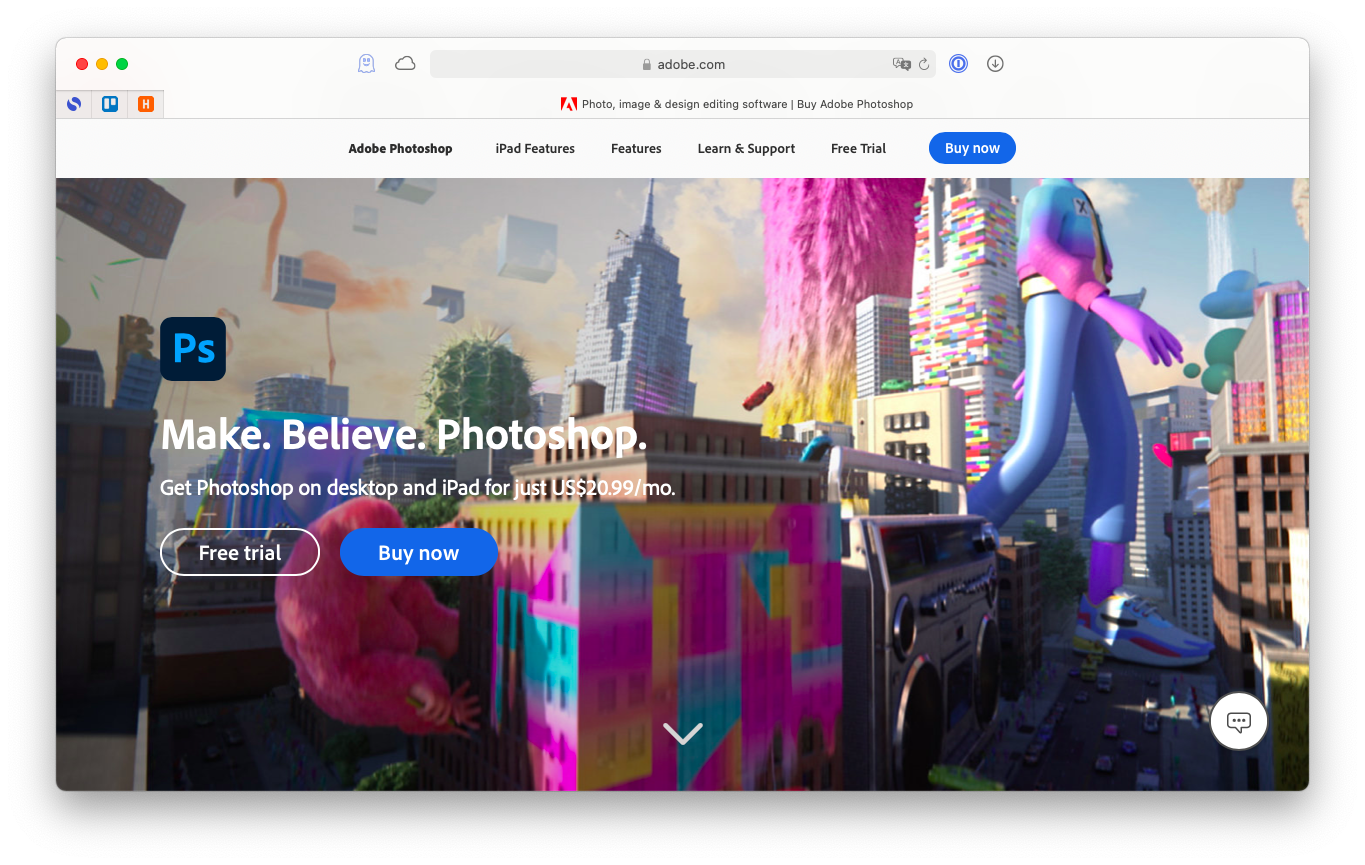 CameraBag Pro
Want a photo and video editor that is effortless to use, even for complete beginners? Look no further than CameraBag Pro. Often compared to Lightroom, CameraBag Pro has a richer toolkit and a unique preset-based workflow. Many photographers tend to get CameraBag Pro in addition to Lightroom. Here's just a fraction of the app's superpowers:
Layerable adjustments and presets
Unique photographic effects and filters
Curve-based color adjustments
Watermarking.
Price: Free to try with Setapp, then $9.99/month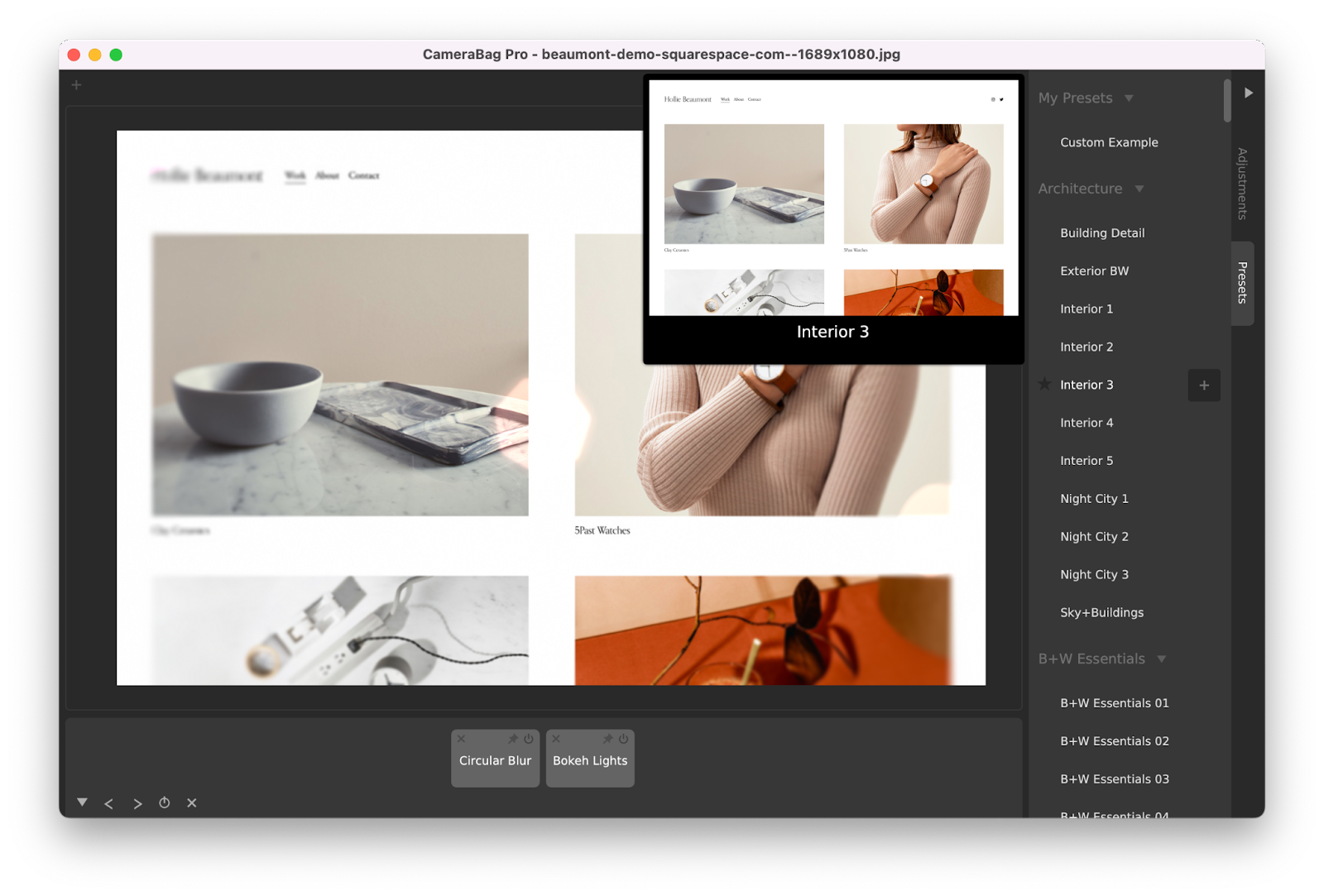 Adobe Lightroom
When you need a tool for a high-volume professional production, get Adobe Lightroom. First released in 2007, Lightroom has become a true staple of every photographer's workflow.
You can imagine Lightroom as an all-in-one solution. It has everything you need to process and store a large collection (from tags to stars to comments) and at the same time features in-depth retouching tools and custom filters that can be quickly applied to batches of images at once.
The downside? Lightroom is expensive, not easy to pick up, and very taxing on your machine. So if your goal is mastering photo production, Adobe Lightroom is more or less a must. Otherwise, you have plenty of other options.
Price: $9.99 a month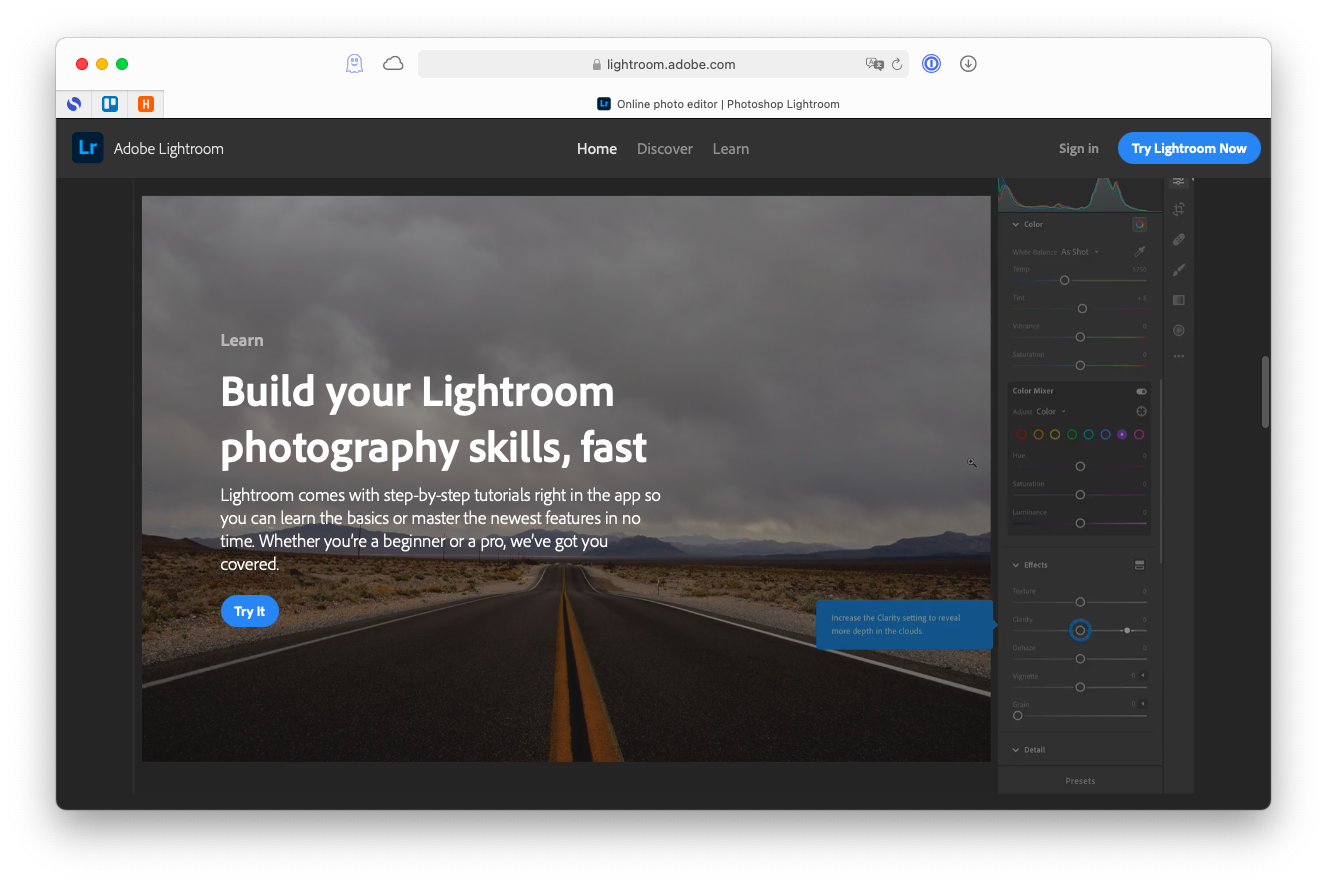 Preview
You don't have to go far to find a decent free photo editor for Mac. Preview might just do the trick! It comes with your macOS and is the default app for opening any images.
What most people don't know is that Preview lets you crop and rotate images as well as adjust levels, exposure, shadows, saturation, and much more.
To access Preview's editing capabilities, just click the Show Markup Toolbar icon in the top menu.
Price: Free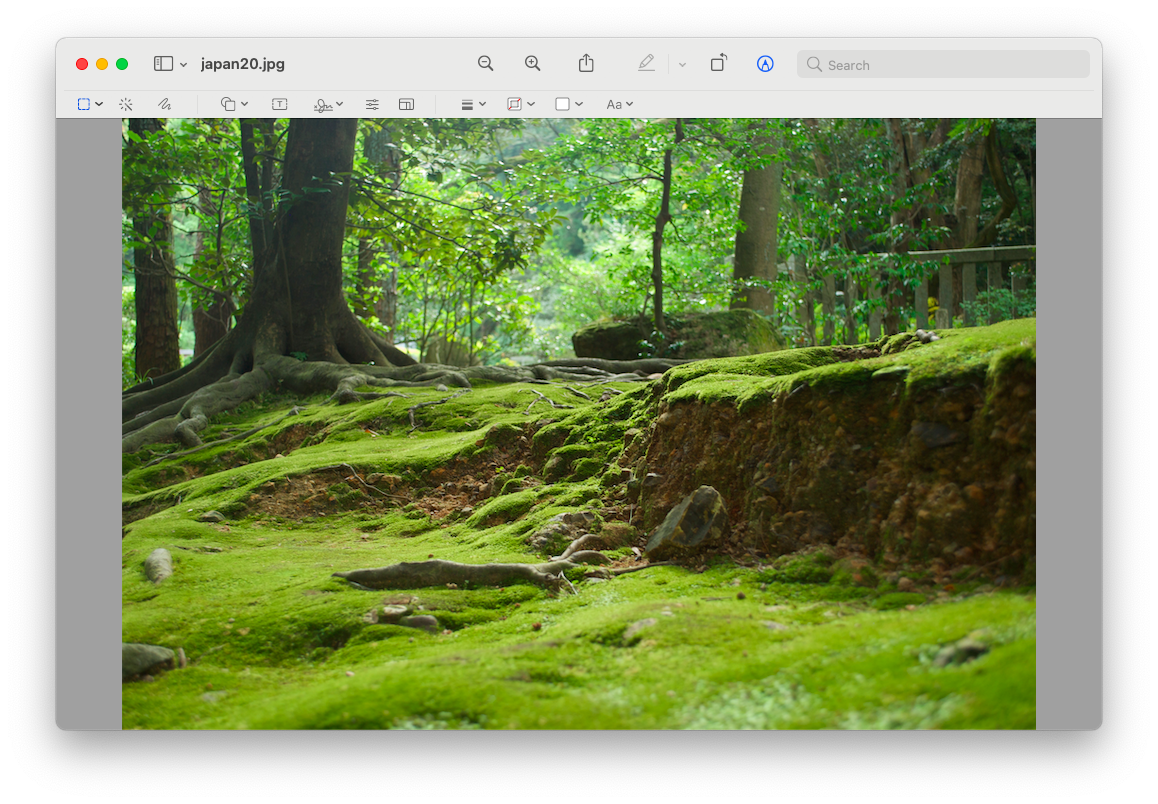 Apple Photos
When you start to hit the limits of Preview in terms of editing photos, there's another app, which is often called the best free photo editor for Mac — Apple Photos.
Apple Photos also comes preinstalled with macOS and is the natural continuation of iPhoto and Aperture. It has robust editing capabilities, letting you adjust curves and selective colors, as well as apply quick filters and do overall retouching work.
To work on an image in Apple Photos, just open it and then click Edit in the top menu. Switch between Adjust, Filters, and Crop at the top to change the editing mode you're in.
Price: Free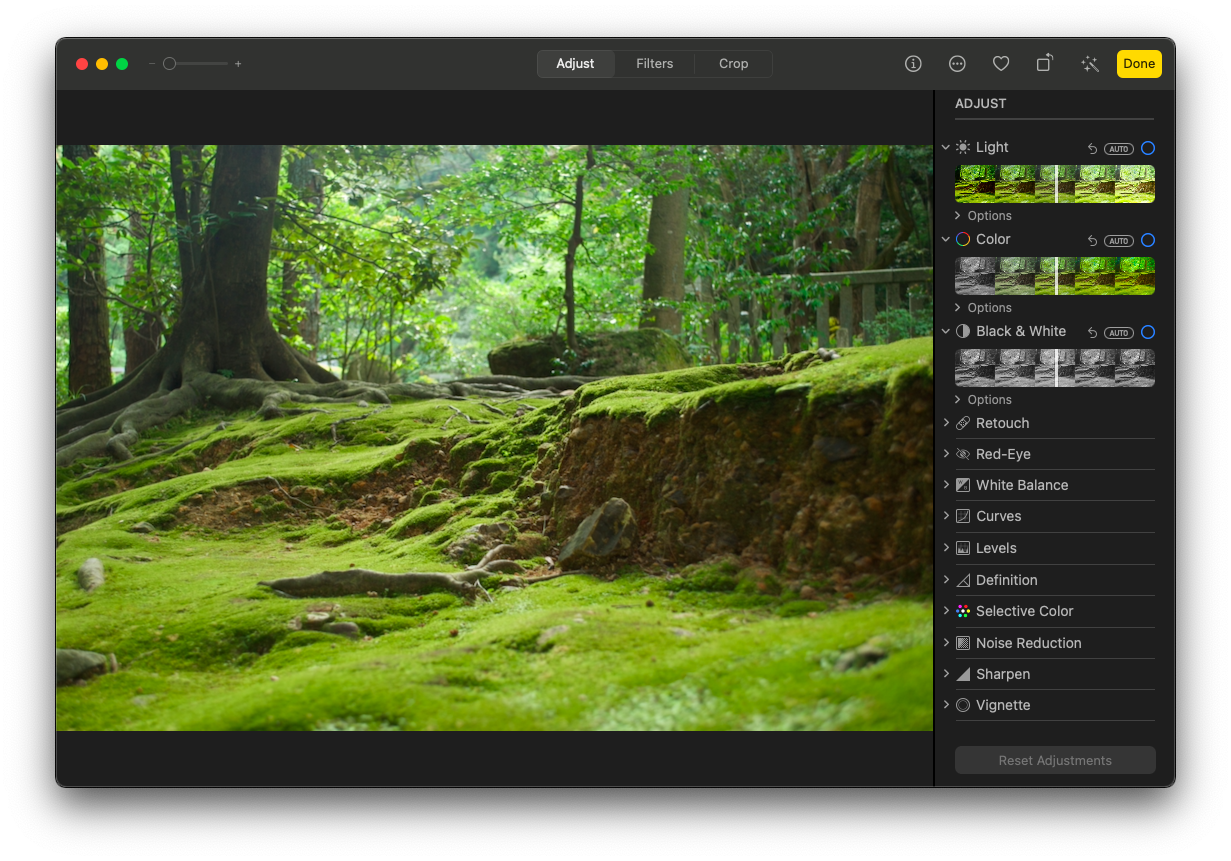 PhotoBulk
Truth is, you don't need your best free photo editor for Mac to do everything — it's ok to use a combination of tools as long as you know why you're using them. For example, almost none of the standard photo editing apps are great at processing images in bulk. But PhotoBulk is.
PhotoBulk is an essential tool for high-volume photo editing. Whether you want to resize, rotate, or watermark multiple images (hundreds, even), PhotoBulk can take on the task with ease. It will compress, rename, and reformat anything you throw at it — and it will do it fast. You don't even need to learn how to use PhotoBulk. Just select any necessary adjustments on the left, load up all your images on the right, and click Start.
Price: Free to try with Setapp, then $9.99/month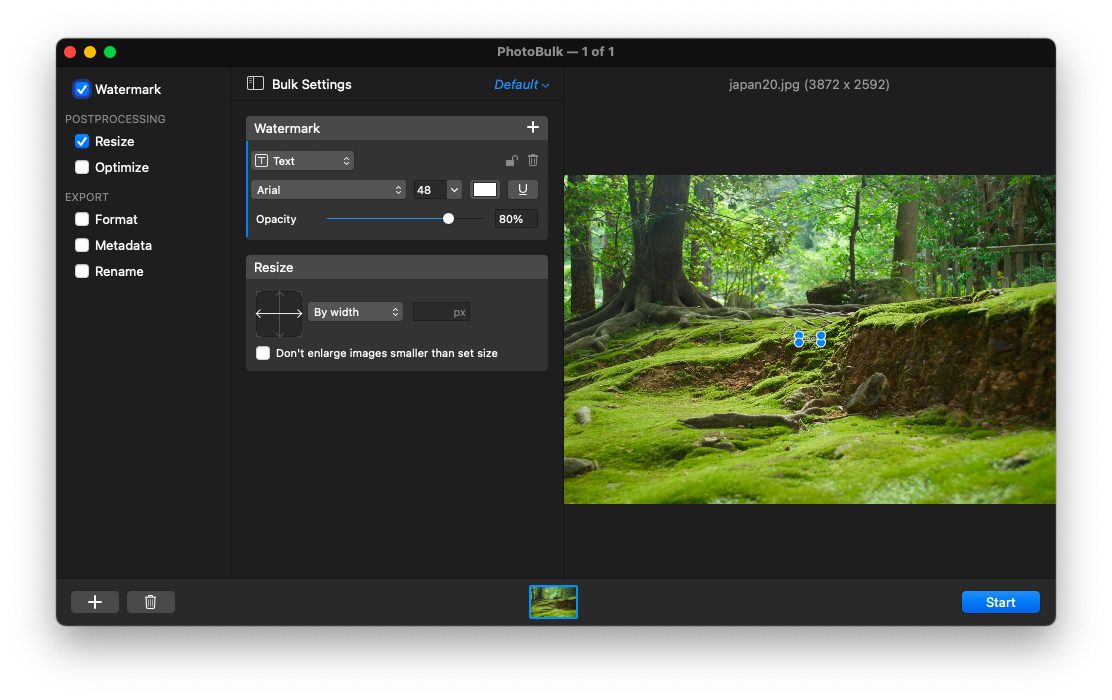 Pixelmator Pro
As one of the new Mac image editors, Pixelmator Pro quickly gained a loyal following among those who want access to powerful retouching tools without sacrificing either speed or ease of use.
Pixelmator Pro offers non-destructive photo editing, with full support for RAW photos (even the new AppleRAW), a wide variety of presets, and automatic enhancements based on machine learning. You can even use Pixelmator Pro to draw and illustrate as it comes with an impressive set of vector tools for unlimited creative expression.
Price: $39.99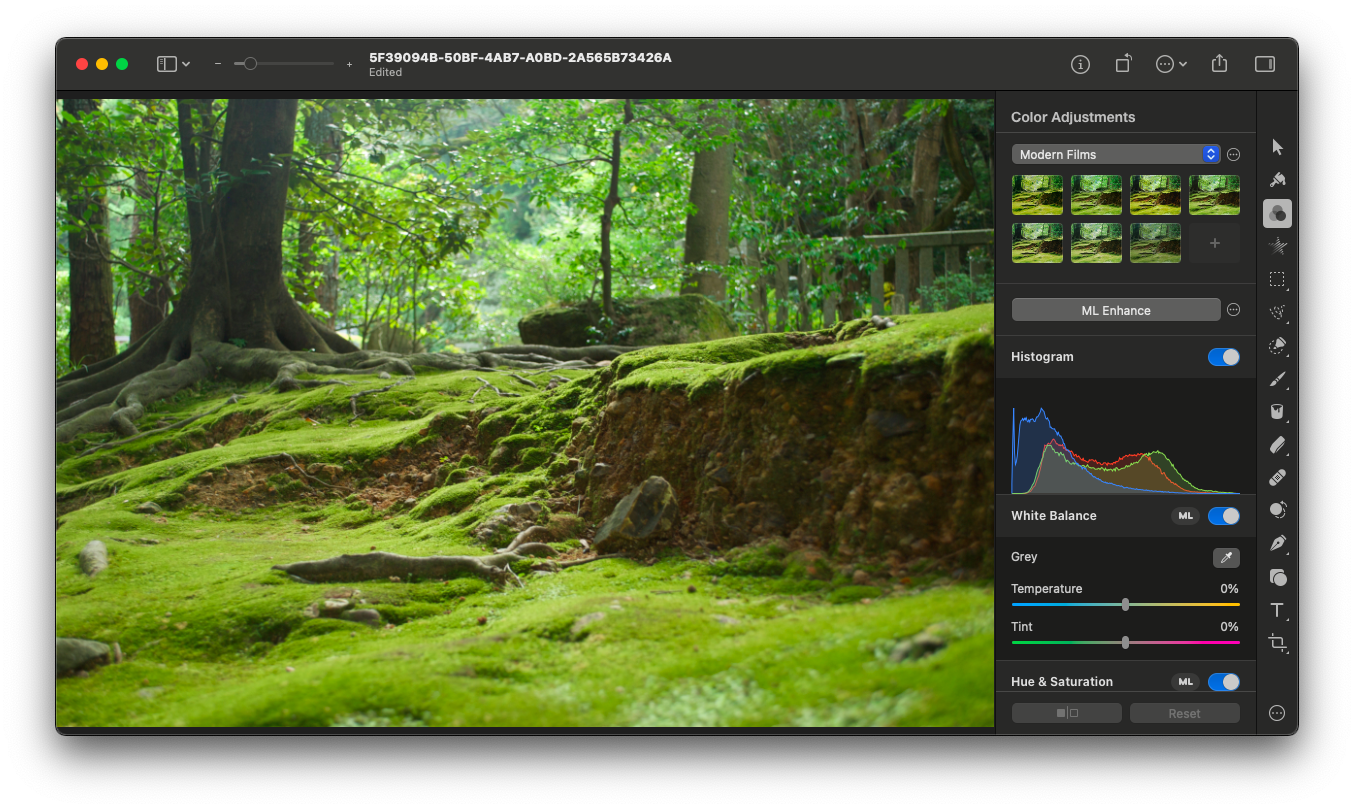 PhotosRevive
There are photo editors covering very rare use cases, and they can be true life savers! For example, did you ever want to colorize black-and-white photos? We usually do the opposite — changing our photos from color to black and white. But imagine you could revive your grandma's old photography!
PhotosRevive is a photo colorizer app that gives photos a new life. Upload any black-and-white photo — don't worry if it has blemishes or other imperfections — and wait for it to embrace colors.
Price: Free to try with Setapp, then $9.99/month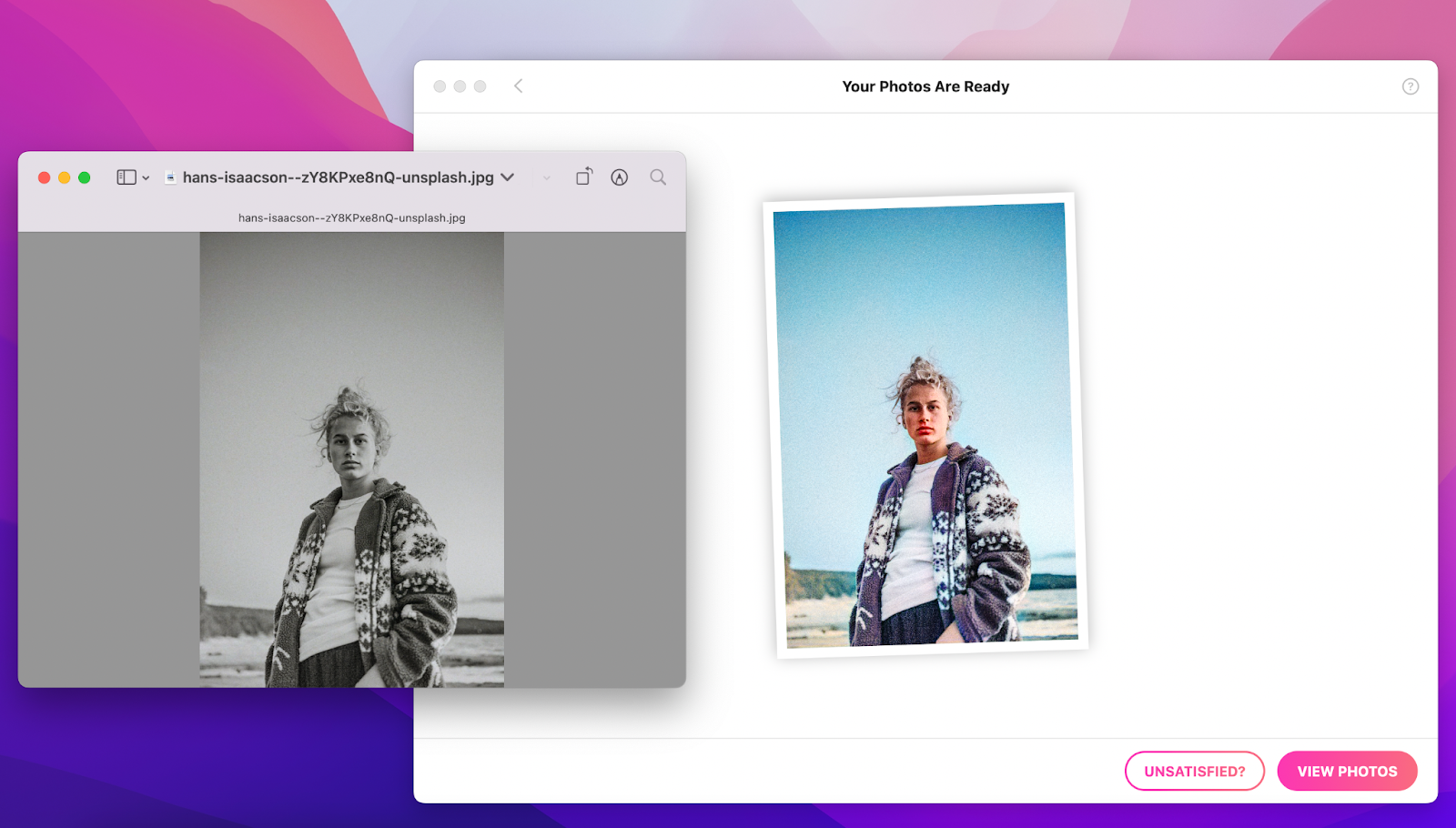 Affinity Photo
Since Adobe Photoshop has moved from a one-time license to a subscription model, lots of professionals started to look for alternatives. And many found the perfect one in Affinity Photo.
Affinity Photo is essentially what the best photo editing software for Mac would look like if you designed it from the ground up, without all the legacy features that Photoshop has to carry over from one version to the next. Affinity Photo is lightning fast, can handle massive files (over 100 MB), zooms at 60 frames per second, and is able to edit PSD files. It's not cheap, but it's available as a single payment rather than a continuous subscription.
Price: $54.99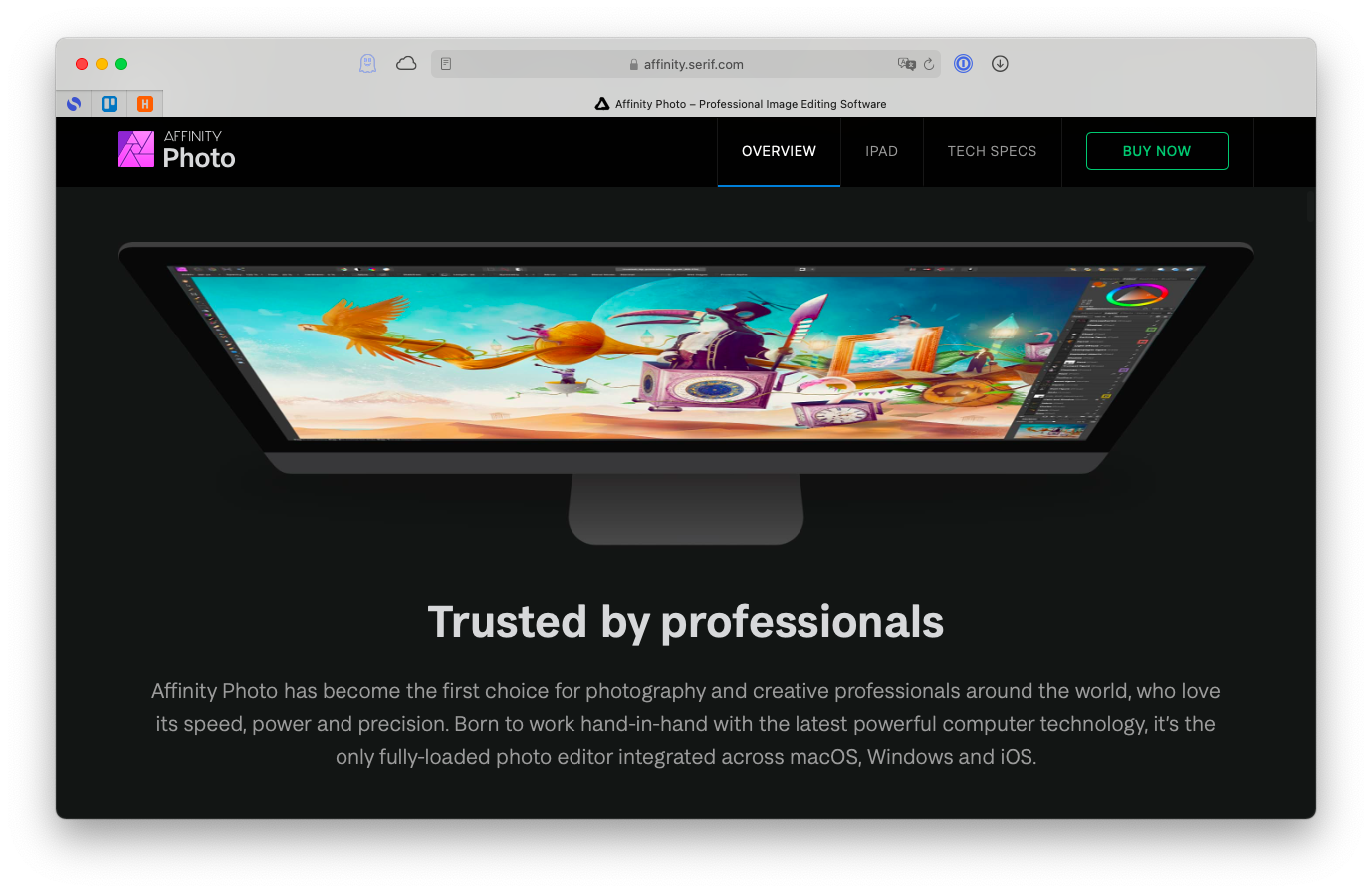 TouchRetouch
If you're looking for an editor that can help you remove redundant stuff from your photos — lines, blemishes, or people in the background — try TouchRetouch. Most people believe that retouching requires some professional expertise, but it's really a one-click job with this app.
You can also use TouchRetouch to fix tone and color, crop your photos, and more. We love the compare feature that lets you see the difference between the original and retouched photos.
Price: Free to try with Setapp, then $9.99/month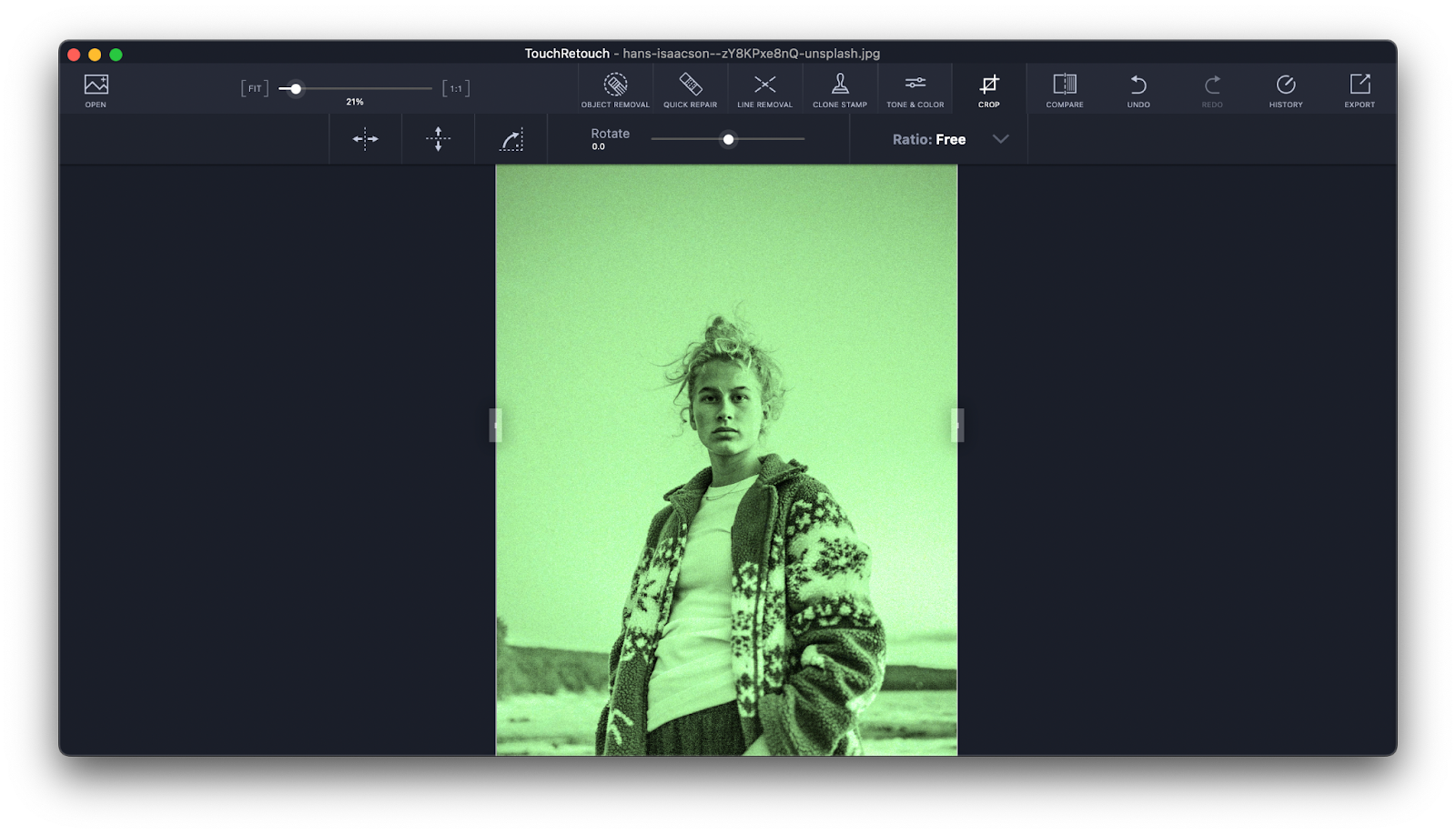 Bonus: Tools for organizing and managing your photos
Don't stop at editing single photos! With a Mac subscription for apps called Setapp, you can get a bunch of photo editors plus the tools that help you keep your photo gallery organized, convert and compress your photos, or even create some new art, such as time-lapse photography. Here are the handy helpers we recommend:
GlueMotion. It's an instant time-lapse maker that can help showcase your photography in a creative way. Upload a bunch of photos, set the speed, apply automated corrections and deflickering, and get a pretty video as a result.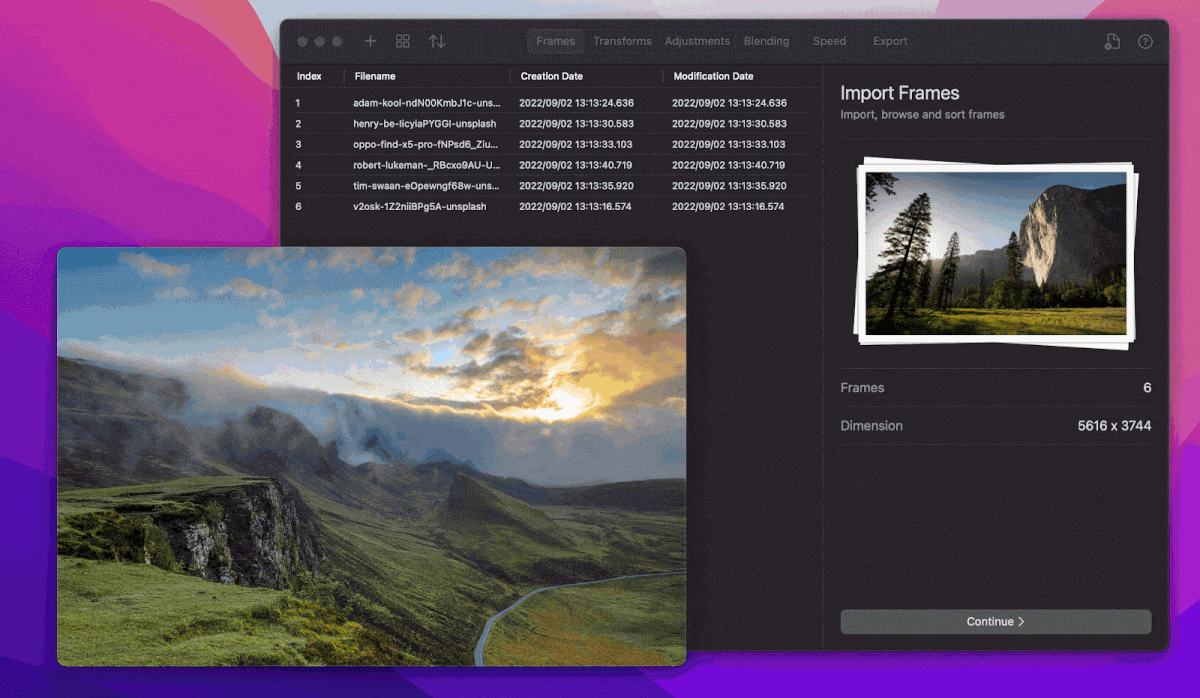 Gemini. If you tend to accumulate many photos on your Mac, Gemini will help you clean up. It scans your disk for photo duplicates and similars, and offers to delete them.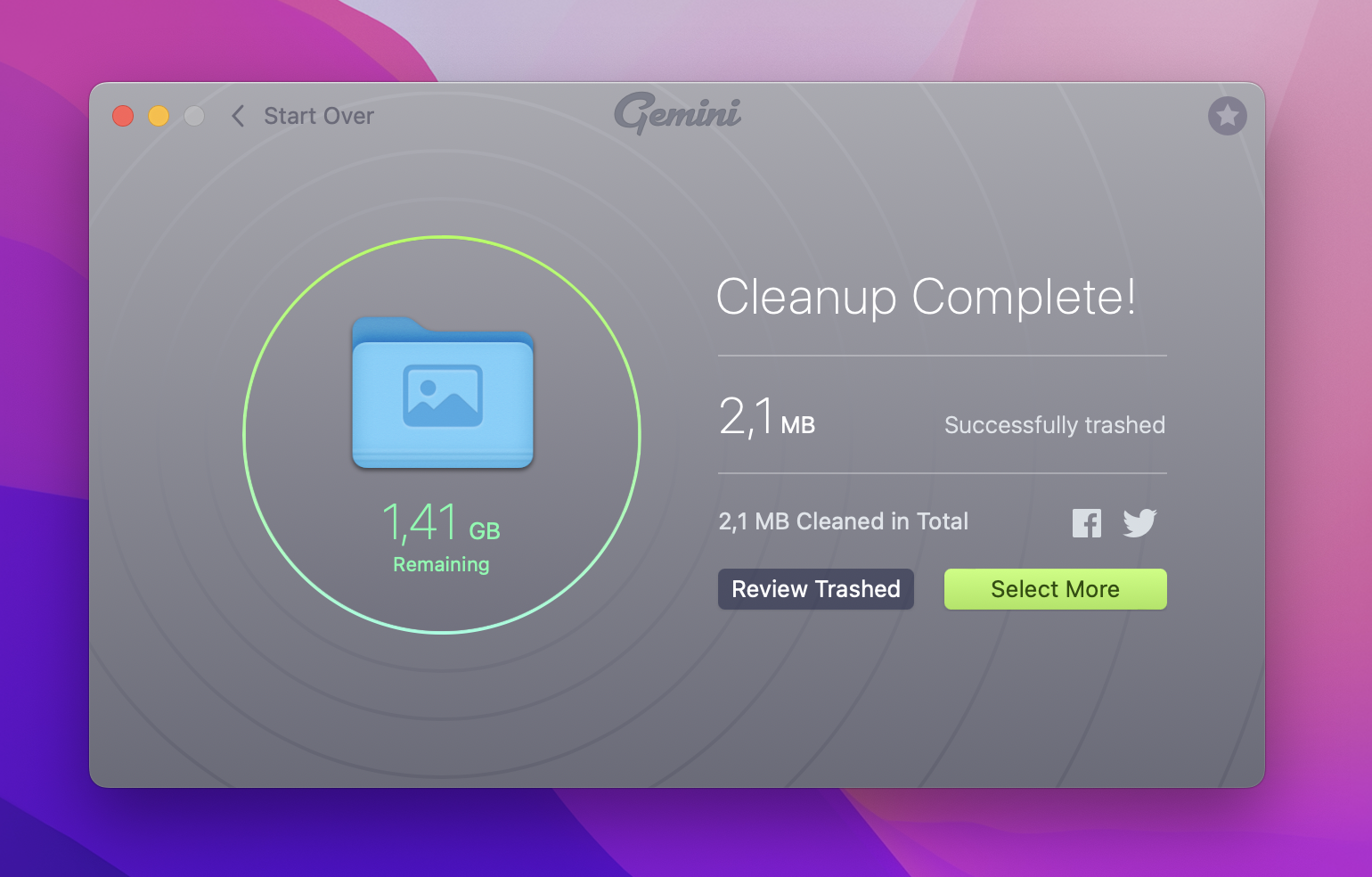 Permute. This universal media converter lets you tweak the format of your photos. From JPG to PNG and beyond.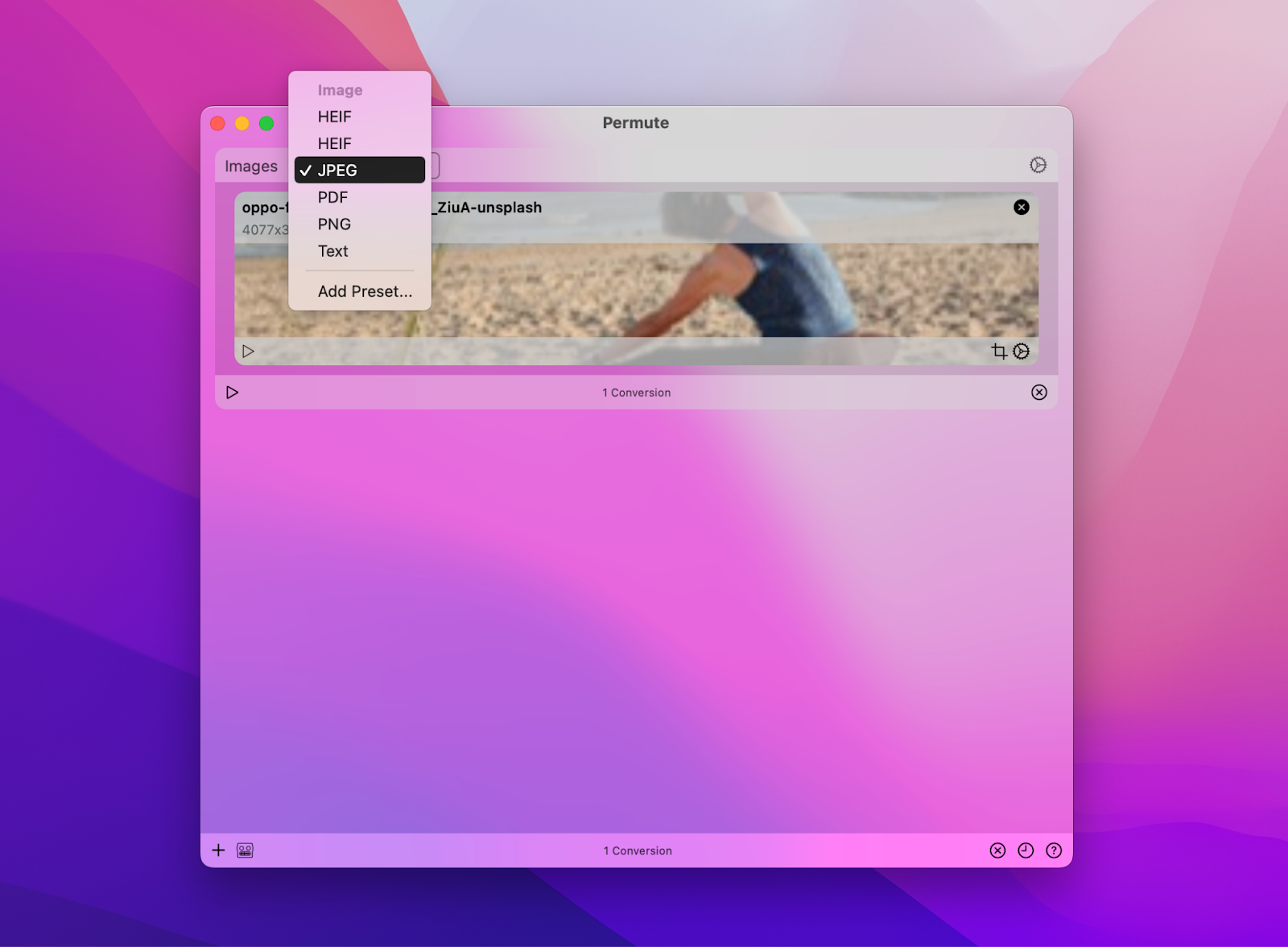 Try Setapp's collection of photo editors for free
As you can see, the world of photo editing is vast and very diverse. There is something for everyone. If you want the best images without lifting a finger, try Luminar Neo's AI capabilities. And if you need to process hundreds of images at once, you can't go wrong with PhotoBulk.
Better yet, install Setapp to always have a choice. This Mac and iPhone app subscription includes over 240 apps, many of which are photo and video editors. Just to mention a few, Setapp gives you access to Luminar Neo, PhotoBulk, CameraBag Pro, PhotosRevive, TouchRetouch, Gemini, GlueMotion, and Permute — the apps we mentioned in this article.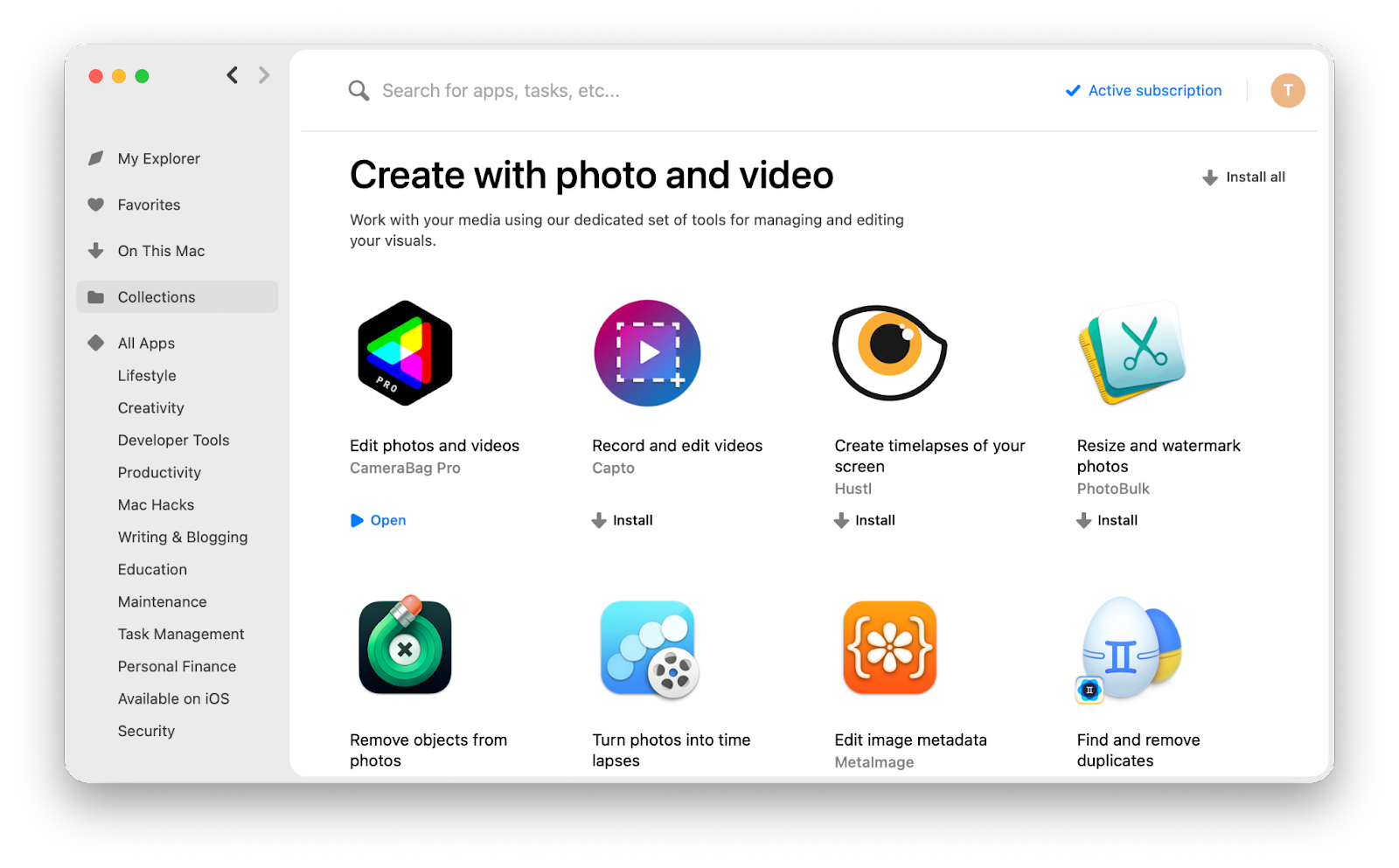 Sign up for a free Setapp trial and get a collection of photo editors out of the box. After the trial, the subscription fee is just $9.99 per month.
FAQ
What is the best free photo editing software for Mac?
It's impossible to pick the one that will fit everyone's needs, but here are a few suggestions:
If you don't mind using free open-source software, try GIMP, it's a bit more advanced than the free tools bundled into macOS.
For basic cropping and annotation, use Apple Photos or Preview.
Are you ready to pay a small fee for an advanced photo editor? You can try a whole collection of editors for 7 days free with Setapp, and choose what works best for you.
What photo editing app can I use for Mac to change photo resolution?
You can do some basic image resizing with Preview, or change resolution for multiple images at once using a more advanced PhotoBulk app.
How to open a photo from Mac photos in another editing app
Photos can integrate with your third-party photo editor. If you want to edit an image from Photos using Luminar Neo or TouchRetouch, for example, open your image in Photos and click the three dots in the toolbar. Your third-party editor will be available as an extension.
---
As you can see, the world of photo editing is vast and very diverse. There is something for everyone. If you want the best images without lifting a finger, try Luminar Neo's AI capabilities. And if you need to process hundreds of images at once, you can't go wrong with PhotoBulk.
Best of all, Luminar Neo and PhotoBulk are all available to you absolutely free with a seven-day trial of Setapp, a platform with more than 200 productivity-enhancing Mac apps. Try each Setapp app today at no cost and see how you can reinvent your photo production system and much more.