How to plan a party checklist
Whether it's an intimate gathering of close friends or a year-end blowout, nothing beats a great party. But it takes a lot of foresight and planning to bring a party off successfully.

To get your guests together, keep them well-supplied with food and drinks, and make sure they stick around, you're going to need a little elbow grease.
The best gift you can give yourself when planning a party is to start planning early. If you don't get your game plan together a few weeks in advance, you're more likely to rush and make rookie mistakes like ordering too much or too little food.
Plus, if you don't distribute the work over the days and weeks leading up to the party, you'll have to do it all at once. This can leave you tired and frazzled (or worse, still working) by the time the party kicks off, when you should be circulating and schmoozing with your guests and playing the gracious host.
Our party planning list should give you the tools you need to make sure you're the life of the party...not a slave to it.
How to plan a party
Generally, party planners agree that you should start planning a party three to four weeks before your guests arrive. This gives you time to make big decisions about your guest list, theme, decor, and food, and then take concrete steps to make them happen.
The best way to keep track of all the details (and man, will there be details) is to use a master checklist to stay on top of everything that has to be done before the date of the party.
A sturdy task manager like Goodtask can serve as your party's nerve center. It's robust enough to handle tasks on the scale of hours, days, and weeks. Whatever you decide needs to be done, add it to your checklist and give it a deadline, even if it's an arbitrary one.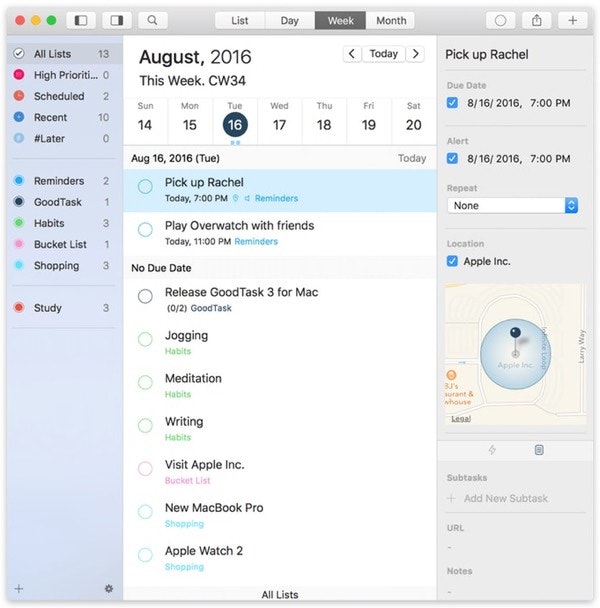 When it comes to throwing large parties, communication is key. Maybe you're coordinating with outside services: florists, caterers, and entertainment. Maybe you've invited 150 people and you NEED to know who can make it so you can get your seating chart finalized. Even if you're hosting a smaller soiree, the emails are going to fly.
If you have trouble staying on top of email anyway, you'll want to use an inbox manager to make your job easier. Canary Mail lets you group and filter your emails, unsubscribe from newsletters with a click, as well as pin, move, and snooze emails.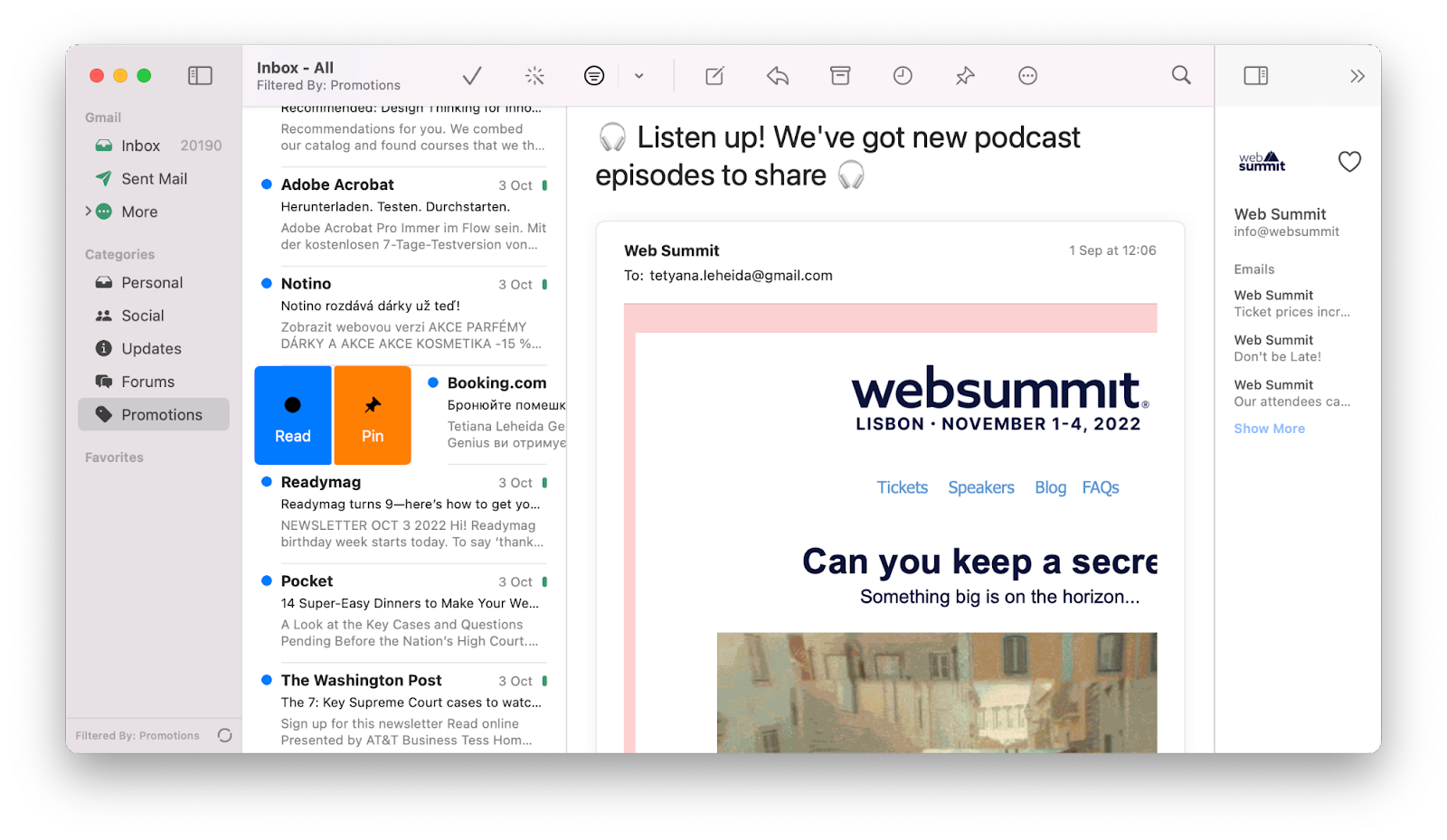 Party planning checklist template
Once you've got the right tools for the job, it's time to make a checklist for yourself.
No two parties are the same (no two good ones, anyway) but we've pulled together a party planning template that you can adapt for any shindig. It's grouped from the earliest tasks all the way down to the day of the party.
4 Weeks before party
Set the what, where, and when of the party: location, date and time, and theme
Set a budget: consider how much you'd realistically like to spend (plus a little cushion). Also, decide roughly how many guests you'll invite
Decide what elements your party will have: entertainment? Dinner? Dancing?
3 Weeks before party
Finalize your guest list and send invitations (email is best for most non-wedding events)
Arrange any outside help: rentals of tables and chairs, caterers, flowers
Set a menu for dinner or hors d'oeuvres and drinks
2 Weeks before party
Shop for and prepare any freezable dishes, if cooking yourself
Plan your music–a shared playlist is fun for smaller gatherings
Plan how you'll execute food preparation in the days before the party
1 Week before party
Clean house thoroughly, if hosting at your own home (this will reduce cleaning time)
Stock up on drinks (Three bottles of wine per every four people)
Check RSVPs and follow up with unresponsive guests for a firm headcount
Arrange furniture as you'll want if for the party (another good time-saver)
3 Days before party
Let your neighbors know (a little courtesy never hurts)
Choose a room or closet for coats
Shop for any needed groceries
Wash all dishes, glassware, and serving utensils you plan to use
Day before party
Prepare any make-ahead dishes, salads, dressings
Tidy the house with a once-over
Buy flowers, put up decorations
Prepare linens and napkins for tables
Make place cards
Day of party
If you've been following along this far, then you should be in the clear. All that meticulous planning is finally paying off! But, just to be sure, here's a final checklist to look over:
Place chairs
Finish any remaining cooking and put out snacks and appetizers
Set up bar and table
Put clean towels in guest bathroom
Give yourself a pat on the back. Your party is going to be fantastic.