The Best External Hard Drive For Mac Today
External hard drives are almost identical to the hard drives found inside of your MacBook or PC — they store information the same way, but happen to be enclosed in a separate case and connected via cable (or WiFi).
Due to their portability, external drives have long been a favorite among those needing extra room for their files, backups of their important documents, or an easy way to transfer information between machines. However, over the past decade, internal Hard Disk Drives (HDD) became bigger, cheaper, and faster to the point where needing an external drive for Mac was unnecessary for most users — until a new standard of technology was released with the Solid State Drive (SSD).
Why Use An External Hard Drive For Mac?
The most obvious reason to use an external hard drive over and above your existing one is to extend limited storage capacity — something which has ironically become smaller over the years thanks to the SSD technology. MacBooks, in particular, often come with only 128 GB of Apple hard drive storage. You can upgrade them, but Apple makes this both difficult and costly.
It's also a good way to transfer files quickly between devices, including between Macs and PCs — although this is generally best reserved for large files.
Finally, external hard drives are great for making backups of your files so that they are physically isolated from your device — this is a good measure of security because your primary drive could become compromised.
The quite obvious tradeoff here is that you have to carry external hard drives around with you, unless they are purely used as occasional backups.
What's the difference between SSD and HDD Mac hard drives?
In simple terms, SSDs are much faster than traditional HDDs. Also known as flash drives, SSDs store information on microchips and have no moving parts. You might recall hearing about flash drives back when USB stick drives were popular — SSD technology is largely the same, just on a bigger scale. Conversely, HDDs have a mechanical arm and magnetic tape that physically write and read information.
The newer technology means that SSDs are smaller, lighter, and faster — but they come at a greater price. That's why the latest Macs and MacBooks now have faster drives, but less storage space than they did five years ago. The speed difference between SSD and HDD is so vast, though, that you'll not want to go back.
Of course, SSD technology made its way to external hard drives too. They quickly became sought-after, especially as an external hard drive for MacBook Pro. That said, the choice depends on what you're using your drive for.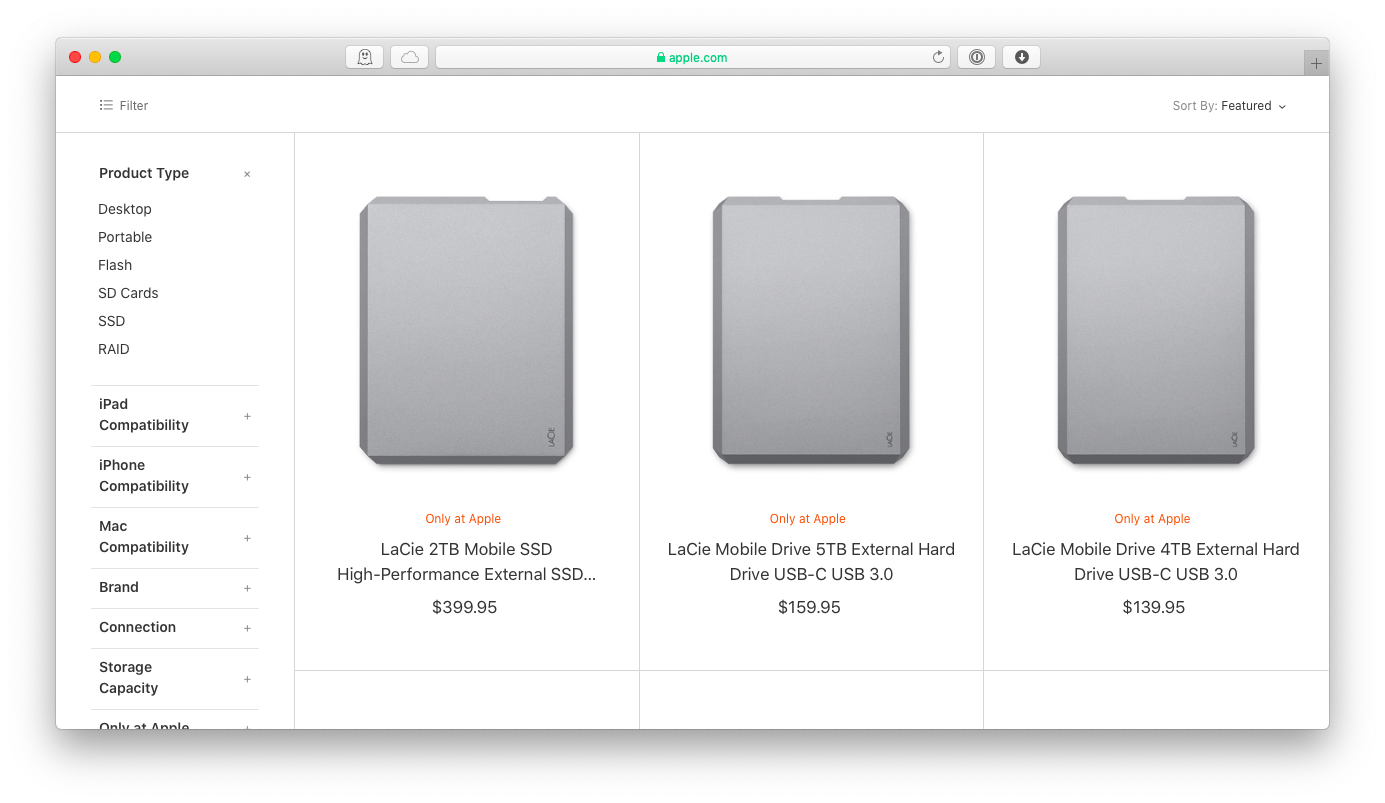 What to look for in an Apple external hard drive?
With the recent introduction of cloud-based storage, such as Google Drive and Dropbox, external hard drives for Mac have become less popular for the casual user. However, they are still widely used among professionals and content creators who work with large files or need locally stored backups of their Mac hard drive. There are several important things to look for when buying an external hard drive.
HDD vs SSD: If you care about speed, SSD is the only way to go. If you need maximum storage space, HDD is your best bet for the money.
Capacity: Most drives begin at 128 GB of storage (including the MacBook Air hard drive) and work their way up in doubles, up to about 2 TB for SSD and over 4 TB for HDD. For reference, a 4K movie file is about 100 GB, but a short video saved from your phone might only be 30 MB.
Cable standard: Some external hard drives use Apple's proprietary Thunderbolt cable — a very fast standard but not compatible with Windows PCs and lots of other devices. A safe middle ground is USB 3.0 or the much faster USB-C.
Size and durability: For those of you who need the best portable hard drive for Mac, you might opt for a physically smaller drive that is easy to carry around and slip into laptop bags. The tradeoff is usually a weaker case, more prone to damage if dropped.
With those features in mind, it's best to do some research before making a decision on the best external hard drive for Mac.
Large and affordable: Western Digital My Passport 4 TB HDD
If storage space is your primary need, look no further than the 4 TB HDD from Western Digital. Although not an SSD, the large capacity and USB 3.0 connection will keep things moving swiftly enough without having to worry about running out of space. This Mac external hard drive is probably best for working with extremely large files that you can transfer without worrying too much about how long it's going to take.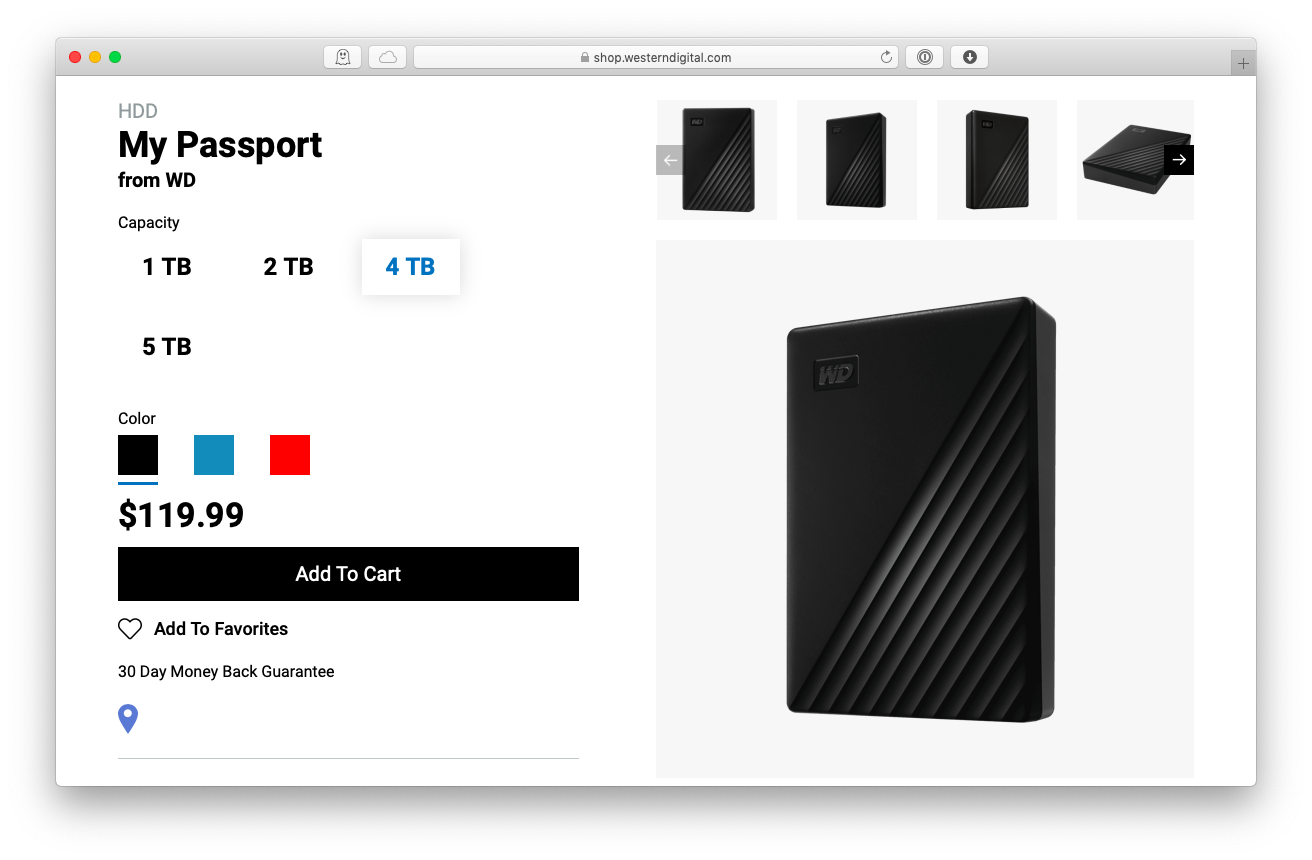 Pros
Cons
Slower HDD format, not SSD

Comes with dated backup software
Lightning-fast: Samsung T5 1 TB External SSD for Mac
If speed is what you need, then the Samsung T5 is your best bet. The T5's SSD format is one of the fastest around, but with only 1 TB of space it's best for users who don't rely on large files (not good for video producers or visual effects artists). The USB-C cable format means you have a highly compatible drive at the fastest possible transfer speed. It might as well be the best SSD for MacBook Pro, but it comes at a price. Nevertheless, being the smaller SSD format, it could be a strong contender for the best portable hard drive for Mac.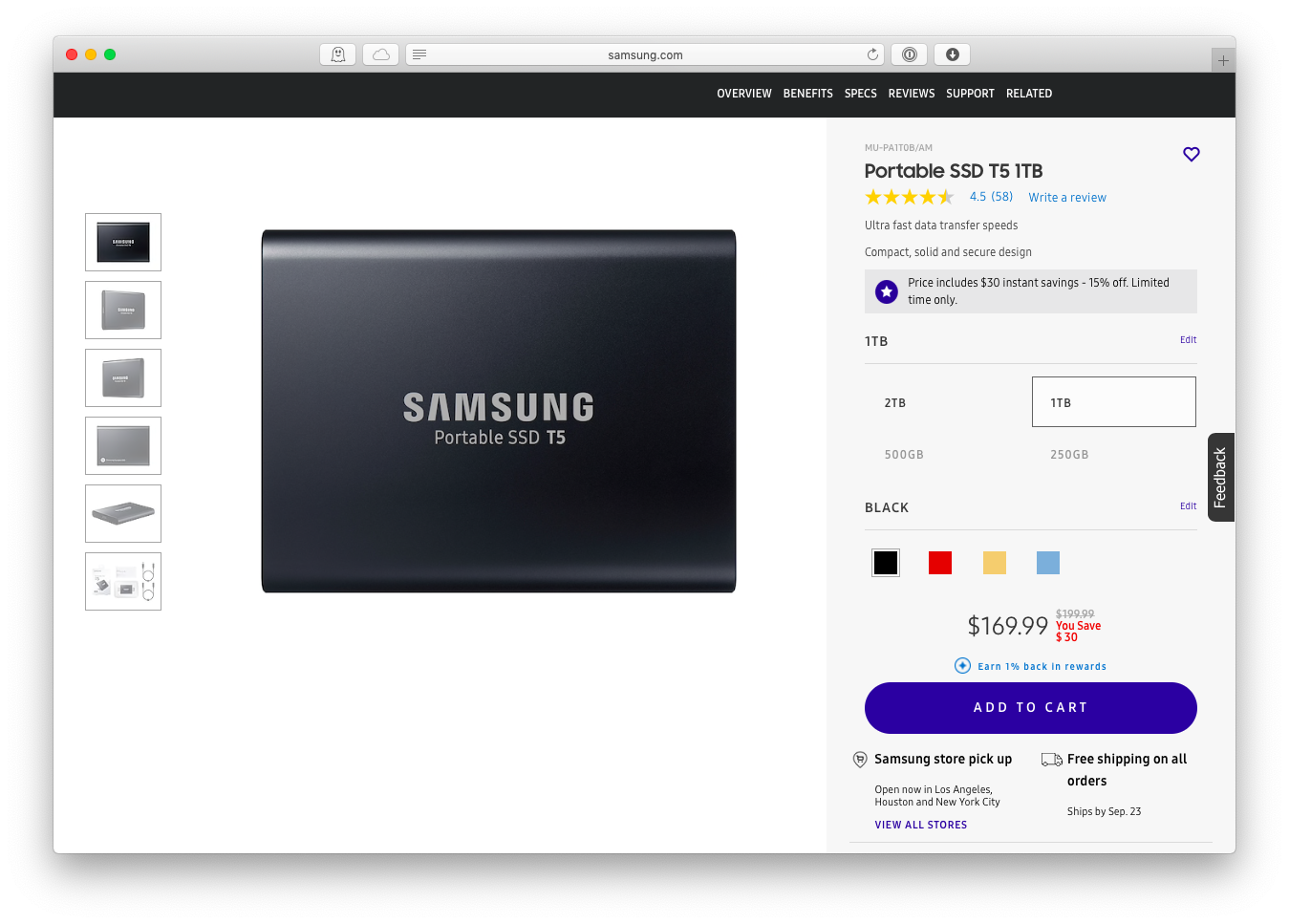 Pros
Super quick

Small, light, and portable
Cons
Expensive

Limited capacity
Balanced: SeaGate Backup Plus Slim 2 TB External SSD for Mac
The Seagate Backup Plus Slim 2 TB offers a fantastic balance of speed, capacity, and affordability. It's already formatted for both Mac hard drive and Windows, and comes with simple backup software that excels at scheduled backups. The USB 3.0 format isn't quite as quick as USB-C, but still rapid enough for a casual user who just needs an external drive for Mac. Additionally, the metal enclosure looks sleek and protects the drive well. If price is important to you, then this could easily be the best external hard drive for MacBook Pro.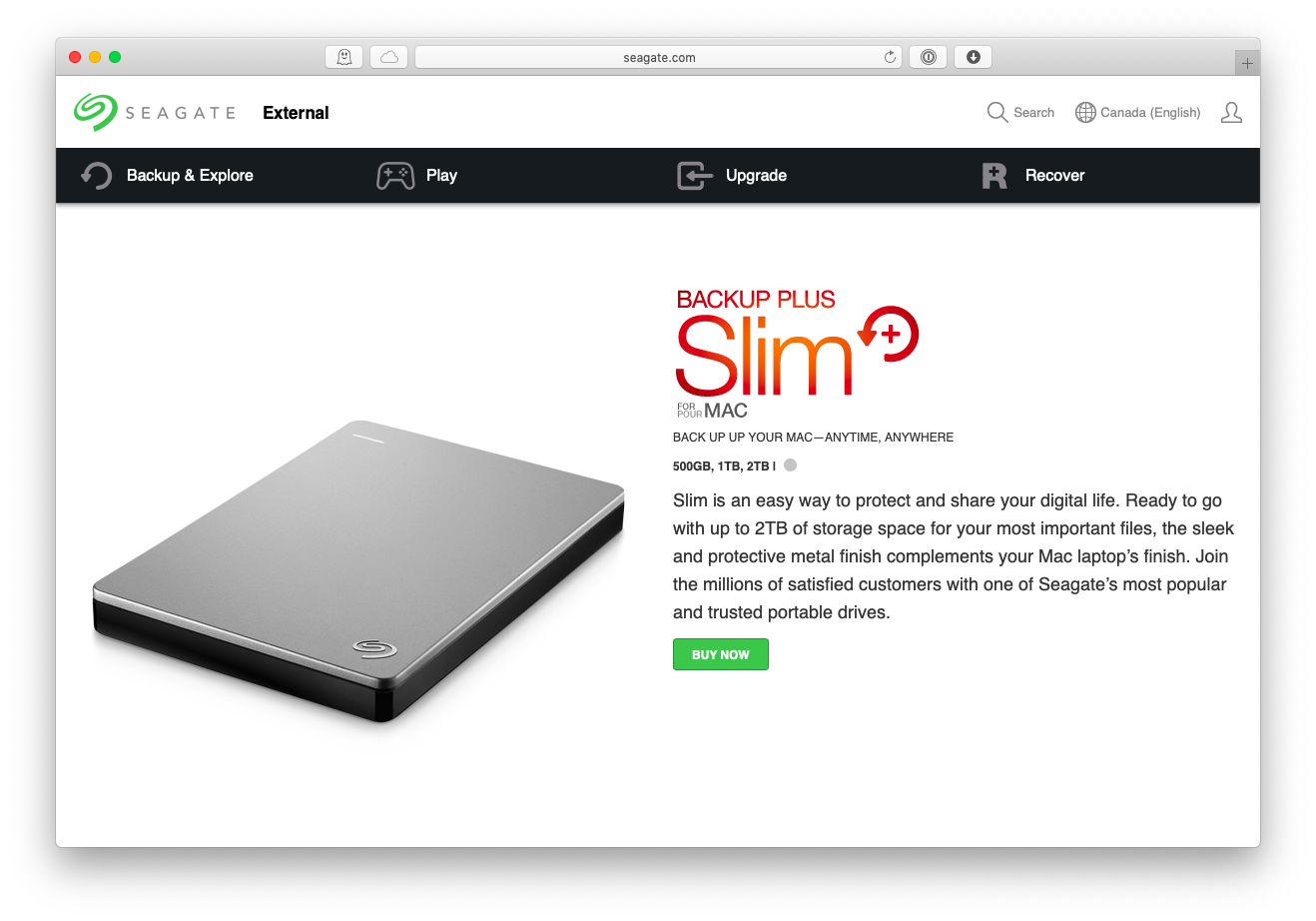 Pros
Balanced offering of size, speed, and price

Sleek metal case
Cons
Best Mac hard drive backup software
By now you have a good idea of what kind of Mac external hard drive you need, but you might not have thought about how to make the most of it. If you're looking to keep your files backed up and safe, you should consider using an app that's designed to do it properly. Although most external hard drives for Mac come with their own proprietary backup software, it's often lacking in features or has a dated design.
Get Backup Pro is your mandatory stop — a quick and stable backup application for your Apple hard drive. It comes with four different backup methods out-of-the-box, including simple copy and pastes, file clones, incremental backups, and versioned. You can schedule your backups as you see fit and even synchronize files between different drives and devices. With encrypted backups at your finger-tips, you don't have to worry about the security of your files — Get Backup Pro will handle everything.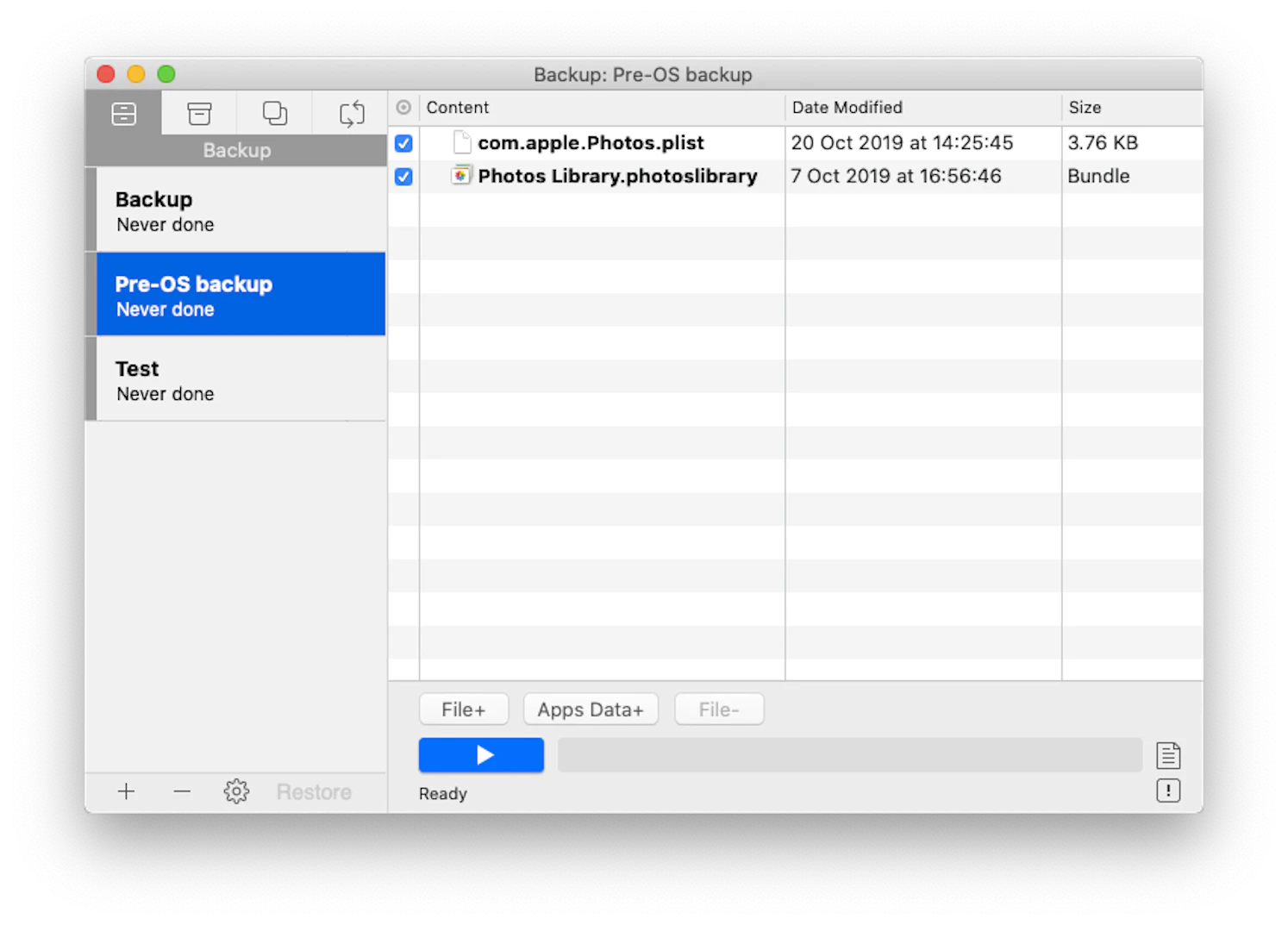 You might also want to have a solution for damaged or lost files for your new external hard drive — never know what could happen!
Disk Drill is another application for Mac which can help you recover or restore compromised files. You won't realize you need it until you one day unexpectedly lose your cherished photos, documents, or files that you took for granted.
To restore files easier, it's best to take preventative measures. Simply open the app, select which drives you want to protect, then rest assured knowing that you're covered on a rainy day. Disk Drill also comes with other handy features, such as a disk cleanup and partition tool. Its simple user interface makes managing your disks a breeze, but under the surface this sophisticated application can pay for itself many times over.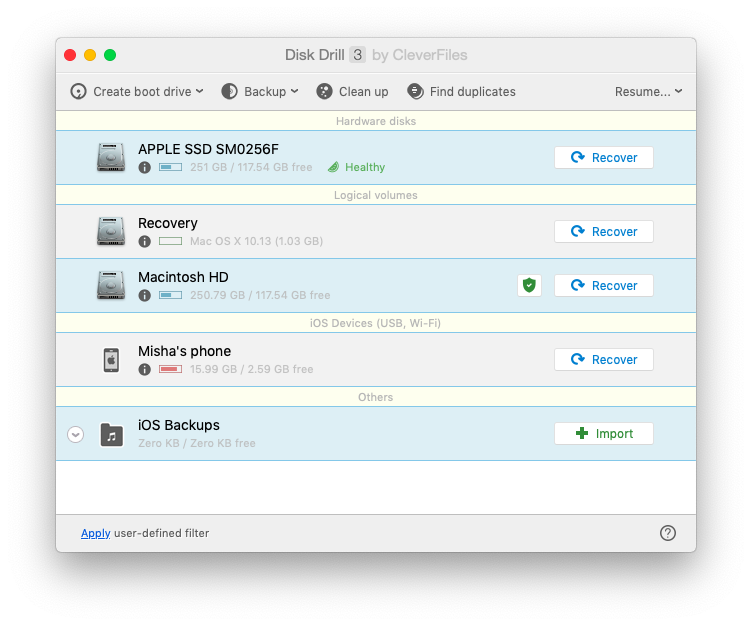 Luckily for you, both Get Backup Pro and Disk Drill are available for a free seven-day trial on Setapp to protect your new Apple external hard drive. Setapp is a subscription service for Mac that comes with over 200 indispensable apps to enrich your digital life. Aside from securing your new external hard drive, you can find apps that optimize your system, make you more productive, and help you find new ways of interacting with your devices. What will you download next?