How to recover deleted photos
Having photos accidentally deleted is a nightmare scenario for any Mac user. Whether it's a recent trip with friends, kids growing up, or a professional photoshoot — losing photos is akin to losing memories.
Keeping photos safe is the primary reason for people to have backups. But when you have images scattered across your Apple devices, it's hard to track them all, and a few are likely to be lost eventually.
Let's explore whether it's possible to recover deleted photos, how you'd go about it, and which tools you should use.
Is it possible to recover deleted photos on Mac?
Thankfully, there are a few ways to restore deleted photos on Mac and other Apple devices. A variety of native tools and third-party apps can assist you, but no option can guarantee a 100% success rate.
The first thing you should do when you realize there are photos missing is to stop working on your Mac. This is because when you delete a file, it's not physically removed from the hard drive — it loses its references in the files system and waits to be overwritten.
The more things you do post deletion, the more likely that you won't be able to recover deleted pictures. That's why it's important to find out how to recover deleted photos in the fewest clicks possible.
The easiest way to recover deleted photos on Mac
When you need the easiest and the most powerful solution for recovering deleted photos on Mac, look no further than Disk Drill.
Disk Drill is a top-rated data recovery app for Mac that supports all file formats and can get files back from connected devices at the same time, from SD cards to USB drives to iPhones and iPads.
Recovering recently deleted photos Macs can't find with Disk Drill is easy:
Launch Disk Drill. If you want to recover deleted photos from SD card or to an external hard drive (recommended), plug them in now.
Select your hard drive and click "Search for lost data"
Review the results of the scan. Narrow down the list by selecting Pictures
Preview the files you want to recover
Restore deleted photos that you want to get back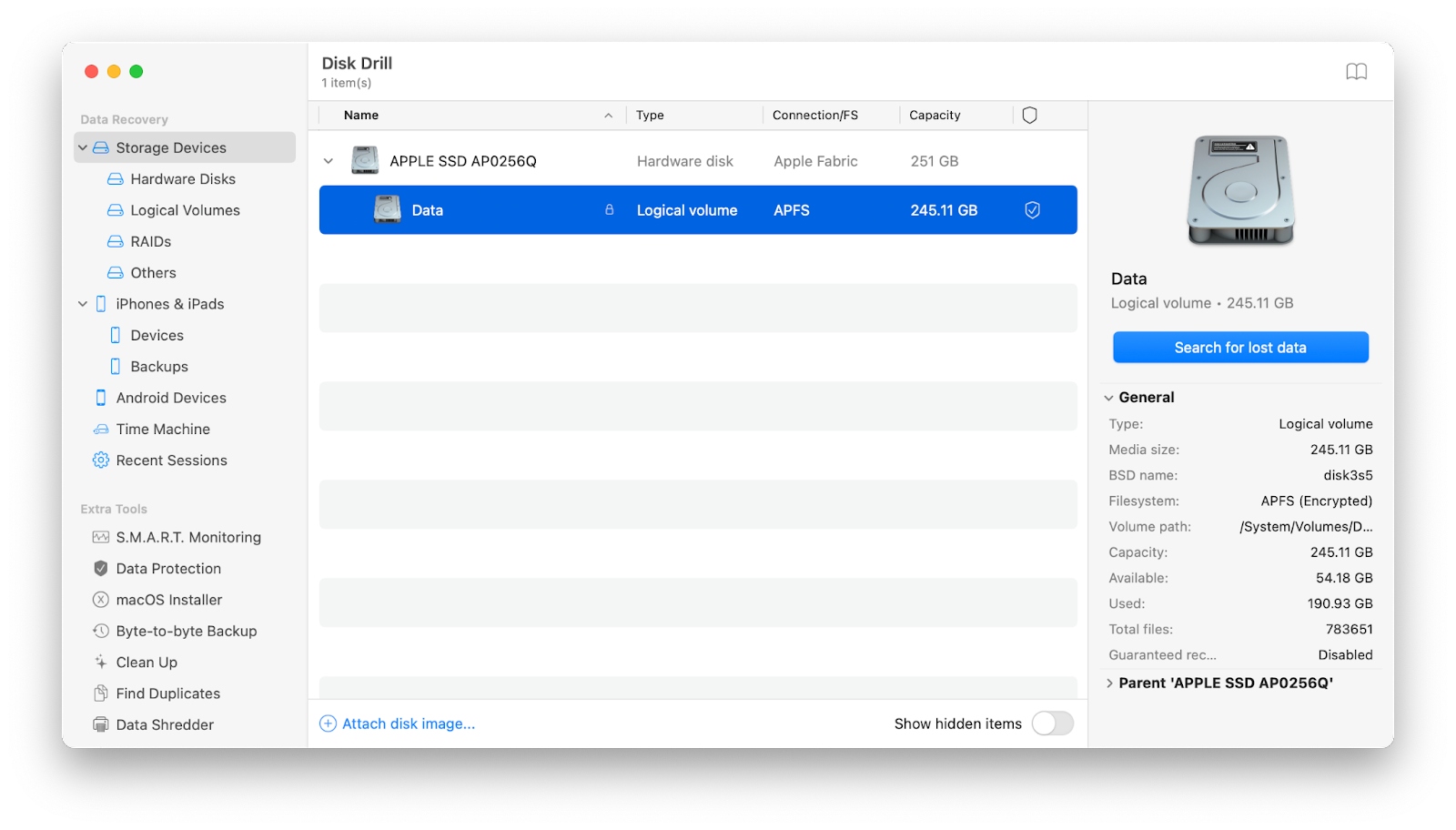 There are additional features in Disk Drill that can help you avoid disasters later. Its disk space analyzer can alert you to any damaged data early on, the data backup feature can store your files on external drives, and the data protection module can prevent any damage to your files and folders.
Recover deleted photos with iCloud
If you have iCloud Photos enabled on your Apple devices, you can access your pictures on any of them, including the web, and restore them in case of accidental deletions.
Here's how to recover deleted photos from iCloud:
Visit icloud.com and sign in
Go to Photos
Select Recently Deleted in the sidebar
Choose one or more photos and click Recover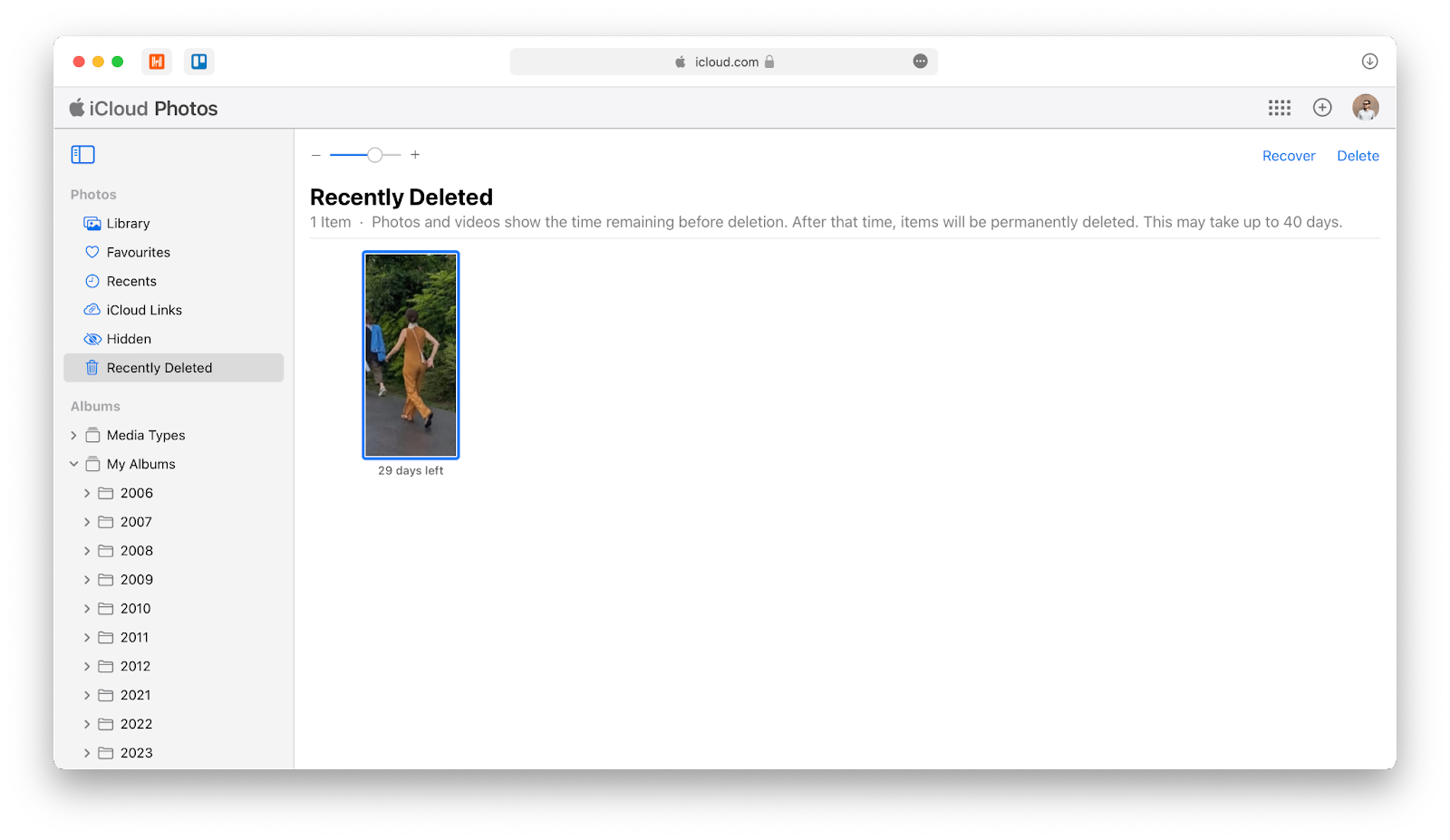 The process is the same in the Photos app on Mac.
But here's how to recover deleted photos from Recently Deleted on iPhone:
Open Photos
Go to Albums, scroll down, and tap Recently Deleted
Tap Select and choose one or more photos to recover
Recover (optionally Recover All)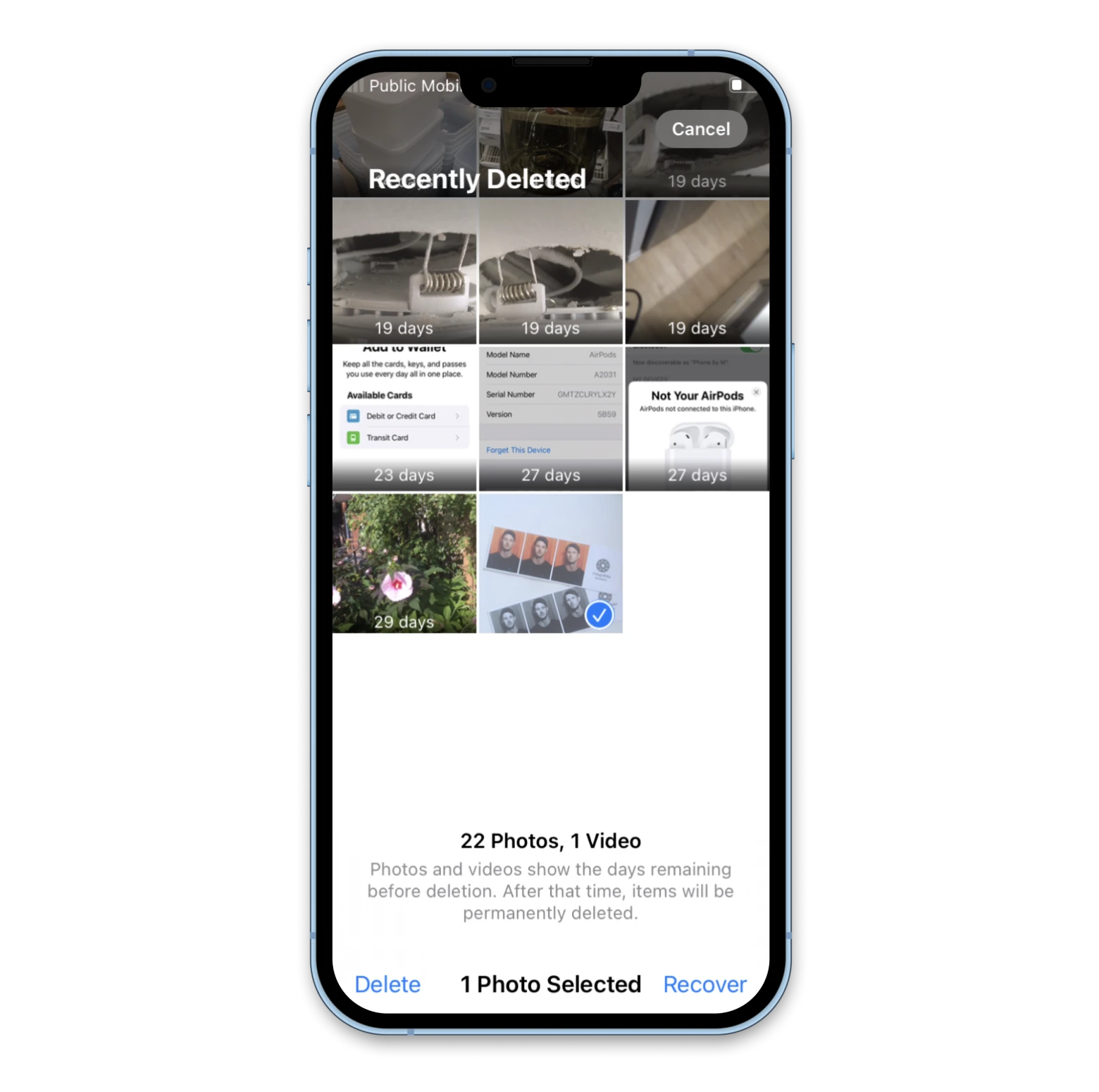 For more detailed information, check out our guide for recovering deleted photos from an iPhone.
Restore deleted photos from Trash
It's common for people who like to keep their Mac clean to delete lots of files. Sometimes, they might include photos by mistake.
Files that are moved to Trash are not yet permanently deleted as they can stay there for a long time:
Open Trash from the Dock
Select and right-click on the images you want to restore
Put Back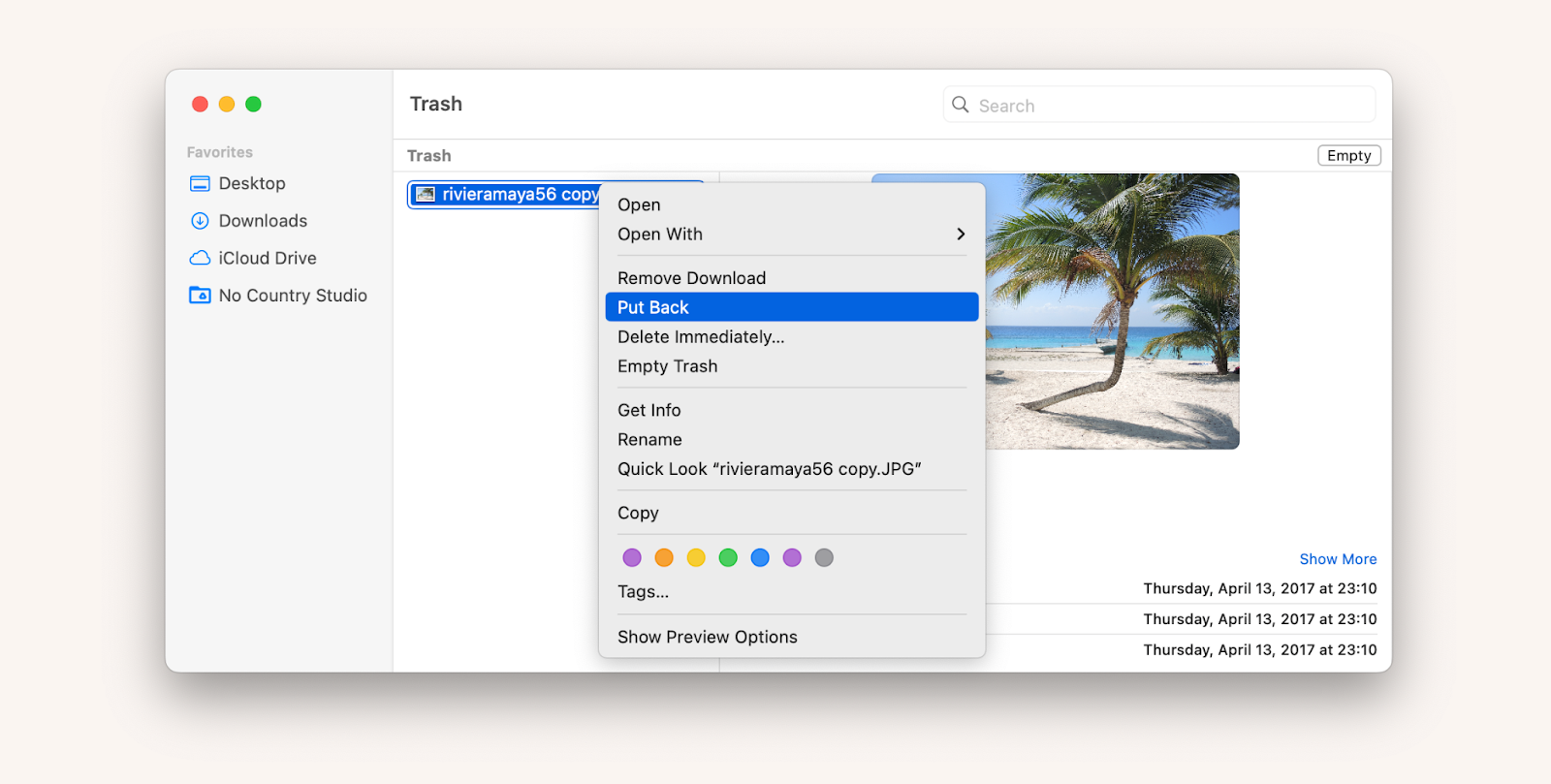 If you want to know how to recover permanently deleted photos from Mac, take a look at the Disk Drill solution described above.
How to recover deleted photos from a backup
While backups might seem like an unnecessary expense at first, for the times that we do need them, they are invaluable.
If you have a backup solution, such as Time Machine, Backblaze, or Dropbox, try logging in to their portals and recovering the photos by scrolling back to the time and date when they were there.
Your backup doesn't have to be in the cloud — you can perform backups by syncing files between two Macs or backing up your data to an external hard drive.
ChronoSync Express is a great solution for having photos automatically sync up on two Macs, which means that even in the case of losing them on one, you'd have another copy on the other.
You can select specific folders you want to sync (e.g. Photos), set a custom schedule, and receive system notifications for any processes that are currently in progress.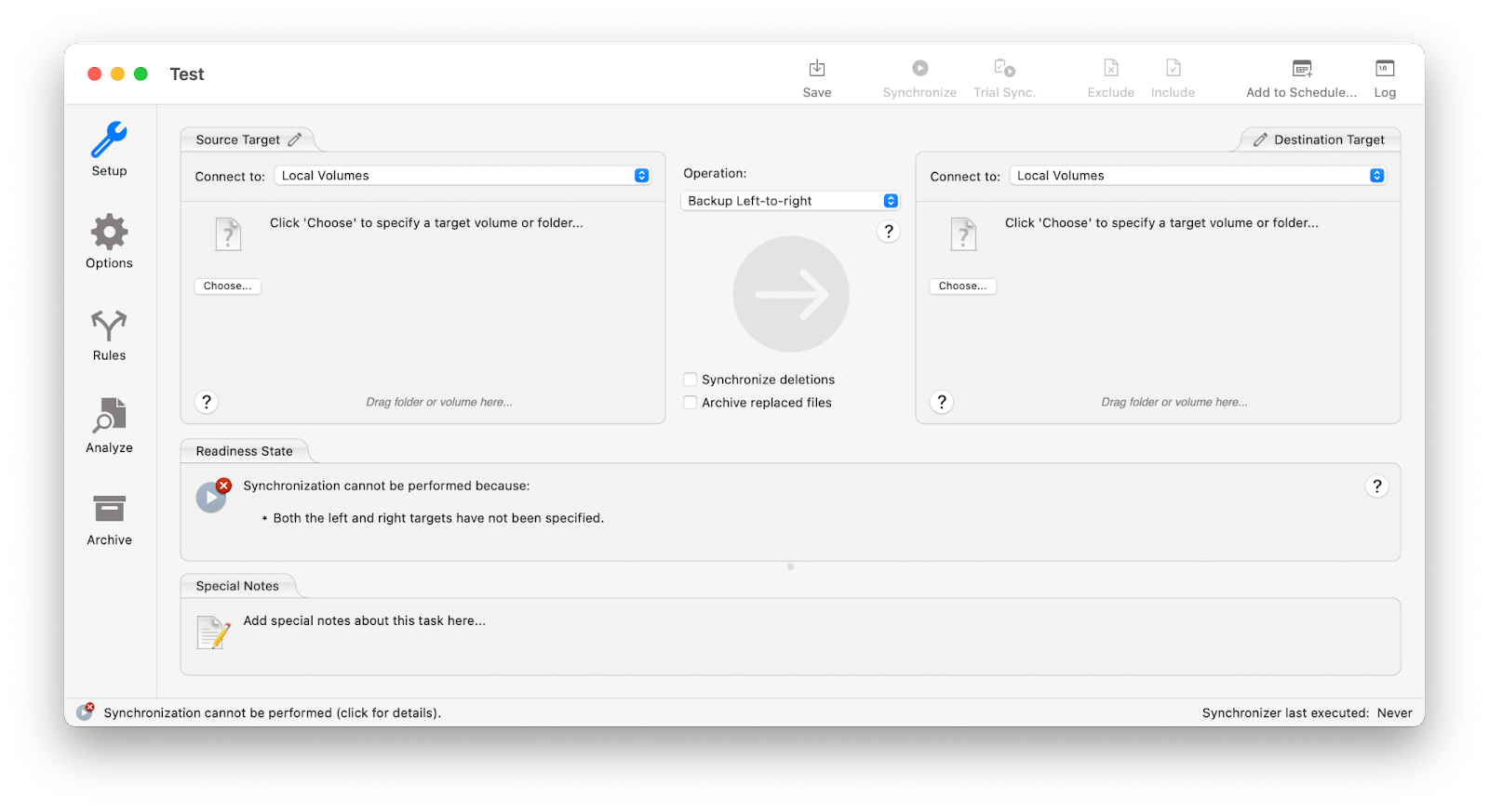 Get Backup Pro is another powerful app for performing all kinds of backups: simple copy, clone, incremental, and versioned. You can create bootable backups of the whole Mac that would allow you to reinstate your Mac in the same state from an external drive. Besides, the app works discreetly and closes itself when backups are not needed.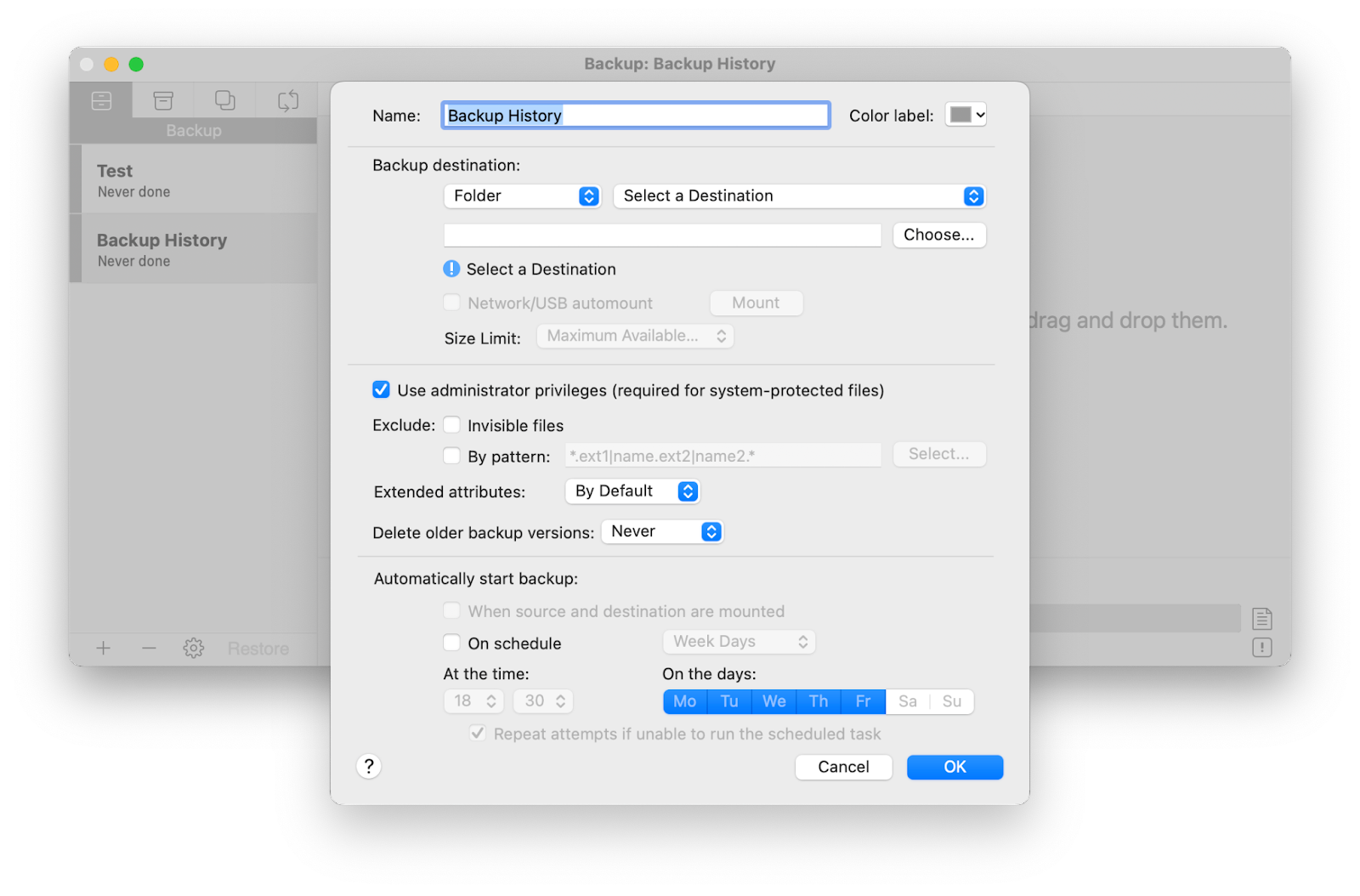 Recover photos using Finder
Even if you don't back up your Mac regularly, there's a secret way to recover deleted pictures using your iPhone.
By default, iCloud saves full backups of your iPhone. If you have iCloud Photos turned on, and the photos on your Mac and iPhone are the same, it means that deleted photos on the Mac might exist in the backup of your iPhone.
Note: This process will roll back everything that happened on your iPhone between now and when the backup was last saved.
To recover deleted photos with Finder:
Connect your phone via USB cable
Open Finder and then your phone
Restore Backup…
Select the backup from the dropdown, enter your password, and click Restore
When the process is complete, go to Photos and retrieve the photos you're looking for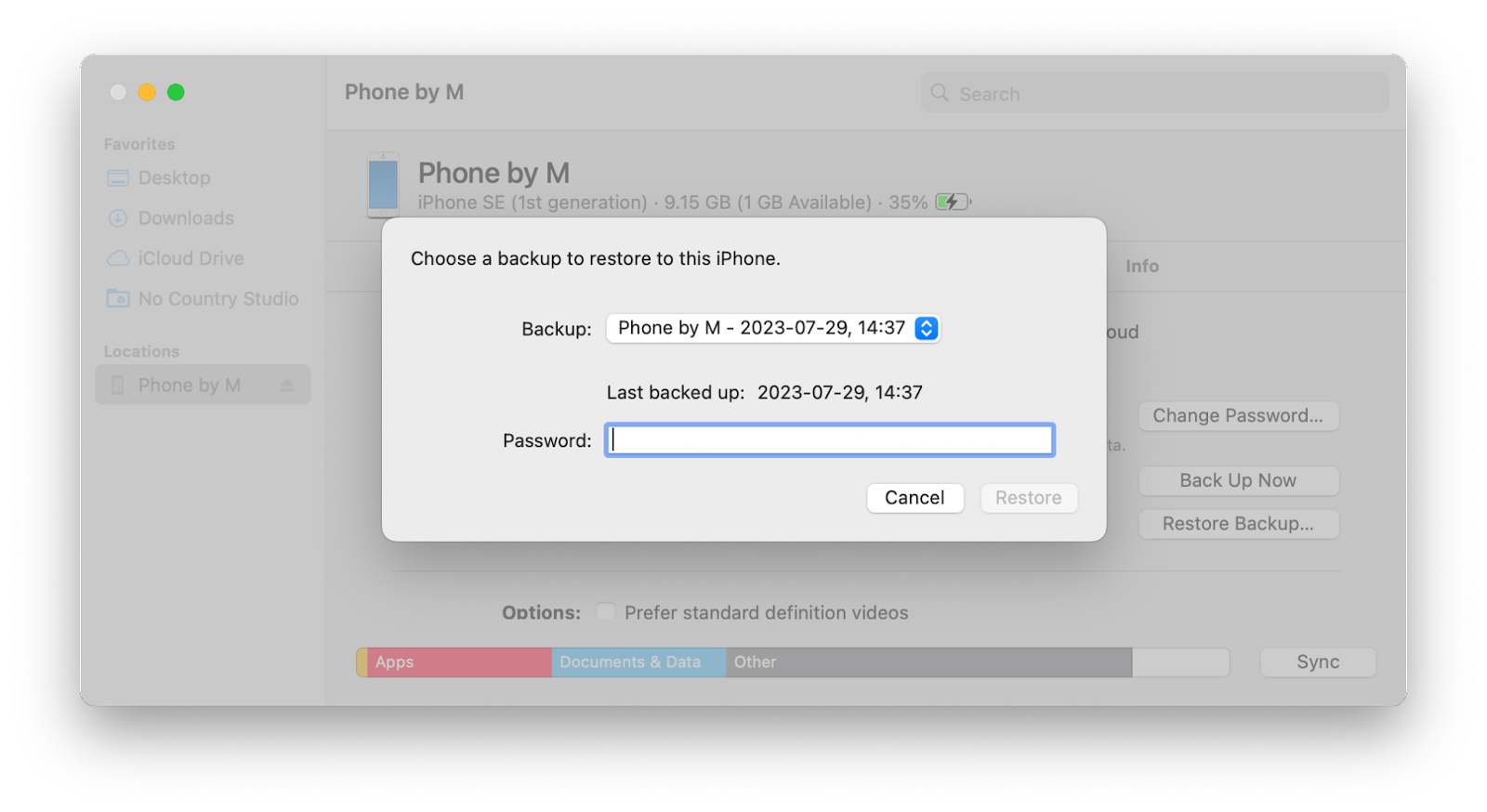 As you can see, there are a few options for recovering deleted photos, from iPhone backups to iCloud to Trash to the Recently Deleted folder. However, to properly secure your Mac you need to use backup and sync apps like Get Backup Pro and ChronoSync Express. And if something really got deleted, try restoring it with Disk Drill.
All these apps are available to you for free during the seven-day trial of Setapp. Setapp is a platform with more than 240 apps for Mac and iOS curated to solve all kinds of problems, from backups to RAM cleanups to workspace optimization. Try them all at no cost and see which ones you must add to your collection.
FAQ
Can I ever recover deleted photos on Apple Photos?
Yes, by default, all deleted photos can be found in the Recently Deleted folder for 30 days.
Are deleted photos from Apple Photos gone forever?
If the 30-day window has passed, yes, the photos are permanently gone but you can try using a solution like Disk Drill to bring them back.
Where do recently deleted photos on my Mac go?
You can find recently deleted photos either in the Trash or in the Recently Deleted folder in the Photos app.