How to recover deleted photos and music on Mac
Accidentally deleting photos of previous memories or music you love can be a gut-wrenching experience. Thankfully, there are ways to recover deleted photos and music and to avoid losing them altogether.
First of all, stop working on your Mac as soon as you realize that you've deleted photos or music. When you delete a file, it isn't removed from the disk – only the reference to it in the Finder's file system is removed. If you keep using your Mac, however, eventually the file will be overwritten. It's important not to let that happen.
Step by step recovery of photos, videos and music
The first thing you should use your Mac for after deleting the files you need to recover, is to run a recovery tool like Disk Drill.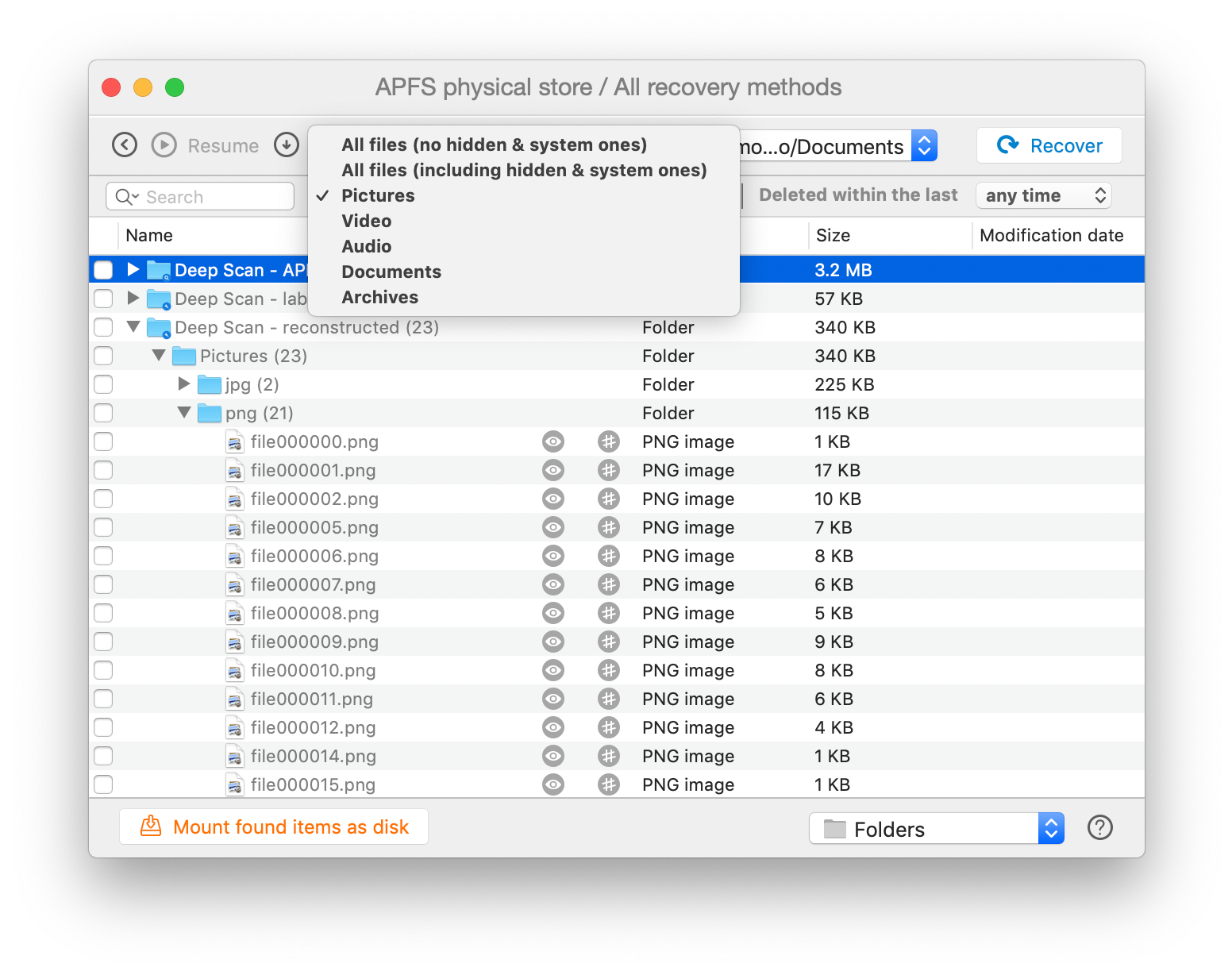 It's much better if Disk Drill is already on your Mac before you delete the photos or music, because it has a couple of features that make it very easy to recover them. However, most of us don't have that foresight. You can get it from Setapp.
NOTE for users on macOS 10.13 High Sierra: High Sierra disallows digging into system disks, so you'll need to temporarily disable System Integrity Protection. To do this, enter Recovery mode on your Mac. That's achieved by rebooting your Mac and holding Command + R after the startup chime. In the screen that appears after, choose Utilities in the top menu, and then open Terminal. Paste "csrutil enable --without fs" and hit Enter. The system will respond with something like this: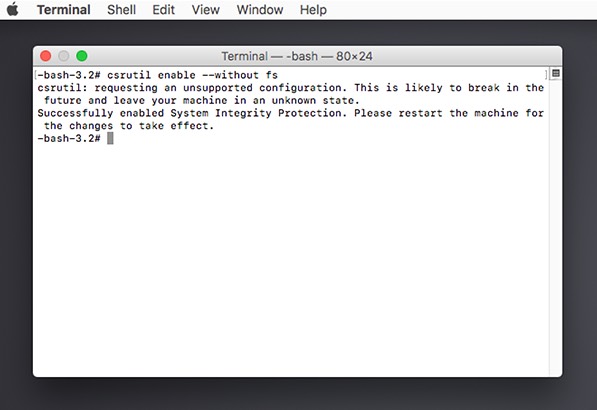 Now just reboot your Mac. Once you are back to your desktop, run Disk Drill, and proceed with your data recovery.
Plug in an external storage drive. You can recover images to your current drive but it's not the best idea. So it's up to you but if you have and an external drive or USB stick, use them.
Launch Disk Drill. When Disk Drill has launched, click Recover. It will now begin a quick scan of your Mac's disk and you'll see its main window fill up with files and folders as it finds them.
Review the results of the scan. Click the menu at the bottom right of the window and choose 'Files.' You'll see list of the files Disk Drill has found. To help you identify the ones you're looking for, click the 'All Files' menu at the top of the window. If you're trying to recover photos, click 'Pictures'. If you're looking for music, click 'Audio,' Disk Drill will now filter the files in the window and only show those that match your selection.
Preview files. Sadly, recovered files don't retain their name. So the only way to find the photos or music you're looking for is to preview each file one by one. For music, you should listen to each track all the way through to make sure it hasn't been damaged. If you don't listen to it all the way through, you may still be able to recover the file, but the music itself may be incomplete or have random noise instead of the song you were expecting.
Recover photos and music. Once you've previewed the photos or music files Disk Drill has found and are happy that they are what you were looking for, click the checkbox to the left of the file name to mark it for recovery. When you've checked all the files you want to recover, click the location menu in the toolbar and navigate to the external storage drive and create a folder there for recovered music and photos. Choose that as the location. Click Recover and follow any instructions on screen to complete the recovery process.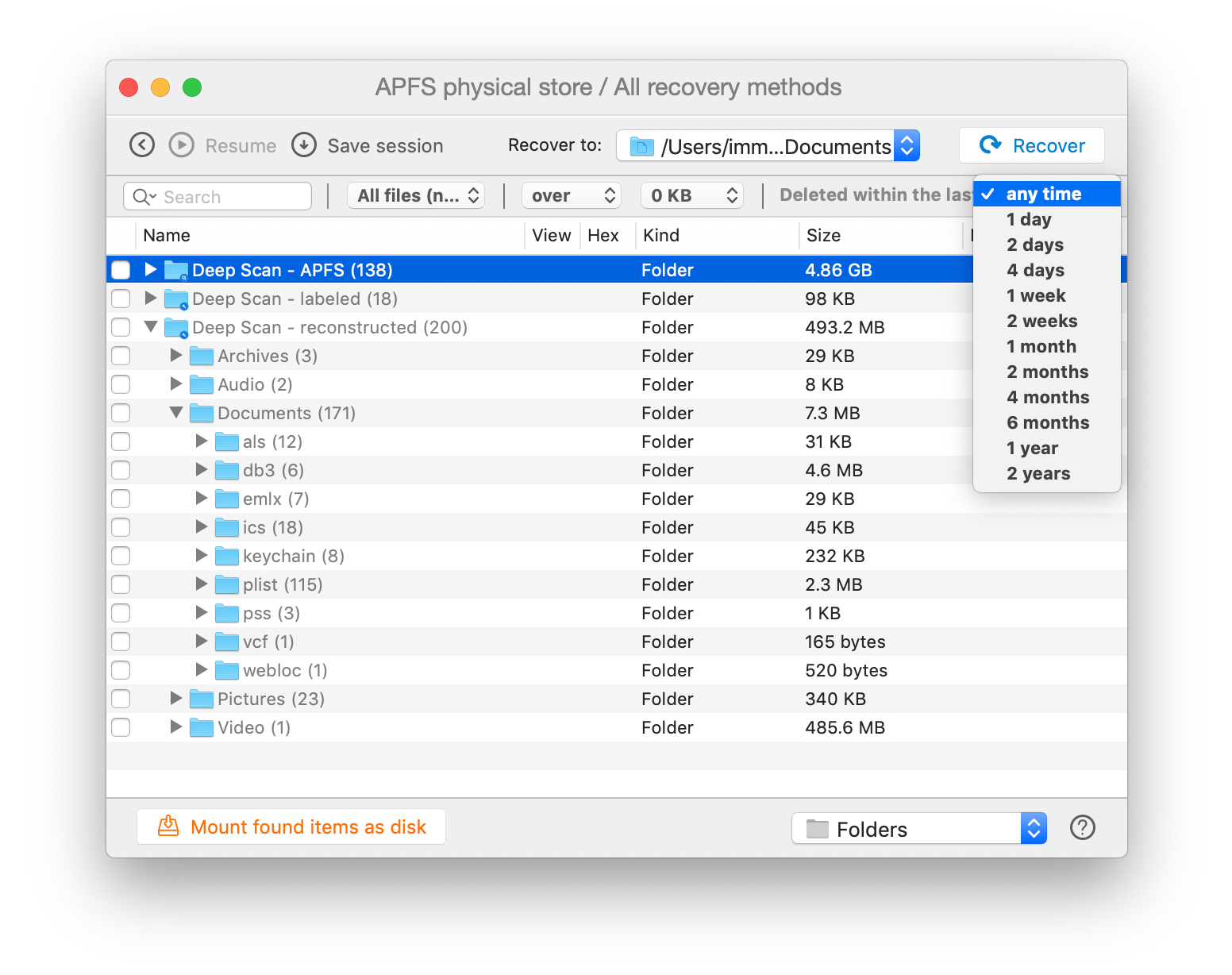 How to recover files on macOS manually
It's a fairly trivial task if you haven't cleaned your Trash yet. Simply open your Trash can and check for the files in there. You can also use the search bar to look for the file by name. In the Trash bin, enter the file's name and switch the search volume from This Mac to Trash.
If you removed files a while ago, you might not catch them on time as macOS starts to delete files from the Trash permanently when it's short on disk space. In this case, you can recover them from a Time Machine backup or use Disk Drill, as we advised earlier.
By the way, if you keep your files synced with iCloud, it preserves them for 30 days before removing for good. So that's good news for iCloud users. On the other hand, don't expect that if you delete an image on your iPhone it's still there on your Mac because deletion syncs across devices.
How to recover images from Photos
Photos app is pretty generous with deleted images. Just as iCloud, you have a 30-day grace period, during which you can restore deleted images easily.
Open Albums (from the bar in the top of the app)
Find Recently deleted. You'll see all the files you've removed in the last 30 days there.
Restore the ones you need.
Every image even has an exact amount of days left specified under it.
How to recover music from iTunes
First, there's a chance your deleted music still remains in the [username] > Music > iTunes > iTunes Music folder. For earlier OS versions, look for Home > Music > iTunes Media > Music. Check there, you might still find it there and then just drag it on top of the iTunes icon, that should import it back to your library.
If the file you're looking for is nowhere to be found, you'll find it in the Trash folder. But it's not that simple to move it back to iTunes.
In iTunes, open Preferences.
Choose Advanced and tick "Copy files to iTunes Media folder when adding to library."
Take the audio file out of the Trash and move it to the Desktop.
Drag the file on top of the iTunes icon.
Delete it again because it's back into iTunes library, you don't need the file itself.
Trimming and fixing your gallery after recovery
The first thing you want to do is clean up unnecessary images. An extremely very useful tool for this purpose is available on Setapp, Gemini. It allows you to scan your Mac for duplicates and similar files. Similar images are photos taken in the same location of the same subject and from the same angle. That way you can delete the ones you don't need and keep the rest.
Simply open Gemini, choose your external drive (the one you've recovered your files to) and scan it for duplicates. In case there are multiple repeating files, you can select a specific folder or type by which to clean them up.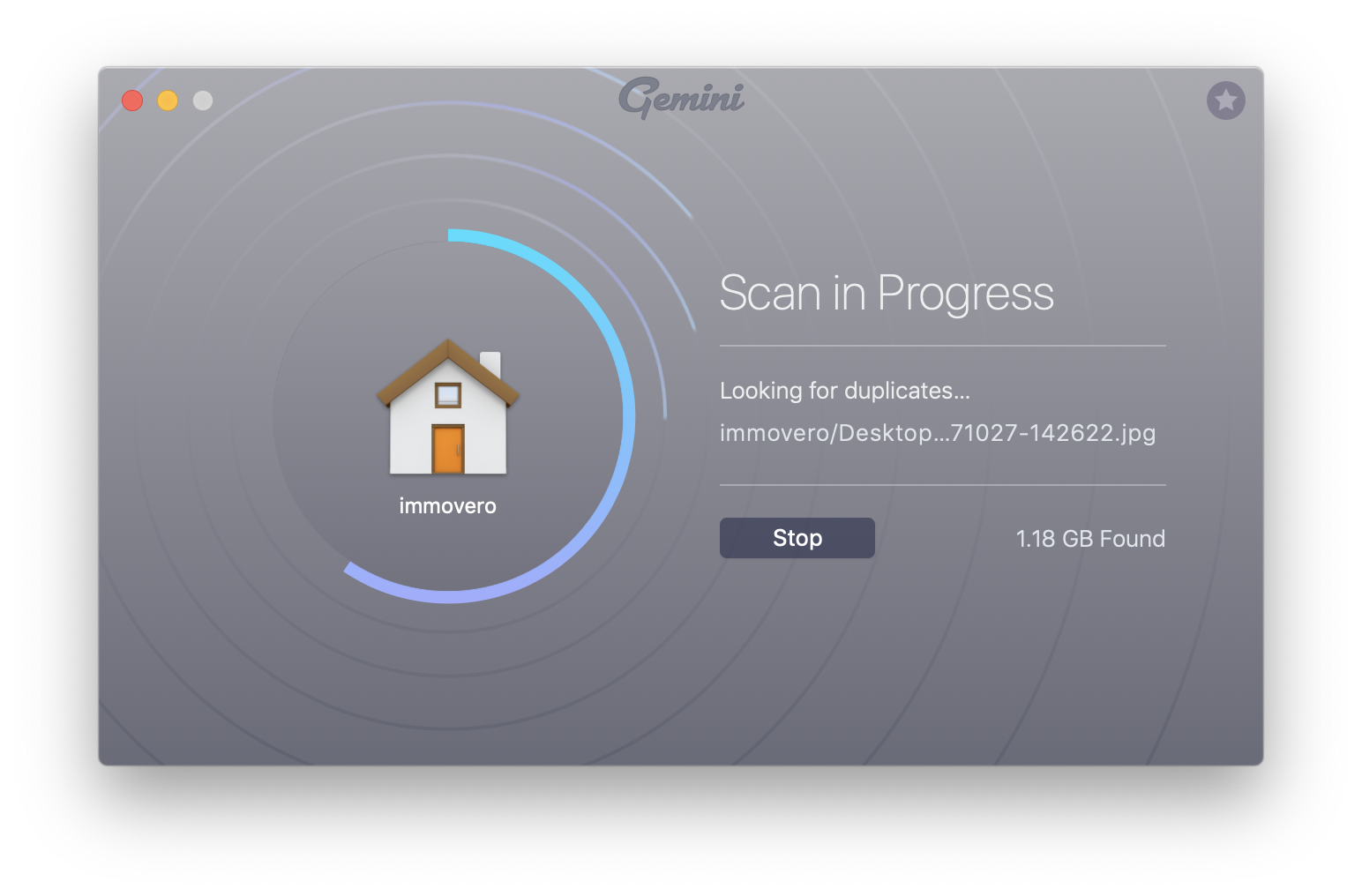 For example, you can tell Gemini you want files in the New folder to be kept and in the New Folder 2 to be removed. Or keep the oldest, or the largest.

The remaining gallery still needs to be renames into something readable. The recovered files will have names like 'file00001' which isn't very helpful. So, the first thing you'll want to do is rename them. You could do this in the Finder, one file at a time. But Renamer allows you to rename files in batches, which is much quicker. It has specific features for both photos and music files. For example, it makes it easy to put the artist and track name in the file name.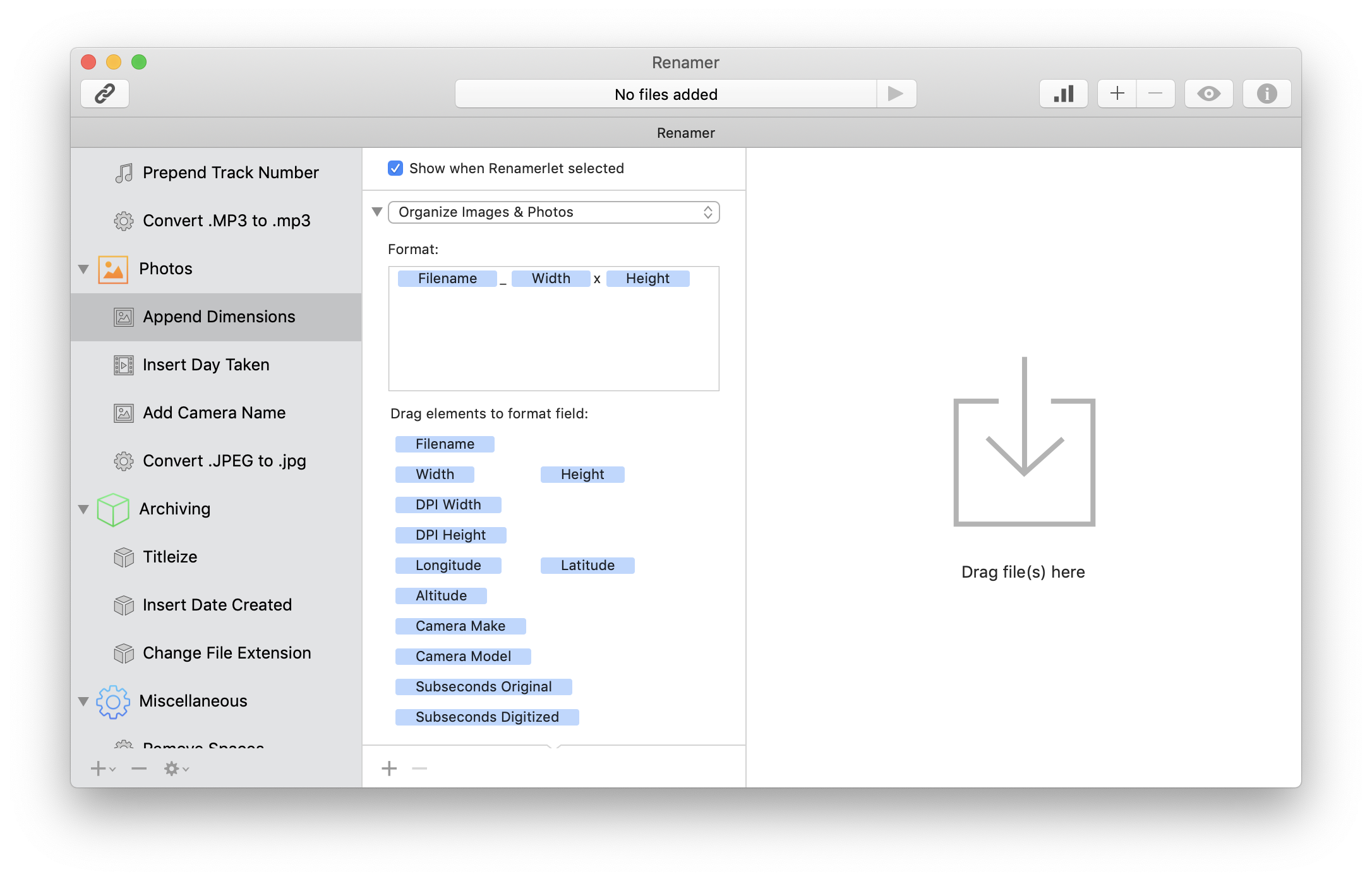 Once you've renamed your files, you can copy them back to your Pictures folder in your Home directory. From there, image organizer Emulsion will help you navigate through the gallery at ease. It has a bunch of smart sorting options, like color-based filter where you can, for instance, view all images in the green gamma.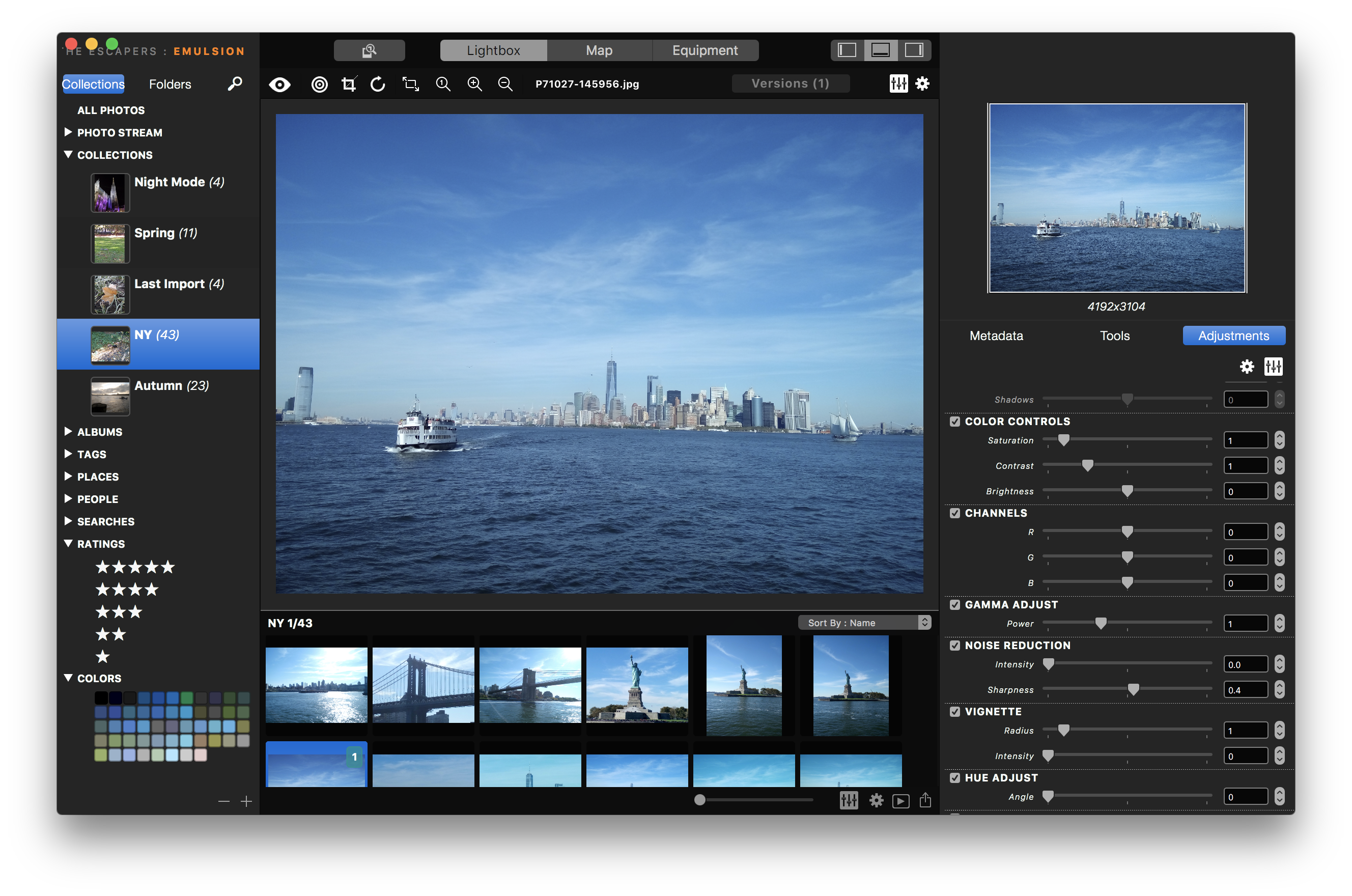 To move your images into Emulsion, open the app and go to Create New Catalog... From then I personally prefer the Folders as Projects option because it's more organized and instantly creates neat folders in the side menu. Use tags or View options to sort your images by size, color, type, or name. Color is definitely the most impressive.
How NOT to lose images in the future
Prevention is clearly always better than cure. There are a couple of apps on Setapp subscription that can help you avoid losing your precious photos and music should you accidentally delete them.
ChronoSync Express allows you to set up automatic synchronization of specific folder on your Mac with an external drive, network drive, or cloud storage (not iCloud though). By including your music and photos folders in ChronoSync synchronization, you'll ensure that if you do accidentally delete the originals, you'll still have a backup.
The other app, Get Backup Pro, allows you to backup your Mac, synchronize folders, archive files or clone your entire Mac. Again, if you include your photos and music in a backup routine, you won't have to worry about losing them if you accidentally delete them.
This would be all on the subject of removing photos. As a quick recap: most of your images can be recovered from the Trash can, and when they cannot — get Setapp and use Disk Drill to, well, drill into the depth of your disk and retrieve the missing files. Have a good day and take care of the images!