Using external hard drives with NTFS on Mac has never been easy. While Macs can read the Windows-based NTFS format, they need third-party software to edit or write to it.
Plus, starting with macOS Ventura, Apple has changed the way NTFS works with its kernel architecture. Even if you've had a NTFS driver for Mac before, it won't work with new macOS versions.
So does NTFS work on Mac? And if so, how to write to NTFS on Mac with ease, mount Microsoft NTFS drives on Mac, and more?
What is NTFS?
NTFS (New Technology File System) is a file format system developed by Microsoft in 1993 for Windows NT and supported by newer Windows versions ever since.
The goal of NTFS is to make it easy for users to read and work with any files on external hard drives and USB drives, without transferring them onto their computers.
Many top-rated external hard drives and USB drives are formatted to NTFS by default. That's why making sure your Mac can read and write to NTFS is important.
Can you read NTFS on Mac?
As NTFS is a proprietary technology, companies other than Microsoft need to license it to integrate it natively on their operating systems.
Apple doesn't currently have a license for NTFS. Instead, Macs are using a read-only NTFS implementation built on top of the one from FreeBSD. While there have been attempts to include NTFS writing permissions on Mac, the work was never finalized and remained buggy, causing internal errors and kernel panics.
In the past, you could install NTFS drivers to go around kernel restrictions, but since Apple changed its architecture for macOS Ventura, this is no longer possible.
So how can Mac users benefit from using NTFS-formatted external drives and USBs?
NTFS for Mac: unlimited read/write for NTFS hard drives
The safest and most efficient way for Mac users to read and write to NTFS drives today is to use iBoysoft NTFS for Mac.
iBoysoft NTFS for Mac is an intuitive assistant app that lets you work with any NTFS-formatted drive. You can use it to mount new drives on macOS, manage disks, share drives with Windows, and more.
When you connect an external NTFS drive, you can mount it onto your Mac in one click from the menu bar or even set the mounting to be automatic. In addition, you can reformat the drive, view specific details, and add or delete data.
Performance-wise, iBoysoft NTFS for Mac gets close to internal hard drive speeds, so expect next to minimal delays.
How to mount Microsoft NTFS drives on Mac
When you install iBoysoft NTFS for Mac, mounting Windows-formatted hard drives becomes effortless:
Launch iBoysoft NTFS for Mac and install the required plugins
Allow system extensions on Mac
Connect your NTFS hard drive
Click to mount the hard drive in iBoysoft NTFS for Mac
Use the hard drive with Finder as usual
How to connect NTFS in macOS Monterey and earlier
If you haven't yet upgraded to macOS Ventura and are still using Monterey or an even earlier macOS — good news — you have more options of reading and writing to NTFS drives.
You can format NTFS on Mac to FAT32, or another format. You can turn on NTFS support in Terminal. And you can install Windows on your Mac with Boot Camp and run your NTFS drives through there.
Format NTFS to FAT32
Using Disk Utility on Mac, you can convert any NTFS-based external drive into FAT32 — another widely used format that's fully supported by macOS.
To use NTFS on Mac by converting it to FAT32:
Launch Disk Utility from the Utilities folder
Insert your external drive
Select the drive and click Erase
Under Format, select MS-DOS FAT
The downside of FAT32 is that it isn't as efficient as NTFS. The maximum file size is limited to 4 GB, for example, which means it might not handle high-quality videos, but should be good for everything else.
Enable NTFS in Terminal
If you're running the older version of macOS, you can still enable NTFS in Terminal. In just a few easy commands, you can have NTFS working on your Mac without installing any other software.
To enable NTFS in Terminal:
Connect your external drive
Launch Terminal
Type sudo nano /etc/fstab and press Return
Scroll down the list and type LABEL=NAME none ntfs rw,auto,nobrowse replacing NAME with the exact name of the external hard drive
Open Finder, select Go to Folder, and type /Volumes/NAME replacing NAME with your drive
View, edit, and add any files to the folder
Install Windows via Boot Camp Assistant
Boot Camp Assistant is the native Mac utility that lets you partition your drive and install Windows alongside macOS. In that case, Windows will run natively and you'll have no problem working with NTFS external drives.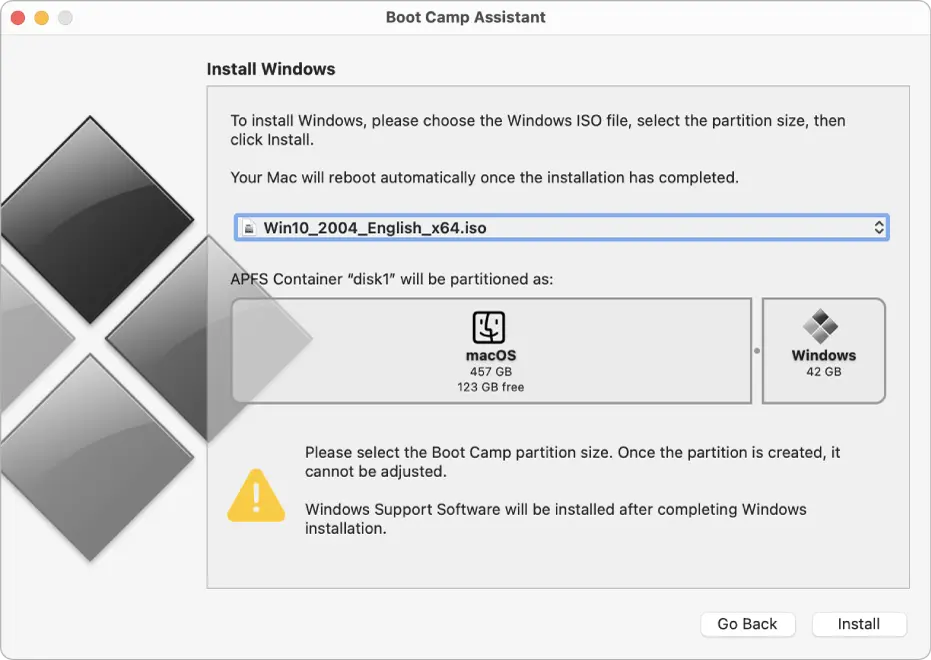 To install Windows on Mac:
Launch Boot Camp Assistant from the Utilities folder
Insert an external drive which would be used to create a Windows partition
Follow the onscreen instructions
When Mac asks you where you want Windows installed, choose the Boot Camp partition and click Format
After Boot Camo Assistant is done, restart your Mac and press Option during startup to switch between Mac and Windows.
How to recover overwritten and lost files from NTFS on Mac
Now you know how to use NTFS on Mac, whether you're running macOS Ventura or an older system.
One thing you should know is that formatting files, using Terminal, or installing a Windows partition can result in you accidentally overwriting some files. To recover them, it's good to have a powerful recovery app handy, such as Disk Drill.
Disk Drill is a top-rated data recovery app that's also very quick and easy to use. Launch Disk Drill as soon as you notice missing files and Disk Drill will help you bring them back regardless of the loss cause, from data corruption to system errors.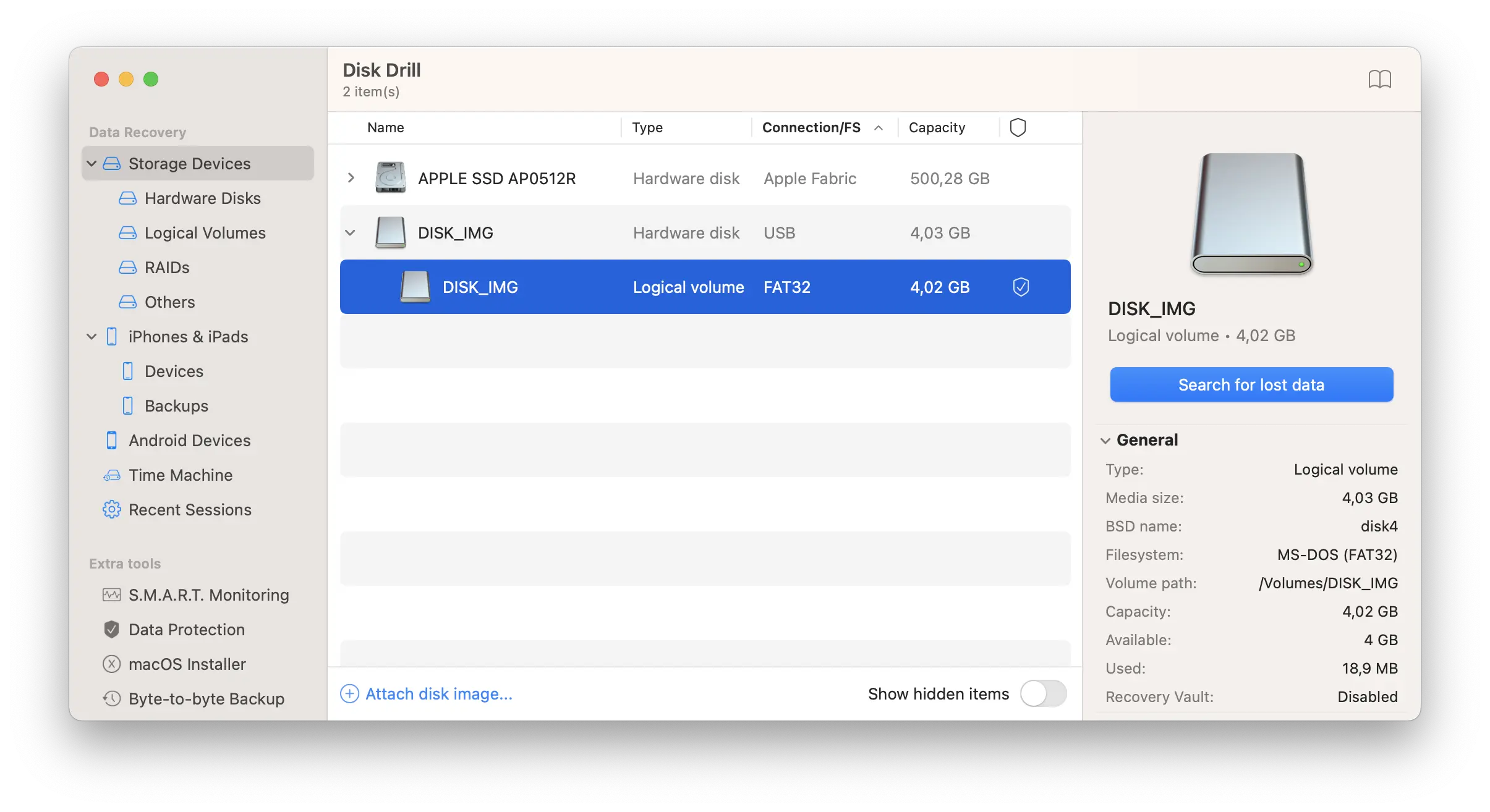 Besides, you can analyze disk space, add alerts, back up files, and explore even more file protection options.
As you can see, while the NTFS driver for Mac no longer exists on macOS Ventura, you can still use iBoysoft NTFS for Mac to read and write files from NTFS drives. And if you're running an older version of macOS, formatting the drive to FAT32, installing Windows, and enabling NTFS in Terminal are all good options. But don't forget Disk Drill to keep your files safe.
Best of all, iBoysoft NTFS for Mac and Disk Drill are free to try for seven days through Setapp, a collection of more than 240 curated apps across all imaginable categories. Explore and download the best Mac apps through Setapp today and give your workflow a much-needed boost.
FAQ
Why can't I see NTFS on Mac?
Sometimes when you connect a drive in NTFS file format, your Mac won't be able to read it. That's because NTFS is a proprietary file system that was developed by Microsoft for Windows. MacOS has read-only support for this file system.
How to format a hard drive in NTFS on Mac?
If you want to format a hard drive in NTFS file format using your Mac, you need to employ third-party solutions. One such solution is iBoysoft NTFS for Mac, discussed earlier in this post and available with your Setapp subscription. Just install the app, connect your hard drive, and use its tools to format to NTFS.
How to format a partition to NTFS on Mac?
MacOS only supports reading of NTFS files. If you need a space formatted to NTFS, use third-party solutions, like iBoysoft NTFS for Mac, to format an external hard drive and use that drive as a roundabout solution.
How to format a microSD card on Mac to NTFS?
An SD card, including microSD, can be formatted to NTFS. To do that on Mac, you'll need a third-party solution like iBoysoft NTFS for Mac, as well as an adapter to connect your microSD card to your Mac. Next, run the app and format your drive to NTFS.