ScreenFlow and Its Best Alternatives for Mac
Screen recording is a useful tool for presentations, or just saving something for use later on your Mac. One of the better apps for this is ScreenFlow, but is it the best choice for you?
There are plenty of ScreenFlow Mac alternatives to choose from, ranging from incredibly powerful to painfully simple. First, consider why you are considering a ScreenFlow download, and what other apps you've considered. Do you really need all the tooling ScreenFlow has, or are you just trying to record your screen flow? (Pun intended!)
We'll tell you what ScreenFlow is, why it's useful, and tell you about a few great alternatives that may cause you to forget all about ScreenFlow altogether!
What is ScreenFlow?
ScreenFlow is a Mac app that helps you record your screen and edit videos. Its primary purpose is screencasting, or recording your screen for use in tutorials or presentations. In addition to capturing your video, ScreenFlow records your audio, and lets you annotate or add text to your screen.
ScreenFlow has a Mac app, which can be downloaded for free, but costs a minimum of $129 once your trial is over.
Best Recording Software Features of ScreenFlow App
Screen recording software like ScreenFlow is typically used for presentations. Have you ever wondered how some YouTube tutorials are just a recorded screen with the presenter speaking over the video? That's where apps like ScreenFlow are most useful.
ScreenFlow has an absolute ton of tools available, too. Here are a few of the best:
Stock media library. ScreenFlow has a library of over 500,000 stock videos you can use in your presentations.
iPhone and iPad recording. ScreenFlow lets you record your iPhone or iPad screen in the app, too. It's a great way to show off apps or mobile demos.
Editing tools. ScreenFlow has a really powerful suite of video editing tools, including transitions, animations, annotations, and multi-channel audio recording.
GIF export. You can export your video sessions to GIF or PNG in ScreenFlow.
Best Alternatives of ScreenFlow for Mac
Powerful, sure – but is ScreenFlow right for you? Other apps offer much of the same functionality, or allow you to get very close to what ScreenFlow offers. Here are a few alternatives.
Capto
Capto for Mac has a lot of the core features ScreenFlow has, and for a lot less! You can record a screen, annotate your recordings, add text to the screen, blur or highlight areas of interest, and use the computer audio or an external microphone. LikeScreenFlow, recording can be done at a high definition of 60 frames per second.
Capto also makes it really easy to share your recording to Dropbox, YouTube, Facebook, or Tumblr from within the app. Of course you can also save them to your Mac and share them anywhere you like.
Of all your options, Capto is easily the best alternative to ScreenFlow. It's simple to use, allows you to record your entire screen or a portion or the window, and even lets you hide your desktop while recording. For those using multiple apps during a screen recording, it's a really handy feature.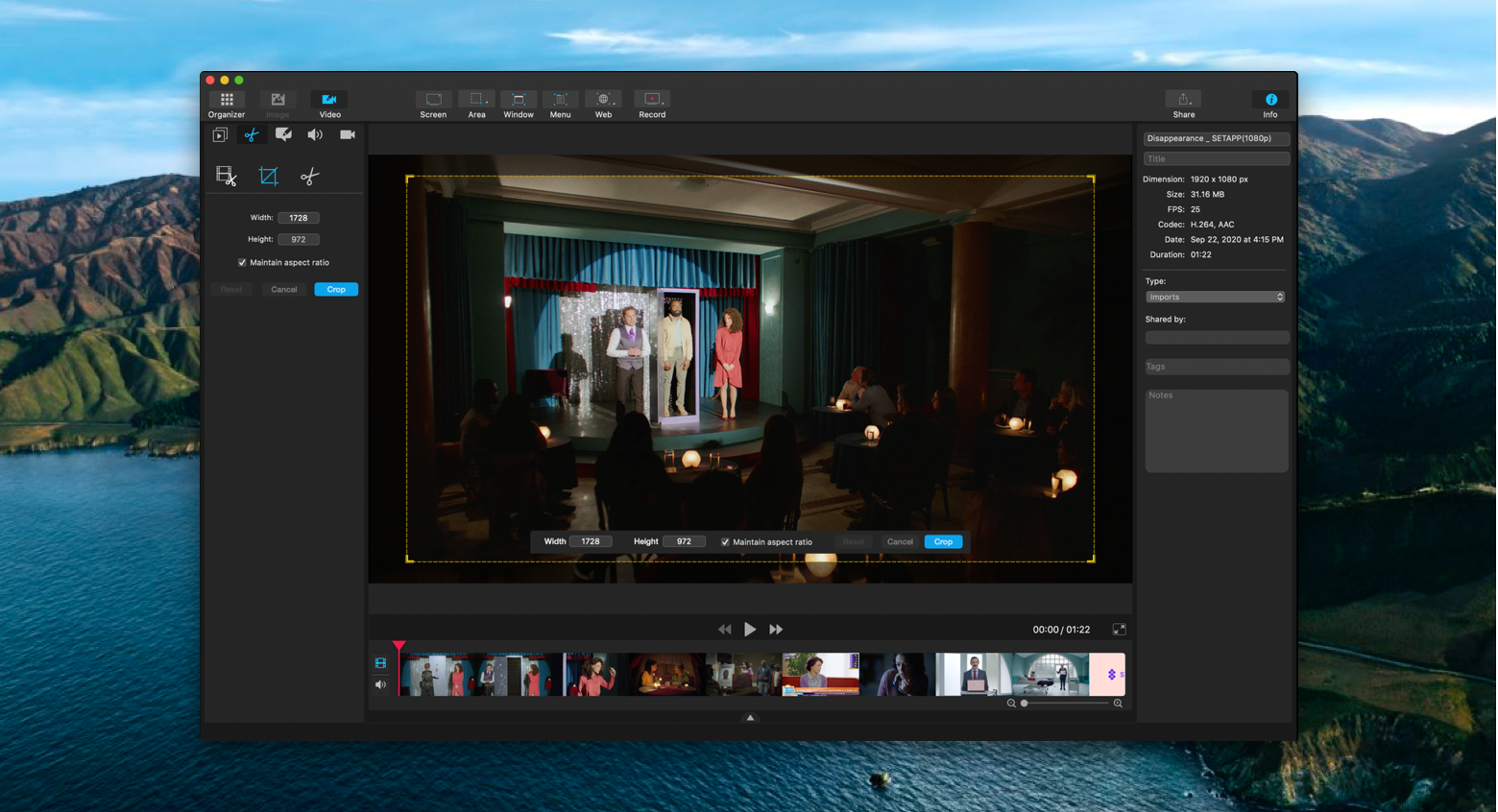 iMovie
If your recording project requires a lot of editing, iMovie is an app you should consider. It's available for free from Apple, and is an extremely adept editing tool for videos.
iMovie's prowess comes from its user interface, which makes it incredibly easy to maneuver snippets of video and arrange them however you see fit. If you recorded several portions of a video and needed to arrange them in an editing studio, iMovie makes that work easy.
Apple's video editing software also has some sharp transitions and text overlays you can use in your videos, giving it a far more polished look than with most other apps.
The downside to iMovie is it has no mechanism for recording a screen. Your Mac has built-in screen recording capabilities, but they're very limiting when you need to record for a presentation. If your goal is to record the screen and speak over your video, iMovie supports audio overlays as well – it just takes a lot longer as you have to record and edit video before recording and adding audio.
One other place iMovie shines is trailers. If you want to create teaser trailers for your videos – say for a presentation or class you're administering – iMovie has an entire suite of tools dedicated to helping you make amazing trailers.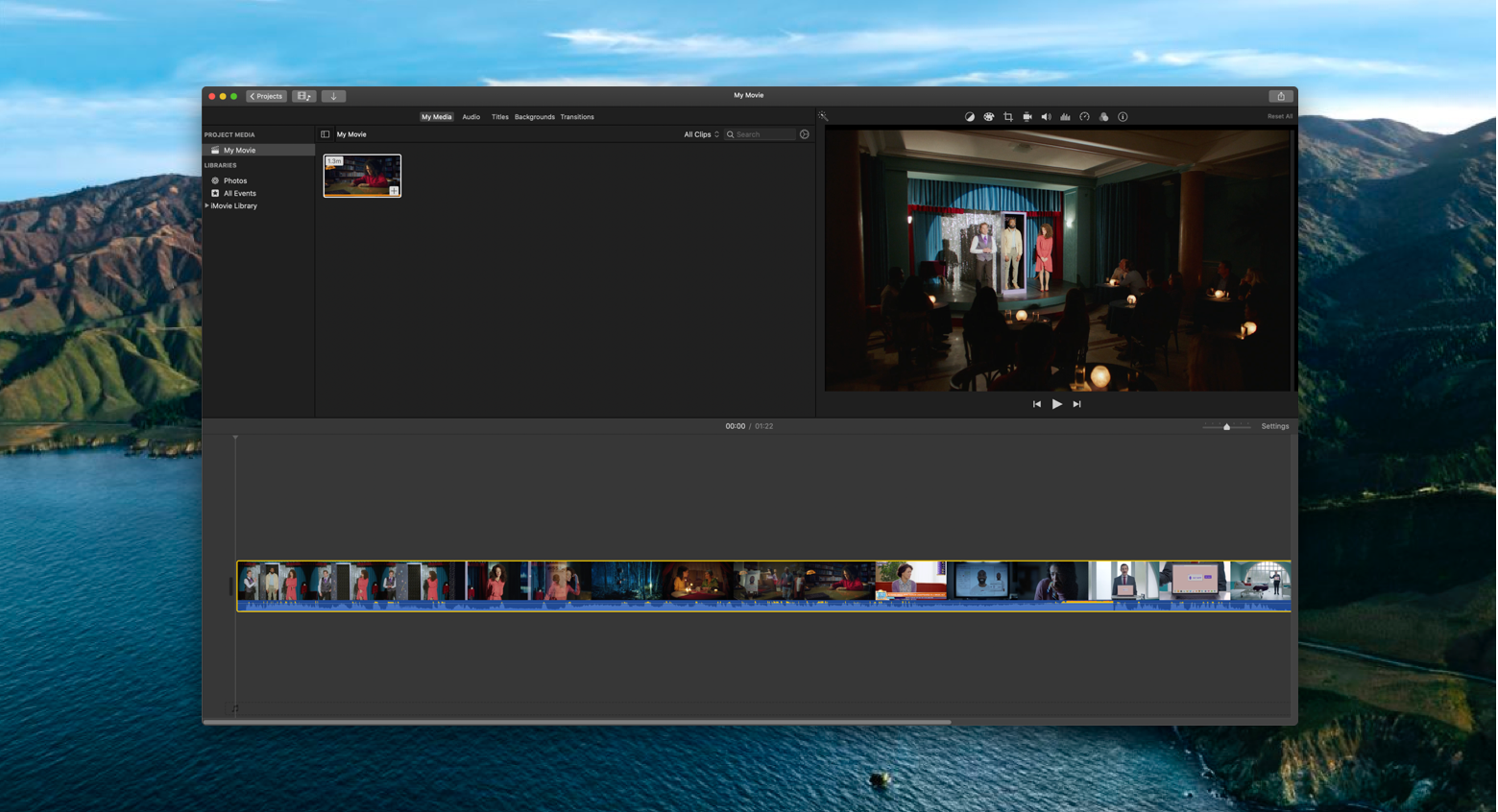 Loom
Billed as "video messaging for work," Loom is an excellent screen recording tool for making a point. You can record your own audio during a recording, annotate your screen with a handy drawing tool, and highlight your cursor. One of the really neat tricks Loom has is its ability to record a single tab in your browser rather than an entire screen. This is really handy for those who don't want to hide their open tabs while recording a screen!
Editing features in Loom are also fairly unique. You can trim the size of a video, but it also allows you to add call-to-action buttons or create a custom thumbnail. A basic plan with Loom is free, but really limited. You won't get the full complement of features (no drawing tool, for instance), and the free tier is limited to 25 videos.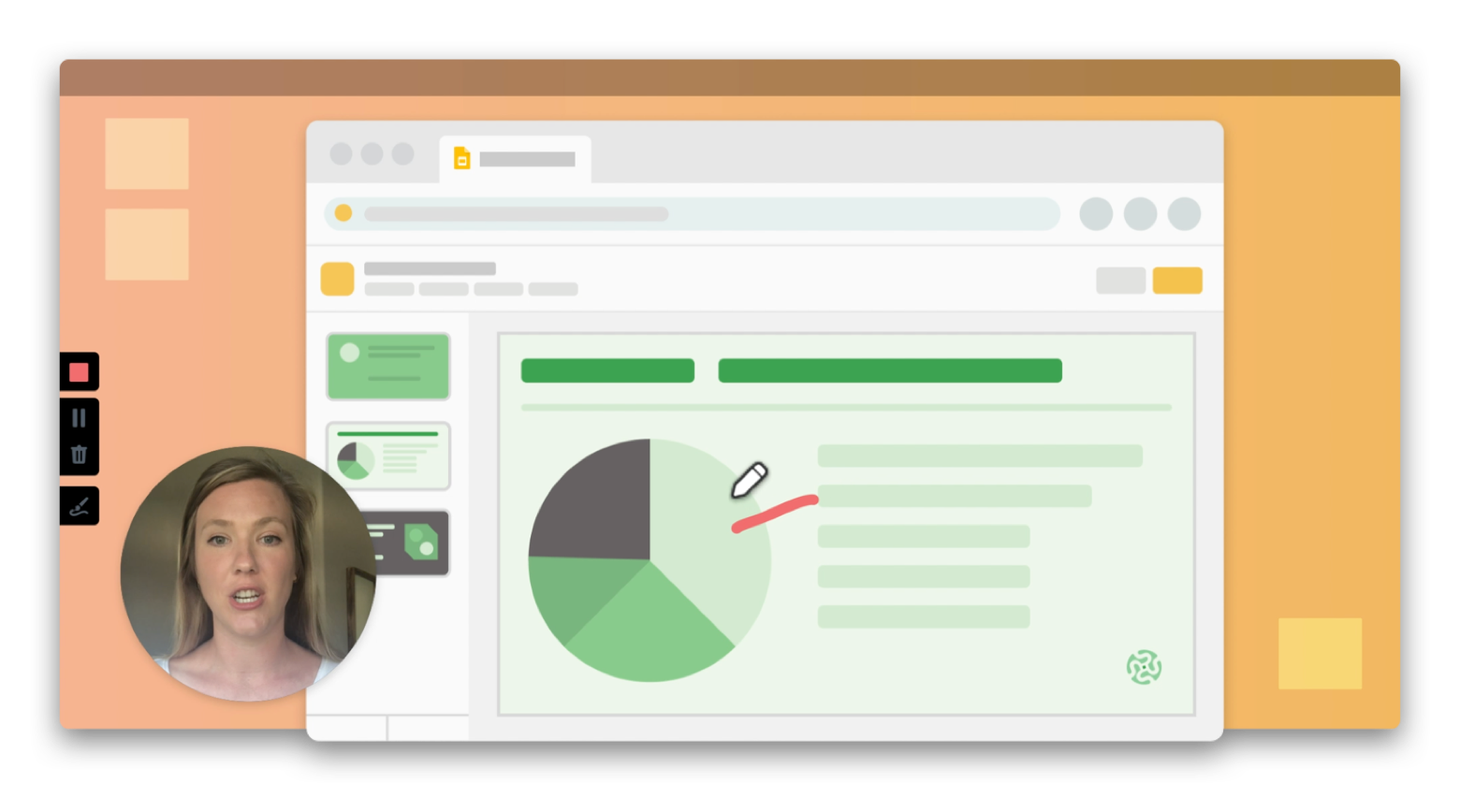 Snagit
Much like Loom, Snagit frames its screen recording service as one way to avoid tireless email threads and over-complicated instruction manuals. Recording your screen and providing instruction is much easier than sending lengthy messages.
Snagit's most alluring feature is its templates, which help you create standardized processes for things like quick tutorials. You can also grab a series of images and create a video from those images, and mark your video up as needed.
The app has the ability to record your screen as well as a webcam, and allows for granular video editing if you need to cut parts of the video out. Users seem to really enjoy Snagit's ease of use. You might like its GIF feature, which helps you turn any short video into a GIF, all within the app.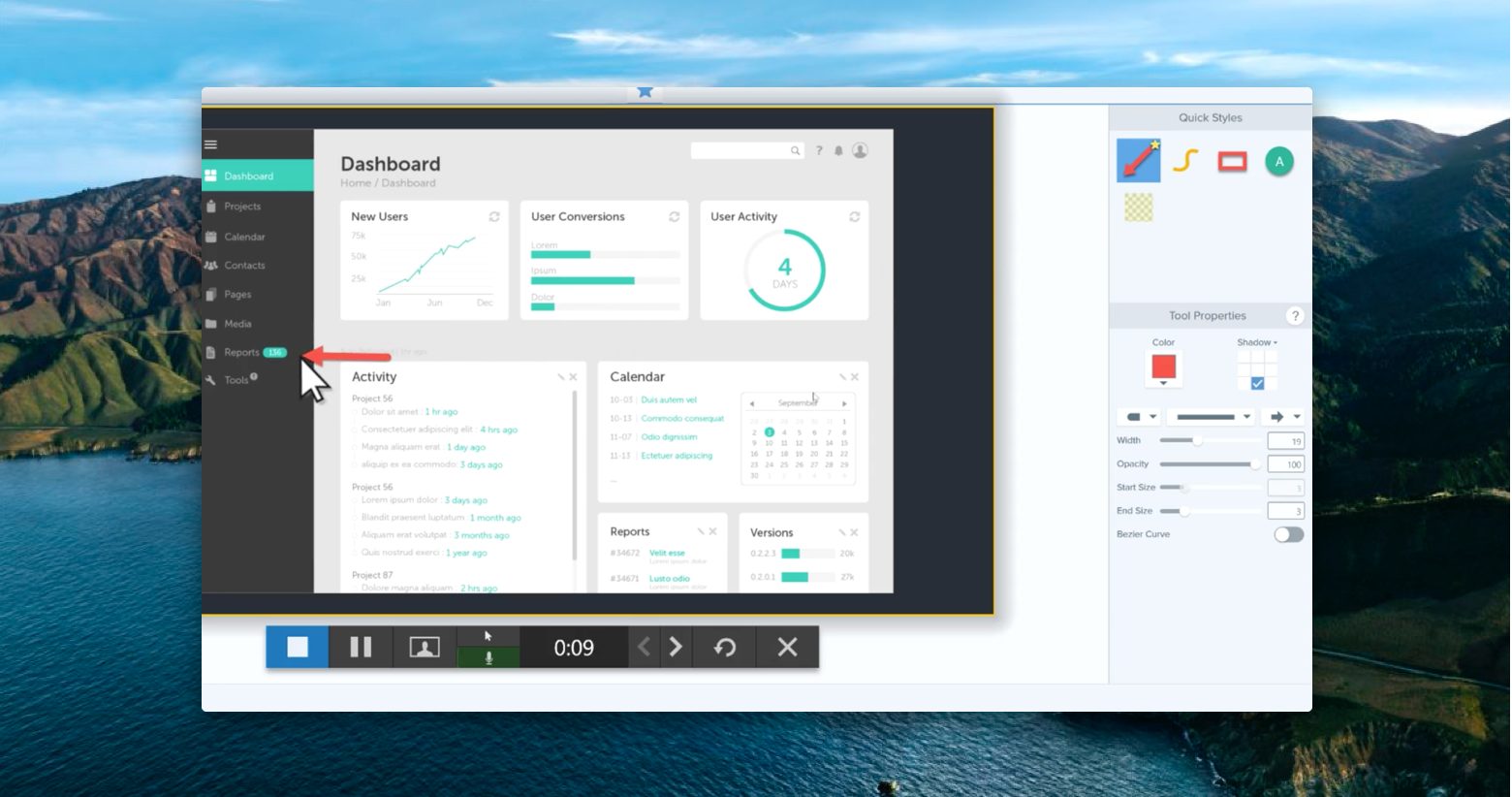 Droplr
If you're looking for an enterprise-level solution, Droplr may be it. This screen recording app may be the most secure of the bunch, offering SSL/TTL encryption, full GDPR compliance, the ability to use custom domains for your videos, and an artificial intelligence engine that redacts sensitive information automatically.
All that security doesn't make Droply difficult to work with, though. It has apps for Mac, iOS, Windows, and extensions available for every major browser to make screen recording a snap, no matter what device you're trying to record on.
Droplr also integrates with Slack, Teams, Sketch, Trello, Photoshop, Google Drive, Gmail, and tons of other services.
Naturally, you can annotate your screenshots, but Droplr doesn't offer the ability to annotate videos. Like Snagit, Droplr can turn videos into GIFs, and doesn't require your videos to be short to have them looping. Happily, Droplr is also fairly inexpensive; its base price is $4 per month, with the top tier for individuals costing only $5.50 per month.
Droplr isn't the most feature rich screen recording tool, but it has a ton of integrations and focuses on speed.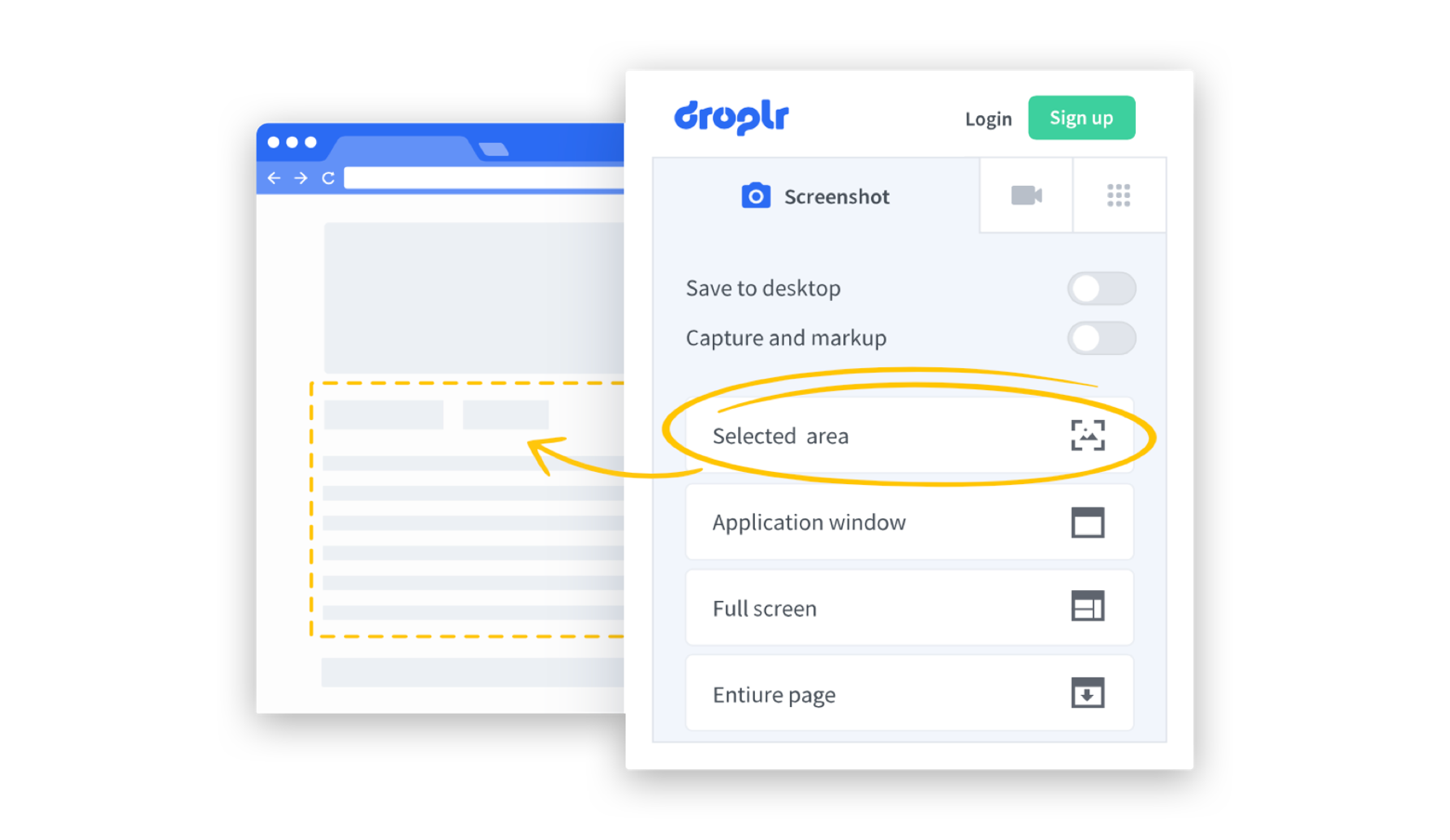 Conclusion
Screen recording shouldn't be difficult, especially if you're just trying to create a simple tutorial. ScreenFlow is awesome, but also overkill for most users. iMovie may be the best free video editing app for the Mac, but it's cumbersome for these types of projects. Loom is simple, but limited unless you pay for it.
This is why we recommend Capto. It's feature-rich, and supports everything you want to do within a single app. When it comes to ease of use compared to features, Capto is the runaway winner of this bunch.
Capto is also available for free during a seven day trial of Setapp, the world's most complete suite of productivity apps for your Mac. In addition to Capto, you'll gain unlimited access to nearly 200 other amazing native apps for your Mac ranging a wide variety of categories and use cases.
When your free trial of Setapp ends, it's only $9.99 per month for access to the entire Setapp catalog. It's an incredible deal, so why wait? Give Setapp a try now!