How to Create an Animated GIF
GIFs began life as simple sprite animations, much like you'd find on an 8-bit video game. It was a fun way to get your point across, and has morphed into short looping videos to convey a message.
Anyone who's seen, shared or created a GIF knows they aren't anything like earlier iterations from decades ago. Modern GIFs are short, engaging, funny, easy to make and play an important role spreading serious and funny ideas online. People are already naturally inclined to share images. We consume the messages far quicker than written content.
Social media is one of the more popular avenues for sharing GIFs. In fact, most of the major social media platforms have ways to directly share GIFs in a post; some even allow you to take short videos and turn them into GIFs for you!
Websites dedicated to creating and hosting GIFs usually allow you to copy and paste them to social media, too. Unfortunately, those platforms don't make it easy to create GIFs on the desktop – but we know a few GIF maker apps for Mac that do a great job.
How to create a GIF on a Mac
Sending a GIF can be a lot better than spelling things out over text. When you send or create animated GIF reactions, it's a short-hand way of conveying both the message and tone.
Luckily, GIFs are much easier to make than they used to be. As long as you can access the thing you want to make a GIF from, there are several excellent tools for making GIFs. One of the best for your Mac is Gifox.
Gifox is a screen recording app that lives in your Mac menu bar. Always available, it allows you to make a GIF from anything on your screen. You can record the full screen – a great option for tutorials – or a window. You can also choose the size of the recording window if you go that route, allowing you to include (or exclude) anything you like.
Here's how to use Gifox to make a GIF from what's playing on your screen:
Open the Gifox app on your Mac
Select the Gifox icon in your Mac menu bar
From the top left of the Gifox window, select the window or full screen options for recording
Note: If you select the window recording view, you will have to designate where you want to window to record.
Begin recording, and stop your recording when you're finished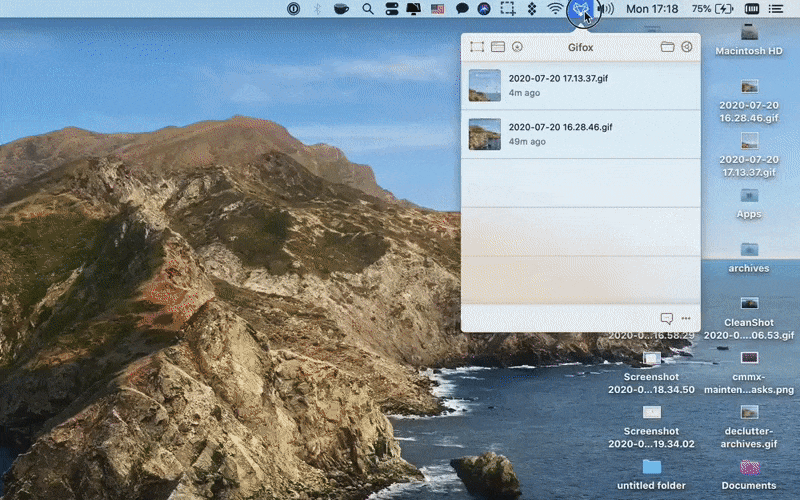 Gifox automatically turns your recording into a looping GIF, saves the GIF to a folder on your Mac, and makes it easy to share your GIFs directly to your Dropbox, Google Drive, or Imgur account. You can also manage the recording quality in settings.
Another great app for making GIFs is CleanShot X. This app is one that may be better for those recording their screen for presentations; it has settings to hide your desktop icons, and comes with some preset backgrounds you can use. If you like, you can also choose a 'transparent' background that makes it seem as though your recording is floating in mid-air.
CleanShot X is simple to use, too. Here's how to make a GIF using CleanSot X:
Open CleanShot X on your Mac
From the menu bar, click the CleanShot X icon
Select 'Record Screen' from the drop-down menu
Choose the area you want to record
Select 'Record GIF' from the popup menu
When finished recording, simply click the CleanShot X icon from the menu bar

When finished creating your GIF, CleanShot X will display a thumbnail on the bottom left side of your Mac screen. This is where you can preview your GIF, and save it to your desktop. The app also allows you to record your own keyboard shortcuts for things like stopping and starting recording sessions.
How to make GIF animation online
If you're curious how to make an animated GIF online, there are tools for that too! These are pretty handy tools to use if you want to make a GIF from a short YouTube video.
One of the more popular options for this is GIFS.com. When viewing a YouTube video, all you have to do is enter 'gif' before the 'youtube' in the URL. Here's an example:
Once you input the 'gif' ahead of 'youtube,' simply press enter on your Mac keyboard, and it will take youtube GIFS.com. From here, you can enter the start and end time for your desired GIF in a video, or use the slider to decide where the GIF should begin and end. GIFs can also be annotated, cropped, or given effects like padding and blurring.
When you're done, simply select 'create GIF,' name it, and sign up for a GIFS.com account. Sadly, this is the only way to finish creating a GIF on this site.
You can also use GIPHY, a site with an associated app for iOS. Here's how to use the GIPHY website to make an app on your Mac:
Go to GIPHY.com
Login, create a profile, or use your Apple ID to login

Select 'create' on the top right corner of your screen
Enter the URL of any YouTube video where it says 'add any URL'
Note: All videos must be shorter than 15 minutes. GIPHY won't make GIFS from a video longer than that.
Select the start position for the GIF
Select the duration of your GIF
Select 'continue to upload' on the bottom right of the screen'
Select 'upload to GIPHY'
How to Create an Animated GIF in Photoshop
Of all the GIF-making tools available to you, Photoshop is the most difficult. It's an incredibly powerful app, but has a lot of complexity many users simply don't need, and only allows you to make GIFs from pictures. Here's how to create a GIF from photos using Photoshop:
Open Photoshop
From the menu bar, go to File > Scripts > Load Files into Stack
Select the photos you want to use for your GIF
Select 'open'
Select 'ok' to import photos

From the menu bar, select Window > Timeline and select 'create frame animation'
Select the menu icon from the top right of the Timeline window.
Select 'Make Frames From Layers'
From the bottom of the Timeline panel, select the repeat menu, then select 'Forever'
Press the spacebar on your Mac's keyboard to play/preview the GIF
---
Making GIFs is really simple with Gifox or CleanShot X. We like the ease of use for both apps, and that each turn a simple recording into a looping video for you automatically. In this day, most of the GIFs we want are snippets of video, and both of these apps make creating GIFs from video a really simple job.
Both are available for free during a seven day trial of Setapp, the world's best suite of 200+ productivity tools available for your Mac. Get all the apps you need in a single subscription. No ads or in-app purchases. And the collection keeps growing. Find out more.