Simple Ways to Inspire Yourself at Work
Searching for inspiration to spark your creativity can be frustrating. Sure, you could spend all day on Pinterest putting together boards and sharing them with colleagues. But everyone else is doing the same thing. And so what you thought was a unique and brilliant idea may turn out to be not original at all.
Where else can you turn for inspiration? What's the best way to keep all your ideas together and organized in a way that fires your imagination and inspires you at work? Fortunately, there are a few tools for the Mac that, used regularly, could be providing you with inspiration and fostering that creative streak that lies within you.
Keep it fresh with Wallpaper Wizard
Apple's default desktop backgrounds look quite good. Those big sweeping California landscapes are just the thing to inspire you on a cold, dull morning at work. But, after a while, even the best ones start to lose their magic. They become so familiar you don't see them anymore.
Wallpaper Wizard allows you to choose your own desktop background from thousands of images. Pick the ones that inspire you the most, create a roll from them, and allow Wallpaper Wizard to automatically change your desktop image before you become tired of it. You can search the image library or navigate through curated categories to find the perfect background for inspiration. And, if you don't want Wallpaper Wizard to change your image automatically, you can mark it as a favorite to find it after and change the background manually.
All Wallpaper Wizard images are in stunning 4K to look great on retina displays, and if you have more than one monitor you can choose a different photo for each one.
Motivate yourself with Moment
There's nothing like anticipation of a desired event to keep us motivated. Remind yourself of all the good times ahead and keep your energy going for more new projects with Moment. The app can help you create countdowns and events to keep track of project milestones, anniversaries, birthdays, anniversaries, and other important dates.
Create your moments and keep track of them in the app. You can add individual events to the Menu bar and to Today widget.
What's more – you can use Moment to track progress of your projects, goals, duration of mid- and long-term tasks and ventures. The app will help you remember miscellaneous trivia like your plants' and pets' ages, your favorite celeb's birthday, or premiere of the new season of your favorite TV show.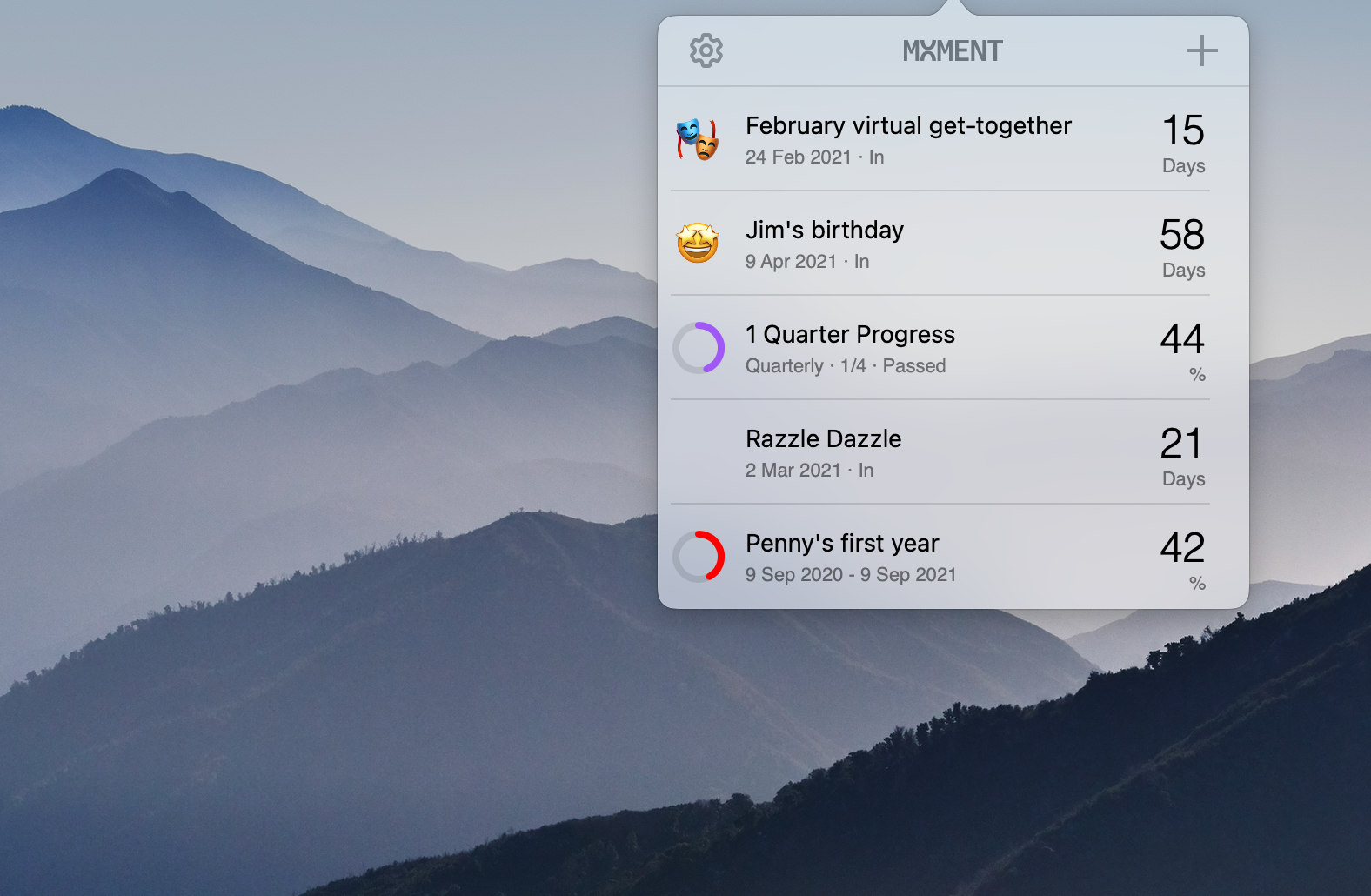 Identify colors with Sip
Sometimes inspiration comes in the form of colors — seeing just the right one can spark a brilliant idea. Finding the right color for your design, however, can be quite difficult. Using tools like Emulsion to collect lots of different images and organize them makes the process more manageable. What do you do, though, when you see an image with a color that really motivates you and that you want to use in your own work? That's where Sip comes in.
Sip makes it effortless to identify colors, save them, or use them immediately in applications like Photoshop, Illustrator, or Pixelmator. When you see a color that inspires you, click on the Sip icon in the menu bar and then on the loupe tool. Now, hover over the color and Sip will identify it, tell you its name and hex code. But if you'd rather see the RGB or CMYK values, you can choose to display those instead. Once you've identified a few colors, you can put them together in a palette and keep it accessible on your screen whenever you need it. There's no easier way to color-inspire yourself.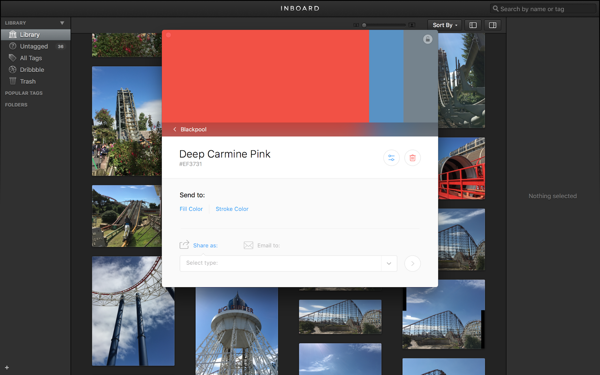 Manage Instagram presence
If you need words of inspiration on pretty backgrounds to get your creative juices flowing, Instagram is the obvious place to go. The problem with using Instagram is picking up your phone and staring at the small screen. What if you could view your Instagram feed on your Mac instead? Well, with Grids you can! Grids allows you to view, post, comment, and like images without looking at your phone.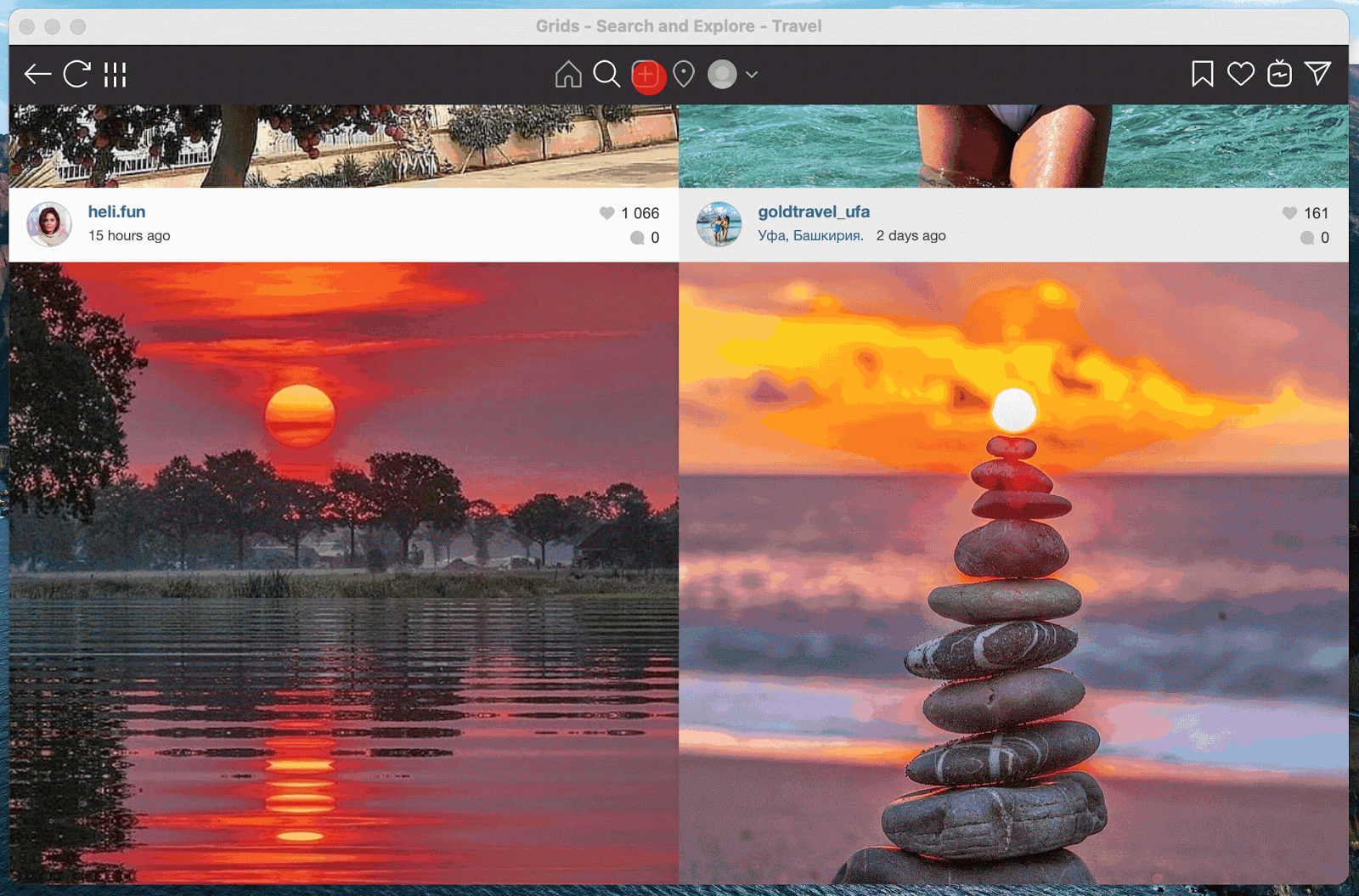 With millions of images to flick through at full size, the inspiration wouldn't make you wait for long. And if you ever get disheartened, there are plenty of inspirational aphorisms to keep you going.
As you can see, there are lots of ways to use your Mac to inspire yourself at work, from something as simple as choosing a different desktop background to finding the perfect color for your next project. There's really no excuse for lacking inspiration!