How to make a flowchart on Mac
Our professional world is full of processes to follow and think about. There are business processes, logistical processes, customer services processes, etc. All of them need to be documented somewhere as well as shown and shared with others to align on priorities and be able to visualize the big picture.
For example, how does your product get from the factory to the shelf at a local retailer? To explain this to someone, you could write a wall of text, which would take a few minutes to read. Or you can create flow charts that would convey the same information in seconds.
Flowcharts have become incredibly popular because they simplify the process of organizing thoughts, ideas, and workflows. All you need to create flow charts is a whiteboard and a Sharpie. But to let others collaborate and be able to share your flowchart with everyone, it's better to use specialized flowchart software.
You might think, do we really need flowchart software? If you work in a team — probably yes. Flowchart software not only clarifies the thinking around any new project, it's also accessible to all your coworkers at any time and might even cost less than an actual whiteboard.
Of course, not all flowchart software is equally effective. So let's go over the most critical aspects of any flowchart and explore a few apps that will help you create the best flowcharts on the fly.
What Is A Flowchart?
So far, we've described what flowcharts are being used for — they improve processes and step by step thinking of any team. But what are flowcharts exactly?
A flowchart is a type of diagram that displays a certain process or workflow. Visually it looks like boxes with text in them that are connected by arrows (to represent logic). Sounds simple enough, but in reality flowcharts are so flexible they can be used to outline even the most complex decision-making.
You can be creative with the shape you give the boxes and arrows you use in your flowcharts, or you can adhere to the universally accepted standards. For example, flowcharts are read from top to bottom, and left to right. Arrows usually have arrowheads. The beginning and the end of a flowchart are drawn as an oval, every process step is a rectangle, and a decision is a rhombus.
Most flowchart software you encounter will actually have built-in templates you can use. In fact, it's preferable if you use templates — flowcharts are primarily for communicating information, not for exercising your artistic skills.
So when it comes to choosing your flowchart app, templates are one aspect you should consider. Others are algorithmic logic, design, price, the ability to share with others and collaborate in real-time, etc. We'll cover all these options in the sections below.
How to plan and draw a basic flowchart
The first step in making a great flowchart is to break down the process you're trying to visualize into small and actionable steps. For example, a customer calls ➙ greet them with an option menu ➙ forward their call to the most appropriate agent based on their selection.
Already, you can see how we have a basic flowchart ready. Now we just need to draw it out with shapes and arrows. The main thing to consider is that the steps you choose to outline should be actionable and detailed, but at the same time not so microscopic that the overall flowchart becomes hard to read. As a general rule, keep most flowcharts somewhere within 10 steps, unless you have a reason not to.
For the actual flowchart software, you have a few choices. Lots of people create flow charts in Microsoft Word. You can also make a flowchart online. Or you can use specialized flowchart software for Mac.
How to make a flowchart in Word
Since Microsoft Word is the world's most popular text editor, by extension it's the go-to place to create flow charts as well.
There are lots of Word flowchart templates online. So you can start with some bases already covered if you download one. Alternatively, you can start from scratch using the Shapes and SmartArt features in Word.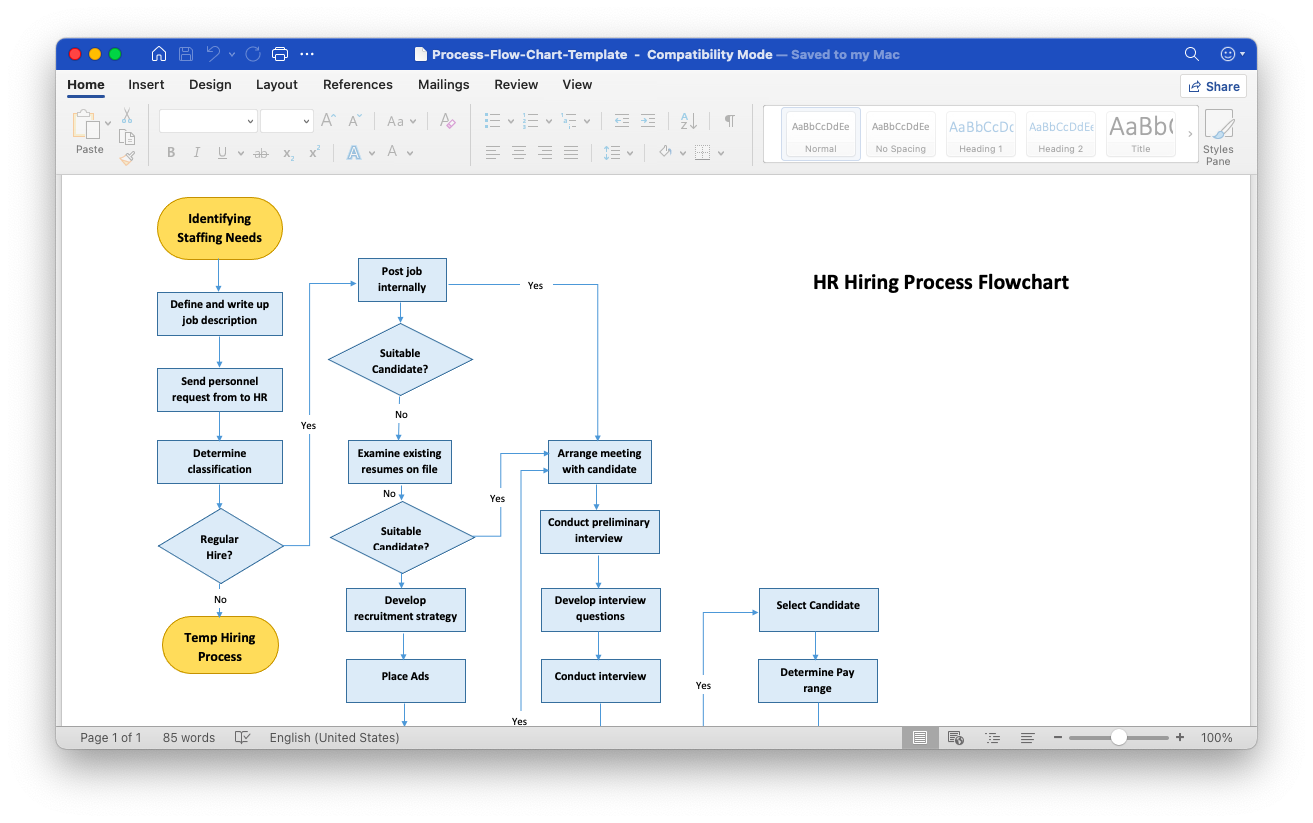 Before you begin, make sure to turn on the grid in Word to make your flowchart perfectly aligned. Go to the View tab and check Gridlines.
After that, navigate to the Insert tab and click Shapes. You have all kinds of shapes (rectangles, diamonds, and ovals) at your disposal under the Flowchart header, and you also have a wide selection of lines and arrows under the Lines header.
Click on any shape and draw it out with your cursor. In the Format tab, you can also add colors, outlines, and extra effects. To name the step, just select your shape and start typing.
To avoid modifying arrows every time, you can right-click on the one you like and select Set as Default Line.
In addition to your own shapes, you can use pre-saved options in Word that are stored in the SmartArt menu. You can simply choose any graphic there and then modify it accordingly.
The best flowchart software for Mac
By far, the fastest, the most responsive, and the most flexible way to create flow charts is to do so using an app on your Mac. Here you can explore your creativity if you want to but at the same time fall back on a large library of assets and images too. You can also frequently save your creations in a variety of formats and include them in presentations, documents, and spreadsheets.
Diagrams is the app you should try first if you want a simple and effective flowchart creator. Get started with a built-in palette preset — there's a dedicated preset for flowcharts. From there, the flow is very simple: Choose an element, add text, build relationships with links. You also get custom sets of colors and different text formatting options.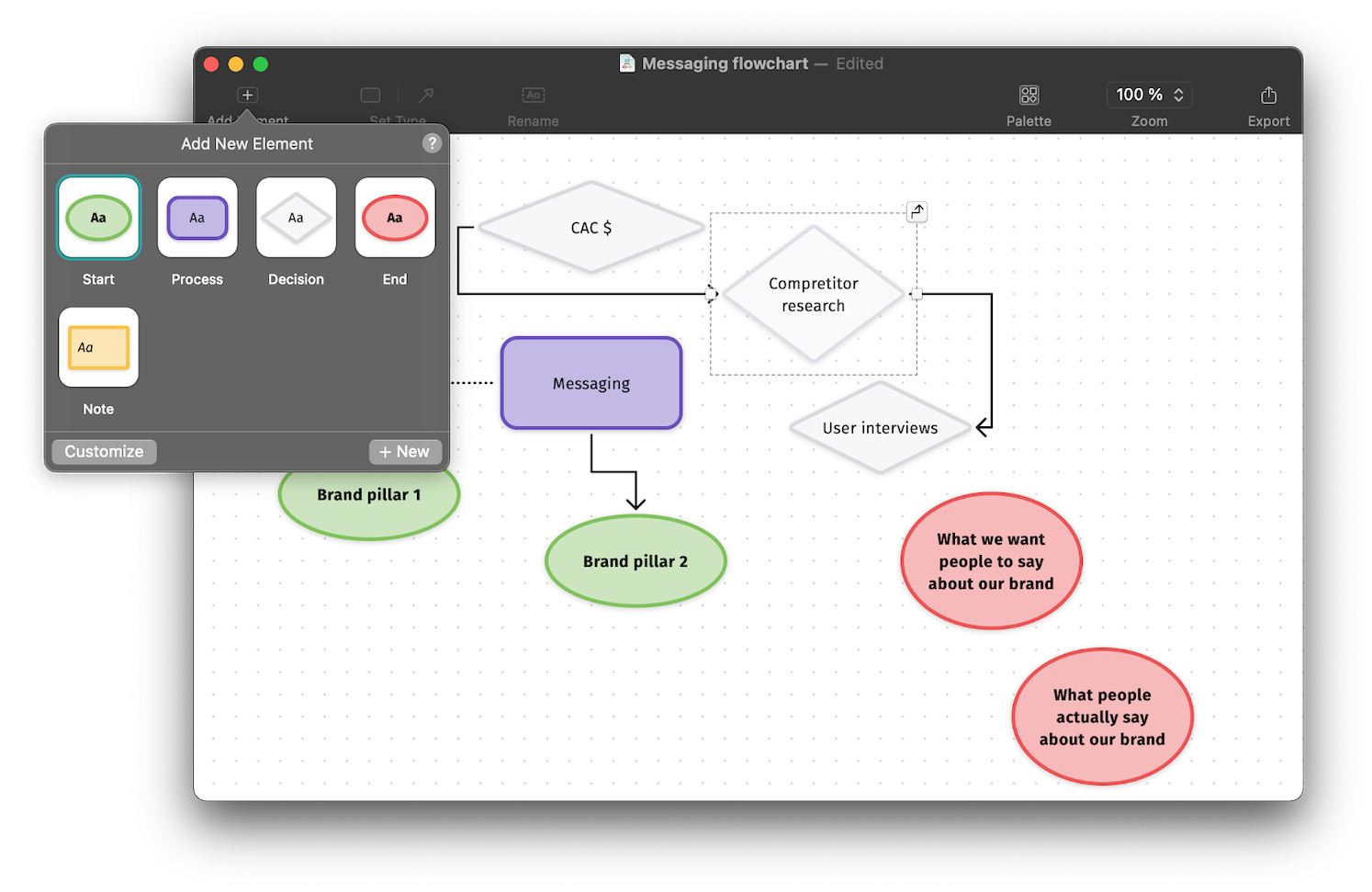 MindNode is a flowchart app for Mac that integrates a variety of elements such as tasks, notes, visual tags, and whatnot. So it works great for documenting processes or extensive projects.
MindNode has a clean interface, intuitive design, and hundreds of illustrations you can use. You can even add external images or designs to your flowcharts to help explain your thinking. The size of MindNode flowcharts is nearly unlimited — feel free to make them as large as you like and focus on specific parts by enabling Focus Mode.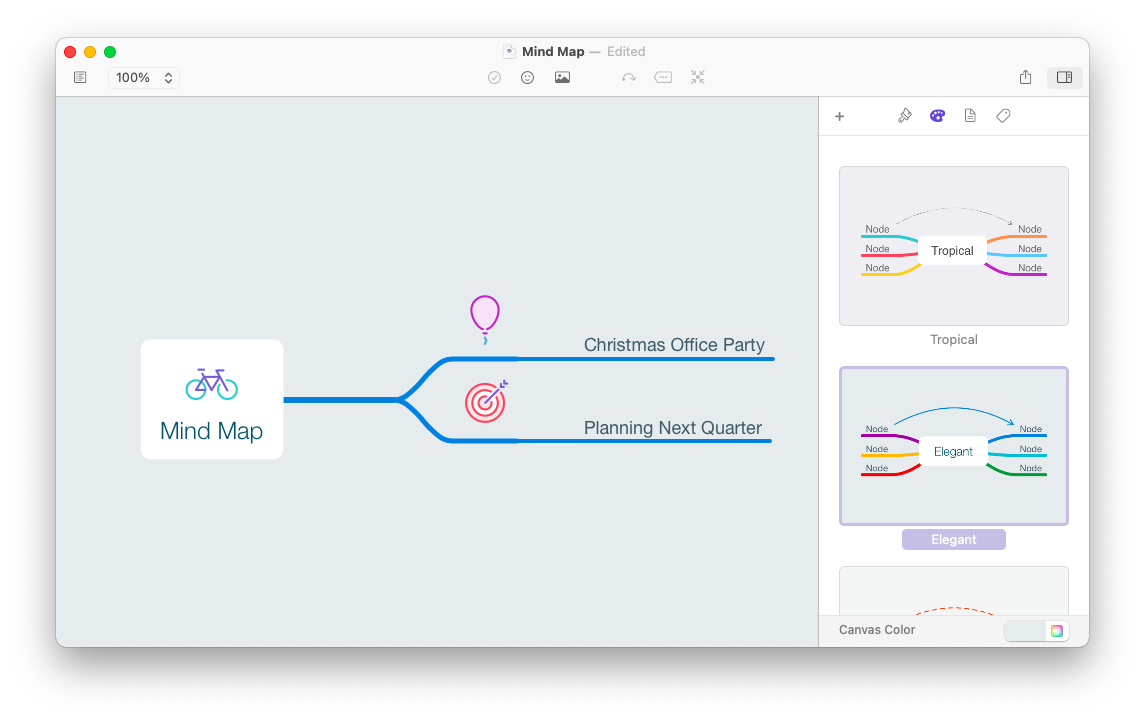 iThoughtsX is a step up from MindNode when you need to do some serious thinking. In fact, it's the best brainstorming app on the market, used by thousands of professionals to create complex long-term plans and diagrams. The app's interface is fluid and flexible, adapting instantly to how you actually think. You can find your way around in seconds, creating connections by simply dragging and dropping various elements. All the changes are saved automatically in the cloud, and you can export your flowchart to any app once you're done.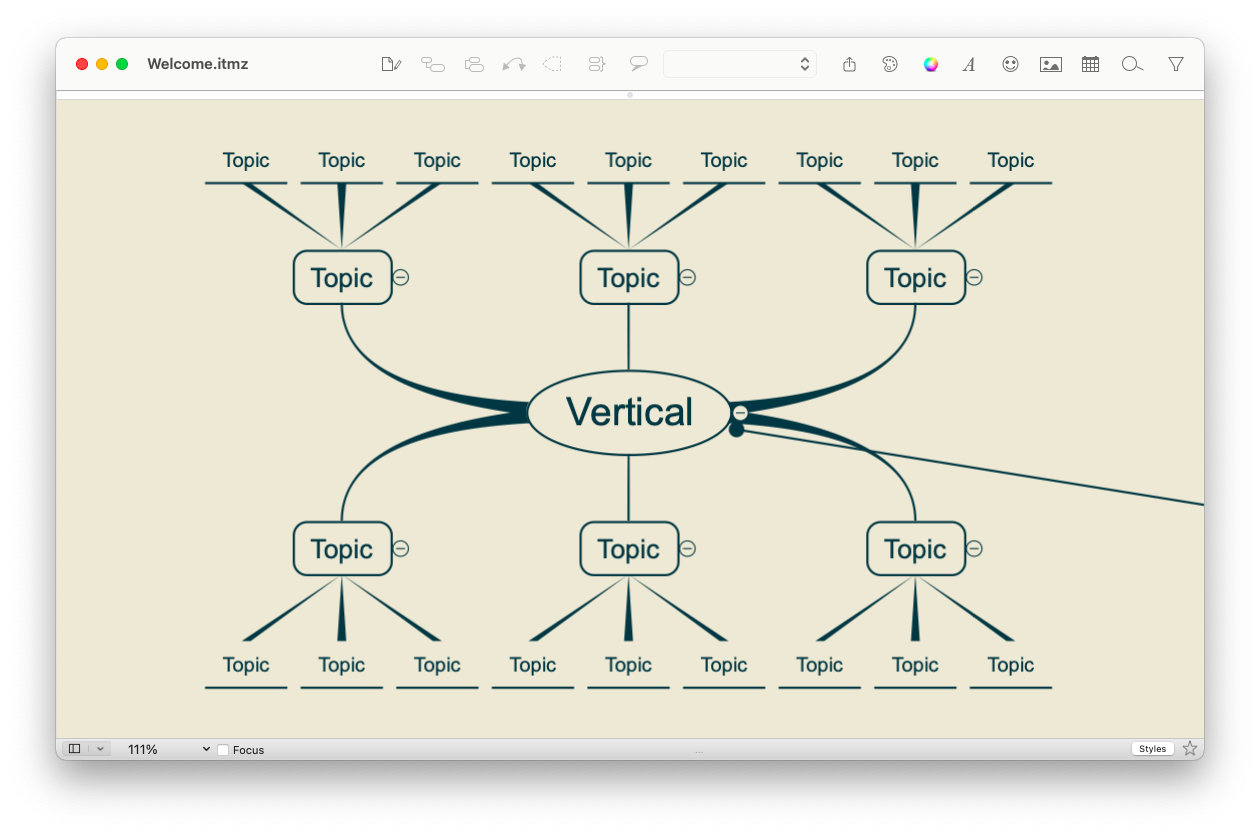 How to make a flowchart online
If you don't have access to Microsoft Word or you'd like to try specialized flowchart software, a few apps online are a good place to start. They often offer some free functionality and are great for collaborating with others.
One of the easiest web apps to start your first flowchart is diagrams.net. This website is free to use and even without creating an account you can invite a few people, create flow charts, and save them to your Google Drive or other storage.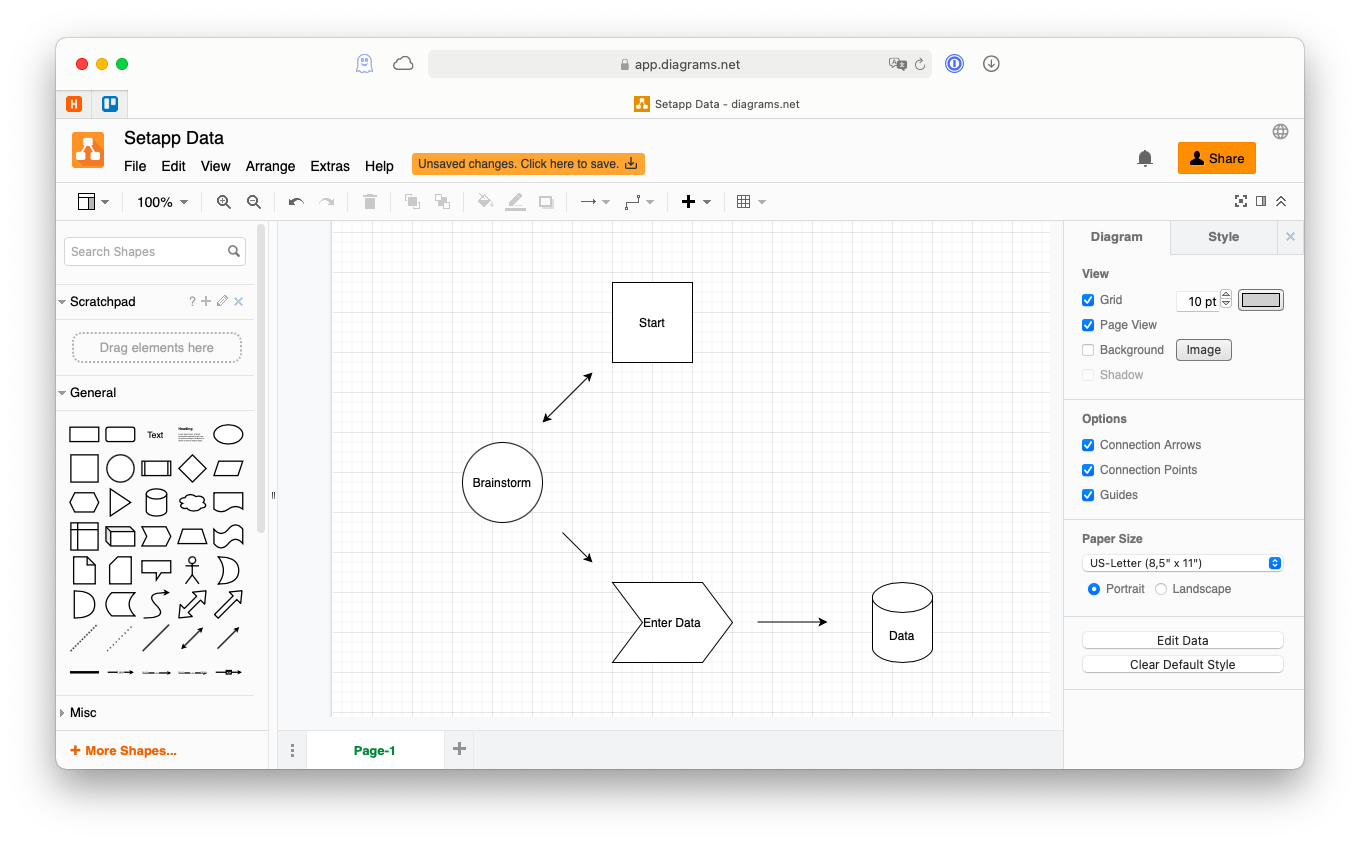 There are a few themes to choose from and a preset library of shapes. You can modify them in any way, add colors, change fonts, and draw something completely custom. The only thing diagrams.net lacks is advanced shapes and features — some of which are present in Lucid.
Lucidchart is one of the best ways to make a flowchart online. It has a free account as well with all the features you've come to expect from a professional flowchart software, but you can also upgrade to be able to edit more documents and access a full library of templates.
The best part about Lucidchart is the amount of pre-designed shapes you can use, from various UI containers for browsers to complex UI widgets (e.g. YouTube) to UI input, UI menus, etc. All this makes it easy to visualize even the most complex ideas for everyone to understand.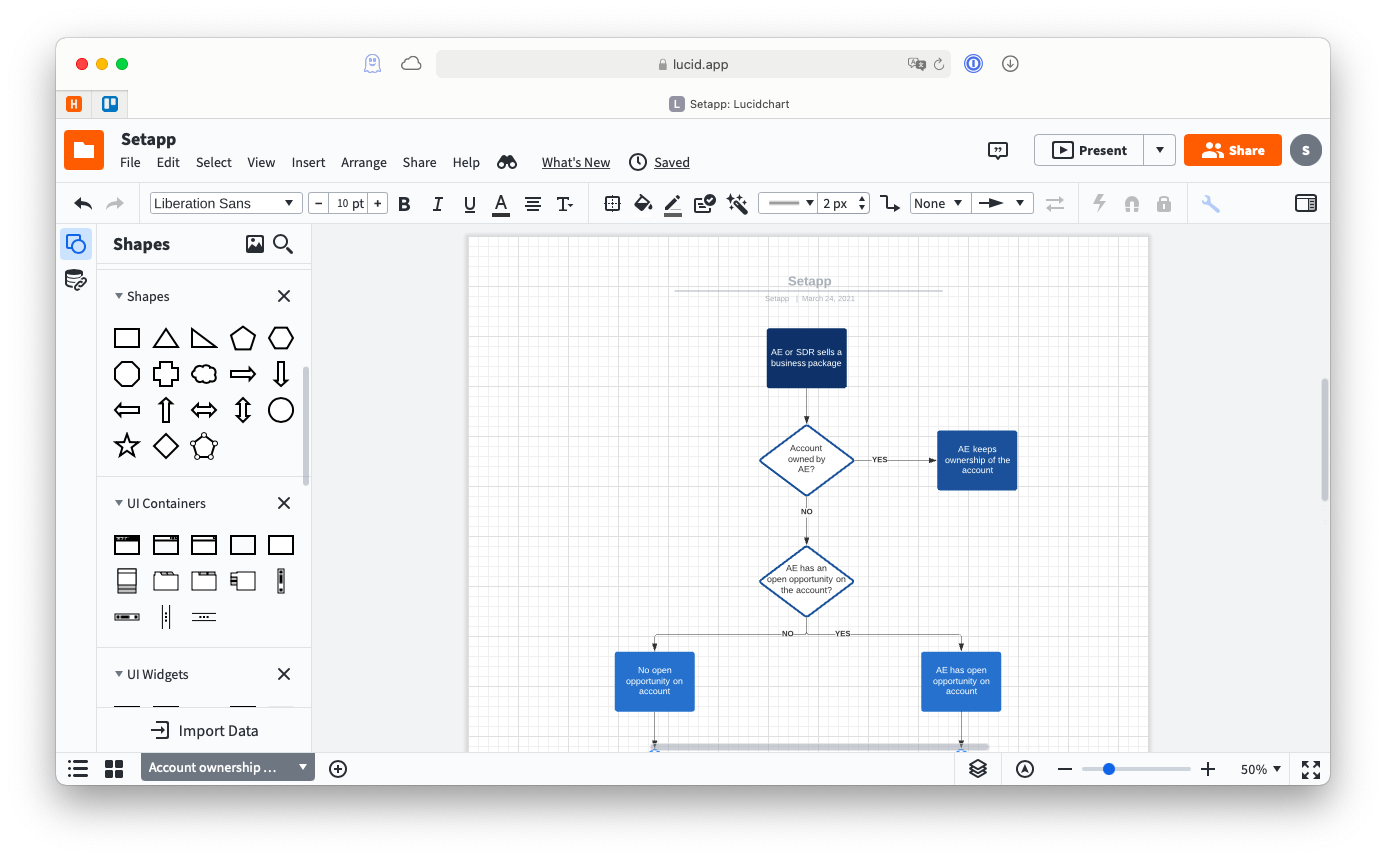 The downside of using flowchart software online is that often performance and flexibility lags behind native apps on Mac. If you decide to upgrade to a paid plan as well, they will also usually cost much more than Mac-based alternatives.
As you can see, there are more than just a few answers to the "how to make a flowchart" question. At the most basic level, you can even start with Microsoft Word or, if you don't have it, a tool like diagrams.net. When you're ready to upgrade, you can try Lucidchart online or go all-in on the flexibility offered by Diagrams, MindNode and iThoughtsX.

Best of all, Diagrams, MindNode, and iThoughtsX are available to you absolutely free through the seven-day trial of Setapp, a platform with more than 210 outstanding Mac apps that can be used for every task, from using WhatsApp on Mac (ChatMate for WhatsApp) to downloading any YouTube video (PullTube). Try every Setapp app today at no cost and find your new must-haves!