How to modify fonts on Mac
Without doubt, most of our communication today happens via text. We read for work and pleasure, write emails and documents, and even look at lots of visual designs (e.g. billboard ads) with text in them.
Fonts or, more broadly, typefaces play an important role in how we perceive a written message. Even though, most of the time, they are quite subtle, they help create the right mood (e.g. playful or serious), aid legibility and improve fluidity.
Typefaces have character. It would be quite difficult to trust a lawyer who sets their business cards in Comic Sans. Similarly, a monospaced font, for example, would help increase legibility when it comes to reading code, but would also make reading a book quite painful. In the latter case, a nice serif font should work much better.
Besides picking the right font for your project, which in itself is not an easy task, there are use cases where you might want to edit fonts as well. Let's see when that might be needed.
Why edit fonts on Mac?
Most people will never have to customize fonts themselves. But if you're working in a visual field where presentation and standing out are important, knowing how to use font editing software can be of great help.
Sure, you can simply pick an existing font for your project. The problem is that licensing most high-quality fonts is quite expensive, and it gets even more expensive if that font has to be installed on multiple computers or serve lots of website visitors.
Free fonts might seem to solve the money problem, but it's likely that they are already used by thousands of other people (especially if they are well-made) and thus don't give you that unique flair.
Using a custom font maker to create rich fonts, even if they are based on an existing font template, is your best bet in making a visual statement. You also don't have to customize fonts for everything — simply tweaking your display font a bit to seem unique is good enough for most cases. All you need is to know which font editing software to use.
What are the best custom font makers?
When it comes to font editing software for Mac, you have a variety of options. You can use a Mac-based professional app; you can try free open-source software; or you can just modify your text online.
Glyphs Mini is a robust but easy-to-use custom font maker for Mac. This vector-editing app lets you create, edit, and preview the shapes of any characters in any font. You can change the curvature of any letter, kern the words precisely, alter vector paths, and more.
Working in Glyphs Mini, you can also import other vector shapes to edit or define new font templates to reuse your letter shapes in the future. Finally, when you're done, just export the font in the format of your choosing.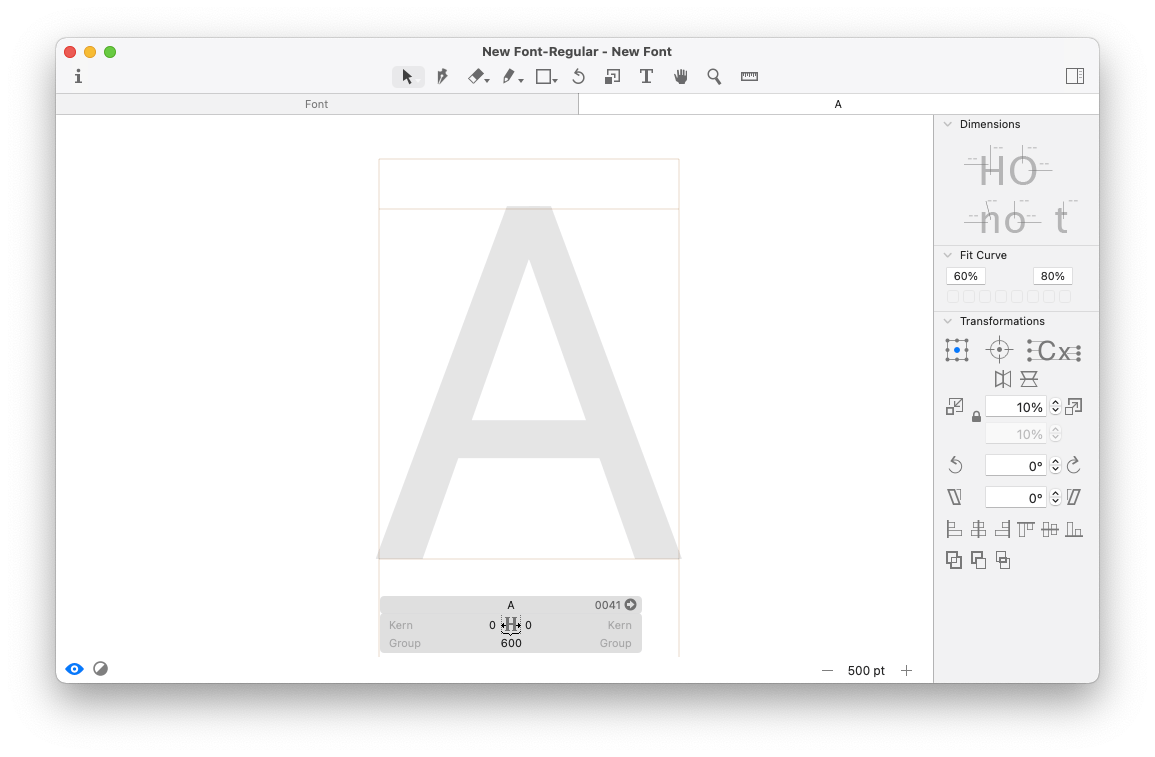 FontForge is an open-source, UNIX-based font editing software that is free to use on any Mac (you can donate if you keep using it). While the app is slow to update and less feature-rich than something like Glyphs Mini, it still lets you do all the basic actions to edit fonts, such as adjusting outlines and kerning. If you only need to modify fonts occasionally and in minor ways, FontForge can be a good option.
Font Changer (font-changer.com) is an online way to make rich fonts. It's completely free but also doesn't offer a way to professionally alter the letter shapes. Instead, Font Changer suggests thousands of ways to customize fonts and text you input there. All you have to do is make the most appropriate selection — a few clicks and you're done!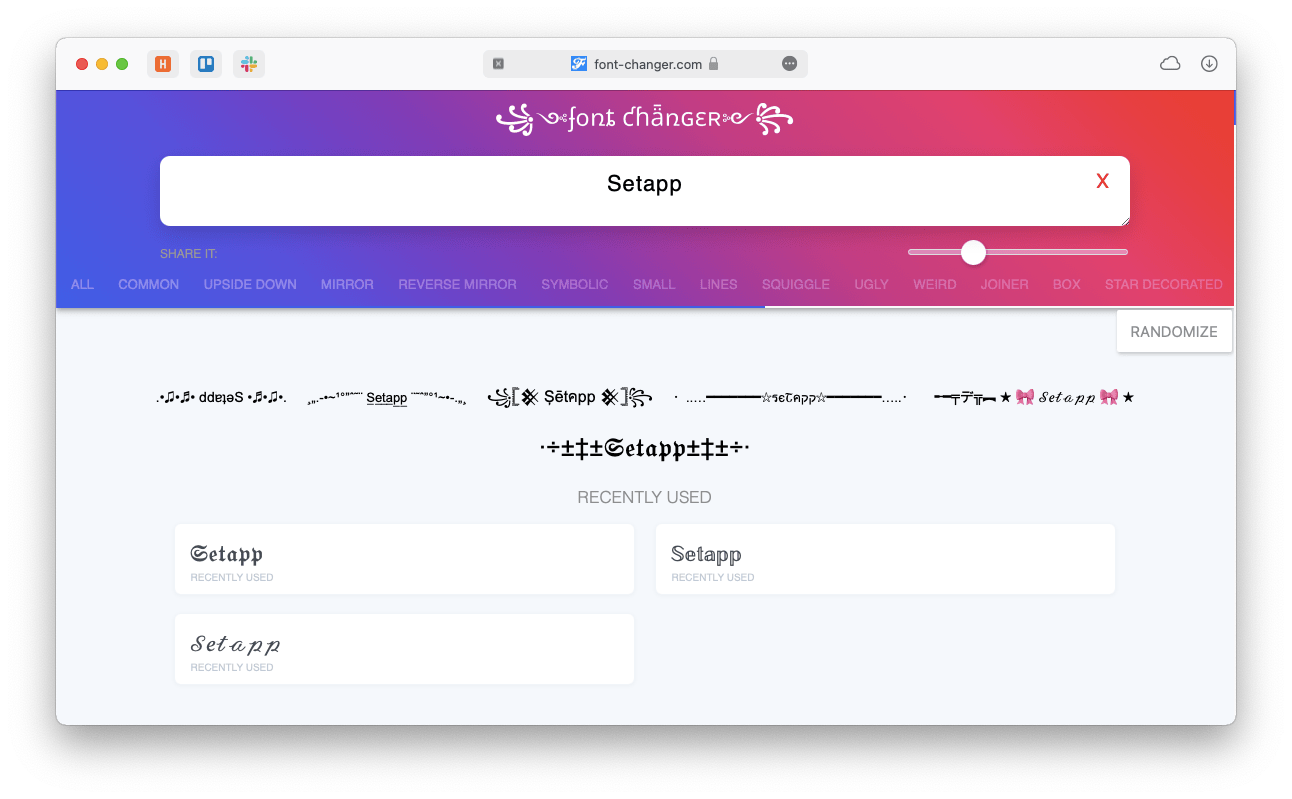 How to select and manage fonts
Unless you're a professional typeface designer, creating fonts from scratch is very difficult. In fact, even if you're a designer it's very difficult.
To customize fonts for a project, most people should start with an existing font. There are a few ways to do it. You can either pick a free and open-source font that you can modify as much as you want or license a professional font for desktop use, which will also give you the right to customize it as you please (but read the contract first!).
Probably the most used library for open-source fonts today is Google Fonts. Most people just link to it to serve fonts for their websites, but you can also obtain all fonts directly via its GitHub repository. Using the website first, however, is a good way to filter and find the particular font you need for your project.
The downside of using Google Fonts is that it's hard to find something unique there, especially if you're looking for higher-quality fonts.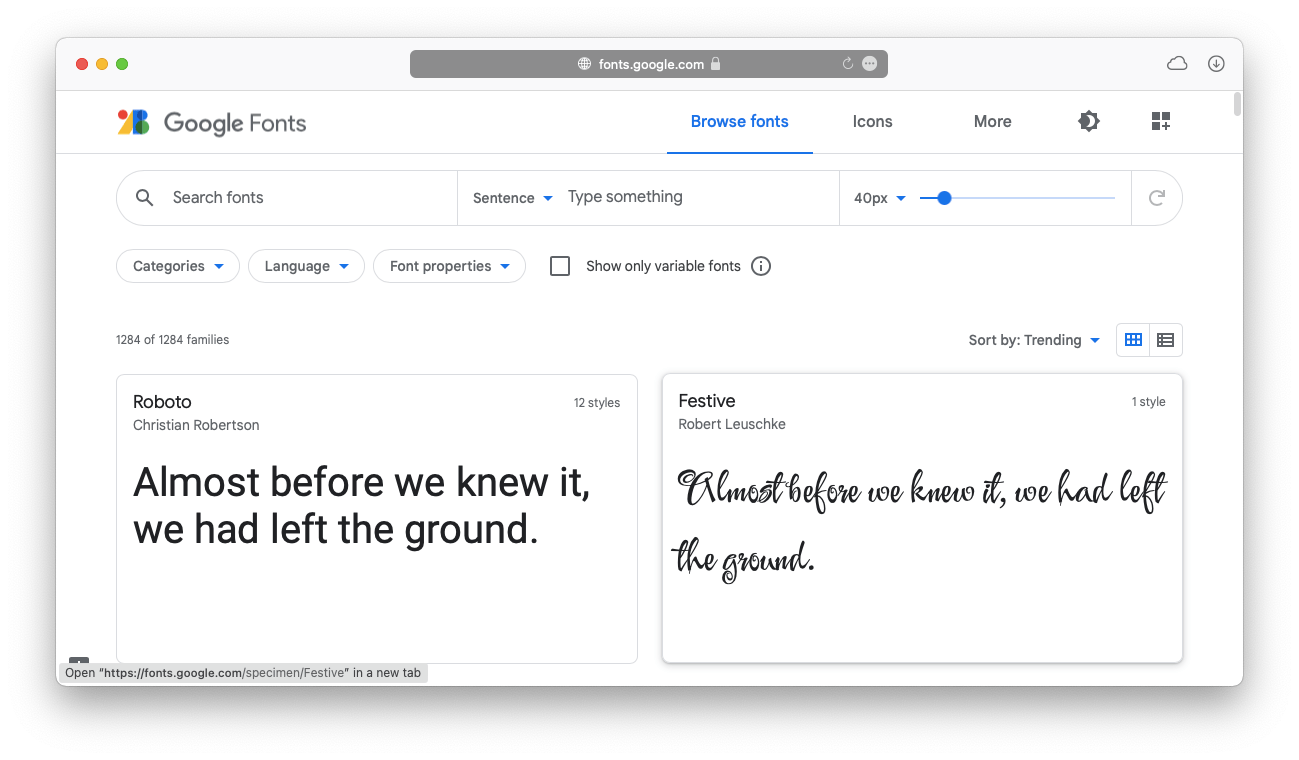 FontSpace (fontspace.com) is another online library, with more than 85,000 free fonts to offer. You can find interesting professionally licensed fonts there that are used less frequently than the ones from Google Fonts. Most fonts, however, would also be restricted to personal use — so you can practice on them and use them in personal projects, but not for something like client work or commercial goods.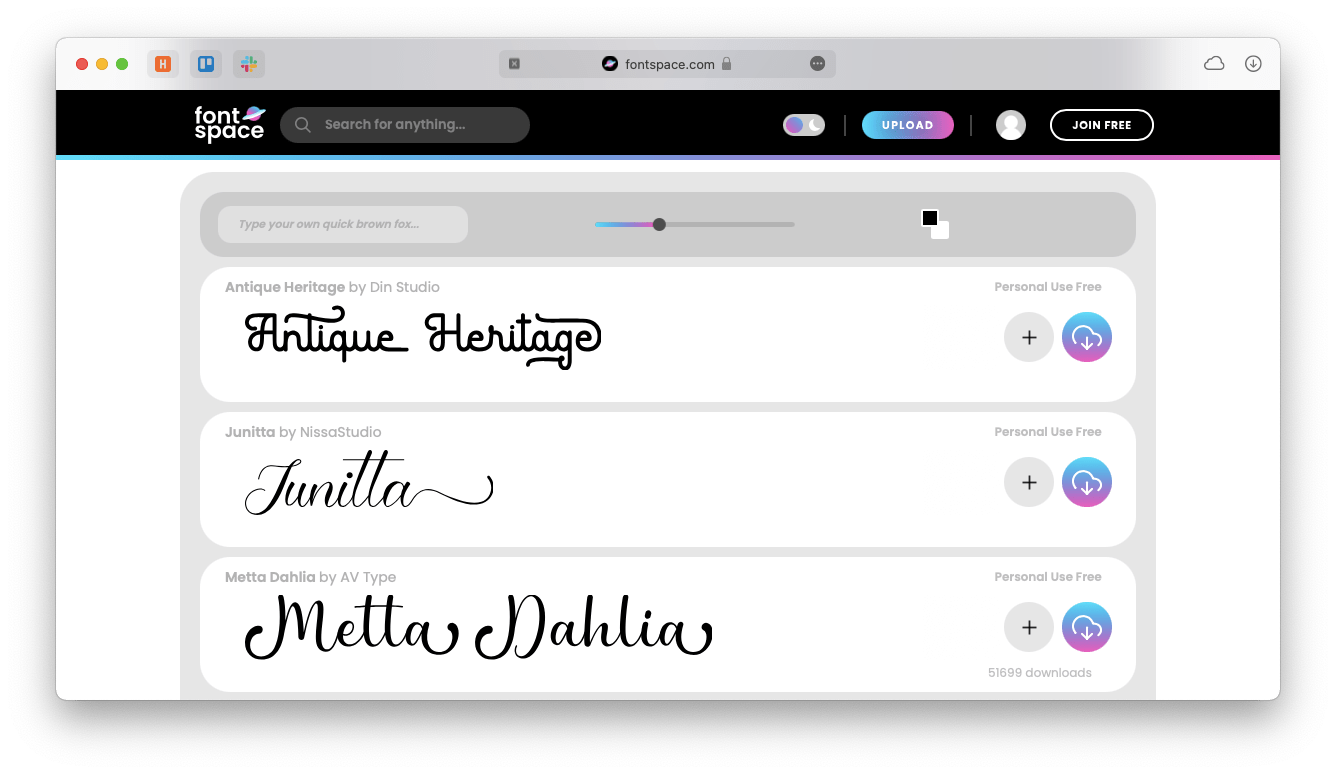 Once you assemble a sizable library on your Mac, you'd need a way to manage it and find the fonts you like quickly.
Typeface is the only font manager your Mac will ever need. This app will visually show you the differences between each font on your Mac and make it easy to filter through your library to compare any text side by side. You can also get full metadata on every typeface and see all characters in its collection. Since Typeface supports categories and tagging, you can even create folders for specific projects and use them as inspiration boards to find the right fonts to pair.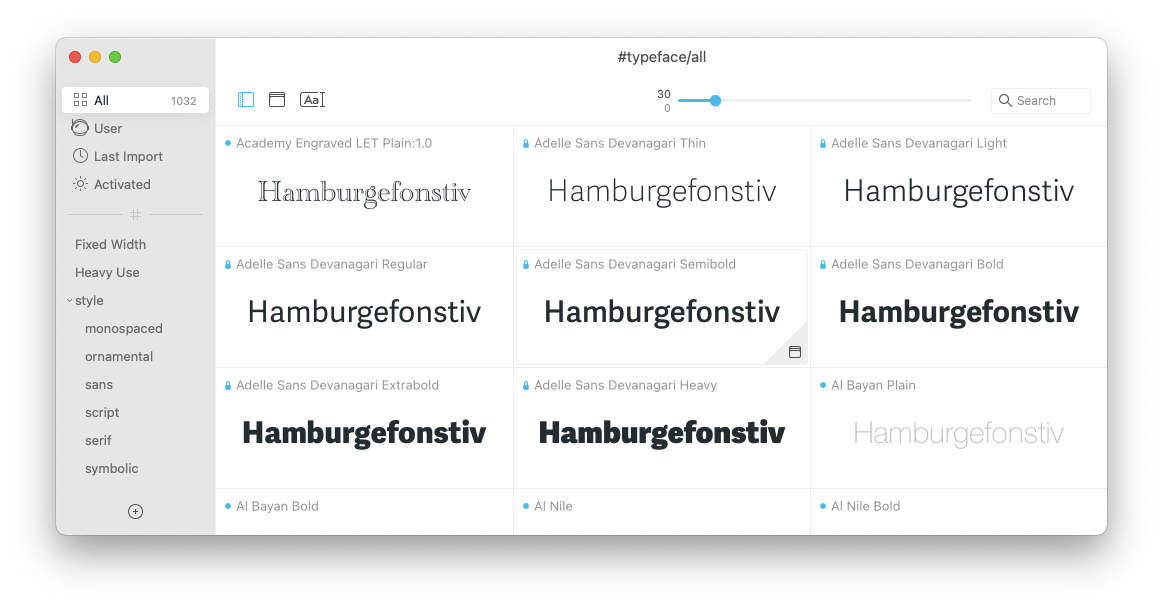 How to customize fonts on Mac
By now, you've found a few great fonts for your project that you want to modify somewhat and put them all in a collection together within Typeface. How do you actually go about customizing them?
Glyphs Mini, already mentioned above, is a great start:
Duplicate any font you want to change
Launch Glyphs Mini
Go to File ➙ Open and select that font
Explore the font and open any shape you want to edit
Using Bézier curves and points, alter the font the way you like
Go to File ➙ Save or Export to save the result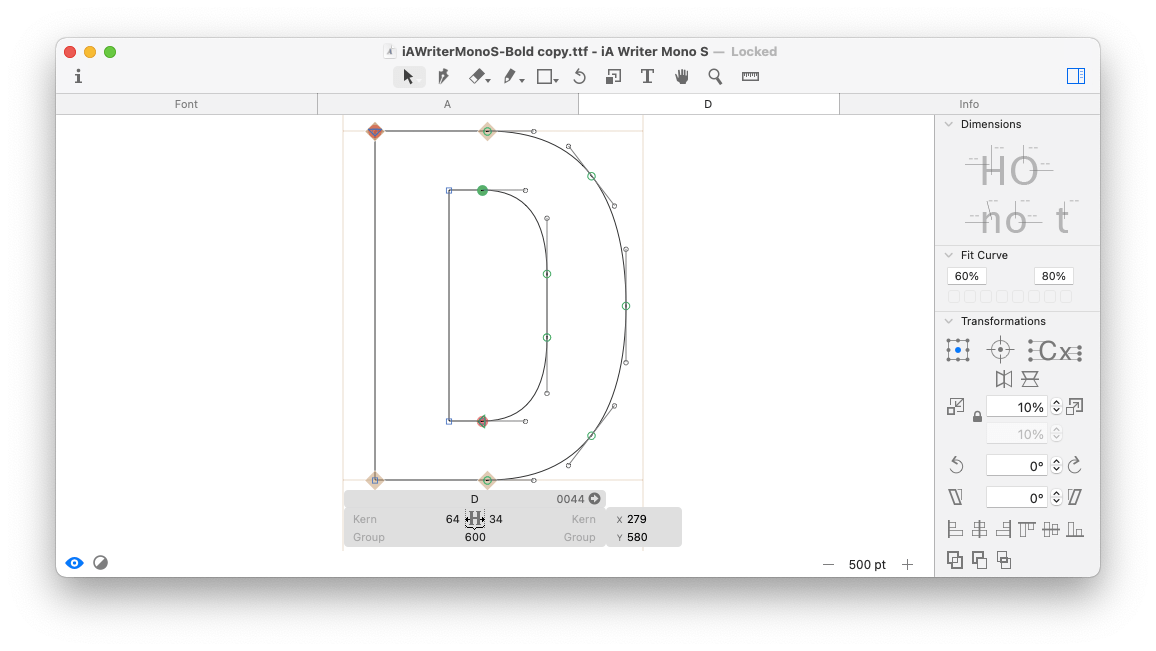 As you can see, being able to edit fonts based on font templates is not that hard when you have the right tools to support you. License your fonts from a type foundry or source them for free from Google Fonts or FontSpace. Organize everything in the Typeface font manager. Finally, make all the necessary edits in Glyphs Mini.
Best of all, Glyphs Mini and Typeface are available to you absolutely free for seven days through the trial of Setapp, a platform with more than 220 Mac and iPhone apps and utilities to help you with any task, from cleaning your Mac (CleanMyMac X) to mastering keyboard shortcuts (Keysmith). Try every Setapp app at no cost today and effortlessly increase your productivity.