Raycast launcher for Mac and its alternatives
Raycast is quickly becoming the go-to app for macOS users looking for a powerful and reliable automation tool. However, Raycast isn't the only automation helper available on the market. In this article, you'll find out how Raycast works and take a look at some of the best alternatives to power you up.
What is Raycast
Raycast is a modern macOS app launcher allowing you to quickly and easily create shortcuts to save time and make your workflow easier. This tiny, free app lets you open programs, search for files, and create keyboard shortcuts for literally anything!
Here's what you'll see when you launch Raycast: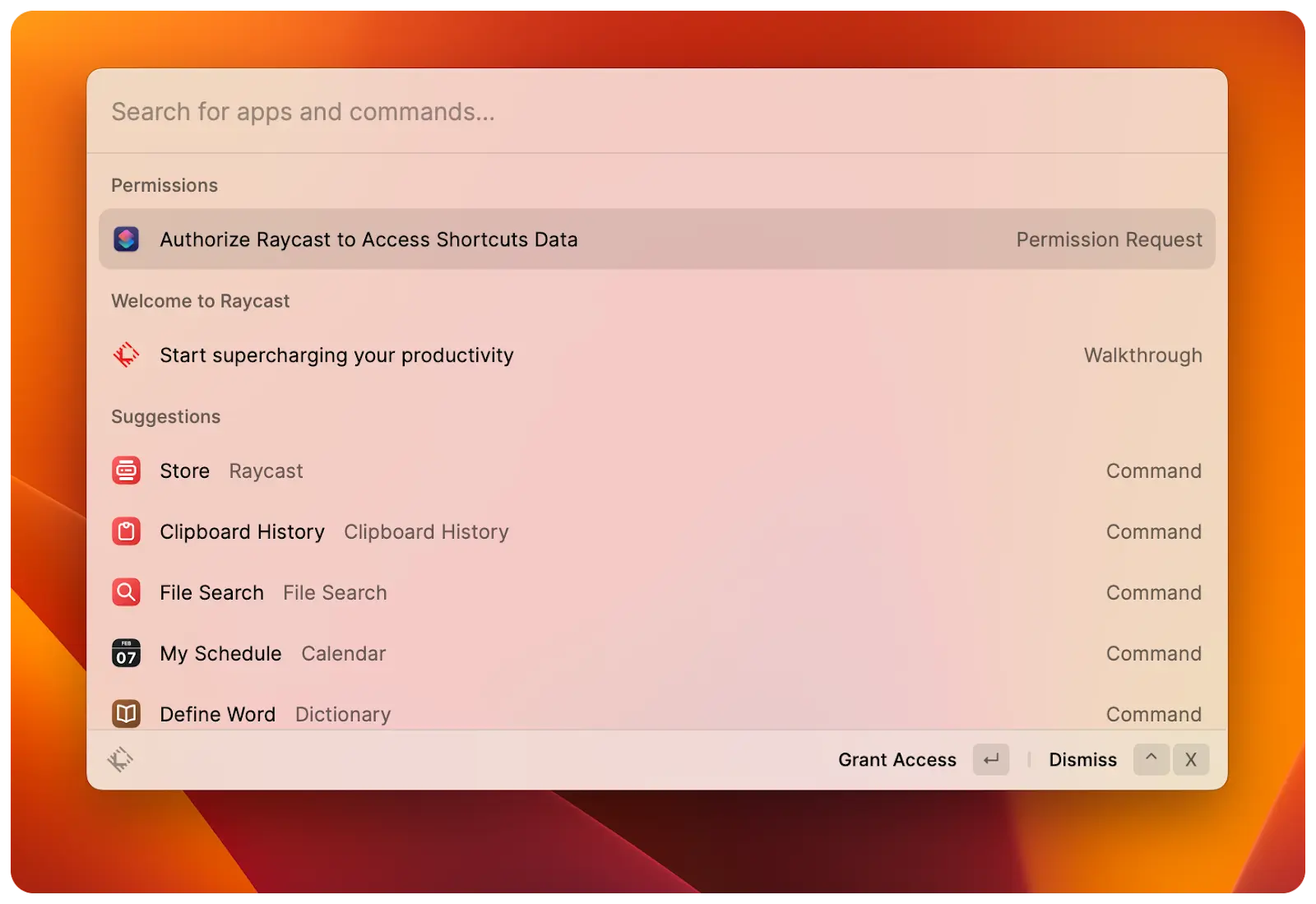 What is Raycast used for?
Basically, Raycast is an all-in-one tool for managing a huge set of common tasks. Once installed, Raycast provides a tutorial to help you navigate and learn things. All navigation can be done with keyboard shortcuts, and it helps to know as many shortcuts as possible, as this will significantly affect the speed with which you can interact with the tool.
Let us first show you some basic options available with Raycast:
To search for an app: type the app's name and hit Enter to open it.

To perform basic math calculations: type as you would normally. For example, "222/12" or "square root of 66." Then press Enter if you want to copy the result.

To search the web: type your query and highlight the Search Google option. Hit Enter to open it in your browser.

To search for a file: type in File Search and hit Enter. Next, type the name of the file you're searching for.
That's enough to get you started, but there are a lot of other neat things about Raycast that make it worth your time.
Calculate and convert in natural language
Solving simple math expressions, converting units, checking time zones, calculating differences between days, months, and years, and more is possible with Raycast. All in natural language and without turning to Google.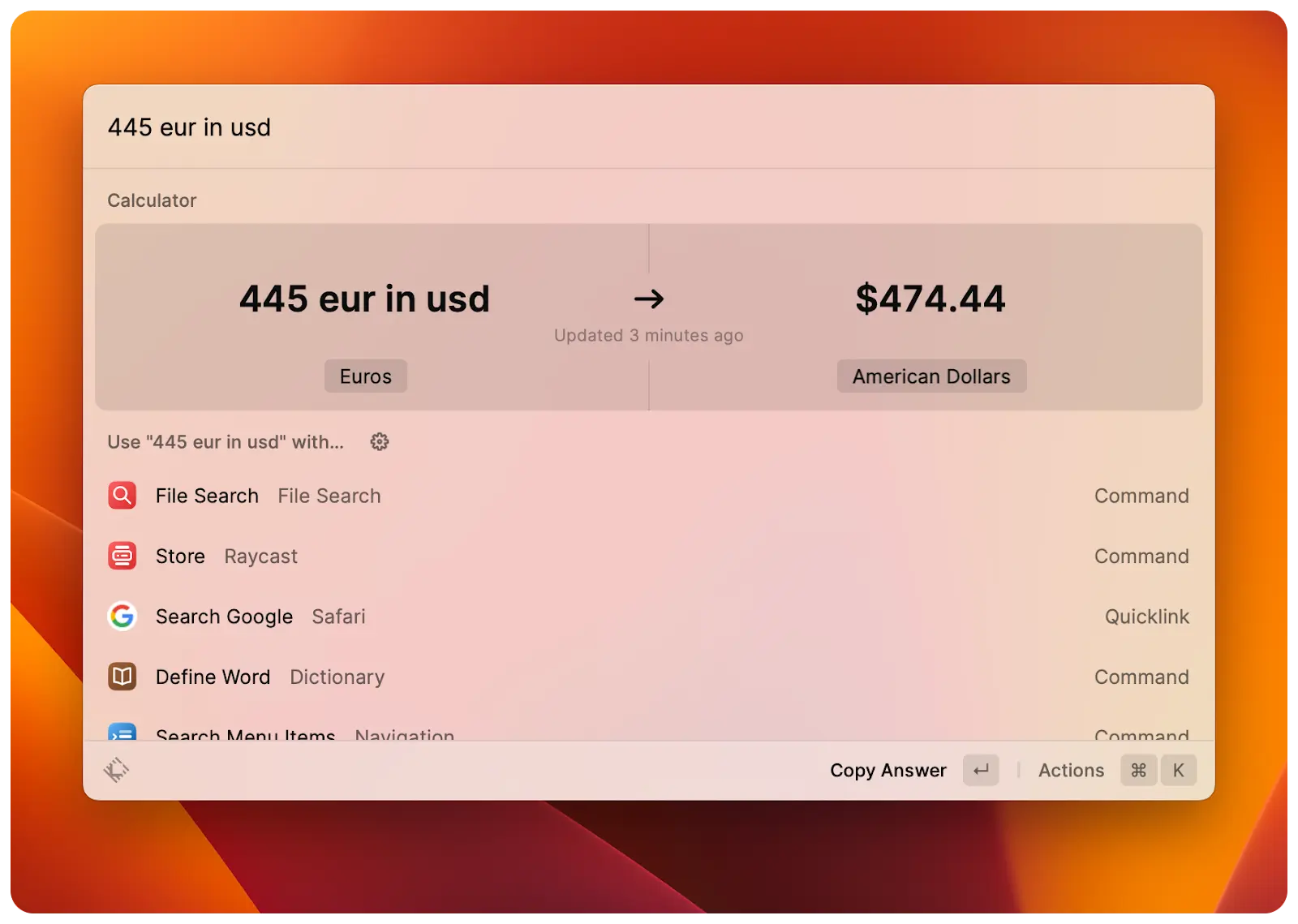 If you want to make calculations more accessible, get Soulver on Setapp. It lets you type in both arithmetic and readable calculation. The app works with a wide range of units, including time, length, currency, volume, computer storage, math operators, CSS functions, and more. And what's great is that all your work is saved so you can use it later.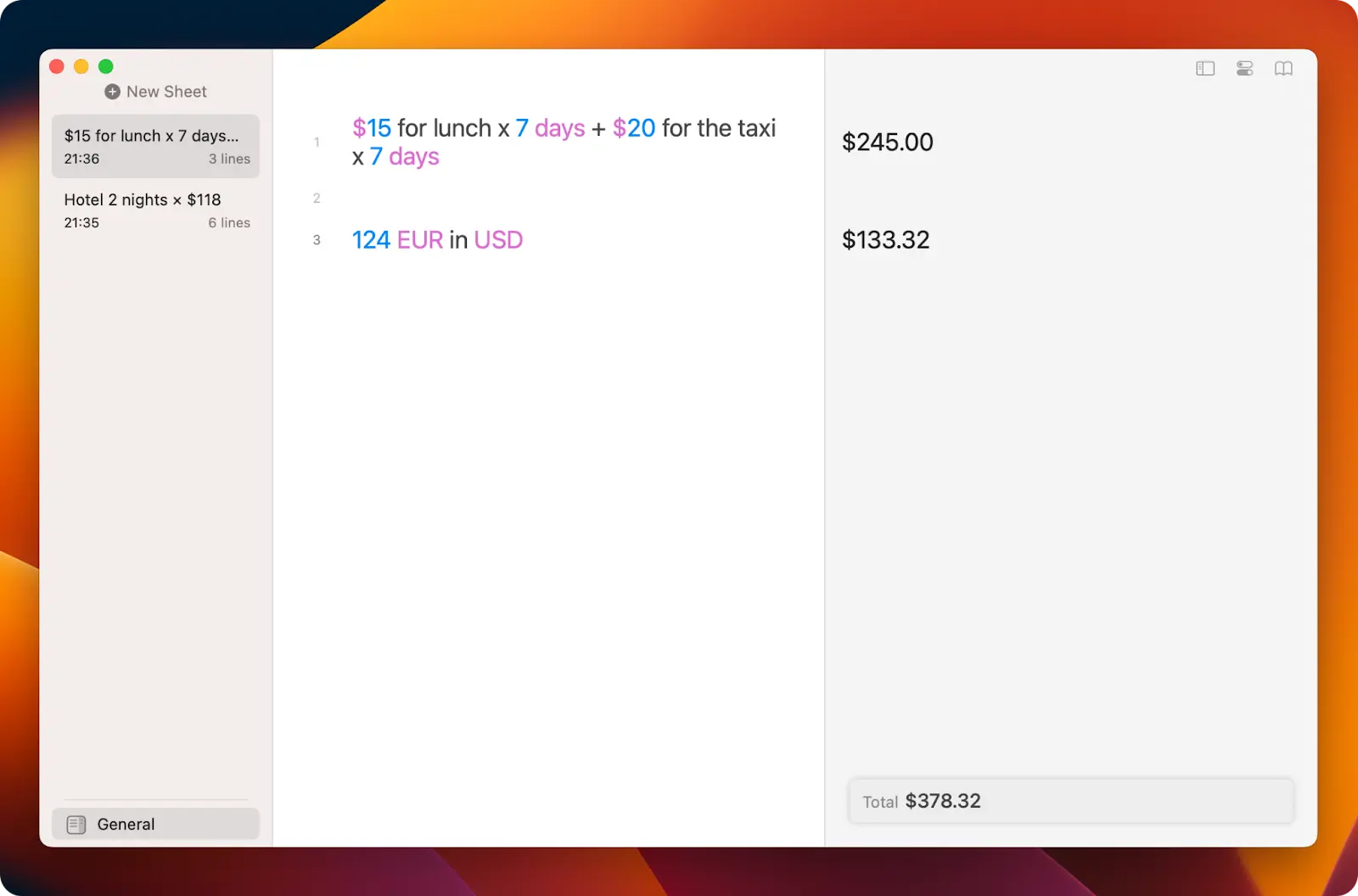 Save things into clipboard history
Think about how often you copy something and then need to paste it again, but your clipboard now has something else on it, so you can't paste. The macOS copy-and-paste flow lets you save just one thing at a time. Raycast lets you find the text, images, files, links, and colors you copied and pasted before. You can even pin things you often use to make them easier to get to.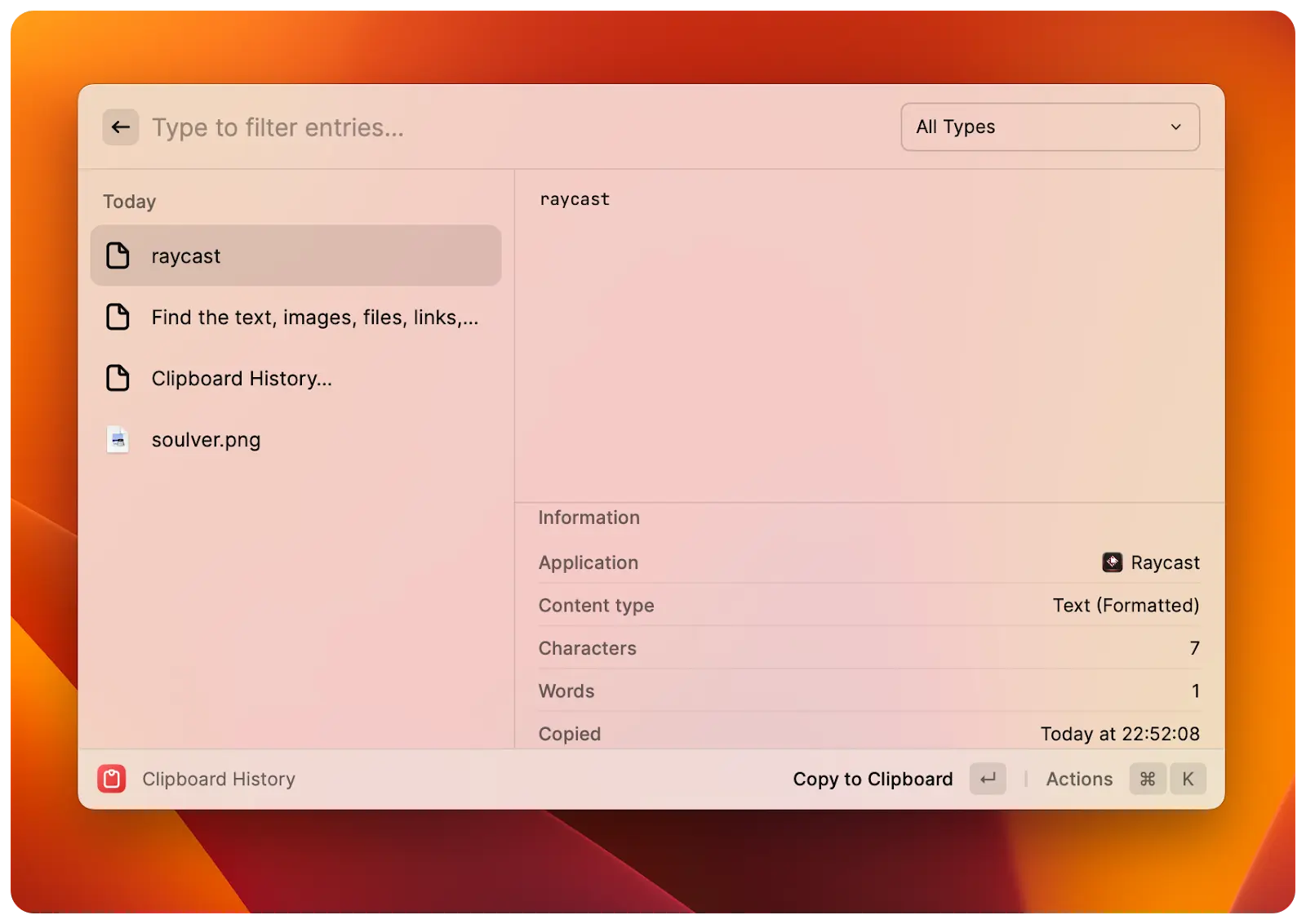 Paste on Setapp saves all your clipboard history in one place and saves you tons of time. Each item is stored on its own card. To view your entire clipboard history, use the Shift + Command + V shortcut or click the P icon in the main menu bar.
To further improve your workflow, we recommend you try TextSniper. Say you have a photo with text on it that you want to save in a text document. Or maybe you're watching a video presentation and want to save some text from the slides. TextSniper recognizes text on images and PDFs and copies it to your clipboard.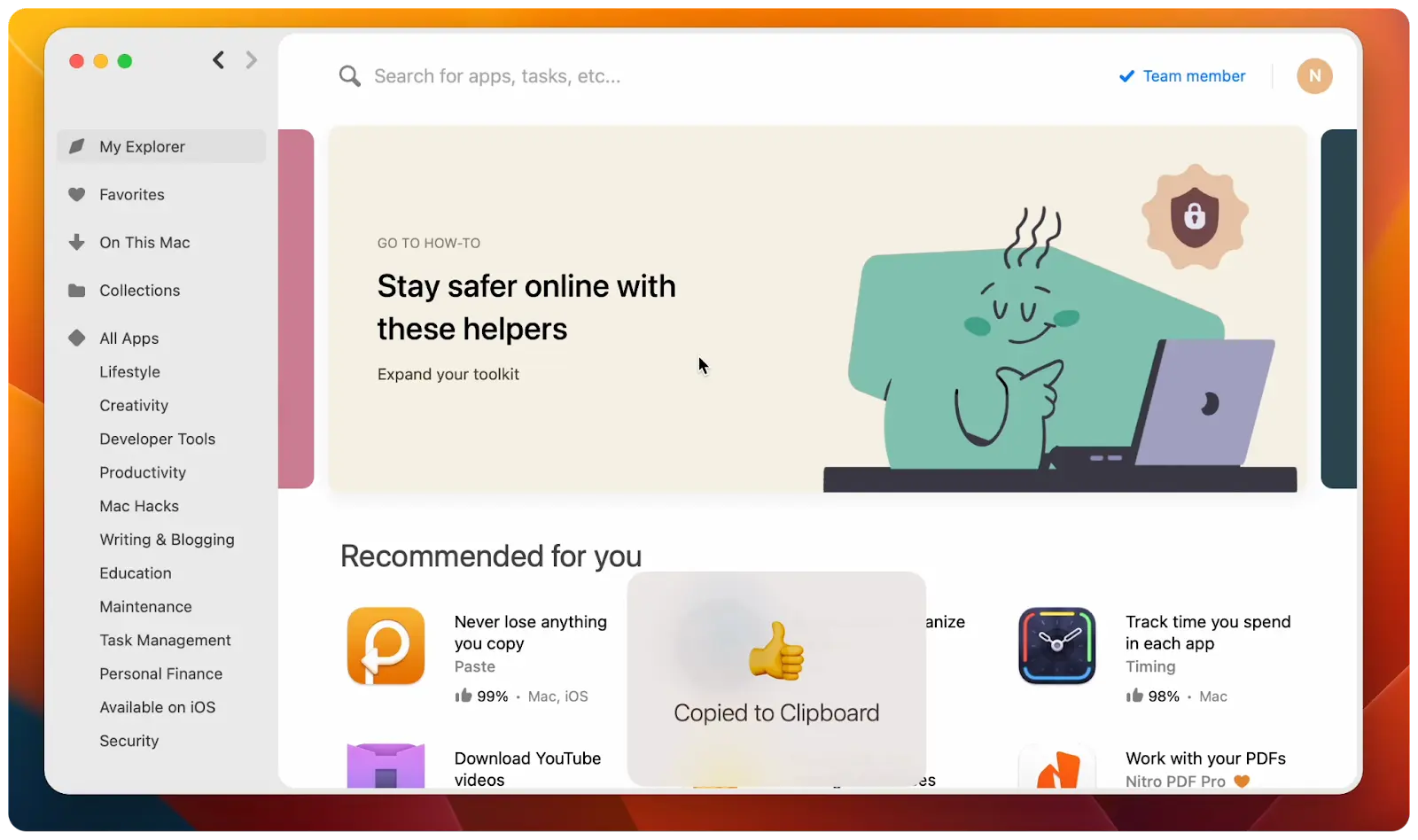 Write faster with Raycast snippets
Raycast enables you to write faster by inserting frequently typed text such as canned emails, code pieces, and more. You can use keywords to auto-expand snippets in place.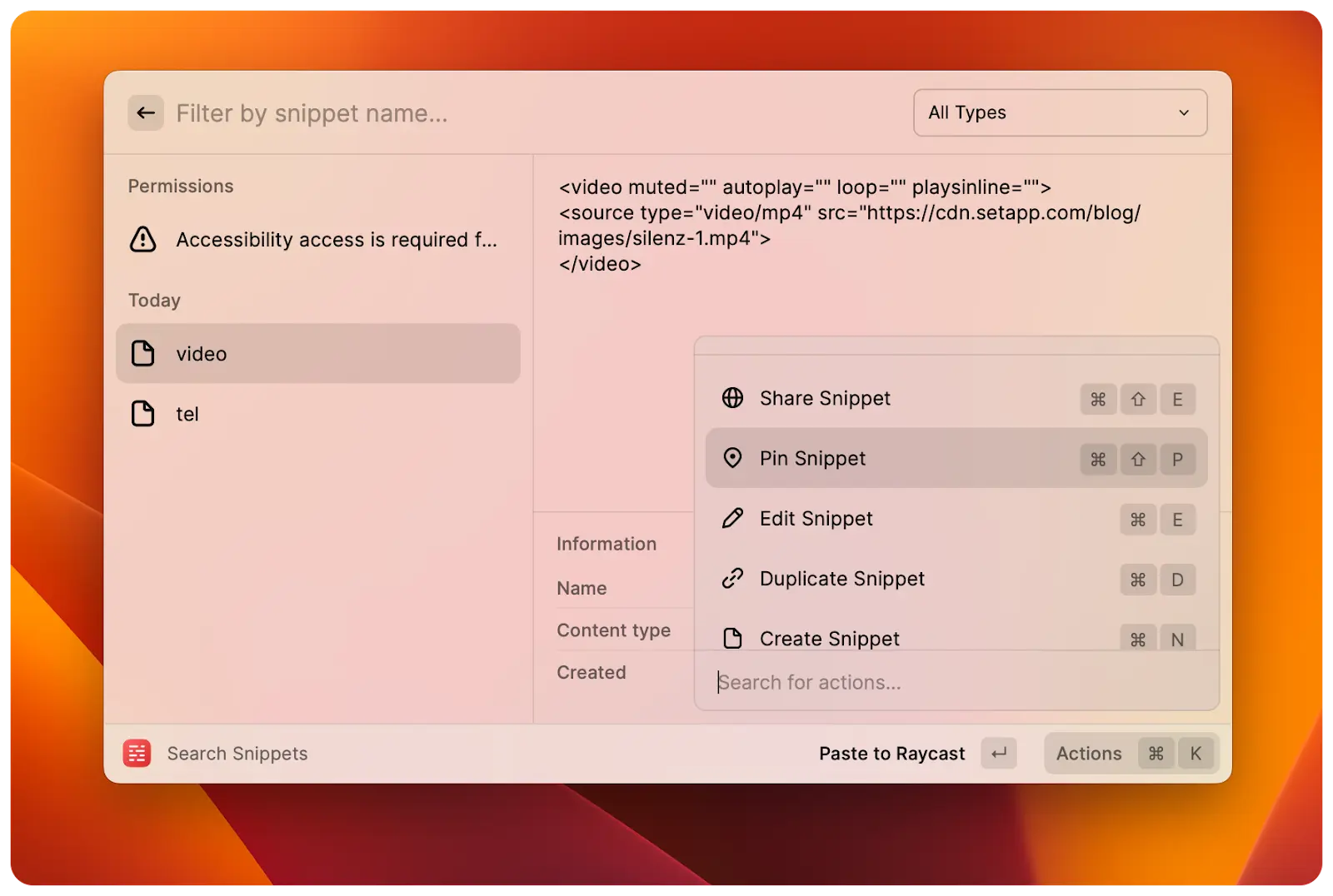 If you want a handy minimalist app to write emails, code, and articles faster, as well as auto-paste names, dates, and contact details, try Rocket Typist. The app allows you to create a collection of snippets for your most frequently used phrases. You can either paste them from the drop-down menu or create simple abbreviations that will automatically prompt you to paste them. Handy, right?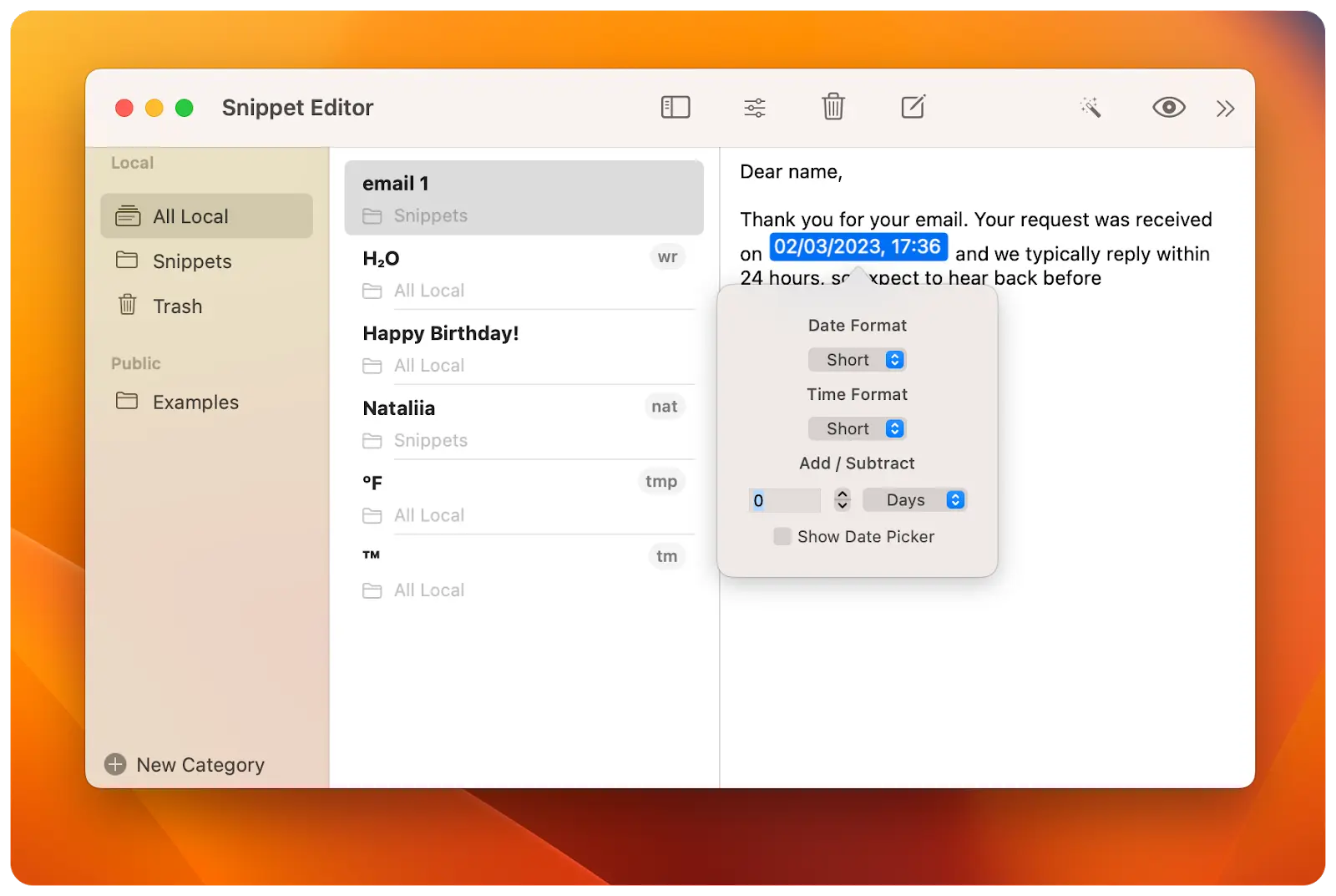 Create Quicklinks to launch anything faster
One of the most popular extensions in Raycast is called Quicklinks. Quicklinks are necessary for quick access to files and pages. You specify a name by which you will find it, specify a web link or select a file, and then specify which app to open it with. All Quicklinks are accessible from within the root search.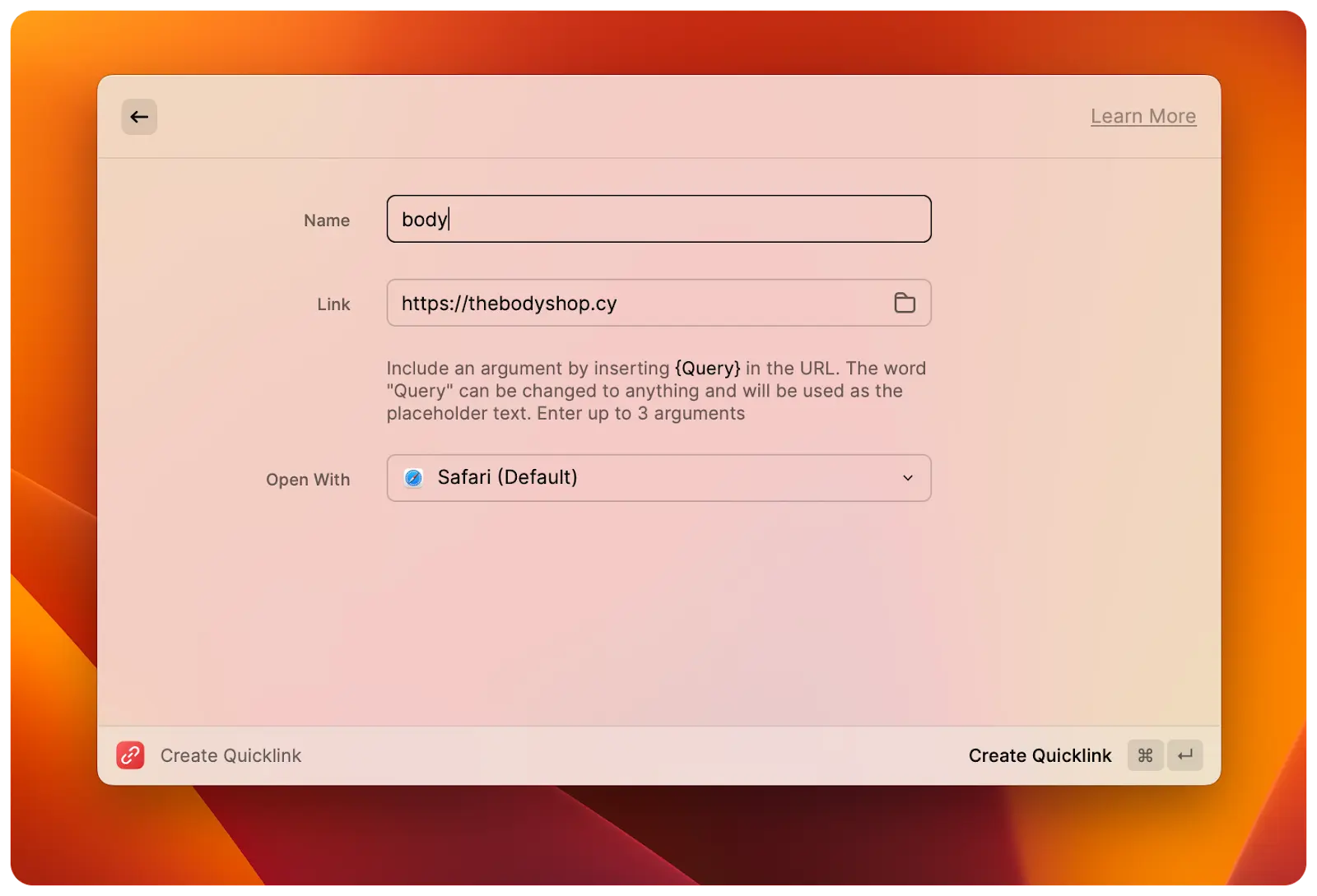 Tip: Keep all your links in one convenient place. When you're browsing a variety of online resources throughout the day, you can end up with dozens of links and bookmarks in different apps and browsers. We recommend bookmarking everything with Hookmark, so you have all the links you need in one handy place. Note that the app can bookmark not only web pages but anything you want (Notes app, folders, spreadsheets, etc.).
Save time opening links. As you collect your items in Hookmark, they may all come from different browsers and apps. To save time, use OpenIn as your default browser. When you click on your link, you'll see a list of installed browsers and choose the one you want to open it in.
Rest of Raycast extensions
We can't possibly cover all the features of Raycast in one blog post. However, we hope to have shown you a new tool to add to your arsenal if you like it. Keep in mind that there are many more extensions to be discovered and used in the Raycast extension store. The most popular ones are Google Translate, Spotify Player, Notion, and others.
What is an alternative to Raycast on Mac?
Whether you're looking for an alternative to Raycast or just want to try something new, check out Alfred, one of the most well-known Raycast alternatives. You may also like Lacona and Setapp, which are also worth exploring.
Just like Raycast, Alfred is an app for macOS that increases your efficiency with hotkeys, keywords, text expansion, and more. Compared to Raycast, Alfred looks and feels less modern. We'll compare these two apps below. Keep reading.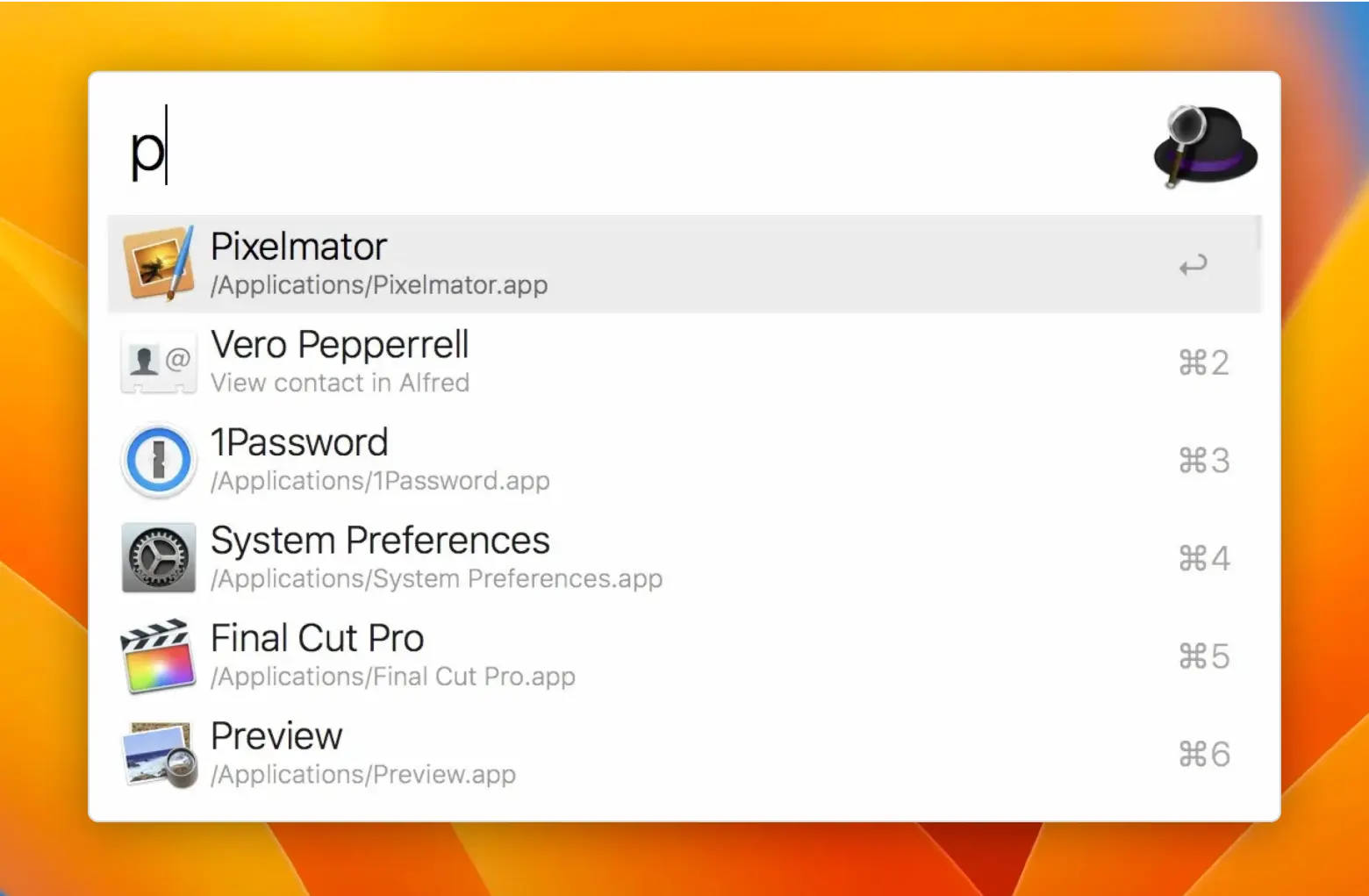 Another great Raycast alternative is Lacona, known as the fastest keyboard assistant that streamlines your daily workflow. Use plain English to find and launch apps, open URLs, tweak settings, command apps like Maps, Music, Notes, and your favorite third-party apps. Lacona is like Spotlight that meets Siri but with a lot more power.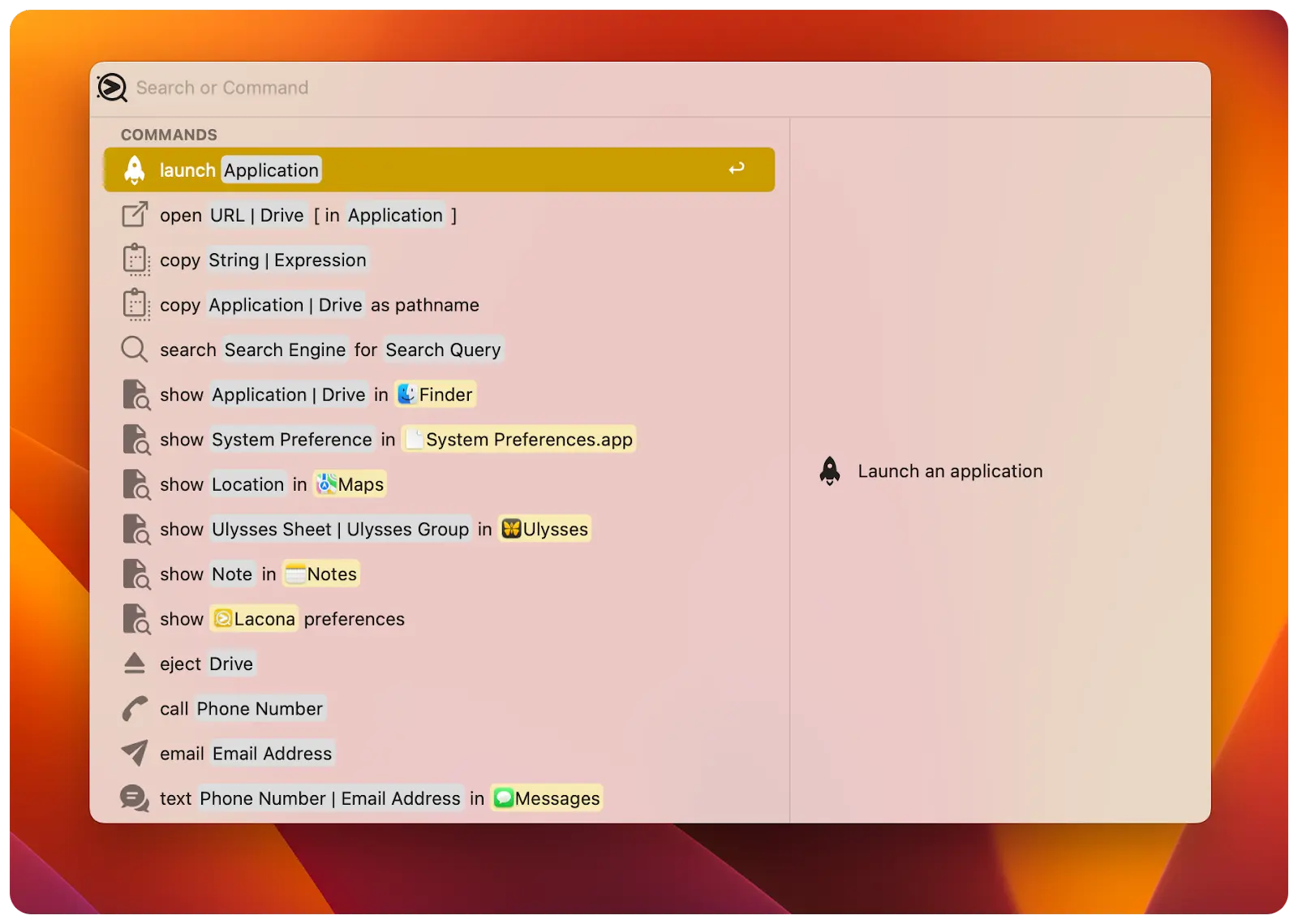 So, both Alfred and Lacona are the apps that power you up and make your life easier. Now, we have something better for you. It's Setapp, a platform that hosts dozens of powerful Mac, iPhone, iPad, and web apps to tackle almost any task. All apps are carefully selected and available under one subscription.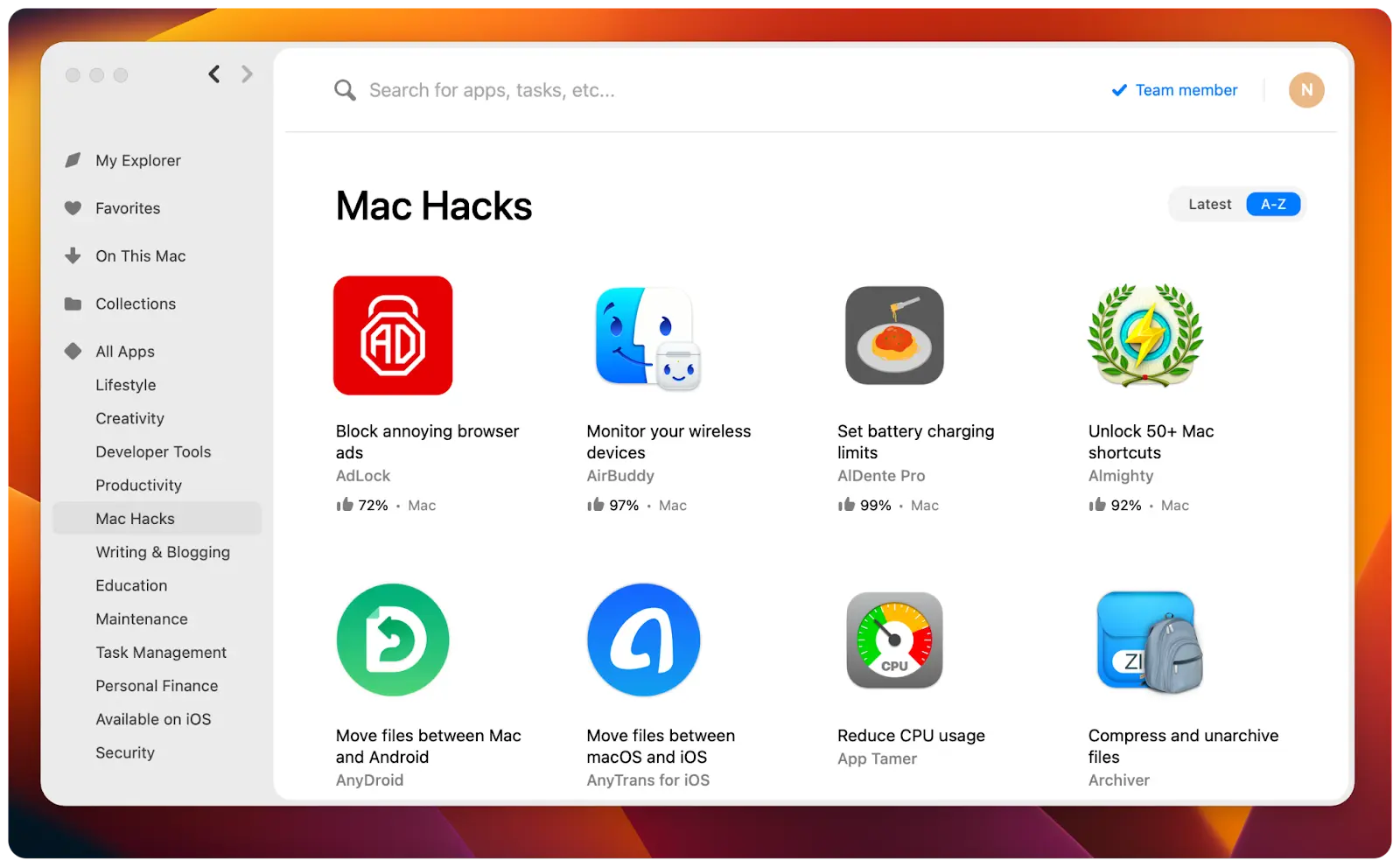 With Setapp, you can do literally anything – take better screenshots, open links in select browsers, move files between Mac and Android/iPhone, speed up and declutter Mac, find files faster, and more.
Is Raycast better than Spotlight?
Some of Raycast's features are the same as those of Spotlight. For example, you can search for files on your Mac and even do quick calculations with it. Spotlight doesn't have any other features, though. For example, Raycast keeps track of everything you copy to your clipboard, so you can quickly scroll back through everything and paste something you thought was lost.
Raycast vs Alfred
Now, let's see how Raycast compares to Alfred. Although Raycast is full of fun features, it essentially does the same job as Alfred. At the same time, Raycast looks and feels more modern and comes with a full set of features, all for free (there are plans for a paid version for Teams that will let you share snippets and scripts).
Alfred has many of the same features, but only if you buy the Powerpack, which costs £34 (about $41 at the time of writing). Also, while Alfred wins when it comes to the ease of creating custom actions, which it calls workflows, again, this is one of Alfred's paid features.
So what's better than Raycast?
Most Mac users find that Spotlight, Apple's built-in app and file search tool, is sufficient for their needs. But power users who want to have near-total control over their computers (as well as access to shortcuts and tools) often look for other alternatives.
While Raycast, Alfred, and Lacona are great launchers that help you speed up things, Setapp is on a whole new level when it comes to tackling tasks on your Mac, iPhone, or iPad. Setapp apps not only speed up your workflow but also help you create value with Apple devices. The apps mentioned above (Soulver, Paste, TextSniper, Rocket Typist, Hookmark, OpenIn, and Lacona) are all available on Setapp under one subscription. If you aren't a subscriber, don't worry! You can try Setapp for free with our 7-day trial.