Quick guide to getting the most out of Apple News+
During the "It's Show Time" event on March 25, 2019, Apple introduced a significant and long-awaited update to its Apple News app with a brand new Apple News Plus subscription.
Essentially, the new Apple News subscription gives you access to more than 300 otherwise paywalled publications, both magazines and newspapers ranging from sports to politics and technology, and lets you precisely configure the kind of Apple News content you want to read.
The subscription was made available to Apple users right away, so by now it's possible to compile a more or less comprehensive Apple News Plus review, accompanied by a few tips that could make the reading experience even better.
Apple News+ Review From A to Z
There's a lot to unpack in the Apple News+ announcement, from how to sign up to Apple News to how to install Apple News Plus to whether Apple News free trial is available. Let's explore all these issues one by one.
Which devices support Apple News Plus?
The original Apple News app released in 2015 with iOS 9 was only available for iPhones and iPads, and designed specifically to work best on smaller screens.
The new release not only completely recreated the experience from the ground up with new typography, high-quality photographs, and fluid animations but also brought Apple News Plus on Mac as a standalone native app.
If you don't have the new app yet, Apple News+ download isn't necessary. Simply update your iOS to 12.2 or later and your macOS Mojave to 10.14.4 or later, and the app will automatically appear.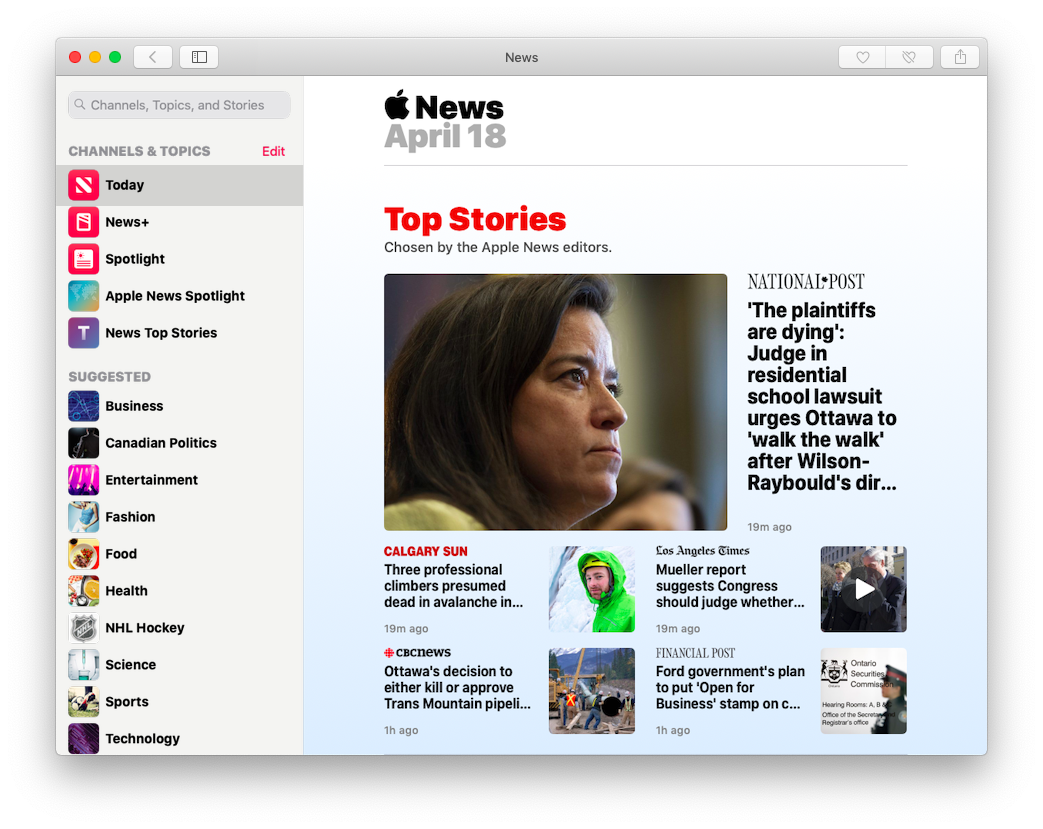 What's Apple News+ pricing model?
Good news is the standard set of features in the Apple News app remains free as it used to be on iOS devices, but now includes macOS too. You still get the best stories of the day curated by Apple's editors as well as personalized recommendations and notifications for breaking news.
Beyond the free tier, you can choose to subscribe to Apple News Plus, where you gain access to more than 300 premium (and normally paywalled) Apple News+ magazines and newspapers, such as The New Yorker, LA Times, Vogue, The Wall Street Journal, Condé Nast Traveler, and many more.
Upon subscribing you get a full month of Apple News free trial to explore all the titles and see how you like the service. After one month, Apple News Plus pricing is simply $9.99 a month with no commitment and the ability to cancel at any time.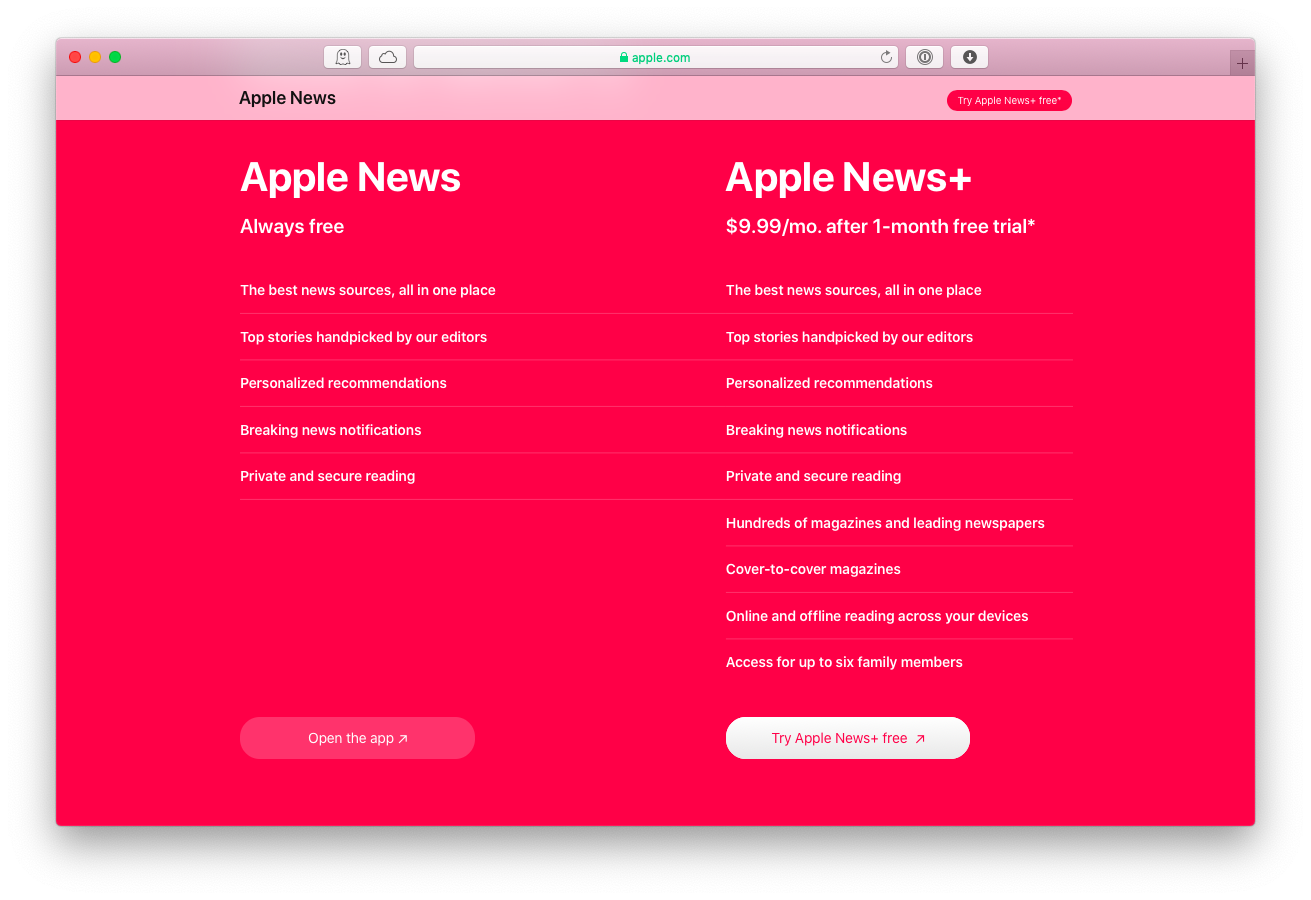 As a wonderful bonus, Apple made Apple News Plus available for Family Sharing with up to six members in your household, all of whom can get the benefits of Apple News Plus with just a single subscription.
How to set up Apple News+?
To get the Apple News app on your phone or Mac, simply update to the latest available version of iOS or macOS. To do that on Mac:
Go to System Preferences
Select Software Update
Click Update if there's a new version available
Follow the instructions
Now launch the app from your Applications folder. By default, in the sidebar you'll see a few Channels (e.g. Today) and Topics (e.g. Food, Fashion, Science) — all curated by Apple's editors. This is the interface for the free Apple News app.
To subscribe to Apple News Plus:
Launch the Apple News app
Select News+ from the sidebar
Click Try It Free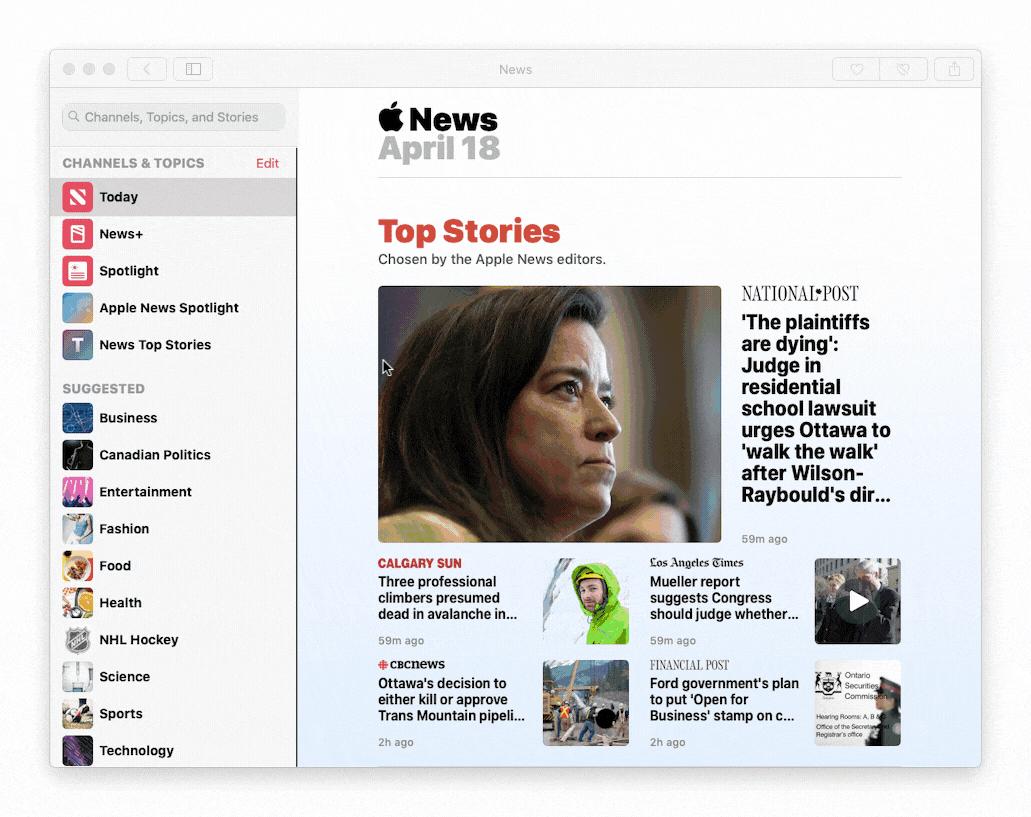 What content is included in Apple News+?
While the free version of Apple News aggregates content from all over the web (with the help of Apple's editors), Apple News+ lets you access more than 300 premium publications that are regularly only available with corresponding subscriptions to each one separately.
Some examples of premium publications include:
TIME
The Atlantic
ELLE
Bon Appétit
Sports Illustrated
Vanity Fair
WIRED
National Geographic
etc.
Besides simply inputting the premium content into the app, Apple has created animated covers and redesigned the articles themselves with rich, interactive features. To view all the available magazines and newspapers, simply open the Apple News app and navigate to News+ in the sidebar.
How to subscribe, download, and read offline?
Once you've started your Apple News free trial or become a member, you'd want to explore the available magazine selection and perhaps subscribe to a few titles.
To find the magazine you're looking for:
Use the search bar in the left-hand panel to type in the title
Alternatively, go to News+ tab and select Browse the Catalog or one of the topics to find the magazine manually
When you have the magazine open, you can choose to follow it by selecting the heart icon in the top bar. The title should then appear in your Channels & Topics in the sidebar.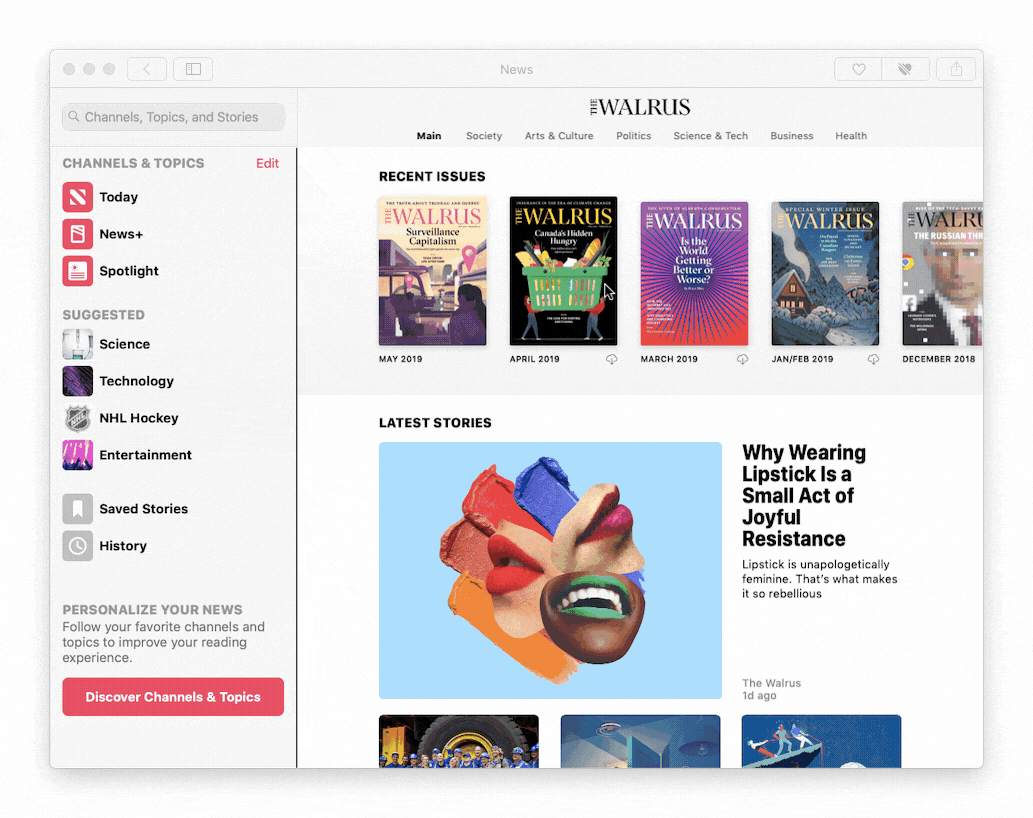 You can save any story for later by opening it up and using the shortcut ⌘ + S or selecting Save Story from the File dropdown in your menu bar. The story then becomes available in the Saved Stories tab in the sidebar.
Finally, to use the Apple News+ offline reading feature:
Open the magazine of your choice
Look for the cloud icon next to each of its issues
Click on the icon to start the download
Once the download is complete, the magazine will be available even when you don't have the WiFi connection turned on
Unfortunately, at the moment it's not possible to delete the previously downloaded magazines — they will disappear automatically after 30 days. If you're low on space, Apple News will delete the offline items earlier than that.
Extra Apple News+ tips and tricks
Already by now Apple News is quite a complex and content-rich app. So there are a few tips that will help you navigate it better.
When you find a magazine you like, just tap on the issue to read it, and then use swipe left and right to switch between individual articles
To get a better grasp on news overall, scroll all the way through Today and Spotlight tabs in the sidebar
If you can't find a newspaper you're interested in (e.g. The Wall Street Journal), try looking for it in the News+ tab, as they are often featured under Journals in the bottom. Sadly, right now there's no other way to find them.
Remember that there are still quite a few Apple News+ bugs and some features might seem confusing or not work all the time. Nothing you can really do here apart from waiting for the next software update from Apple.
Make sure you don't subscribe to the same content twice. Check if the titles you currently buy are available on Apple News Plus and cancel your subscriptions. This way Apple News Plus basically pays for itself!
What about other subscription services?
Apple News Plus is the latest service in the massive subscription trend that has been maturing over the last few years. Everything from TV to food delivery is now available on a monthly charge.
Even apps! Now you don't need to spend money on any Mac apps ever — because you have Setapp, a platform with more than 100 best-in-class Mac apps for any task you can imagine.
For example, instead of subscribing to Apple News Plus, you could just download News Explorer from Setapp, which lets you follow your favorite publications via RSS, RDF, Twitter, etc. The app is highly adaptable (e.g. dark mode) and allows you to customize the exact experience you'd be happy with.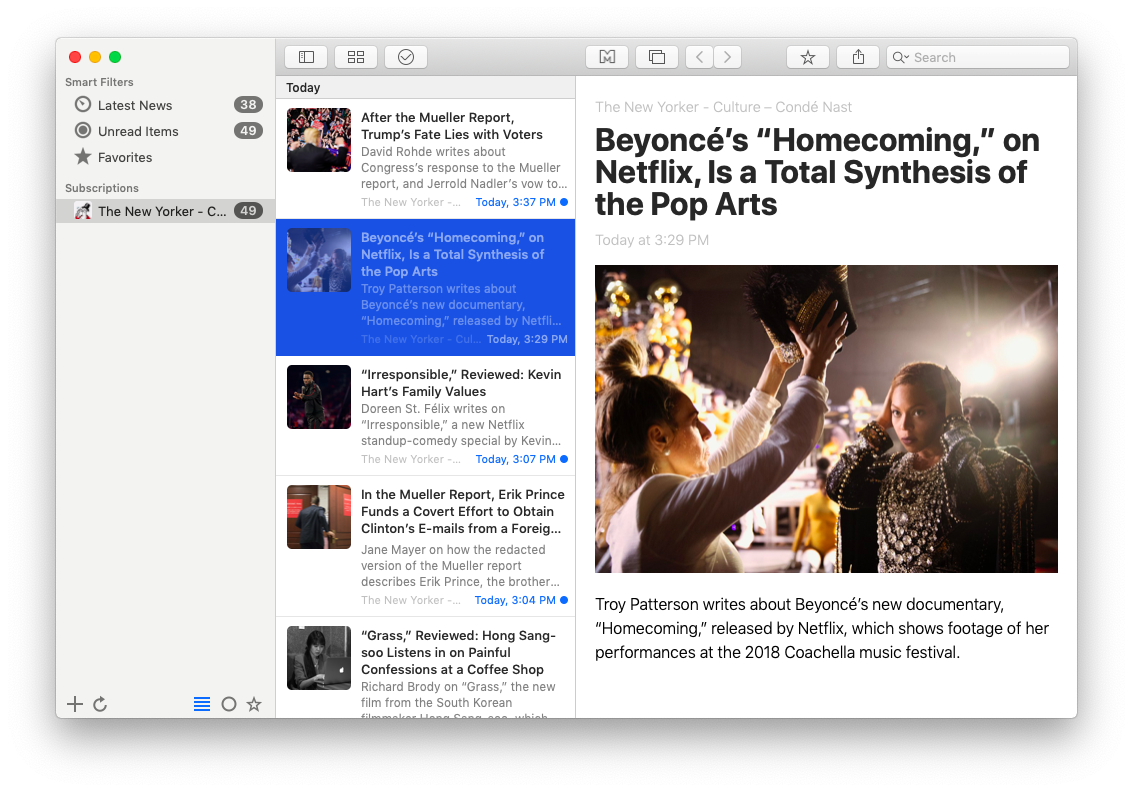 Best of all, you can try News Explorer and other apps on Setapp for free during a 7-day trial. At last, you can read as much as you want with no paywalls or subscription pleas to interrupt you.