Best news aggregator apps you should know about: features and benefits
News aggregator apps changed the way people consume content quite a long ago. In this fast-paced world where each of us has a lot of stuff to do and only 24 hours a day (unfortunately!), it's hard to catch up with what's going on in the big world. News aggregator sites are there to help both readers and publishers. The readers have quick access to all the content they want, fast and easy. The publishers reach their audience quite effectively. Sounds like a win-win, huh?
How do news aggregator websites work? An online news aggregator is a website that collects information from all over the world in a single place. Topics are generated based on the RSS feeds. Readers get interested in a topic, click a link, and the news aggregator forwards them to the news.
Now let's find the best news aggregator on the web, its features, advantages, flaws, and alternatives. There are a ton of them on the web. We'll discuss a few here, the most popular and worth attention.
Listen to inspiring stories with Curio
In this fast-paced world, content is still king. Don't have time to catch up with the recent news? Listen to it. Curio is the best news aggregator app turning texts you have no time to read into audio you can listen to on the go. Get rid of the unproductive scrolling that leads to nothing but burning out and learn new ideas to think differently every day.
If you're a busy professional, always on the run, with no time to grab a snack, you still can stay updated by absorbing the audible content you like. In the gym, in the car, on your way home, or while cleaning the apartment – never miss anything and get inspired to expand your mind. Wherever you are.
Curio gives you access to The Economist, The Washington Post, Bloomberg, Aeon, The Guardian, and 75+ leading publications on your iPhone. You can now listen to high-quality content on the go and stay on top of what's happening there. Yuval Harari, Alain de Botton, and the other most popular opinion leaders of the industry are now just a click away.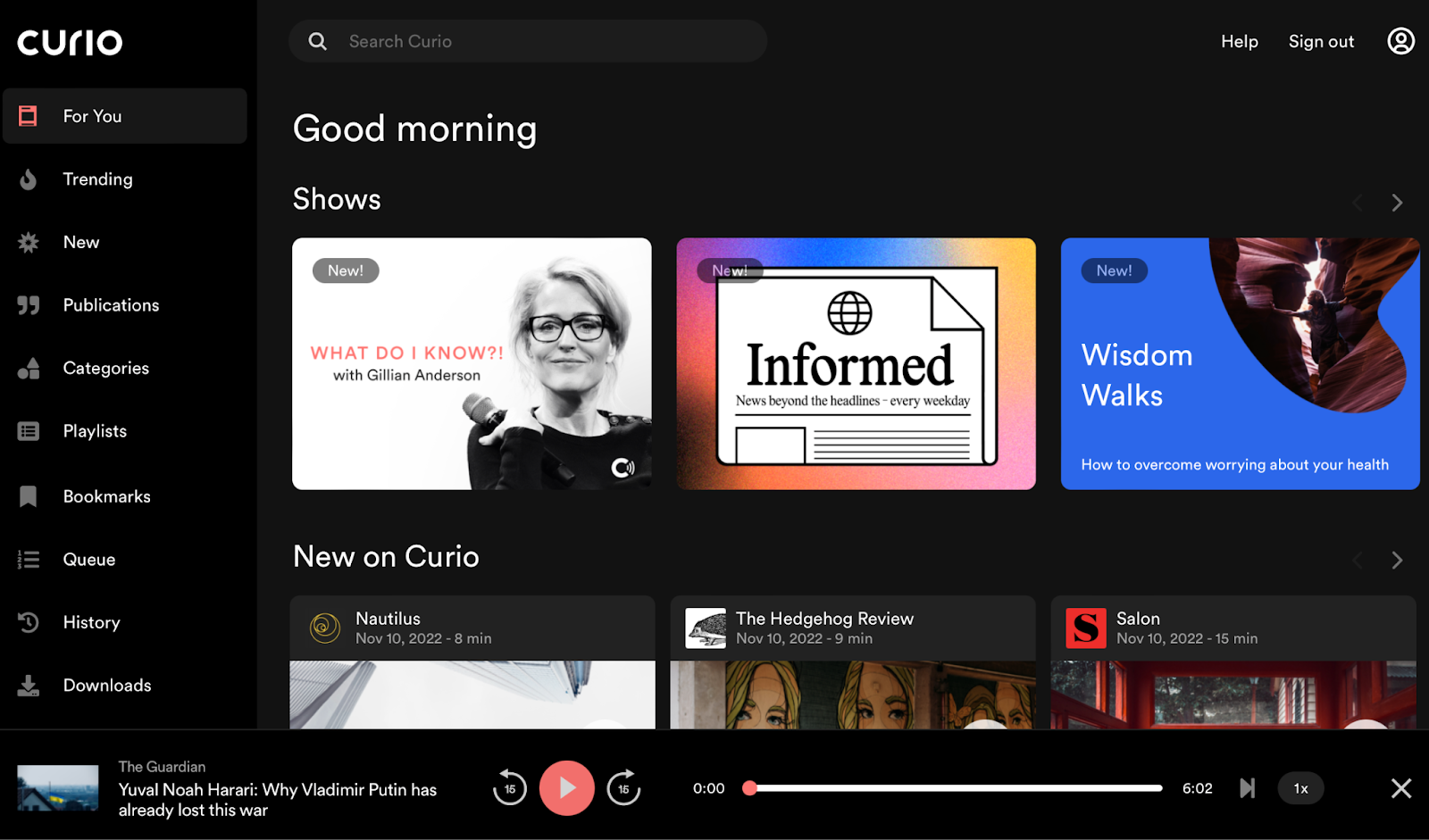 Is curiosity a part of your daily routine? Awesome. Never miss it! Unwind while doing your daily tasks and learn something new every day by choosing the content that really matters to you. Any topic, any category, any playlist on this news aggregator app. Pick yours and enjoy a personalized feed of topics, shows, and publications you follow, with notifications when a new story is published.
Perfect for active professionals, Curio is available by subscription. However, when subscribing to Setapp, you'll also get 240+ apps in one pack. For literally anything you ever do on your iPhone or Mac. Or you can try Curio for free by signing up for a free seven-day trial on Setapp. Get inspired and bring new expertise into your life.
To get Curio on your iPhone, open Setapp on your Mac, go to the dedicated Curio page on Setapp, click "iOS app", and follow the instructions.
Read it on Reddit
Reddit is a social collection of forums to discuss different topics, vote up or down, and share the news that other Reddit users have submitted anonymously. You can leave comments, join communities, or post anything without people knowing who you are. The idea is pretty simple and made Reddit one of the top news aggregator websites where people read and watch content on the web.
Because there are no editors on Reddit, you never know what you will find. But you can bet it will be either funny and exciting or outraging and toxic. Anyways, thousands of people have already voted that it's something to see. Let's think of it this way. If Google is a place you go to search for things, then Reddit is a place you go to see things that people have already found.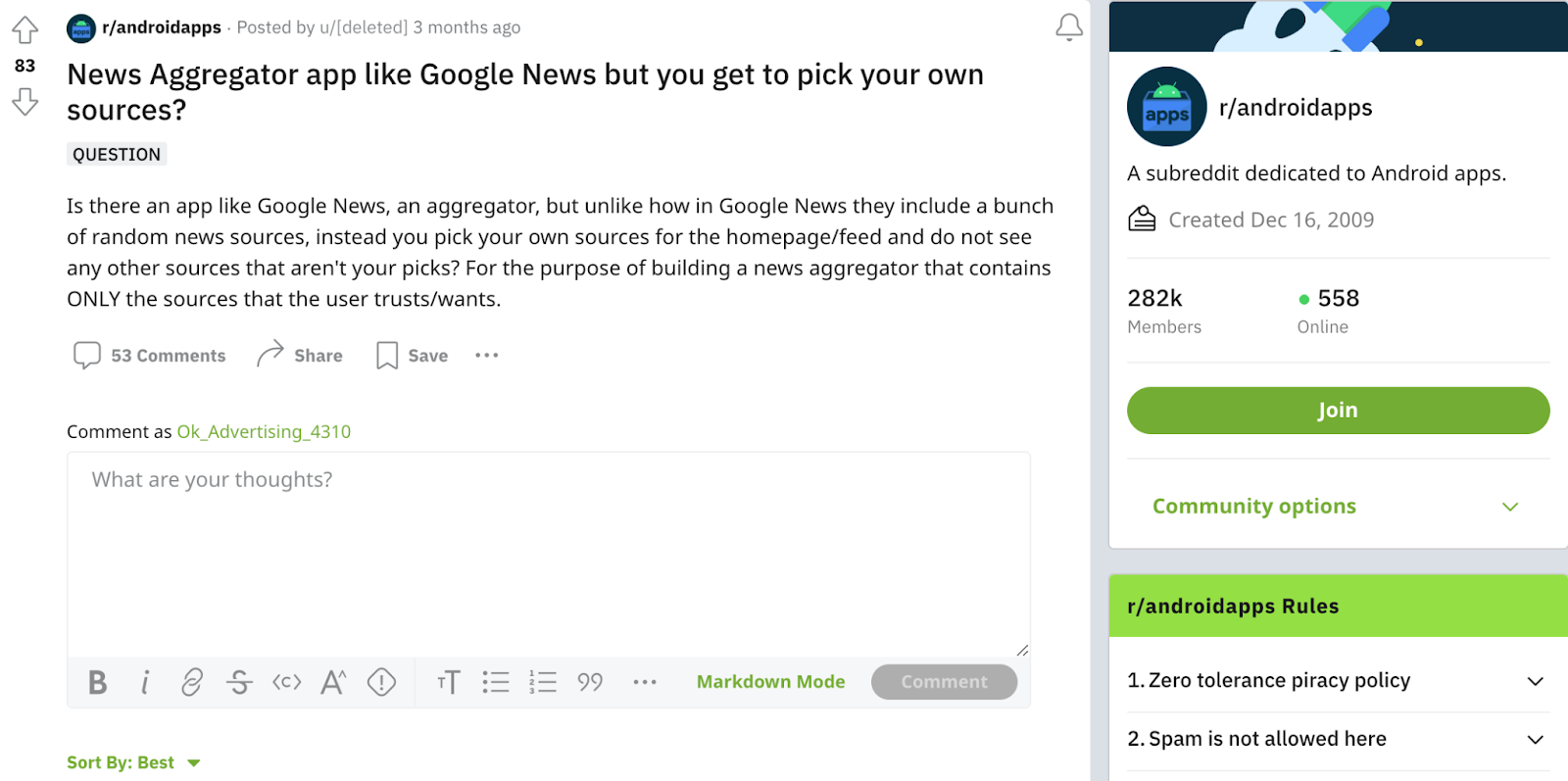 However, Reddit is not just a solid place with stuff. It's more of a fractal with subreddits, like politics, programming, funny image captions, sports, world news, an old TV show… Anything, we mean it. If you're interested in something that, for some reason, still doesn't exist, just press the button, and the new subreddit is born. Each subreddit works like a separate page, a constantly updating list of interesting content according to the people interested in that content. Sometimes subreddits go huge. For example, AWW, a section devoted to adorableness, is a global 24-hour battle to find the cutest images ever. Refreshing!
The upvoting method on Reddit is shockingly good at sorting content, be it international politics or pictures of newborns. Sure, when a news aggregator website tries to cover the whole human existence, things can get weird. And on Reddit, they often do. There are subreddits with photos of only birds with arms (all jokes aside), a famous dictator in socks, or censored content.
Another thing about Reddit is people discussing things. And sometimes, it might be confusing. Mostly because people can post anonymously on Reddit, and no one moderates it. With anonymity, you'll find that not all private thoughts exposed are nice to hear and trusted.
SmartNews, a free newsreader on the go
SmartNews is a news aggregator from Japan. Not only it has a user-friendly interface and is nice to look at, but it also analyzes thousands of texts daily, gets top stories from all over the world, and puts them in a single place on the web. A constantly updated newsfeed lets readers enjoy the top content on science, Entertainment, Sports, Politics, etc.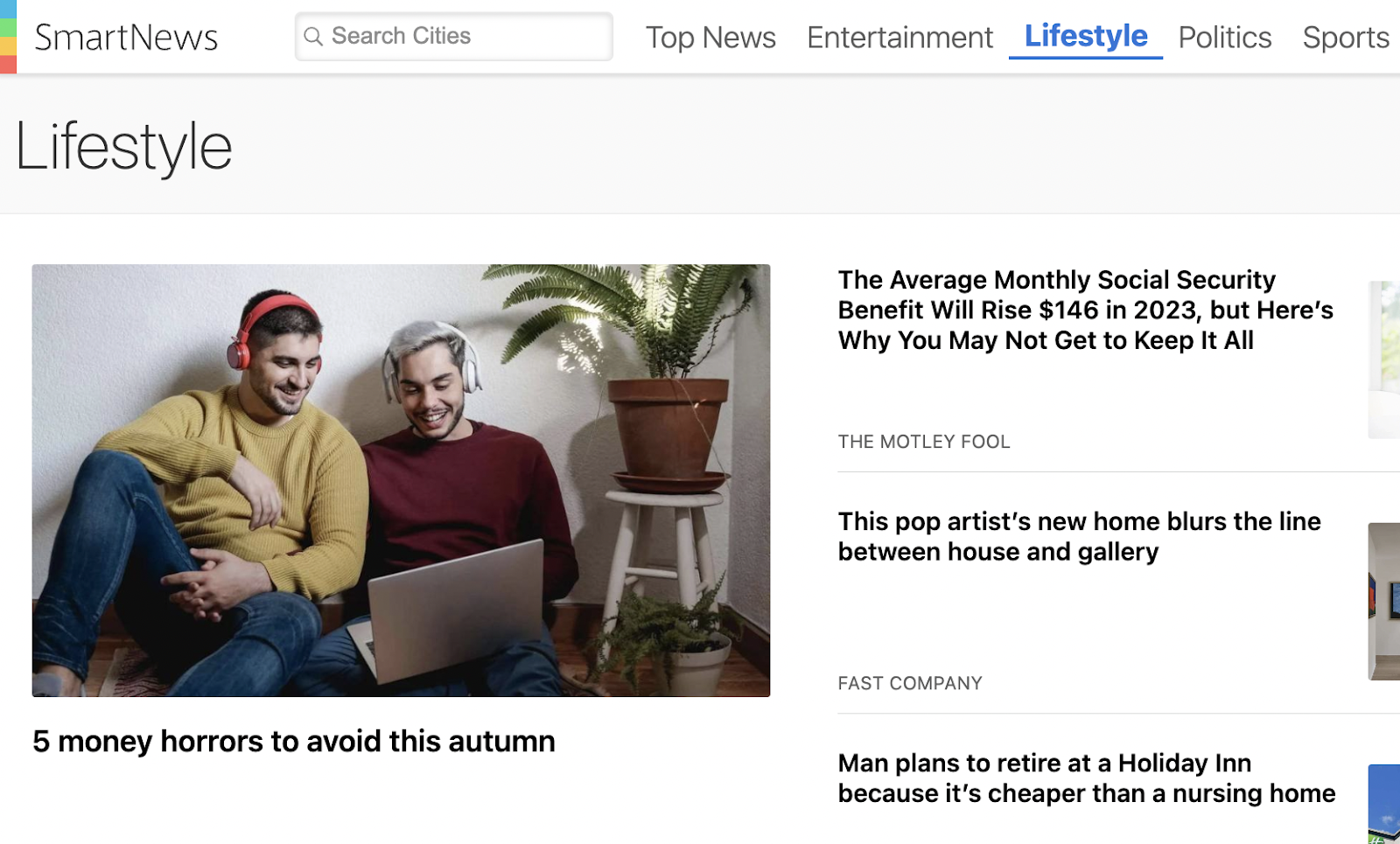 The first nice thing about SmartNews is its live coverage section. You can observe it live if something important is going on there, like the presidential election, for example. Also, SmartNews has a local news section if you want to know only what's happening in your area. However, now it covers only US cities.
On SmartNews, you can get notifications when new content is added. If you don't want to get distracted or annoyed, no problem. Just turn the notification off, and browse the Top News page to see what's happening in the world immediately.
SmartNews lets you download the content when your internet connection is weak or you're offline. So comfy if you want to read something on the go or go somewhere without the internet. Always nice to know you still have something to scroll through if you get bored on your vacation.
And last but not least – minimalist design. Though it's not modern, SmartNews is still comfy to use, easy to search for stuff, and its skimmable headlines improve readability. Now, minuses. One yet significant – the lack of personalization. SmartNews is more about discovery, sometimes making readers spend a bit more time searching for the content they want and offering more of a two-sided perspective on trending topics.
Summing up
News aggregators are great when you want to be up to date on everything you're genuinely interested in – geopolitics, science, social media, you name it. They help you live productively and learn new things simultaneously. Choose your news aggregator app, broaden your horizons during the day, and get inspired wherever you are.
Curio is free for a week via Setapp, an app subscription for macOS and iOS. Sign up and enjoy!