How to copy text from a picture on Mac with ease
Sometimes you just need to copy text from an image. Maybe you want to grab a phrase from a screenshot, drop-down menu, error message, or pop-up window that doesn't allow text selections. It could also be a filename, file size, or date modified stored in a file directory.
In such cases, if you try to simply copy the text, you'll notice that it won't work. Even if all text may seem the same to you, there is a big difference between real text and text embedded in a graphic for your computer.
That said, being able to copy text from images will save you the time required to manually transcribe the words into your word processor. Luckily, it only takes a few steps to convert an image to text. There are apps that analyze letters in an image and convert them so that you can easily transfer and edit the text on your Mac. Here's how the process goes.
Ways to convert picture to text
There are a few ways you can copy the text you are after. Obviously, trying well-known shortcuts like Command + C and Command + V should be your first options, just for the speed and ease of it. But if they didn't work — read on.
Copy the text from pictures using OCR
Are you looking to extract text from images, photos, or design mockups and make it editable? It's not difficult. But first, you'll need an application that can recognize text via OCR (Optical Character Recognition). Prizmo is the perfect tool for that and acts as a powerful scanner to convert image text into usable text in seconds. To copy the text you need from images:
Click the plus icon and select an image source from the drop-down menu
Highlight the images you want to bring into Prizmo and they will appear on the left side of the window
Click Crop and eliminate any image distortions by using the frame and grid icons
Using the Adjust button, change the sharpness or contrast of the text to increase readability
To begin the OCR process, click Recognize
Review the extracted text on the right side of the app window to correct any formatting errors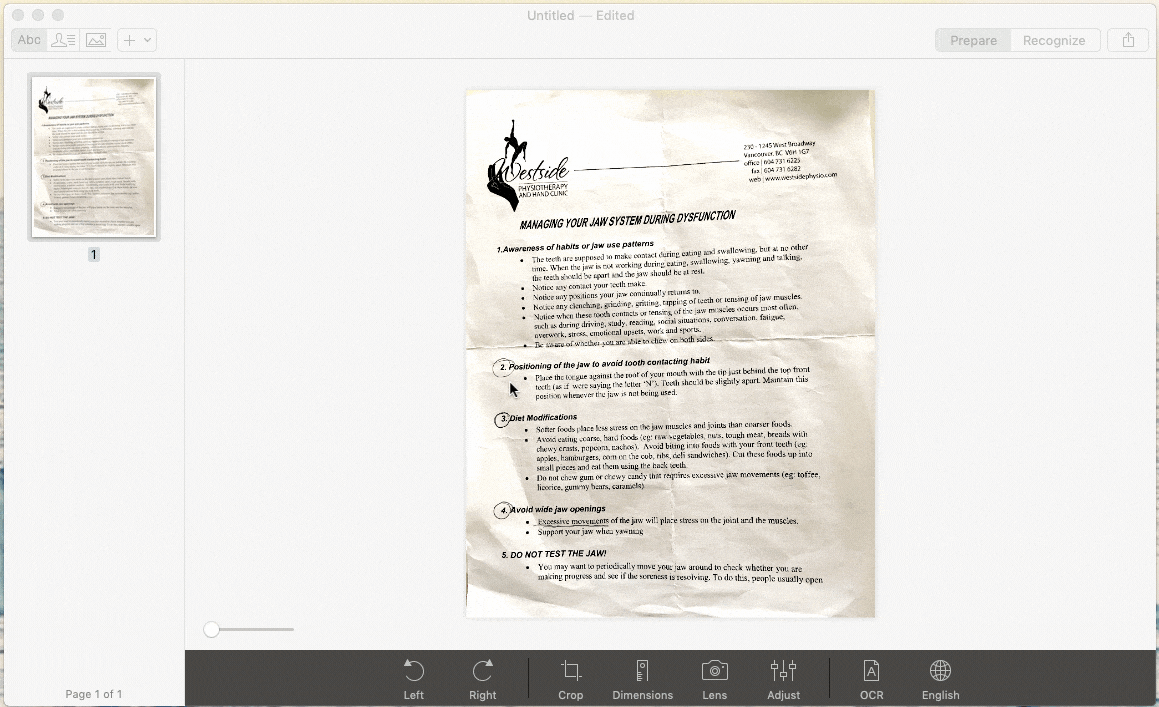 Extract text from image, video, or any graphics
While Prizmo works great with text recognition on images, it's pretty much limited to this single use case. If you need a more robust tool that can extract text from anywhere — from online presentation to screenshot to YouTube video, you'll need TextSniper.
TextSniper is a universal OCR tool that can capture any part of your screen and automatically recognize text inside the screenshot. Here's how it works:
Click on the TextSniper icon in the menu bar > Capture Text or press Shift + Command + 2
Select part of the screen with text
Text inside the screenshot will be automatically copied to your clipboard
Press Command + V to paste the text anywhere — a text document, notes app, messenger, etc.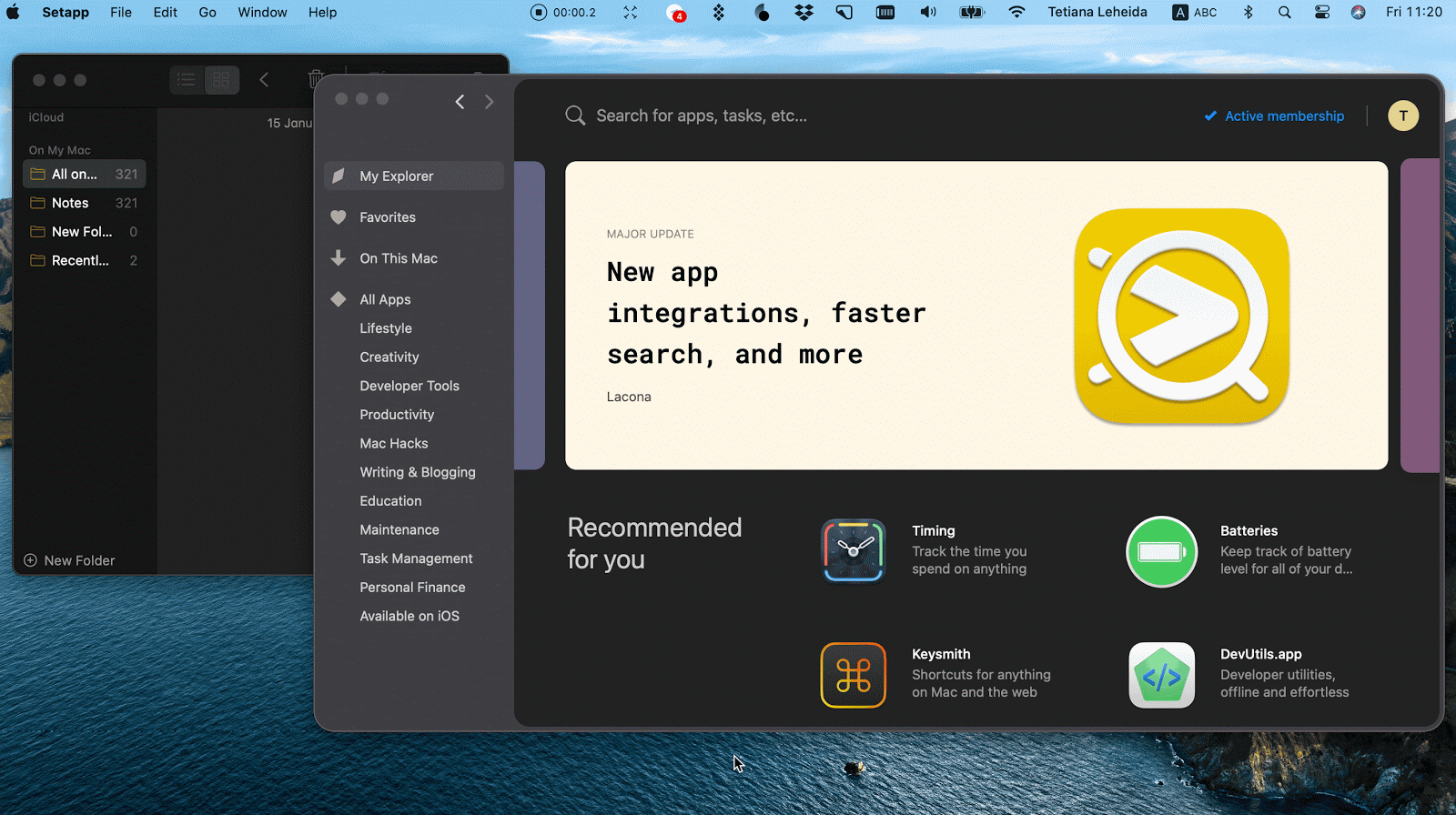 To avoid the clutter, TextSniper allows you to choose whether you want to save the copied text as a single paragraph or keep the line breaks. Even more, the app has a text-to-speech feature so you can listen to what you've copied and save only the important information.
People love TextSniper because it's probably the fastest way to quickly capture text from video — say, when you're watching an online conference or a presentation on YouTube. But you can as well use it in any OCR scenario.
Convert jpg/png to text
The same flow can be used with your jpg/png images and screenshots as well.
If you don't have Prizmo to read your image, you can use a PDF reader with OCR support instead. In this way, to convert image to text would mean to turn it to PDF and then copy text from a PDF. Here's how you quickly turn a jpg/png to PDF:
Open your image in Preview.
Go to File and choose Export as.
Select PDF as an output format.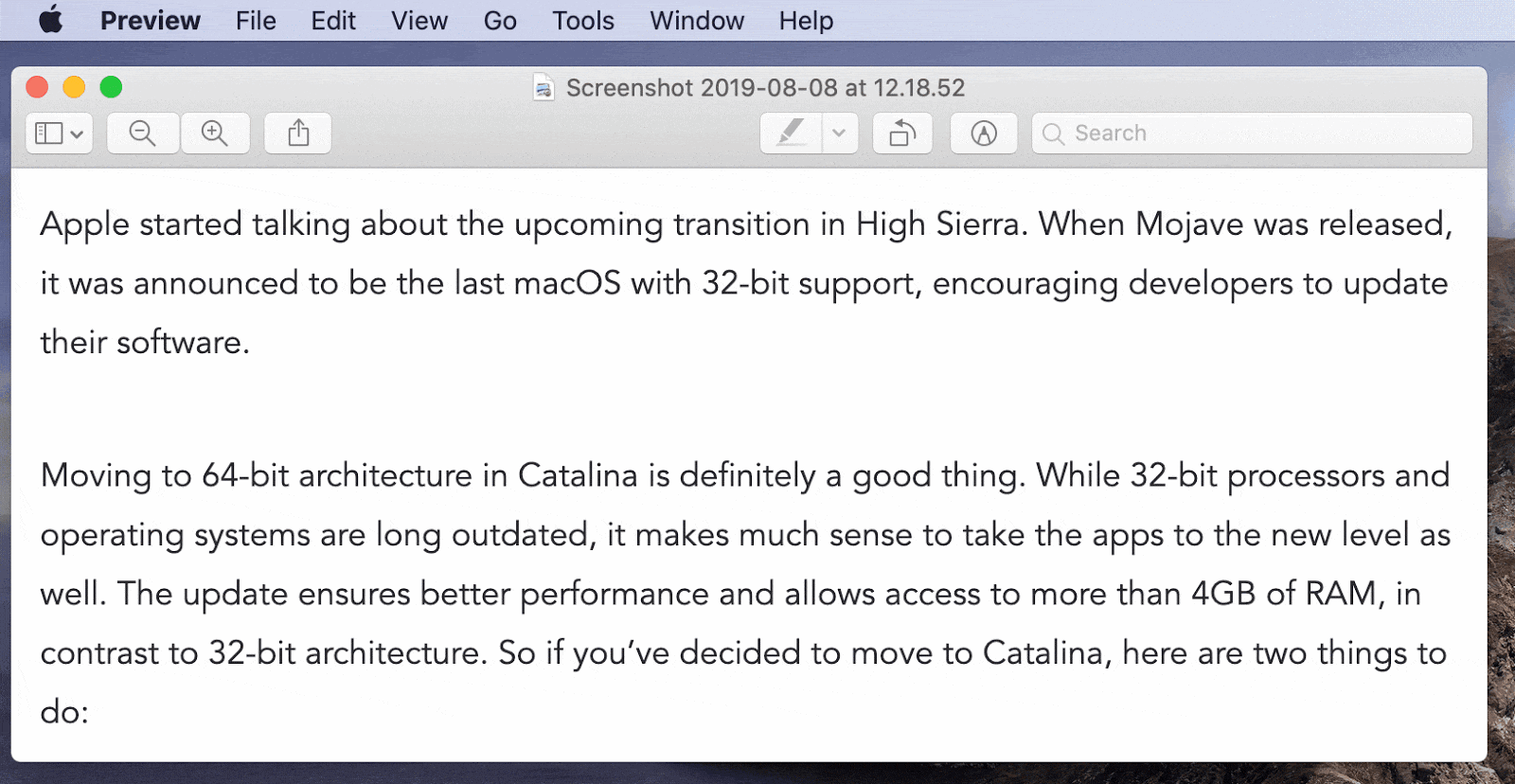 To quickly copy text from a PDF, you can use tools like Nitro PDF Pro, an advanced PDF editor for Mac. The app allows to copy as well as edit and insert rich text along with the formatting. So you own the flexibility here.
How to copy text from photos on macOS Monterey
One of the most anticipated features of macOS Monterey is Live Text. It allows you to interact with text on an image. You can make a selection, copy, translate, look up, or search with Google.
To use the tool, simply move your cursor to the bit of text you want to select, wait for the cursor to turn into the vertical text selection icon, and then click and drag the text selection tool as you would in a regular text document: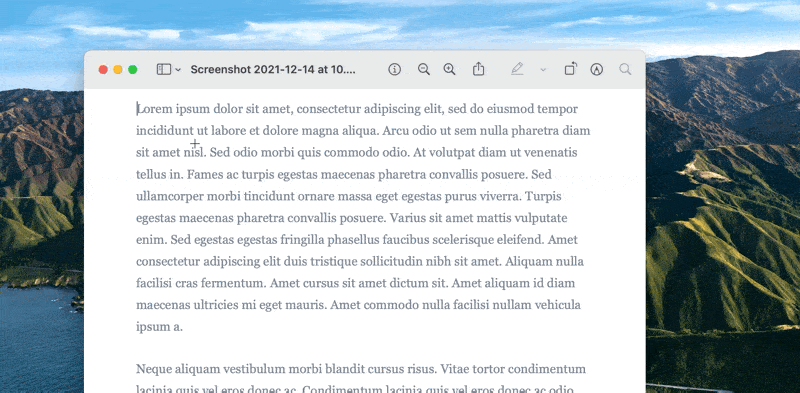 Two-finger click on your selection to open the drop down menu for copying, translating, looking up, etc. You can also use the Command + C shortcut to copy the text in your selection. Then paste it wherever you need with the Command + V keyboard command.
Note that Live Text on Monterey won't work absolutely everywhere as it's (for now) limited to Safari, Quick Look, Photos, and Preview. And language support is also limited to only seven for now: Chinese, English, French, Italian, German, Portuguese, and Spanish.
Live Text can automatically identify phone numbers, websites, and emails in your images. If you select one of those, a two-finger click on the text will suggest calling or messaging, as well adding it to your contacts.
Read receipts and invoices
If you need an OCR tool to simplify your accounting on Mac, you can use Receipts app for the job:
Drag your image of PDF right into the Receipts window.
Set the app to extract data like document date, bank connection, and taxes.
Organize and filter your receipts by tags and categories flexibly.
How to make a scanned PDF document searchable
Although PDFs are commonplace on our computers, it's still hard to edit them. It can even be difficult for your computer to recognize text in a scanned PDF to copy it. For this, you'd most likely need to use OCR software.
If you want to make a scanned PDF searchable, you can start by trying to use what you already have in macOS and then graduate to professional OCR software, such as Prizmo and PDF Search, for more flexibility.
Reading PDFs with built-in macOS tools
Preview is the most common tool to read and manage PDFs on Mac. And the good news is, a lot of PDFs are scannable by default, so you can just open them in Preview and copy-paste everything you need: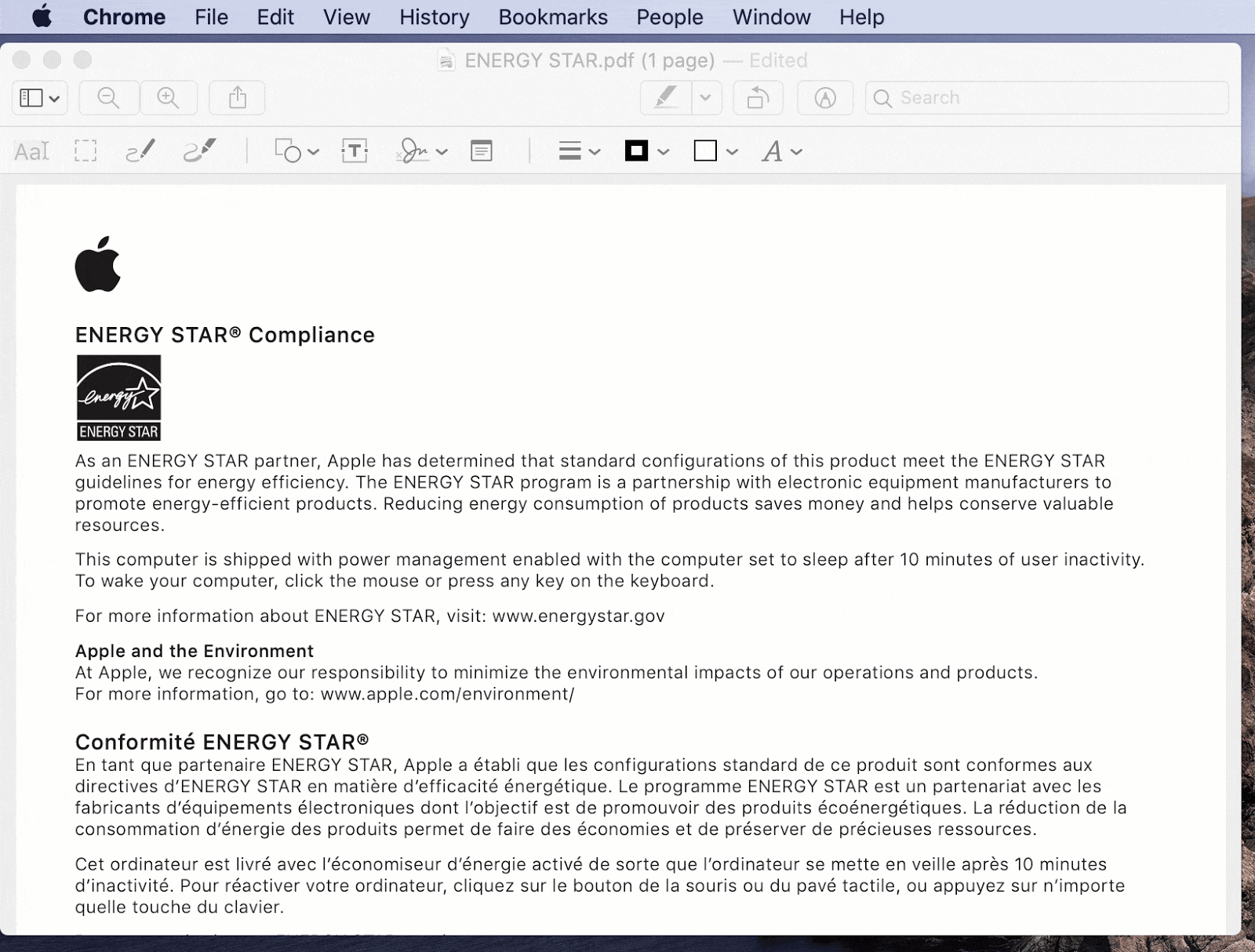 A small tip for boosting your copy-pasting productivity is using a clipboard manager like Paste, which remembers everything you've copied before and frees you from one of macOS's most terrible limitations — the single copy-paste feature.
Unlike standard clipboarding, Paste apps allows you to copy-paste multiple items:
Copy everything from images to text snippets just the way you used to
Retrieve anything you've copied by clicking Show Paste in the menu bar or using a shortcut Command + Shift + V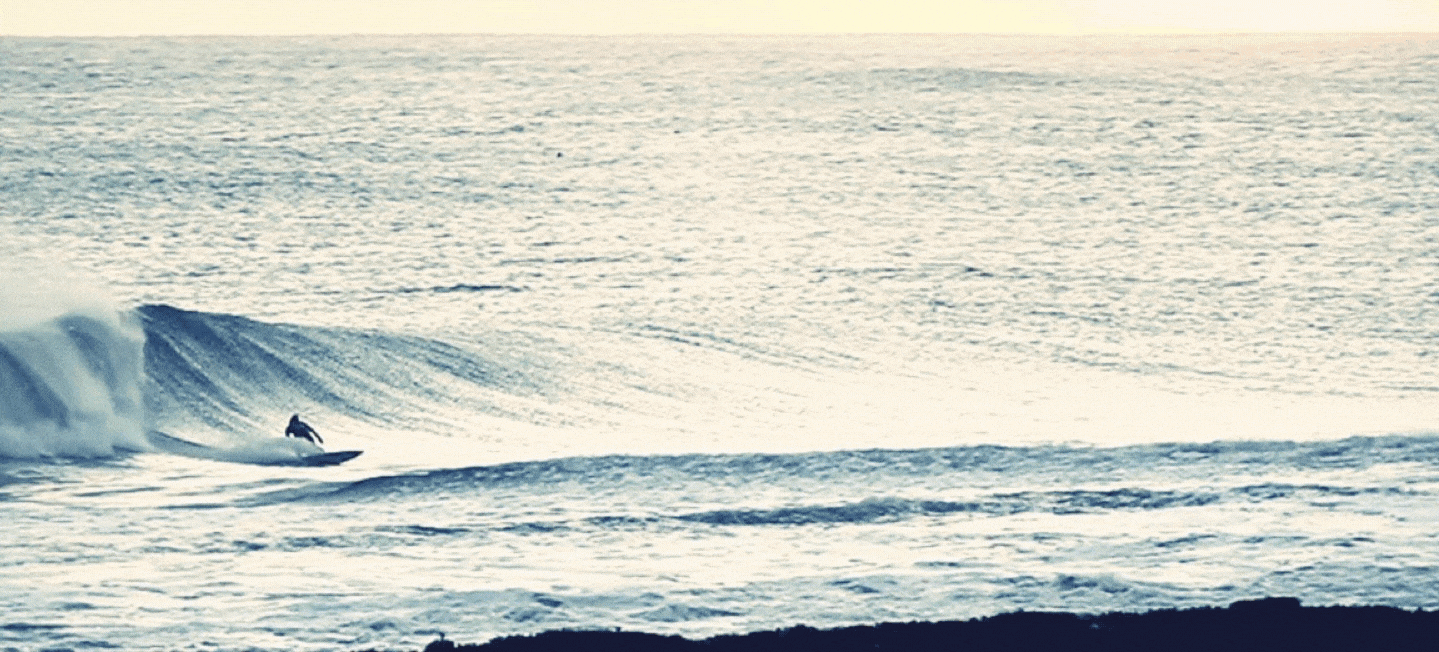 If, however, your PDF file is a scanned or image-based document, you won't be able to make changes to the file, as Preview doesn't have an OCR feature (use Prizmo for that). In this case, you could use the native TextEdit app to extract the text you need.
Open the PDF file. While the Preview app is the default PDF viewer on the Mac, you can also use other PDF viewing applications, such as Adobe Acrobat.
Select the entire PDF by clicking Edit and Select All, or you use Command + A
Copy the contents of the PDF by clicking on Edit and Copy in the menu or using keyboard shortcut Command + C
Open the TextEdit app located in Applications or use the macOS search bar to find it
In the left corner of a new window, open a New Document
Change the TextEdit to Plain Text Mode by clicking on Format and Make Plain Text or pressing the keyboard shortcut Shift + Command + T
Paste the contents of the PDF by clicking Edit and Paste from the menu or pressing on Command + V. As the TextEdit is in Plain Text Mode, you'll only see the text that you've pasted and none of the images or formatting from the original PDF.
You may be need to fix up some of the spacing errors after pasting the text
Extract text from a scanned PDF
Alternatively, you might just need to find a piece of text in a large PDF document. In some cases, a simple Command + F lookup could do wonders, but if the PDF was sourced from images, your only way is to go with some professional software like PDF Search.
PDF Search is an app that will allow you to scan through hundreds of PDF pages to find exactly what you're looking for with lightning-fast results. PDF Search does more than find matches for your search terms: it also looks for multiple combinations and checks for related terms.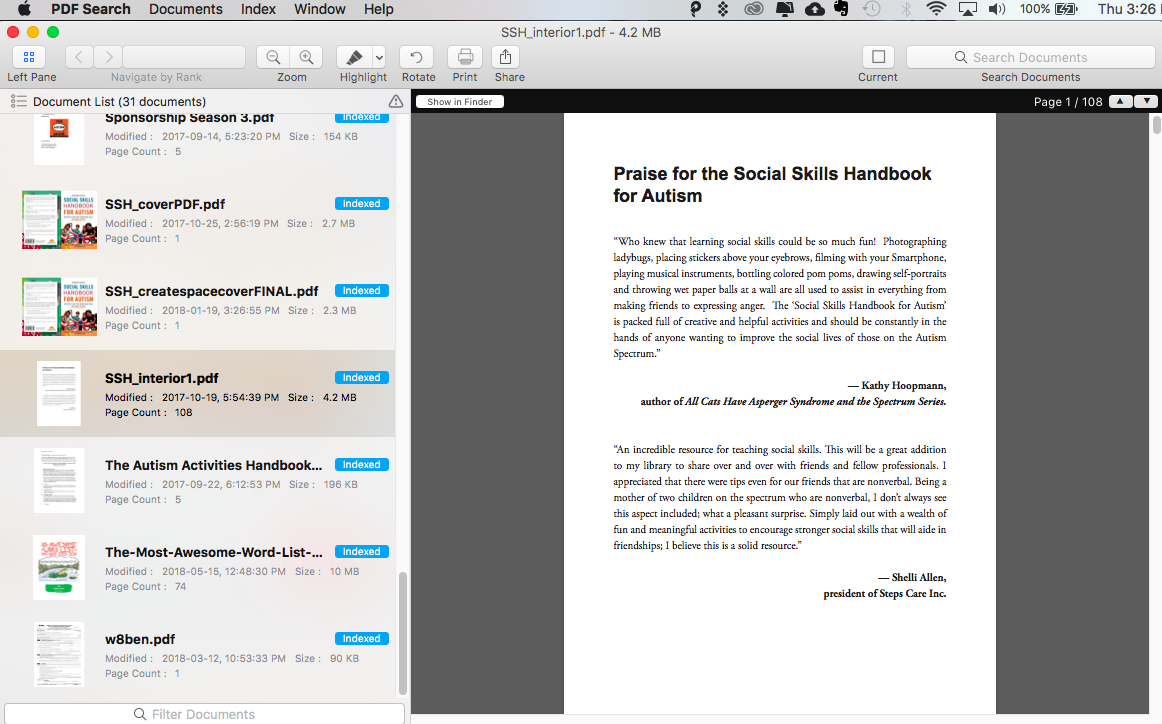 If you need a powerful tool that will let you see whether a word appears in a heading, subheading, or body paragraph, PDF Search will allow you to find the most relevant results. You'll also be able to convert office documents to PDF.
Being able to quickly grab text from an image or PDF and edit, save, or make any other changes to it can make a big difference for your word processing productivity. OCR apps make it possible to recognize text embedded within a graphic and turn it into a text file you can edit so that you can easily convert an image to text or make a scanned PDF searchable.
Copy text from image online
If you want to extract text from image without using any OCR tools, you can do it online. Google Drive gives you free OCR help in minutes. Although it may not render the formatting properly, you get editable text from any image — including screenshots.
Here's how you turn picture to text with Google Drive:
Access your drive and click New > File upload.
Once you upload an image, right-click on it and select Open with > Google Docs.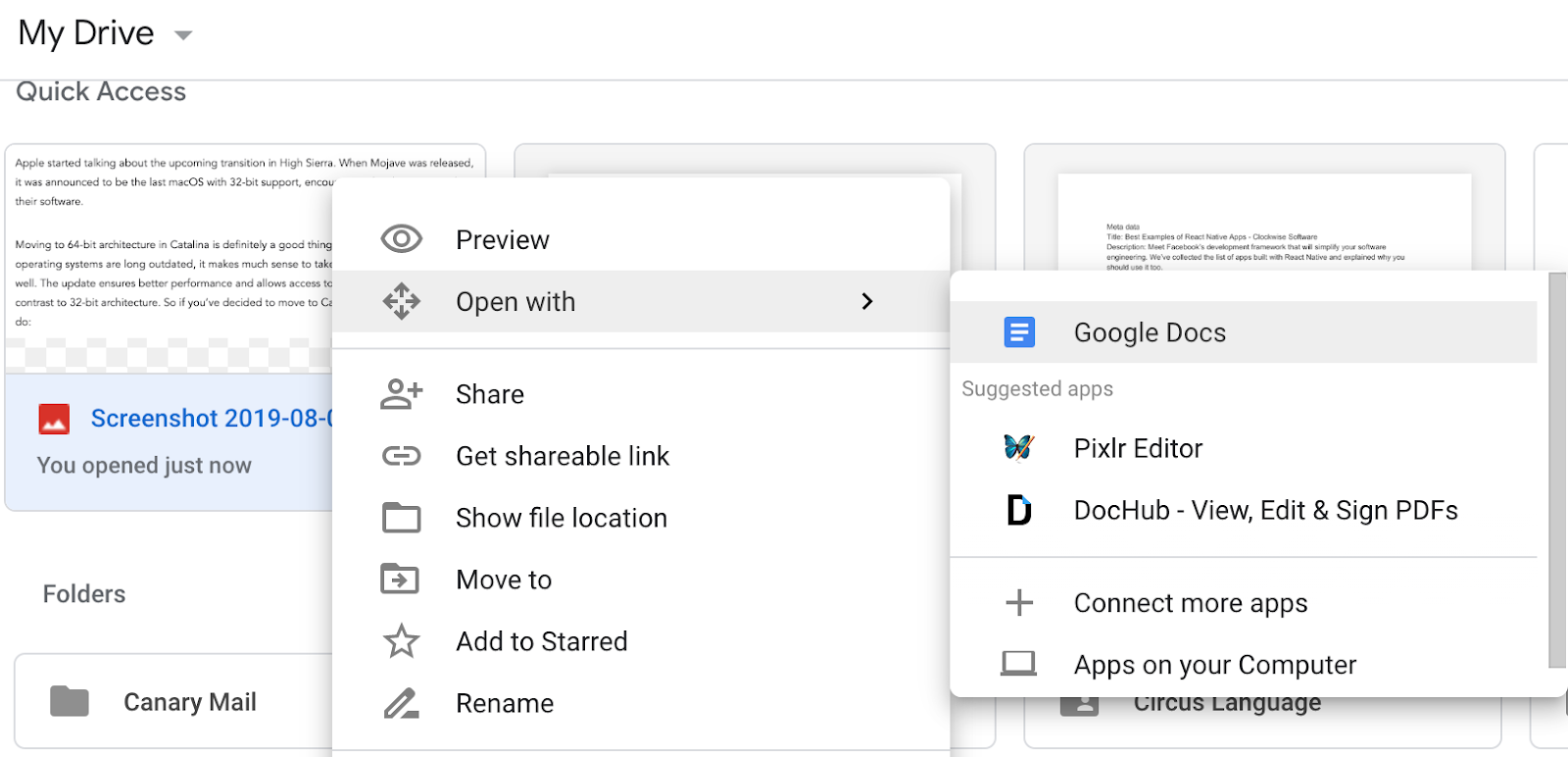 The new tab with a Google Docs document will open automatically. To convert some scanned copy into text:
You'll see an image and editable text extracted from it at the bottom.
Make the edits if necessary and delete the image.
The doc with the text will be accessible from Google Drive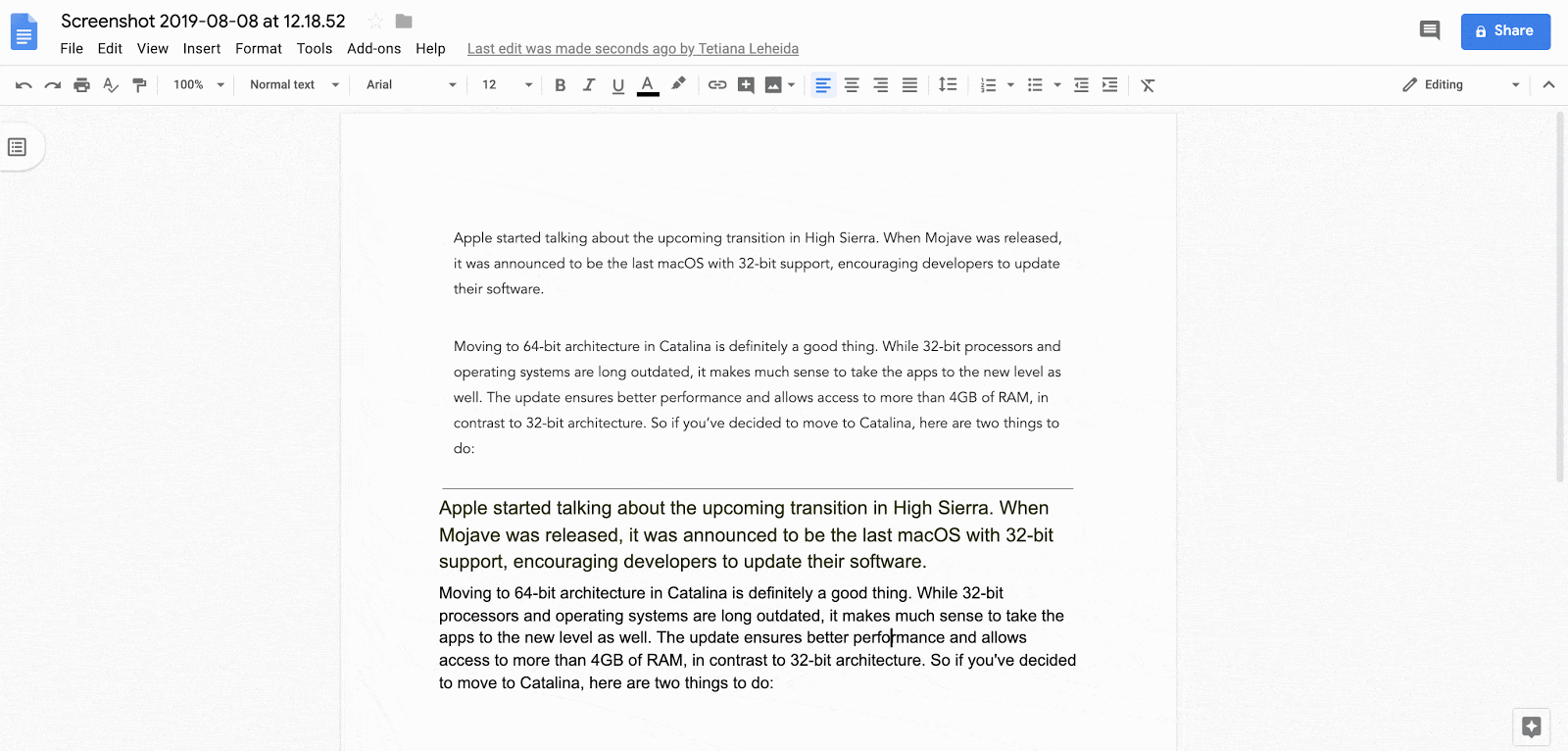 Note that this flow comes handy with short pieces of text. The more text you extract, the more mistakes it will have.
How to manage digital notes on Mac
Converting handwritten notes to digital is an easy deal if it happens on iPad. Apple Pencil works with numerous note-taking apps, allowing you to draw or write and transform your writing into digital notes. The good news is, you can use iPad and Apple Pencil alongside Mac — as an extended workspace — on macOS Catalina and macOS Big Sur.
The easiest way would be to use Apple's Notes. Apart from handwriting support, the app has annotation and inline scanning capabilities. With iCloud support available, you can easily access your digital notes on a Mac.
Your macOS is powerful. As a matter of fact, it offers a few free solutions for reading images and PDFs. For advanced functionality like reading Receipts or automatically converting image to text, you still need a bit more. But no worries, there are shortcuts too — every OCR and PDF scanning app mentioned in this article is available for a free 7-day trial with Setapp. You can now stop typing and convert that text in seconds, saving hours.