How to Create Slideshows on Mac
When you want to know how to make a slideshow, you have plenty of options to consider before you actually make a proper slideshow. There is the picture slideshow, which is the most popular, but also those which mix photos and video.
To make slideshows on Mac, it's best to use a proper slideshow maker app. Here, we'll walk you through how to make a slideshow on your Mac, both photo and video slideshows.
How to make stunning photo slideshow on Mac
Here are a few things to keep in mind when you want to create slideshow:
Use high-quality photos. Remember that when you make a slideshow, all eyes will be on the visuals. Use the highest-quality images you have for slideshows. If you need to enhance the quality of your photos — adjust blur, vibrance, or contrast — you can use the apps like Squash. It also has great batch photo processing capabilities if you want to edit multiple photos at one.
When you don't have pixel-dense images, make a collage. Sometimes, you just don't have the best image quality. They could be old pictures, scanned images, or something you pulled from the internet. There will definitely be times you just don't have really sharp images. When that happens, try to make a collage of images, then use that collage as one of your frames in a slideshow.
Videos are great options. Any good slideshow video maker will be just like one for photos, but there are a few things to keep in mind. First, try to use a proper aspect ratio, usually 3:2 or 16:9. Always make sure it's high-quality, and try to keep the video length short, especially if you're using both photos and video. CameraBag Pro has a great toolkit for trimming and enhancing videos with professional filters and presets.
Soundtracks matter. If you're making a longer slideshow, having a soundtrack can be a great way to liven things up. Having images pop up on-screen can be tedious for viewers after a while, and adding a soundtrack can be a nice way to keep them interested throughout. Just keep in mind that if your video has sound, you'll have to cut the soundtrack short, or time your video to play at the end of a song.
Prepare photos and videos for your slideshow
Before we start with the instructions on how to make a slideshow on Mac, let's make sure you have all the ingredients. If you want to make a photo slideshow, resize all the photos and adjust their quality in advance — it's important they all look equally good on a large screen.
Squash can help you resize, convert, and enhance photos:
Drag and drop images onto Squash
Enable Resize and customize width and height
Enable Adjustments and Effects to enhance photos
Click Export Images once you're done.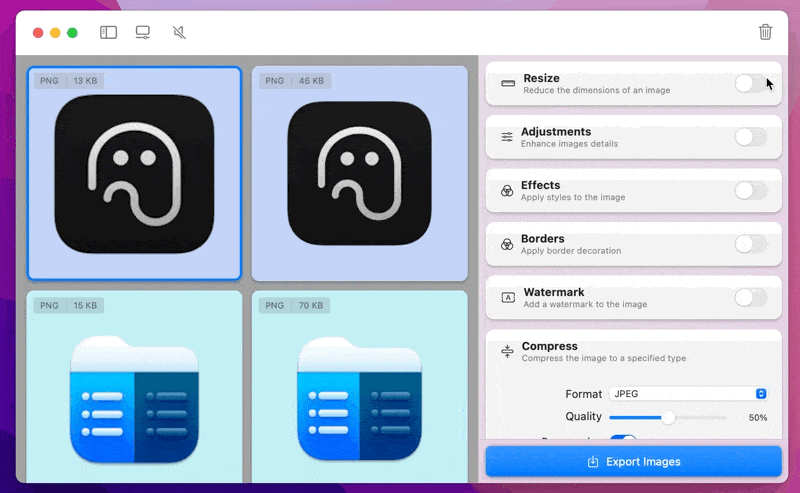 CameraBag Pro will help you trim your videos (as we've mentioned before, it's best to use short videos for slideshows). Also, the app has stunning presets curated by professional videographers. You can choose the one you like and apply it consistently across your slideshow videos.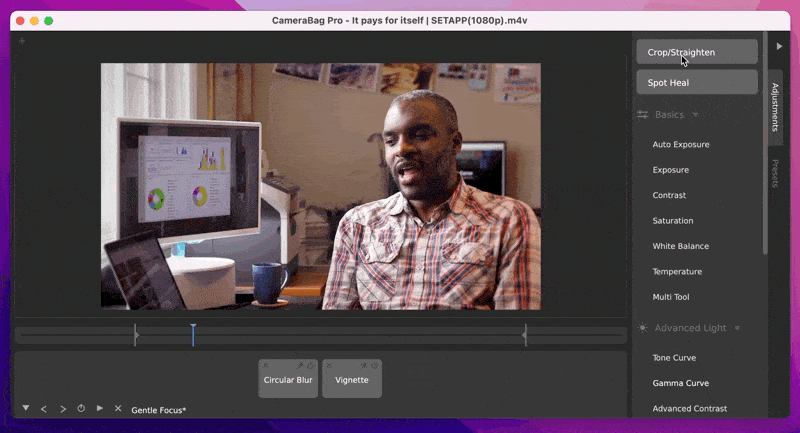 How to create a slideshow on Mac in Photos
Now when you have your pack of photos and/or videos ready, let's move to creating a slideshow in Apple's native Photos app. There are two options: you can play an instant slideshow — Photos even provides a few custom themes and songs for quick slideshows — or, you can create your custom slideshow project, which allows for more customization.
Here's how to play instant slideshows in Photos:
In Photos, open Library or your custom folder with photos
Select all photos you want to include in the slideshow
Right-click the selection and choose Play Slideshow
Pick the theme and song
Click Play Slideshow.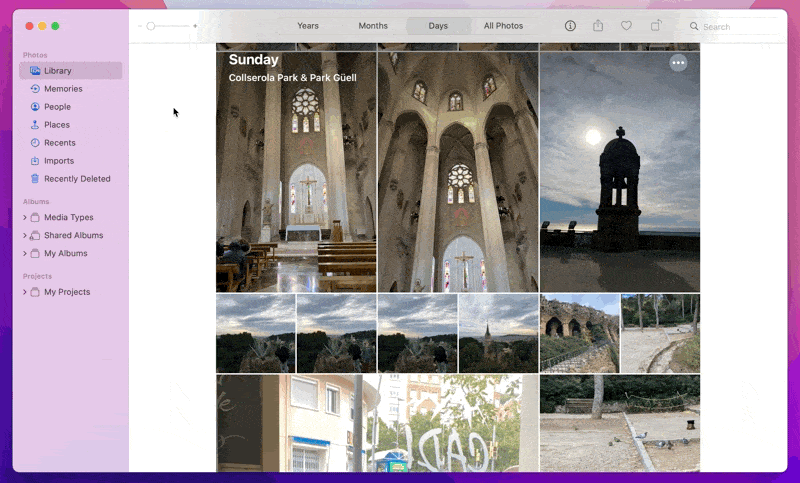 Here's how to create a slideshow project in Photos:
In Photos, select the photos from Library or your custom folder (you can add or remove photos later)
In the menu, choose File > Create > Slideshow > Photos
Create a new slideshow
Reorder photos if you like
Click the Theme button to select theme
Click the Music button to add audio
Click the Duration button to change how long slides appear
Click the Preview button to preview your slideshow
Click the Play button to play your slideshow.
How to make a slideshow on Mac in Preview
There is one more quick method to create simple slideshows with the Preview app. Preview has a basic editing toolkit, so it's a good solution if you want to add text to your slides. Here's how to make a slideshow in Preview:
Open Preview > File > Open
Add your photos
Add text annotations or crop your photos if necessary
Click View > Slideshow
Click Play.
How to create slideshows online
There are some online options for slideshow creation, too. One of the simplest is Google Slides, which is available in Google Drive. In Drive, just go to New > Google Slides. It's a bit more tedious because you have to add new slides, then add each image to those slides, but it's an easy way to create and share slideshows online.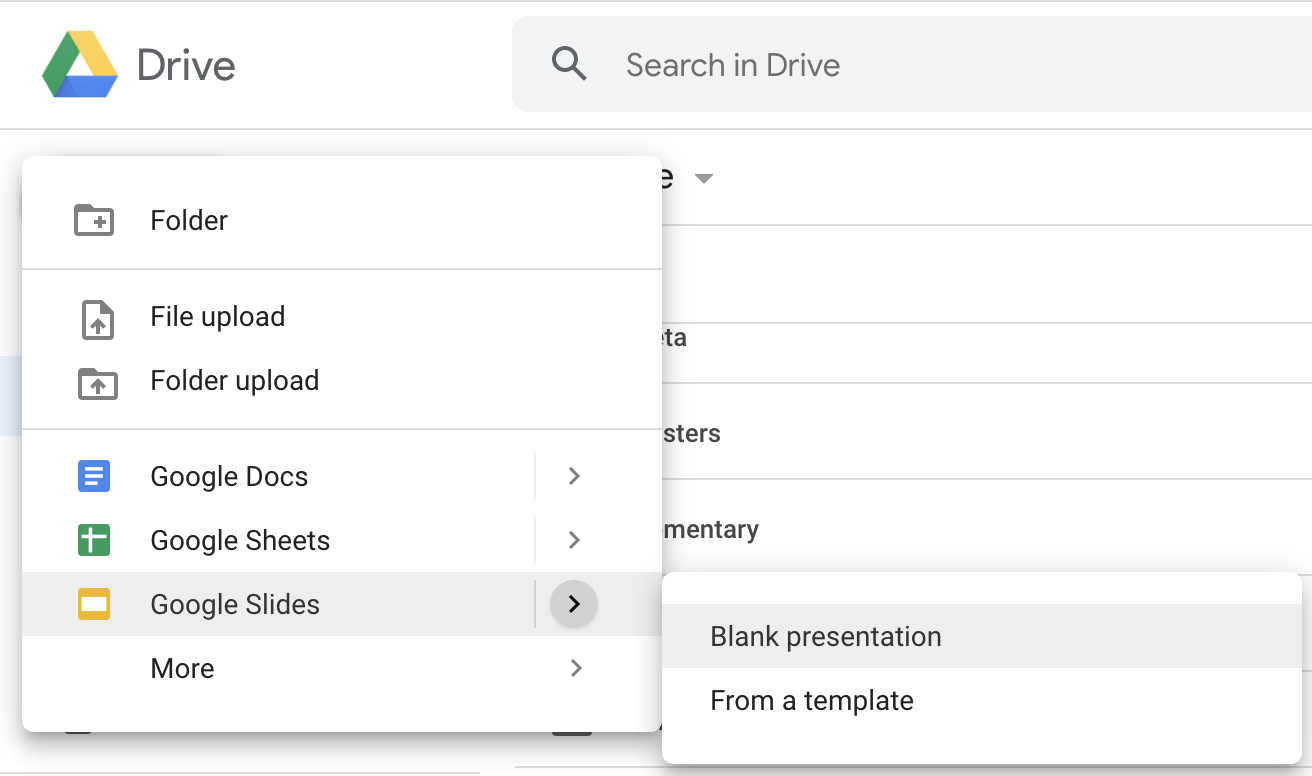 Though there are simple, free options from Google and Apple, they're limited. The main goal of Apple's Photos slideshow feature is to make it simple to create really basic slideshows. If you want to quickly share a bunch of images from a vacation, it's a great tool. Google Slides is a simple way to add photos manually, and you can quickly create collage slides.

Whatever method you choose, make sure you include only high-quality photos and videos in your slideshow so they look good on a large screen. CameraBag Pro and Squash will help you here. Both apps are free with a seven day trial of Setapp, a productivity suite for Mac and iPhone. After the trial, Setapp is only $9.99 per month, and provides access to 230+ incredibly powerful apps for all kinds of use cases.
FAQ about slideshows on mac
Can I add videos to my slideshow?
Yes, if you create a slideshow in Photos, you can add videos — just select them from your Library. Note that Photos might cut your videos based on the selected theme, so make sure you cut and adjust your videos in advance so you get the right scene in the slideshow. CameraBag Pro is an excellent utility for video editing, which can help you prepare your videos.
Can I add text to my slides?
You can add text if you make a slideshow in the Preview app. Once you've selected the photo, click the Edit button > Text and you'll see the text box pop up on the screen.
How can I delete slideshows?
If you export your slideshows, they will be saved in your export location on Mac. You can simply move them to the Bin from there. And if you create slideshows in Photos, they will be saved under Projects in the left sidebar — select the slideshow, right-click it, and choose Delete.