How to crop a screenshot on Mac
Want to capture what you're seeing on your Mac's screen to share with others or reference later? Taking a screenshot will make it simple to accomplish. However, you might still need to crop some portions of the screenshot to remove unnecessary information or cover up critical data.
If you're unsure of how to crop a screenshot on Mac or where to find the right cropping tool, read this article. We'll explore some easy techniques.
What is the shortcut to crop a picture on a Mac?
You can quickly take a snapshot of any area of your Mac computer's screen using the keyboard shortcut: Shift + Command + 4. A cursor will become a crosshair, so you can click, drag, and then release the mouse button. Your screenshot will be instantly saved to your Mac's desktop. This is how to take a cropped screenshot on Mac. However, if you want to crop and edit it as you want, you'll need some editing tools. There are both built-in and third-party solutions
If you want neat and clean screenshots, the CleanShot X app is a perfect fit. Basically, it's an all-in-one tool that can take screenshots, removing background distractions, edit and save them to dedicated cloudshare, and more. When it comes to the ability to cut and copy various portions of your screen, CleanShot X is far more capable than the macOS native app. You can highlight key details or blur particular areas using the built-in annotation tool. Quickly and easily!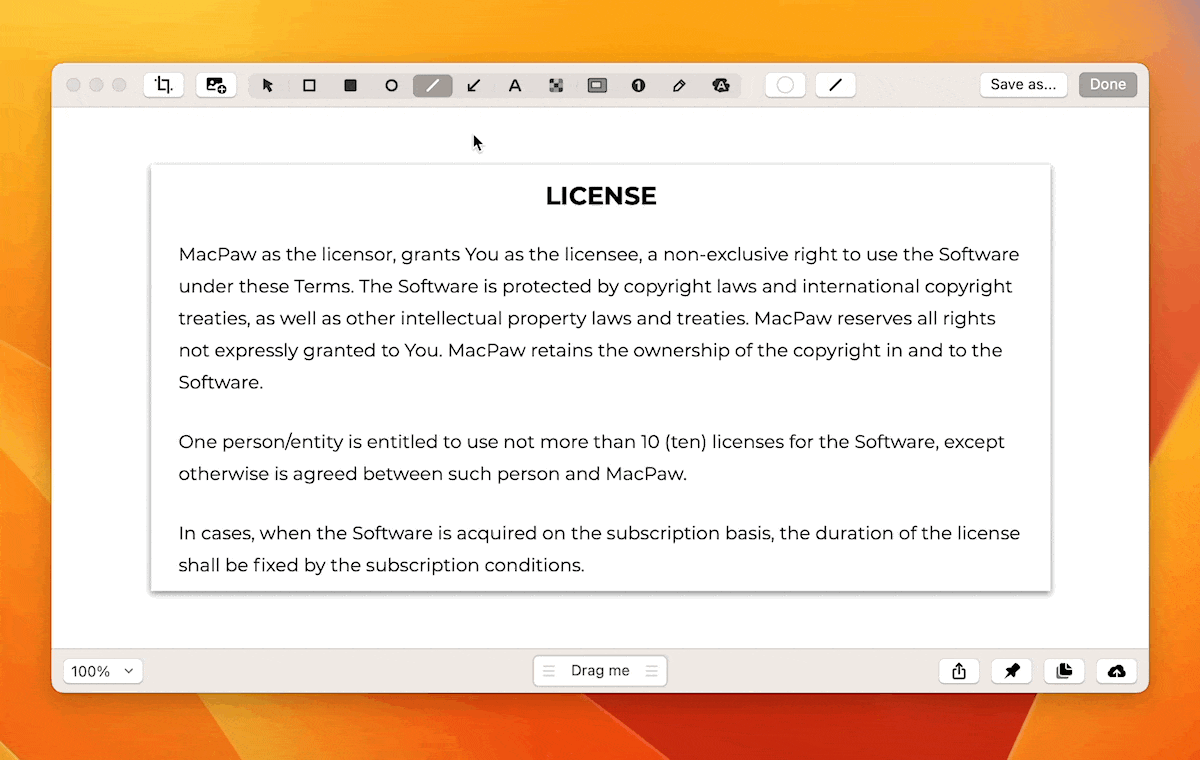 Another great tool to try for cropped screenshots on a Mac is Capto. It allows you to capture full screen, circle area, rectangle area, freeform area, single app window, menus, webpages, and more. On top of that, it has a robust editor to help you edit the results. Here's how:
Open the app, click Area > Rectangle/Circle/Freehand
Then draw the desired form to create screenshots of any type
To take a screenshot of the selected area, click the Camera button
The Capto app will open immediately. After that, you can modify your screenshot and share it with anyone.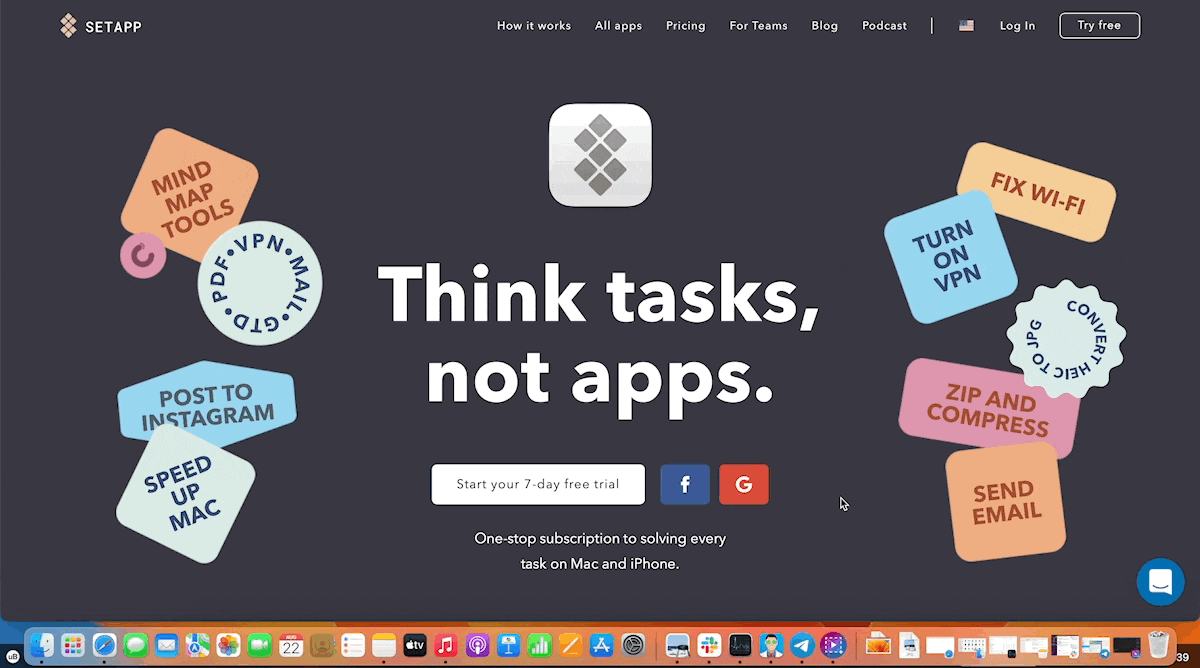 We also recommend you try Xnapper, a macOS screenshot app that can help you take beautiful screenshots instantly. The app offers a number of quick and simple customization choices, including a useful Balance tool, for your screenshots. With only one click, center your screenshot on a background. You can even alter the screenshot's padding, shadow, and border radius.
When editing your cropped screenshot in Xnapper, you have the option of putting it on a blank canvas or using a background. On top of that, it's possible to easily adjust the screenshot to various social media.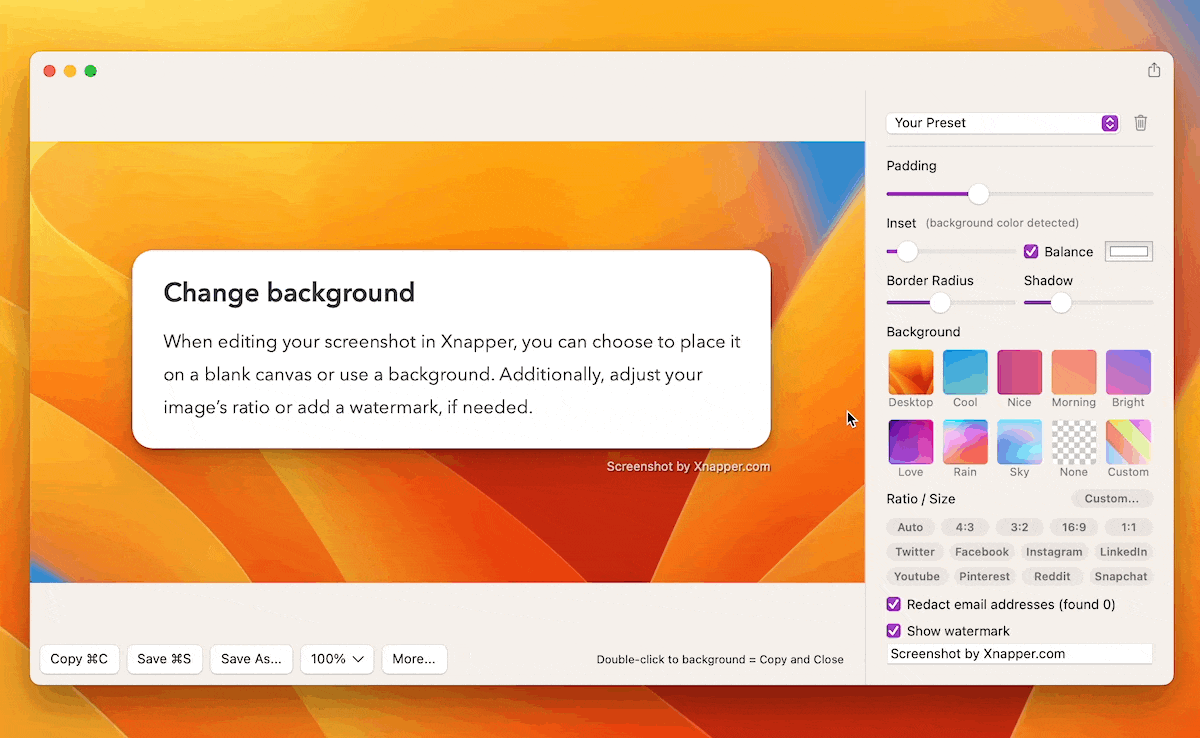 What we like the most is the automatic sensitive information redaction feature. IP addresses, credit cards, API keys, emails, etc.: you can hide them with a single click!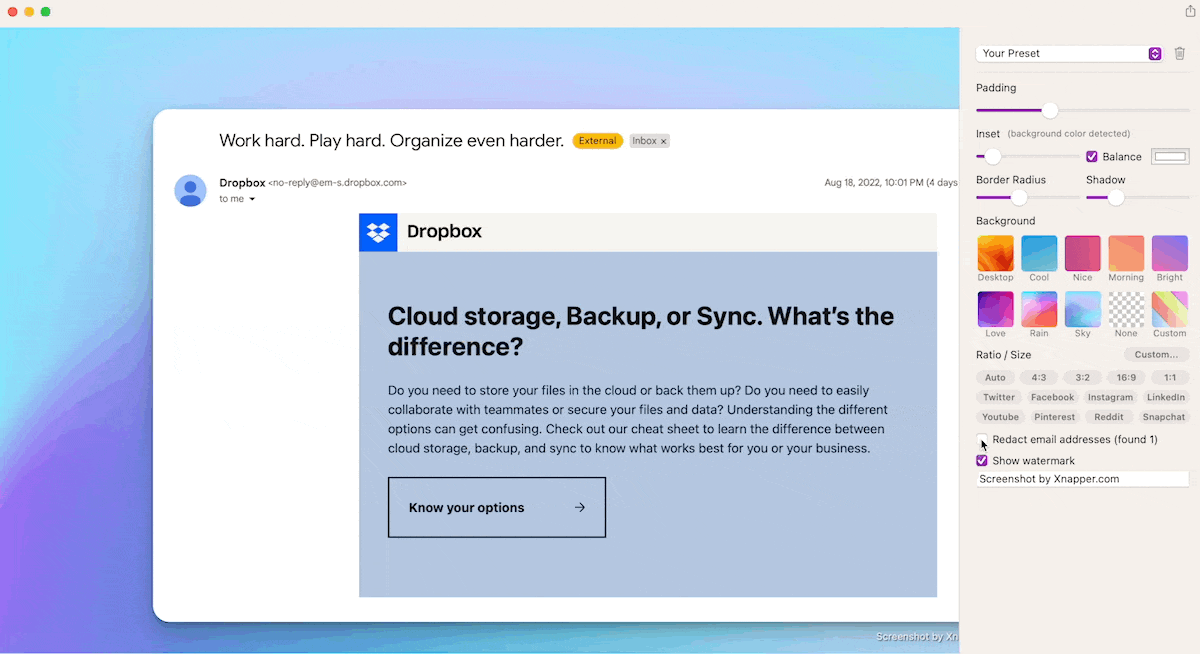 How to crop a Mac screenshot with Preview app
macOS automatically launches the Preview app when you double-click any image. With this tool, you can quickly crop your screenshots.
So how do you crop a screenshot on a Mac using Preview?
Double-click on any image in Finder to launch the Preview app
Choose the Show Markup Toolbar icon in the top right corner (shaped like a pencil)
Now you can easily select the area you want to have on your screenshot
From the menu bar, click Tools and choose Crop. Alternatively, use the Command + K command.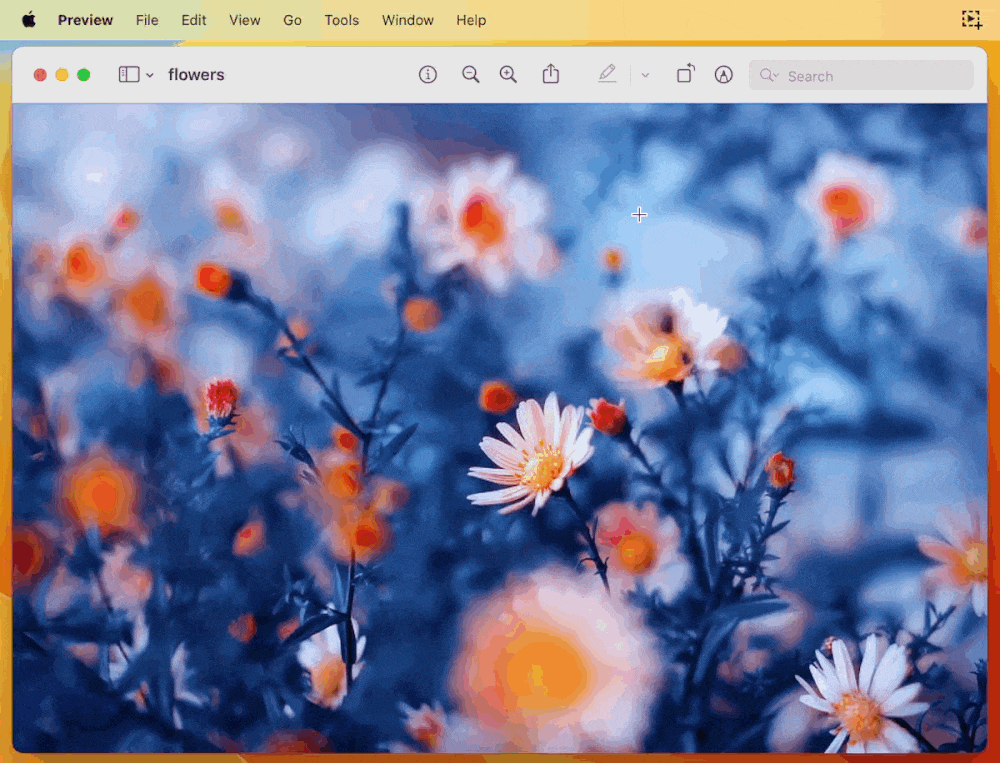 How to crop a screenshot on Mac after saving
To capture a screenshot of a specific area of your screen on a Mac, press Command + Shift + 5. A thumbnail will show up right away. You can now choose if you want to capture the entire screen, a window, or a portion of your screen. Once you click Capture, the screenshot preview will appear in the bottom-right corner. Click on it to launch the tool for modifying screenshots. You can now crop the screenshot you took.

In case you want to edit screenshots after saving, you can use the methods mentioned in this article (using the apps like CleanShot, Capto, Xnapper, Preview, and Photos).
Tip: If you frequently take screenshots, you're undoubtedly used to finding files labeled "Screenshot 2022-XX-XX at 20.18.15" in your Downloads folder or on your Desktop. Chances are you like to keep your files organized, but it takes a lot of time, especially if you use Finder and Preview to view and sort all of your caps.
Try PhotoBulk instead! This is a bulk image editor made to rename, resize, and compress pictures in batches. Simply drag & drop the screenshots you wish to rename, write the group name, and click Start. Your renamed pictures will be properly organized into their respective folders. Easy as pie!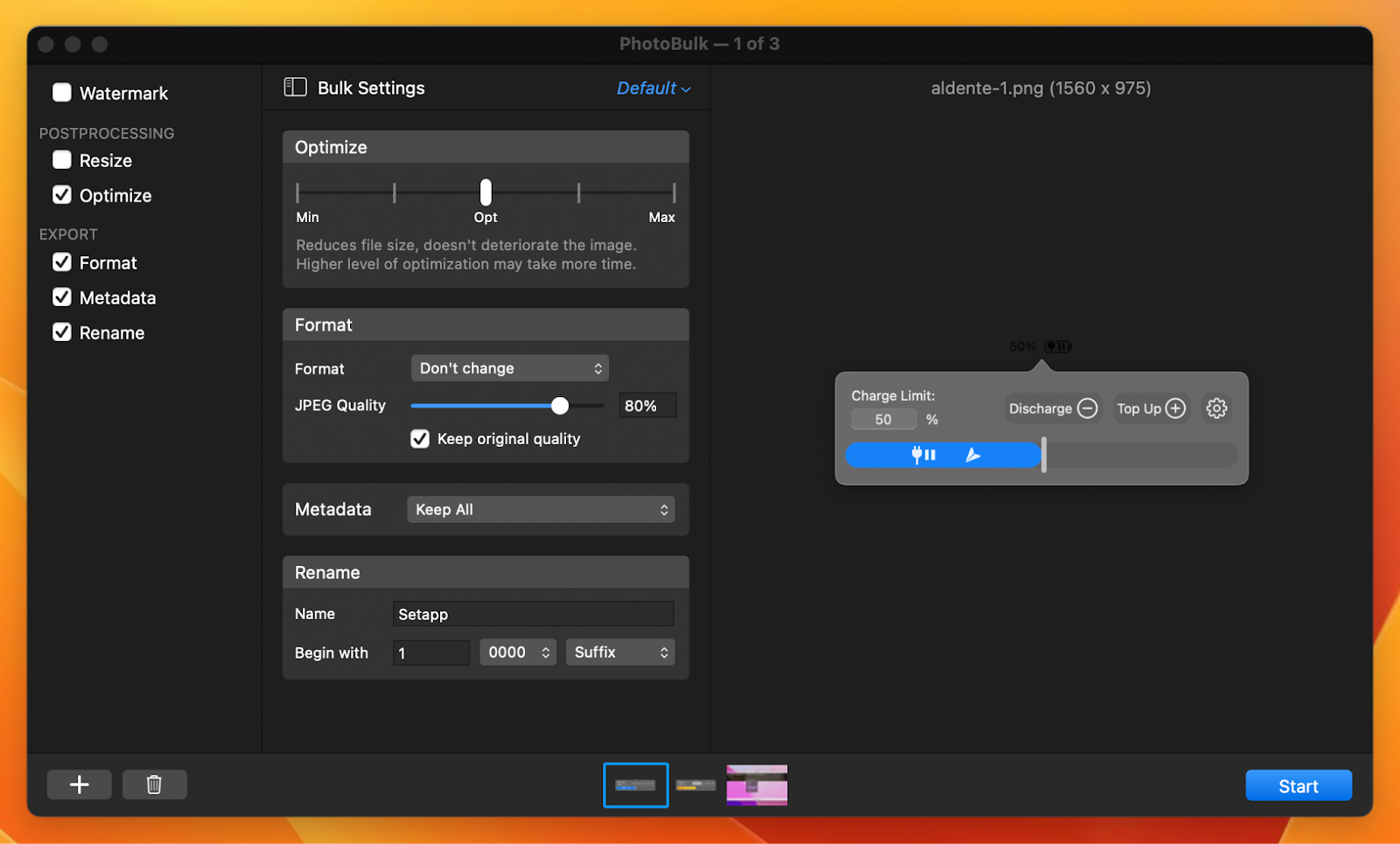 How to crop a screenshot using Photos app
We've already shown you how to crop screenshot on Mac with the help of Preview. If you want more options, you can try doing that with the Mac's Photos app. We'll show you how.
Open Photos, then, from the menu bar, click File > Import
Find the screenshot you want to edit and click Import
Double-click the image you imported, then click Edit (top-right)
Click the Crop button at the top.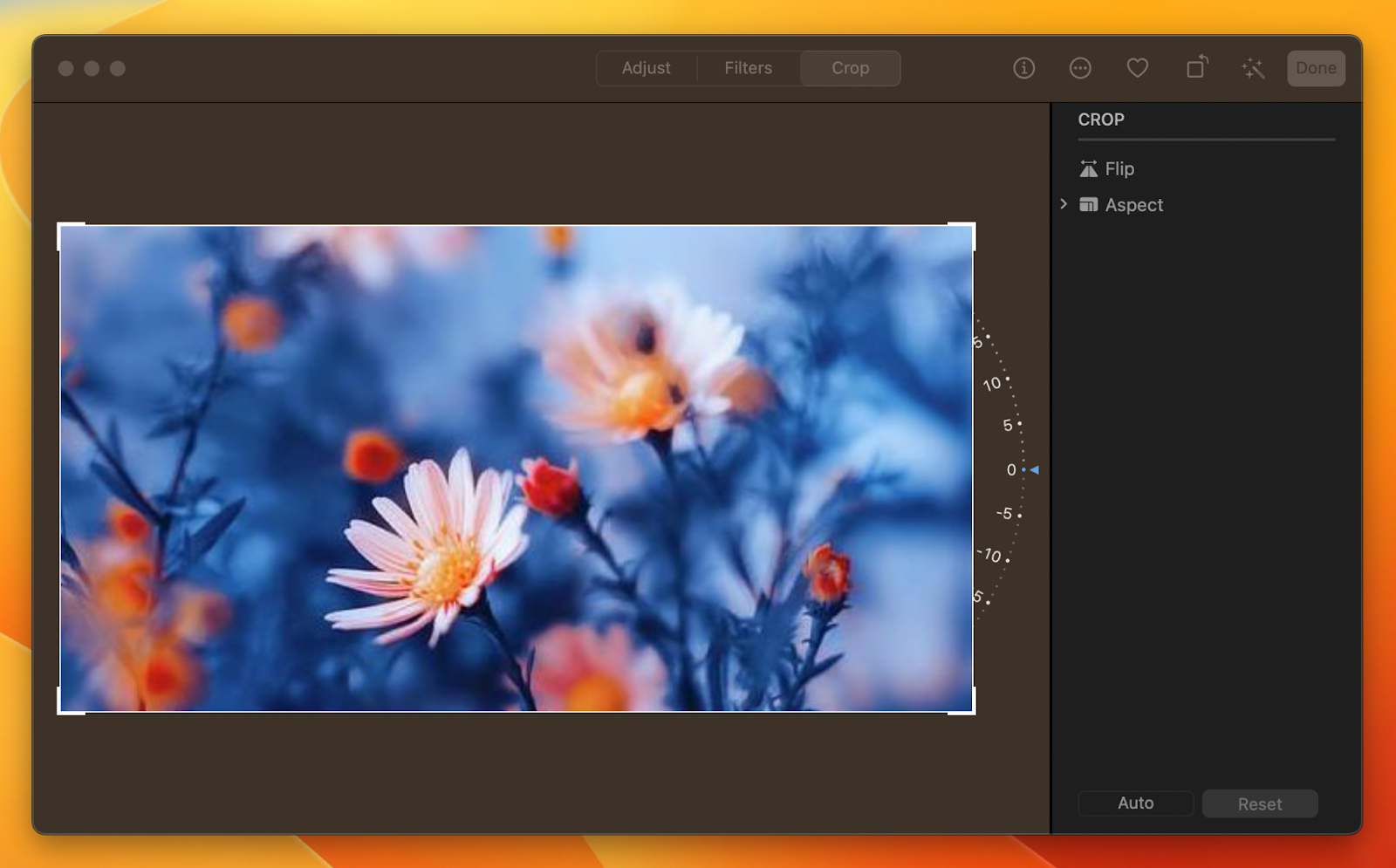 Tip: If you take many screenshots, the amount of space they occupy quickly adds up. Of course, you can delete them manually. However, there is a super easy way to do the same automatically. To delete redundant screenshots, use a handy tool called CleanMyMac X, which specializes in keeping your Mac free from clutter. Here's how:
Open Setapp and type "CleanMyMacX" or "declutter Mac" in the search bar
Find CleanMyMac X in the search results and click Install
Once the app is installed, open it, choose Space Lens from the sidebar and click Scan
Double-click the Users folder, then your user folder
Scroll to the Desktop (or Downloads) folder and double-click on it
Check the box next to the screenshots you want to delete. Keep in mind that you can preview them in the main window
Finally, click Remove.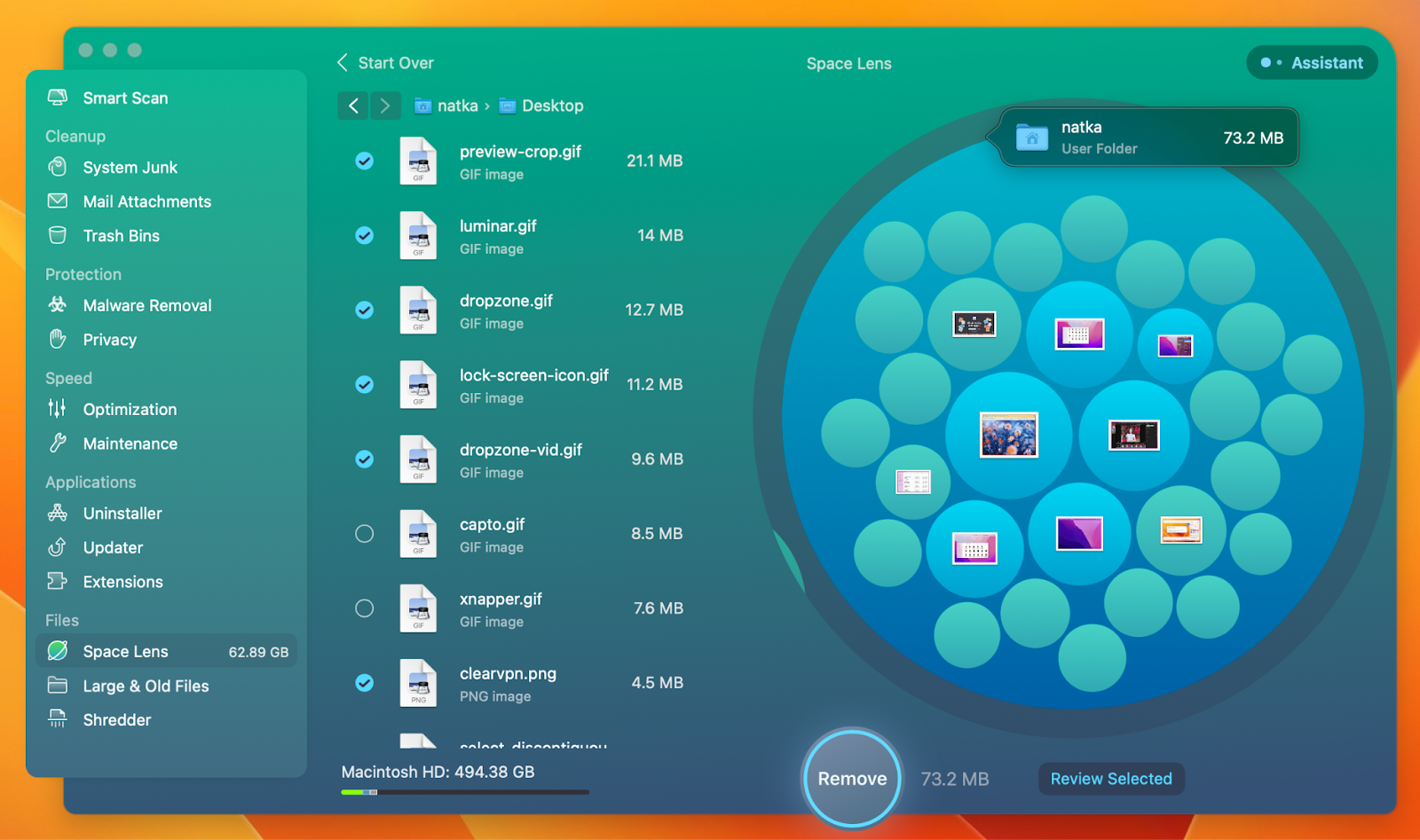 Do it on a regular basis and keep your Mac clean and fast.
How to crop with online tools
You can crop screenshot Mac using web tools like ILoveIMG, IMG2Go, etc. if you'd rather not download a third-party app. With the help of these online resources, you can easily crop JPG, PNG, or GIF files by defining a rectangle in pixels. Although it's a fast way to crop screenshots, it doesn't give full control on screenshot editing. You can't highlight key details, blur particular areas, or change backgrounds, for example. Remember, you can do that with CleanShot X, Capto, and Xnapper we've mentioned above. Also, keep in mind that free online crop tools usually display a lot of annoying ads. Make sure not to click on them.
How to crop a screenshot on Mac: the best method
Not all screenshots are equally valuable. Cropping the image to your specifications will allow you to save only the necessary, required portions. If you only need to crop a specific area, Mac's in-built editor can do the job. However, your options are pretty limited with it. If you want to highlight key details, blur particular areas, change backgrounds, hide unnecessary files on your screen, and more, you definitely need a dedicated app. In this article, we showed you how to crop a screenshot on Mac using CleanShot X, Capto, and Xnapper. You can access these amazing apps once you subscribe to Setapp, a platform with more than 240 tools to solve any task on your Mac.
Together with the apps for screenshot editing, you'll get CleanMyMac X to declutter your Mac and PhotoBulk to edit and organize your screenshots in batches. Does this sound interesting to you? If so, try Setapp free for 7 days! After your free trial, the subscription is $9.99 per month.