How to transfer photos from iPhone to iPhone correctly
When you get a new iPhone, one of the first things you'll want to do is make sure all of the photos you've taken over the years are on that device. Typically, people who purchase iPhones already have one, making the process much simpler.
Whether you're an experienced iOS user or an Android convert, knowing how to transfer photos to an iPhone is critical. Here, we'll focus on how to transfer all photos from iPhone to iPhone, but some of the tips we share will also be relevant to the Android crowd.
Best of all, we'll teach you how to transfer photos from iPhone to iPhone without iCloud. This comes in handy for those who haven't been using iCloud to sync their photos, or just want to start fresh on a new device without utilizing iCloud.
Additionally, you'll learn how to transfer photos from iPhone to new iPhone, and which apps make the process simpler.
Transfer photos from iPhone to iPhone with one click
The most secure way to transfer photos between devices is a wired connection, and there's no better platform for it than AnyTrans.
You can't link an iPhone to an iPhone, but you can link two iPhones to a Mac and use AnyTrans to transfer data from the old device to your new iPhone. With AnyTrans, you can transfer all of your data, or just the items you decide are important. You can also decide which images, messages, or apps should be ported to your new device, giving you a granular level of control iCloud just doesn't match.
Here's how to transfer photos from iPhone to iPhone with AnyTrans:
Download AnyTrans from Setapp
Open AnyTrans on your Mac
Plug in the iPhone you want to transfer images from (Note: We suggest using AnyTrans to create a full backup of your iPhone before transferring files. It's optional, but recommended.)
Make sure "Device Manager" is selected, then tap "Photos"
Select the category or photos you want to transfer
Plug in the iPhone you want to transfer images to
Select "To Device"
Choose your second iPhone
Follow the on-screen prompts to transfer your images
This is how to transfer pictures from iPhone to iPhone with one simple click. AnyTrans is also your solution when you're wondering how to transfer photos from iPhone to your Mac, or back them up entirely to a secure external drive.
There are also a few other ways to migrate your images between devices.
Transfer photos to an iPhone using iCloud
Apple's iCloud is a solid backend service for syncing files, folders, and images between devices. If you want to use it, keep a few things in mind:
You can't select what's synced. iCloud is meant for total migrations, and doesn't allow you the full control AnyTrans will. If you just want to migrate everything via the cloud, iCloud is a good solution.
It takes a long time. iCloud will authenticate and authorize a device for your account quickly, but your photos, files, and other cloud-based items won't sync immediately. It often takes hours for everything to show up on your new iPhone.
It's best to transfer on WiFi. If you're out and about and buy a new iPhone, we suggest waiting until you get home to transfer everything. A secure (and fast) WiFi connection will transfer everything faster, and is far more secure than a cellular connection. (But if you're going to be home anyway, why not just use AnyTrans?)
When you boot up a new iPhone, it will ask if you want to transfer everything from another device to that iPhone. All you have to do is set the two down next to one another, and all of your iCloud stuff transfers automatically. It's a clever trick Apple has designed to make purchasing a new phone much easier.
Before turning your new device on, you should create a backup of your iPhone. Here's how:
Open the Settings app on your iPhone
Click your Apple Id name banner at the top of the screen
Select "iCloud"
Select "iCloud Backup"
Click "Back Up Now"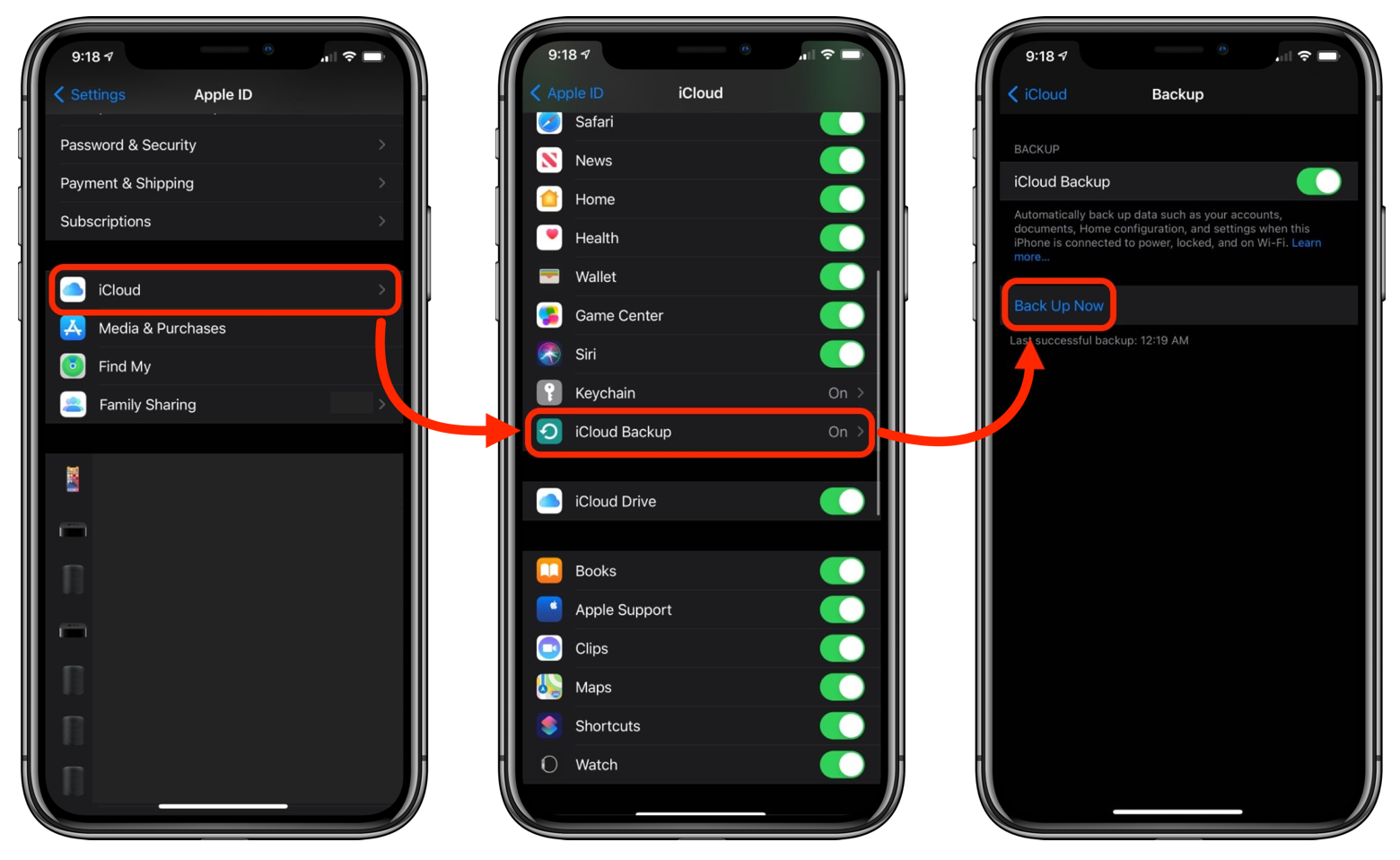 When the backup finishes, you can simply turn on your new device, set it down next to your old iPhone, and let iCloud do its job via Apple's Quick Start protocol. If you'd rather choose which iCloud backup to use, follow these steps:

Back up your old iPhone following the steps outlined in this article
Turn on your new iPhone
Follow the on-screen prompts until you reach a screen asking you to choose a WiFi network
Select a WiFi network to join (preferably your home WiFi network)
Choose "Restore from iCloud Backup"
Sign into iCloud using your Apple ID
Choose the most recent backup of your old iPhone
A better method for transferring images between iPhones is to host them in your own cloud space, and download them whenever you want. That may sound complicated, but Dropshare makes it really simple.
Dropshare for Mac and iOS lets you upload any image to the cloud, and keep it available for download any time. You can create your own cloud service within Dropshare, or link to Dropbox, Google Drive, Box, OneDrive WeTransfer, or several other cloud platforms like AWS.
Screenshots and screen recordings will be saved to Dropshare automatically if you like, and you can share anything from your Mac to Dropshare using the Mac's built-in share sheet (right click > Share > Dropshare). Dropshare lives in your Mac's menu bar, and provides quick access to anything in your Dropshare cloud storage for download, or you can select the link.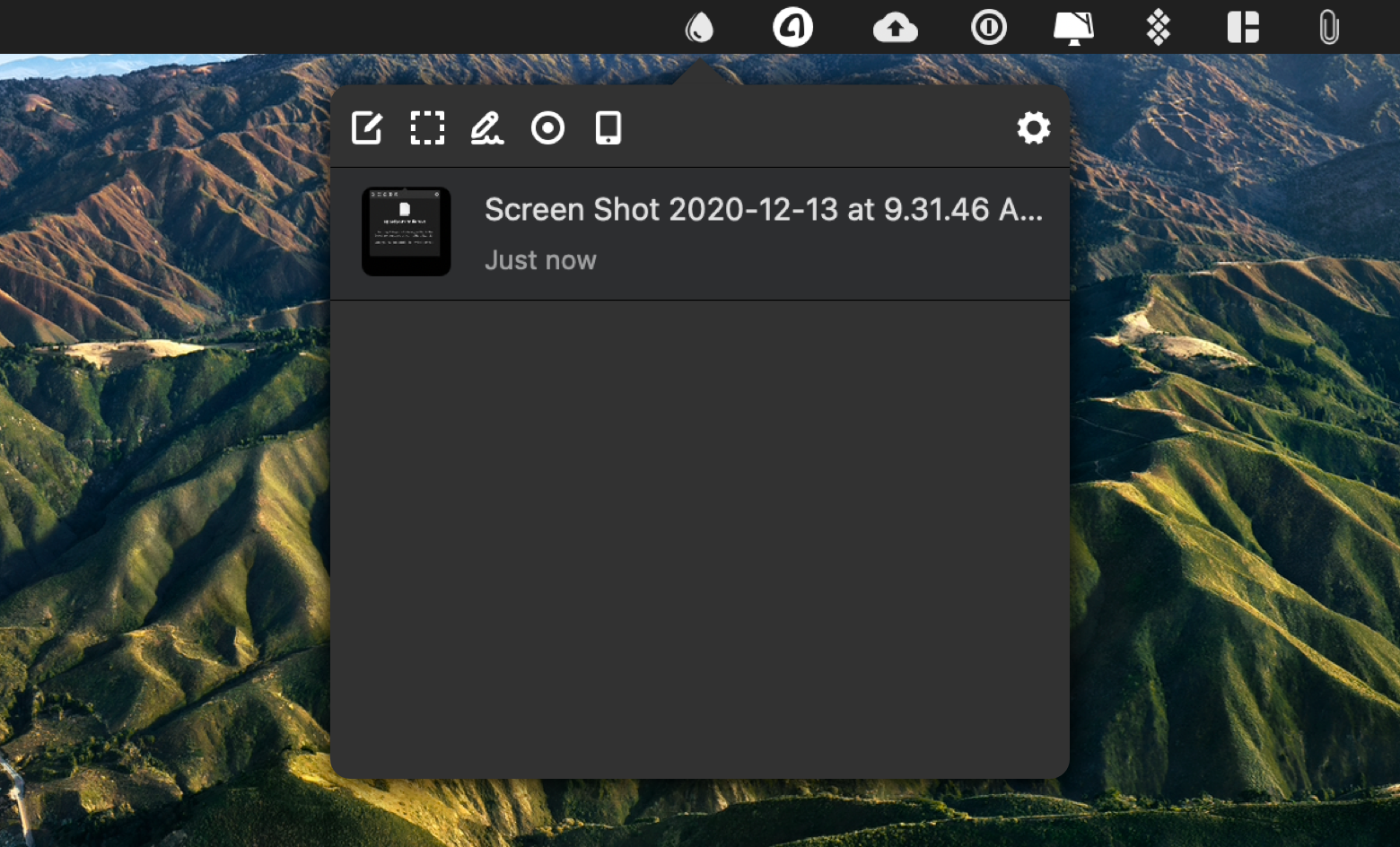 Transfer photos using Finder
You can also use Finder on your Mac to transfer photos. This solution only works if you've got iCloud Photos turned off. If you're using iCloud to sync your Photos app across devices, your Mac assumes it's working properly. To turn it off, follow these steps:
Click the Apple logo in the top left corner of your Mac's menu bar
Select "System Preferences"
Select "Apple ID" at the top right corner of the new window
Toggle "Photos" off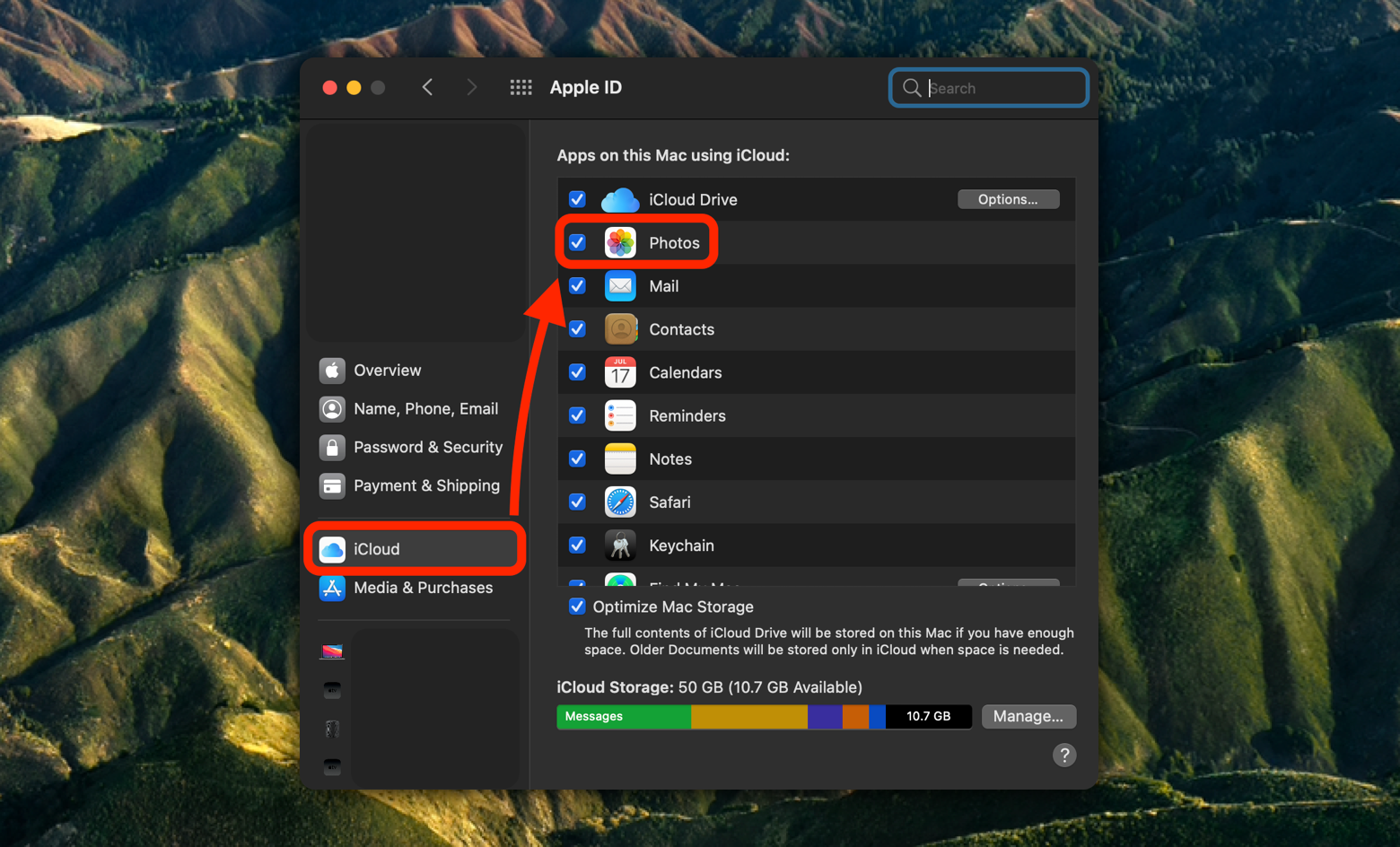 To turn iCloud Photos off on iPhone, follow these steps:
Open the Settings app on your iPhone
Select "Photos"
Toggle "iCloud Photos" off

Once you've turned iCloud Photos off, follow these steps to transfer images using Finder:
Open Finder on your Mac
Plug your iPhone into your Mac
From "Locations" on the left side of the Finder window, select your iPhone
Select "Photos" from the top of the window
Choose the photos you'd like to transfer to the device (Note: This will transfer selected photos from your Mac to the iPhone. )
Select "Sync" at the bottom right corner of the screen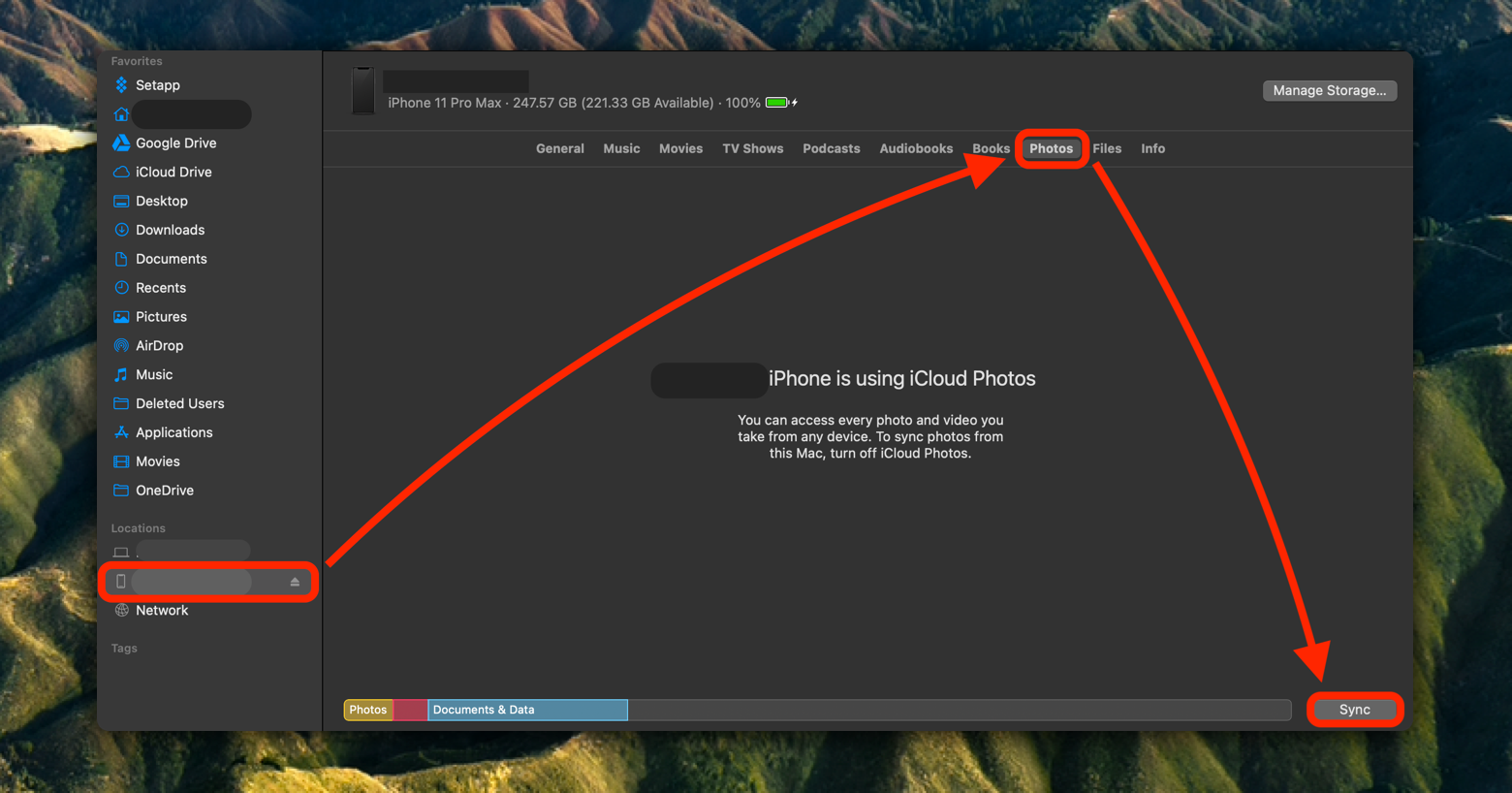 Using AirDrop
If you'd like to use AirDrop to transfer photos, you can! Just be aware AirDrop is meant for one-off file transfers, and migrating a bunch of files or images at once can cause issues including files not transferring at all, or some files not transferring. It's the least reliable solution.
But it's great if an image didn't transfer to your new iPhone for some reason and you need it on your new device. Here's how to transfer photos from iPhone to iPhone using AirDrop:
Open the Photos app on your iPhone
Select the images you'd like to transfer to the other iPhone (Reminder: Try to select 10 or fewer photos for transfer at a time.)
Tap the 'share' icon
Select the device you'd like to transfer to via AirDrop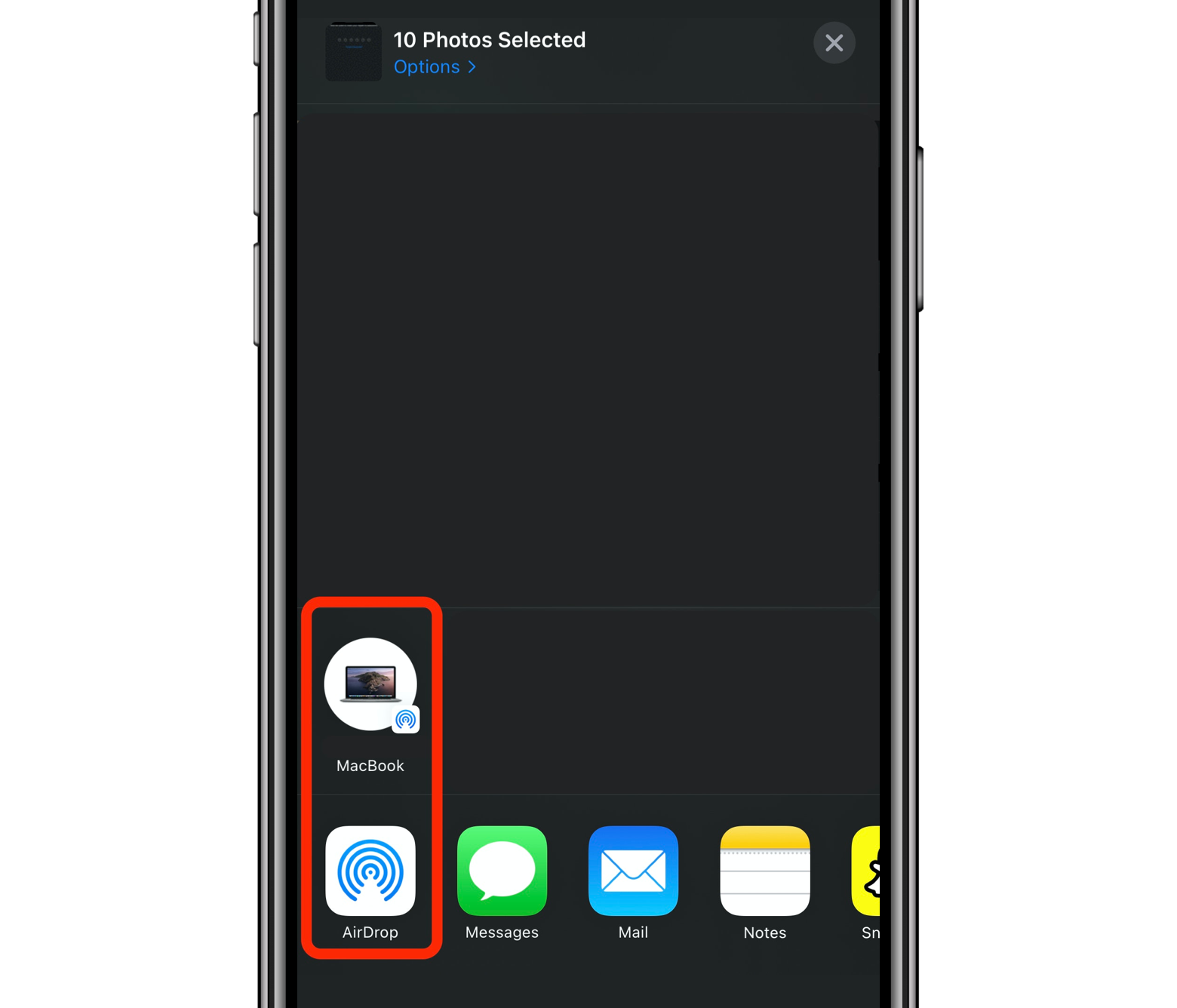 Your transfer will happen automatically. If you don't see the other iPhone show up in the share sheet, select "AirDrop" from the menu to display nearby devices.
Using mail
Another popular method for transferring photos is email. All you need to do is email yourself the photos you want to save as attachments, then download them on your new iPhone when you have email setup by accessing the email and downloading the attachments. It's that simple!
Here's how it's done:
Open the Mail app on your iPhone
Select the 'create' icon at the bottom right of the screen
Enter your email address in the 'to' field, and add a subject
Select the "Photos" icon on the bottom of the screen
Choose the photos you'd like to send
Tap the "send" icon at the top right of the screen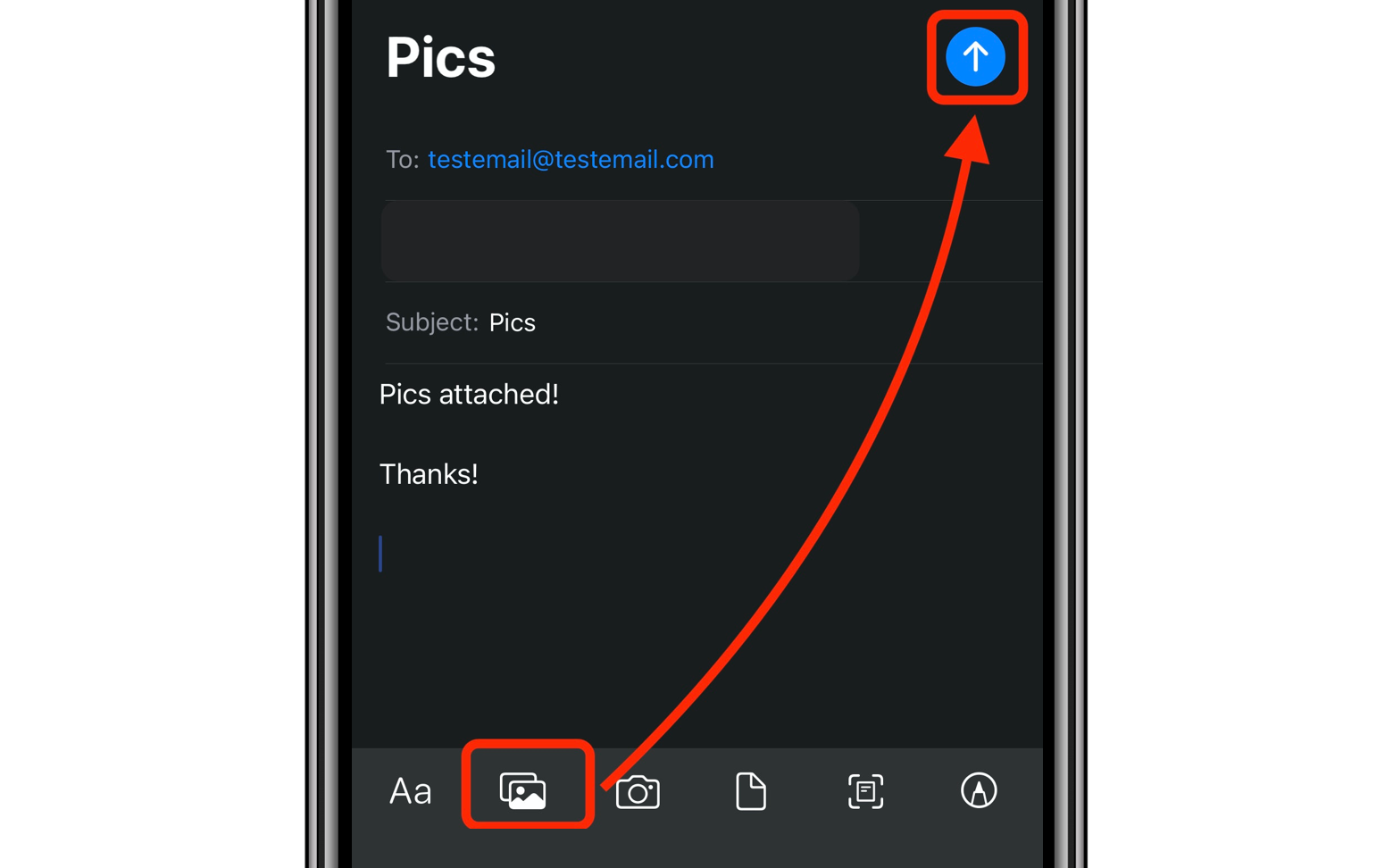 You can also email yourself pics via the desktop. For that, you'll need a great email client, and there's no better email app for your Mac than Canary.
Canary sends encrypted emails automatically, or you can choose to manually encrypt your outgoing email. The app works with all popular email providers, and its focused inbox learns your preferences and habits over time to surface the most relevant emails. It's great for those who are sending multiple emails of images.
Best of all, Canary makes quick work of composing emails and sending them along. Here's how to send yourself images with Canary:
Open Canary on your Mac
Select the 'compose' icon on the top rail of the app window
In the popup compose window, enter an address you're sending pictures to, and add a subject line
Tap the paperclip icon at the top right of the compose window to attach images
Select the images you want to attach to your email and click "Open"

Tap the 'send' icon on the top right of the Canary app window
Conclusion
All three of the apps mentioned here – Canary, Dropshare, and AnyTrans – are available for free during a seven day trial of Setapp, a robust suite of over 200 productivity apps for your Mac. During your week-long trial, you will be able to use any of the apps in the Setapp catalog for free, and continuing access to all the incredible apps in Setapp is only $9.99 per month when your trial period ends.
It's an incredible deal for a ton of amazing apps, so why hesitate? Give Setapp a try today!