How to copy, paste, and cut on a Mac in 2023
It might feel like there's not much to it — just learn the hotkey combination of Command + C for copying and Command + V for pasting, and you are set for all your copypasting needs. And that's true, you can copy to clipboard on Mac with these keys, but what if your text inserts all wonky and messes up your document's style? Can you insert text stripped of formatting? Is it possible to copy several items and select which to paste? What does "kill text" mean and how do you yank it back? Can you copy between devices?
Let's look at the copy-pasting on Mac a little closer and see what tricks and solutions there are to make your workflow as seamless and effortless as it should be in the year 2023.
How to copy and paste on a Mac?
Okay, let's get the basics out of the way. To copy something on Mac, select it and press Command + C. This copies your data or item to clipboard, and you can paste it where you need it.
Use Command + V to paste.
If you want to remove a piece of text or a file as you are copying it, simply swap out the Command + V for Command + X. The latter not only copies your piece, but cuts it out (hence the X), and you now have the item in your clipboard but also removed from its original location.
Pro tip: If you are copying a file, you can actually paste it multiple times if instead of the usual Command + V you opt for Command + Option + V. Simply copy any file or folder with the standard Command + C and then paste it using the longer hotkey combination to be able to paste the same file in multiple places.
How to copy and paste on Mac using menus and mouse
You can also copy and paste items using Mac menus and your mouse. This way, you don't even have to remember what keys to use to copy-paste on your Apple device.
To copy an item, simply right-click on it and find the Copy option in the dropdown menu: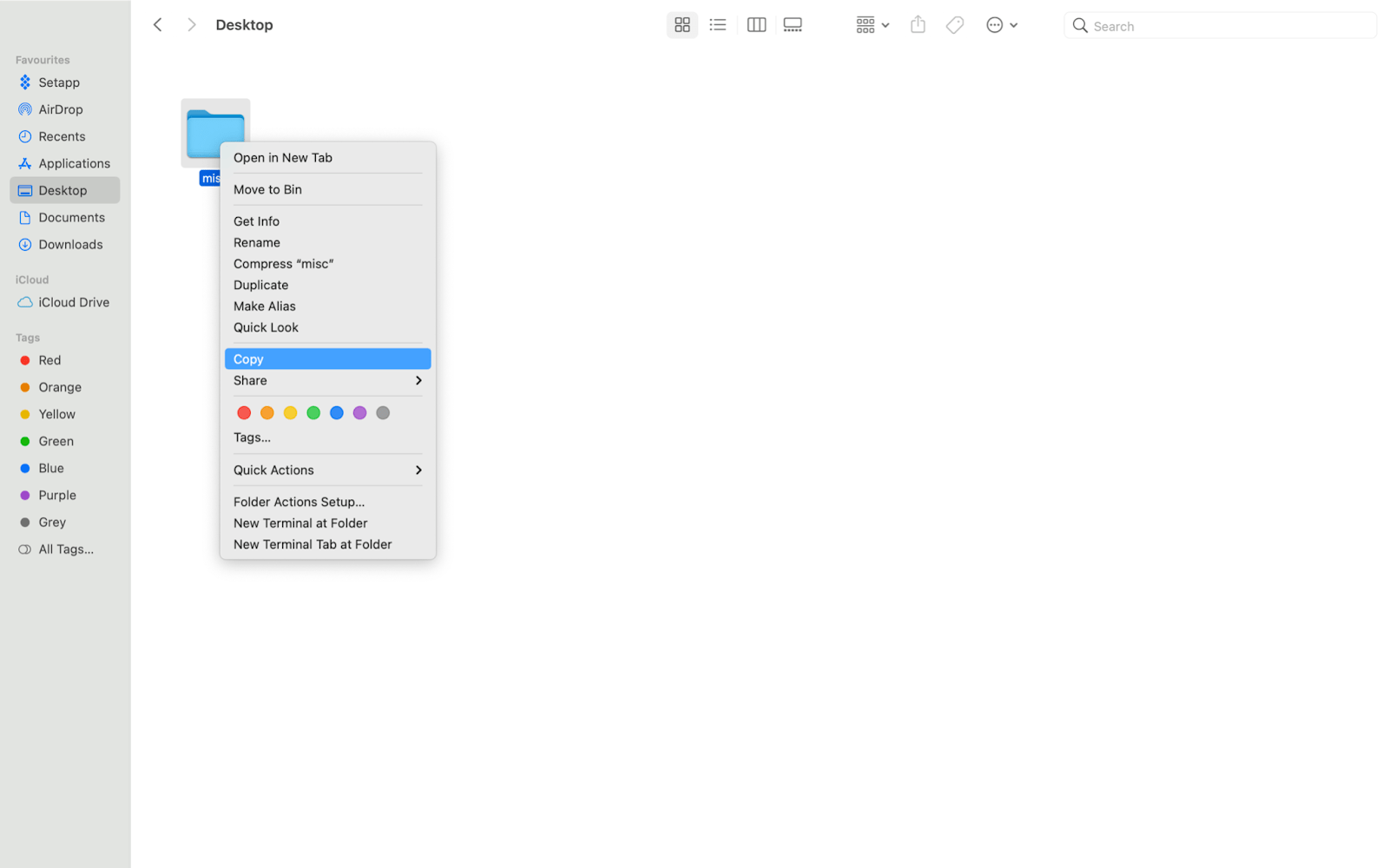 Click on Copy, and the item or a piece of text is now in your Mac's clipboard, ready for use.
To paste your copied piece, right-click in the location of your choice and select Paste Item: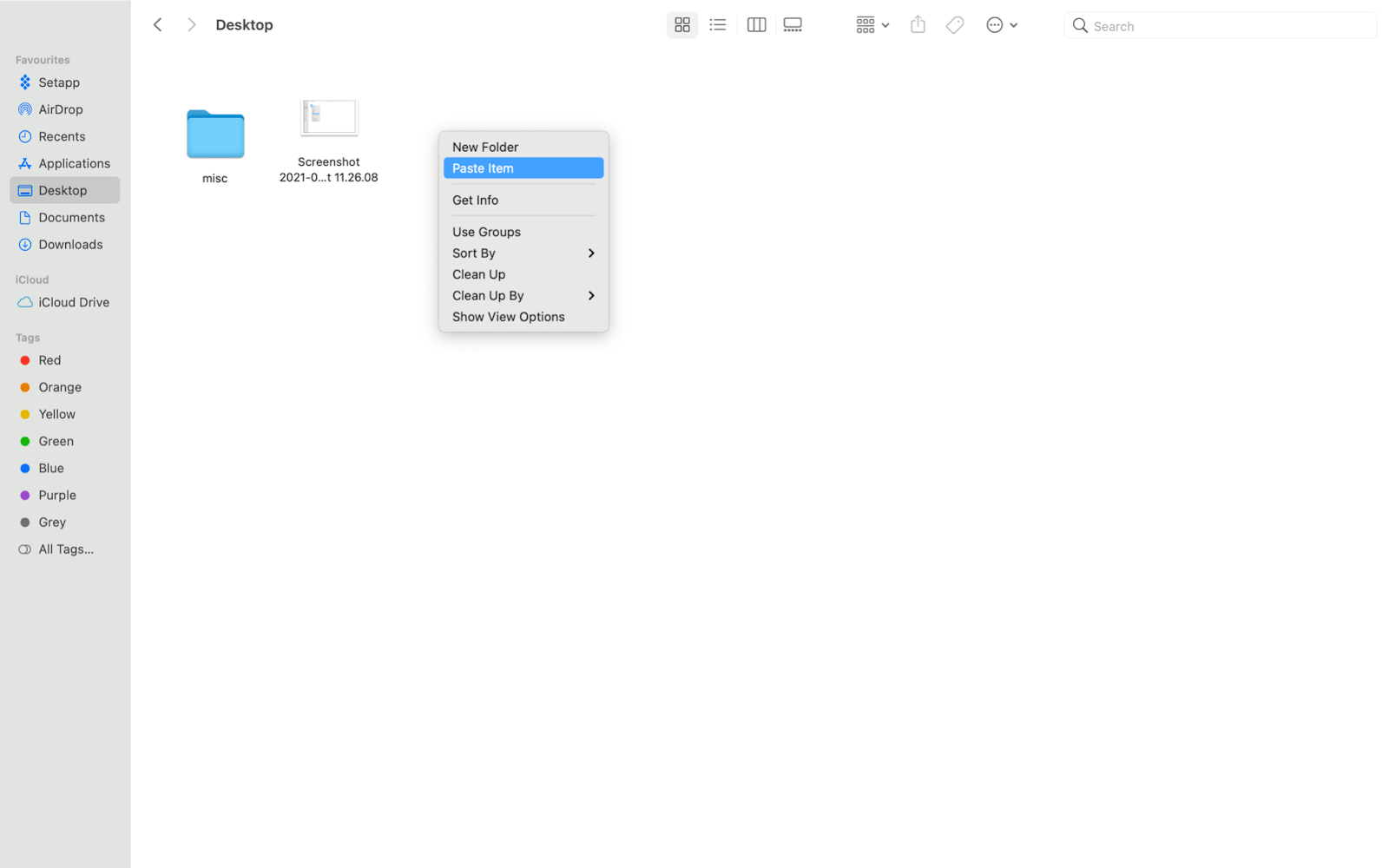 Menus might vary a little, but you'll almost always be able to spot the options you need. Here's what Apple paste command looks like in Notes: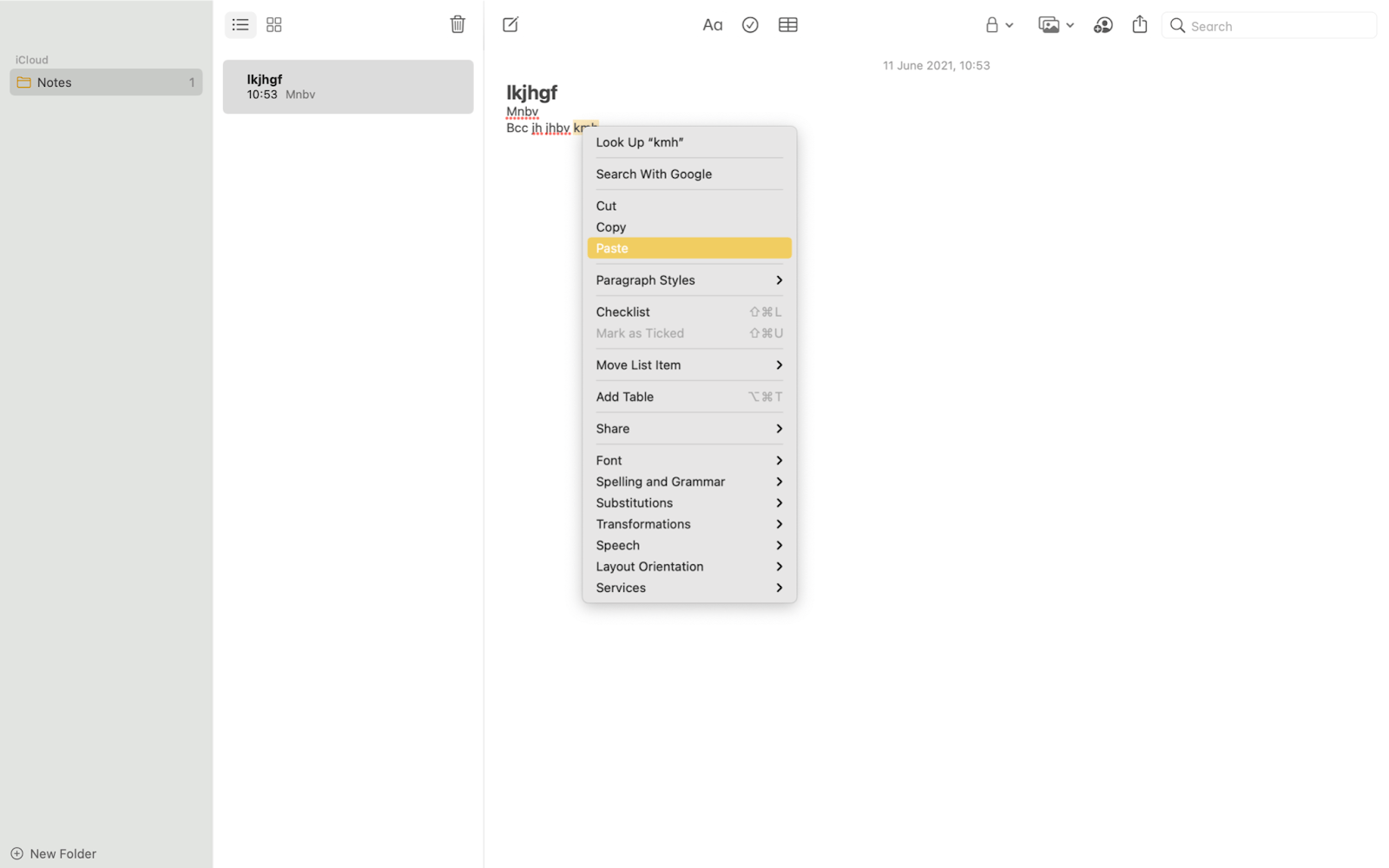 Copy and paste using trackpad
If you are on the run and don't have your mouse on you or are just a total badass and use your Macbook with only the trackpad, you can still copy and paste your text, images, parts of images, files, and folders. Here's how to copy and paste on Mac using just your trackpad.
Copying with your trackpad:
Hover your cursor over the item you want to copy and double-click on it to make a selection. (Note that to select a specific bit of text, you need to place your cursor at the beginning of the text you are selecting by pressing the trackpad, and then — without releasing the pressure on the trackpad — move your finger across the pad to get the whole text you need copied, releasing the press only when the full text is selected.)
Copy with the hotkey combination Command + C or two-finger-click on the trackpad to open the dropdown menu and select Copy.
To paste, simply two-finger click on the trackpad and select the option to Paste.
Copy-paste limitations and how to overcome them
As you can see, when it comes to how to copy and paste on Macbook, there's not much to it. It's fairly straightforward and you can choose the best way fit for each situation you encounter. What this idyllic simplicity lacks though is a few essential functions that you might find yourself needing in your day-to-day work.
One such limitation is no way to hold several things in your clipboard. And reality forces us to be multitasking beasts day in and out, so copying a lot of things — files, screenshots, links, snippets, pictures, etc. — can sure come in handy.
Paste is your clipboard manager that can take care of all your multiple selections. Not only can Paste hold everything you've copied, allow you to search it easily, and paste what you need where you want it, you can actually sync your clipboard history to iCloud with this app.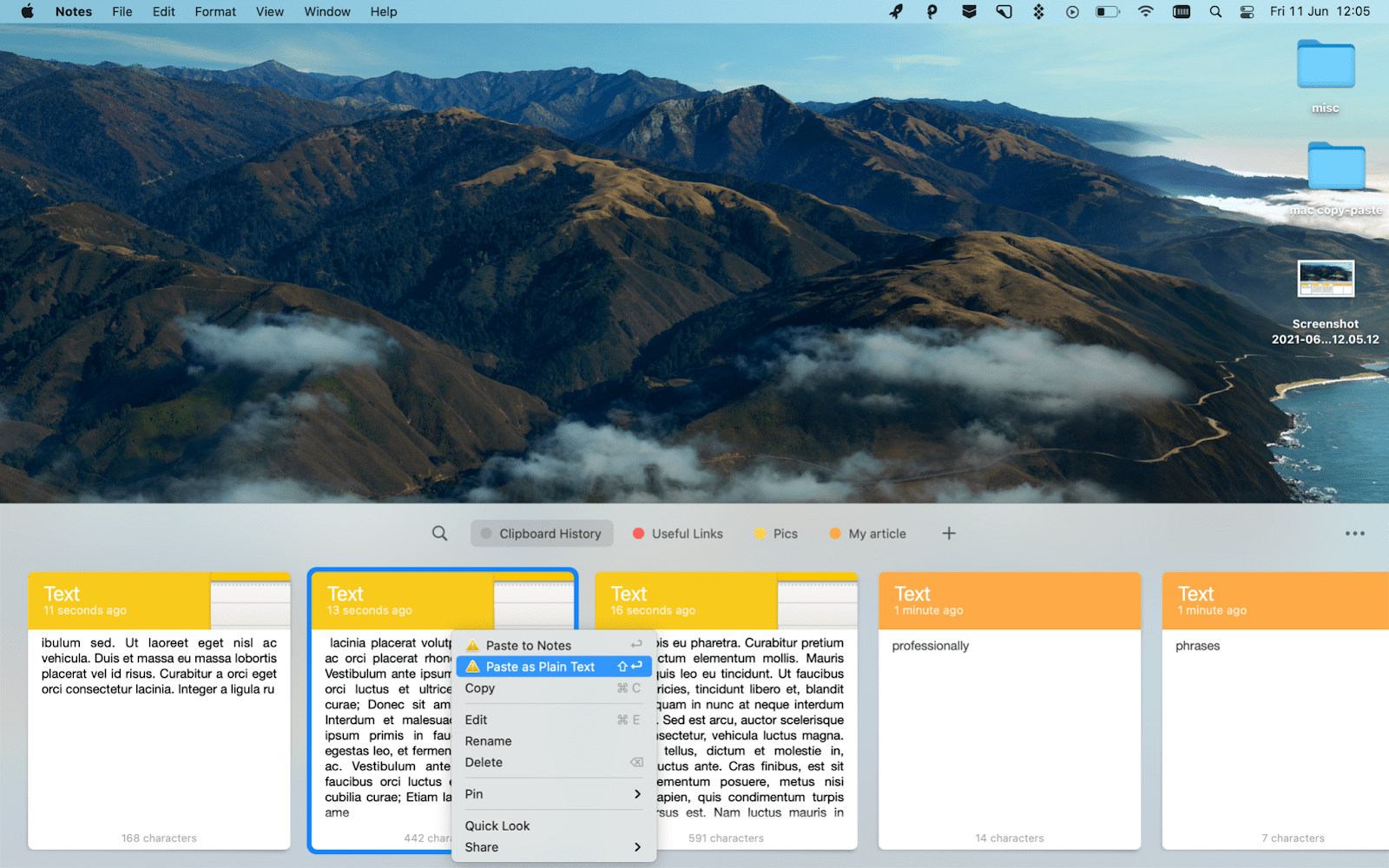 How many times have you copied something only to come across another important thing you really need to copy right now and be forced to go back and recopy the first item since it was wiped from your clipboard the moment you copied a new item? Now you don't need to.
You can manage your copied items, stash them in categories, and even paste your selection as plain text. Plus, you can conveniently paste an item by dragging and dropping.
Unclutter is another management tool for your notes, files, and clipboard history. With a slightly different layout, the app is perfect for note-taking, managing your Mac's clipboard, storing files and notes.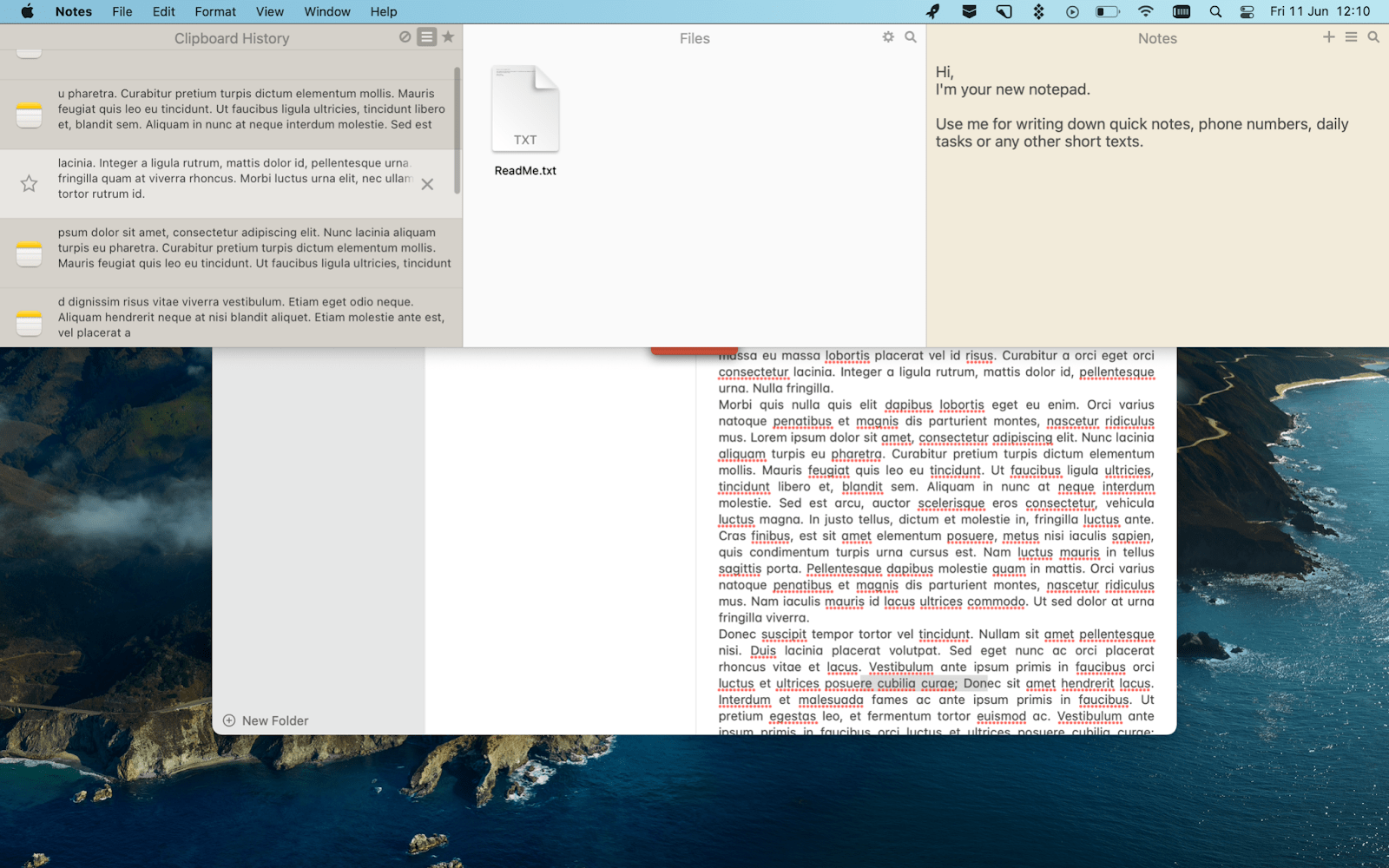 And since copypasting is normally done to save some time and avoid typing in the same old boring thing over and over and over again, you might also make good use of an app that allows you to utilize snippets and create custom inserts for your most common text use scenarios.
Rocket Typist app allows you to build a collection of snippets for your most commonly used phrases. You can choose to either paste them through the dropdown menu or create simple abbreviations that will prompt the pasting automatically. Handy, right?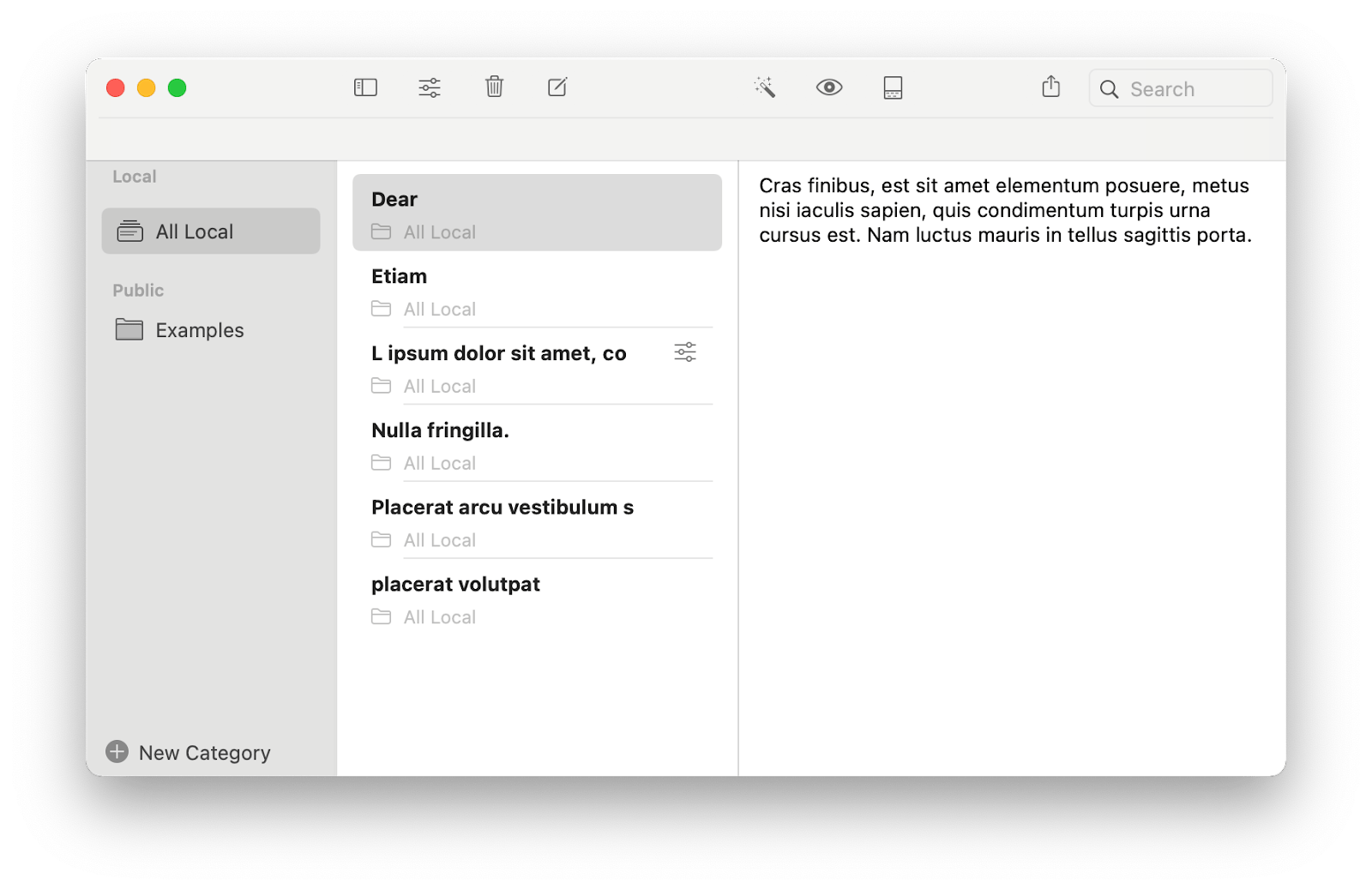 How to paste without formatting on a Mac
Apple paste command for inserting a piece of copied text without its formatting is a useful tool, and for good reason. The wonky formatting can mess up your whole document or presentation in a second, and all you were trying to do was make sure you spell someone's name right.
So how do you copy and paste on a Mac without the formatting? Let's investigate.
Copying a word or a quote from a document or website that has its own formatting often results in a piece of information in your clipboard that also contains at least part of that formatting. And more often than not, we do not want the old formatting in our doc.
The key combination for pasting text stripped of its original formatting is:
Option + Shift + Command + V
Well, that's a handful, isn't it?
Alternatively, you can use clipboard manager Paste we've just talked about to paste plain text as well.
Copy and paste style only
Believe it or not, Apple paste shortcut for just the style of your text but not the text itself also exists.
Select the text which formatting you want copied and hit Command + Option + C. Place your cursor where you want the style inserted and press Command + Option + V.
Note that this will not work everywhere, we've tried it within TextEdit successfully. Google Docs only worked if we tried to insert a new style at the beginning of a paragraph or by selecting a piece of text we wanted to add new formatting to.
The trick does not seem to work between apps too, so when we copied style in TextEdit, we could not paste it to Google Docs and vice versa.
How to copy and paste a picture on a Mac
Now, let's see how to copy a picture on Mac.
If you are editing a document or a presentation, you can just select any picture as any other item in an editable document — by placing your cursor before your item and dragging the selection to cover the whole item, in our case, a picture.
You can also simply double-click on the image and it will be selected.
Press Command + C to copy. Alternatively, you can right-click on an image and select Copy image option: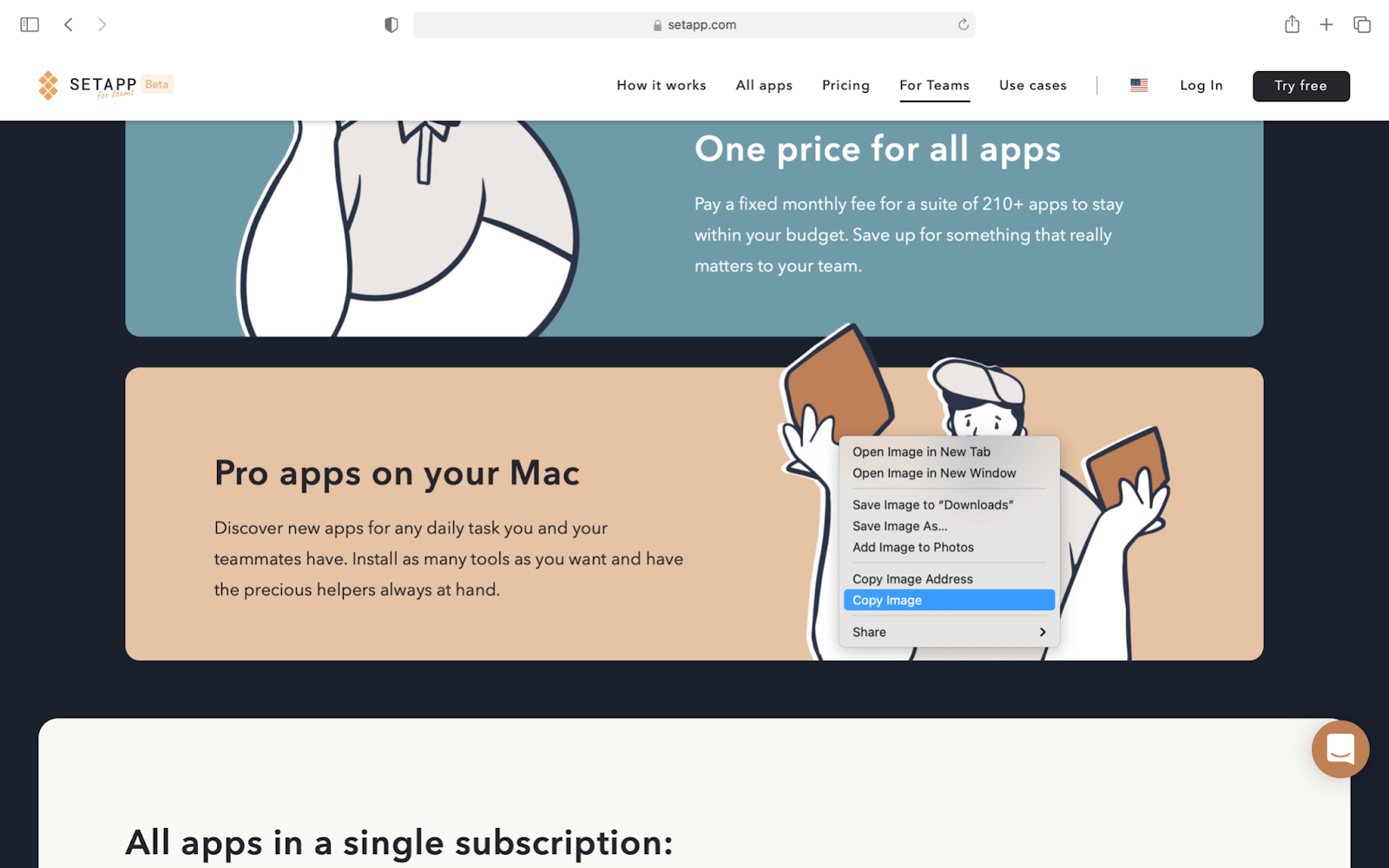 Your picture is now in clipboard and you can paste it using Command + V or through right-clicking and selecting Paste. And that is how to copy an image on a Mac.
Do note that even if you can copy an image, you aren't allowed to use images copied from third-party resources without explicit permission from the copyright owner.
Killing text
If you are now perfectly confident in your understanding of how to use clipboard on Mac, you might also want to know that you don't have to copy a piece of text to your clipboard if you just want to delete it.
Use Control + K to remove selected text without ever copying it to your Mac's clipboard.
Reinserting text previously killed
Curiously, you can actually get that text back (the one you just wiped with Kill through Control + K hotkey combination) using a Yank tool — Control + Y. This will only work on Mac's native apps though.
In third-party apps like Google Docs, use the hotkey combination for the Undo action — Command + Z — to reverse the text kill and get your just deleted killed text back.
How to copy and paste two items on Mac
Apart from using a clipboard manager app, you can actually copy two items with the help of the above mentioned Yank feature. As explained in the previous section, this will only work within built-in apps, but it can be quite handy nonetheless (if you can remember which key combination you used to copy what, that is).
Here's the gist of it:
Select and then copy the first bit of text with Command + C.
Select and kill the second part of text with Control + K.
Place your cursor where you want the first text and hit Command + V to paste.
Place your cursor where you want the second text and hit Control + Y.
This is a workaround, for sure, but can definitely come useful in a pinch.
How to copy and paste between iPhone, iPad, and Mac
If by this point in the article you are pretty sure you have a firm grasp on copy and paste on Apple desktop, you might be curious if you can copy-paste between Apple devices.
Universal Clipboard feature allows you to copy and paste between iPhone, iPad, and Mac (the device versions need to match Continuity requirements though, here's Apple's official continuity table for reference).
To use Universal Clipboard, you need to set it up as follows:
Sign each device into iCloud with the same Apple ID.
Turn on Bluetooth on each device.
Turn on WiFi on each device.
Turn on Handoff on each device (To turn it on for Mac, go to Apple menu > System Preferences > General and tick Allow Handoff between this Mac and your iCloud devices. To turn Handoff on for iPhone or iPad, go to Settings > General > AirPlay & Handoff and toggle Handoff on).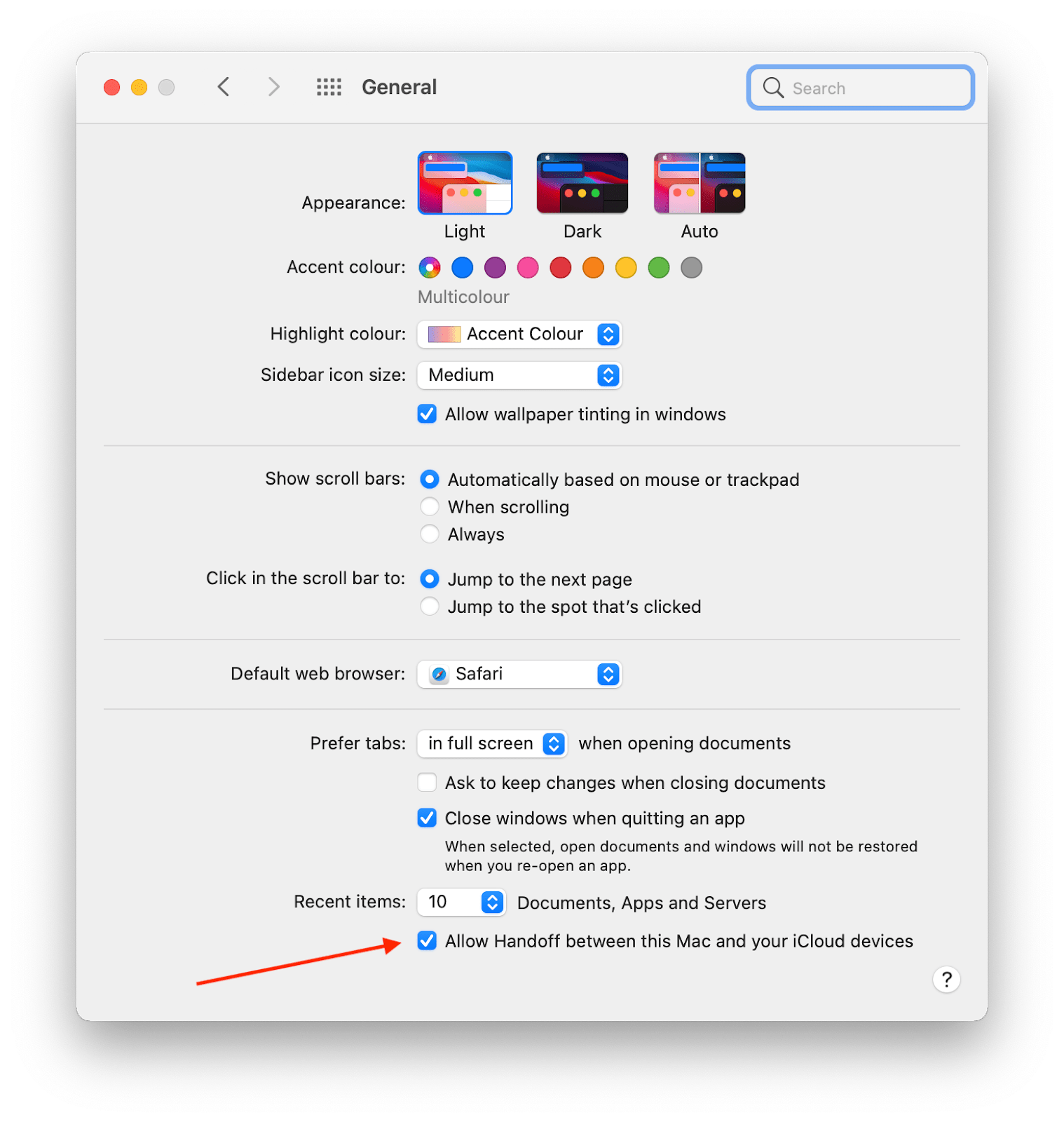 Copy-paste not working on Mac? Fix the issues
If you very well know how to copy and paste on a Mac, but for some reason it just isn't working, there's a simple solution.
Follow these steps to troubleshoot a copy-pasting issue on your Mac:
Open Finder > Applications > Utilities.
Find Activity Monitor and open it.
Search for "pboard" in the search bar at the top right on the Activity Monitor window: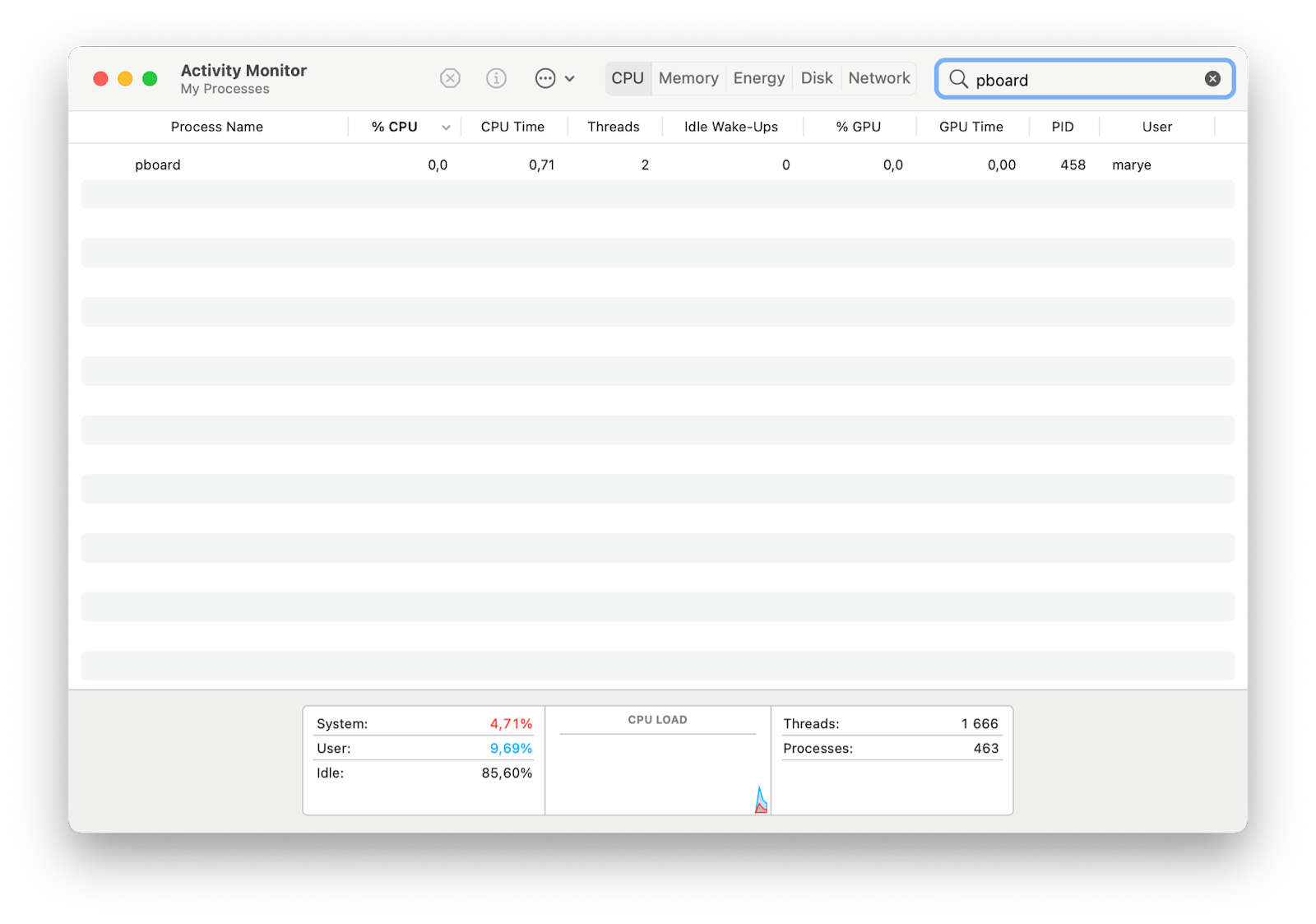 Double-click on the process and press Quit. In the popup confirmation window you'll be asked to confirm and choose to Quit, Force Quit, or Cancel. Click Force Quit.
Exit Activity Monitor and try copy-pasting again.
Alternatively, you can perform the same action in Terminal. Open Finder > Applications > Utilities > Terminal, open it and type in:
killall pboard
Hit Return.
If copy-paste is still not working, try also quitting and restarting the app you are in, in case there's been a software bug or conflict.
You can also restart your Mac to try and clear up the issue.
Additionally, keep in mind that your Mac can have hotkey combinations changed by an app or a user. Restore your hotkey settings to try and fix this:
Open Apple menu > System Preferences > Keyboard.
Click on Modifier Keys…
Click Restore Defaults: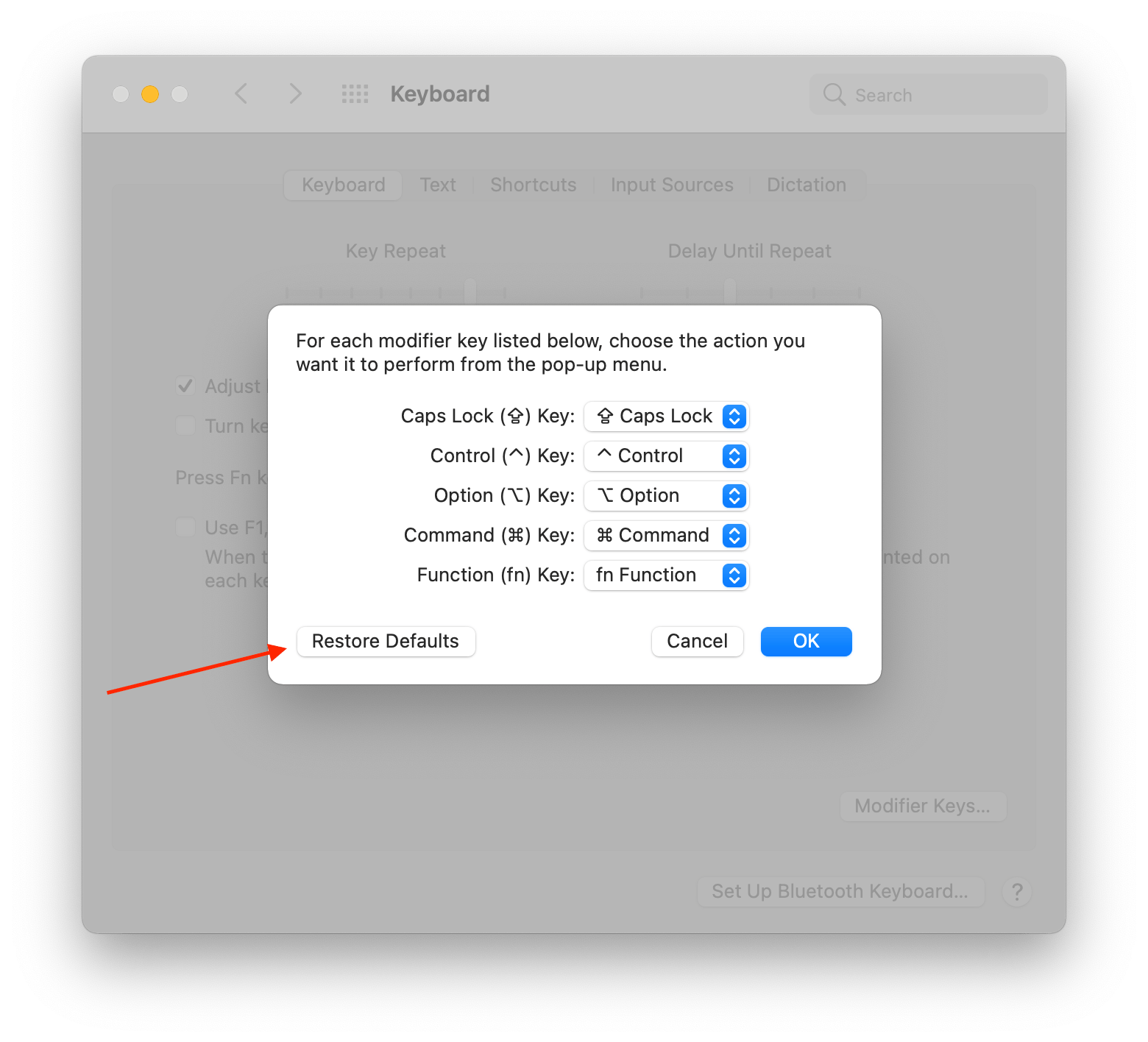 Conclusion
Be honest, you probably never thought the simple action combo of copy and pasting could have so many nuances and tricks to it, did you? Alright, maybe you did and half of what we wrote was redundant but be it the trick with text-kill and yanking it back to help copy two pieces of text at the same time, or the easy way to quit the clipboard process in Activity Monitor, or all the apps that can help your manage clipboard efficiently, something must come in handy to your flow. We hope:)
If you are feeling experimental and use clipboard a bunch, try the apps we've mentioned above — Paste, Unclutter, and Rocket Typist, — to instantly improve your productivity. All of the three are available with a Setapp subscription, our suite of numerous apps that help you make day-to-day tasks easier, faster, and more fun!
If you are not a subscriber, no worry, you can try Setapp for free with our 7-day trial. And by the way, Setapp's handy app recommendations will assist you in finding even more apps to better your workflow and optimize the tasks you hadn't not even known you could do more efficiently.