How to fix copy and paste not working
Copying (⌘ + C) and pasting (⌘ + V) have been the most basic features of any Mac for decades. Most of us use them hundreds of times every day and, by now, they are such a routine part of our work that we don't even notice them. It feels natural.
That's why when you find that Mac won't copy and paste anymore, it tends to break all your workflows into pieces and everything you've been doing comes grinding to a halt.
Don't worry. The issue of copy-paste not working is actually fairly easy to fix if you understand why it happens in the first place. So let's explore both the cause and a few potential solutions.
Why is Mac clipboard not working?
Everything you copy on your Mac gets stored in a special buffer space called clipboard, which can contain nearly any kind of information, from text snippets to files to images, etc.
Technically, clipboard is a piece of software, like any other, and is part of the wider macOS package. That's why it's susceptible to bugs and glitches. Unlike other software, however, clipboard has no user interface, so it's not possible to interact with it, quit it, or restart it in the regular way.
At the same time, there are a few ways you can manipulate the clipboard from within the system. Below, we'll break down three different approaches to the copy and paste not working problem.
How to fix copy and paste within Mac
The way to fix a stuck clipboard in macOS is to essentially find that specific process and restart it. You can do so in two ways: either by using Terminal or Activity Monitor.
Terminal is perhaps the fastest and the most precise way to deal with copy paste not working:
Launch Terminal from your Application ➙ Utilities folder
Type: killall pboard
Press Enter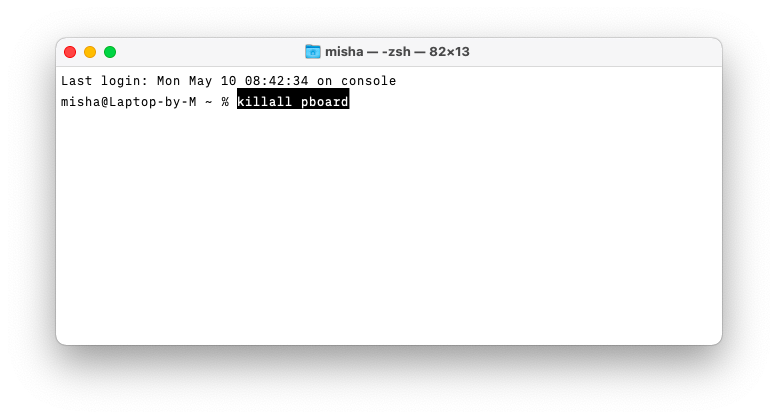 The pboard process is what's running the clipboard on Mac, and this command will force it to shut down. But as you can't run a Mac without clipboard, pboard will automatically restart and hopefully be functional.
If you don't feel comfortable using Terminal, there's another, more user friendly way to restart pboard with Activity Monitor:
Launch Activity Monitor from the same Utilities folder
Find the pboard process (you can use search in the top bar)
Select pboard and click the Stop icon in the top bar
Choose Force Quit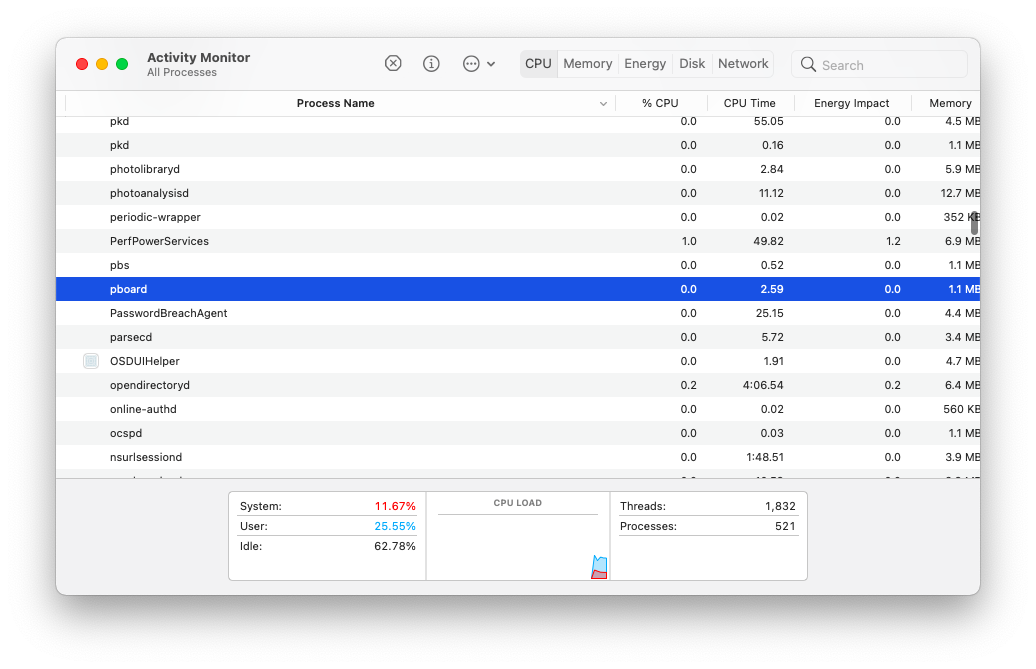 It's quite unlikely that neither of these options are going to work, but if that's the case for you, you can always try to restart your Mac completely to reset all the system processes.
How to fix macOS system clipboard errors
In rare cases, stopping the pboard process either with Terminal, or Activity Monitor, or Mac restart won't help fix the Mac clipboard not working. That's because the issue can be hidden within a corrupted file somewhere in macOS itself.
Since we don't know exactly what kind of internal macOS processes could be affected, the best way to proceed is to use a top-notch Mac optimization software that would fix all the glitches at once.
CleanMyMac X is the top contender when it comes to keeping your Mac in shape. This app offers a quick and comprehensive way to clean, optimize, and protect your Mac. You can delete tons of junk, free up RAM space, speed up various processes, remove malware, delete unused apps, update any software, and more.
To fix the Mac won't copy and paste problem with CleanMyMac X, you need to use two features:
Launch CleanMyMac X
Navigate to Smart Scan
Click Scan
Review Details to deselect anything you want to keep
Click Run
Navigate to the Maintenance tab
Select Free Up RAM, Run Maintenance Scripts, and Repair Disk Permissions
Click Run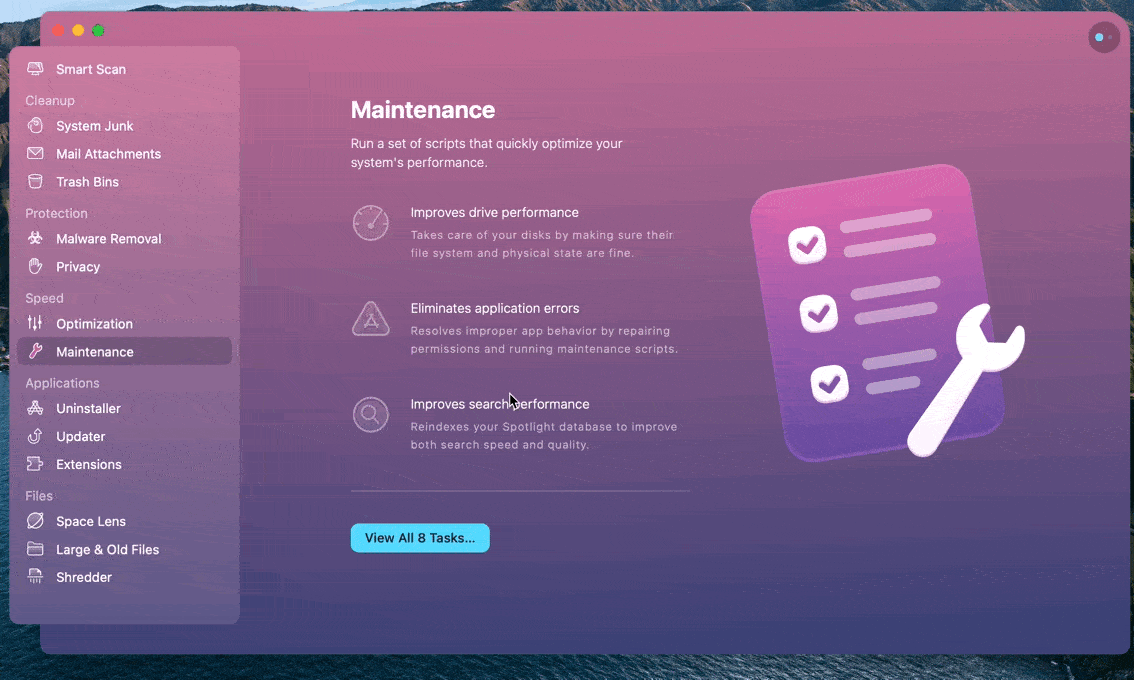 Unfortunately, when even CleanMyMac X can't help you, the only other effective solution to fix the copy paste not working issue is to reinstall your macOS. To start up the macOS Recovery menu, shut down your Mac and then turn it on and (for Apple silicon) keep pressing the power button or (for Intel Macs) press the ⌘ + R.
How to upgrade your Mac clipboard
While learning how to fix copy and paste issues with the tips above, you might wonder whether the default clipboard is the best way to go about copying and pasting features on Mac.
Mac's clipboard has always been a very temporary storage place, intended to store a single instance of anything you've just copied. Once you copy something else, it would override the previously stored snippet and so on. Restarting your Mac also kills whatever was saved in your clipboard before.
The solution to all these problems is enhancing the default clipboard functionality with a great third-party clipboard manager for Mac. Luckily, there are quite a few interesting options to choose from.
Paste is one of the most capable Mac clipboard managers out there. The app lives in your menu bar, can integrate with ⌘ + C and ⌘ + V shortcuts, and has an intuitive visual interface where you can access everything you've saved so far as well as other useful links you might need for later.
You can select the exact amount of time for which Paste will save everything you've copied (the default is 30 days). The app also supports all kinds of files, text snippets, and images, and syncs everything through iCloud so you get the same clipboard continuity across all your devices.

Unclutter is another interesting temporary storage solution. The app handles your clipboard ideas similar to Paste, but also defines a separate area for all kinds of files you might need to use later and a place to jot down quick notes without launching a note-taking app.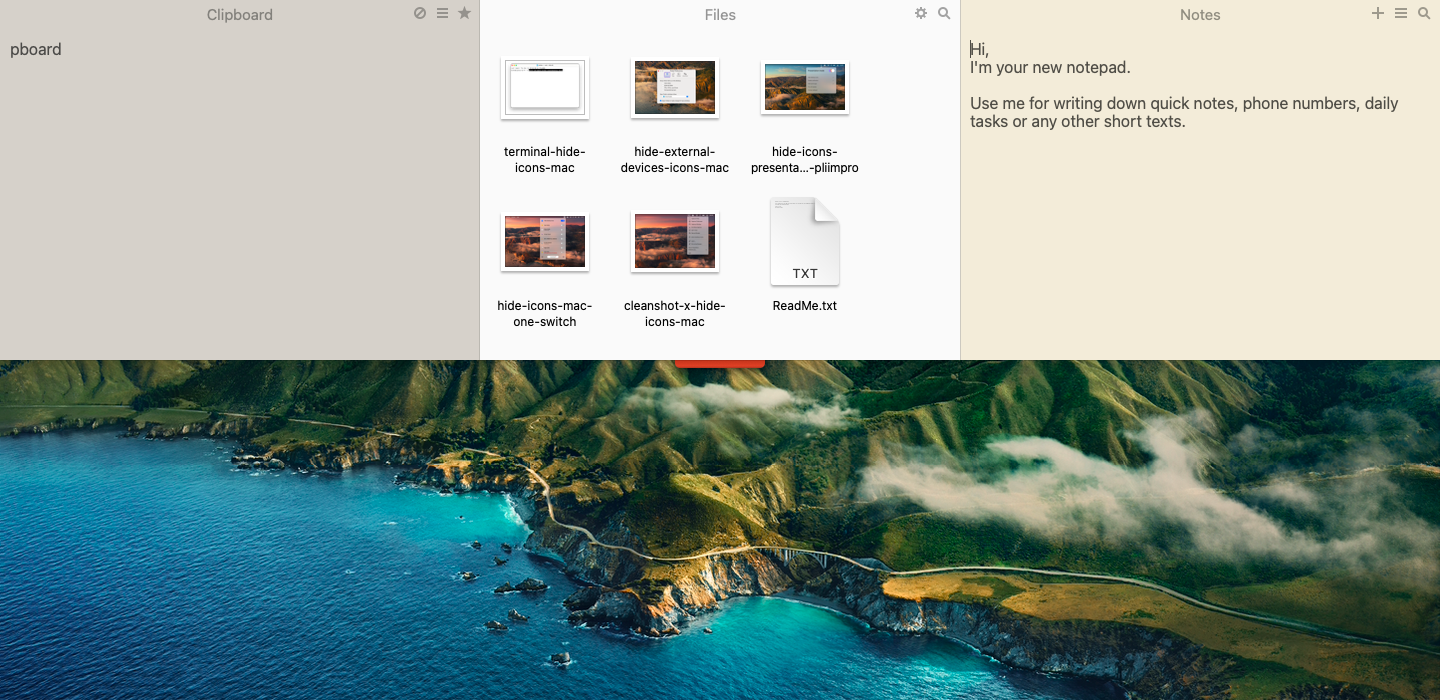 TextSniper is not exactly a clipboard manager, but it does provide a very useful feature to augment other clipboard managers you could use.
Have you ever found yourself retyping anything you see in a YouTube video or a presentation, or a PDF document? With TextSniper, you can simply take a screenshot of any text image and it will automatically be translated into actual text and saved to your clipboard. Then just ⌘ + V it in any clipboard manager or note-taking app for later use.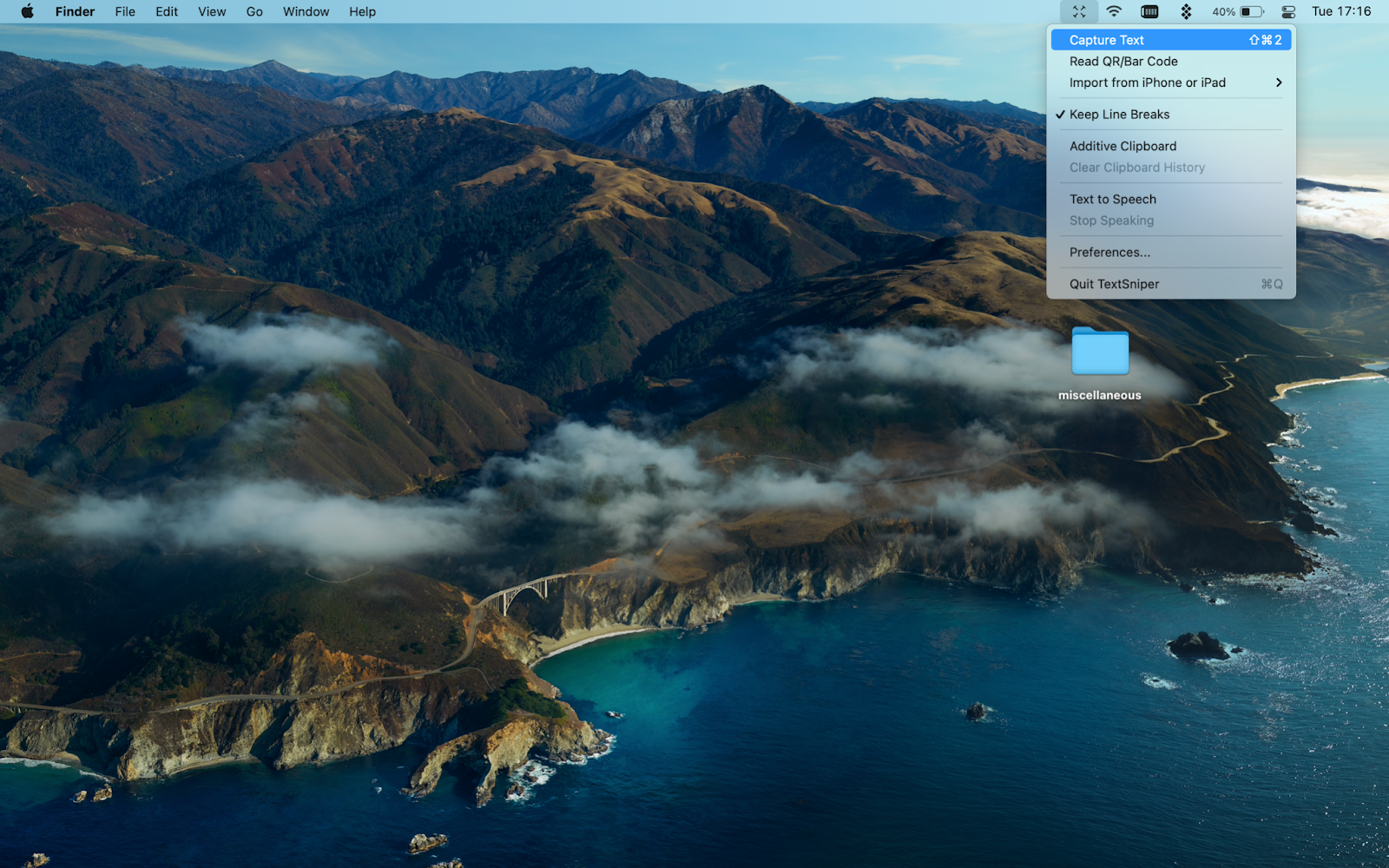 As you can see, it takes just a few quick steps to fix the copy and paste not working. You can use Terminal or Activity Monitor. You can restart your Mac. You can also optimize your whole Mac at once with CleanMyMac X.
Additionally, consider switching up your default clipboard with a proper clipboard manager like Paste or Unclutter. And add some extra text-recognition functionality with TextSniper.
Best of all, CleanMyMac X, Paste, Unclutter, and TextSniper are available to you absolutely free with a seven-day trial of Setapp, a platform packed with more than 210 top-of-the-line Mac apps in a wide variety of categories, from finance (MoneyWiz) to sound design (n-Track Studio). Try every Setapp app today at no cost and significantly expand your collection of favorites.