How to undo or redo on a Mac
Sometimes you accidentally delete or type something you did not intend to, and this is where macOS built-in undo and redo tools shine. Scroll down to learn the Mac version of Ctrl + Z and let us guide you through easy ways to undo and redo recent actions with your files, notes, and images.
Whether you choose to remember the key combination for the action or prefer to do it through the menu bar, we will go over all your options along with popular use cases below. So let's get started.
How to undo on a Mac
Whether you moved something to bin and changed your mind, unintentionally deleted something you were typing, or, on the contrary, typed the wrong thing, undo command on Mac is your quickest shortcut to instantly remedy the situation.
To undo your action on Mac, you can use a keyboard shortcut for undo or use the menu bar. Let's take a look at both options.
Undo shortcut for Mac
Here's how to undo the keyboard. To undo your most recent action, just press Command + Z. Repeat several times if you need to undo several actions.
How to undo on Mac using the menu bar
Besides the keyboard undo shortcut, you can find an Undo button in the menu bar for the app that you are using.
So how to undo from an app's menu bar? Just find the Edit button and one of the first options will be the Undo action. Click it to undo your most recent action.
The menu will often tell you exactly what action is getting undone — Undo Close Tab, Undo Crop, etc. You can undo a number of recent actions from this menu, just like with the keyboard undo shortcut.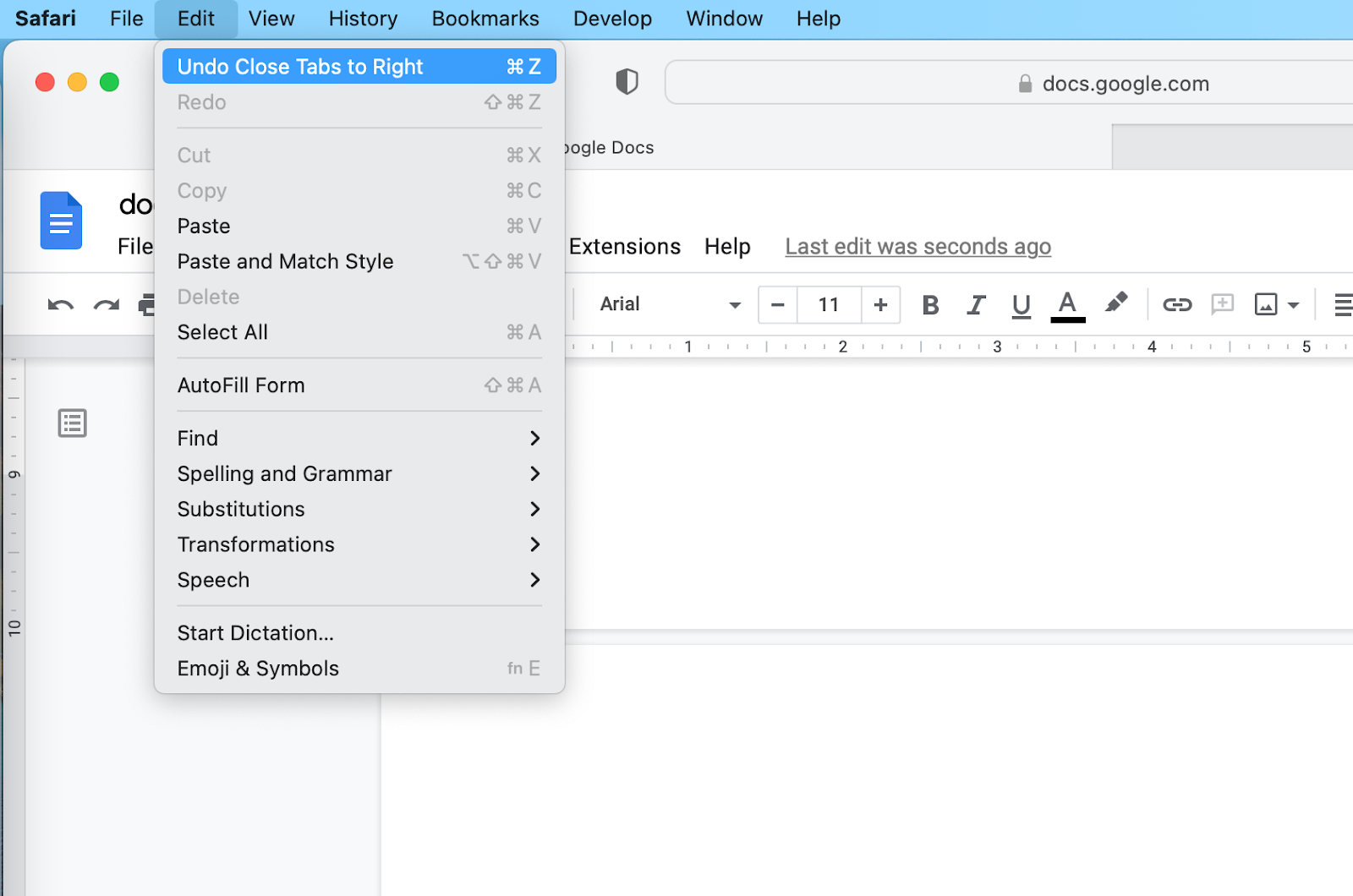 How to redo on a Mac
Once you undo an action, you might change your mind and want to know how to redo the action.
Redo shortcut on Mac is a helpful tool you will use more often than you think.
Imagine you've typed something in a browser search, then used undo to remove the text, but then changed your mind and want it back. Use redo to get the text back. Or here's another one. You've deleted a file by dragging it to the trash, changed your mind and used the undo shortcut, but then realized that you do want the file in the trash — just redo the action.
Scroll down for the ways to redo from your menu bar and with a keyboard shortcut.
And if you find yourself using undo or redo functions to retrieve something you saved in clipboard, a better option might be to use a clipboard manager to track everything you've copied and help you structure it.
Paste automatically stores everything you've copied and lets you easily manage it:

How to redo with keyboard shortcut
The redo keyboard shortcut is similar to undo, with just an extra button.
If you want to redo your last action on Mac, press a combination of Command + Shift + Z.
How to redo on Mac using the menu bar
You can also use the menu bar shortcut for redo — go to the Edit menu in the menu bar of your Mac and select the Redo option. It's usually right under the Undo option.
Find yourself going through the same sequence of actions on your device? Automate the process with a dedicated app.
BetterTouchTool is an app to set up quick shortcuts, mouse gestures, Touch Bar widgets, remote triggers to automatically complete your most repeated actions. Customize your sequences and instantly streamline your workflow with this handy helper.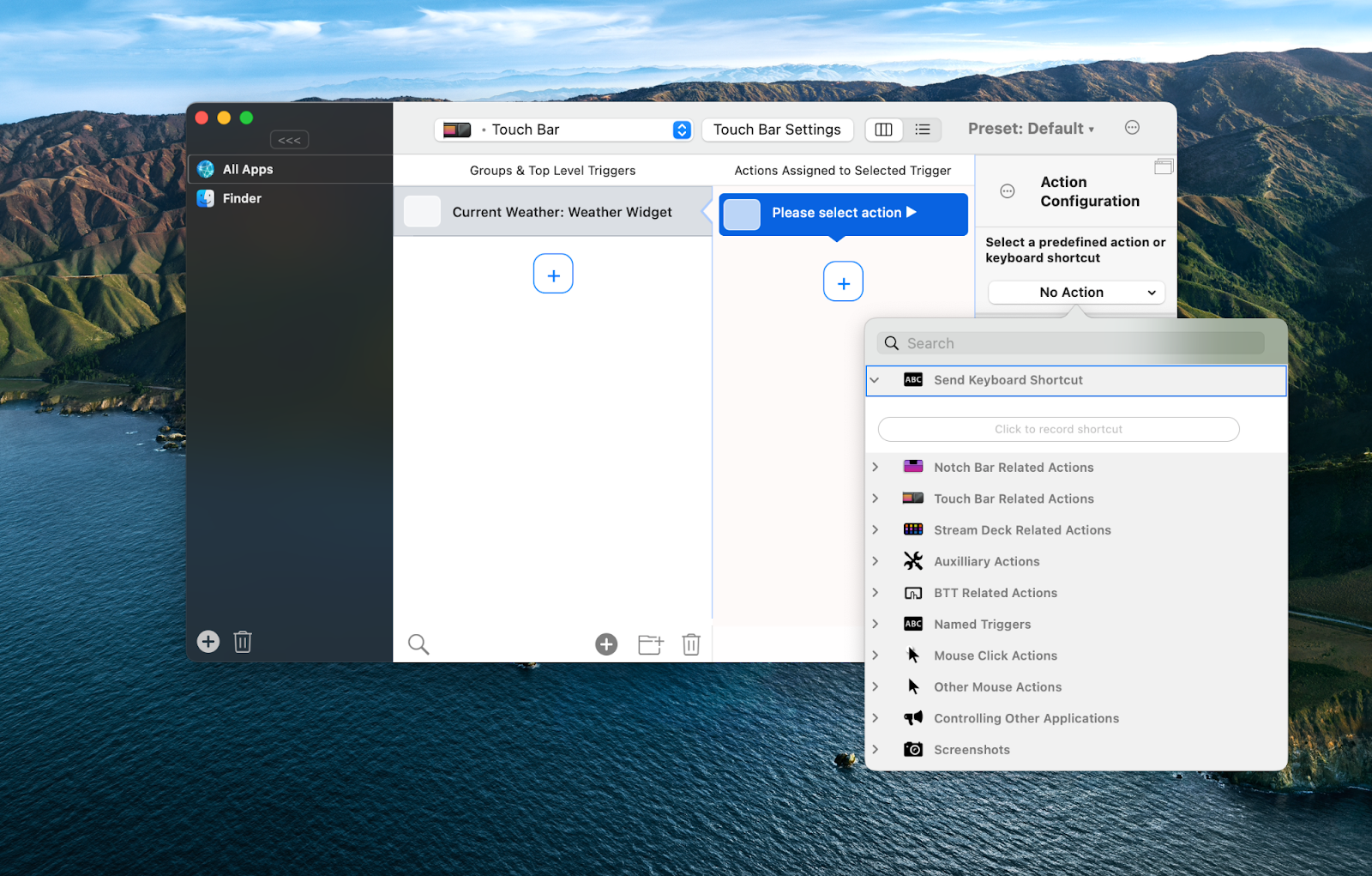 Undo the Caps Lock without retyping on Mac
Ever forgot your Caps Lock was on and only catch yourself when you've typed up a whole sentence or two? Luckily, you can undo the Caps Lock in quite a few cases. Here's how.
If you typed something in all caps in one of your Mac's default editing apps, select the text you want to convert to lowercase and right-click on it.
Next, go to the Transformations menu option and select how you want to proceed — turn your text to uppercase, lowercase, or capitalize.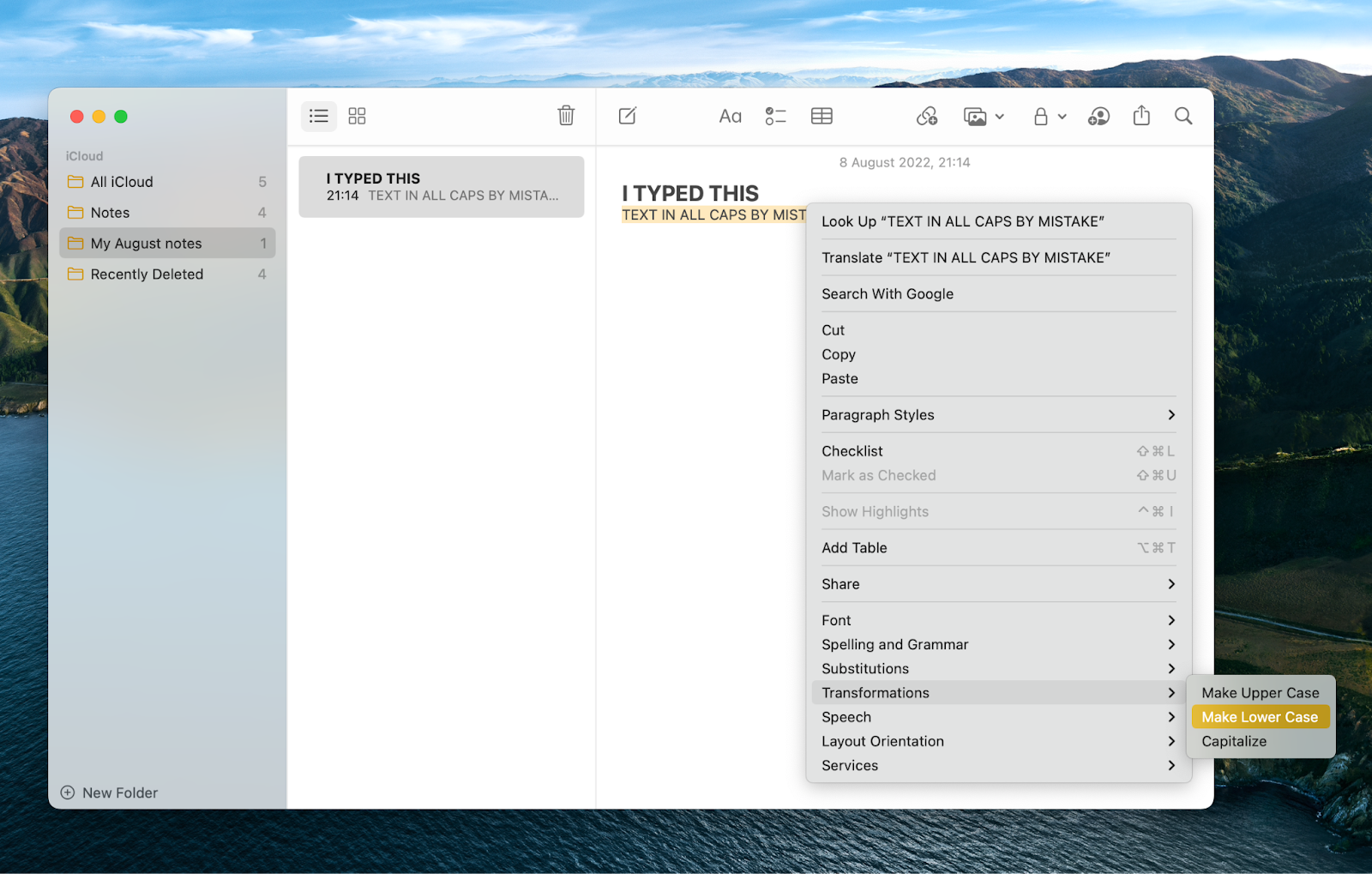 Undo a cropped photo on a Mac
Sometimes you've edited your image, were happy with your result, closed the file, and forgot all about it. And then realized you want the original image back? In this part of the post, we will show you how to undo a photo crop on Mac, as well as other changes in your image.
Undo on Mac Preview
You can easily revert your image that you've edited on your Mac to one of its previous versions with the help of the Revert To functionality.
To undo a crop on your pic, or undo other changes, just open the file in Preview app, click File in the menu bar, and hover your cursor over Revert To. In the menu, you'll be able to see Previous Save and Browse All Versions.
Click Previous Save to automatically revert to the previously saved version or click Browse All Versions to view all versions of your image available for reverting to.
You'll see your current picture on the left of your screen and previous versions on the right. Select the version you want and click Restore.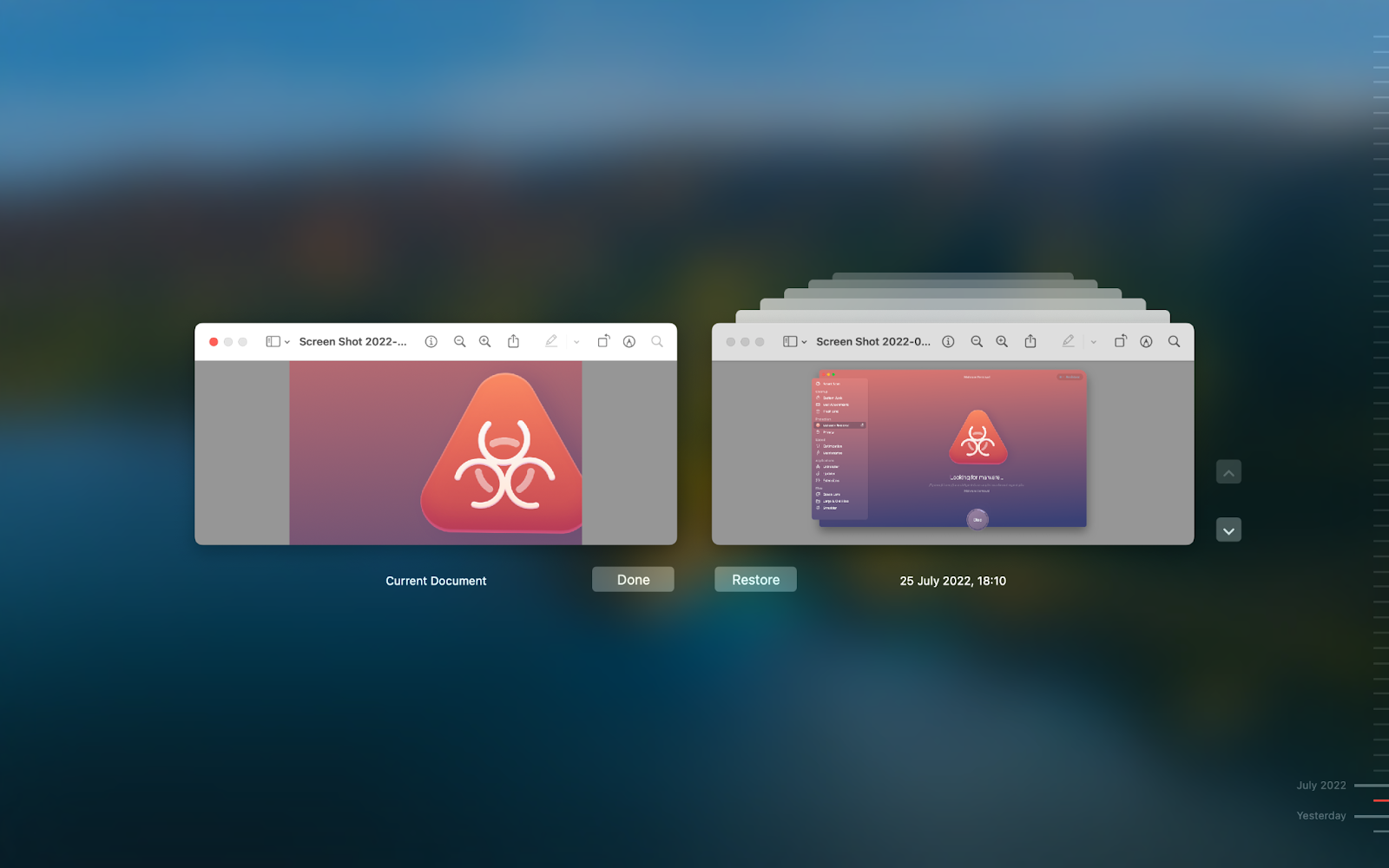 Undo in the Photos app on Mac
Undo feature also works really well in most photo and video editing apps. In Mac's built-in Photos app, you can easily undo changes you've made in a file you are editing.
Just click the Edit menu option in the menu bar while you are working on the photo file and select Undo.
If you are still in the editing tool, you will be able to see specific actions you are about to undo, e.g. Undo Change Black & White, Undo Change Light, Undo Add Retouch, etc. You can undo them one by one in reverse order to how they've been made.
You can also undo all the changes you performed in your whole session — just click Done when editing the file and then Edit > Undo Edit. This way, you can undo all of your recent edits in one go.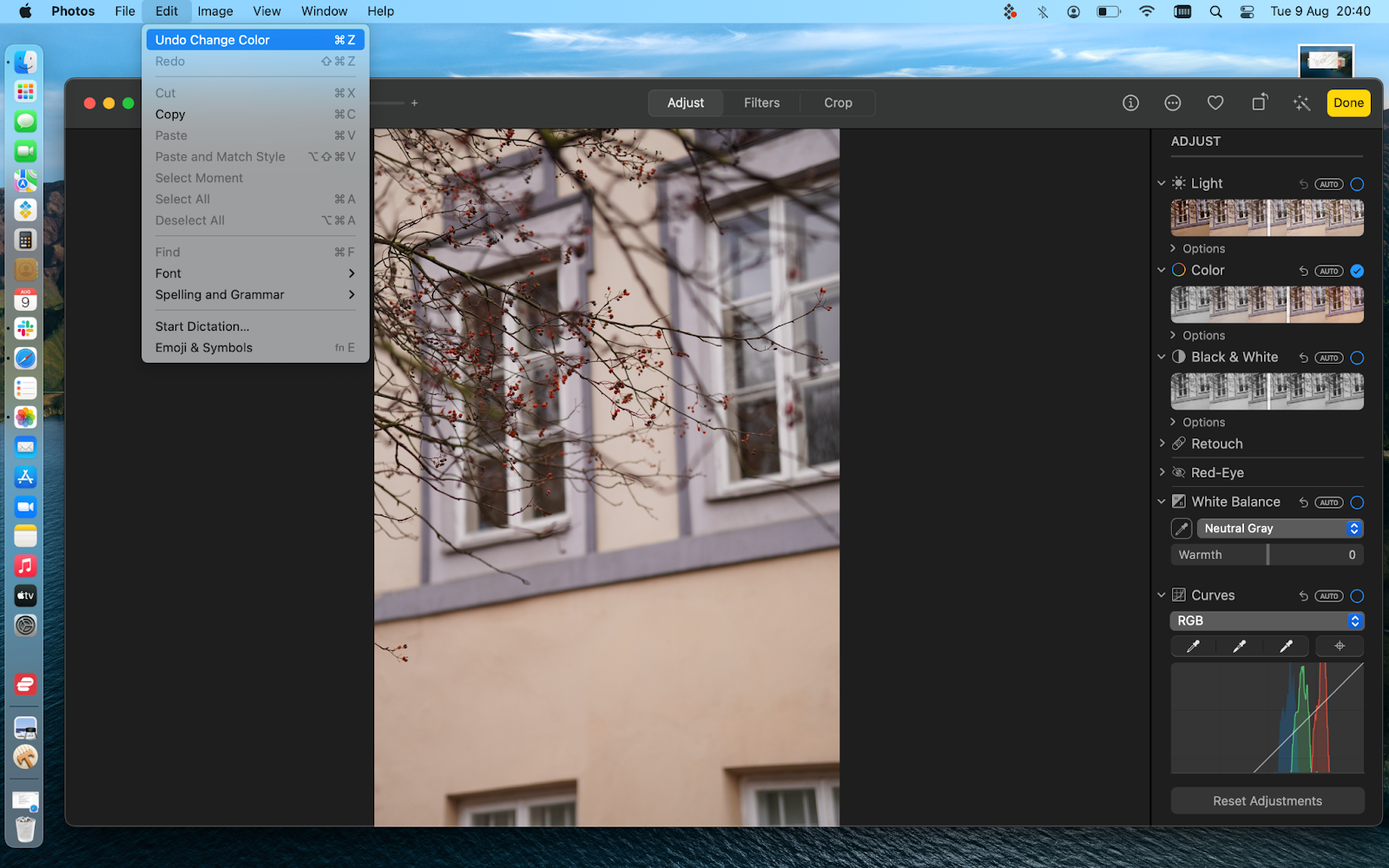 Used undo by mistake? No worry, here's how to redo edits in Photos on Mac — go to Edit > Redo in the menu bar.
You can also use the system default keyboard combinations for these actions in Photos app: Command + Z for undo, Command + Shift + Z for redo.
Undo in Notes on Mac
If you are wondering how to undo something in Notes, here's a quick guide.
It is actually just as easy to undo your actions in Notes on your Mac as any other undo — just use the keyboard shortcut for undo Command + Z or click the Edit button in the menu bar and select Undo Typing.
To redo, use the universal Mac redo shortcut Command + Shift + Z or go through the menu bar again and select Redo Typing.
And if you want to use a more advanced text editor, Craft offers robust text editing functionality with built-in markdown tools, backlinks, code snippets, images, videos, attaching PDF files, and more.
What's more, in Craft, you can use the Backup tool to return to an earlier version of your file:
Just open the file you want to revert changes in, click the "i" icon in the top right corner, then click View Backups. Choose the version of the document you need and click Restore Version.
How to undo file deletion
If you just dropped a file to Trash, you can easily retrieve it with a simple undo keyboard shortcut: Command + Z.
If you made unwanted changes to your file or emptied your Trash already, you can rely on Time Machine to help get your lost info back.
Add a backup disk and check Back Up Automatically to make sure you have a backup of historical versions of your files saved: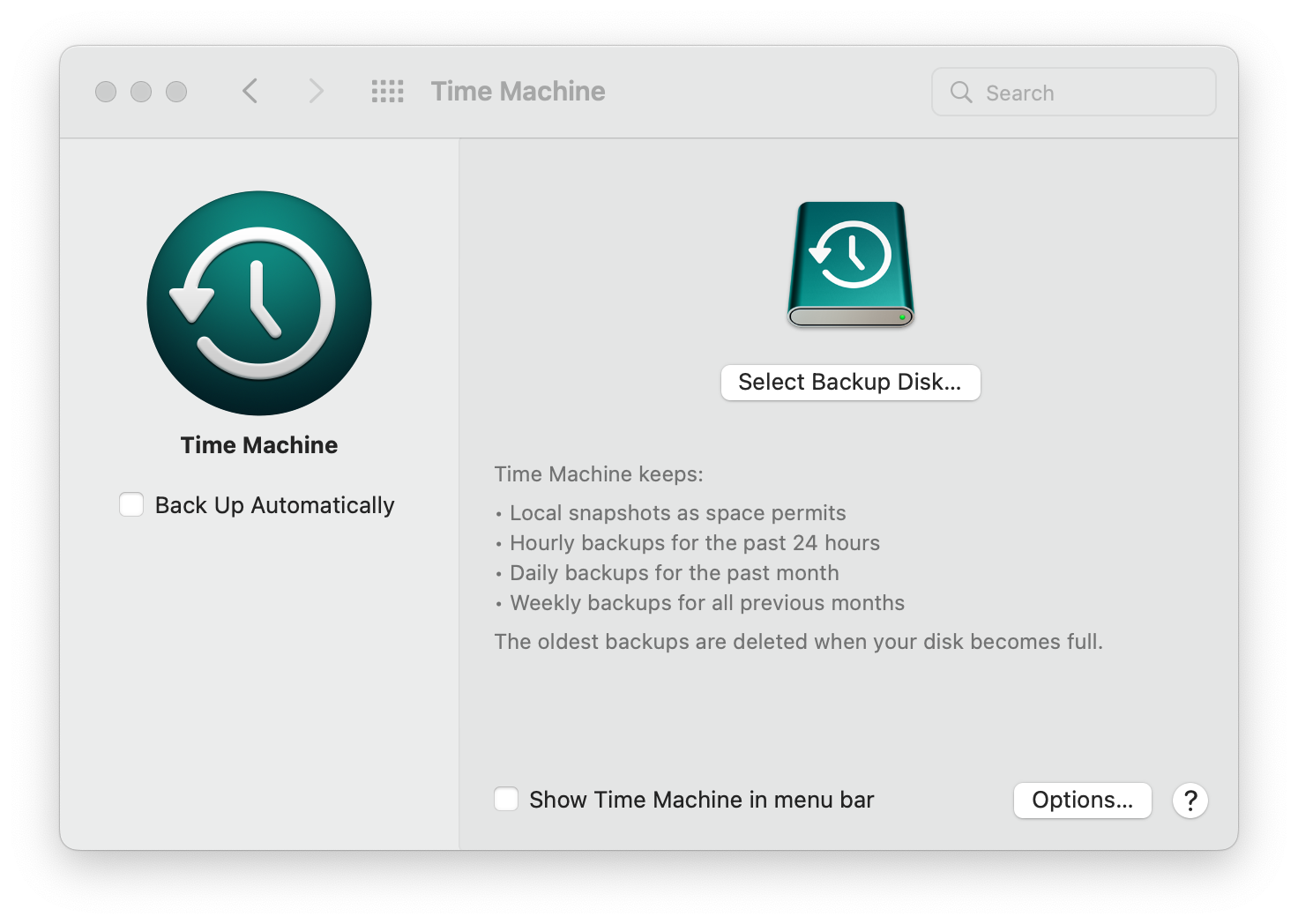 Alternatively, you can use data syncing apps like Chronosync Express.
It allows you to backup individual files or folders, sync data between devices, schedule backups and syncs, as well as sync with a remote server.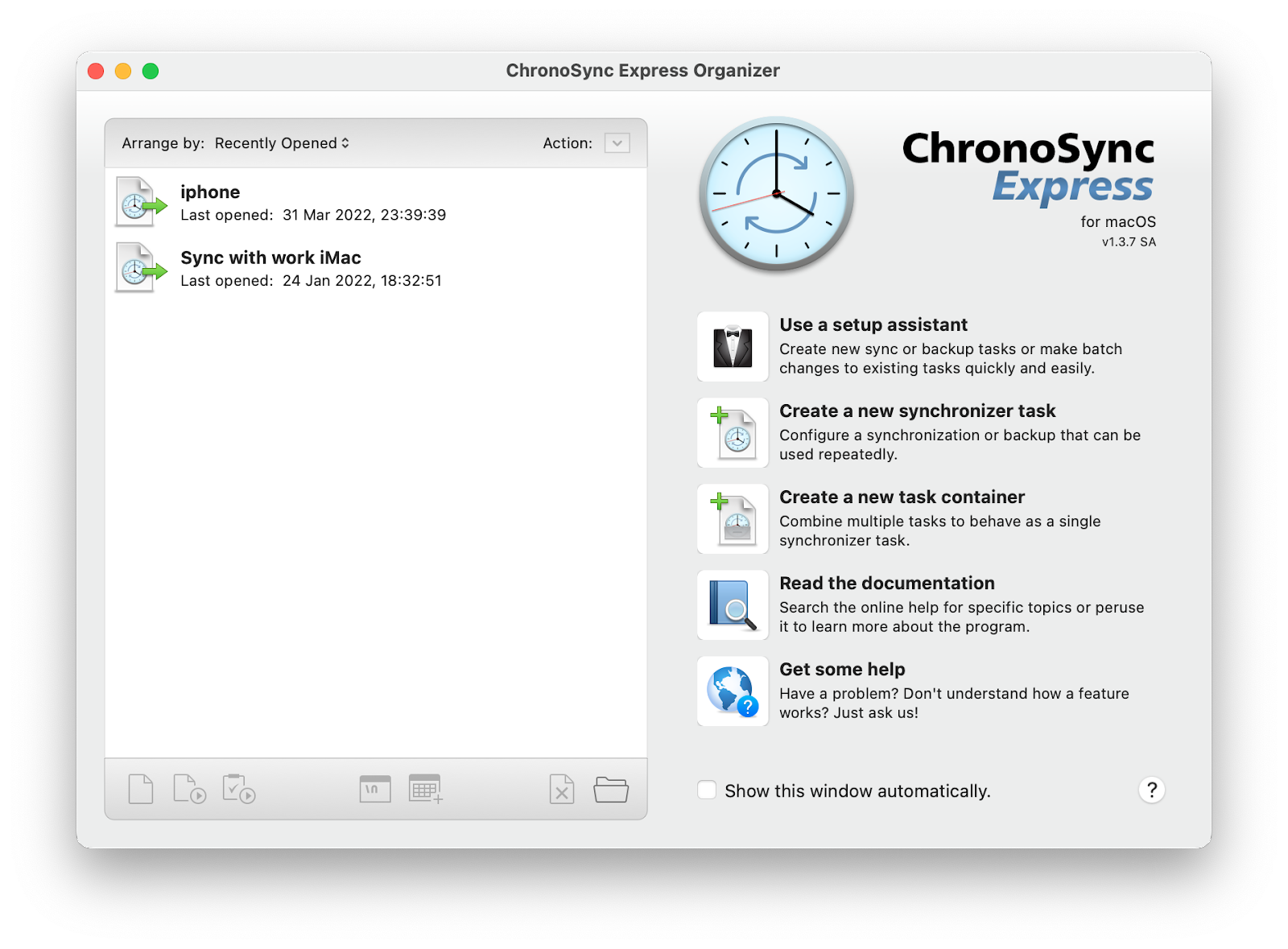 If you didn't set up the Time Machine or a syncing app ahead of time and are looking for lost, damaged, or corrupted file information on your hard drive, use Disk Drill.
Since deleting a file does not physically overwrite information in the file on your hard drive, often the file can still be found on your computer.
Disk Drill helps you recover lost data by scanning your hard drive: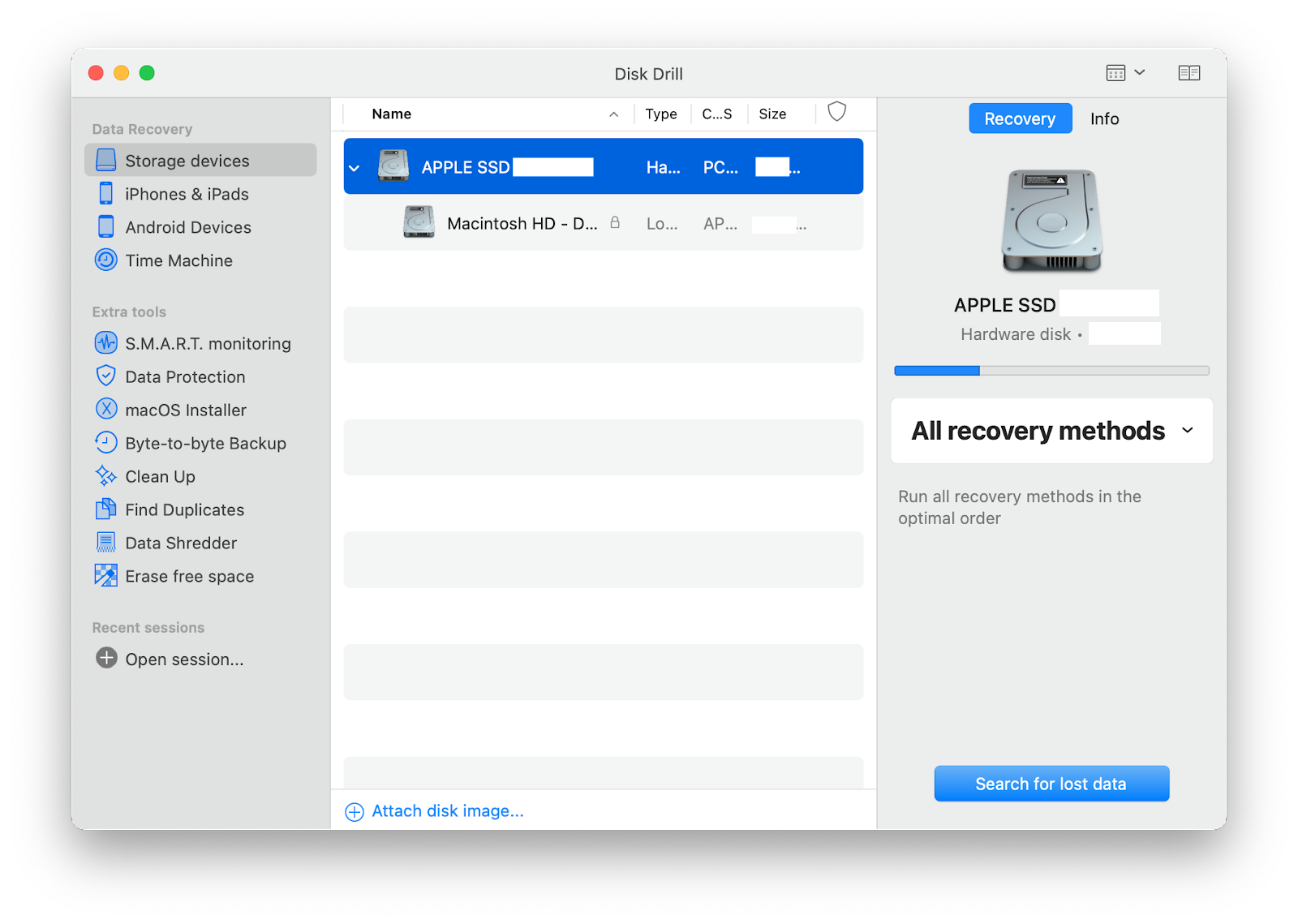 By the way, if you need a reverse of this — to wipe a file from your hard drive in a way that makes it harder to retrieve (e.g. your bank or ID information), you might want to use a shredder. This tool rewrites your existing file for a more secure deletion.
An uber popular Mac cleaner CleanMyMac X has this feature built-in*, so you can simply open the app, drag and drop the file you want shredded, then select Remove Securely option: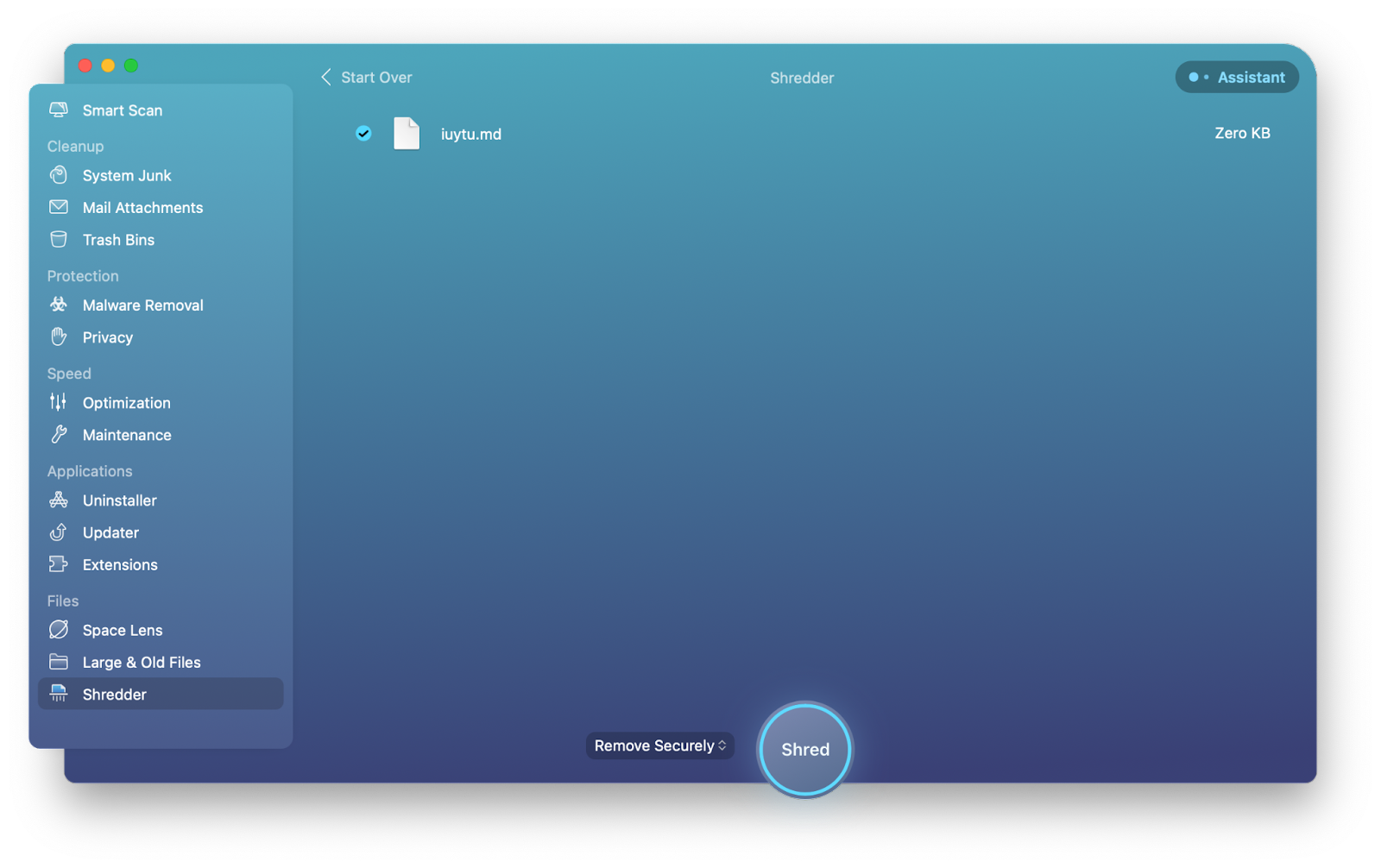 *The feature is available in the MacPaw Store and Setapp versions of CleanMyMac X. Read more here.
Final thoughts on undo on Mac
Undo and redo are simple basic macOS keyboard shortcuts that can help you navigate your work and tasks on Mac that much faster. Save time and be more efficient by using the shortcuts we've talked about in this post and be able to easily walk back on recent actions.
And if you are interested in further optimizing your Mac experience, try some of the apps we've mentioned in the article — Paste, CleanMyMac X, Disk Drill, Chronosync Express, BetterTouchTool, and Craft. They are all yours under a Setapp subscription.
Setapp is a subscription service that offers 230+ apps for Mac and iPhone for a single monthly (or yearly) fee. Pay once, use hundreds of times! Try Setapp now with our 7-day free trial. Use the apps you want and see if Setapp is for you.