How to convert AVI to MP4 on Mac
If you are looking to convert AVI to MP4, you've come to the right place. Since AVI was not developed for Macs, it often won't play with the built-in QuickTime player, so you might need to convert your video files. Plus, MP4 is a more widely used format, more suitable for streaming and smaller in size, so converting AVI to MP4 may just be a good solution to many hurdles when it comes to video storing or sharing.
Let's start by looking at what the key differences are between these two formats, then move to converting them (this does not take a lot of time, we promise), and briefly see if there are any media players that can help you out if you just want to play back your AVI file and that's it.
What is AVI and MP4, and what's the difference?
Both AVI and MP4 are video container formats that can hold audio and video information. AVI is an older format, introduced back in 1992. MP4 first emerged almost a decade later – in 2001, with an updated version coming out in 2003.
While AVI can be used to store lossless video in very high quality, the format has a few downsides. Developed by Microsoft, it's mostly geared towards Windows devices and usually needs a plugin or a suitable player to be played on Macs or mobile devices. AVI file size tends to be quite large. Subtitles need to be added as an SRT file.
MP4 is supported by a wider range of mobile and desktop devices and, being a lossy format, allows for smaller video files while maintaining good quality. MP4 can also be used to store subtitles and stills. This file format is more commonly used for streaming, compared to AVI.
Since both file types are containers, they rely on codecs to play back the video. AVI supports DivX and Xvid codecs, while MP4 – more than ten.
Can QuickTime convert AVI to MP4?
If you are wondering how to convert AVI to MP4 with QuickTime, here's what we found out.
QuickTime can open AVI files, as well as export them as MP4, provided they are encoded with Motion JPEG video and PCM audio. Otherwise, AVI could be incompatible with QuickTime.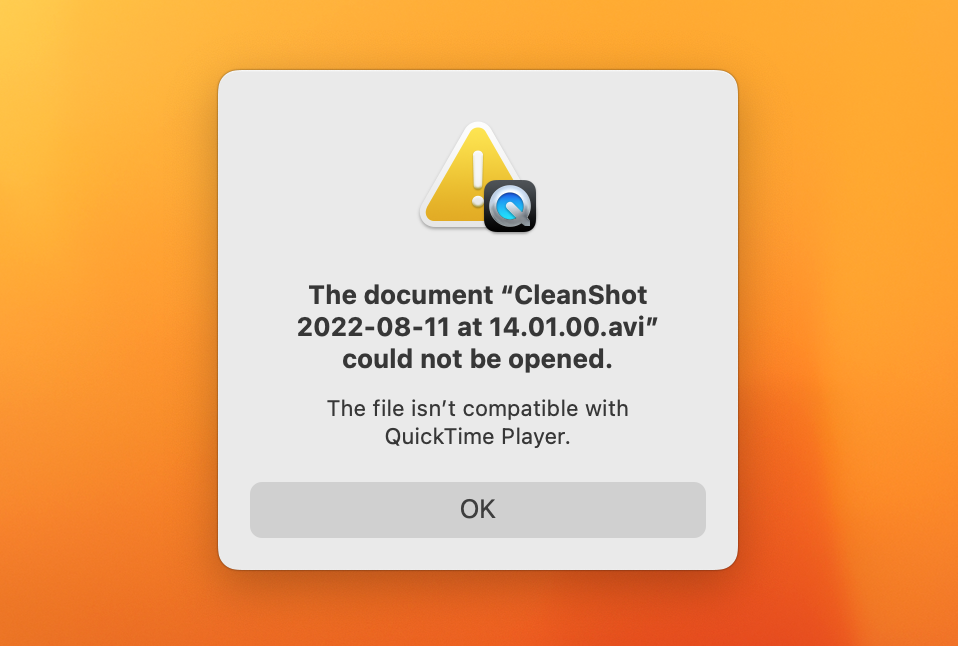 If your QuickTime app works with AVI, here's how to convert AVI to MP4:
Open your AVI video in QuickTime
Choose File > Export
From the Export list, choose "Movie to MPEG-4"
Click Save.
The best way to convert AVI to MP4 on Mac
Since AVI files can be quite large and won't always play in QuickTime, you might find yourself wanting to convert an AVI video to MP4. And if you were thinking what if I simply change .avi to .mp4 on my file, we are way ahead of you – tried that and it even "worked" as the file was displayed as an MP4 format video in the folder, but it did not help with the playback, QuickTime still did not play the file, meaning you actually need to do the work before you harvest the fruit.
But don't worry, like we said, converting the file is very easy.
While one could go for a dedicated AVI to MP4 converter for this occasion, we find a universal file converter app to be our go-to for things like this, as the best AVI to MP4 converter for us is the one we can also use for many other conversions.
Permute only needs you to drag and drop the file you want to convert onto it: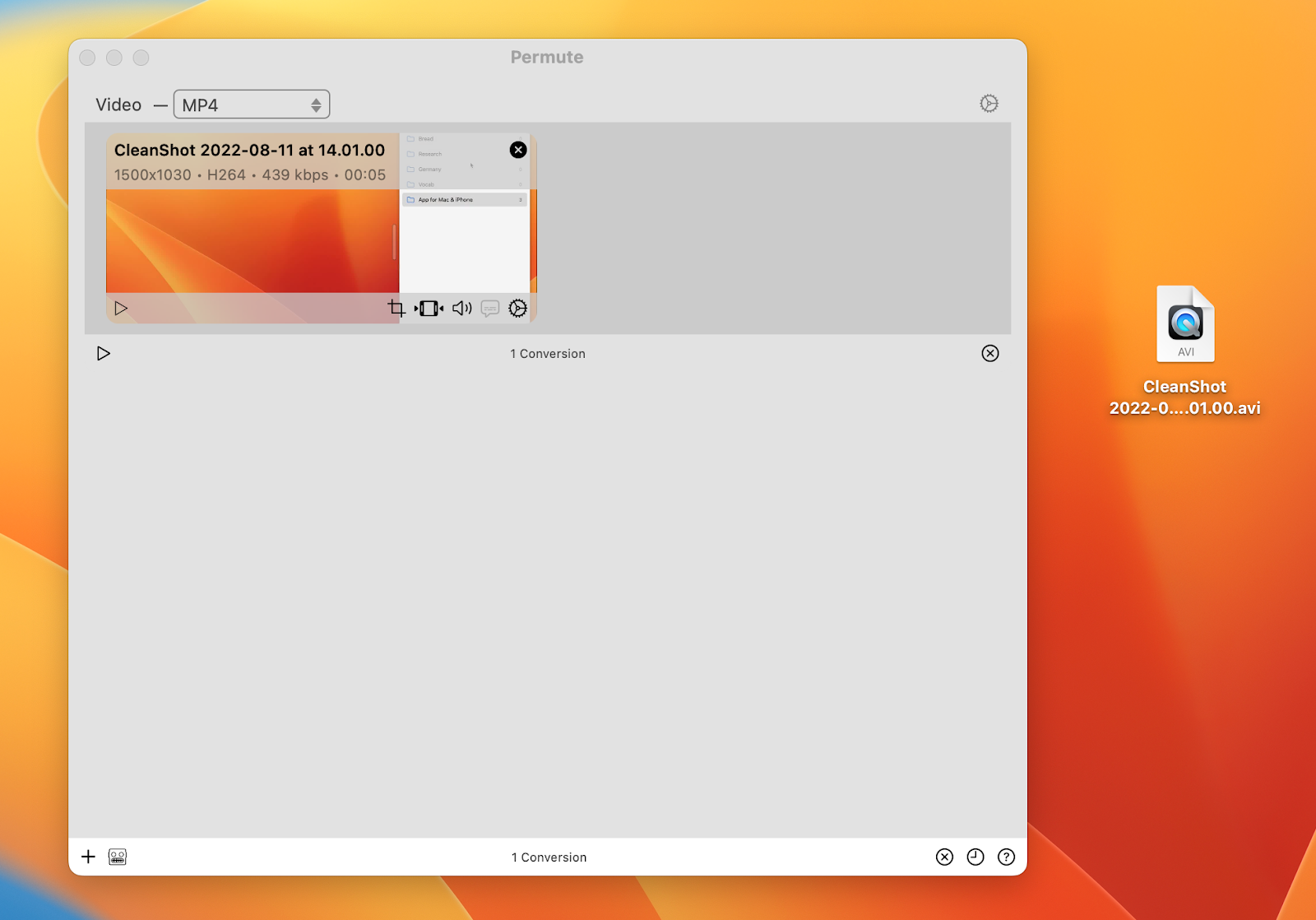 Select the file format you want to convert your file to in the top left corner of the app — in our case, it's MP4 — and click the play icon under the file to start the conversion: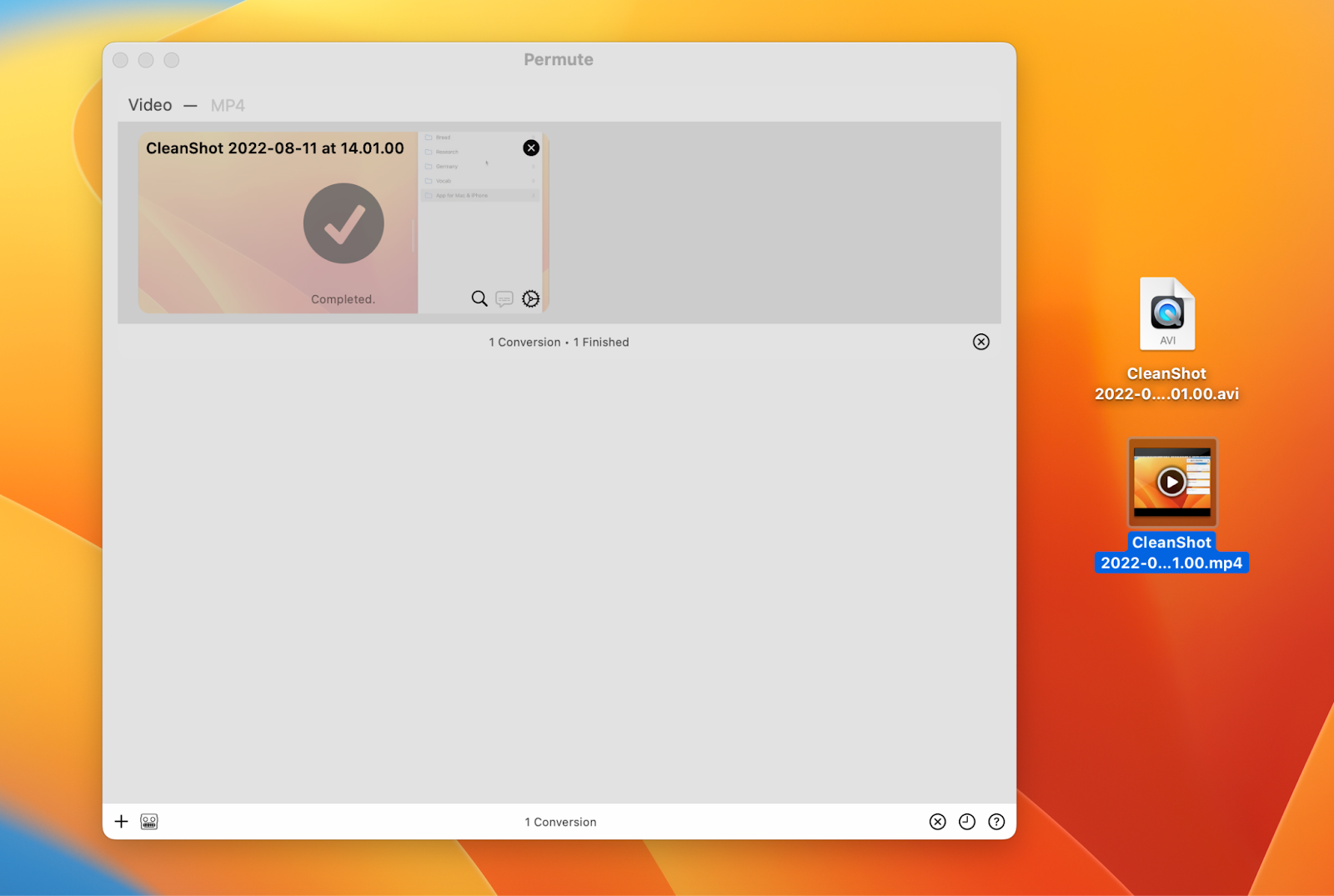 Your MP4 file will be saved to the same folder where your original was stored. This is the default setting, but you are free to change it in settings either to a folder of your liking or to ask you every time.
Tip: If you ever need to save a video from the internet, make sure you have Pulltube on your Mac. While it's available with Permute as part of a single Setapp subscription, we recommend that you install it right away. Pulltube is also useful if you need to do some post-processing, such as trimming your video or extracting sound from it.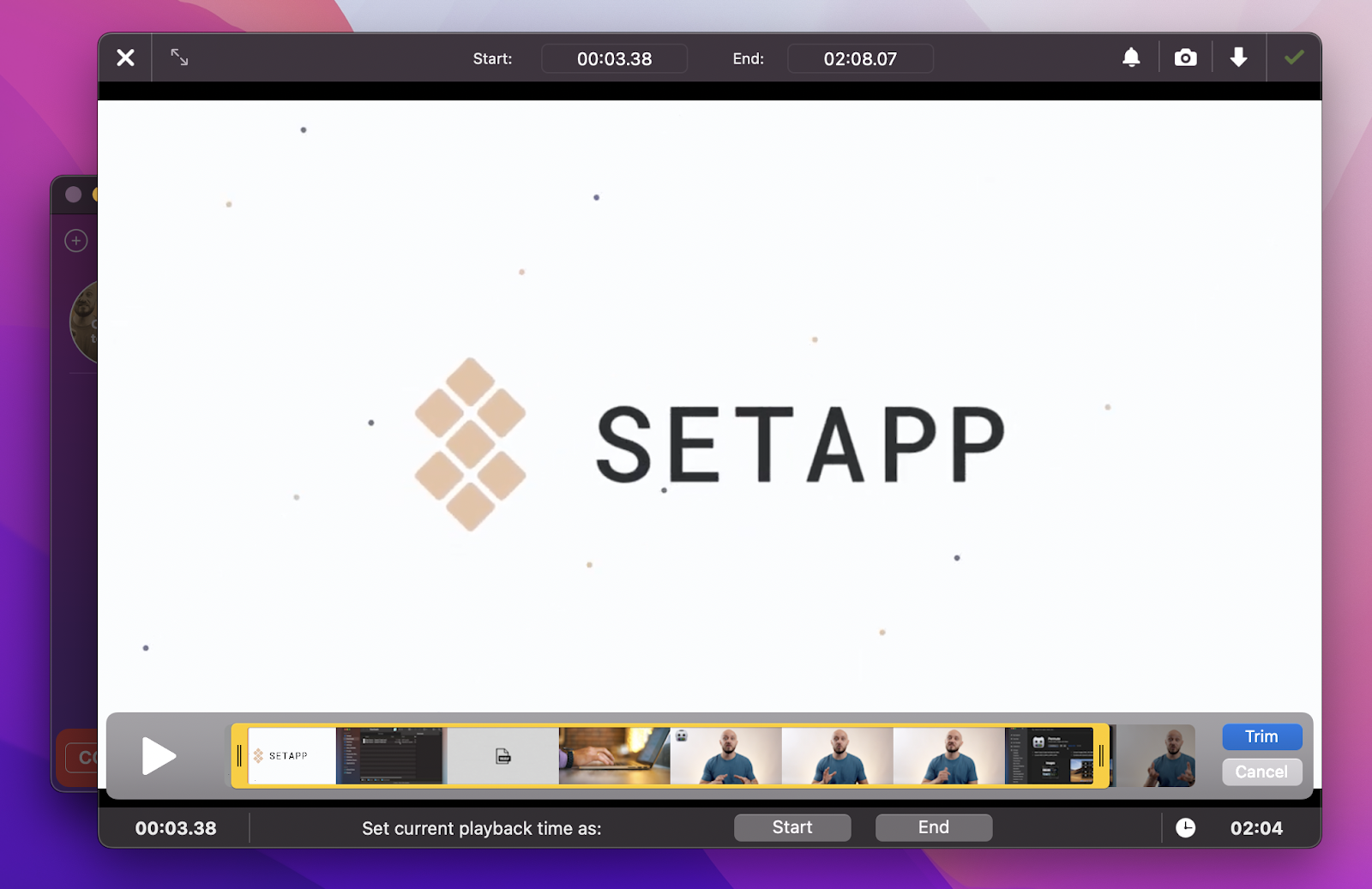 Free third-party tools to convert video
Although we recommend being very cautious with uploading your videos to free services in order to convert them, we understand that some people might need to use this option. If you decide to rely on such tools, here are a couple we suggest:
iMovie
This free video editor for Mac lets you do some basic video trimming, compression, and conversion. However, iMovie can only convert AVI to MP4 if the file is compatible with QuickTime. Here's how:
Drag your video to iMovie and make sure it's fully edited
Click Share in the upper menu
Click Export using QuickTime > Export
Change the format to "Movie to MPEG-4"
Name your file and select destination
Export.
HandBrake
HandBrake is free open-source software with a bit clunky interface but powerful file conversion capabilities. Its major superpower is the variety of file formats it can work with, which, of course, includes AVI.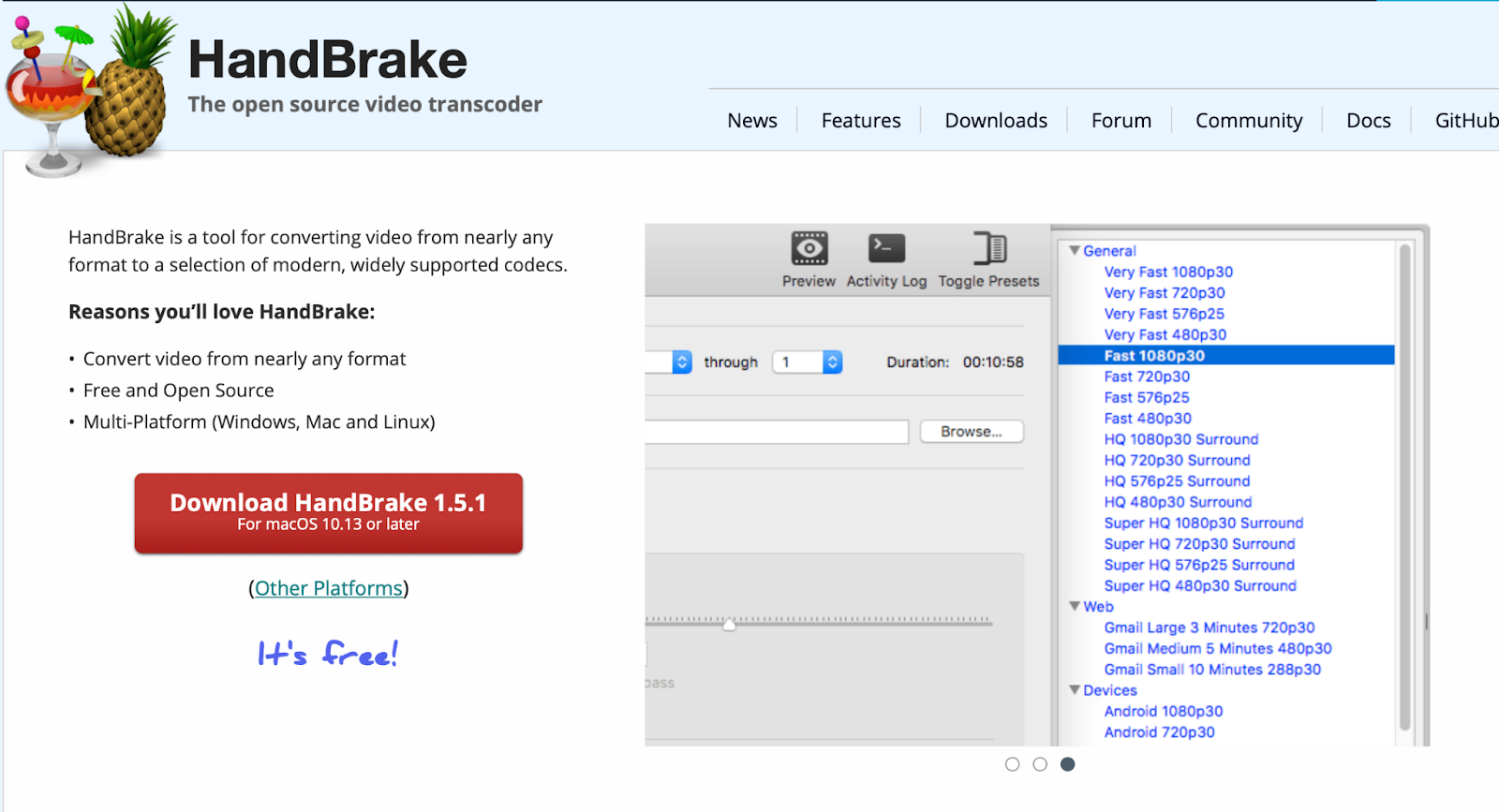 Movavi
You can also try converting your AVI video to MP4 with Movavi, a video suite for Mac. Movavi's best features are paid, but the free version supports some basic conversion and compression tasks.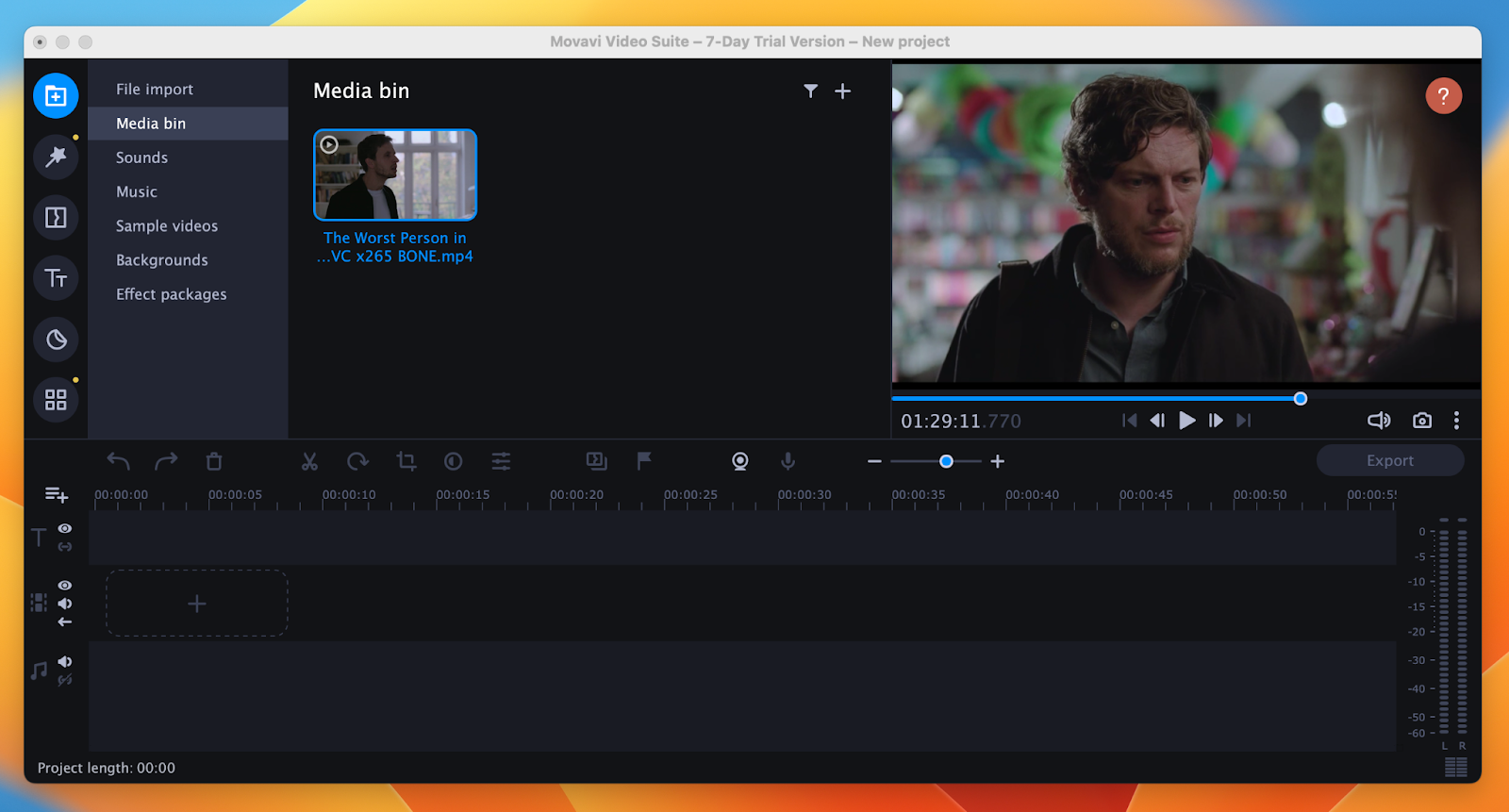 We certainly don't recommend using unknown online services to convert AVI to MP4, since they can trick you into installing malicious software or revealing sensitive information.
How to play AVI and MP4 files on a Mac
So short of converting files to MOV or MP4, we had to look for an alternative player for our AVI files.
Our choice ended up being between Elmedia Player and Movist Pro.
Both have pleasant minimalist interfaces that disappear a few seconds into the video to make for an immersive viewing experience.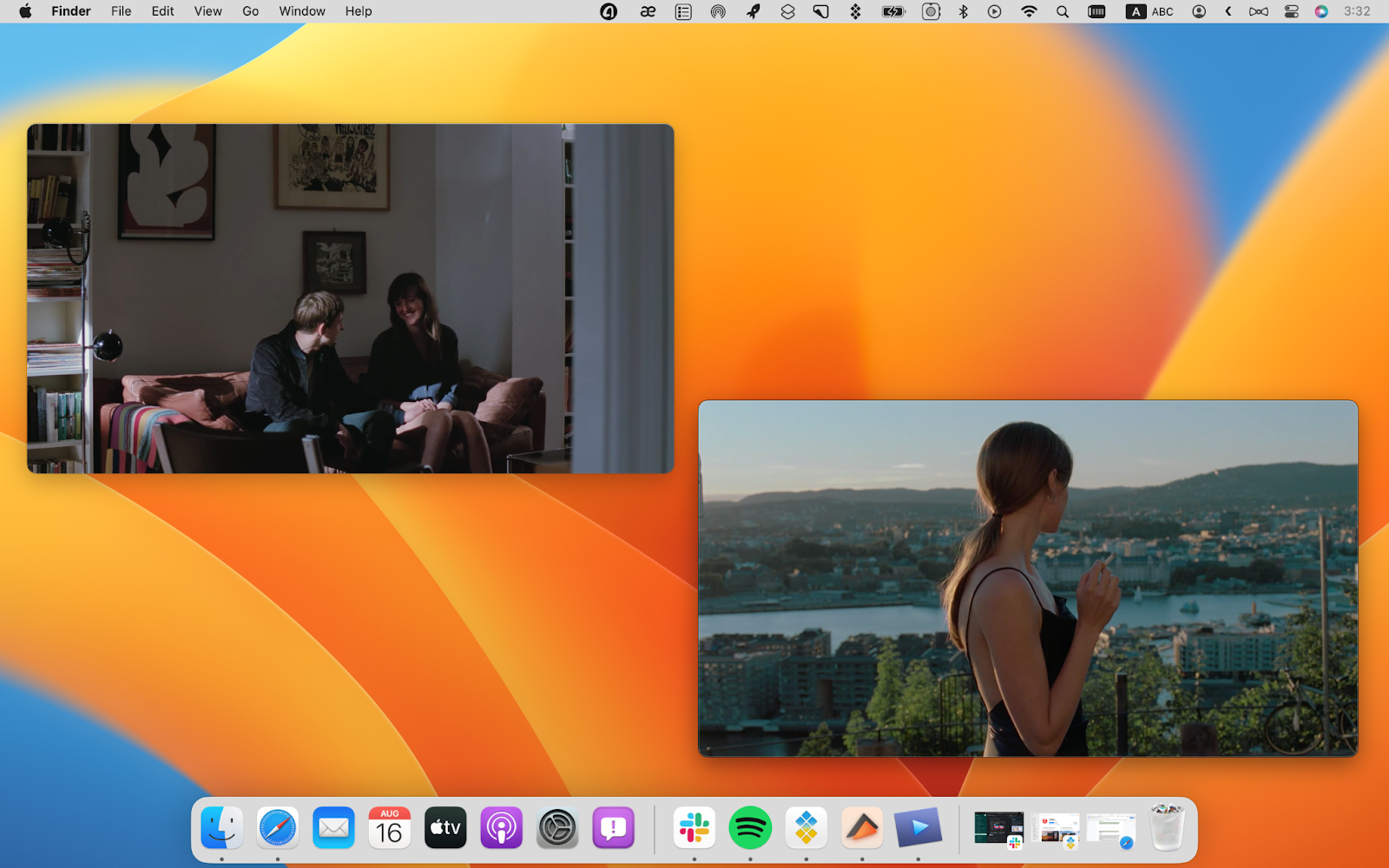 The playback is smooth and seamless as both players support high quality video. Additionally, both work with subtitles and are compatible with multiple video file formats.
Any differences between the two are pretty subtle. They are even practically the same size – 130 and 140 MB.
As the devil is usually in the details, you'll have to explore each of the players to see which suits your individual preferences and uses most. We found that Movist Pro has an excellent feature of playing two subtitle tracks at once (helpful if you are watching with a group of people who prefer different subtitle languages or just want to buff up your own language skills), while Elmedia Player also has a built-in web browser geared specifically for video consumption.
Grab trusted video tools on Setapp
As you can see, you can easily convert AVI files to MP4 with a universal file converter (as you may have noticed in the explainer above, we used Permute for this demo). The conversion only takes a minute, and you are ready to go. That said, if your only goal is to have an AVI file to play on your Mac, you can use media players to play your AVI very easily.
Instead of converting every AVI to MP4, we prefer just playing them with Elmedia Player or Movist Pro. Both are excellent media players with support for multiple file formats and high quality playback.
If you are looking to try the apps mentioned in the article, you can actually use them with your Setapp subscription. Don't have Setapp? Setapp is a suite of more than 240 apps, hand-picked by our team to make your work, leisure, and chores seamless and easy. Browse our app categories and try out new solutions to see which fit with your daily routine best and contribute to optimizing your day.
You can also try all three apps mentioned in the article – Permute, Pulltube, Elmedia Player, and Movist Pro – with your Setapp 7-day free trial.