How to combine JPEGs into one PDF
The Portable File Format, or PDF, was created back in 1993. It started being widely used in the early 2000s and is still one of the most popular file formats out there today. A PDF can include text, images, and graphics, and is generally used for exchanging electronic documents.
Meanwhile, JPG is a digital image format which contains compressed image data. It's the most common image format used by digital cameras and other image capturing devices, meaning that if you take a photo, it's likely to come out as a JPEG.
Converting file formats for compatibility, ease of transfer, printing, vieving, and other needs has become a basic part of our life, so it's necessary to know how to turn JPG to PDF and merge multiple files together. Let's get right into some of the most convenient ways to combine pictures into one PDF on Mac.
How to combine photos into PDF
Printing or sending one PDF with multiple images is easier and faster than working with all those images separately, when there's a chance to forget one or two most important ones. Knowing how to combine JPG files becomes even more important in a professional setting where you'd want to make viewing your files more convenient for the receiving party, be it a client or a boss.
Every Mac is equipped with lots of native tools to help you perform practically any task without having to leave the comfort of your computer. The Preview app is a native macOS image and PDF viewer, which also lets you edit them, making it simple to combine multiple JPEGs into one PDF.
Here's how to merge pictures together on a Mac:
Select the images you want in your PDF
Right-click and select Open with ➙ Preview
Drag the photos in Preview's sidebar to rearrange their order
Use the Rotate button to change the orientation of individual pages if needed
Click File ➙ Print
Choose Save as PDF in the drop-down menu, or Send in Mail, to send the PDF directly as an attachment
Name the file and choose a location to save it, then click Save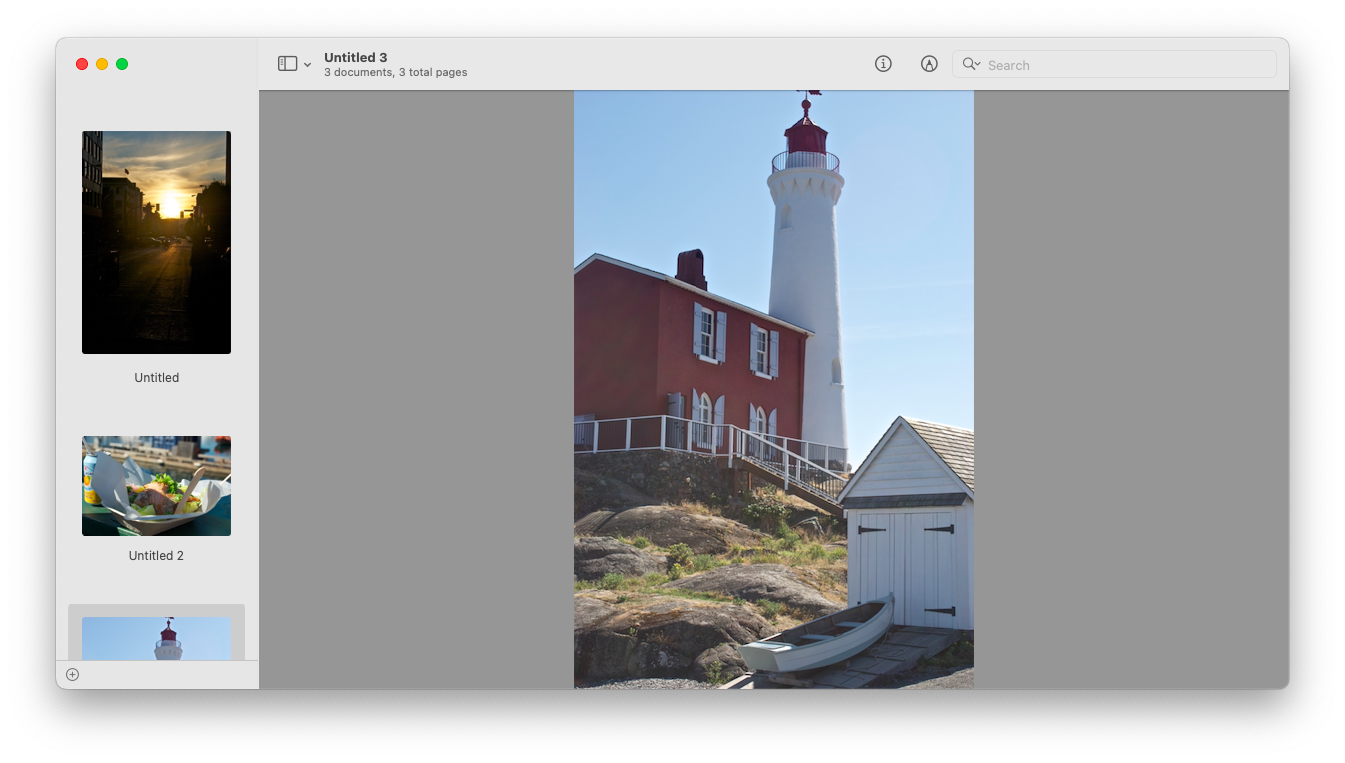 Once you open your newly created PDF, you can add more images by dragging them into the document. To delete an image, right-click it and select Move to Trash. If you want to make a PDF private, you can add a password by exploring the document's Security Options.
How to make multiple JPEGs into one PDF in two clicks
Time is the most precious commodity, so why spend it combing through different ways to turn JPG to PDF and merge files together, when you can let a trusted app do the job for you?
Nitro PDF Pro is a convenient, versatile tool for all your PDF editing needs. It allows you to merge JPG files into one, or convert them into other popular formats. If you work with documents, this app will help you cut down on paper, as it has the ability to turn scans into text you can edit and annotate.
To combine multiple JPEGs into one PDF using Nitro PDF Pro, simply:
Launch the app
Go to Combine Files ➙ Add Files
Select the files to convert and click Open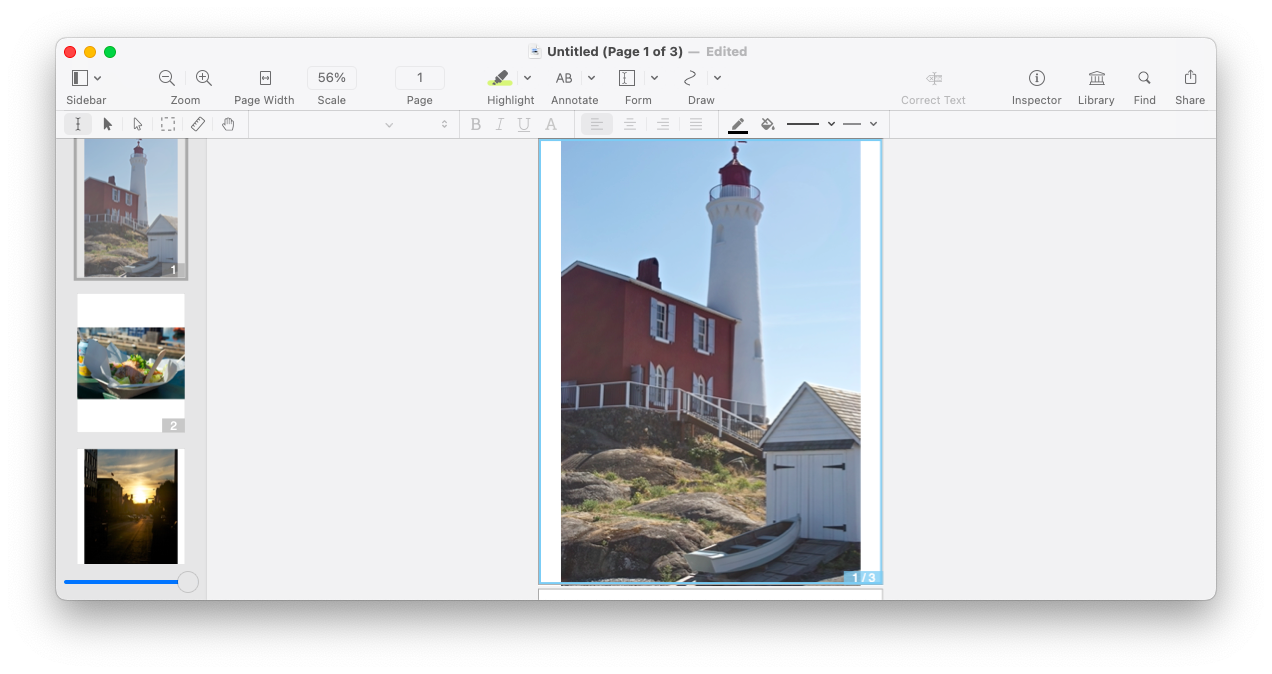 From here, you can simply click Create to finish off or if you want to customize your PDF, play with the options on the edit panel to change the page order, prioritize size or quality, or add a password.
And if you often work with numerous files at once and want a more straightforward way to edit them, you won't find a better utility than FilePane to do the job.
FilePane enables you to run many file manipulations from a single window simultaneously analyzing your items, and offering corresponding quick actions. It's the perfect solution to crop, rotate, or resize a batch of photos, and combine multiple JPEGs into one PDF all from a single, simple panel. All you need to do is click and drag any file on your Mac to start editing!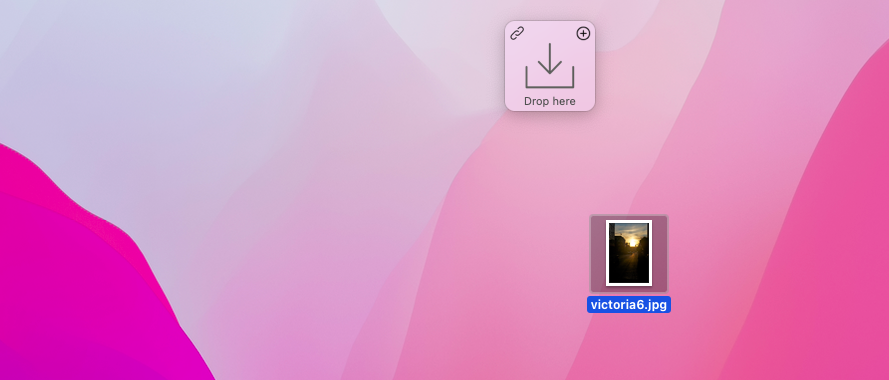 How to merge JPGs into one combined PDF file online
According to DataReportal, on average, people spend close to seven hours on the internet every day, so it's easy to see why many would opt for a means to achieve their goals online.
There are numerous online converters that combine images into PDF, but it's always better to use trusted software, whatever you do. Adobe Acrobat is a family of apps and web services developed to view, create, edit, print, and manage PDF files.
To save multiple images as one PDF online, follow these steps:
Go to the Acrobat Online website
Upload the JPG files one by one and convert them to single PDFs
Go to Tools ➙ Combine Files
Upload the new PDFs and rearrange them if needed
Click Combine, then save your new PDF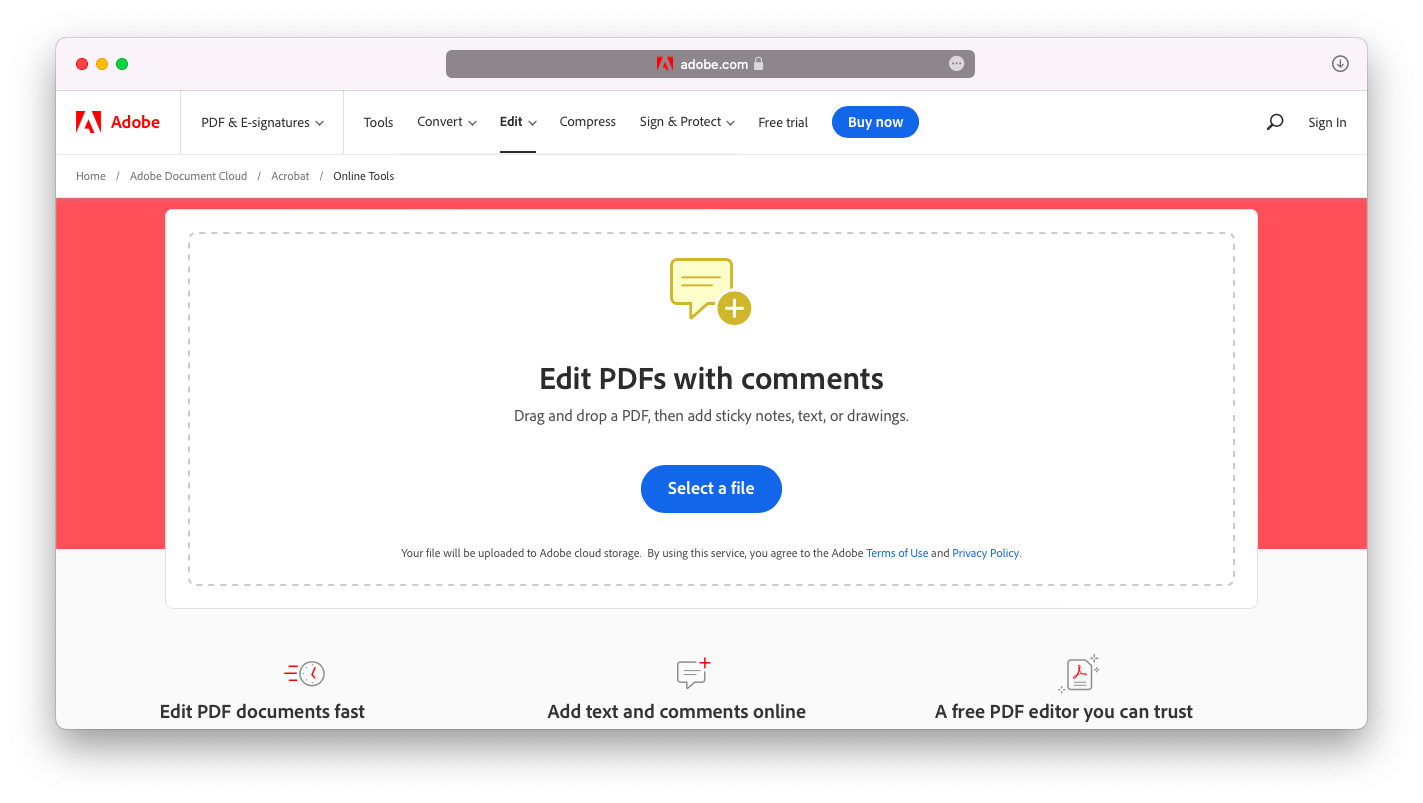 The only major downside of this method, as it might have become apparent, is the need to convert every image into PDF format before being able to perform JPEG merge.
One of the main reasons for wanting to save multiple images as one PDF is the need to somehow resize an image, without compromising its quality, of course. Although converting JPG to PDF would let you compress the PDF file, achieving a smaller file size than JPEG, it would oftentimes still damage the quality of the original high resolution image. The best solution here would be to try an app created specifically for this.
PDF Squeezer quickly compresses PDF files, while preserving the quality and original file look. The app's interface is minimalistic to help you stay focused on the task at hand. PDF Squeezer will save you time reducing the size of multiple files with its batch resize feature and the ability to compress all files in folders. To compress your large PDF, simply drop it into the app and get a smaller file in seconds!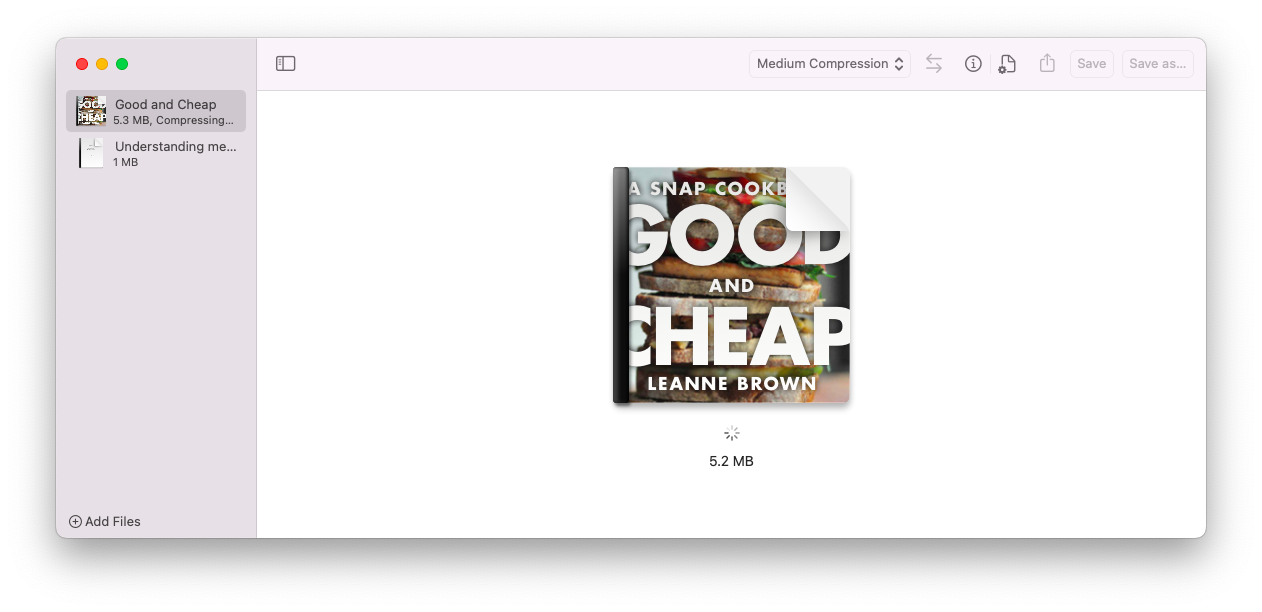 How to save multiple images as one JPEG
Whether you need to make a collage of family photos, or simply combine two images by putting them side by side to help make a decision, you can merge pictures together into one file.
One of the fastest ways to save multiple images as one JPEG is to create an image from a PowerPoint slide. Here's how:
Open PowerPoint
Insert the images onto a single slide
Select the slide and go to File ➙ Export
Choose to save as JPEG
Most people today have extensive image collections that need order, but those whose work requires batch image processing need to keep their libraries especially tidy. That's where a good duplicate cleaner like Gemini comes in handy.
Gemini scans your whole device for duplicates and presents the findings in a minimalistic interface so it's easy to choose what you want to get rid of. And if you end up deleting something by mistake, Gemini offers a safe file recovery too!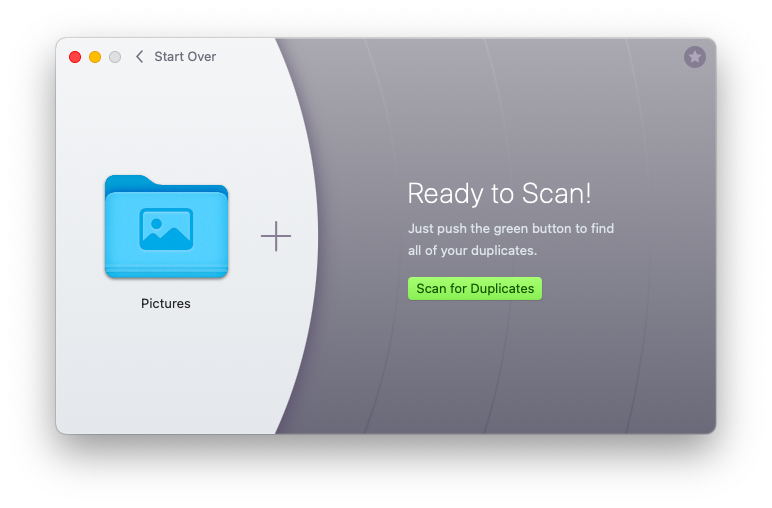 Create PDF from multiple images in just a few clicks
No more sending a long list of image attachments, when you now know all the most efficient ways to combine images into PDF on Mac. And if you work with lots of PDF documents on a daily basis, you need Nitro PDF Pro and FilePane by your side to keep the work simple and the files organized.
Let PDF Squeezer perform its magic on your photos creating beautiful, yet small in size files ideal for uploads and transfers. All this while Gemini will help downsize and get your photo library in order by finding and removing duplicate files.
Best of all — Nitro PDF Pro, FilePane, PDF Squeezer, and Gemini, along with over 230 more high-performance apps are available to you for free through a seven-day trial of Setapp, a platform of best in class iOS and macOS apps. Try every Setapp app today at no cost and you'll never look back!