How to clear Mac clipboard
The clipboard acts as a temporary buffer that stores your copy-and-paste data. This data remains there even after you cut, copy, and paste. When you cut or copy a new item, the current item on the clipboard is replaced by the new item.
Clearing the clipboard will free up memory. The other advantage is that there may be situations where the clipboard contains sensitive information that you may not want there, especially if you share your Mac with someone else.
In this article, you'll learn how to delete clipboard content on your Apple devices.
How to see copy and paste history on Mac
Before we explain to you how to clear the clipboard, let us show you how to check its contents to make sure you need to clear it.
Here's how you see your Mac copy history:
Click on any empty area of your Mac desktop to go to the Finder
Then go to the menu bar at the top left. Click Edit > Show Clipboard
Now you see the contents of your Mac clipboard.
How to clear copy and paste on Mac
There are several ways to clear Mac clipboard. Keep reading to choose the method that works best for you.
Clear Mac clipboard by replacing the item
One of the easiest ways to get rid of sensitive or too "heavy" data on your clipboard is by replacing the existing clipboard data with small textual data.
You can also open any text file on your Mac and select the space between two words. Then press Command + C to copy this space. Now you can go and check the content of your clipboard as described above. It'll be empty.
Delete clipboard content using Terminal commands
If you want to completely clear clipboard contents, try using the pbcopy command in a Mac Terminal.
Here's how to get rid of clipboard data using Terminal:
To open Terminal on your Mac, click Go> Utilities > Terminal (or type in "Terminal" in the Spotlight search)
Then, type the following command pbcopy < /dev/null in the Terminal and press Enter. This will empty the clipboard.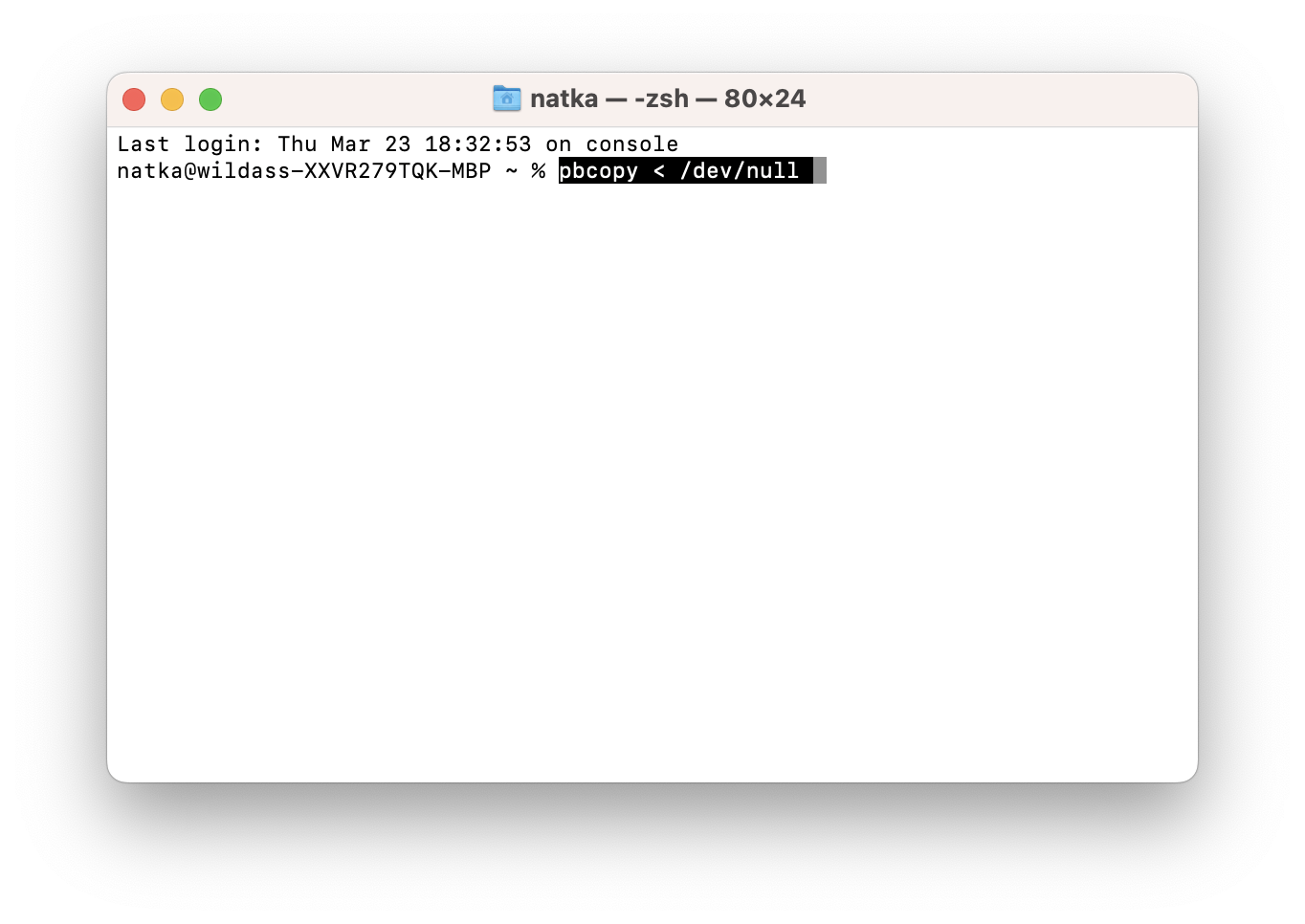 Alternatively, you can restart your Mac by going to the Apple menu in the upper left corner and clicking Restart. This will delete clipboard content completely.
Boost your productivity with clipboard managers
While most Mac users are limited to one clipboard item at a time and get frustrated every time they accidentally overwrite something, you can use Paste. This clipboard manager can take care of all your multiple selections, holding everything you've copied and allowing you to paste what you need where you want it.
To view your clipboard history in Paste, use the Shift + Command + V keyboard combination.

You can clear your clipboard in the app's preferences by clicking the "Clear Clipboard History" button. You can also delete specific clipboard data by right-clicking on each snippet and clicking Delete.
Alternatively, you can use Unclutter, a tool that lets you copy multiple items and then paste each of them multiple times.
With Unclutter, you can keep track of everything you copy to your Mac's clipboard. Best of all, even if you restart your system, you'll still have the history of your clips.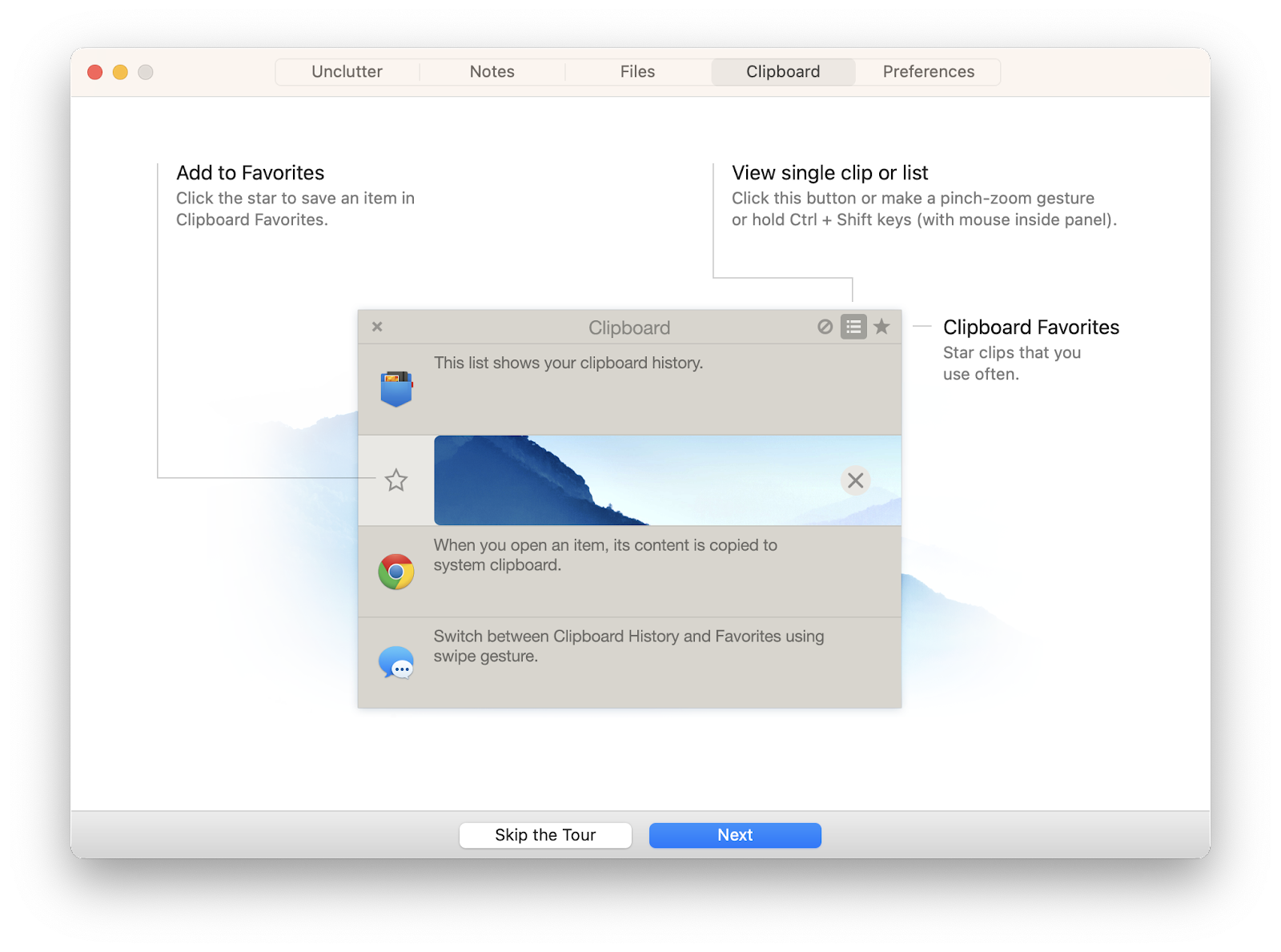 You can also use Unclutter if you want to copy and paste not only text but also any app or file.
Clear clipboard history on iOS
Although there is no way to check out the history of your clipboard on an iPhone, you can view the last thing you copied to it. You can do this using the Notes app that comes with every iPhone. To learn how to do this, follow the steps below:
On your iPhone, from the Home screen, swipe down. You'll see a search window. Type the word "Notes"
Tap to open the Notes app
With a new note open, press and hold your finger on your screen. In the pop-up window, tap the word "Paste"
What appears on the screen is the last thing you copied.
You can use this to help you remember what you've copied in the future. It's not exactly the same as simply viewing your copy history, but it is a way to keep a manual record. You'll just have to remember to do it when you want to save a valuable piece of information that you might want to use again at another time.
However, it's still better to use the Paste app for iPhone we've mentioned before. It allows you to paste multiple items in the order you choose and sync them across all devices.
Just like with your Mac, you may want to get rid of your passwords, banking info, and other sensitive data in your iPhone clipboard. To do that, follow these steps:
Open any app that has a text entry field. For example, Notes
In the search box, type two spaces
Then tap and hold the spaces and choose "Copy"
That's it! Any data you had on your clipboard will be replaced with the two spaces.
How to clear the clipboard: Final thoughts
There are several common ways of clearing your clipboard, such as Terminal commands, replacing your copied item with the space between two words, and restarting your Mac. If you use clipboard managers that allow you to copy and paste multiple items at once (Paste and Unclutter), clearing your clipboard is even easier – both apps offer such functionality. You can also check out Paste for iPhone to keep, search, and organize everything you copy with ease.
Both Paste and Unclutter are available for seven days free on Setapp, a platform with more than 240 apps for your Mac, iPhone, and iPad for almost any job. Give Setapp a try to save yourself hours of headaches in the future and extend the native capabilities of your Apple devices.