How to show the battery percentage on Mac
If you'd like to know exactly how much battery life remains on your MacBook Pro or MacBook Air, you may want macOS to display the % next to the battery symbol in the menu bar. This article explains how to show battery percentage on MacBook.
How to show battery percentage in menu bar
In macOS Monterey, if you look to the right of the menu bar, you'll see a battery icon. However, if you want to check how much charge your Mac still has, you need to click on that icon. If there was a percentage next to the icon, it would give you a better idea of how much battery life you have.
You probably know that since Apple released macOS Big Sur, the battery level percentage has been turned off by default. Fortunately, it's easy to turn it back on by following the steps below:
Choose Apple menu > System Preferences
Then click Battery
In the left sidebar, click Battery
Then check the box next to 'Show battery status in menu bar.'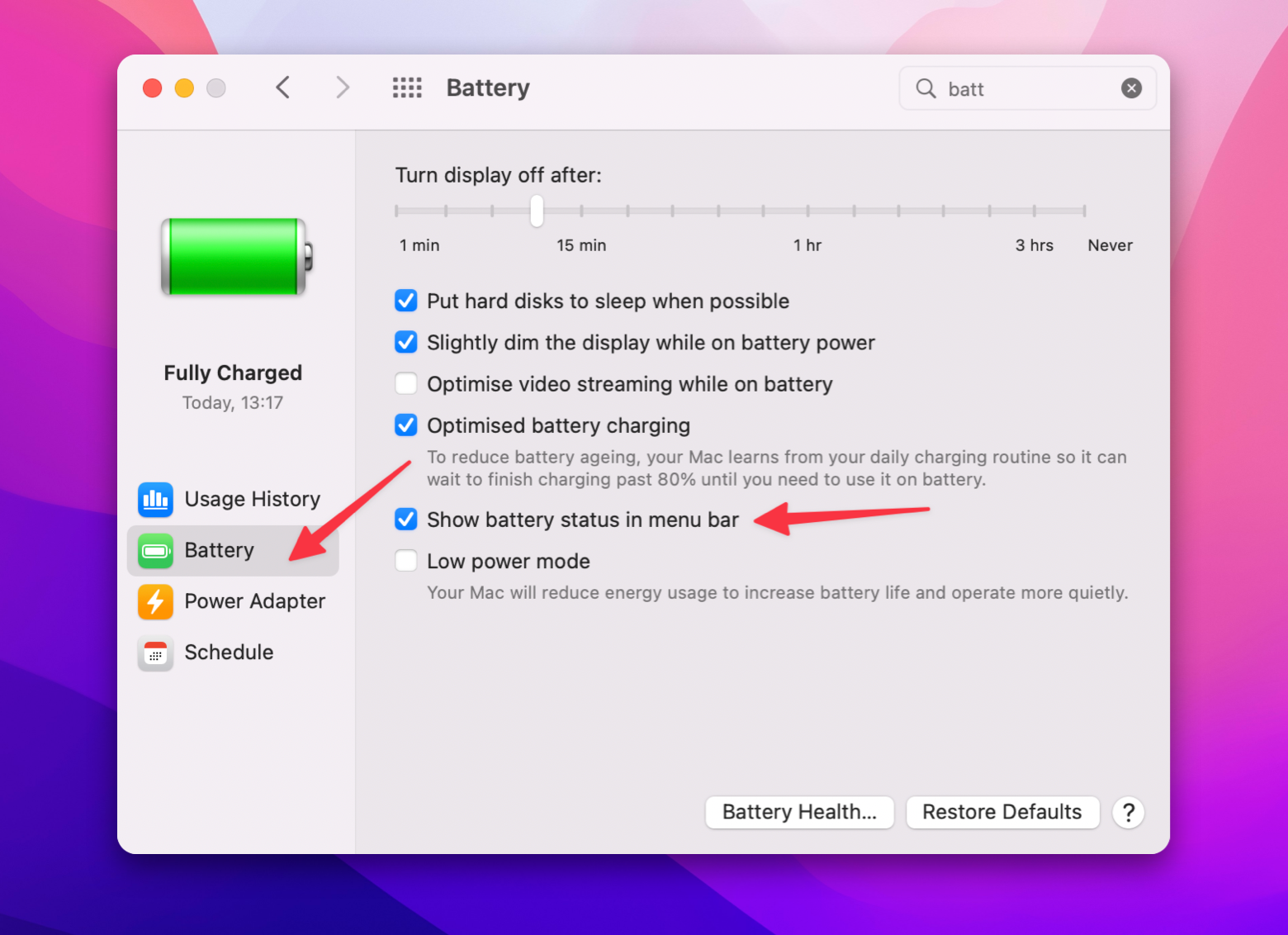 The battery indicator is now in the menu bar, but it doesn't show a percentage yet. Here's how to turn on battery percentage:
Choose Apple menu > System Preferences
Then click Dock & Menu Bar
In the left sidebar, click Battery
Then check the box next to Show Percentage.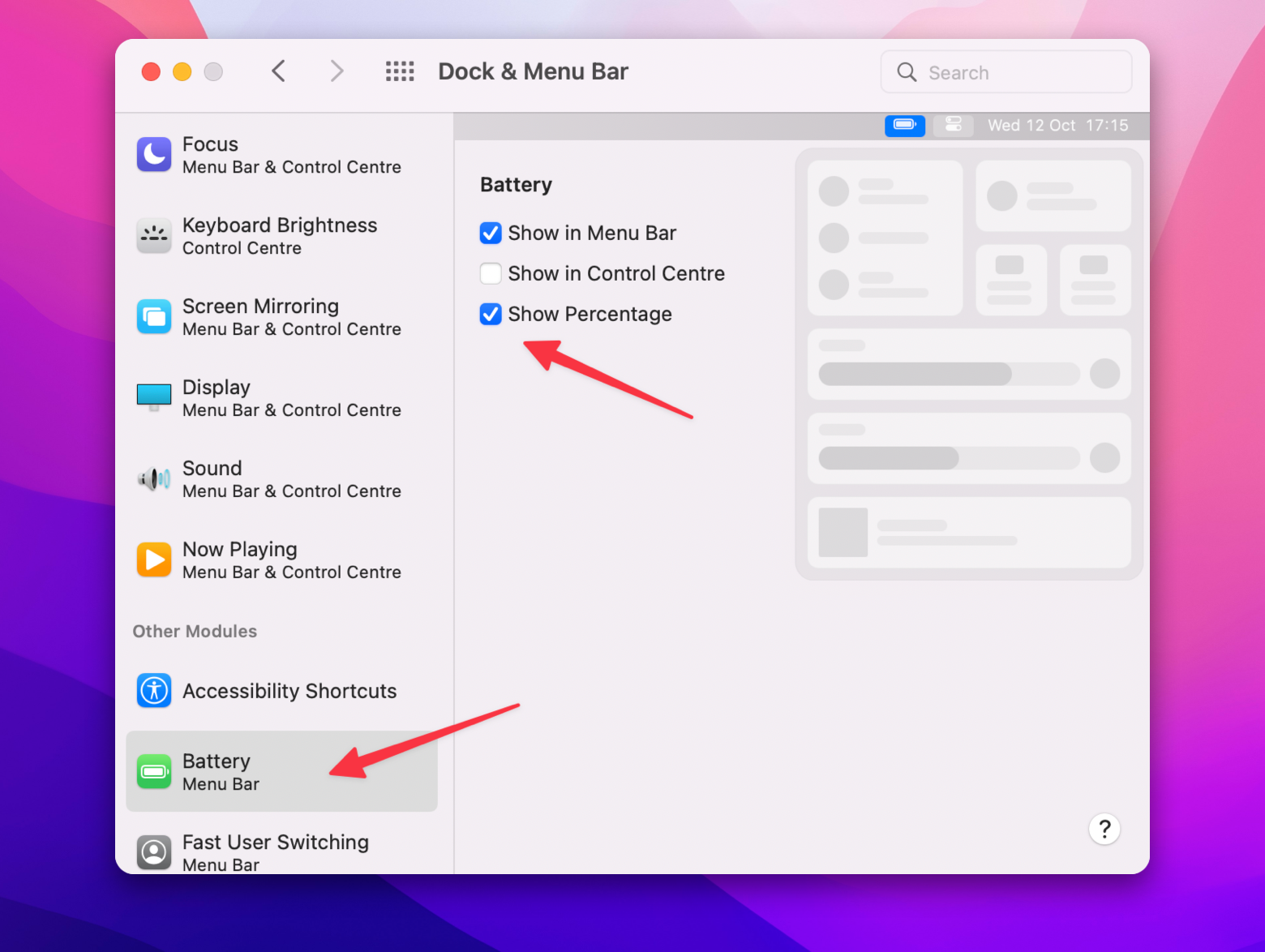 That's it! This is how you enable battery percentage on your MacBook.
Show battery percentage of all your Apple devices
Those of us who are completely immersed in the Apple ecosystem have a lot of batteries to consider; you may have a MacBook, iPhone, iPad, Apple Watch, and AirPods, all of which must be charged so as not to ruin your day. Fortunately, you can sync all of your products under one widget rather than switching between them frequently to determine whether you need to charge them. For example, I want my Mac to show battery percentage for AirPods and notify me when they run out of battery. Want your Mac to show Magic Mouse battery status? No problem. The app supports it too.
With Batteries, I check the battery life of all my devices, including AirPods and Magic Mouse, from the most convenient spot on my Mac. Once I connect my iPhone, iPad, AirPods, and other devices, they show up in the 'Batteries' widget in the Today View. The app can also show battery level in touch bar or menu bar.
To make your Mac show battery percentage iPhone, iPad, Apple Watch, etc., you need to do the following (only once):
Connect your device
In Finder, enable 'Show this device when on Wi-Fi'
In the future, use the same Wi-Fi network as your computer.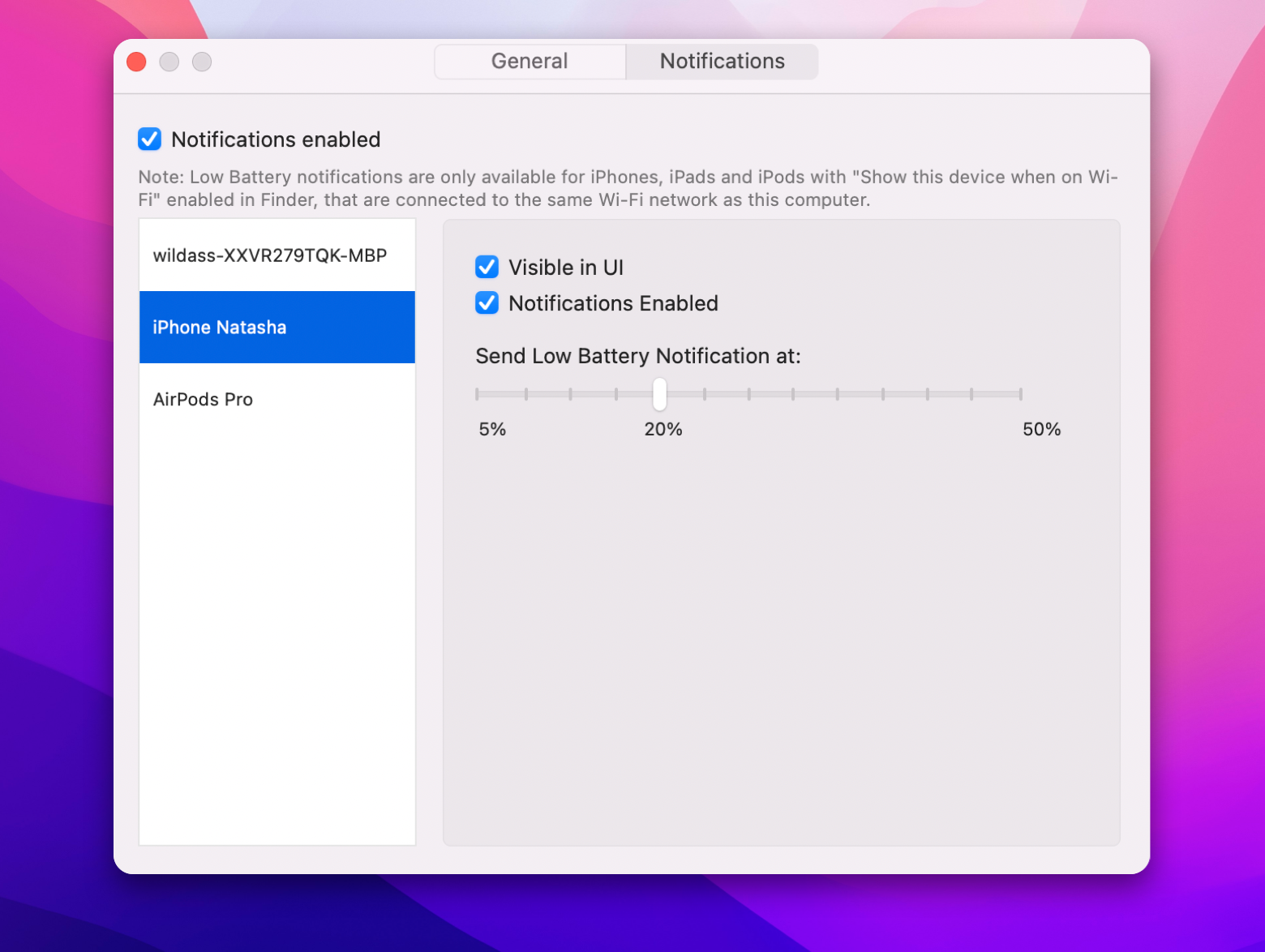 The best part is that when any of the devices I've connected to Batteries run out of power, the app lets me know about that so I can charge it on time.
How to increase your Mac's battery life
It's great that your Mac can display the remaining battery life as a percentage, but that information won't help you extend the life of the battery.
Fortunately, you can do a few easy things to help your battery last longer. For example, you can set custom charging limits and enable heat protection, which prevents your Mac from charging if the temperature rises above the acceptable range. This way, you can use your charger while working without worrying about the battery.
My favorite app to set charging limits and manage battery health is AlDente Pro.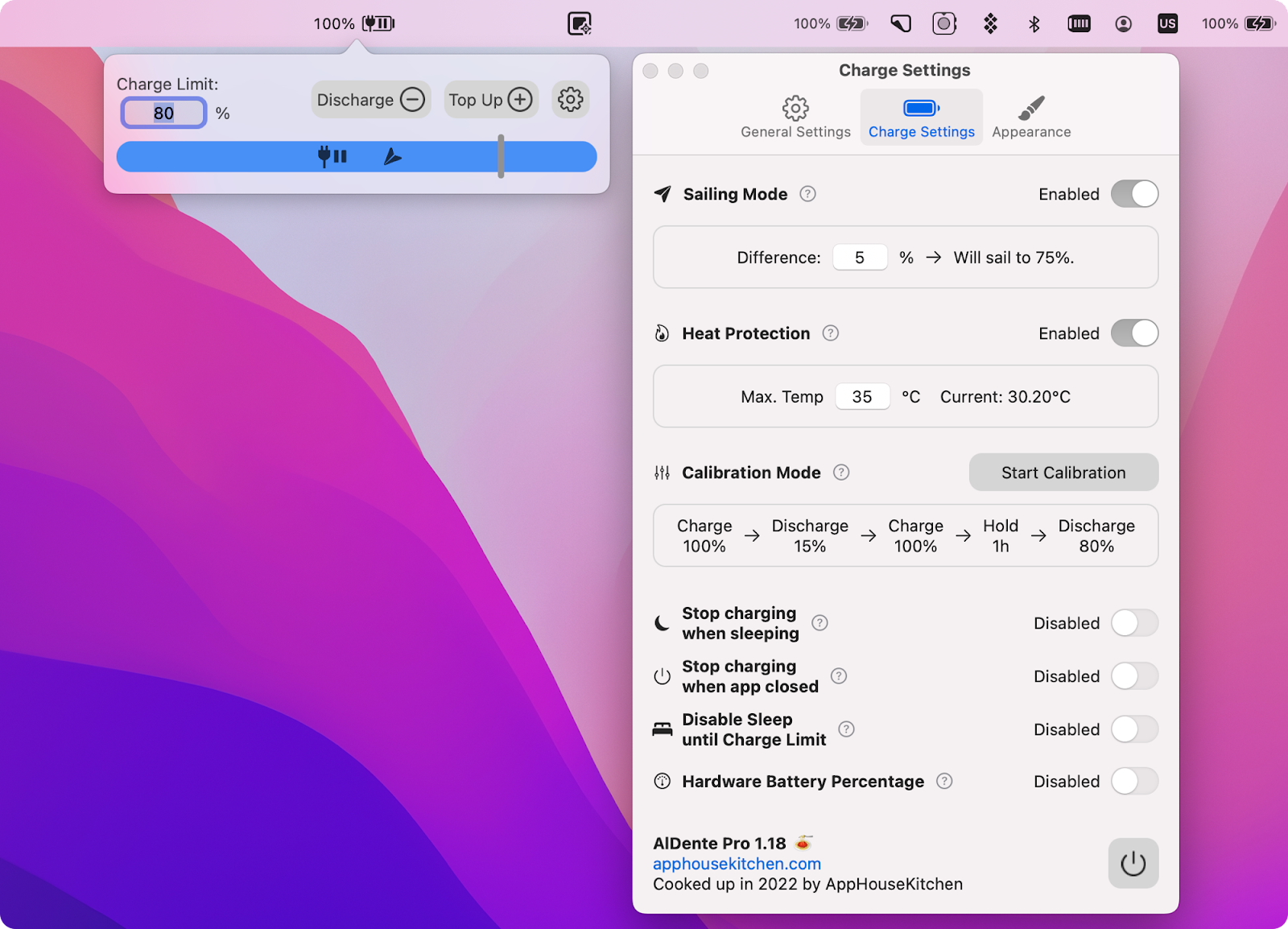 iStat Menus is another app I use to optimize my MacBook's battery life. It has a smart battery monitoring feature that lets you know what's happening with the battery. The tool shows the Health, Cycles, and Condition of the battery.
What I like the most is that iStat Menus shows you how much time is left on your current charge and even a list of apps that are taking up too many resources. When you move your mouse over each of these options, you'll see more information that will help you better deduce the battery's condition.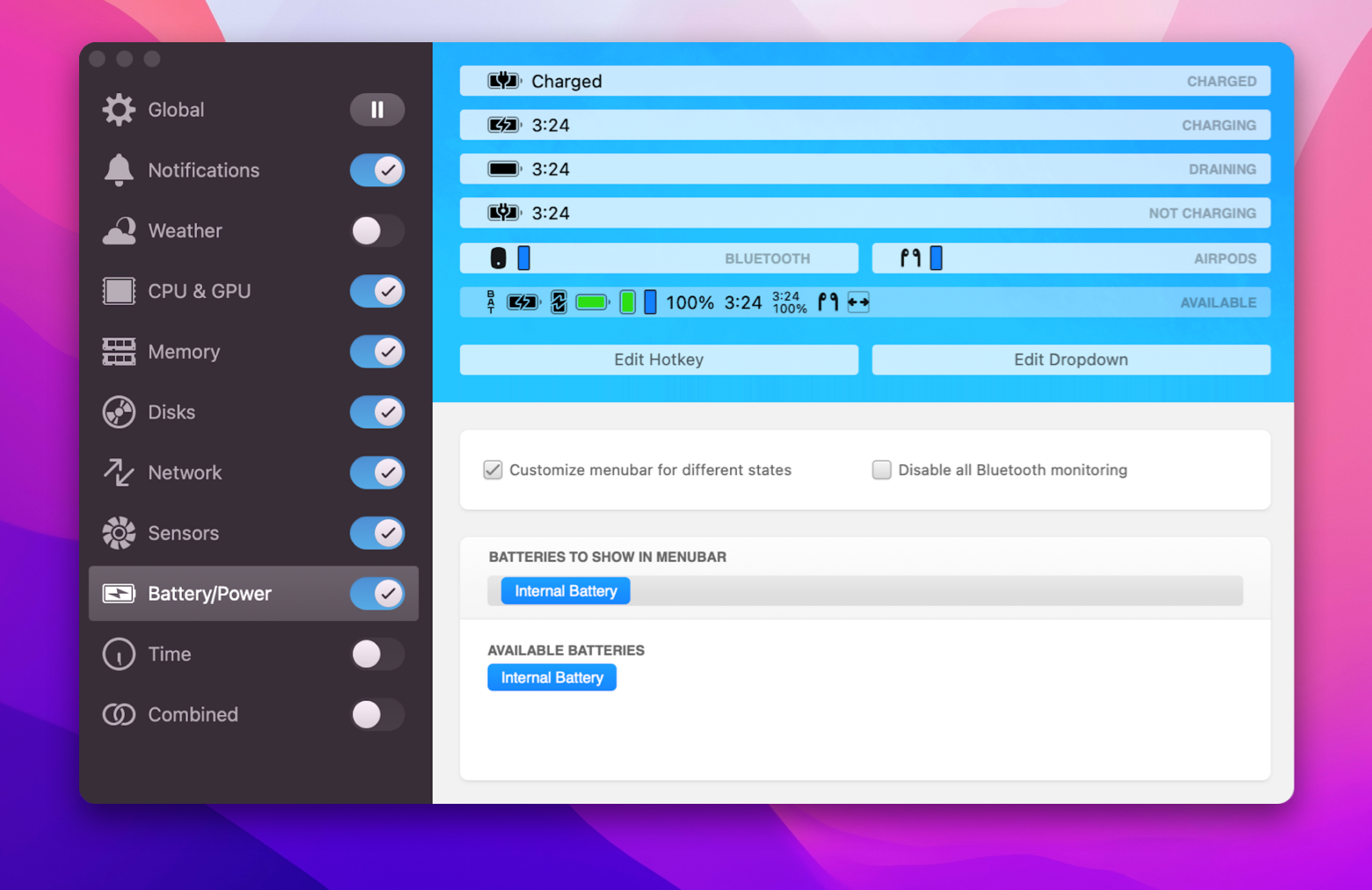 And finally, make sure your Mac stays cool. The fans that turn on when your device gets too hot use up the most battery life. So, it's better to limit the number of tasks that use a lot of processor power and could cause heat.
Also, a lot of processes that run on your Mac consume CPU cycles and RAM. They also affect your battery life. These can be apps that are enabled in Login Items or processes controlled by launch agents that are hidden in the Library folder. It's possible to stop them from running at startup using an app called CleanMyMac X. Here's how:
Open CleanMyMac X – you can install it from Setapp
In the left sidebar, click Optimization > View All XX Items
Check the box next to Login Items
Then select the items you want to get rid of and click Remove
Check the box next to Launch Agents
Then select the items you want to get rid of and click the Remove button.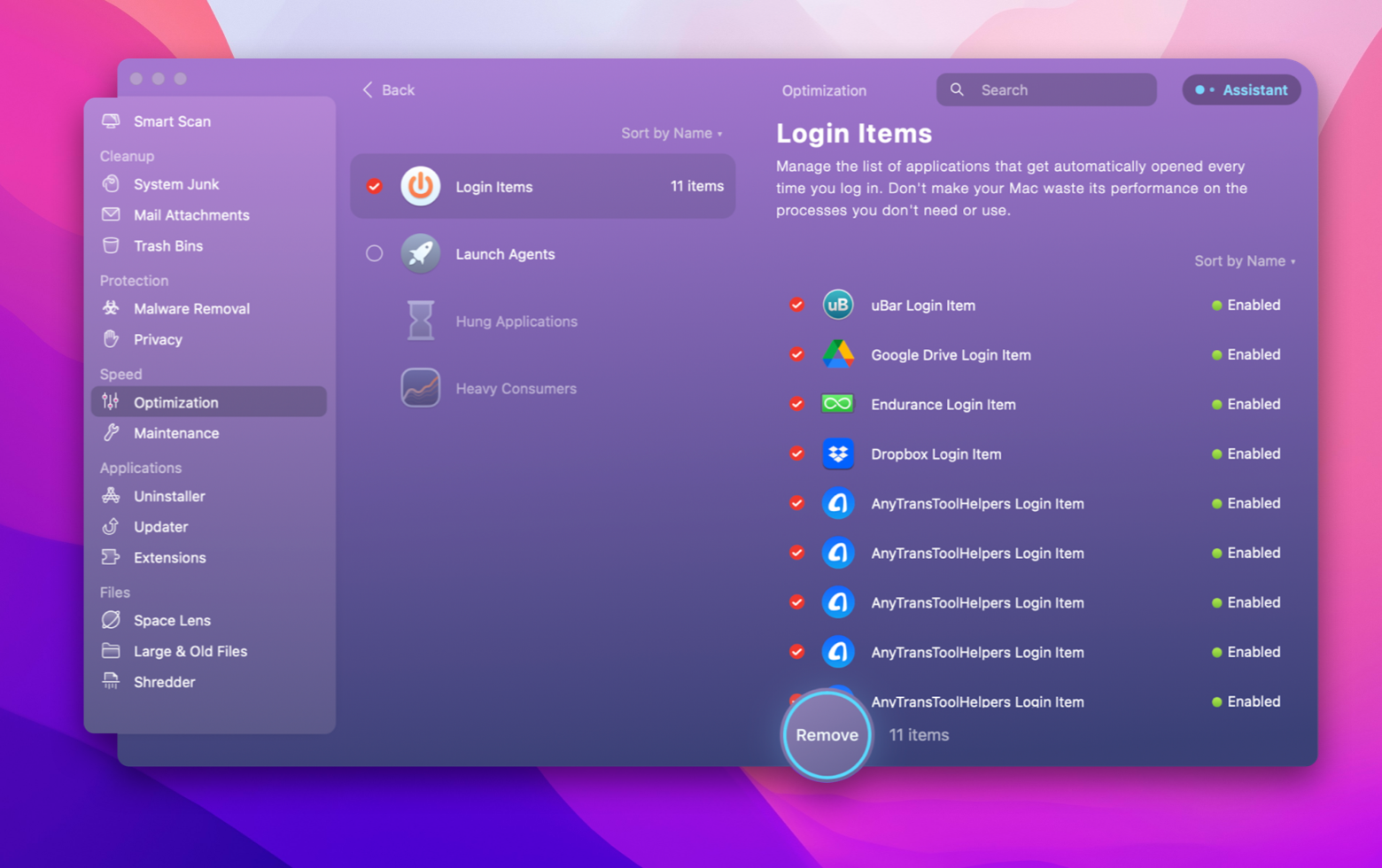 I also recommend using CleanMyMacX's Smart Scan feature to remove useless add-ons, unneeded files, apps you no longer use, and settings changes that harm your Mac's performance.
How to show battery percentage & extend battery life with one app
It's simpler to keep track of your Mac's battery if you can see the percentage in the menu bar. Fortunately, it takes only a few clicks to turn it on. I showed you how at the beginning of this guide. But what if you're completely immersed in the Apple ecosystem and have a lot of batteries to consider (MacBook, iPhone, iPad, Apple Watch, and AirPods)? The good news: you can make all your devices appear together in the menu bar with the help of the Batteries app.
In case you care not only about your battery percentage display but also your battery health, I strongly recommend installing iStat Menus and AlDente Pro to monitor your battery health and set charging limits.
Finally, I regularly use CleanMyMac X to clean up and optimize my MacBook. Try it. I know you'll love it.
And don't worry. You don't need to buy each app separately because Setapp gives you access to 240+ tools for an affordable monthly fee of $9.99. You can also take advantage of Setapp's free week-long trial to see how it can improve your workflow and solve your tasks. There's nothing to lose, and you might discover some great apps!
So now you know how to fix the 'macOS doesn't show you the battery percentage' problem. Make sure you've also checked our detailed guide on how to make your MacBook's battery last longer. Stay tuned!