How to adjust screen timeout on Mac
You might have noticed that any time you don't use your Mac for a few minutes, it turns off its screen. Note that while your Mac's screen is off, it doesn't go to sleep — Sleep Mode is a different feature that you can enable from the menu bar.
The screen on your Mac turns off because of the feature called screen timeout. Screen timeout Mac might be useful for some and frustrating for others. In this article, we'll cover how to change how long your screen stays on Mac and show you how to make the default settings shorter, longer, or turn them off completely.
What is screen timeout?
Screen timeout is simply a feature all Macs (especially MacBooks) use to save battery life and electricity consumption. By default, MacBooks enable screen timeout after two minutes of inactivity on battery and 10 minutes when connected to a power source.
Some apps prevent your Mac from enabling screen timeout. Screen timeout never activates while you're watching a movie or YouTube, for example.
In most cases, you don't want your Mac screen to be on at all times. So screen timeout is actually very useful. And, of course, as with most other features, you can change the inactivity timeout on Mac too.
Can no screen timeout damage your Mac?
Does keeping your screen on for extending periods of time damage your Mac? Not at all. Macs are built with all kinds of safety precautions in place, so damaging your Mac in daily usage is next to impossible.
However, having your screen on all the time might still shorten the lifespan of your Mac, simply due to the CPU, screen and battery taking on much more work.
How do you check on your battery life? The easiest way to do it is with a CleanMyMac X Monitor.
CleanMyMac X is an optimization tool for your Mac that helps get rid of old files, uninstall apps completely, scan for malware, and keep your Mac in shape overall. It's very easy to use, with most tasks taking just a few clicks to complete and no technical knowledge required.
Similarly, you can check on the health of your battery using the CleanMyMac X Monitor:
Launch CleanMyMac X and click on Monitor icon in the menu bar
Click on the Battery pane to learn more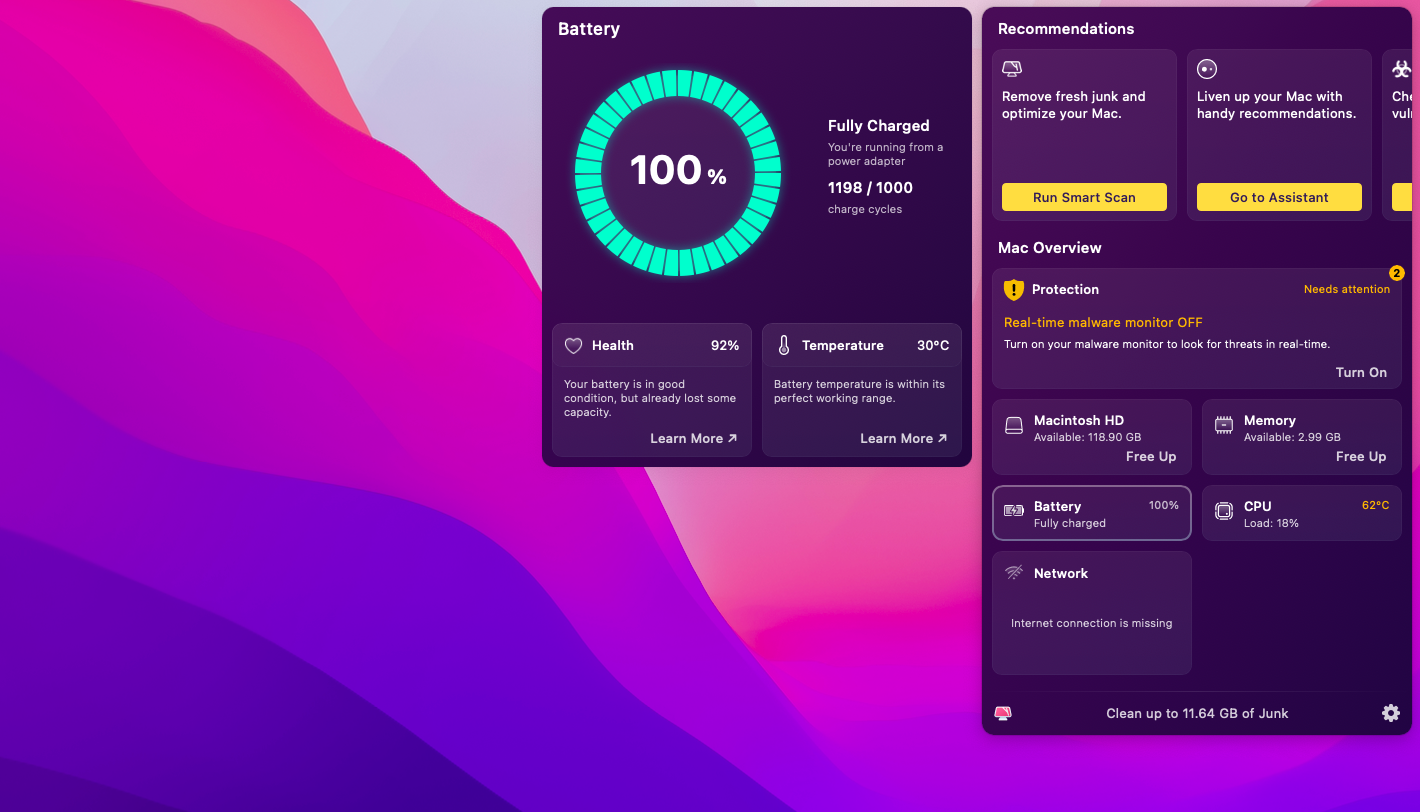 If your Mac doesn't have a great battery life anymore, or you would just like to prolong it, the easiest fix available today is to rely on Endurance.
Endurance is a simple utility that does nothing but extend your Mac's battery, up to 20%. You can install Endurance in your menu bar, pick from a few simple options available, and enjoy longer battery life right away, no matter what the state of your Mac's battery currently is.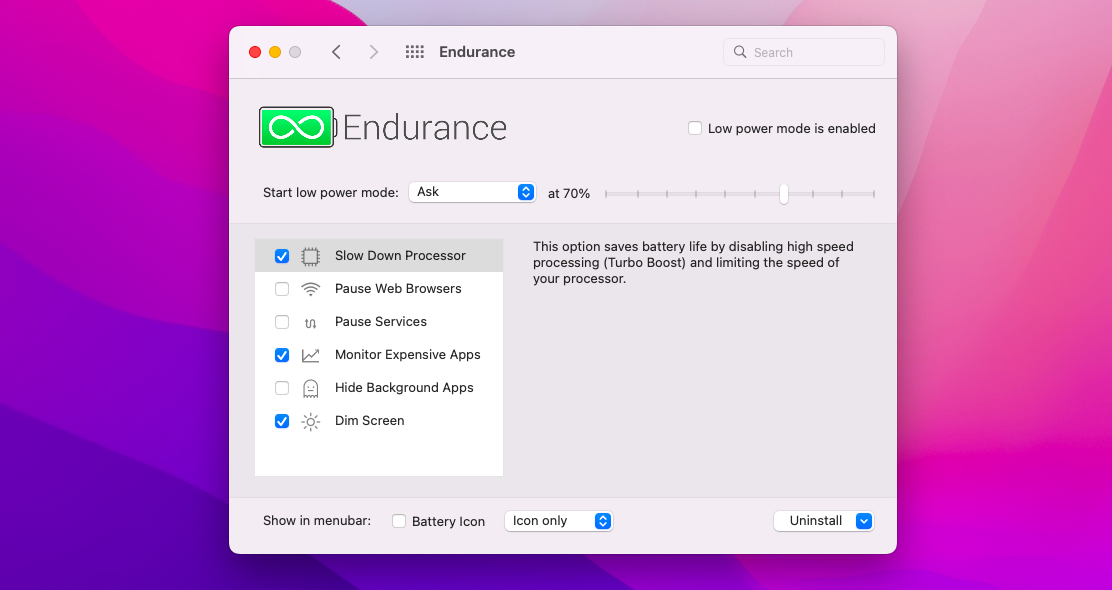 How to increase or decrease Mac screen timeout
You can adjust how long it takes before your Mac turns off its screen. In fact, there are two settings: one for when your MacBook is on battery and the other one for when it's connected to a power source.
To do a Mac screen timeout change while on battery:
Go to System Preferences > Battery
Switch to the Battery tab
Reset "Turn off display after:" to setting you want, from 1 min to Never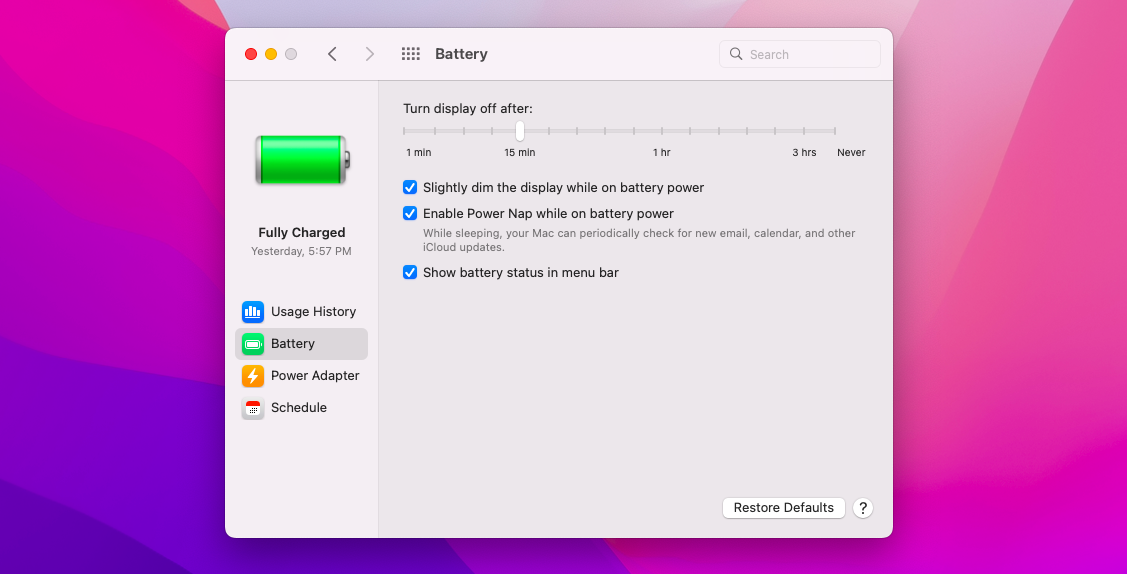 To change the same setting for when you're connected to a power source:
Open System Preferences > Battery
Go to Power Adapter
Adjust the slider to the value you need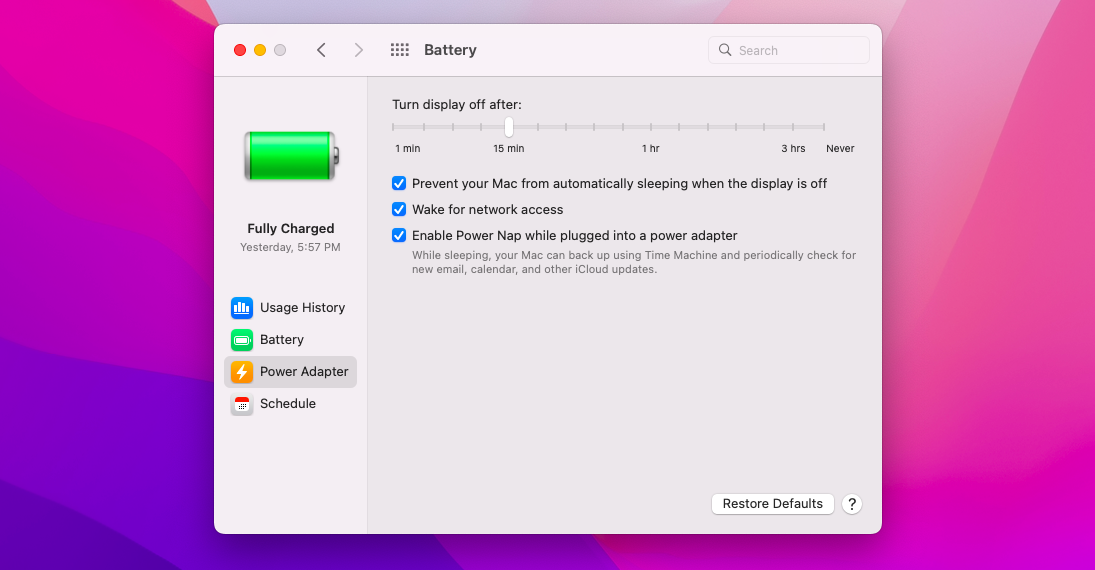 If you'd like to know how to change screen timeout on Mac at any time, or prolong it just when you need it, the easiest way to do so is with One Switch.
One Switch is a simple but very powerful utility that allows you to access the most useful Mac features in just one click. Right from your menu bar, you can hide desktop icons, turn on dark mode, connect to AirPods, etc. You can keep your Mac awake for longer.
To prevent your Mac from turning off its screen:
Click on the One Switch icon in the menu bar
Toggle Keep Awake to activate it or use the dropdown to specify for how long you'd like the screen to be turned on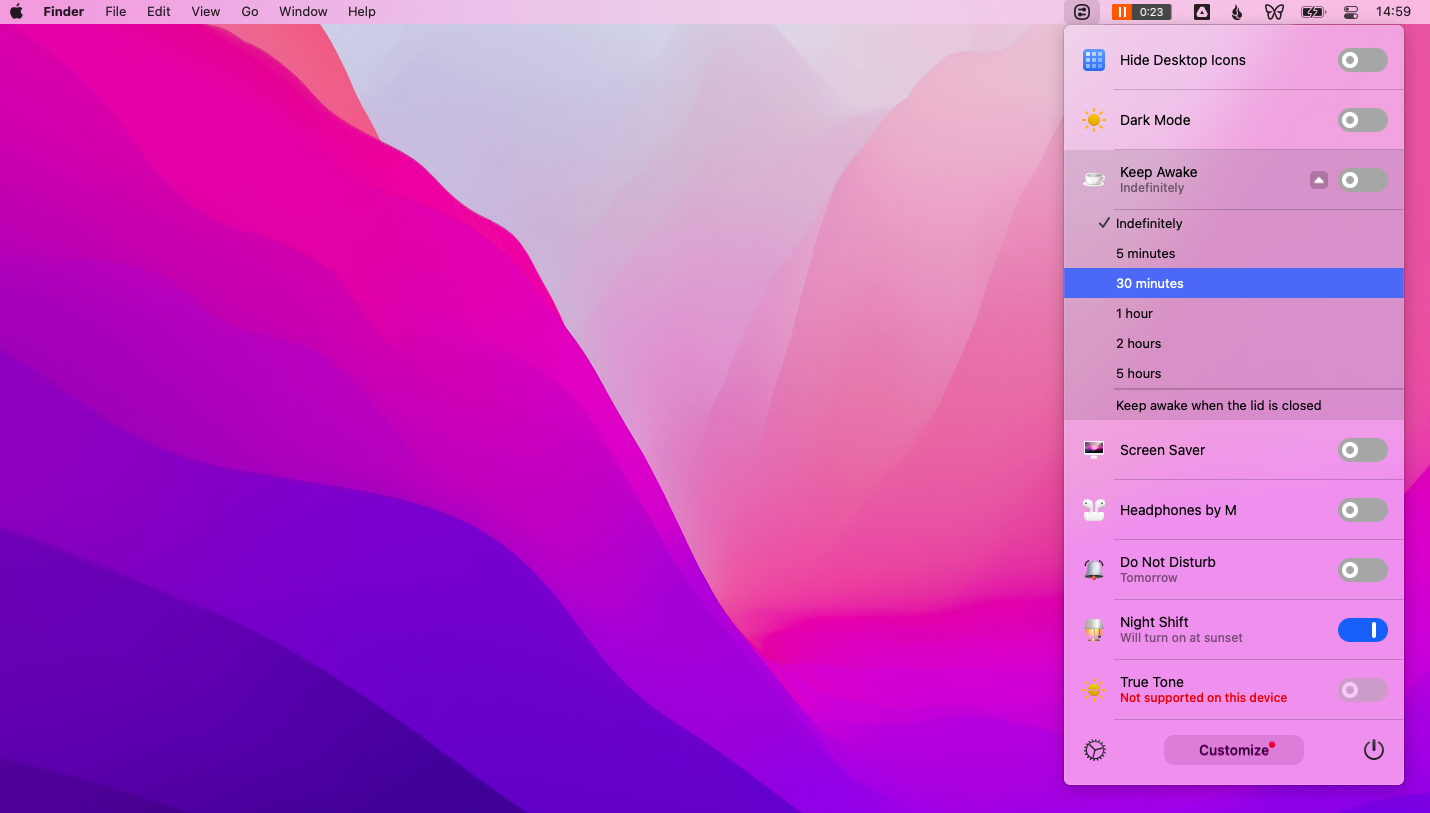 How to change screen saver timeout on Mac
Screen timeout is not the only thing that can interrupt your workflow on Mac. By default, Macs also have a screen saver, which automatically turns on at around the five-minute mark.
You can also easily adjust the screen saver timing:
Open System Preferences > Desktop & Screen Saver
Switch to the Screen Saver tab
Use the dropdown next to "Show screen saver after" to change the time period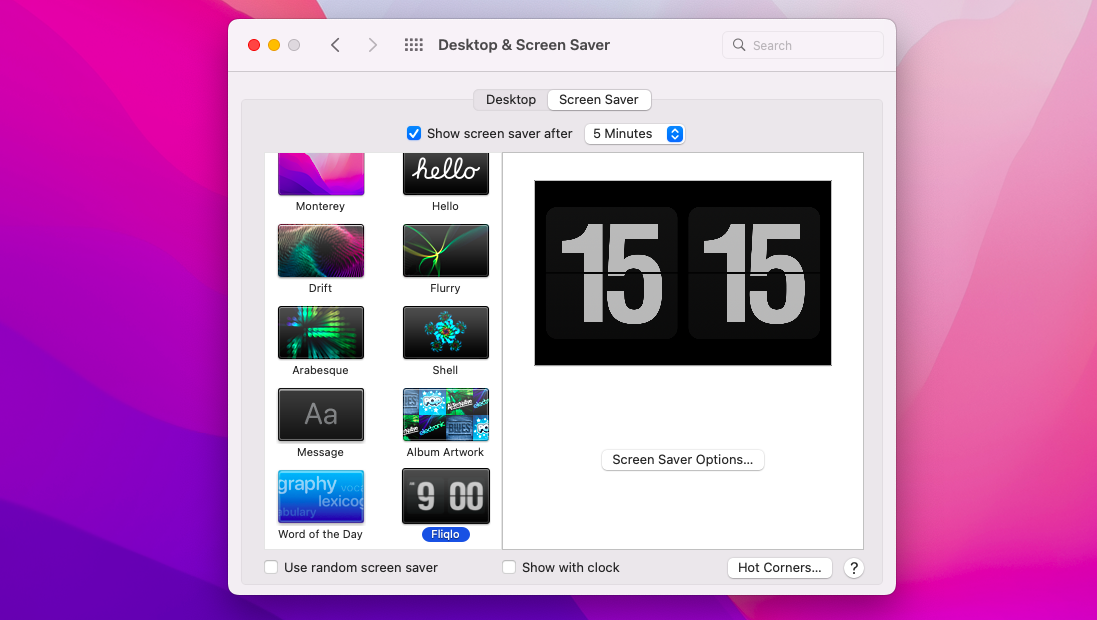 But for easy screen saver management, just rely on One Switch. Click the One Switch icon in the menu bar and toggle Screen Saver on.
Don't have a great screen saver in mind? Just get Magic Window Air.
Magic Window Air is a nifty utility that shows you a curated collection of the most beautiful aerial landscapes in 4K quality, anytime your screen saver is activated. Just install the app and enjoy.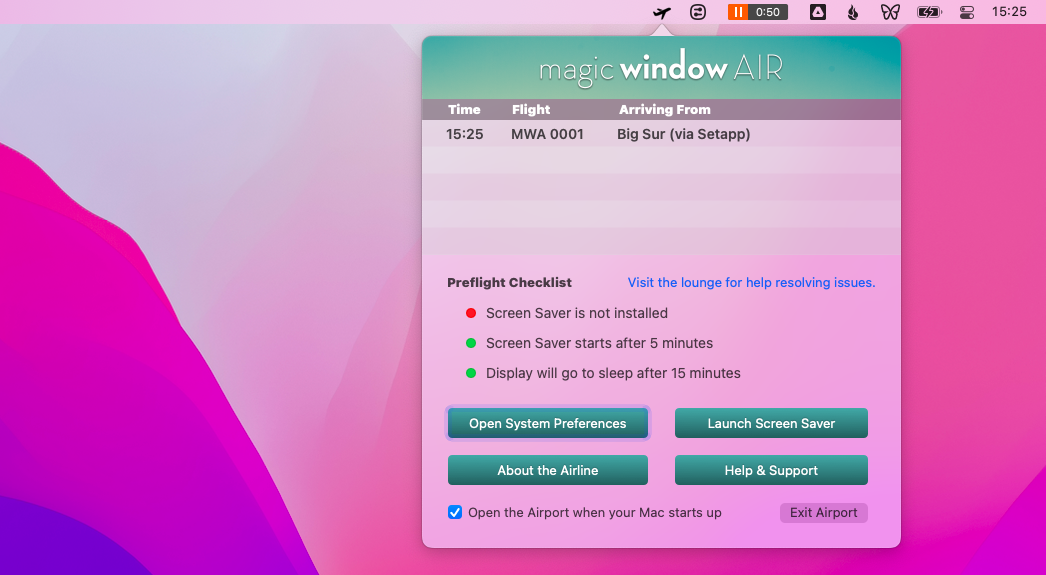 How to keep Mac screen on at all times
If you're wondering how to increase screen time on Mac to infinity, one way to do that is use the option outlined above:
Open System Preferences > Battery
Go to Battery and Power Adapter
Switch "Turn display off after:" to Never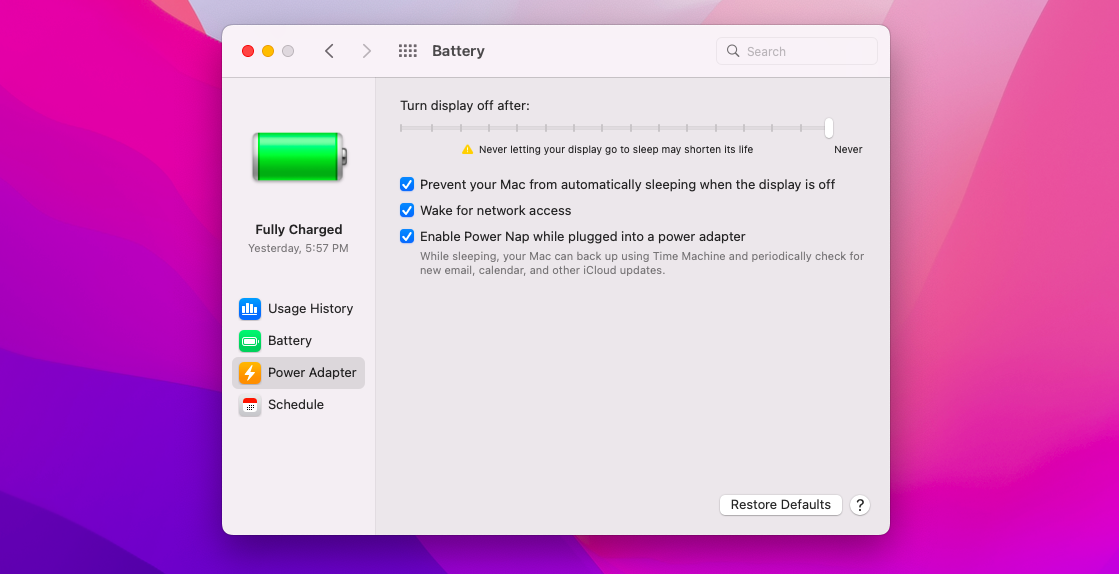 The problem with changing settings in System Preferences is that it's easy to forget about them and shorten your battery life as a result. Instead, try Lungo.
Lungo is the easiest way to specify how long your Mac needs to stay awake. This utility lives in your menu bar and lets you pick the awake time from infinity down to a few minutes. And you can set your own custom time periods in preferences too.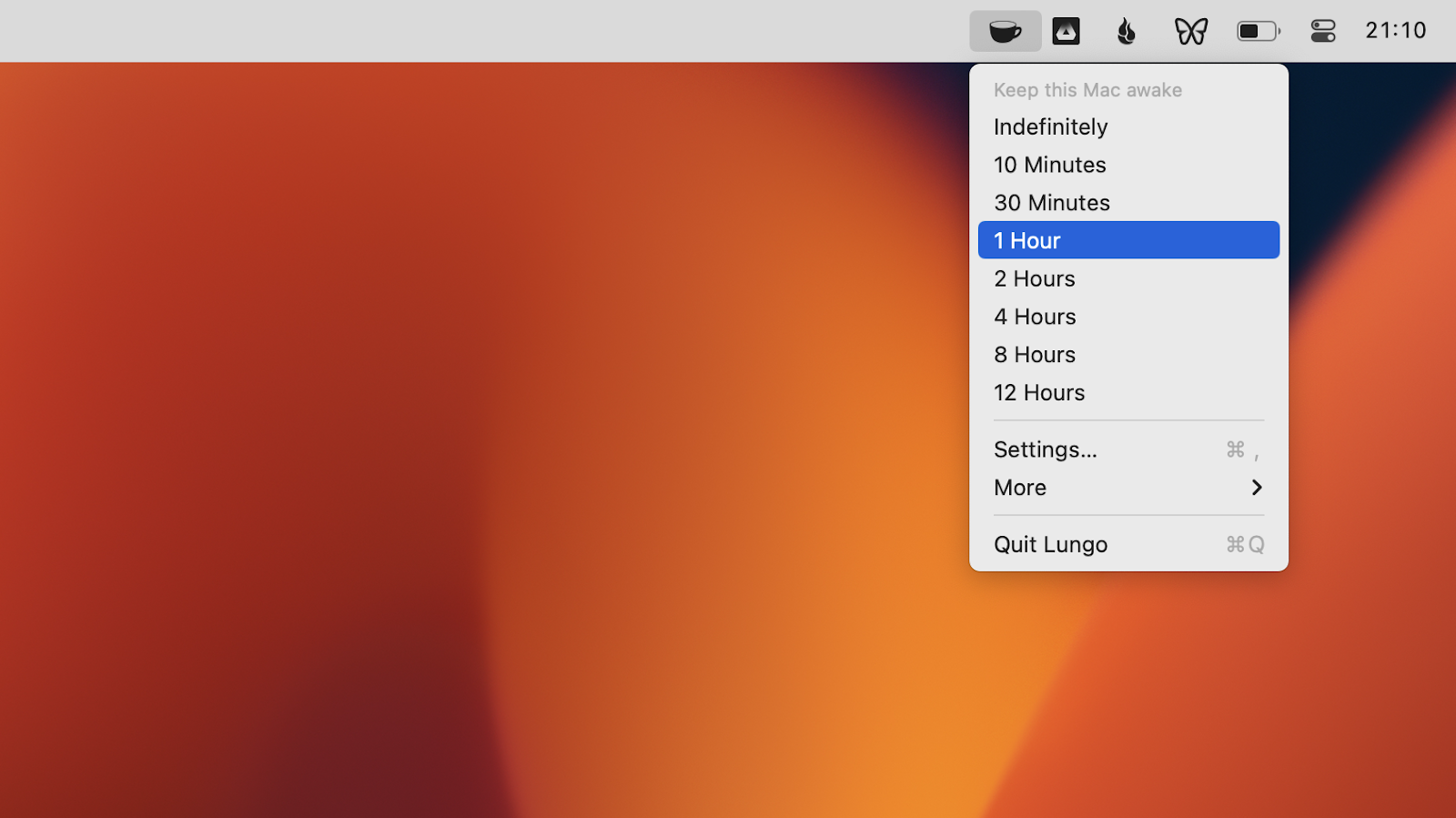 How to restore default screen timeout settings
With all the ways of how to change the screen timeout on Mac, you might at some point just want to go back to defaults. Luckily, it's easy to do so.
To restore default screen timeout settings:
Launch System Preferences > Battery
Go to Battery and Power Adapter
Click Restore Defaults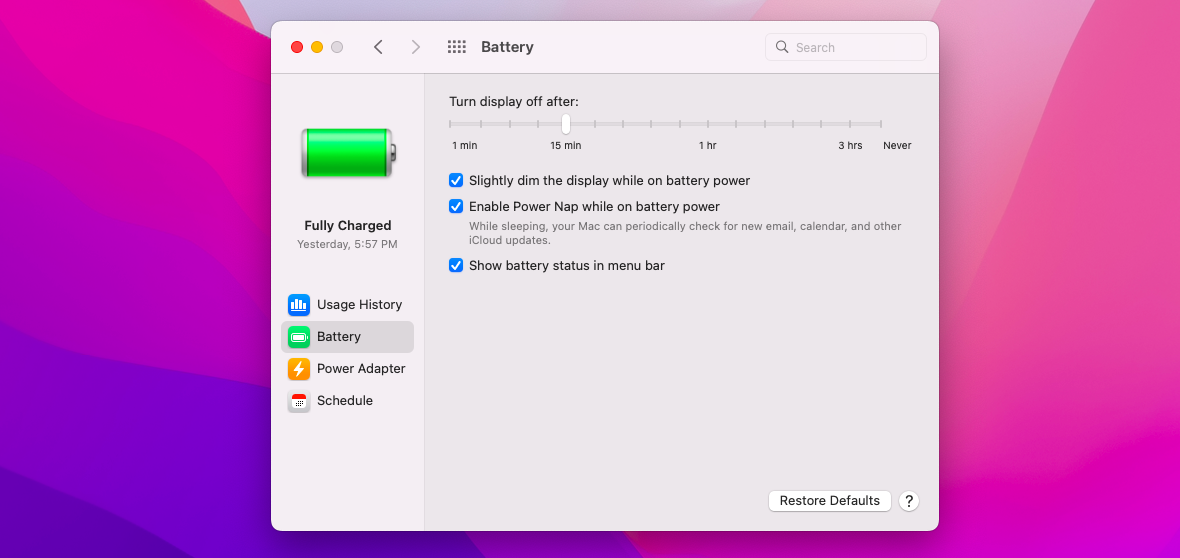 As you can see, figuring out how to change screen timeout on Mac just takes a few minutes. But check on your battery heath with CleanMyMac X first. Then extend your battery life with Endurance. Use One Switch or Lungo to control the timeout settings. And turn on Magic Window Air to enjoy the most beautiful screen savers out there.
Best of all, CleanMyMac X, Endurance, One Switch, Lungo, and Magic Window Air are all available to you absolutely free for seven days with the trial of Setapp, a platform with more than 240 best-in-class apps and utilities for Mac and iOS. Try every Setapp app today at no cost and see how you can improve your Mac experience.