How to fix Mac screen flickering
It can happen anytime — you're just sitting there working on your Mac and suddenly your screen gets covered with colorful lines that distort everything you see. After a few seconds it might go away and then reappear again, but it also could make it impossible for you to get anything done.
Unfortunately, this MacBook screen flickering issue is more common than you think. No one knows exactly why it happens although there are a few theories. Most importantly, you can take a few actions right now to fix it. Let's see what are some of the answers to "how do I stop my screen from flickering?" and get your MacBook back to normal again.
Why Is My Screen Flickering On Mac?
Since both Retina and non-Retina displays get the flickering screen bug, the most credible guess to the origins of the flickering screen comes from some low-level incompatibilities or bugs between macOS and certain GPUs (graphical processing units). This also means that to fix the MacBook Pro screen flickering you need to tweak things at a near systemic level, from resetting your SMC to restarting in Safe Mode to clearing out your caches. Here are some step-by-step suggestions.
Restart your Mac
The first thing to remember when you have any systemic issue is that simply restarting your Mac tends to fix 80% of all the problems. As your Mac reloads, it reconnects with all the hardware inside and some incompatibilities could just disappear.
To restart your Mac:
Click the Apple icon in the menu bar
Select Restart…
Hit Restart to confirm
Update to the latest macOS
Another, slightly more involved take on the computer screen flickering problem is making sure you run the latest operating system, which should include all the known bug fixes.
To check if another version of macOS is currently available:
Go to System Preferences
Open Software Update
Click Update if any new version is ready for download
Disable automatic graphics switching
If you have a MacBook Pro, you should know that it's using two graphics chips to make its operations more efficient. While resource-intensive tasks get a more energy-heavy GPU, casual web browsing can be done on the low-power one. So this switching is useful, but it might also cause random MacBook Pro screen flickering.
Luckily, you can turn the automatic switching off:
Open System Preferences ➙ Energy Saver
Uncheck the "Automatic graphics switching" box
Note: This tip is only applicable to MacBook Pro users who have two graphics chips.
Turn off True Tone
Macs of 2018 and later have a new feature called True Tone, which automatically adjusts the color of your display to fit the environment, so depending on the time of day and lighting conditions. There are similar apps for older Macs too, the most popular of which is called f.lux. True Tone is great and easy on your eyes, but it also requires constant GPU involvement and thus might be the cause of a flickering screen.
To disable True Tone:
Open System Preferences ➙ Displays
Uncheck True Tone
If you're using f.lux on your older Mac, simply quit it and see if the screen flicking has gone away.
Optimize your Mac systems
Truth is there are lots of extra things that could cause the problem, but their solutions involve complex Terminal tinkering with a high probability of deleting something that's essential to your system's performance and thus making the situation worse. What you need instead is a reliable and automatic way to optimize your Mac.
CleanMyMac X is the world's leading Mac optimization software. With just a few clicks, you can flush DNS cache, delete old user logs, free up your RAM, reindex Spotlight, detect malware, get rid of all the useless files and folders on your Mac, and much more. CleanMyMac X even keeps track of all the updates for your other apps and can also assist you in deleting them completely.
To fix Mac screen flickering with CleanMyMac X:
Launch CleanMyMac X
Navigate to the Maintenance tab
Check Free Up RAM, Free Up Purgeable Space, Run Maintenance Scripts, Rebuild Launch Services, Reindex Spotlight, and Repair Disk Permissions
Click Run
Reset your Mac's SMC
Getting close to low-level processes, a more involved step in trying to fix your computer screen flickering is resetting the SMC (system management controller), which is responsible for lots of autonomous aspects of your Mac, such as battery, power management, and other systemic functions.
To reset SMC:
Turn off your Mac
Press and hold Control + Option + Shift for seven seconds
Keep holding the keys above and additionally press and hold the power button for seven more seconds
Release all keys, wait a few seconds and turn your Mac back on
Reset NVRAM and PRAM on Mac
Both NVRAM (non-volatile random-access memory) and PRAM (Parameter RAM) store system-related information that your Mac needs to operate efficiently. It might be possible that a bug with this memory is causing your graphics card to malfunction, so resetting both could help.
Both NVRAM and PRAM are reset with the same sequence of keys:
Turn your Mac off
Press and hold Option + ⌘ + P + R for about 20 seconds, until the Apple logo has disappeared the second time
Note: Resetting NVRAM and PRAM could reconfigure the volume on your Mac as well as display and startup disk settings, and get your time zone back to the factory default.
Restart Mac in Safe Mode
One last trick to get rid of Mac screen flickering is to restart your machine in Safe Mode, which only activates essential Mac features and could stabilize your graphics card performance.
To restart in Safe Mode:
Turn off your Mac
Turn your Mac back on while holding Shift
Release Shift when you're asked to log in
If the flickering screen problem has disappeared in Safe Mode, restart your Mac once again and see whether your regular process works well too now.
Contact Apple support for help
In case none of the above tips have worked, you might be facing a real problem with your display. The best move here would be to reach out to Apple support online at support.apple.com or book an appointment at a Genius Bar in your local Apple Store.
How to prevent issues with your Mac
In reality, "why is my screen flickering?" is only one of many issues that could happen on your Mac. And while you might be able to fix this one relatively easily, others take more time and skill. So the best course of action here is to keep an eye on your Mac stats to identify potential problems and get the solution in place while they are still small.
iStat Menus is the most advanced monitoring solution for Mac. Even though it quietly lives in your menu bar, it provides you an instant overview on your CPU and GPU performance, RAM availability, network bandwidth, internal temperature, disk health, and much more. All you need to do is turn it on and see your Mac from a completely different perspective.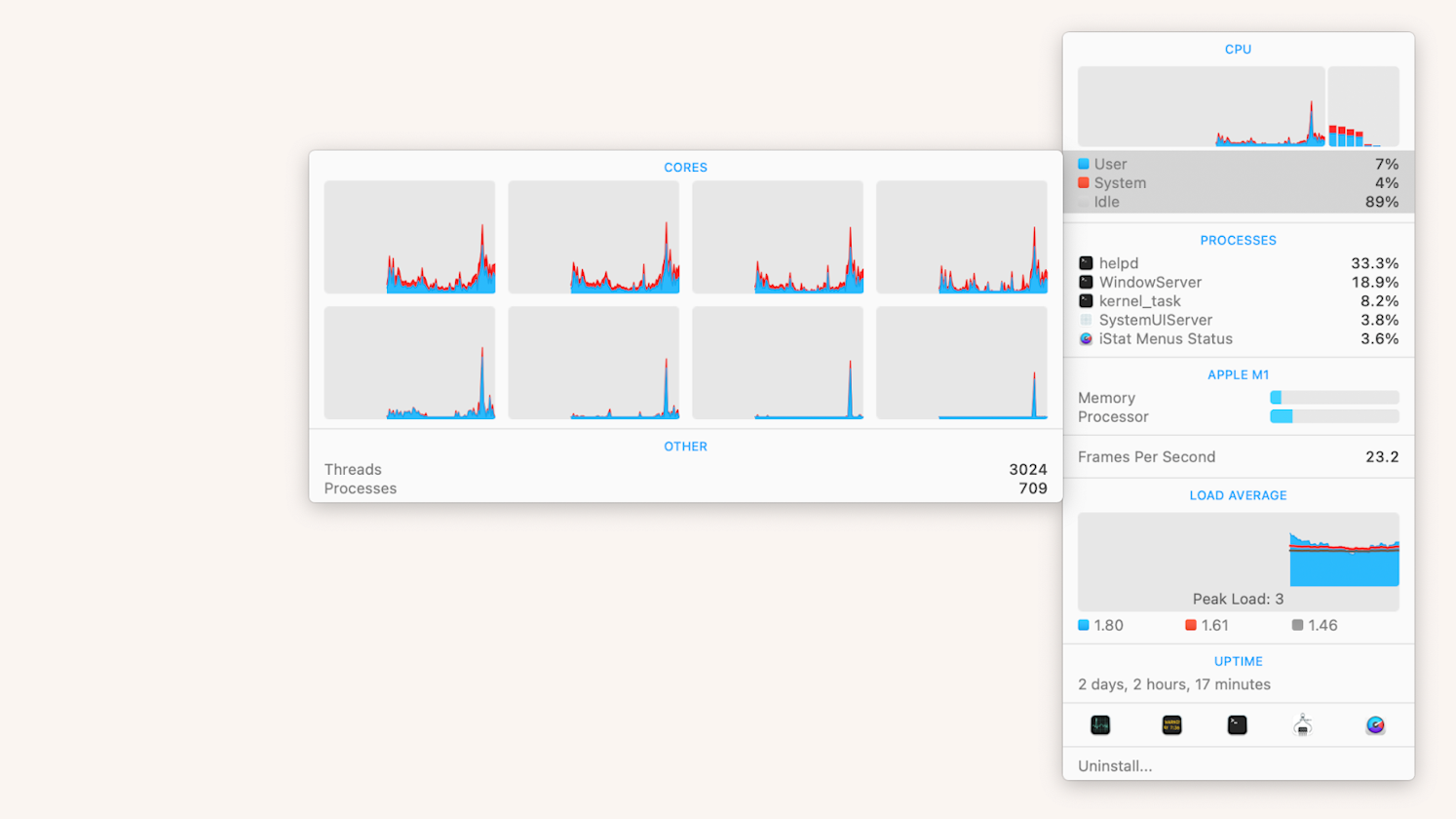 As you can see, there are lots of ways to approach the "how do I stop my screen from flickering" question, from something you can do intuitively, like restart your Mac, to something very specific, like resetting your SMC. What's certainly true is that it never hurts to monitor how your Mac is performing with iStat Menus and if you see any irregularities, use CleanMyMac X to fix them.
Best of all, CleanMyMac X and iStat Menus are available to you absolutely free for seven days through a trial of Setapp, a platform with more than 200 world's leading apps in any category you can imagine. Test them all at no cost and you'll be pleasantly surprised what you can find!