How to fix camera on Mac not working 2023
We can't imagine our Macs without cameras anymore. But as any tech customer support specialist will tell you, they also create the most common issues customers complain about. Although Mac camera not working is no doubt upsetting, it's luckily quite easy to fix on your own in most cases.
Most Macs today come with a built-in front-facing camera, often referred to as the FaceTime camera. It's located near the top edge of the screen and turns on when you open an app that is able to take pictures, record videos, or make video calls. Since FaceTime activates automatically, there's no need to wonder how to connect camera on Mac. However, the activation process sometimes fails and it's good to know what to do to get the connection back.
Possible Reasons For Webcam Not Working On Mac
When you have your MacBook camera not working properly, it'll say disconnected or unavailable. The "There is no connected camera" error might surprise you anytime with any app if it finds your camera not working on MacBook. But don't rush to assume that now you need to somehow "connect" the camera back on or that there's a hardware issue that requires warranty service:
macOS doesn't come with a camera settings app. Most apps that use the Mac camera come with their own configuration options, so there's no on-and-off switch — neither physical nor software.
Even if you think it might be a hardware issue, you can usually resolve the problem of Mac camera not working quite quickly on your own with the help of a few little tricks
Below is a comprehensive guide to the tips you can use to get your camera back up and running should it misbehave.
Check your webcam permissions
If you are experiencing camera issues on your Mac, the first thing to do is check permissions for webcam use.
Click on the Apple menu in the left corner of your Menu bar and select System Preferences.

Find Security & Privacy and go to the Privacy tab.

Scroll down to Camera and make sure the app you want to use camera with has a checkmark next to it: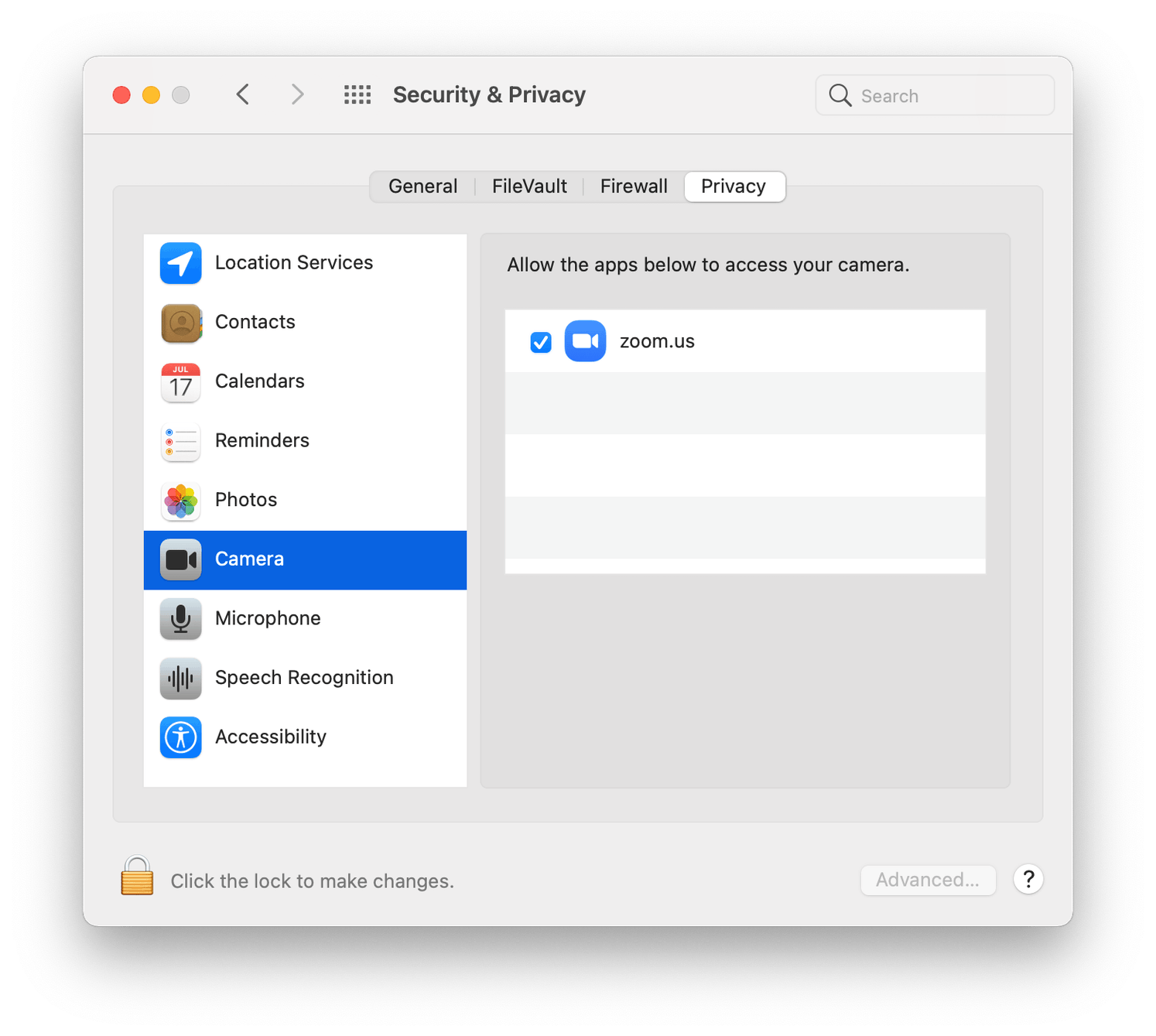 Enable your camera with Terminal
Sometimes your camera might have been in use by an app and did not quit properly for the new app to try and use the webcam. This means you might need to employ Terminal to quit the process.
Open the app through Finder > Applications > Utilities > Terminal and type in the respective commands:
sudo killall VDCAssistant
This one stops the VDCAssistant process that helps run the camera. We were asked for our admin password for the command to apply. Just type it in when prompted by the Terminal.
You can also try:
sudo killall AppleCameraAssistant
Although this one might be limited to OS X and the process was not recognized on our Big Sur macOS.
Check for apps using the camera simultaneously
We know that Mac camera is turned on automatically by the apps that use it. But what's also important to note is that only a single app can utilize the camera at the same time. So when you have your Mac webcam not working, make sure you're not being denied access to the camera because some other app is using it at the moment:
Launch Activity Monitor from Applications
Quit all other open apps or utilities that might be using the camera (e.g. Skype, FaceTime, and Photo Booth)
If you're not sure which applications might be accessing your camera, save your work and close all the open apps to rule everything out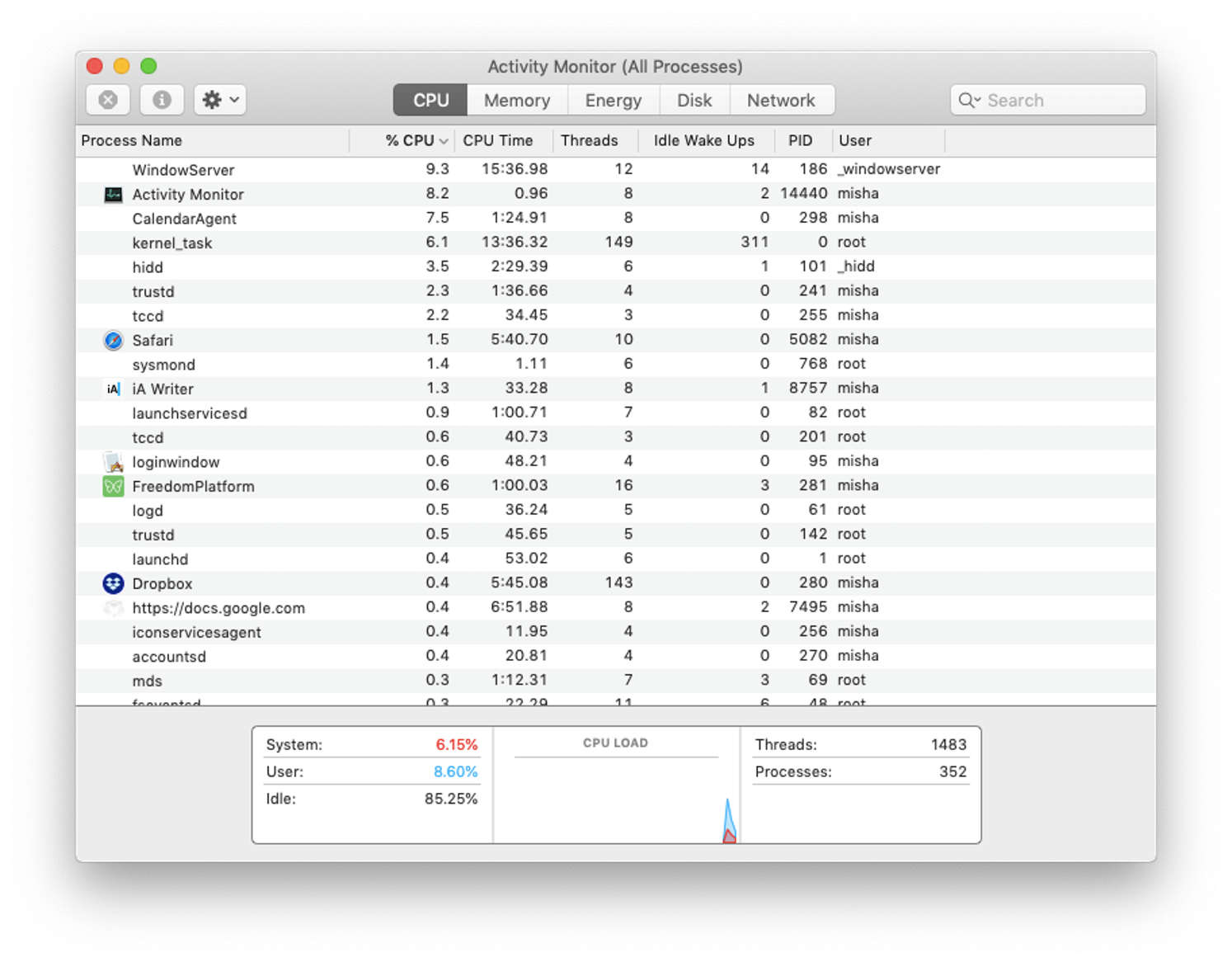 Simply restart your Mac
If quitting apps didn't help, there might be a chance that some processes are using the camera in the background. A restart will almost certainly resolve the issue, giving you full access to the camera once again. To restart your Mac:
Select the Apple icon in the top menu bar
Click Restart…
For M1 Macs, to restart you press the Apple menu > Restart.
Use Force Quit with FaceTime not working on Mac
As effective as restart is, it takes time and halts everything you're doing. Which might not be an option when you're in the middle of an important FaceTime call. Fortunately, for FaceTime not working on Mac, there's another trick that doesn't require a reboot and fixes the problem immediately. That is using a command line to Force Quit the process:
Go to Applications ➙ Utilities ➙ Terminal
Click inside the terminal window and type sudo killall VDCAssistant
Hit Return on your keyboard and enter your admin password if prompted
Relaunch the app to see if the issue of webcam not working on Mac is resolved.
Fix Skype camera not working on Mac
If you're wondering why is my camera not working on my Mac when making Skype calls specifically, chances are that Skype is the app to blame here. Here's what to do with your Skype camera not working on Mac:
Make sure that you have the latest version of Skype
If you do and there's still no connected camera on MacBook — reinstall the app
Still experiencing the problem? Apply the same fix as described above for FaceTime not working on Mac. Then restart your computer and test Skype again.
Finally, check that you're connected to the internet and your speed is sufficient enough (at least 128 kbps, or 1 mbps for HD FaceTime video calls). In case you do have problems with the internet connection, try WiFi Explorer, a network analyzer that helps identify and fix common network problems with your connection without involving a costly professional.
WiFi Explorer scans your network environment (band range, signal quality, security status), identifies channel conflict and coverage issues, and gives you quick recommendations to improve your WiFi.
Visual graphs in WiFi Explorer make it easy for you to assess the situation at a glance without diving deep into the numbers.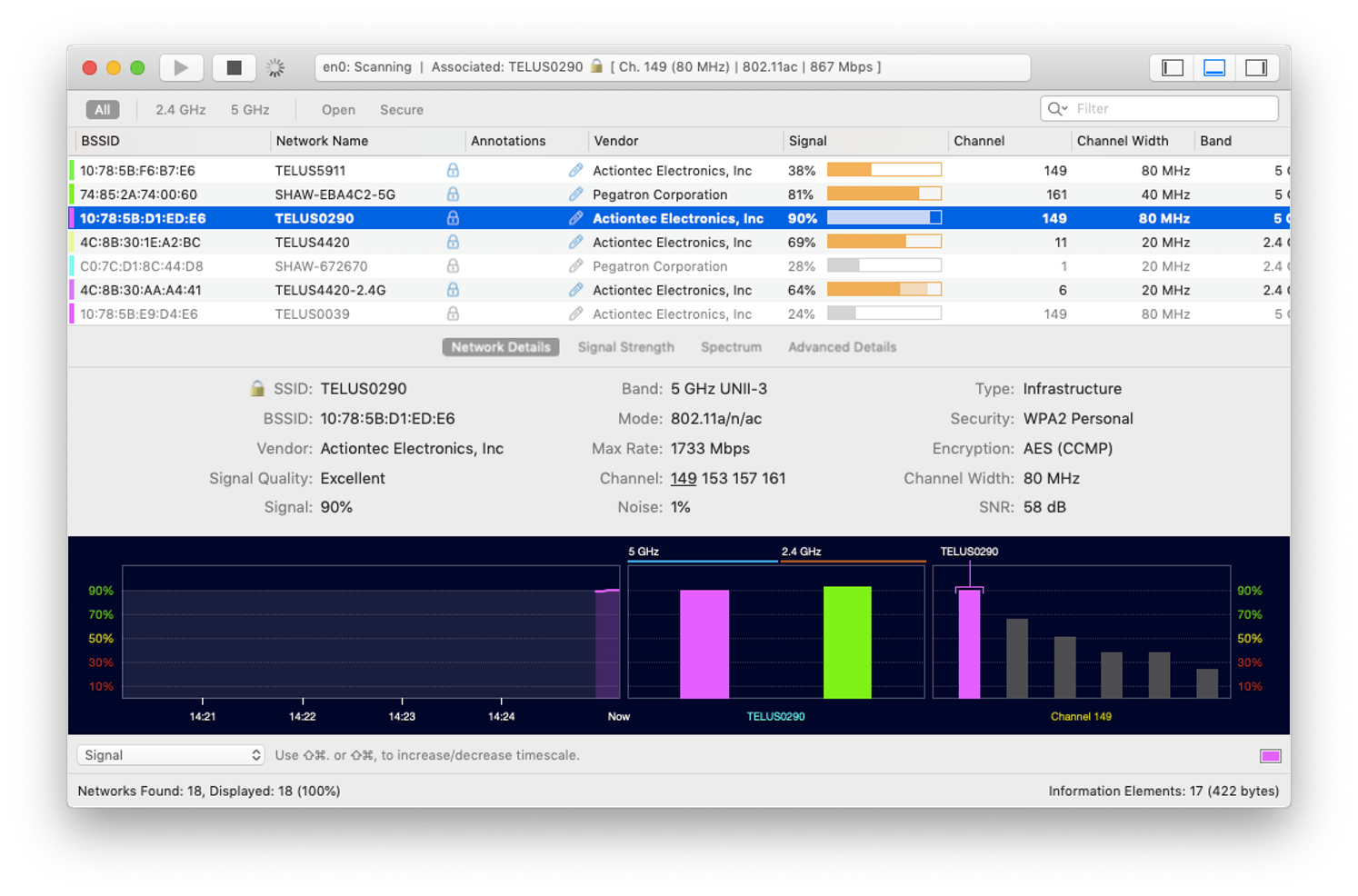 Reset your Mac's system controller
If you find the camera on Mac not working still and nothing of the above seems to help, you may try resetting what's known as the System Management Controller (SMC). The SMC manages a lot of hardware functions on your Mac and rebooting it may serve as a solution to your problems.
To reset the SMC on MacBook (2017 or earlier):
Shut down your computer
Plug in your power adapter
Hold down Shift + Control + Options keys and the power button at the same time
Allow 30 seconds to pass before releasing the keys, which will boot the Mac back up
Resetting the SMC on modern MacBook Air or Pro with the T2 security chip is different and involves a two-step process. Sometimes simply completing the first step will resolve the problem, but proceeding with both is generally a more solid approach for fixing the camera not working on MacBook issue.
The first step required to reset the SMC on MacBooks (of 2018 or later):
Shut down your Mac
Press and hold the power button for 10 seconds
Release the power button and wait a few more seconds
Turn the Mac on again
Check to see if you still have the Mac webcam not working problem. If the issue persists, proceed to the second part below.
The second step required to reset the SMC on MacBooks (2018 or later):
Shut down your Mac
After the computer is turned off, press and hold the right Shift key, and the left Option key, and the left Control key for seven seconds
While still holding the keys, press and hold the power button for seven more seconds
Release all and wait a few more seconds
Press the power button again to turn the Mac on
Assuming the problem with MacBook Pro camera not working was with the SMC, whatever the issue was it should now be resolved.
Run Apple Diagnostics
When all else fails, your very last resort is Apple Diagnostics tool. To use it, shut down your Mac, disconnect unnecessary external devices, and make sure the Mac is on a hard flat surface in a well ventilated space.
For Intel processor Macs, turn on your Mac and press and hold the D key right away. Let go once you see a progress bar on the black background.
For Apple silicon, press and hold the Power button as your Mac starts up. Release once you see startup options. Press Command + D.
Wait for the testing to complete and save any reference codes you get as your result, — you'll want to check them against Apple Diagnostics reference codes. As you can see in the list, codes NDC001, NDC003, NDC004, NDC005, NDC006 indicate there might be an issue with the Mac camera.
Maybe your Mac camera is broken?
If there's something physically wrong with your webcam, there's no amount of software manipulations, restarts, and fixes that can remedy the issue. If your Apple Diagnostics results show there might be an issue with your camera or you can visibly see your camera area is damaged (and if you've dropped or spilled something on your Mac and were praying it don't come to this, we've got bad news — it looks like it did), you really need to get your device looked at by a pro.
Take your laptop to service and see if they can diagnose the issue and make necessary repairs to fix your camera or any other problem that might be causing your camera to malfunction.
Optimize your general system performance
Reading through the what to do with the MacBook camera not working guide, you have to remember that your camera should work flawlessly most of the time. Unless your Mac tends to accumulate all kinds of useless files that might slow it down. No wonder then you might experience the Mac webcam not working.
Best advice here is to perform regular system cleanups — automatically. Use apps like CleanMyMac X to clean, protect, and optimize your machine's performance to bring it to the state it once used to be.

CleanMyMac X optimization and maintenance tools sort through the old unused files, random app caches, and help you uninstall unnecessary apps completely without leaving behind the leftover bits on your drive. The app also scans for thousands of malware threats and neutralizes them in seconds, takes care of gigabytes of disk space taken by the email attachments you've never even downloaded, as well as removes histories, cookies, and caches from all the browsers you use. All in a single click.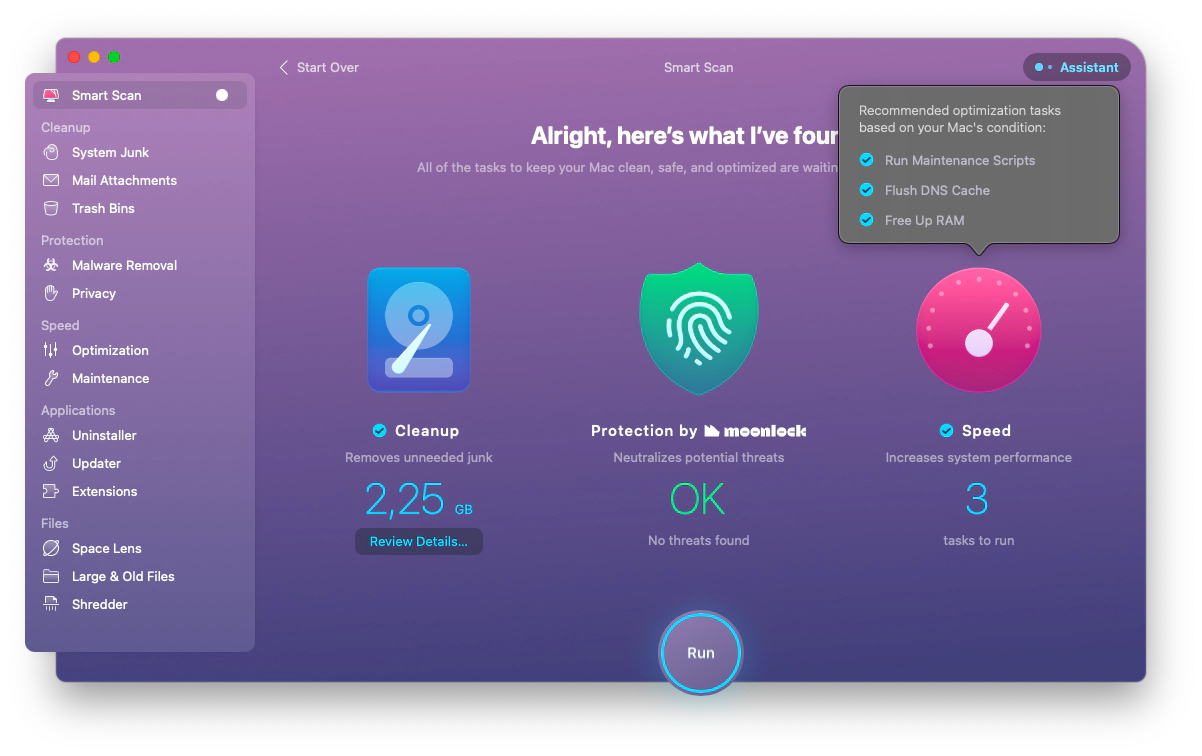 Video feed can be pretty power-hungry, so one way to ward off camera issues related to system overload might be to keep an eye on your GPU and CPU use in real time.
iStat Menus is a great little app for that. This advanced customizable system monitor lives in your Menu bar and allows you to see any of the key vitals on your Mac with a simple glance up your screen.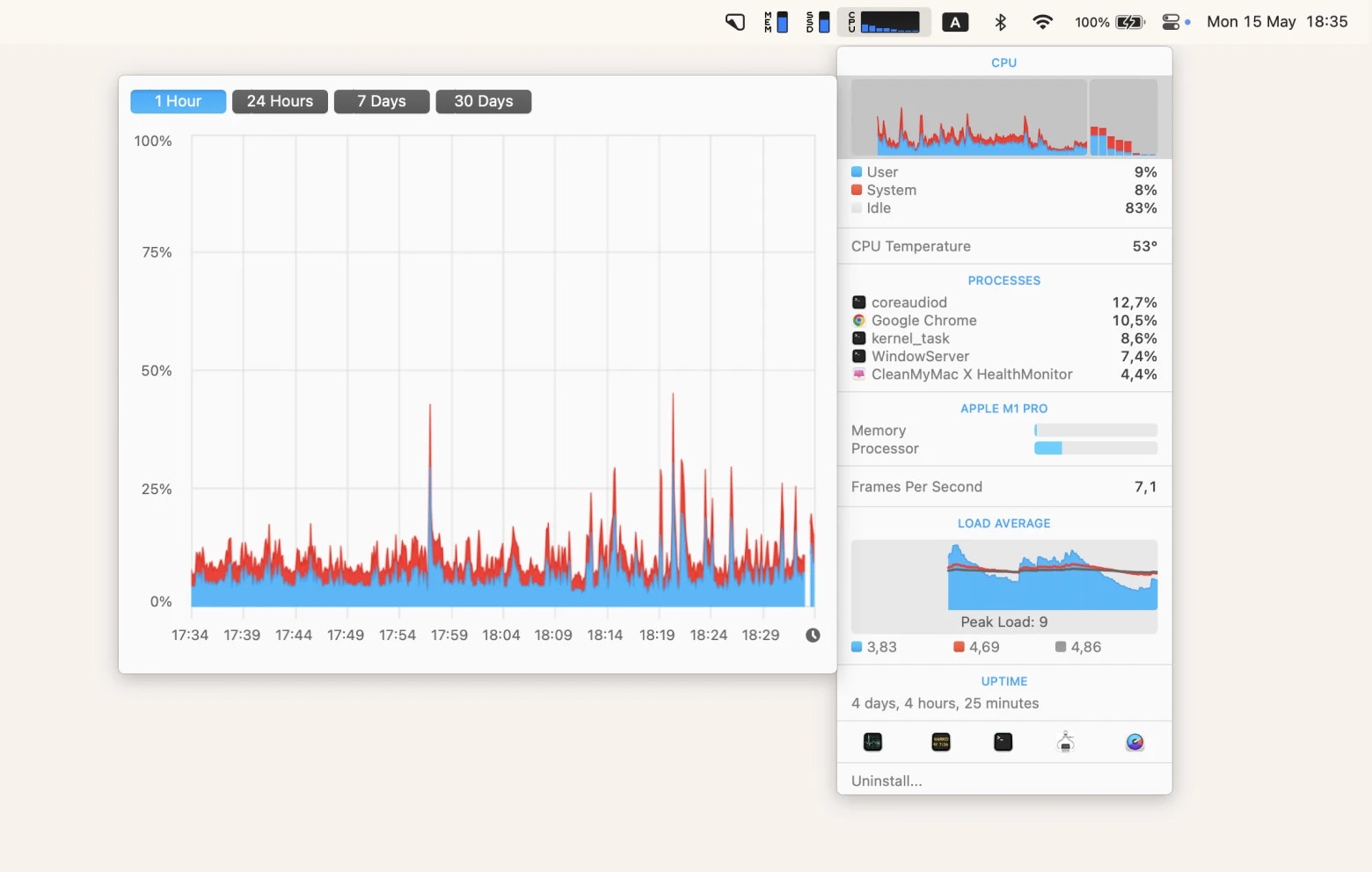 If none of the proposed solutions can fix your Mac camera not working on MacBook, find an Apple Store or authorized Apple technician to have your Mac serviced. Or contact Apple's telephone support. Remember that there also remains a possibility for mechanical or hardware problems with your camera, which are impossible to fix with software tweaks.
In all other cases, MacBook camera not working should no longer be a problem for you. Best of all, you can use both WiFi Explorer and CleanMyMac X mentioned above for free during a 7-day trial of Setapp, a platform of more than 150 apps that can fix just about any Mac problem in no time. Never miss your FaceTime call again!