Mouse cursor pointer disappears on Mac: Fixes
When your Mac cursor disappears, it can cause a lot of issues with what you're working on at the moment. It's a really strange issue, and fairly uncommon, but disruptive. Instead of wondering what's wrong with your computer when the Mac mouse disappears, let's discuss some of the most common fixes for this unusual problem.
Possible reasons why mouse cursor disappears on Mac
Before we provide solutions for when your cursor disappears, Mac computers have some known issues we should discuss to answer the core question: "why does my mouse keep disappearing?"
Your Mac runs low on memory. Remember, your cursor is also a process, and if your computer has too much going on, it will run low on memory (aka RAM). In this article, we provide useful tips on how to keep your memory usage reasonable, which might fix the problem of cursor not working on Mac.
Multiple monitors are in use. If you're using multiple monitors, it may be why mouse disappears; Mac monitors may be arranged improperly, or your cursor may just be on a different screen.
Apps hide the mouse cursor. Have you ever watched a video and noticed your cursor had disappeared? It's not your computer's fault; sometimes, apps or sites like YouTube hide cursors while some media content is playing.
Third-party apps are causing issues. Pay attention to which apps you're using when you can't find your cursor. It's possible those apps are to blame.
How to fix "mouse cursor disappears" Mac issue
No matter what the issue behind your mouse not showing up on Mac is, we'll get to the bottom of it. Follow the tips we provide below to fix the problem.
Right click
If you can't find your cursor, a right-click operation should bring up a menu (right-click, Control-click, or tap with two fingers on the Trackpad — depending on your input device). This at least tells you where your cursor is on the screen. Just keep in mind some apps opt to keep the cursor small or hidden, so this may not cause your cursor to reappear immediately.
Click and drag
If your mouse cursor isn't showing up, a simple click-and-drag operation may bring it up. Simply hold as though you are selecting an item or bunch of text, then release. This should bring up your mouse cursor on the screen!
Tip: if you use any drag and drop enhancers for Mac — for example Filepane or Yoink — make sure to use them when MacBook cursor disappears. While they bring up additional menus when you click and drag, they might help locate your cursor faster.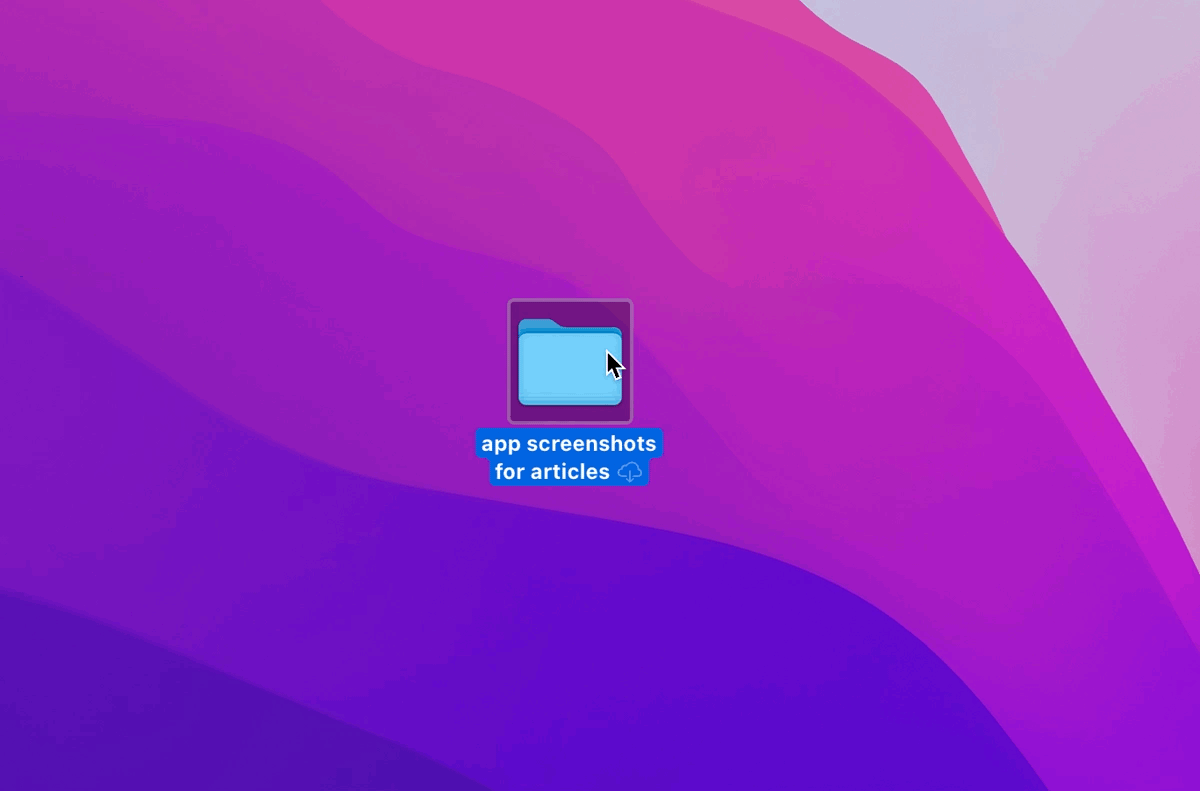 Make sure there are no connection issues
Check if you have a solid, reliable internet connection. Your Mac can tell you if you're connected to the internet, but not if that connection is truly reliable. Use an app like WiFi Explorer or NetSpot to dig deeper into your internet connection. Each app can give you granular details about your connection speed, reliability, strength, and provide insight on signal to noise ratios and how active a WiFi channel is.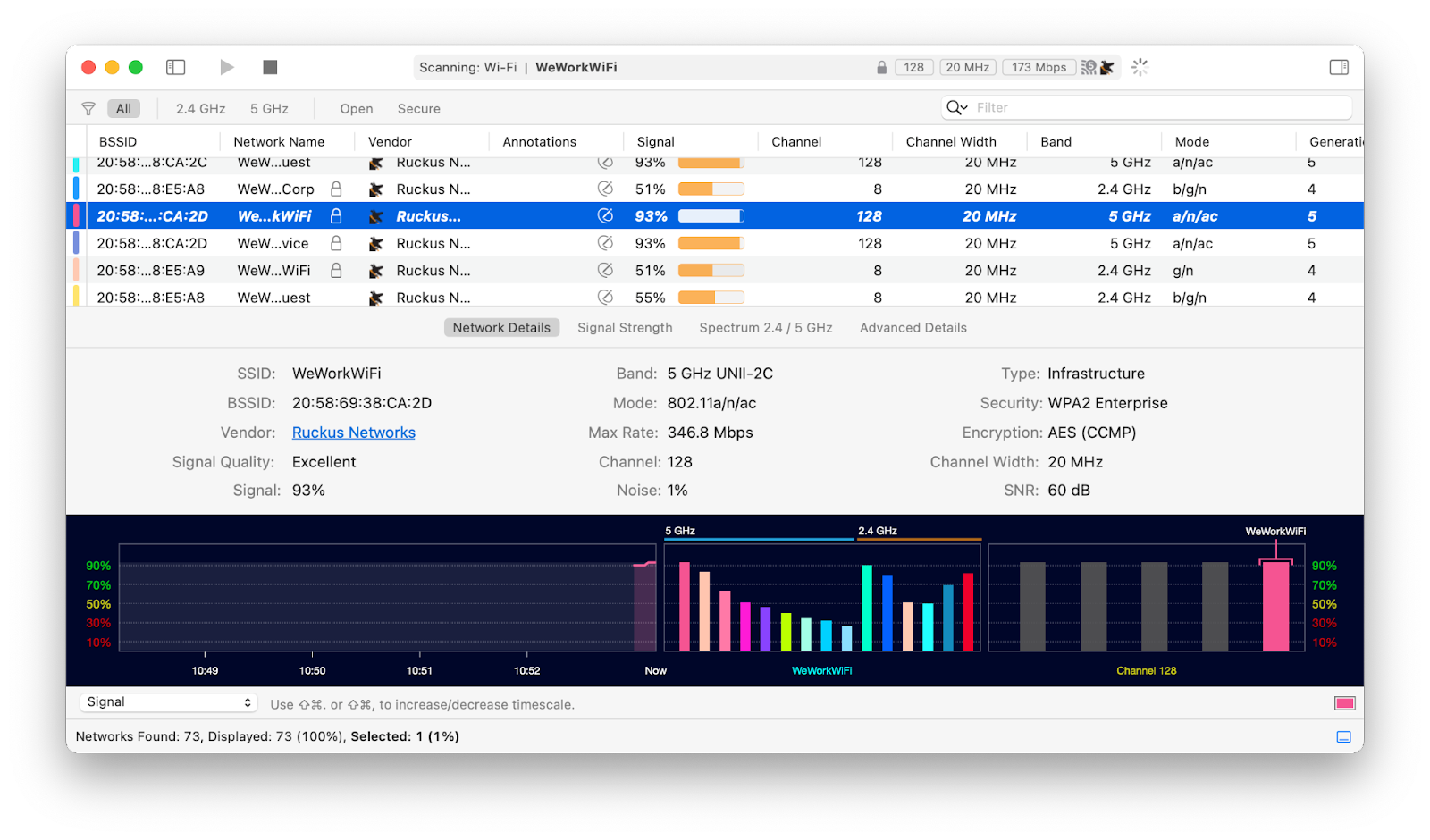 Use System Preferences to bring the cursor back
There are three System Preferences settings that can help you locate your cursor:
Cursor size. Go to Apple menu > System Preferences > Accessibility > Display > Pointer, and change pointer size to make your cursor larger.
Zoom. Go to Apple menu > System Preferences > Accessibility > Zoom. Choose 'Advanced' and go to the Controls tab. Select 'Hold Control+Option to temporarily toggle zoom.' Pressing Control+Option temporarily zooms your mouse cursor size.
Shake. Go to Apple menu > System Preferences > Accessibility > Display > Pointer and enable "Shake mouse pointer to locate." When you move your mouse or track your finger across the trackpad rapidly, your mouse cursor will temporarily zoom on screen.
Drag the pointer to Dock or menu bar
Dragging your cursor to the top or bottom of your screen can either activate the Dock or menu bar, or show which apps or icons you're trying to use. This is a simple way to see where your mouse is. macOS Monterey even has an option to automatically show and hide the menu bar as you move the cursor — so it's even easier to test!

Charge your Magic Mouse or Trackpad
If you're using an external mouse or trackpad, make sure the device is powered up. Either replace the battery or charge it if the device is rechargeable. Note that by connecting Magic Mouse or Magic Trackpad to your Mac, you're automatically charging it — but you can't use Magic Mouse 2 when it's connected to the charging cable, so you'll have to wait a bit.
Check hot corners
Hot corners quickly start certain actions when you move the cursor to screen corners. If you have hot corners enabled on your Mac, they probably help you automate your flow a lot. But they might also mess with your mouse pointer, so you should try disabling them.
Note that macOS Monterey users have a Quick Note hot corner enabled by default (try moving the cursor to the bottom-right corner), so even if you've never set up any hot corners, Apple did it for you. And if it messes with your cursor, you need to turn it off:
Open System Preferences > Desktop & Screen Saver
Go to the Screen Saver tab
Choose 'Hot corners'
Deselect any assigned actions.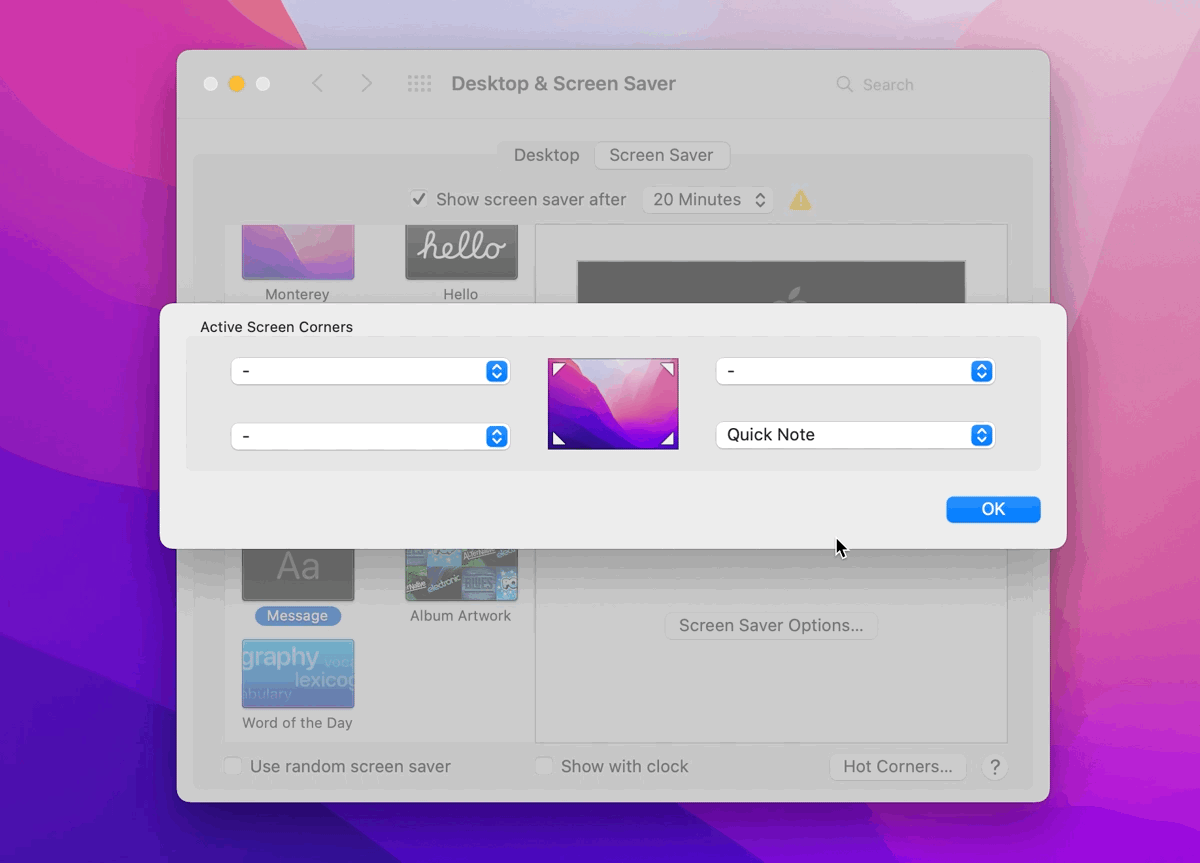 Force quit apps
Sometimes, apps cause the "mouse cursor disappears" Mac problem. While it might be impossible to tell which app is guilty here, try safely quitting all processes with Quit All.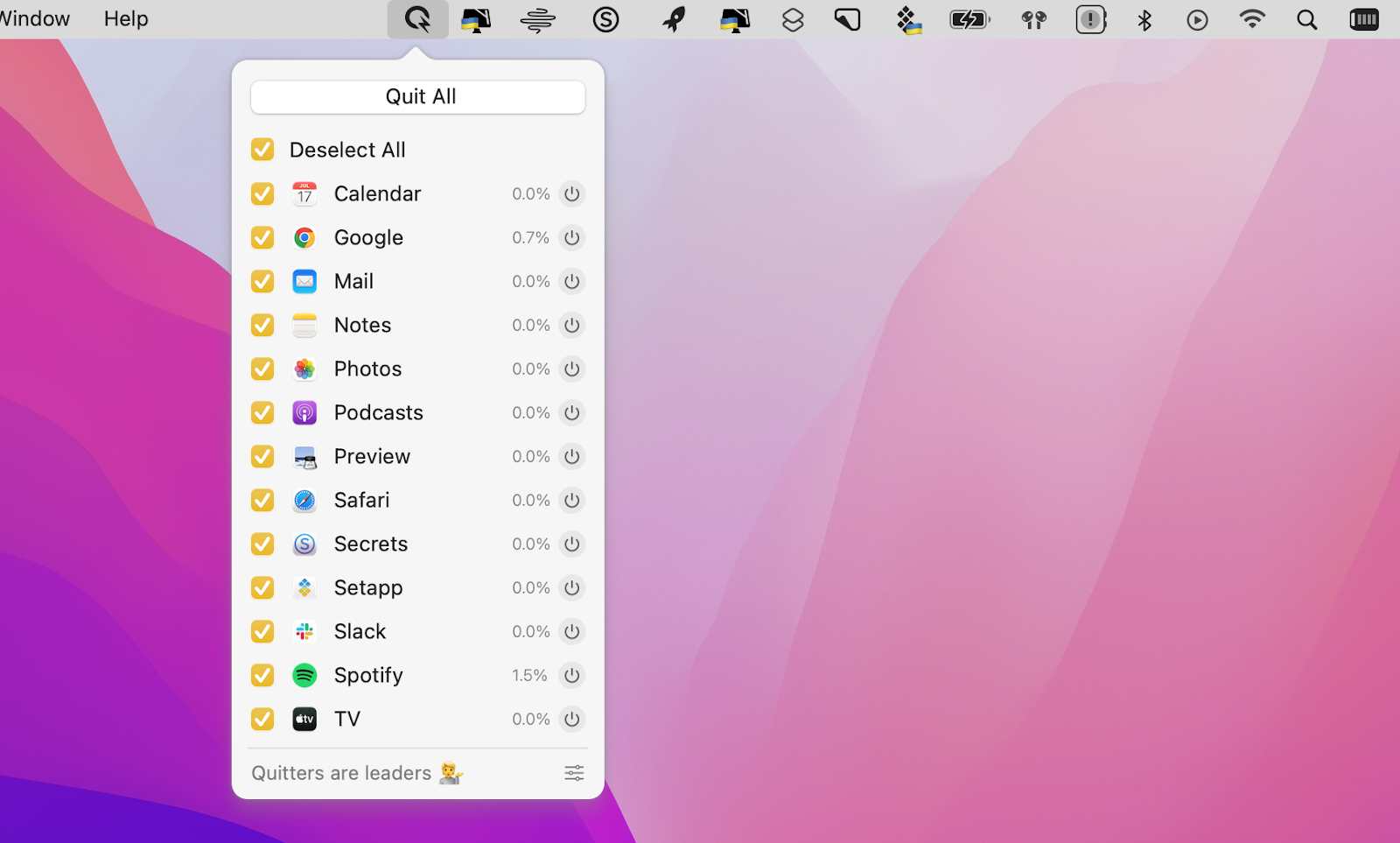 Quit All can even quit background processes with one click (Preferences > View background processes > Quit All). This action should "unfreeze" your Mac and help you bring the cursor back.
Alternatively, you can use Apple's manual Force Quit: hold Command + Option + Escape to bring up a menu enabling you to force quit certain apps. If that doesn't work, you can also try Command + Control + Power to force restart your Mac.
Reset SMC/NVRAM
Universal DIY fixes for any Mac misbehavior include resetting the SMC (responsible for lightning, fans, keyboard, and such), as well as resetting NVRAM (nonvolatile random-access memory). Each of these can help restore your Mac cursor.
Note: You should only try these fixes on Intel Macs. On M1 Macs, there's no mechanism for resetting the SMC or NVRAM, but you can try restarting your Mac — some hardware settings can be refreshed and fixed while you do so.
To reset the SMC:
Turn off your Mac
Press and hold down Shift + Control + Option + power button
Release the keys once you hear the startup sound.
To reset NVRAM:
Turn off your Mac
When rebooting, hold down Option + Command + P + R
Release the keys after you see the Apple logo or hear the second startup sound.
Make mouse cursor bigger
If you tend to lose grip on your mouse cursor, maybe you should just make it bigger. Go to Apple menu > System Preferences > Accessibility > Display > Pointer. There, you'll find the slider to customize the size of your cursor.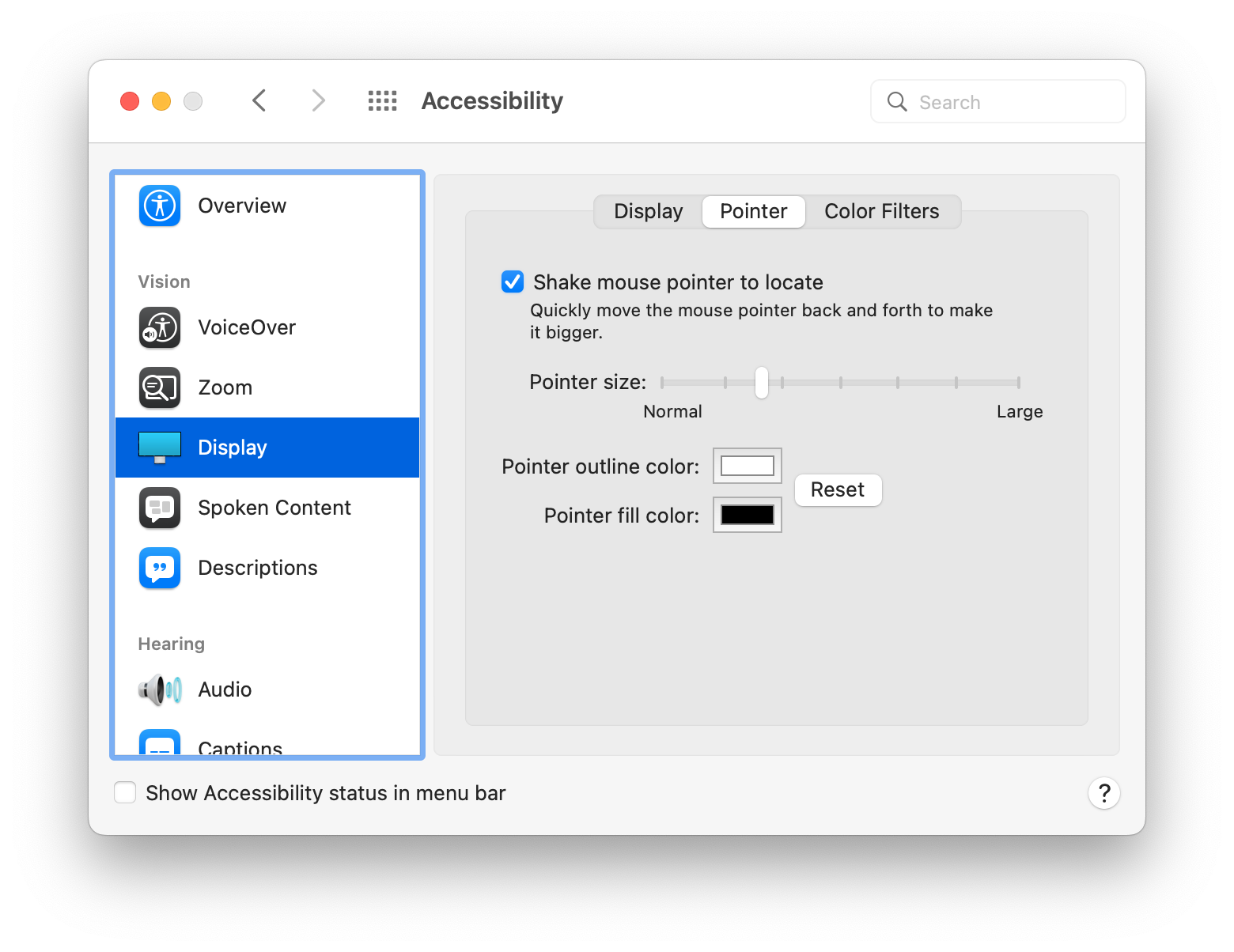 Run maintenance scripts
Sometimes, all the issues your Mac throws at you are a sign of poor maintenance. Even though Macs are powerful machines, they need to be taken care of — decluttering storage and running maintenance scripts are the best things you can do here.
CleanMyMac X helps run maintenance scripts automatically, so you don't have to dig through any settings. This will help remove junk system files, temporary files, and run some essential system optimizations:
Open CleanMyMac X and choose Maintenance
Choose 'Run Maintenance Scripts' from the list
Click 'Run' and wait a few minutes.
Done!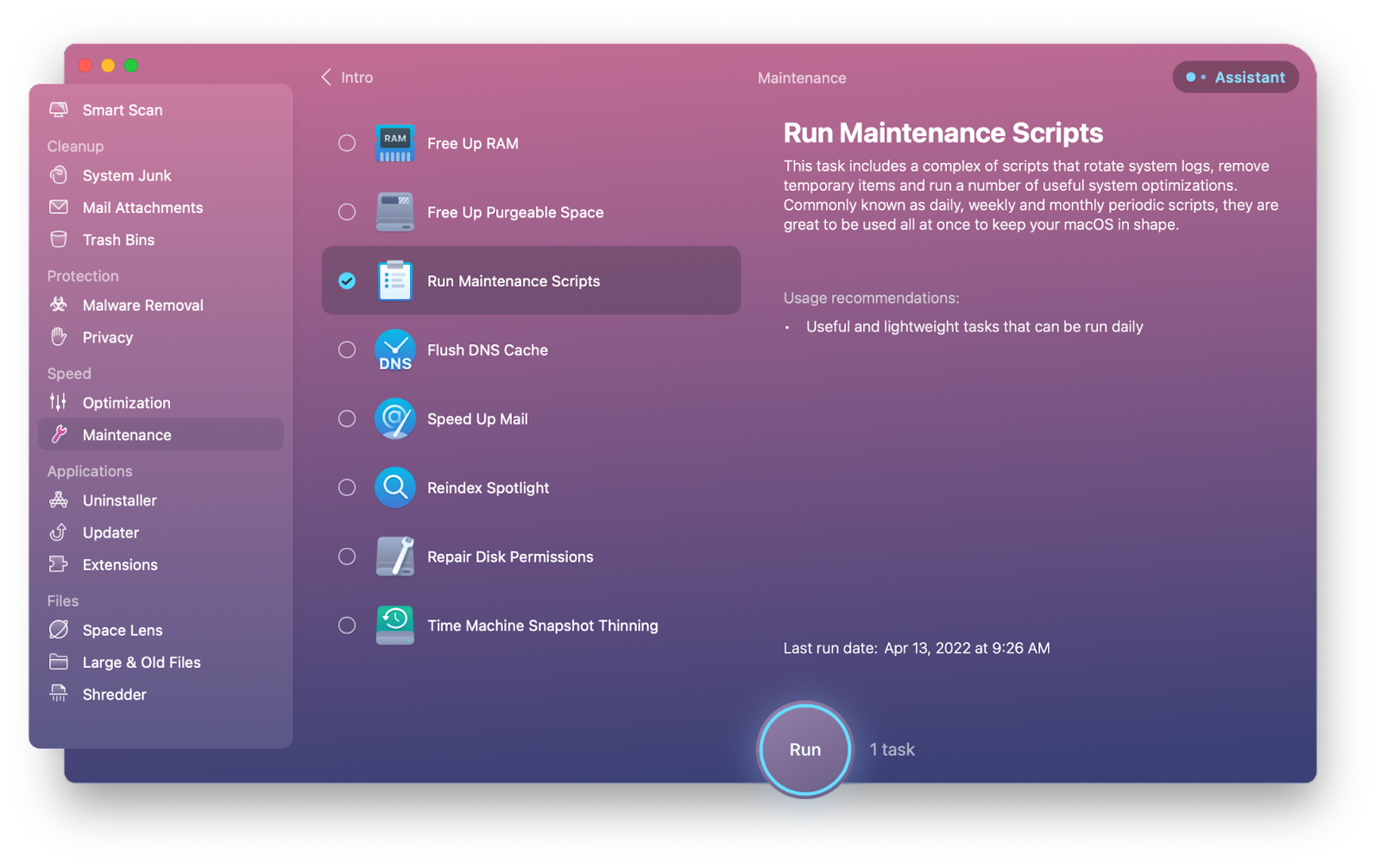 Mouse keeps disappearing: Mac apps that will help
If your mouse continues to act strange, think about moving at least part of your routine actions from mouse to keyboard. Paletro is a command palette that can be accessed from any app with a simple keyboard shortcut Shift + Command + P (⇧ + ⌘ + P). You can type the name of the shortcut you're looking for in the search window that will display, and Paletro will find it right away!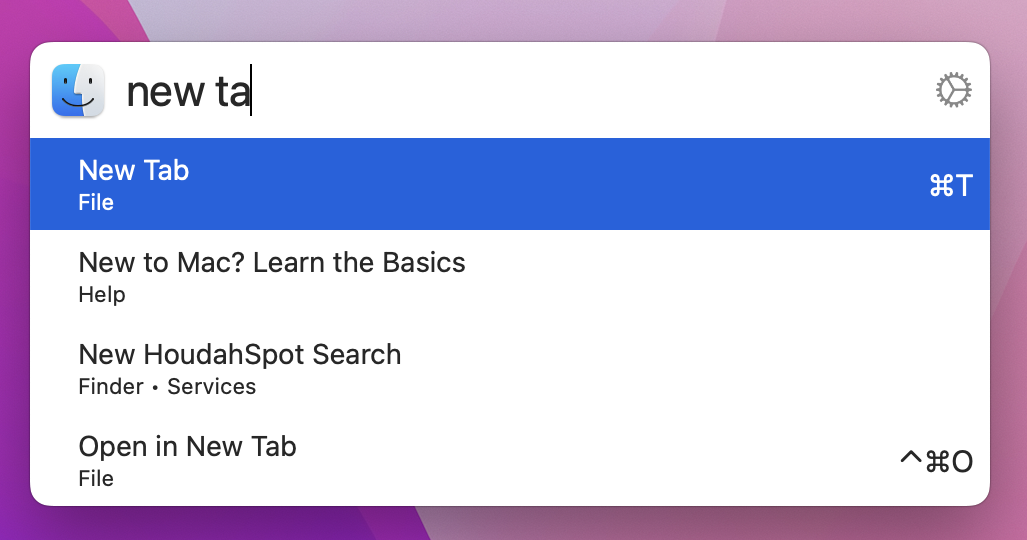 Another solution is to get Remote Mouse, an app that links your iPad or iPhone to your Mac, and uses the screen on those other Apple devices as the trackpad for your Mac.
Linking over Bluetooth, Remote Mouse has a highly adaptable interface you can tweak to suit your needs. It can hide or surface features as needed; a great option when you need more from your trackpad during photo editing sessions. The app also has a keyboard interface for quick additions, and can accept voice commands for inputting text on screen. You can even use your iPhone's sensors to wave your phone around to navigate your Mac's interface. Pretty wild.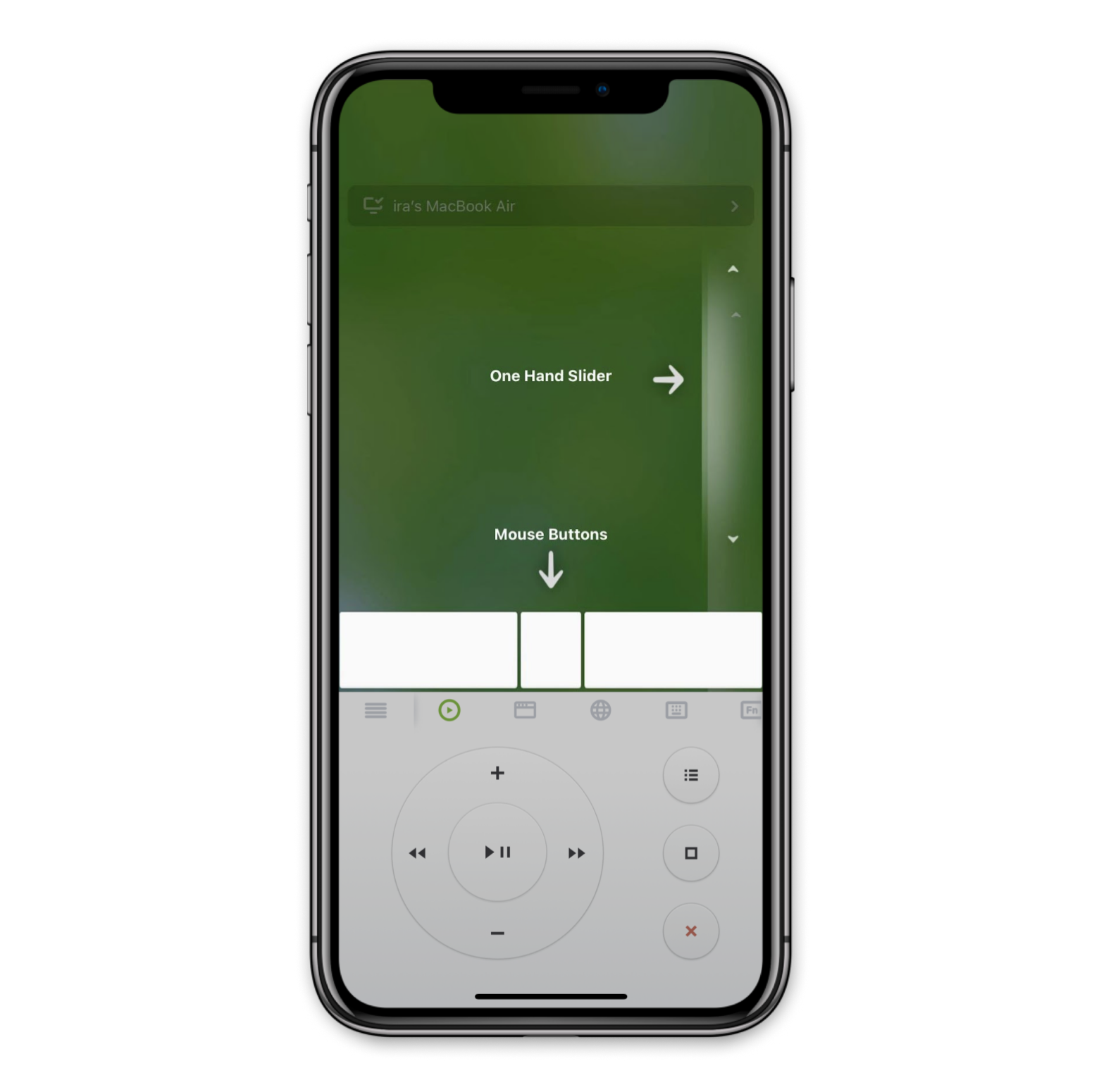 Finally, get a RAM tracker. Remember we talked about high RAM usage being one of the key issues behind the stuck cursor? With iStat Menus, you'll be able to keep tabs on your memory usage with a real-time memory monitor in your menu bar. If your RAM usage is skyrocketing, you should always think about quitting some active processes — or all of them.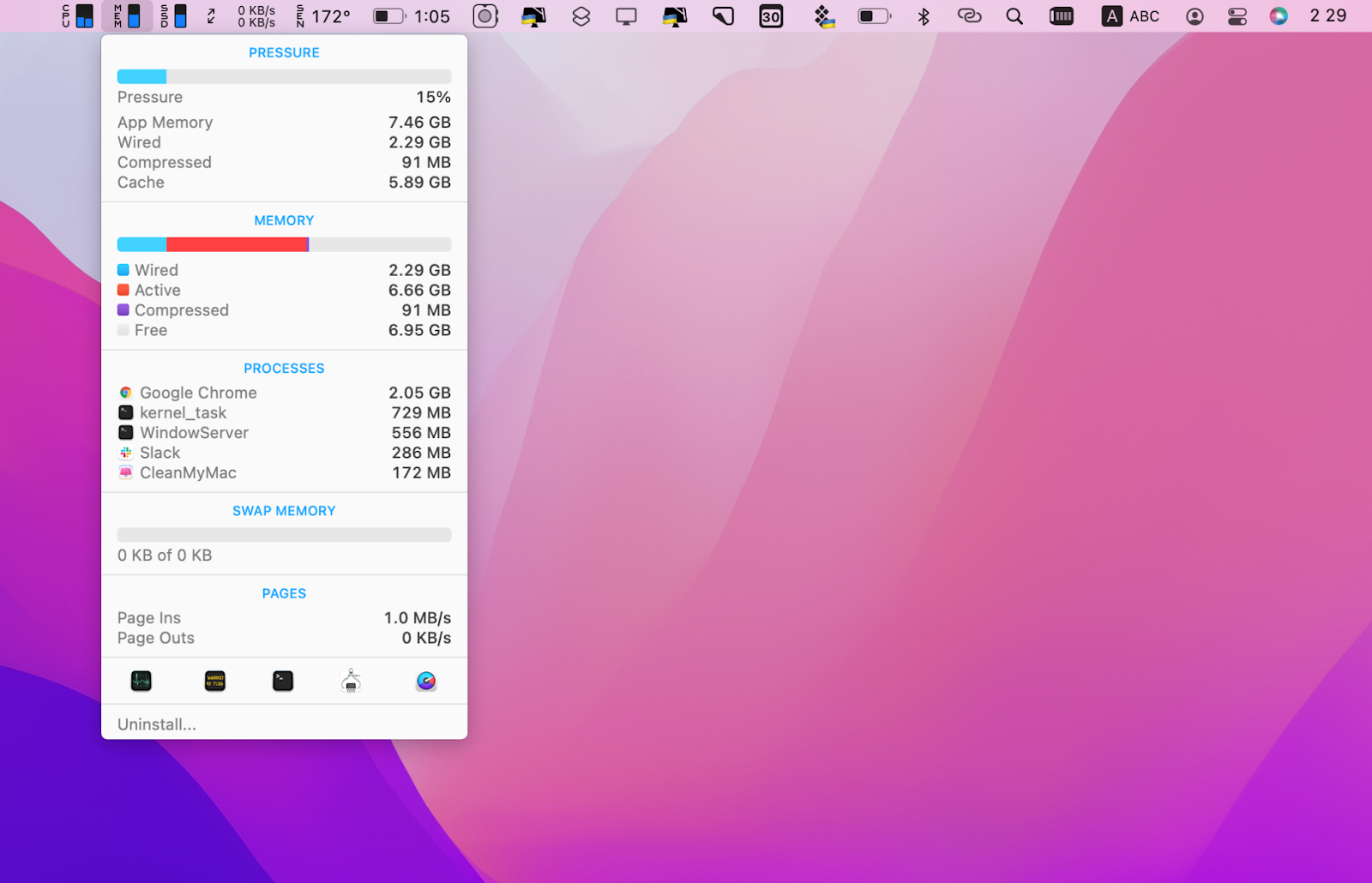 Keep your troubleshooting kit at hand
There's no simple answer to the question "how do I fix my disappearing cursor?" A missing cursor is never fun to track down, and can cause a bit of panic when you notice the problem. It's great there are tools that can help you solve the issue. If you haven't done it yet, sign up for Setapp, so you have access to every tool that helps fix the disappearing cursor.
Setapp membership covers CleanMyMac X, Remote Mouse, Paletro, WiFi Explorer, Quit All, and many other apps that help optimize input devices, create shortcuts, and generally get the work done faster. If you're new, you're eligible for a free 7-day trial.