How to quickly fix Mac Bluetooth not working
Today, Bluetooth is one of the most popular wireless technologies, allowing you to connect two or more devices to perform daily tasks with less hardware. With a wide range of possibilities, it's completely up to you to decide how to use Bluetooth on Mac — but linking your computer to wireless keyboards, mice, trackpads, and speakers is a good place to start.
Installing Bluetooth devices is usually pretty straightforward: first you turn on Bluetooth on Mac, then you follow a few basic steps to make your device discoverable for connection. But sometimes there's a catch.
Bluetooth not working on Mac doesn't happen that often, but when it does it can get quite frustrating. No need for despair — sometimes devices disconnect simply because they haven't been used for a while. Just make sure to take the following checklist into account before looking into any further Mac Bluetooth troubleshooting:
Check the battery. If the battery is low, the device will have difficulty connecting. The Bluetooth icon in the menu bar will warn you too.
Make sure you turn on Bluetooth on Mac. Simple but often overlooked step.
Bring the device within 30 ft from your Mac and avoid any interference from household devices (cordless phones, baby monitors, microwaves, and wireless networks that use the same 2.4 GHz band) and metal objects.
If nothing helps, try these tips below to reset Bluetooth on Mac.
Tip 1: Turn Bluetooth off and back on
Restarting can sometimes fix the problem. Simply click on the Bluetooth icon in the menu bar at the top of your screen, choose Turn Bluetooth Off and then Turn Bluetooth On.
Tip 2: Disconnect all USB devices
If turning your Mac Bluetooth off and on didn't help, try disconnecting all your USB and Bluetooth devices and then connecting them back on again:
Go to System Preferences ➙ Bluetooth
Click on X beside the device to disconnect it
Restart your Mac
Wait for a few minutes and reconnect your devices
Note that there can be too many connected Bluetooth devices. The maximum number is seven, but at times you might encounter problems once you go over three or four, as some devices need more data than others.
Tip 3: Delete the Bluetooth .plist files
If you still have Mac Bluetooth not available, try deleting Property List files. They sometimes could become corrupted and stealthily affect Bluetooth connectivity. To remove the .plist files:
Choose Go from the Finder menu at the top of your screen ➙ Go to Folder
Type in: /Library/Preferences ➙ Go
Find the com.apple.Bluetooth.plist file and delete it
Go back to Go in the Finder Menu ➙ Go to Folder
Type in: ~/Library/Preferences/ByHost ➙ Go
Find com.apple.Bluetooth.xxx.plist file and delete it
Now shut down your Mac and keep it turned off for about a minute. After the restart, it will automatically generate new .plist files, which should fix the issue of MacBook Bluetooth not available.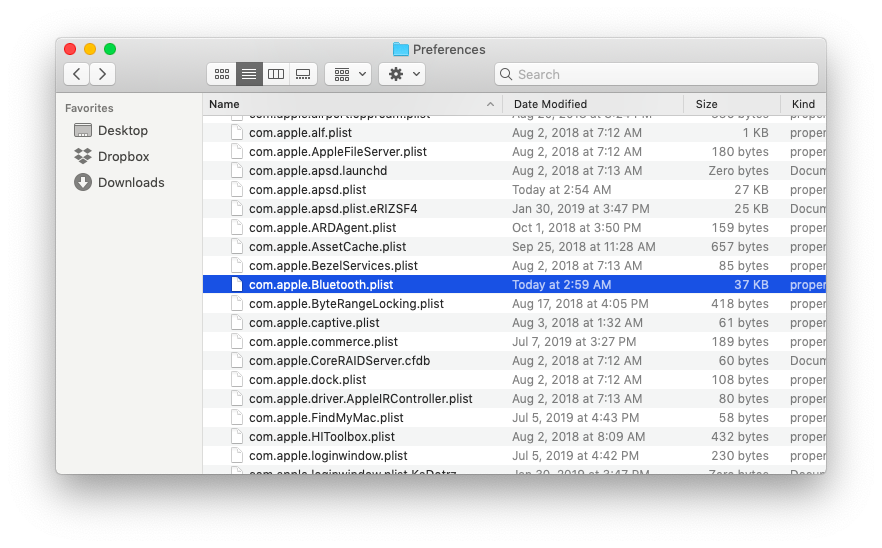 Tip 4: Reset the Bluetooth module
If none of the above troubleshooting solved the problem of Bluetooth not available on Mac, resetting the Bluetooth module will attempt to debug any issues on a deeper level. Here's how to reset Bluetooth on Mac:
Hold Shift + Option and click on the Bluetooth icon in the menu bar
Click Debug and select "Remove all devices"
Click Debug again and select "Reset the Bluetooth module"
Restart your Mac and re-pair your Bluetooth devices
Tip 5: Optimize and remove your system junk
Finally, it's natural for your Mac hard drive to get cluttered with all kinds of user and system-generated trash over time. Bluetooth connectivity suffers too. So the next time you see MacBook Pro Bluetooth not available, try doing a thorough but quick system optimization with CleanMyMac X.
CleanMyMac X is a powerful and easy way to bring your Mac back to its mint condition: without user or system cache files, language logs, malware, login items, and more. And it only takes one click to scan:
Navigate to System Junk
Click Scan and wait for the process to finish
Review Details and Clean anything you don't need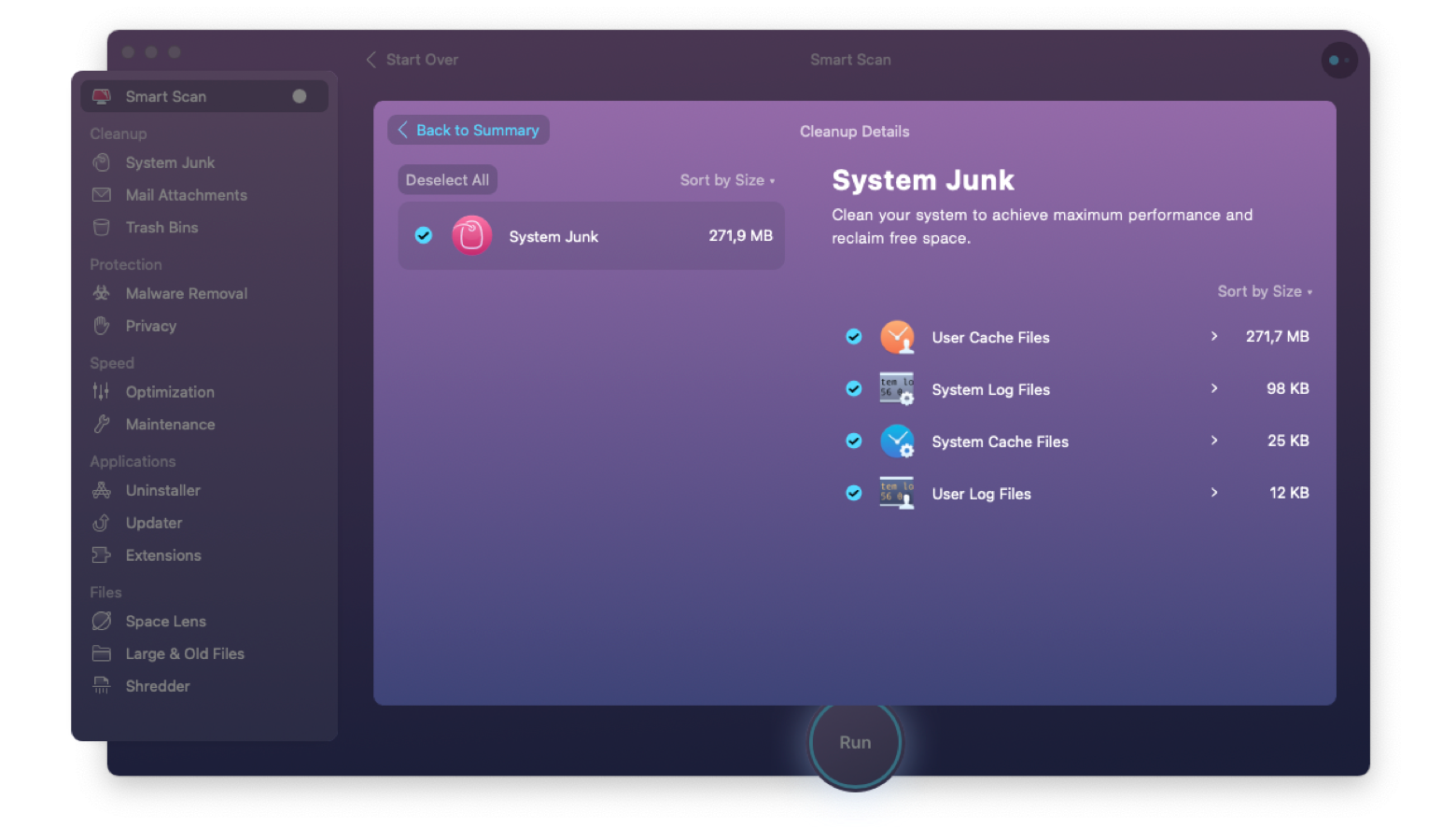 Tip 6: Try an alternative connection method
If you can't connect your device to Mac, even though Bluetooth is enabled, try an alternative Bluetooth app such as AirBuddy or ToothFairy (both are available with a Setapp membership, so you can try them for free and choose the one you prefer. Or use both!)
ToothFairy is the best choice if you connect multiple Bluetooth devices to Mac — for example, your wireless Magic Mouse, AirPods, and some non-Apple headphones. The app can help set up a dedicated menu bar item for each of these devices, so you can connect with a click.
AirBuddy has the loveliest device connection screen, very similar to the one you see on iOS devices when you connect your AirPods, and it also works with a wide range of devices, including non-Apple ones.
How to fix Bluetooth problems on macOS Big Sur
If you are having Bluetooth connectivity issues on a Mac running macOS Big Sur, you have several options.
First, try the tips listed above. Next, if the problem is that you can't turn on Bluetooth on your Mac at all, try reloading your Mac in case it just froze due to a system error or memory/processing power shortage.
For situations when Bluetooth is buggy, check your System Preferences for software updates — if your Big Sur hasn't been updated to the latest version, chances are that a bug has been fixed with a system update, so install any suggested system updates from Apple for your macOS.
If your Macbook Bluetooth is still not finding devices, recheck if the devices are on and Bluetooth is switched on on them (if it's not automatically on or always on). You can also reload the devices you are trying to connect to relaunch the signal. Make sure they are in range.
If you are still having issues, you might need to factory reset your device to get the system to work properly.
MacOS Monterey Bluetooth problems
If your Bluetooth doesn't work on Mac with macOS Monterey, first and foremost, check for system updates from Apple by going to the Apple menu icon in the top left corner of your screen > System Preferences… > Software Update. Make sure your Monterey is up to date before attempting other fixes as the bug you are encountering might've already been fixed.
In addition to the universal solutions we've mentioned here, like reloading your Mac and Bluetooth devices, checking all devices have in fact Bluetooth turned on, are within range, some of the user-recommended steps to remedy the issue we found online include the traditional resets of NVRAM and SMC, and removal of .plist.
The latter we've covered in one of the sections above and the two former are as follows. To reset NVRAM: shut down your Mac, turn it on, press Option + Command + P + R right away and hold for about 20 seconds.
To reset SMC: just restart for M1 Macs; for Intel-based notebooks with T2 chip, shut down, hold Control + Option + the right Shift key for 7 seconds, without releasing, press the power button and hold all the keys for 7 more seconds, release and after a few seconds turn on your Mac. More detailed instructions for T2 chip and other Macs, read Apple's official guide here. If you are experiencing problems connecting to a Bluetooth keyboard and/or mouse, go to System Preferences… > Bluetooth > Advanced and check these options: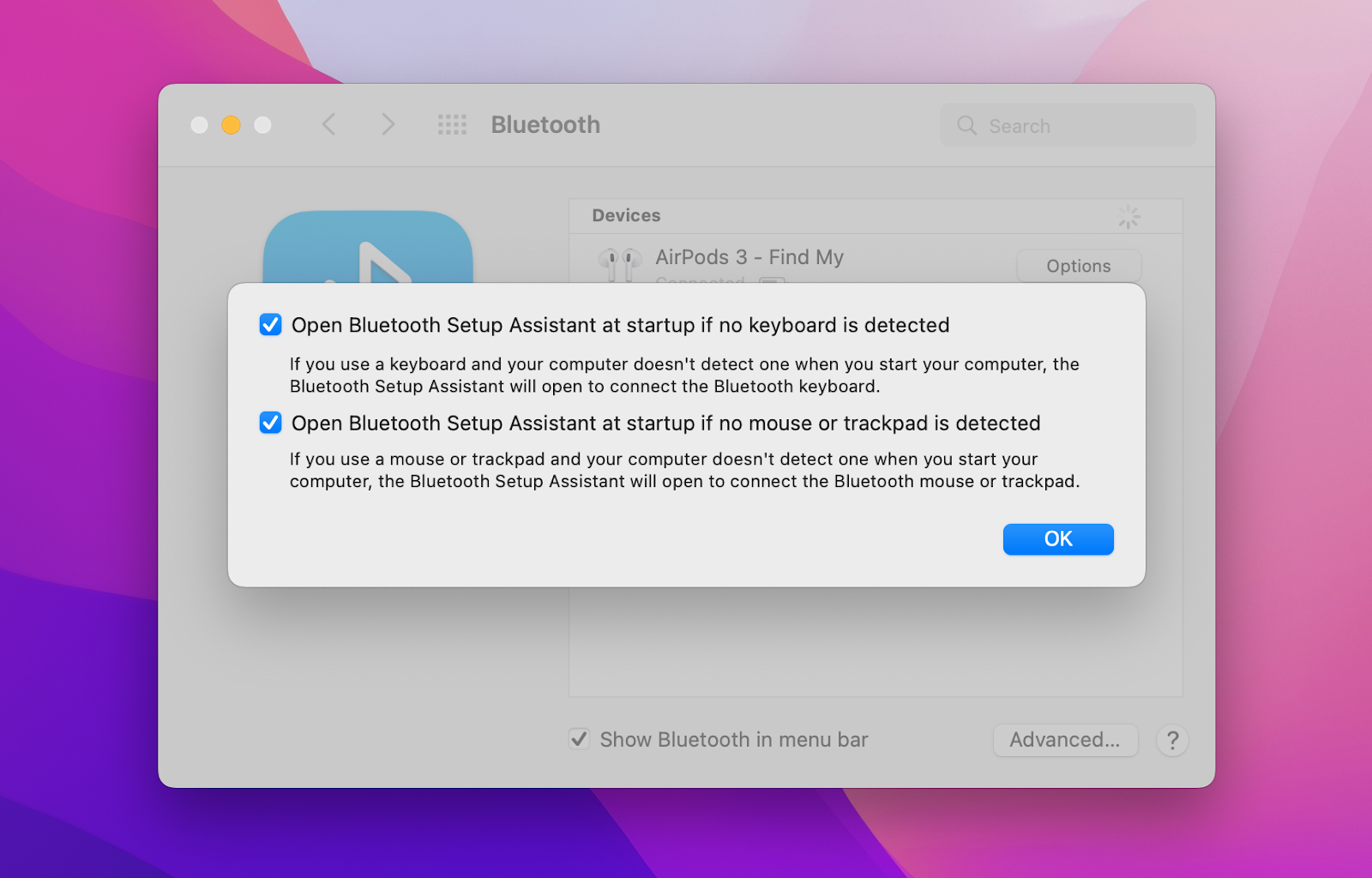 As you can see, sometimes the question of how to turn Bluetooth on Mac is not as simple as clicking the respective icon in your menu bar.
How to turn on Bluetooth on Mac?
Most Macs come with the built-in Bluetooth capability, so all you need to do is make sure it's turned on:
Go to System Preferences in the Apple menu
Click on Bluetooth
Select Turn Bluetooth On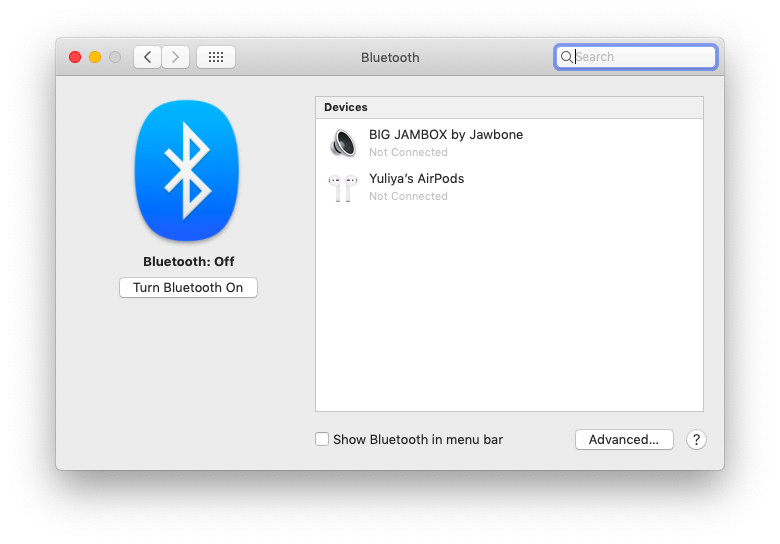 While you're at it, tick the box beside the "Show Bluetooth in menu bar" option at the bottom of the screen. The menu-bar Bluetooth icon will serve as a shortcut to indicate if the Bluetooth is on, if any devices are connected, or even if a particular device's battery is low.
There's no need to have this icon in the menu bar if you're using an alternative Bluetooth client, though. Speaking of which, let's determine the most convenient way of connecting Bluetooth devices to Mac.
Connecting Bluetooth devices to Mac
Now that you know how to connect to Bluetooth on Mac, your computer is ready to get in touch with other devices. The process of establishing a connection between a specific device and your Mac is called pairing. Pairing makes other devices recognizable by your Mac and allows for easy automatic connections to be made.
The good news is that Bluetooth devices that came with your Mac are already pre-paired and should connect automatically when turned on. In case you've bought an Apple Bluetooth device separately, here's how to pair it with your Mac:
Connect the device to you Mac using a cable (if available)
Turn the device on
Go to System Preferences ➙ Bluetooth ➙ Turn Bluetooth On
After the device pairs with your Mac, it will appear in the list of available devices ➙ click Connect
When the device is charged, unplug it for wireless use
The problem with such automatic connection is that there's no indication your device has actually been paired. You might receive a notification that your AirPods have been paired, but it often arrives too late and doesn't work with all devices (especially the non-Apple ones); not to mention you might have your notifications disabled. Then, there's the annoying problem of automatically switching AirPods between your devices (let's say, iPhone and Mac).
The most transparent way of connecting Bluetooth devices to Mac is using AirBuddy:
Open your AirPods case or just bring your discoverable Bluetooth device close to Mac
You'll see a beautiful "bubble" screen showing the battery level and the "Click to connect" button
Click to connect your device.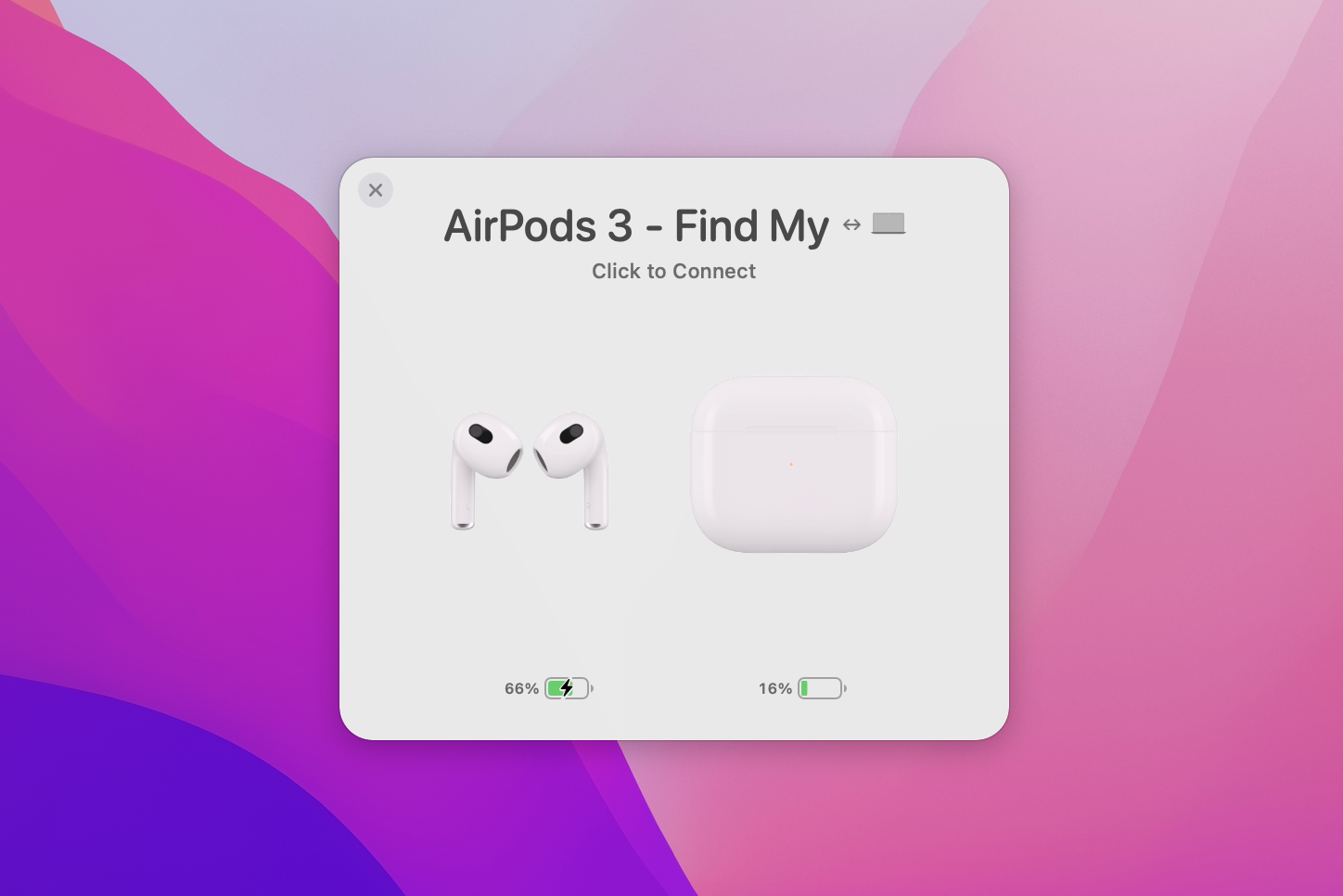 With Airbuddy, you have complete control over the process of connecting Bluetooth devices. It almost becomes tangible! What's more, power users can benefit from AirBuddy's superchargers: for example, set up default headphones for different types of tasks, create Shortcuts with AirBuddy, or set a preferred listening mode.
How to connect Bluetooth headphones to Mac?
In most ways, Bluetooth headphones are no different than other Bluetooth-enabled devices. Start by making sure your Bluetooth headphones are charged and in discoverable mode. After that you're just a few clicks away from having them connected to your Mac. You can either use Apple's default connection method:
Go to System Preferences
Click on Bluetooth ➙ Turn Bluetooth On
On the right you'll see a list of devices. When your headphones show up ➙ click Connect
Or, use AirBuddy to connect your headphones from a bubble screen.
The same steps can be followed if you wonder how to connect Mac to Bluetooth speaker.
Solve Magic Mouse not connecting to Mac Bluetooth
Connecting your Magic Mouse to MacBook Bluetooth is identical to connecting Bluetooth headphones. Simply follow the steps described above and everything should work out just fine. Occasionally, though, your Bluetooth mouse might misbehave: but before assuming that it's not connecting properly — try to wake it:
Make sure it's on
Try restarting it
Click the mouse button to see if there's any response
Make sure the battery isn't dead
If none of the above helped and your mouse is still not showing up on the Bluetooth devices list, try the following:
Go to System Preferences ➙ Bluetooth ➙ check that Bluetooth is on
Plug in your mouse with the Lightning cable
Go to System Preferences ➙ Mouse ➙ Set Up Bluetooth Mouse ➙ wait for your Mac to search for the device and connect to it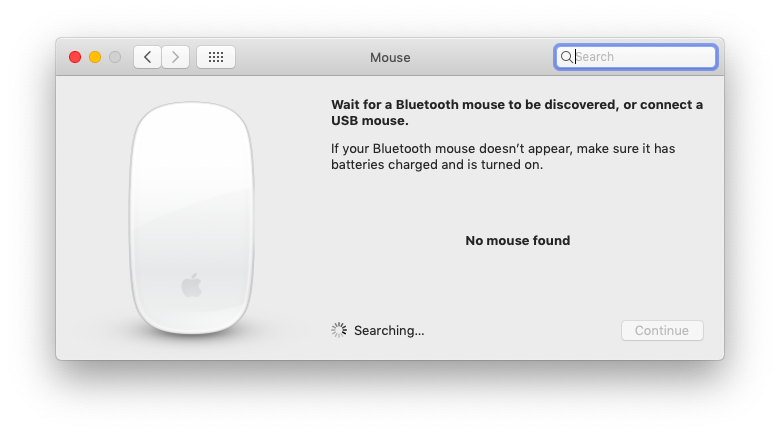 As you can see, connecting Bluetooth gadgets to Mac is fairly straightforward, but might turn into quite a multistep ordeal.
So anytime you have trouble connecting Bluetooth to Mac, go through the tips above and use ToothFairy and AirBuddy, along with CleanMyMac X for top results. Best of all, you can use these apps for free with a 7-day trial of Setapp, an app platform that features 240+ powerful apps for tasks on Mac and iOS, from maintenance and customization to creating and collabing.
FAQ
Why is Bluetooth not available on my Mac?
It could be a macOS-related issue — very often, you will find Bluetooth not available in freshly released macOS (check Bluetooth troubleshooting tips for macOS Ventura); there could be a problem with your Property List files and you might need to delete them, or it could be a simple glitch that will get fixed once you reset your Bluetooth module or restart your Mac.
How to use Terminal on Mac to restart Bluetooth?
It's possible to reset Bluetooth via Terminal starting with macOS Monterey:
Open Terminal and type the command sudo pkill bluetoothd
Press Return and enter your password if prompted
Restart your Mac.
How to restart Bluetooth on Mac without using mouse or keyboard?
If you can't use any of these, try Siri. If your Bluetooth is off, you can just say "Hey Siri, turn on Bluetooth." If you can use your keyboard but can't use the mouse, hit Command + Space, type Bluetooth in the Spotlight bar, navigate to Bluetooth File Exchange using the arrow keys, open Bluetooth File Exchange, and you'll be offered to enable it.