The Best Music Subscription: Apple Music vs Spotify
Welcome to the 2019 music subscription showdown: The Rally in the Valley. Today, Silicon Valley takes on Silicon Scandinavia to face off and declare which paid music streaming service should win a spot in your life and on your Mac.

Having a music streaming subscription allows you to access a library of songs on-demand via any of your devices without having to make individual purchases. This means more choice for less money. So, without further ado, let's meet the competitors who will be fighting it out.
Apple Music vs Spotify Takedown
First contender needs no introduction, it's Spotify! With nearly 100 million paid subscribers, this Swedish streaming service has dominated the music scene since 2008. Its signature features include a discovery algorithm that easily crushes any competitor and free service that allows advertisers to capitalize on revenue.
The opponent comes all the way from San Francisco. This Silicon Valley giant has already gained a combined total of 50 million users on paid and trial subscriptions. It's Apple Music! What is Apple Music? Why, it's the music solution made from the same DNA as Apple devices.
Launched in 2015, Apple Music has risen up the leaderboard with feature releases such as notifications when your favorite artists publish new music and marriage to Siri voice commands, so all you have to do is ask Siri to play what you want to hear.
Below, these heavyweights will face each other based on their pricing, sound quality, music selection, device support, social sharing, and music discovery.
Pricing for Apple Music vs Spotify
Weighing in at an equal cost of $9.99 a month for premium users, it's hard to discern one subscription service from the other. The Apple Music family plan matches Spotify's offering at $14.99 for up to six users. And just as Spotify for students costs $4.99, Apple Music for students is also $4.99.
So who is offering the better deal? This is a battle that will be fought in the details.
Apple Music offers a generous helping of free entertainment in the form of a three-month trial. Moving into the offence, if you download Spotify Premium you will receive a 30-day free trial. In addition to this, a premium Spotify download will score you a Google Home Mini as a sign-up bonus (limited time offer).
It's impossible not to mention that Spotify offers a free subscription. However, due to the ads, the inability to skip tracks, and the below-par streaming quality, you should avoid acknowledging the existence of the free service if you do decide to download Spotify. As Spotify's free service is really a disservice, the real fight is between Spotify Premium vs Apple Music.
Round winner: Tie. With two services offering a free trial, you might as well take advantage and try out what both Spotify and Apple Music offer before you buy.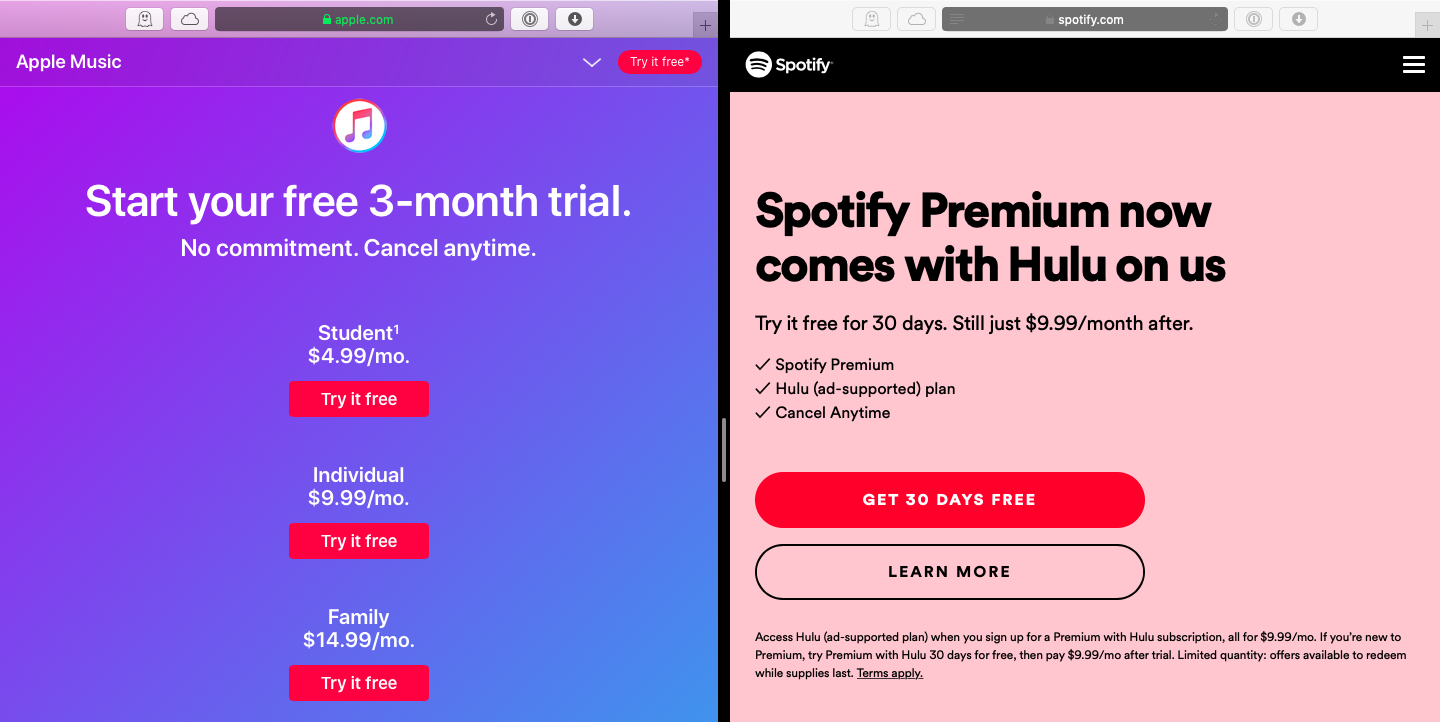 Sound quality for Spotify vs Apple Music
In the second round, the services meet toe-to-toe in sound quality when listening through the Apple Music or Spotify web player. If you want the technical details, neither Spotify or Apple Music streams AAC files at a higher speed than 256 kbps (kilobits per second).
That doesn't mean bad quality at all. Another way to look at this is, if you're listening through headphones or any sound system of acceptable quality, and sound waves travel into your ears the same way as every other human on the planet, you're going to have a good time. So on mobile you can choose either Apple Music or Spotify to do the job.
But if you download Spotify to your desktop, it will use an Ogg Vorbis format and let you choose what bitrate to stream in, allowing for a maximum of up to 320 kbps.
Besides, any hardcore audiophile should know about Boom 3D, the system-wide audio enhancer and equalizer for Mac. Its innovative surround sound technology lets you turn even the most basic speakers into a quality listening experience.
Round winner: Spotify pips Apple to the post after another nail-biting, ear-vibrating round of Spotify Premium vs Apple Music.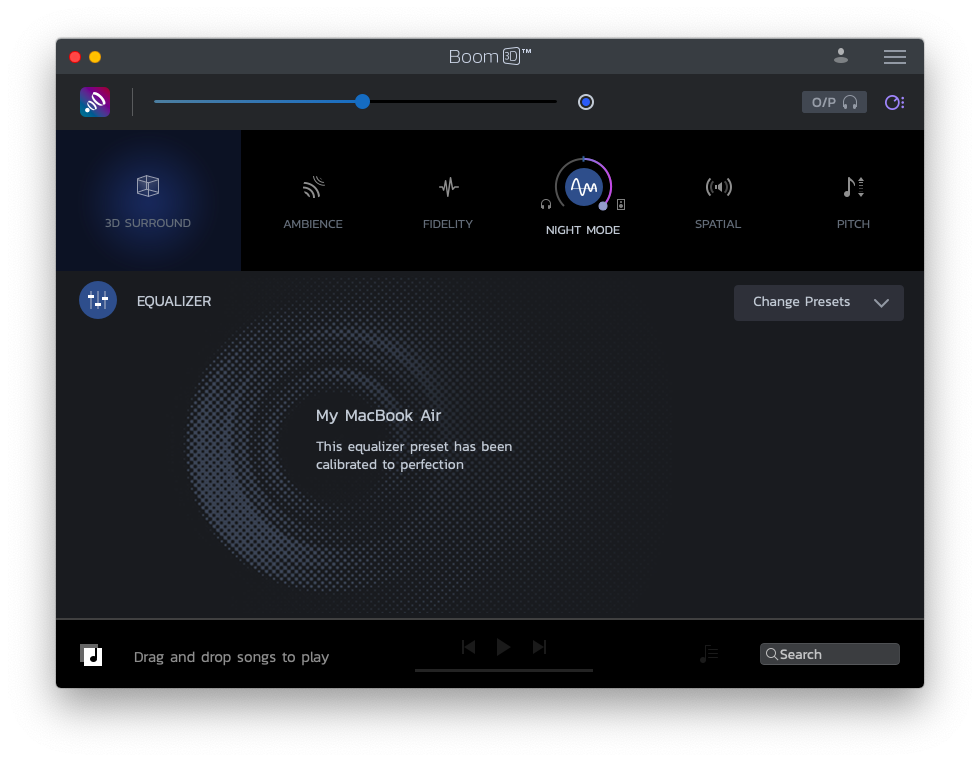 Music selection on Apple Music vs Spotify
If this was a numbers game, the bookies favorite would be Apple Music. The scale tips in Apple Music's favor with a catalogue of 50 million songs, which easily surpasses Spotify's 40 million. Both subscription services offer early access to certain albums, but Apple Music gets one more point as it sometimes offers exclusive music videos.
Apple has taken steps to secure more exclusives than the competition. Some Apple Music reviews suspect that's because it doesn't offer a free tier, so artists are more inclined to champion Apple Music over Spotify. iCloud Music Library is also a brilliant feature to have on hand for when a record isn't available to stream but is to purchase. So, if you're asking yourself: is Apple Music worth it, the music selection is where you get the most bang for your buck.
Round winner: Hands down, Apple Music. With the additional ethical bonus that somewhere, deep down, you believe that your money is being sent to support the struggling artists.
Honorable mention: Maybe the underground is where you feed your audio cravings? Many unsigned artists are still uploading their tracks to video hosting platforms. Try Downie to download internet videos into MP3s. Find a video you want to download and drag and drop it into your Downie browser extension, so you can download videos from over 1,200 sites, including Facebook, Vimeo, and Instagram.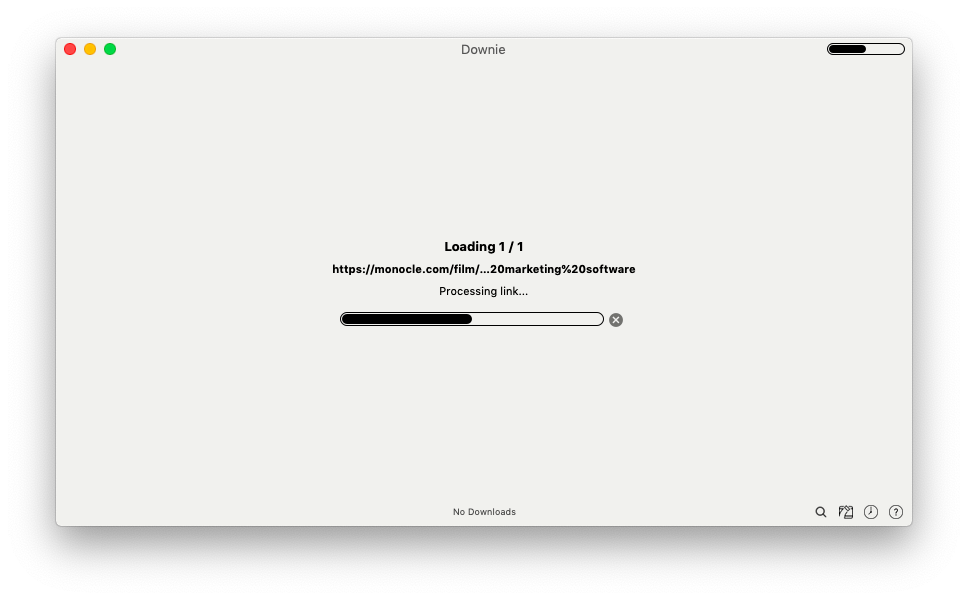 Supported devices for Spotify vs Apple Music
Blow for blow, from a hardware support perspective, you could argue Apple Music and Spotify are both excellent. Apple Music excels if you're heavily invested in the Apple hardware setup. If you have an Apple TV, HomePod, and Apple Watch, then Apple Music has Spotify against the ropes.
As a countermeasure, Spotify aims to set up its own ecosystem using Google Home as its home-assistant delivery partner. Here's where you can see the genius behind Spotify's free Google Home gift. This strategy provides a turn-key solution for Spotify to match that of Apple's immersive experience.
When it comes to other listening devices, if you use the Amazon Echo then Spotify holds its own with a seamless integration via Alexa. However, if you listen via Sonos, although you can use Spotify Connect inside the native Spotify app to take control, Sonos has a custom Apple Music interface, so the device and music can be controlled from one place.
If you're yet to purchase a home solution, ask yourself, what feels more comfortable: saying Hey Siri, Hey Google, or Hey Alexa, and that will be a good indicator.
Round winner: If your life is Apple-connected, then Apple Music. However, as it's more inclusive for other devices, Spotify emerges as the round winner.
Value of social sharing on Apple Music vs Spotify
Peppered with punchy social features, the clash of Apple Music vs Spotify heats up. Whether you choose to access Apple Music or download Spotify, you can try out music sharing with your friends by collaborating to make playlists.
Perhaps you want access to your favorite artists? Keep up to date with their latest releases and concert dates by following them in just one click on both platforms.
After close inspection, it seems that many popular musicians are more active in posting updates on Apple Music, and it's easier to find this content than it is on Spotify.
Both services also let you follow friends and, when on desktop, you can see what they are listening to in real time. While Apple's social experience, known as Connect, is rumored to be shutting down, coming in hot and heavy, Spotify's solid social media integration gives the service the upper hand. Integrate your Spotify account with Facebook and Twitter to access your friends' and followers' playlists and favorite songs.
Round winner: It's hard to pick Spotify or Apple Music, are you a friend or a fan? Even though Apple creates a playlist for you based on what your friends are listening to, it's not enough to topple Spotify, which some declare is the new social network.
Discover new music on Spotify vs Apple Music
Surely this is the deciding aspect in the Spotify Premium vs Apple Music confrontation. It's the one we've all been waiting for. When all the songs have been counted and the devices have been integrated, it comes down to which service has better taste.
Spotify's discovery algorithm is the reigning champion of all streaming, subscription, and recommendation services. So much so that Google has pinched it, Netflix hungers for it, and it looks like Apple Music is going to take a good job at it. Some avid fans of Spotify have been known to say that the Discover Weekly feature knows them better than their own family.
How do discovery algorithms work? When you first sign up for each service, both ask you for your favorite genres and artists to get a solid foundation of what you like to listen to. Once you start browsing, the services take into account your likes and dislikes to help fine-tune their recommendations.
Apple Music has a few personalized playlists that update weekly. The first is New Music Mix, there is also Chill Mix, which is similar to New Music Mix but more relaxing. Favorite Mix is a collection of songs you've favorited. Compare this with Spotify's Browse tab that coalesces: Charts, New Releases, Mood Mixes, and endless Because You Listened To playlists.
Round winner: Spotify wins in terms of being a better discovery engine when comparing Spotify vs Apple Music.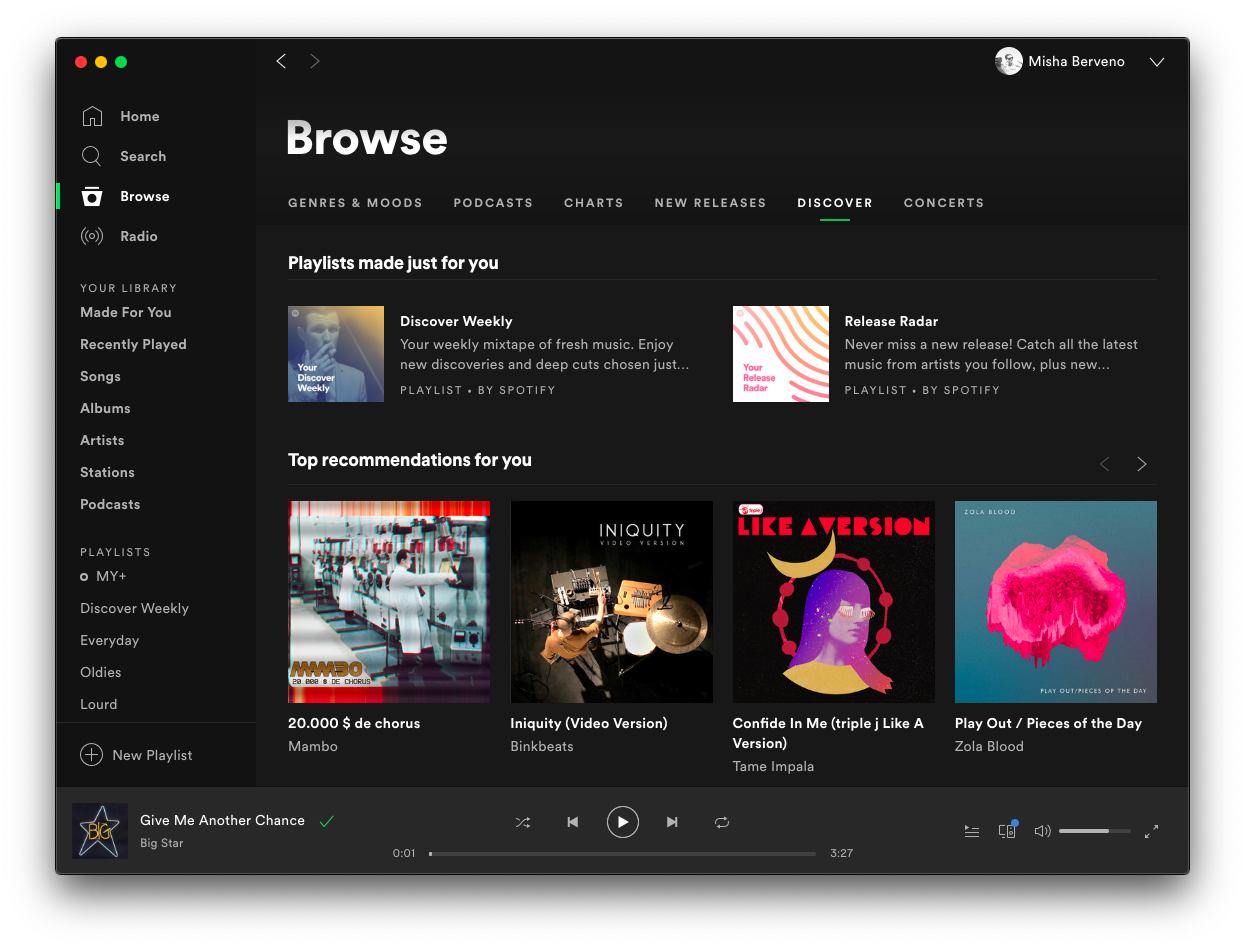 Declare the music service winner
When the final bell rings, it's up to you to decide which features make up the winning combination. Listeners should recognize that they have been spoiled for choice — technology's amazing ability to discover something new to your taste is an art form. Still undecided? Check out a complete overview of pros and cons in the infographic below.

If the music discovery process delights you then why not look to other subscription services to browse what's on offer?

Similarly to the music discovery, you can take a look at app discovery platforms like Setapp that will transform the way you work and play. Setapp is the leading app subscription service with a curated library of more than 150 best apps, including Boom 3D and Downie. The platform lets you download apps without having to pay individually for their full pro versions. Best of all, it's available for a free 7-day trial and is a knock-out on all counts.