Best Streaming 2023: Amazon Music vs Apple Music vs Google Play
In 201, you can't beat the ease of streaming music. Where once people had to collect CDs or records to be able to listen to music whenever they wanted, now all it takes is a quick search in a streaming client and you can put on whatever you're passionate about. Jazz? Country? Heavy metal? Lo-fi hip-hop to relax to? It's all right at your fingertips. Every time you hear a good song at your local cafe, you can fire up the whole discography minutes later.
Consequently, there's never been so many ways to stream music as there's now. Following the massive success of Spotify, virtually every other major tech player got a burning desire to create a streaming service of their own to track down your subscription dollar.
The big three today are Apple Music, Amazon Music Unlimited, and Google Play Music — each ties to its respective account and gives you access to a whole world of music. But which one is the best?
How To Choose The Best Streaming Service
The most important things to consider when choosing which streaming service to go with are the cost, library of songs, and ease of use. And each of the big three excels in at least one dimension.
The following guide then compares Apple Music vs Amazon Music vs Google Play in all the essential categories, so you can make a well-informed decision.
Apple Music
If you have a Mac or an iOS device, Apple Music probably seems like an obvious choice. This streaming service is already integrated into iTunes, which comes by default with every Mac, iPhone, and iPad. What's more, with the macOS Catalina, available in fall 2019, iTunes will be replaced with the actual Apple Music app, as well as Apple TV and Apple Podcasts.
If Apple Music is the future of legendary iTunes, you can be sure that Apple is doing everything possible to make this streaming service successful. For example, unprecedented for Apple, the Apple Music app is also available on Android to cover the largest possible market.
Apple Music subscription has a three-month free trial for new users and boasts more than 50 million songs in its library — more than it's possible to listen in a lifetime.
Without a doubt, Apple Music is perfect for the kind of person who loves to discover new tunes every day. The first time you log into the Apple Music app it will ask you questions about your tastes, which will inform its selection of songs for the Beats 1 radio station. At the push of a button, this station will play you an endless stream of music that Apple's algorithms think you'd enjoy — and you'd be surprised how often they are absolutely right.
Additionally, because Apple has enough clout to swing the industry, they are great at securing exclusives for Apple Music, such as live performances, early debuts, and even concert footage.
Regarding what Apple Music costs, a single Apple Music subscription will set you back $9.99 a month. However, if you're a student with a .edu email you can get a subscription for just $4.99. You can also opt to buy a family plan for $14.99 and share it with up to six accounts.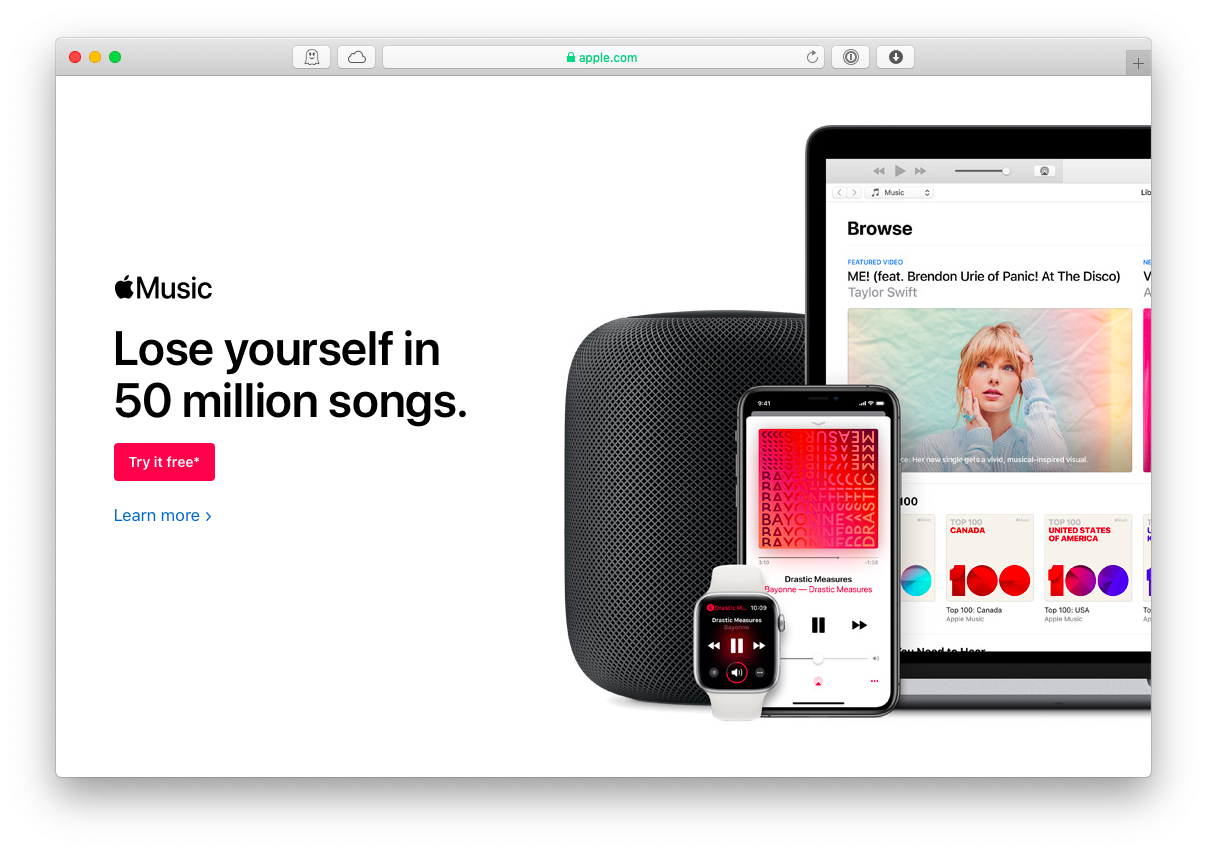 Pros:
Huge library filled with exclusives

Great integration with Apple products

Three-month free trial

Beautiful Apple Music app
Cons:
Not the cheapest option available
Amazon Music Unlimited
Amazon Unlimited and Amazon Music are very appealing propositions, and the latter comes completely free with an Amazon Prime subscription. It's surprising that lots of people who already have Prime aren't aware that they also have access to Amazon Music Prime.
Indeed, at $79 a year, an Amazon Prime membership gives you free express (two-day) shipping on Amazon products, Amazon Prime Video, and Amazon Music — an unbeatable value no matter how you look at it.
There's a catch, though. Amazon Music is different from Amazon Music Unlimited. They both use the same Amazon Music app, but the difference is in the song library: the Amazon Music library has access to one million songs, whereas Amazon Music Unlimited has 50 million.
If you think about it, one million songs is still more than you can ever listen to. But it's frustrating to search for something obscure that you like on your Amazon Music player and not find it. Thus everyone who's serious about music should definitely upgrade to Amazon Unlimited.
Another way Amazon Music shines is through its seamless integration with Amazon Echo. First, you can get a major discount on your subscription to Amazon Music Unlimited if Alexa is part of your home. Second, Echo makes for a great Amazon Music Player.
So what does Amazon Music Unlimited cost?
Without an Amazon Prime subscription, Amazon Music Unlimited costs $9.99 a month — same as Apple Music. However, if you do have a Prime subscription (and who doesn't?), Unlimited only costs $7.99 a month. Even better, if you have an Amazon Echo, the subscription is only $3.99 a month — with the caveat that your subscription would be tied to that device.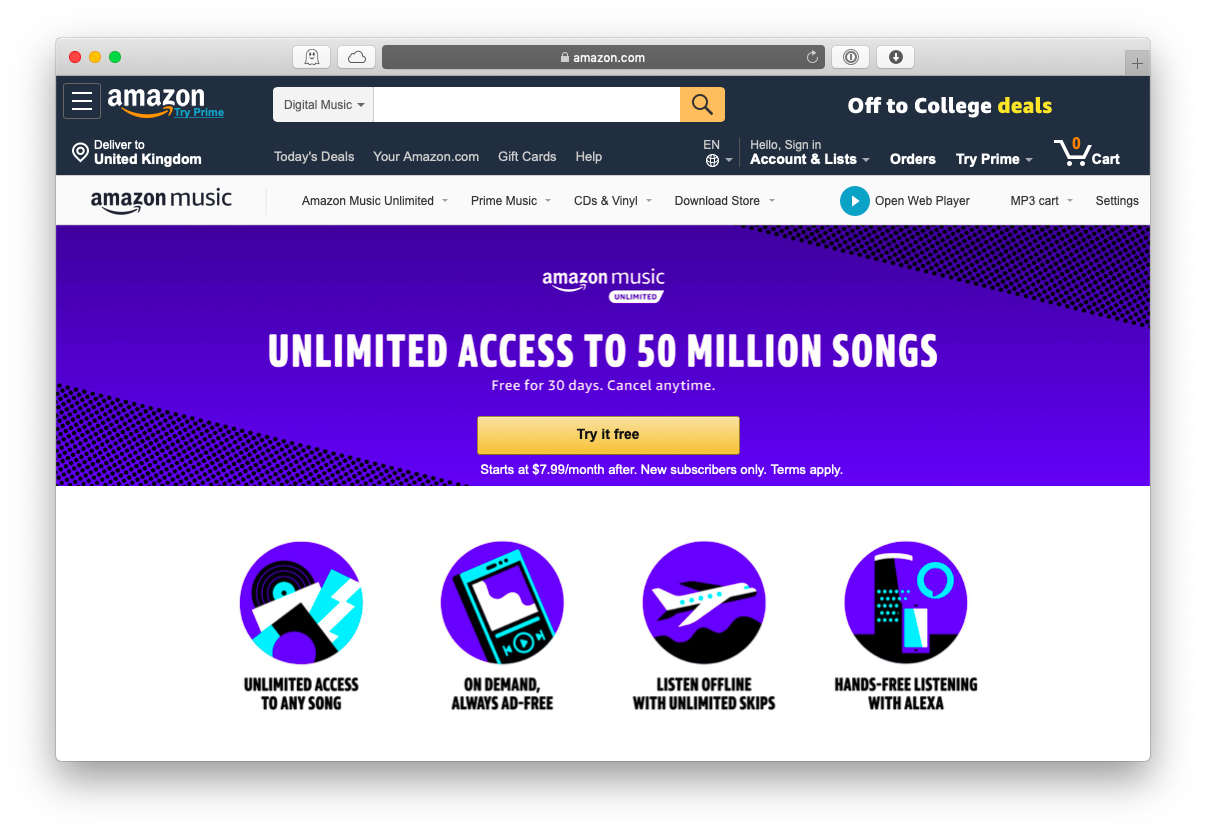 Pros:
Free with a Prime subscription

Amazon Music Unlimited is cheaper than Apple Music with Prime subscription

Great integration with Amazon Echo

Amazon Music downloads allow you to build your own library
Cons:
Two-tiered service is confusing

Amazon Music app isn't as good as the Apple Music one

Echo discount on Amazon Music subscription is tied to one device
Google Play Music
Google is another behemoth in the field of streaming content. The Google Play store is integral to all Android devices in the world, and Google Play comes pre-installed as well.
If you're on a Mac, don't worry — you can get Google Play for Mac too. In fact, the Google Play Music app for Mac is beautiful and easy to use. Some even say that the Google Play app stands up against Apple's iTunes and blows the Amazon Music player out of the water.
A great feature of Google Play Music is the ability to store the music you already own there, even without paying for a subscription. The uploading process takes a while for a large library, but once it's done you can download or stream your songs from Google Play any time in the future. There's a limit of 10,000 songs you can register this way, which is more than enough for most of us. Basically a no-brainer to have a Google Play Music account, whether you get a subscription or not.
What about the price?
A Google Play Music subscription will cost you $9.99 a month, or $14.99 for a family plan supporting up to six accounts. One nice thing about Google's family account is it not requiring to share an address with everyone on your plan, so you can split the cost with friends or take turns paying for the service.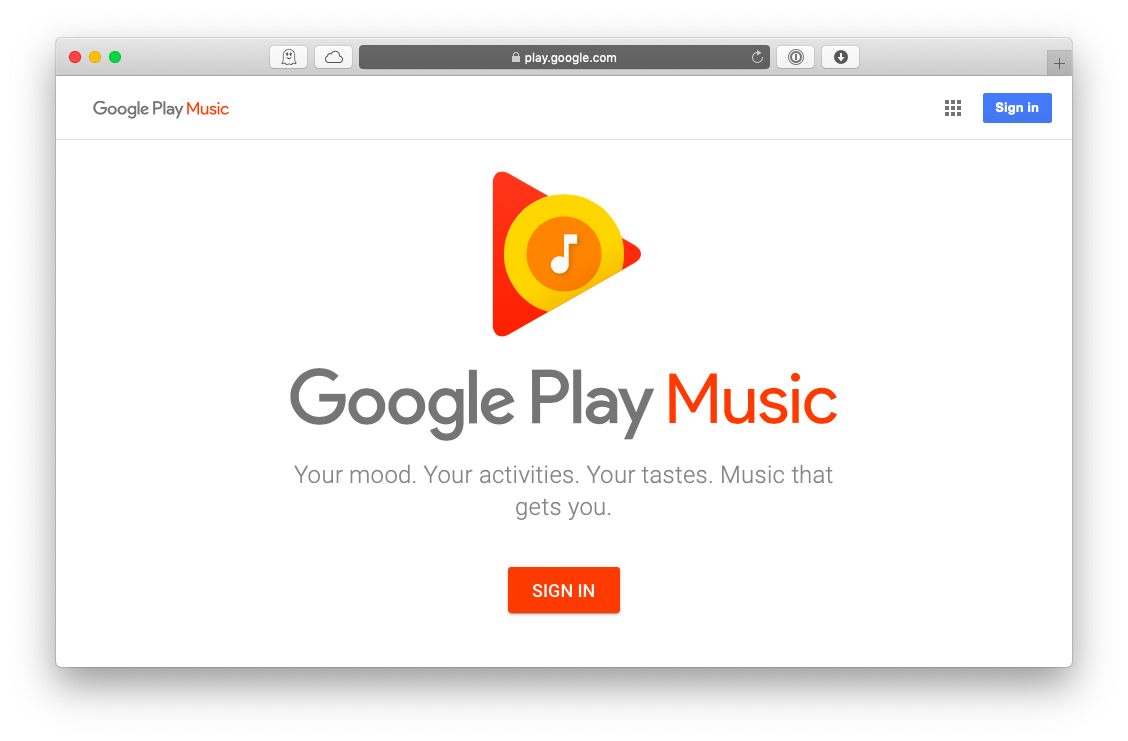 Pros:
Slick Google Play app for Mac

Ability to register your existing music library

Fantastic integration with Android devices
Cons:
Not much in the way of extras or bonuses

Only a 30-day free trial
Amazon Music vs Apple Music vs Google Play: Winner?
Of course, each streaming service is great in their own ways, and the one you choose should have a lot to do with other products you already own. If you're all-in on Apple and macOS, Apple Music is the way to go. If you order lots of stuff, an Amazon Music subscription makes sense. And if you're on Android, there are good reasons to consider going with Google Play. Of the three, Apple Music has a slight edge in terms of content, but you really can't go wrong with any of them.
Now make your music sound great
Whatever streaming service you decide suits you best is only the first step. To up your game you should ensure that your music sounds as good as possible.
Macs are beautiful, no doubt, but they aren't known for prioritizing great sound. Not a problem. Real audiophiles can still unleash their speakers' full potential with Boom 3D.
Boom 3D features a slider interface, which makes it simple to tweak your audio into a virtual surround sound — a truly immersive experience. Besides, system-wide volume boosting and a detailed equalizer make every genre shine. In addition, a handy remote iOS app can transform your Mac into a fully functional media center.
Getting started with Boom 3D isn't difficult at all:
Drag and drop the song you want right onto the app

Choose one of the presets on the right

Adjust the settings to your liking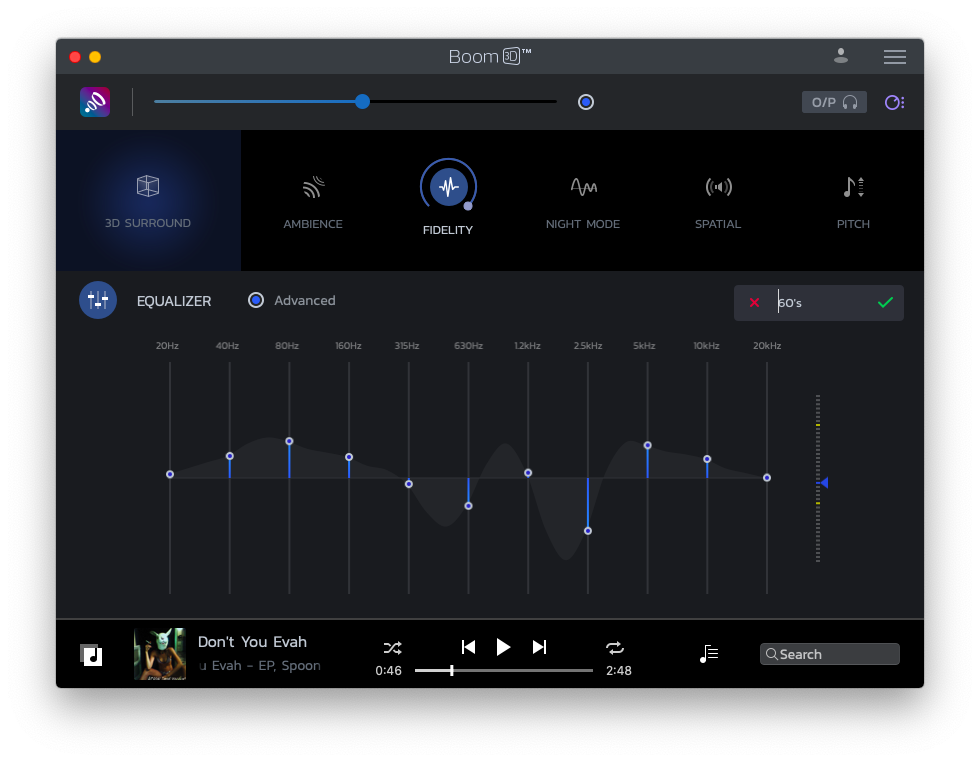 Best of all, you can try Boom 3D absolutely free for seven days through Setapp, a platform with more than 200 Mac apps that make everyday experiences better. Put that on repeat!