How to cancel Apple Music subscription the right way
A subscription detox? Well, that's a great idea. Subscriptions are conquering the world — for a reason. Getting access to the best content for a flat fee has many advantages. But you also want to be sure you're having access to the best. If Apple Music doesn't belong to the category for you, it's probably time to let it go. In this article, we'll tell you everything about how to cancel Apple Music subscription on any device and replace it with a better alternative.
Apple Music subscription: The good and the bad
Apple Music was launched in 2015. With the release of macOS Mojave, Apple turned it into an individual Mac app. Apple Music gives you access to a huge collection of music available on iOS devices, Macs, and Apple TV. It costs $9.99 per month — meet one of the valid reasons people cancel Apple Music. However, there are student and family discounts available.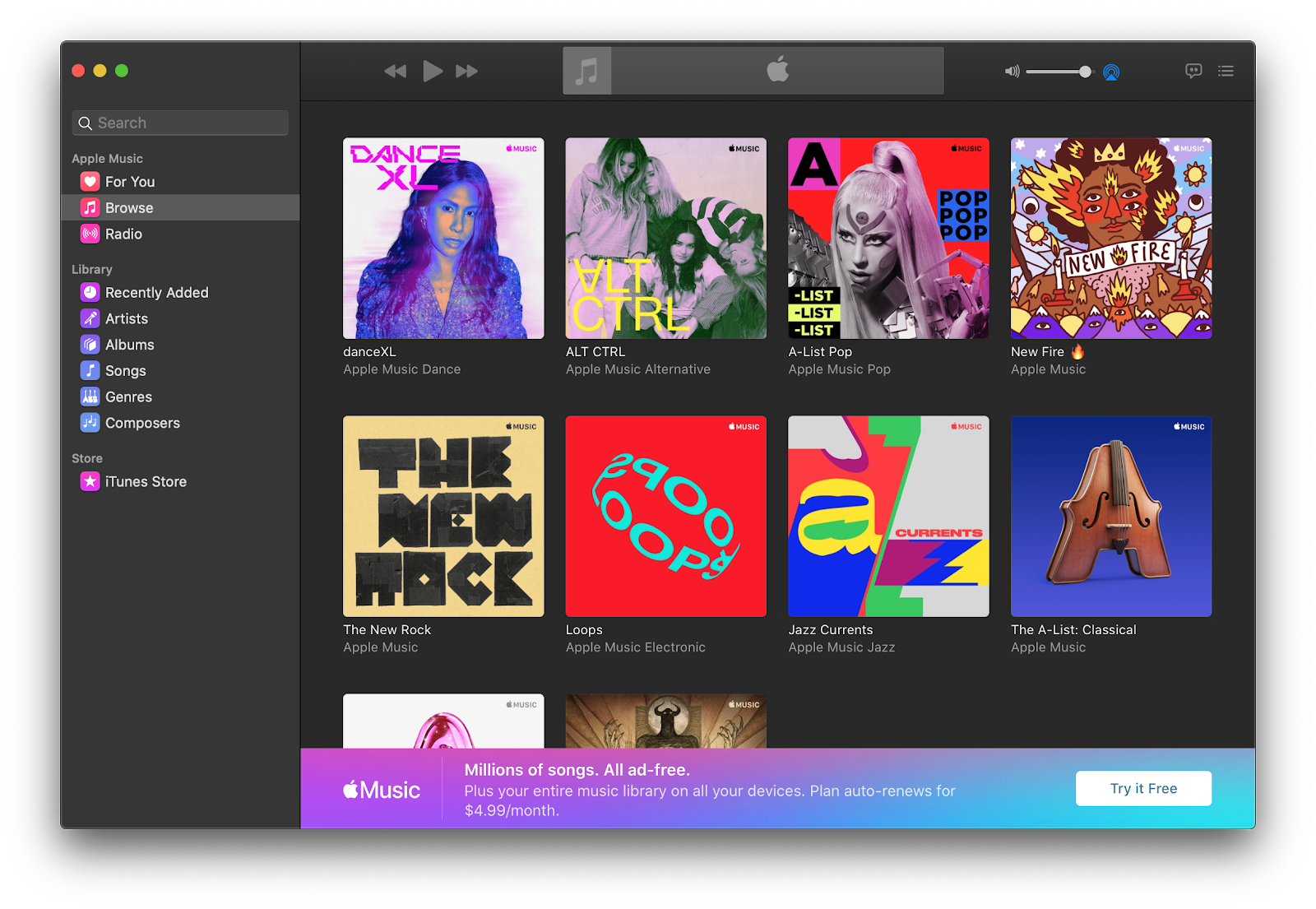 If you feel like there are things that can change your mind, explore the pros and cons below:
The annual subscription costs $99, so if you're ready to make an upfront payment, you're saving $20.

If you're a student, you can use Apple Music for $5 instead of $10.

For Family Plan users, the price goes down — up to 50%. The cost is $15 for three members, $25 for four, $35 for five, etc.
Unlike Spotify, Apple Music doesn' offer a free tier — which cuts off access to all music once you unsubscribe.
If you still want to cancel Apple Music subscription, here's how to do it.
How to unsubscribe from Apple Music on iOS
If you're wondering how to cancel subscription on iPhone, iPad, or iPod touch, the mechanism is the same for all iOS devices:
In the mobile app, open Settings and click on your name.

Select Subscriptions > Active (you might see two lists — Expired and Active, depending on whether you have canceled Apple subscriptions before).

Find Apple Music subscription on the list, and tap on it.

At the bottom of the screen, select Cancel > Confirm.
How to cancel Apple subscriptions on Mac
The method of canceling Apple Music subscription on Mac depends on the OS you're using. The newest macOS 10.15 Catalina requires you to go into the Mac App Store, and on older systems — you'll use iTunes. This is easy: Catalina doesn't have iTunes, the other macOS versions do.
Here's how to disable Apple subscriptions on macOS Catalina:
Open the Mac App Store and sign in.

Click on your name > View Information.

Scroll down to and click on Manage next to Subscriptions.

Enter your account password if you're asked to.

Once you see the list of Active and Expired subscriptions, find Apple Music and click Edit.

Hit the Cancel Subscription button, and you're free!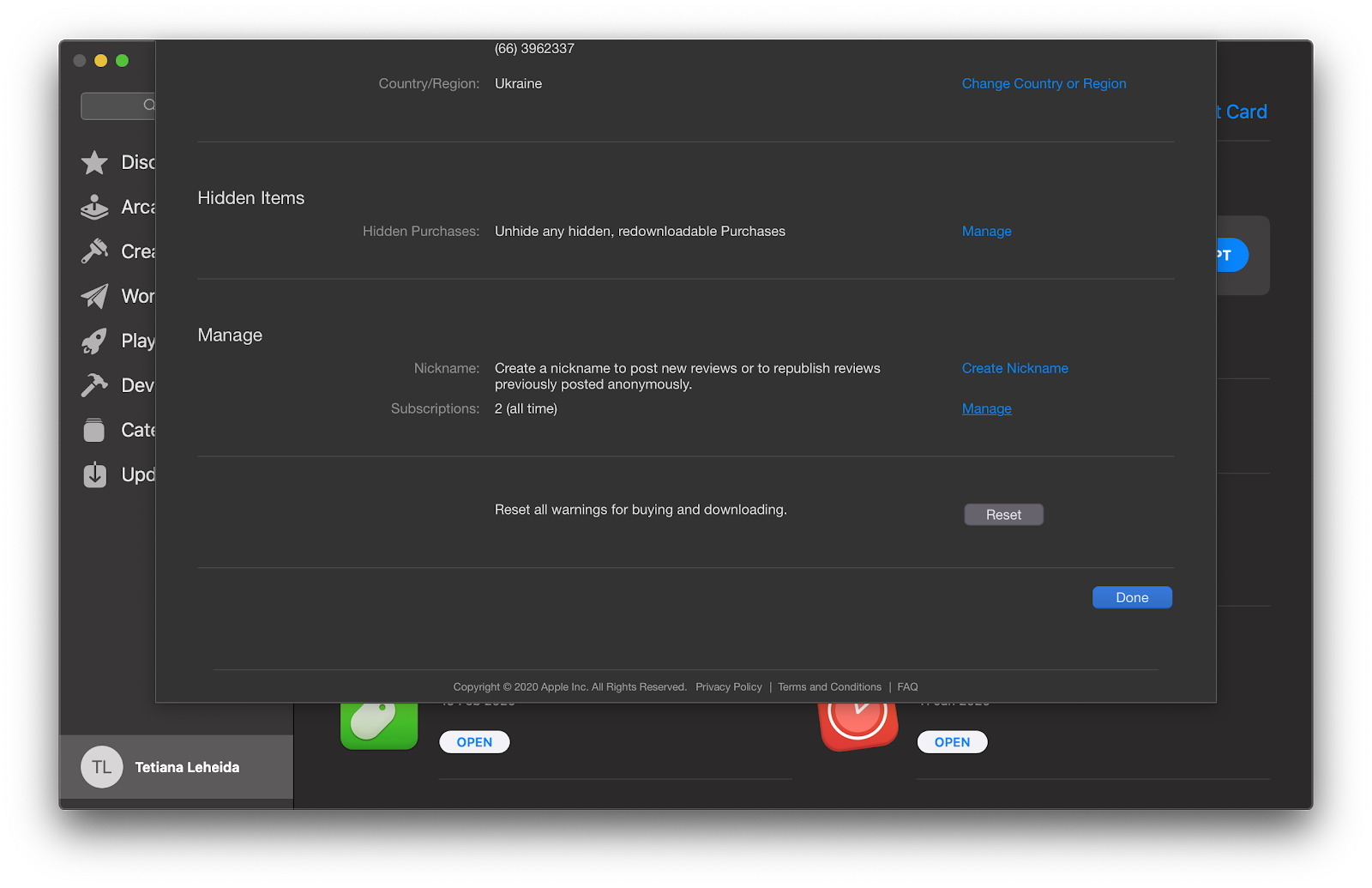 If your Mac runs on macOS Mojave or older, here's a step-by-step guide for you:
Open iTunes and click on Account from the iTunes menu.

Select View My Account and enter your Apple ID credentials.

Open Settings and click Manage next to Subscriptions.

Find Apple Music on the list > Edit > Cancel > Confirm.
How to cancel Apple subscriptions on Apple TV
For canceling Apple Music from Apple TV HD or Apple TV 4K:
Launch the Settings app.

Go to Users and Accounts and click on your account name under Users. This might be a bit tricky because you'll see the "Current user" option and "Your name's Account." You have to choose the second one.

On a new screen, click on Subscriptions > Apple Music Subscription > Cancel Subscription.
What happens once you cancel Apple Music membership
You've pushed the Apple Music Cancel button. Is there a future after this? For sure. First of all, even though you stop your membership, the Apple Music app doesn't disappear from your Mac, Apple TV, or iOS device unless you intentionally remove it. This means you can change your mind and renew the subscription anytime. Here are a few more answers to the questions you might have:
Will my music disappear?
Yes. Apple protects all tracks streamed in the app to ensure the subscription terms won't be violated. So once your Apple Music account is no longer valid, you won't be able to play your tracks — the song will start playing and then you'll see a message saying the subscription has expired. Whether it's the music you've downloaded for offline listening or a playlist you've curated, Apple won't give you access to it.
If I'm using Family Plan, will other members lose access if I cancel?
Yes. So if you intend to cancel your subscription, make sure you warn your partners in Apple Music before pushing the button. They will have time to add someone to the account or change the plan.
How do I switch to a different plan?
If you want to change the Apple Music plan — for instance, you've been using Individual and decide to switch to Family — you don't have to wait until the next billing period. Simply create a new plan and Apple will cancel the renewal of your current subscription automatically.
How to cancel Apple Music auto-renewal?
Yes, you can actually do this. If you're not sure you'll be using Apple Music once the billing period ends, it's better if you make sure your subscription won't be renewed automatically. Open the app on your Apple device and click on your profile icon in the top right corner. From there, select View Apple ID > Subscriptions > Manage. Turn off the auto-renewal option and confirm.
What alternative music streaming services can I use?
Apple Music goes neck and neck with Spotify, a Swedish streaming service that is praised for exceptional personalization features. Both cost the same, Spotify has around 100 million paid users versus Apple Music's 50 million but is still more limited in terms of geography. Here's a nice comparison of the two. A few less popular but definitely less expensive alternatives you can consider are Deezer, Google Play Music, and SoundCloud.
Create your own music paradise on Mac
Apple Music or Spotify, the quality of any music experience depends on many things — and it's so much more than the streaming service you're using. If you can't imagine working on Mac without favorite tracks, read on. We've collected the tools that will help you stay in love with music.
Enhance sounds with Boom 3D
Boom 3D is a Mac app that acts as a universal equalizer and sound enhancer. By adding it to your toolkit, you're getting a balanced sound environment — with custom volume enhancement for specific tracks. If you like to have it loud, Boom 3D takes the volume up without asking for any hardware. Here's why Boom 3D makes your Apple Music subscription better:
You can play it louder than max. No extra speakers or other hardware devices required. Click on the Volume Control button in the top right corner and take the volume up. Best of all, you can customize volume by source for when you want your Spotify to sound louder, and social media notifications — quieter.
3D Surround Sound for an immersive experience. In one click, you can enable the mode that simulates surround sound. The feature works with built-in speakers, headphones, and any other external sound equipment.
Equalizer presets ready to use. If you love music, you know that not all genres were created to sound the same. Unfortunately, your Mac doesn't really cater to that. Boom 3D comes with ready-to-use equalizer presets like gaming, acoustics, 60's, etc.
Availability from the menu bar. Apart from a handy window that allows tweaking sounds, Boom 3D gives you quick access to everything from the menu bar. This enables you to change the sounding as you listen to your favorite Apple Music tracks.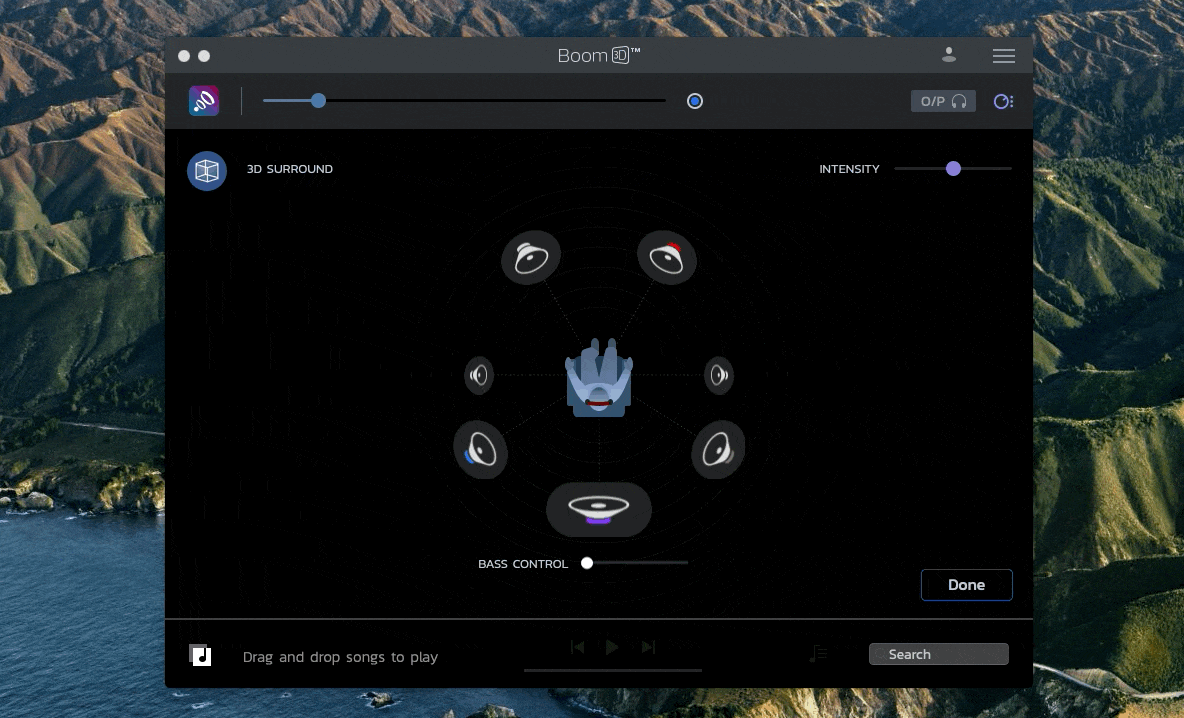 Adjust sounds to your environment with Silenz
Sometimes, the outside world doesn't sound well — but you still need to hear it. This is not a philosophical statement but the harsh reality of open offices. Silenz is the app that solves the problem for you. It listens to your environment and automatically adjusts the pass-through — so that you can hear whenever someone is talking to you.
Silenz is crazily customizable and has lots of goodies for your Apple Music or any other music streaming service:
Use Smart mode for filtering sounds, Off — for focusing on music, or adjust the pass-through manually.

Mix the meaningful sounds of the outside world with your music. Terrible as it sounds, the app actually makes it sound well.

Silenz works with Apple Music, Deezer, iTunes, and virtually any service that breezes music.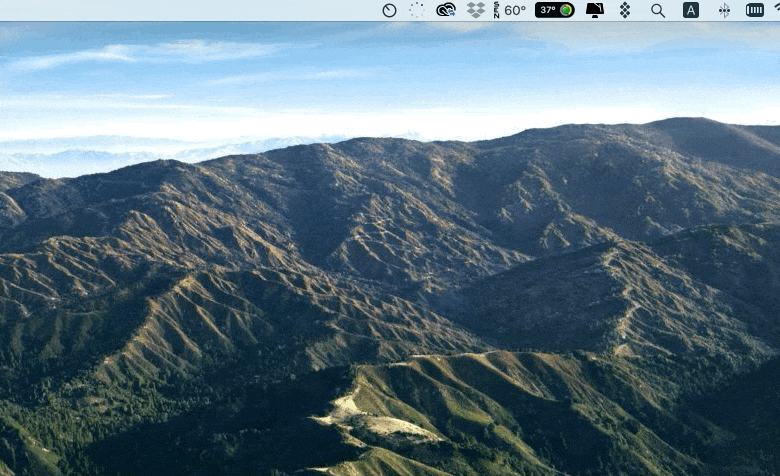 Focus with AI-generated soundscapes in GetSound
If you are looking for the perfect background while working or exercising, look no further. GetSound is the perfect solution for setting a continuous sound environment that can help you be more productive, focused, or just relax.
The app uses AI to generate location-based soundscapes that match current weather and time of day. The soundscapes are easily customizable and, most importantly, provide you with ambient music that won't distract you.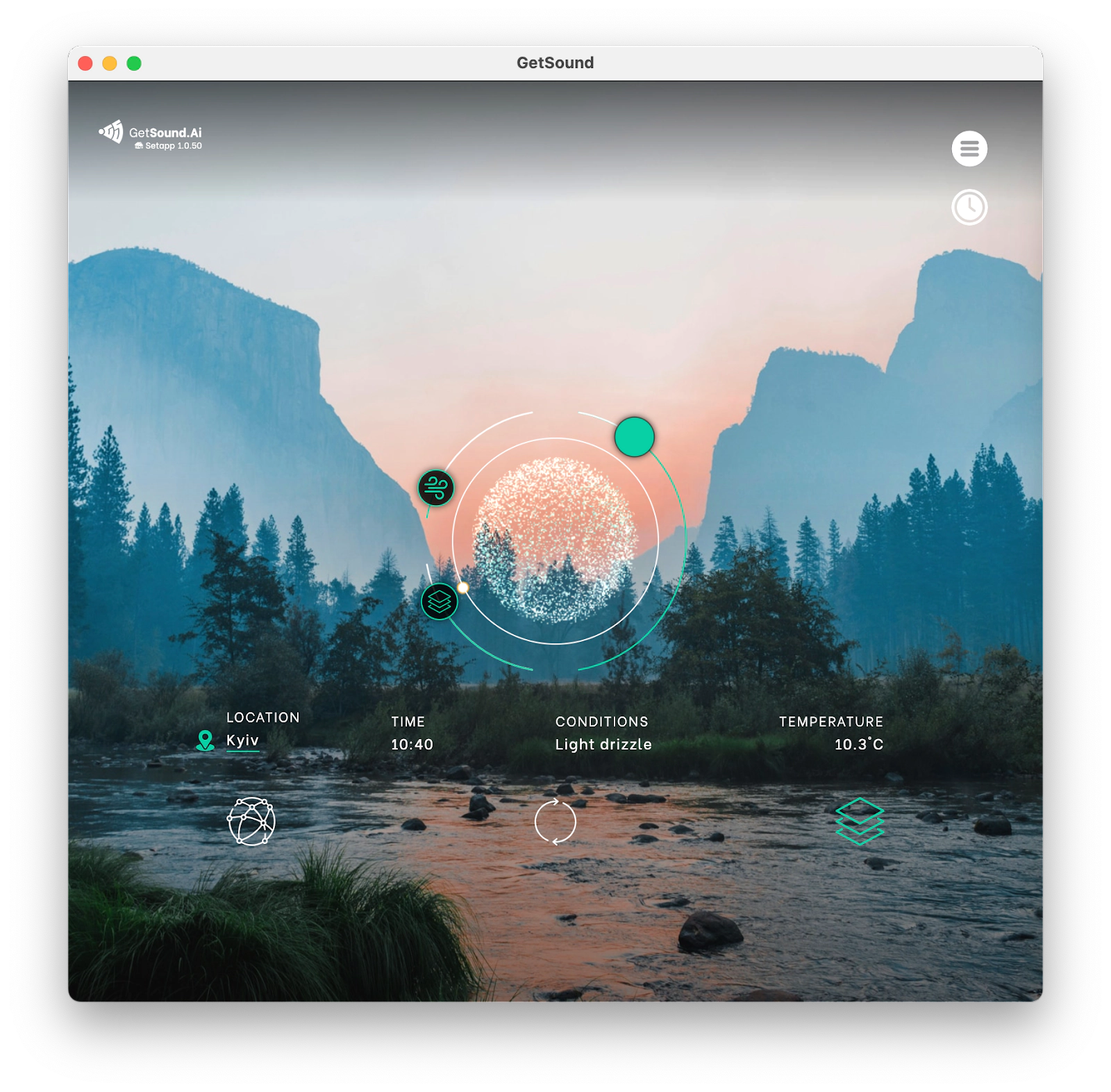 Set the right mood with Noizio's ambient sounds
The mentioned tools let you completely control the sounds your Mac creates as well as make sure they work well with the outside world. Noizio is the tool that actually creates sounds for you — those that Apple Music will hardly ever give you. It's an ambient sounds app setting the mood for your routine. Replace hip hop with the sound of rain, campfire, or sea waves for a perfect focus on work. You can even use Noizio to create your mix of sounds. So if you have Noizio and decide to cancel Apple Music subscription — you kind of already own the alternative.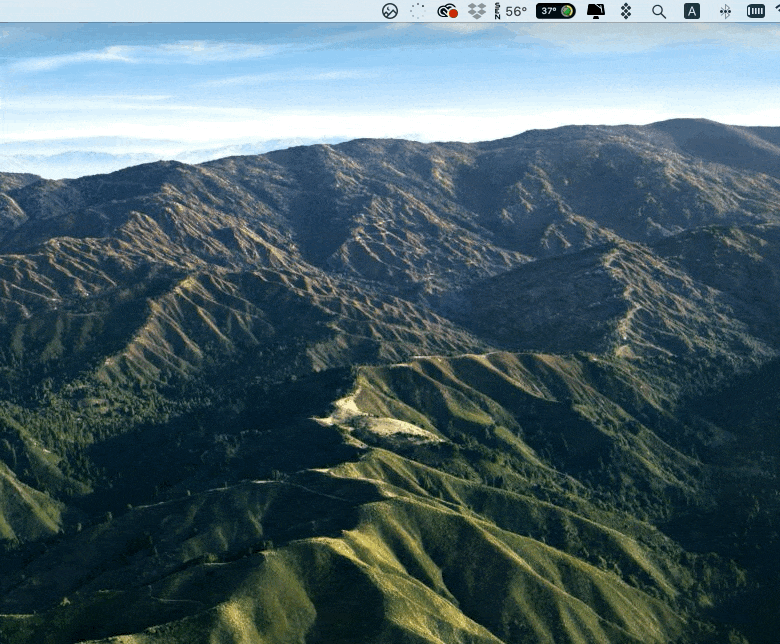 So here's how to cancel Apple Music on Mac — and gain even more than you lose. One thing that you should be aware of is that subscriptions are here to stay. Whether you stick to Apple Music, switch to Spotify, or find your own music streaming hero, paying for access to the huge collections of content is the best and most affordable way to have it all.
Noizio, Boom 3D, and Silenz reviewed above are all part of Setapp, a subscription service that provides access to 200+ Mac apps. Surprise, surprise. So yeah, don't underestimate subscriptions. They are a powerful trend you don't want to miss out on.