What to do when AirPods sound low
AirPods are the most popular wireless earbuds in the world, having sold hundreds of millions of units and being ubiquitous on the streets of any city today.
They are compact, feature an iconic design, have good connectivity, and work flawlessly with the iPhone. That's why when AirPods are quiet suddenly and you can't hear music or people on the other end of calls, it might be concerning.
There's likely a way to fix it though. If you find AirPods volume low and wonder how to make AirPods louder, try a few tricks outlined below before you run to the store to get a new pair.
Why are my AirPods so quiet?
It might be surprising, but the most common reason for the AirPods too quiet sound is the volume control on the iPhone (or Mac) being set too low. Try turning the volume up on the connected device to see if the issue persists.
Over time, it's possible for AirPods to lose their max volume, but they should remain audible enough for daily tasks like music listening and conference calling.
If you're wondering "why is one of my AirPods louder than the other?" it's likely due to the audio balance being off. To fix it, go to Settings ➙ Accessibility ➙ Audio/Visual and move the balance slider to the center.
Other reasons for AirPods sound issues might include:
Dirt or earwax next to the speaker
Having low battery
Active noise cancelling
Bluetooth connectivity problems
Physical damage
How to fix quiet AirPods
You can quickly increase the volume on AirPods by going through a simple checklist below that covers not only fixing the AirPods but also configuring other devices, such as your iPhone and Mac.
Reset your AirPods
When you reset your AirPods, they roll back their settings to factory defaults, getting rid of any potential software bugs that might have crept in.
To reset AirPods:
Put them back in the charging case but keep the lid open
Press the button on the case for around 10 seconds until the light starts flashing white
Close the case
Try reconnecting your AirPods to your iPhone or Mac and see if there are any changes.
Check battery and recharge AirPods
AirPods get recharged whenever they are in their case. Even five minutes in the case should yield about an hour of listening or talk time.
If the case itself is running out of battery you can connect via the Lightning cable to the nearest outlet, power bank, or Mac.
To check the battery level of your AirPods, put them in the case and leave the lid open. The battery indicator should come up automatically when they are connected to your iPhone. On Mac, navigate to the Bluetooth menu either from the menu bar or via System Settings.
If you have a few Bluetooth devices and would like to monitor them easily, try AirBuddy.
AirBuddy keeps track of all your wireless devices right from the menu bar, monitoring their battery levels and letting you connect and disconnect from them in one click. Plus, you can customize shortcuts, receive low battery alerts, and move wireless devices between Macs in just a click.

Another useful app for tracking battery levels is Batteries.
Batteries gives you a quick overview of the battery status on all wireless devices in a single list, even your iPhone and iPad. You can also get a low battery notification and see the real-time battery level right in your Touch Bar.

Perform ear tip fit test
The new AirPods Pro have a great option to improve sound isolation with the ear tip fit test (available only on iOS 13.2 and later).
To do the test:
Connect your AirPods to iPhone
Open Settings ➙ Bluetooth
Select Ear Tip Fit Test
Tap Play
Wait for the results and see which ear tip size fits you best.
Check iPhone sound settings
If you're using your AirPods with your iPhone, you should check its sound settings to see if they might be contributing to audio issues.
Go to Bluetooth settings and make sure that AirPods are connected. Check that the device volume is set to a normal level.
Go to Settings ➙ Accessibility ➙ Audio/Visual to make sure the mono sound is toggled off (so your AirPods can output stereo).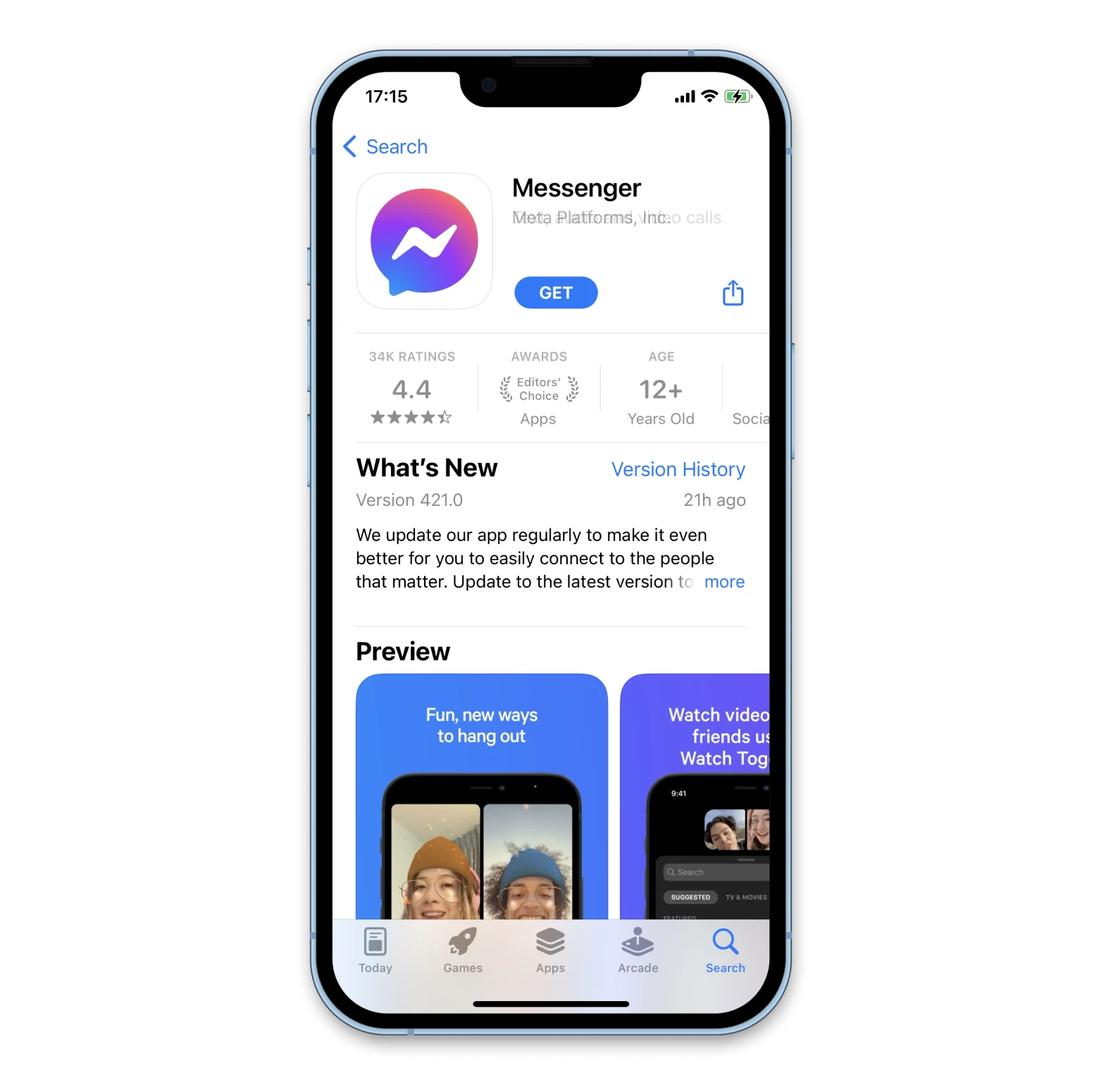 Check Mac sound settings
If your AirPods are connected to your Mac, you should check the volume and the Bluetooth settings first. Then try playing music or podcasts via any app and the web.
Search for an online hearing test (e.g. chs.ca/audiology/online-hearing-test) and go through it to see the audio spectrum with which you're having issues.
After that, try using a better audio player, such as Boom 3D.
Boom 3D has everything you need when it comes to perfecting the audio that comes out of your speakers. There's a precise sound enhancer and equalizer, patent-pending surround sound option, a separate volume control for every app, and an audio boost that can increase the sound past the Mac speakers' maximum. A perfect audiophile experience!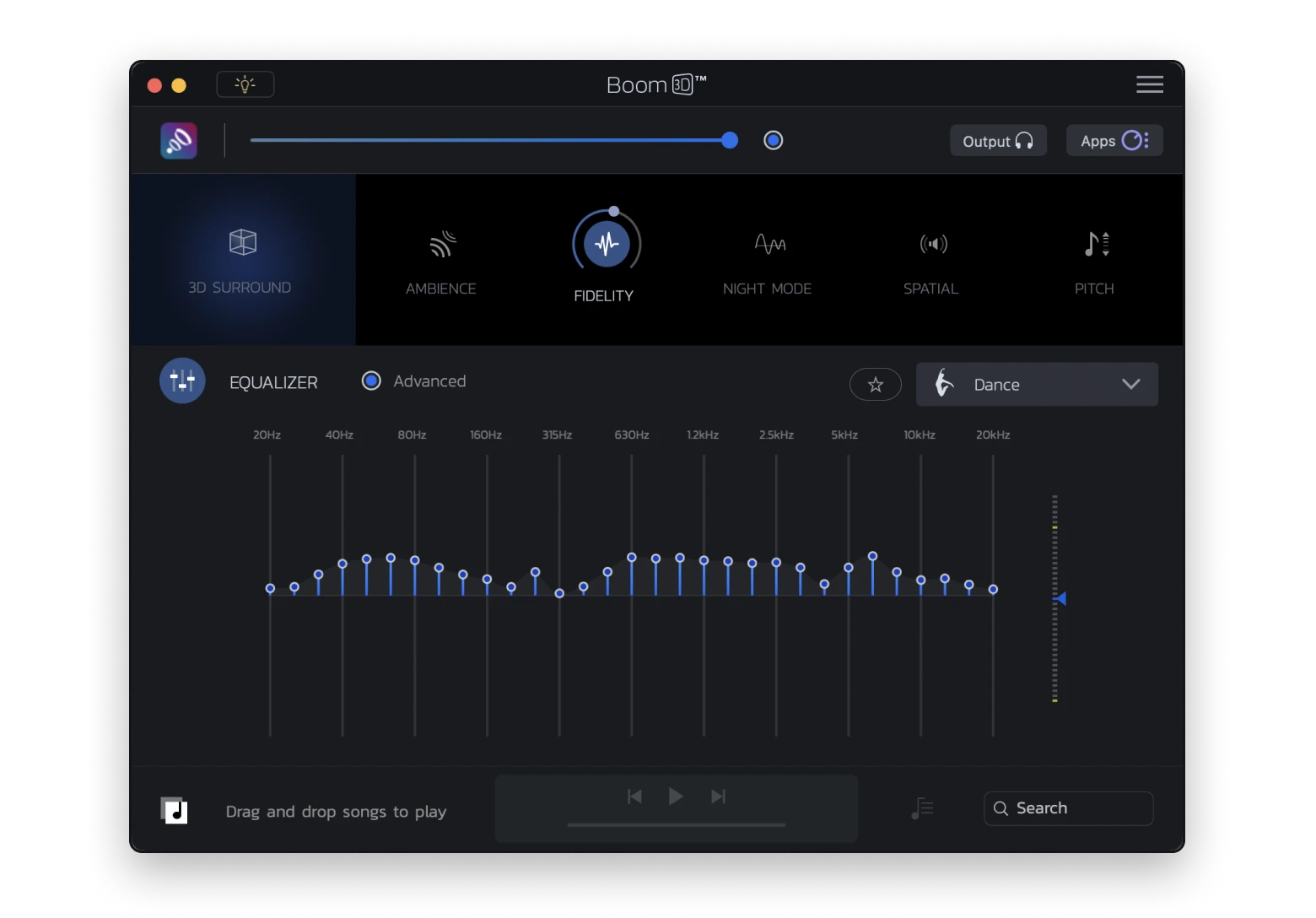 Run maintenance scripts on Mac
Another potential audio issue causing AirPods volume low power could be related to macOS bugs that are difficult to fix manually.
However, an optimization app like CleanMyMac X could resolve the problem in seconds.
CleanMyMac X features one-click scans that optimize, clean, debug, and protect your Mac. You can use it to get rid of old files, completely uninstall apps, clear browser cache, and run maintenance scripts that get your Mac back in shape, hopefully correcting any AirPods-related audio issues.
To run maintenance scripts with CleanMyMac X:
Launch the app
Navigate to Maintenance in the sidebar
Select Run Maintenance Scripts
Click Run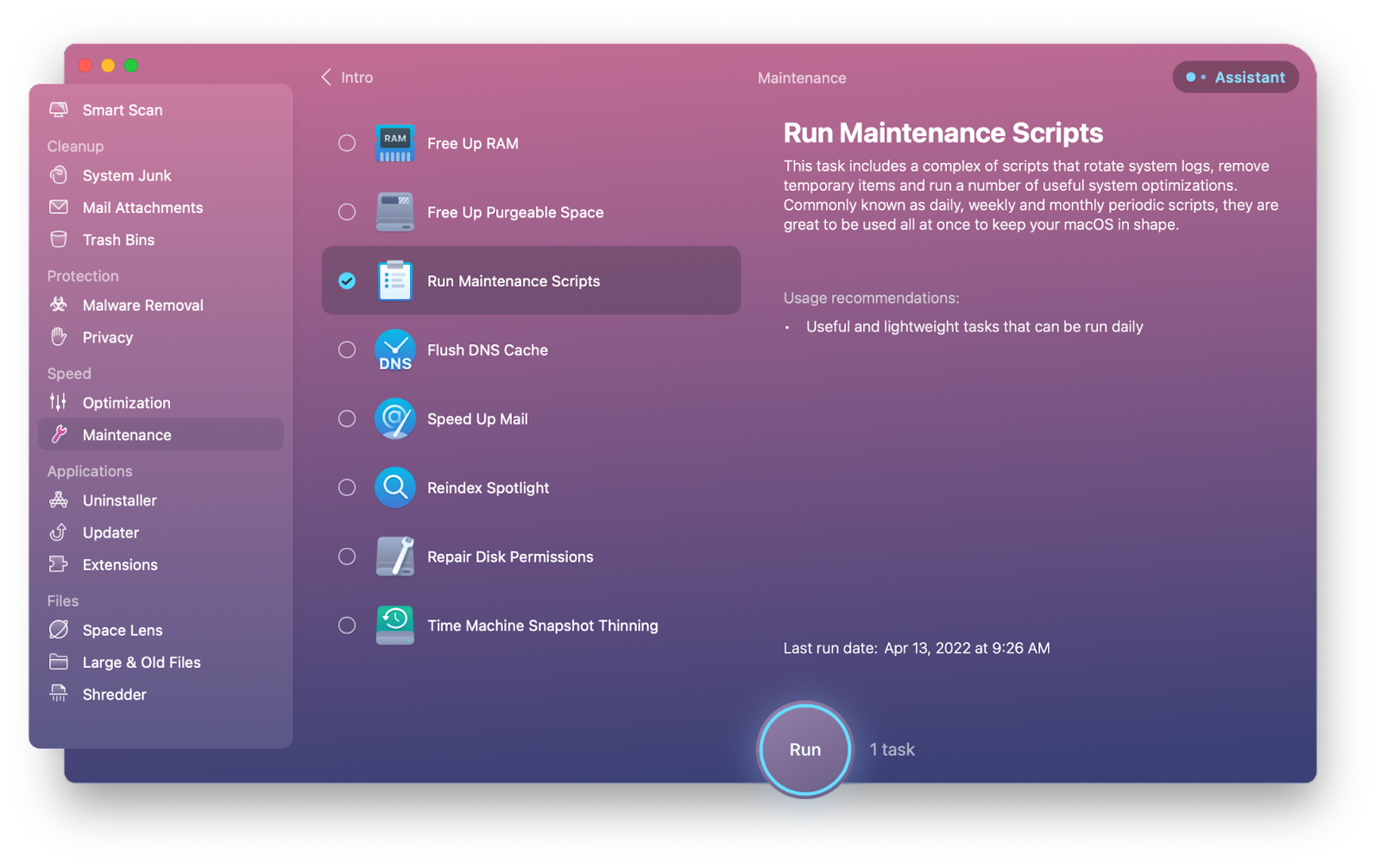 Check Apple Music or Spotify settings
When you use Apple Music or Spotify to play audio with AirPods, it might be the apps and not your hardware that has problems.
Try restarting your music app first. Then go into settings and make sure everything looks good, the equalizer is set to normal, the sound level is about right and that the correct output device is selected (AirPods as opposed to the external speaker). Sometimes the latter results in AirPods connected but sound coming from phone or another device.
Contact Apple support
Apple provides warranty coverage and repair for all its products. If you go to Bluetooth settings on your iPhone and select AirPods and then Warranty, you can see whether the coverage is still active.
If it is, take them to the nearby Apple Store or contact Apple support online. Even if the coverage has expired, you can still get the AirPods fixed, but you just might have to pay for it.
As you can see, if your AirPods are quiet, all you have to do is follow the instructions above, and one of the options should fix the problem. In addition, try enhancing your experience with great Mac apps like AirBuddy and Batteries for checking battery levels, Boom 3D for amazing sounding speakers, and CleanMyMac X for an optimized and bug-free Mac.
Best of all, AirBuddy, Batteries, Boom 3D, and CleanMyMac X are all available to you for free for seven days through the trial of Setapp, a platform with more than 240 curated apps for Mac and iOS across any category you can imagine. Try every Setapp app at no cost today and find new favorites to add to your app stack.