AirPods randomly disconnect: how to fix the issue
AirPods made their debut back in 2016, alongside iPhone 7, and within two years became Apple's most popular accessory.
Although AirPods were created to work seamlessly with your iPhone, unfortunately, that's not always the case. Users have been reporting AirPods connection issues ever since they first launched. So if your AirPods randomly disconnect from time to time — you're not alone.
AirPods won't stay connected if they are plagued with bugs, glitches, or conflicting settings. But perhaps it's just the dirt that's causing you to wonder: "Why does my AirPods keep disconnecting?"
Let's explore all possible causes of the AirPods connection problem and ways to fix and troubleshoot.
Why do my AirPods keep disconnecting?
There can be all sorts of reasons for asking: "Why do AirPods keep disconnecting?" Users report these problems to be most commonly related to phone calls, and less often encountered while playing music or connecting to in-car Bluetooth devices.
All AirPods disconnection reasons can be classified into three main categories:
Software issues. This can be caused by a software update or conflicting settings.
Hardware issues. AirPods randomly disconnect as a result of a problem with the actual hardware.
Signal interference issues. AirPods are a wireless device and thus are highly susceptible to wireless interference.
Whatever the reason may be, if your AirPods keep disconnecting, there is a way to fix them. The nature of the problem will just help determine whether the revamp task will be very simple or relatively complex.
How to fix AirPods that disconnect from an iPhone
The first thing you should do is check whether your iPhone's software is compatible with the AirPods version you're using. AirPods Pro work with iOS 13.2 and later, while AirPods 3 will require at least iOS 15.1 for a good connection.
If you're using the right software and AirPods keep disconnecting you need to understand where exactly the problem lies in order to find an effective solution. If your AirPods won't stay connected — read on for possible causes and ways to fix them!
Disconnect your AirPods then reconnect them
Powering a device off and on again can help solve many problems with tech, and AirPods are no exception.
To disconnect AirPods from your iPhone and reset them:
Put AirPods into the case, close the lid and wait about 15 seconds
Open the lid, then press and hold the setup button on the back of the case
Wait for the light to flash amber, then white
Your AirPods have now been reset. Reconnect them with your iPhone by holding the two devices close together. If Bluetooth is on, you'll see prompts on the screen to reconnect your AirPods.
Check the battery level
This might seem obvious, but that doesn't make it less important: make sure your AirPods are charged, and before you ask yourself " why does my right AirPod keep disconnecting?" you might already know the answer.
Open the AirPods case near your iPhone when it's unlocked for the easiest way to check the battery levels. An AirPods Connection Panel will show how charged your AirPods and the case are. To view the battery life of an individual AirPod, wear one bud and keep the other in the case.
Another way to check whether AirPods have enough charge is by using the iPhone's Batteries widget. Here's how to add it to your screen:
Swipe from left to right on the Home page
Scroll down
Tap Edit and add Batteries
If you wish to monitor the battery levels of all your devices in one place, Batteries app will be your best solution. It offers a clear view of all device battery levels, AirPods included, right on your Mac, and sends notifications when you need to recharge. No more running low on battery during a busy day!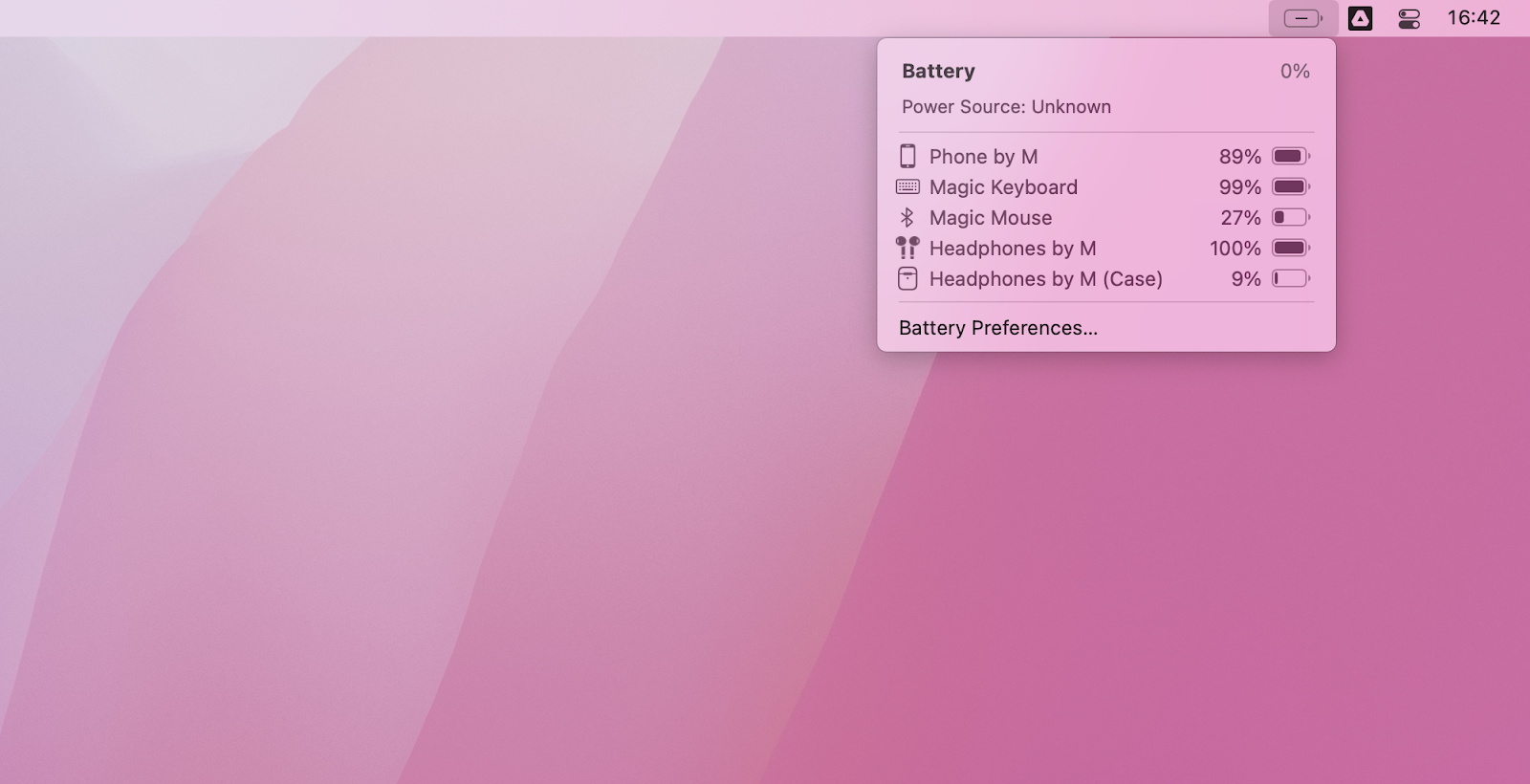 Check and update AirPods software
Do you remember the last time you updated your AirPods software? Outdated device firmware might be the reason behind AirPods randomly disconnecting. Fortunately, this problem has an easy fix.
To check whether your AirPods' firmware is up to date, connect them to your iPhone and follow these steps:
Go to Settings
Click General ➙ About ➙ AirPods
Check whether Firmware Version is up to date
A simple internet search will help you find the latest available version of the firmware.
If your AirPods won't stay connected and you find that outdated software is to blame, here's how to update it:
Connect AirPods to a power source
Keep your iPhone nearby
Wait for 30 minutes while the AirPods update
It's a good idea to keep your iPhone's software updated too, as the latest iOS versions come with bug fixes that could resolve the issues and answer your question of "why does my AirPods keep disconnecting?"
While it can be a hassle to keep track of software updates and promptly install them, there's an app designed to take this job off your plate.
AnyTrans brings all your Apple products into sync and helps control updates on your iOS devices with minimum effort on your part. The app also offers seamless data and file transfers between your devices, freeing up your time to enjoy the good things!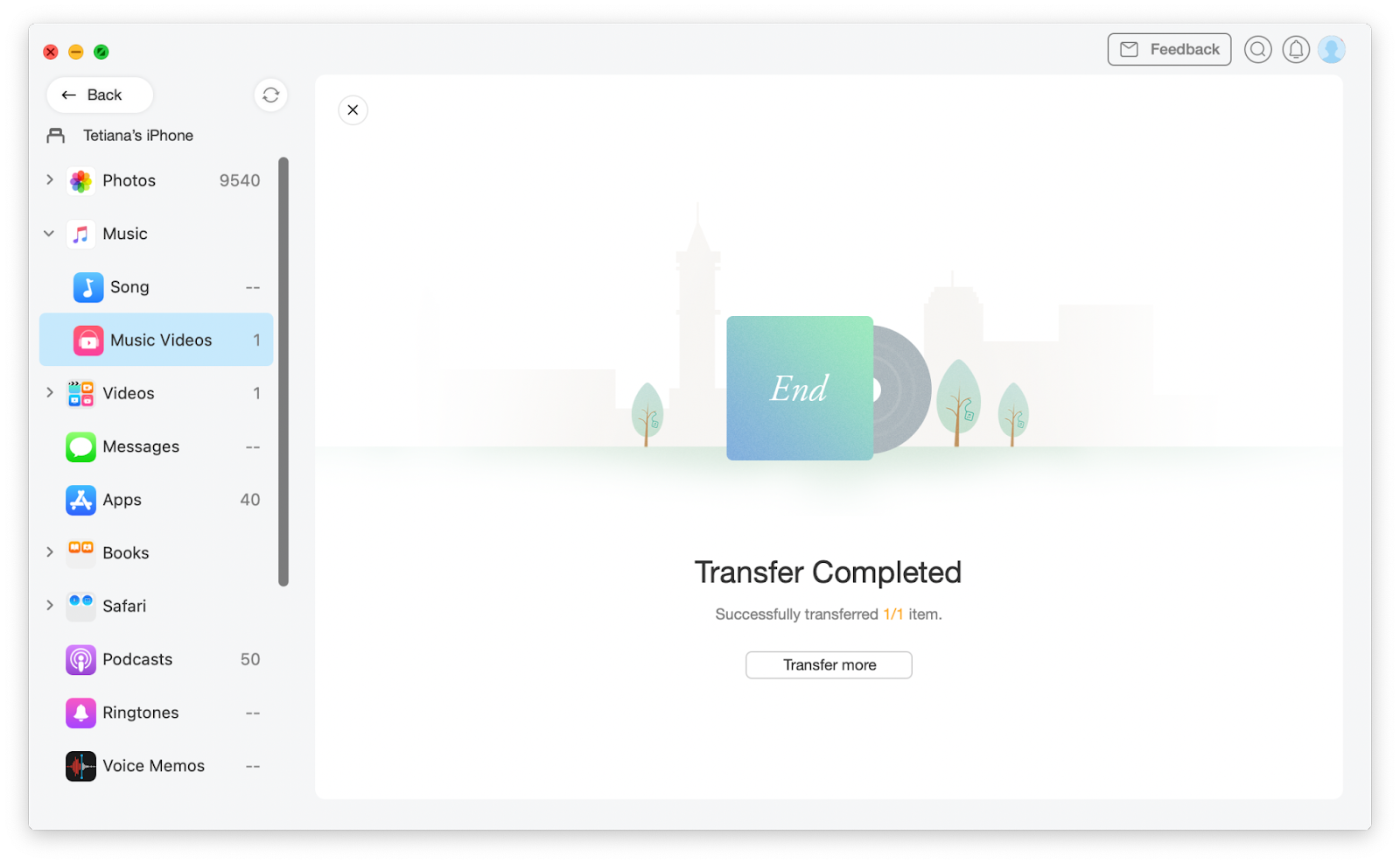 Check Bluetooth
Since Bluetooth is the very technology which enables the connection between AirPods and an iPhone, it's important to make sure it's activated and working properly on your device. Otherwise you'll most likely encounter the problem of AirPods randomly disconnecting.
Checking Bluetooth settings on your iPhone is simple:
Go to Settings ➙ Bluetooth
Check for the green indicator to show that Bluetooth is on
It can be worth turning Bluetooth off and on again by tapping the green switch so it goes white. Wait for about 15 seconds before turning it on again.
Check audio device settings
How many times have we all complained that an audio device is not working only to realize we haven't selected it as the output on our phone or laptop?
Although your iPhone chooses AirPods as it's audio output device automatically once they are in your ears, in case there's a glitch, here is a manual way to redirect audio into your AirPods:
Play music on your iPhone
Tap on the AirPlay icon below the track
Select your AirPods from the options
Audio should now be directed into your AirPods. If you're having connectivity issues while on a call, check if you have AirPods selected from the audio output options you'll see on screen when you make the call. Change the audio source during a call by simply tapping on the speaker icon.
Deactivate automatic switching
From iOS 14 onwards, AirPods can automatically switch between Apple devices when you start playing audio. It may be that your AirPods keep disconnecting because they're switching to another one of your devices that's close by.
To avoid sudden disconnections, try disabling this feature altogether:
Go to Settings ➙ Bluetooth
Tap the Info icon next to AirPods
Tap Connect to This iPhone
Select When Last Connected to This iPhone
Repeat these steps on each iOS device you have.
To deactivate automatic switching on your Mac:
Go to System Preferences ➙ Bluetooth
Select Options next to your AirPods
Set Connect to This Mac to When Last Connected to This Mac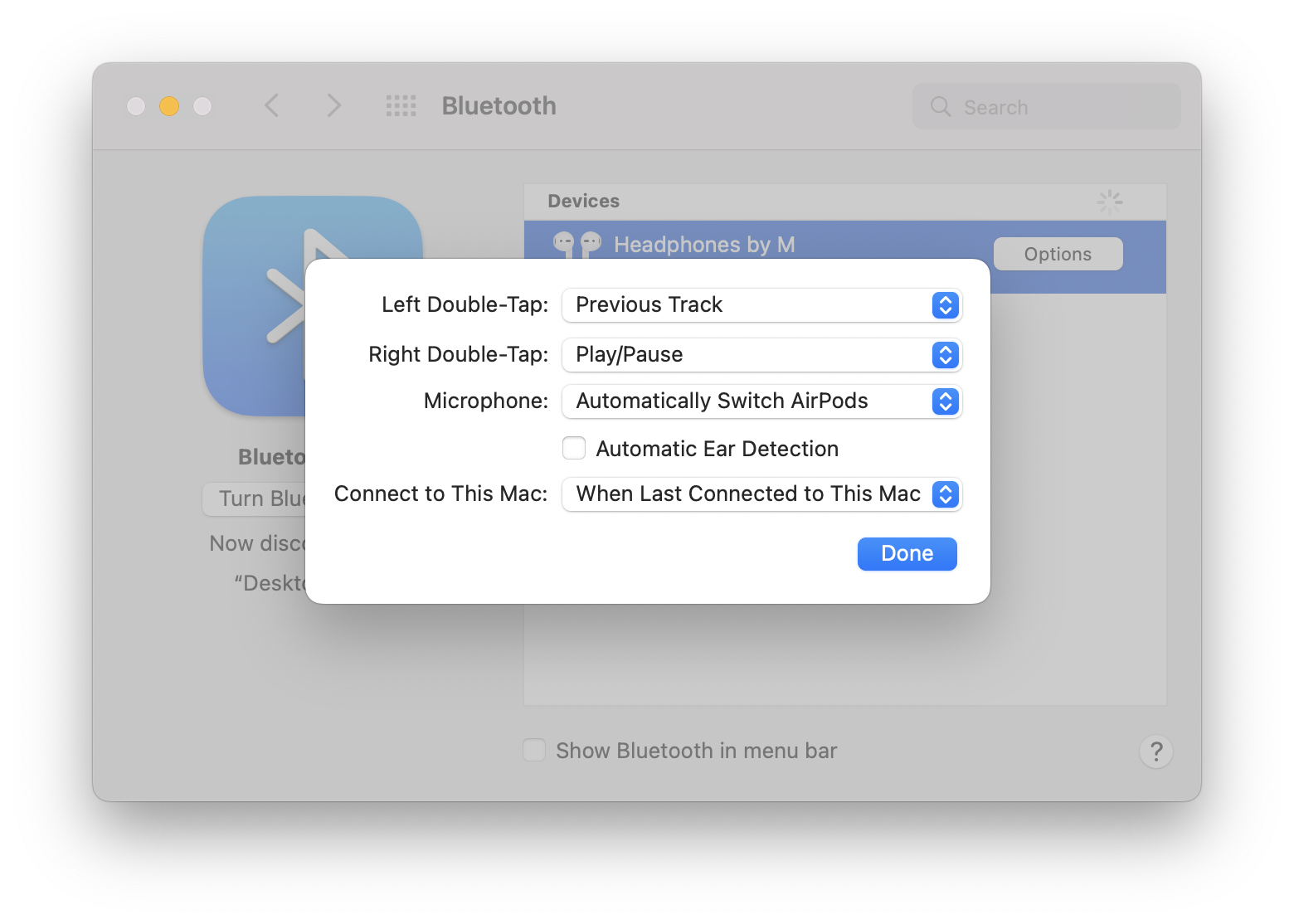 Use just one AirPod
Users report switching to a single AirPod solves the issue of AirPods randomly disconnecting. Try using one ear bud at a time and leave the other one in the charging case.
Alternatively, here's how you can change AirPods settings to only allow one AirPod microphone to be used at any time:
Open the AirPods case
Go to Settings ➙ Bluetooth on your iPhone
Select AirPods
Tap the "i" and choose Microphone from the options
Choose Always Left or Always Right
Clean your AirPods
If you don't remember the last time you did this, it's possible that your AirPods keep disconnecting simply because they need to be cleaned.
Be gentle and don't rush, since you don't want to leave any scratches or damage the device. Apple recommends using a "soft, dry, lint-free cloth" to remove any dirt on the exterior.
Use cotton buds to clean the microphone openings and speaker meshes. An old, soft bristled toothbrush will help you remove earwax that inevitably builds up in there. Be careful about the amount of pressure you apply, as it can accidentally damage the mesh or force wax into the grills.
Disable Automatic Ear detection
The name says it all — this feature automatically detects when AirPods are in your ears, and although it's very convenient, it can also be the cause for AirPods randomly disconnecting.
Resolve this issue by quickly disabling Automatic Ear Detection:
Go to Settings ➙ Bluetooth
Tap the Info icon next to your AirPods
Disable Automatic Ear Detection option
This feature is made to be functional, but it's worth checking to see if something is playing up.
Turn off WiFi on iPhone
Network connection may be the reason behind AirPods randomly disconnecting. Corrupt network-related settings could be preventing the device from communicating with your AirPods correctly.
In this case, resetting the network settings on your iPhone should fix the problem.
Go to Settings ➙ General
Tap Transfer or Reset iPhone ➙ Reset
Select Reset Network Settings
Input your device passcode and tap Reset Network Settings again
Now you can reconnect your AirPods and check whether AirPods won't stay connected again, but hopefully this will solve the issue!
Check for sources of WiFi or Bluetooth interference
Common sources of wireless interferences are microwave ovens, wireless speakers, Bluetooth devices, and poorly shielded power cables. Simply moving away from them could improve your AirPods connectivity already, but there are other actions you can take to avoid running into this issue.
It's a good idea to keep an eye on your WiFi and Bluetooth connections in case there are wireless interferences preventing them from functioning properly. A great app to help monitor your network is WiFi Explorer. With its range of extensive details about networks in the vicinity, the app gives out information about their connection quality and problems in seconds.
Here is how you can quickly make sure your WiFi connection is up to speed:
Launch WiFi Explorer on your Mac
Wait for the app to scan your wireless environment and generate a list of active networks
Use the Filter field at the top right to narrow down the networks on display
Click any network from the list and select Network Details
Go over to the Advanced Details tab and use expandable arrows for more information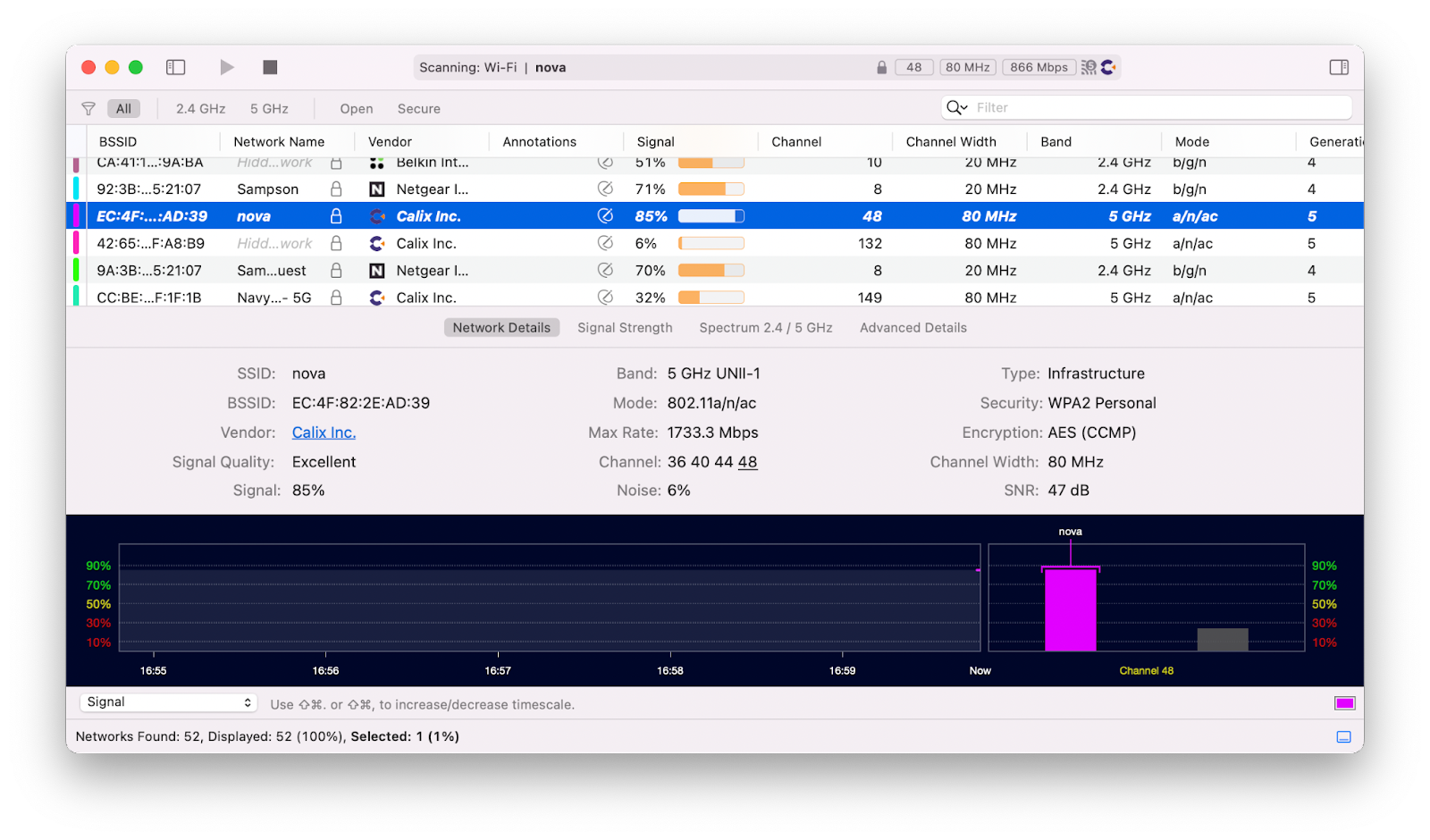 Try using NetSpot as an alternative, if you want to find and establish the best network connection. NetSpot provides a heatmap of your network in real time, as well as analyzes your WiFi coverage and performance to offer smart ways to fix those weak spots in the coverage.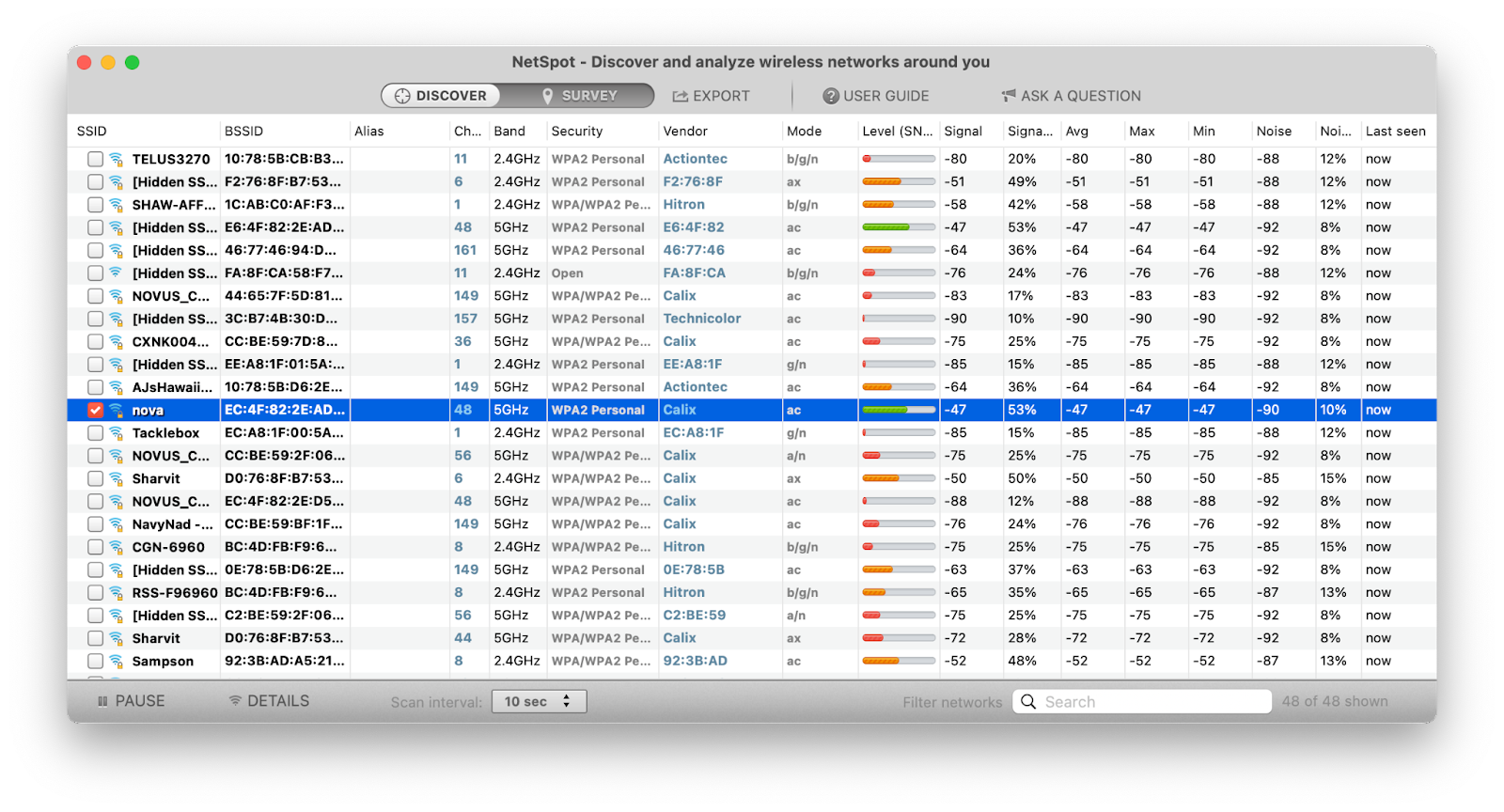 Why do AirPods keep disconnecting: issue resolved
Various circumstances can come in the way of a stable connection between your AirPods and your iPhone. Being aware of all possible causes for AirPods randomly disconnecting allows you to find a quick solution in case you encounter this problem.
Apart from resolving the issue of AirPods keep disconnecting, you now know how to seamlessly move data between your iOS devices using AnyTrans, monitor the charge through Batteries, and get your networks up to full speed with WiFi Explorer and NetSpot.
Luckily, all four apps — AnyTrans, Batteries, WiFi Explorer, and NetSpot are available to you absolutely free through a seven-day trial of Setapp, a platform with more than 230 best-in-class macOS and iOS apps that can help unlock your devices' full potential. Try every Setapp app today at no cost and see how well your Apple devices can really work.