AirPods FAQ: How to make AirPods louder? What if you lost them? Are AirPods waterproof?
Today, we can say with confidence that Apple Airpods are the best wireless earbuds released so far. The sound quality is incredible, and there's hardly a more convenient way to wear headphones. Until you lose them, or there is some kind of damage that hampers your experience.
We've answered all the common questions about Apple AirPods in this article. Find a solution to your problem or go through the whole list to learn how to optimize AirPods for years of use:

Are AirPods waterproof?
One of the major differences between Apple AirPods and AirPods Pro is that only the latter are water-resistant. But are AirPods waterproof? No, they are not. Are Apple EarPods waterproof? Absolutely not. Answering your question, none of the Apple headphones are waterproof. This means that if your AirPods stop working due to water damage, you won't have them replaced.
Now, what's the deal with water resistance? Are AirPods water-resistant? Unlike waterproof devices that fear no liquid, water-resistant headphones can withstand water to a certain degree or for a limited amount of time. There's an IP rating system used to measure water resistance. If a device has a minimum rating of IP65, it can be considered waterproof. Anything beyond that level is water-resistant.
Of all Apple headphones, only AirPods Pro have water-resistant seals. Their rating is IPX4 — a pretty low one, to be honest. This means they will survive sweat and splashes of water, but won't survive a pool. What's more, the resistance tends to deteriorate over time. So it's better if you keep your AirPods away from any kinds of liquid.
What to do if your AirPods get wet
Well, it's not always possible to avoid the trouble. Anything from a rainstorm to a washing machine can potentially damage your AirPods. But don't worry, even if your device does get wet, there's hope. The key thing here is to try and carefully remove the water.
Here's what you should do:
If your AirPods come in contact with clean water, you need to wipe it off. A dry, lint-free cloth will do the job.
If there's any other substance on your AirPods — like coffee or shower gel — you should first remove it with a soft, slightly dampened cloth, and then wipe the AirPods dry.
Once you get rid of the substance, leave your AirPods in a dry place for at least a few hours.
If you get your charging case wet, open the lid and leave the case upside down on a dry surface for a few hours.
Here's what you shouldn't do:
Don't put your AirPods in rice. You might come across some websites saying rice and silica gel can remove water from AirPods. This is a myth. What's more, rice can cause scratches on your AirPods and damage them even more.
Avoid extreme temperatures. Some people use air blowing or place AirPods on a heater. Not only is it ineffective, very hot temperatures can harm your AirPods' internal circuits so they stop working altogether.
Don't try to connect AirPods to your device before they are completely dry.
There's no guarantee you'll fix wet AirPods, unfortunately. It all depends on the version of your AirPods and how critical the water damage is. If your AirPods stop working after you dry them, you should contact Apple Support and get a replacement. The good news is you can get one of your AirPods replaced for $69 in case the other one works.
How to make your AirPods louder
AirPods volume depends on the device that you connect them to. So if you pair AirPods with Mac, you have to deal with macOS volume settings. If it's an iPhone, then the iPhone is to blame. Note that if you stream audio via AirPlay, you have to adjust the volume on a device that is streaming — not the one that is streamed to.
But what if you want to go beyond your device's capabilities and learn how to make AirPods louder? This is possible. Here's how to turn up volume on AirPods with a few simple tricks.
Clean your AirPods
It's a good practice to clean your AirPods or AirPods Pro regularly to improve the sound. Here's a step-by-step process:
Use a slightly dampened cloth to remove the dirt
Wipe your AirPods dry with a lint-free cloth
Use a cotton swab to clean the microphone
Leave your AirPods in a dry place for a few hours
Reconnect them to your device.
If you have AirPods Pro, it's a good idea to remove the ear tips and rinse them with water. Make sure they are completely dry before you reattach them to AirPods.
Disable Low Power Mode
If you use AirPods with an iOS device, try turning off Low Power Mode. It's a mode that reduces background app activity and pauses downloads for a specific period of time. What does it have to do with AirPods? We're not exactly sure but it seems like Low Power Mode decreases volume a little bit. So if you disable it, you'll make your AirPods louder.
To disable Low Power Mode, use a quick toggle in your Control Center, or go to Settings > Battery > Low Power Mode.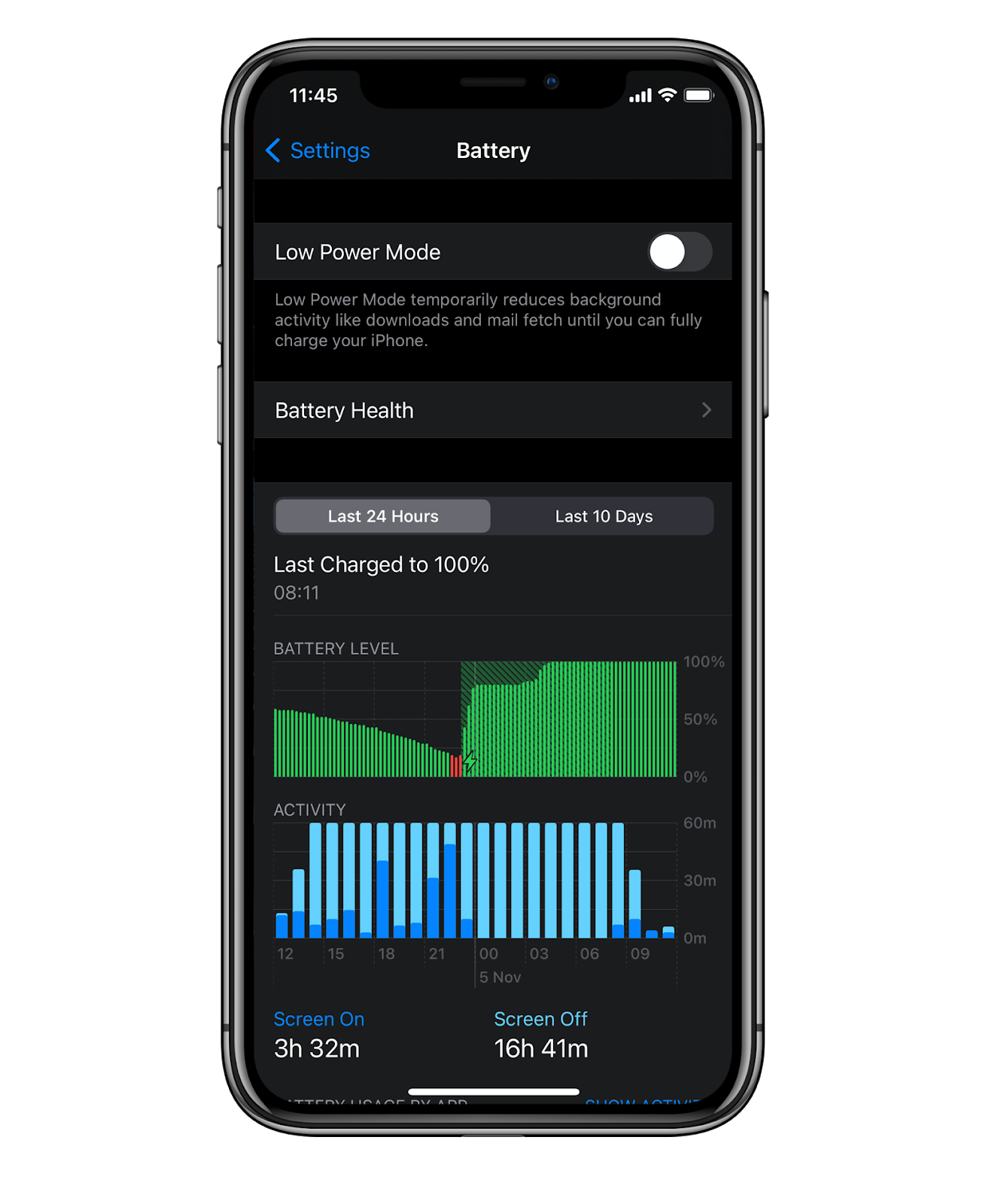 Adjust volume limit
If you've been following Apple's latest innovations, you surely noticed a huge focus on health. This relates to the AirPods sound as well. Apple follows the official EU recommendations on what is considered healthy volume. So if you have the setting enabled on your iPhone, your AirPods will sound quieter by default. Here's how to check volume limit:
Open Settings > Music
Click on Volume Limit
See if EU Volume Limit is enabled.
Calibrate AirPods with iPhone
If none of the above worked, maybe there's sort of a "misunderstanding" between your AirPods and iPhone. This means your AirPods and your iPhone might be regulating volume differently. In this case, you'll need to calibrate sound to fix AirPods low volume:
Put AirPods in your ears and play any audio
On your iPhone, turn the volume all the way down
Disable Bluetooth on iPhone via Control Center (simply tap the Bluetooth icon)
Play audio again through your iPhone's speakers, then turn the volume down
Enable Bluetooth and reconnect AirPods
Play audio through AirPods and try regulating the volume.
Reconnect your AirPods to Mac
If you experience problems with volume when connecting to Mac, there are two fixes you should try. First, access AirPods volume control in Sound Preferences > Output. Make sure your AirPods are selected as an output device and try adjusting the balance and output volume. Any help? If it works, then your issue has to do with macOS sound settings.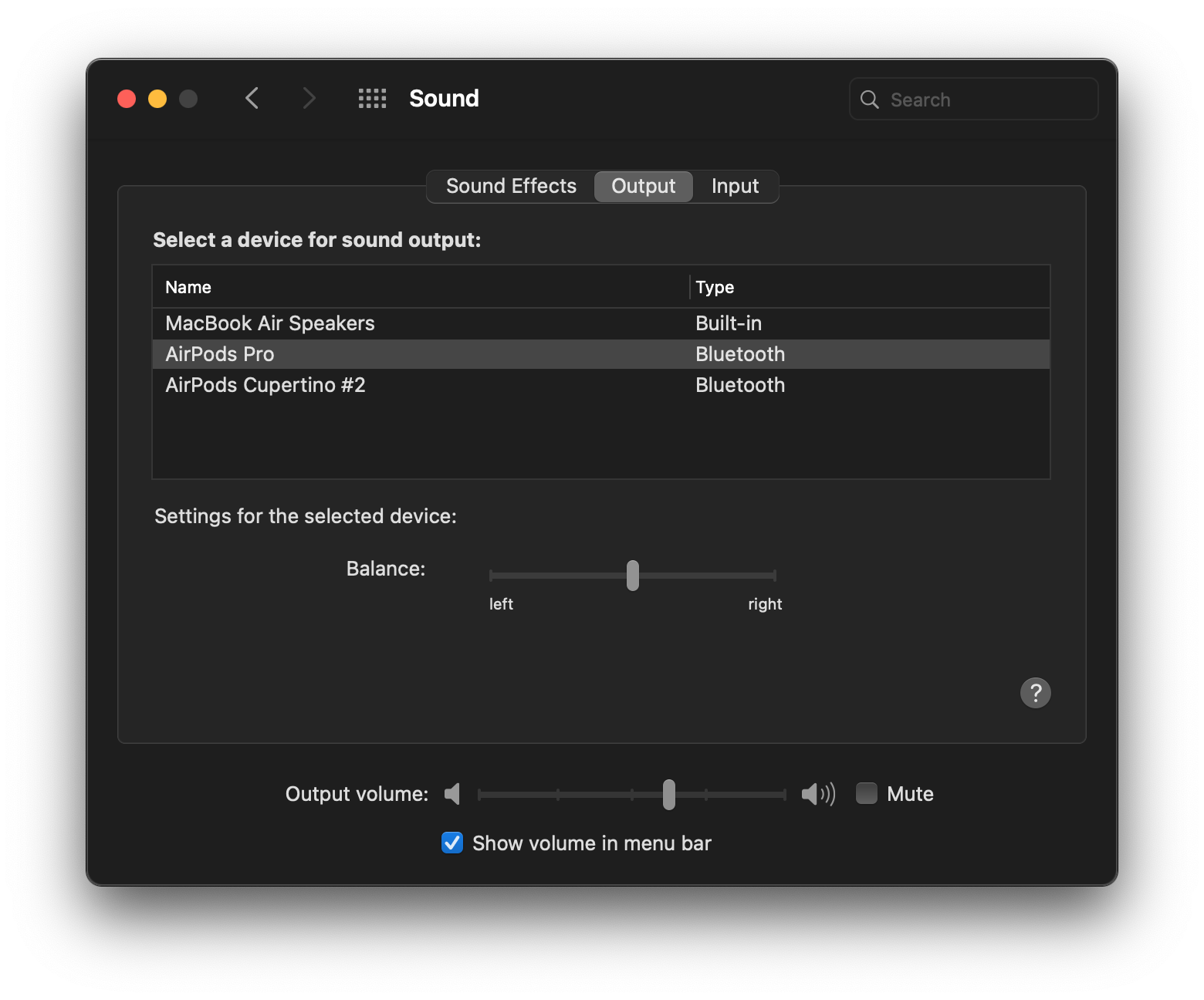 If the volume is still too low, maybe it's a Bluetooth problem. Try turning off Bluetooth, and then turn it back on. Disconnect and reconnect your AirPods. These simple fixes might help.
AirBuddy offers a whole-new way of pairing your AirPods with Mac. If you've ever paired AirPods with iPhone, you'll find it familiar:
Bring your AirPods close to Mac and open the lid
On the on-screen pop-up, choose "Click to Connect"
Done!
Needless to say, AirBuddy saves a lot of your time because it eliminates the need to open any settings on Mac. What's more, by switching to the new way of AirPods pairing, you can fix your AirPods audio issues!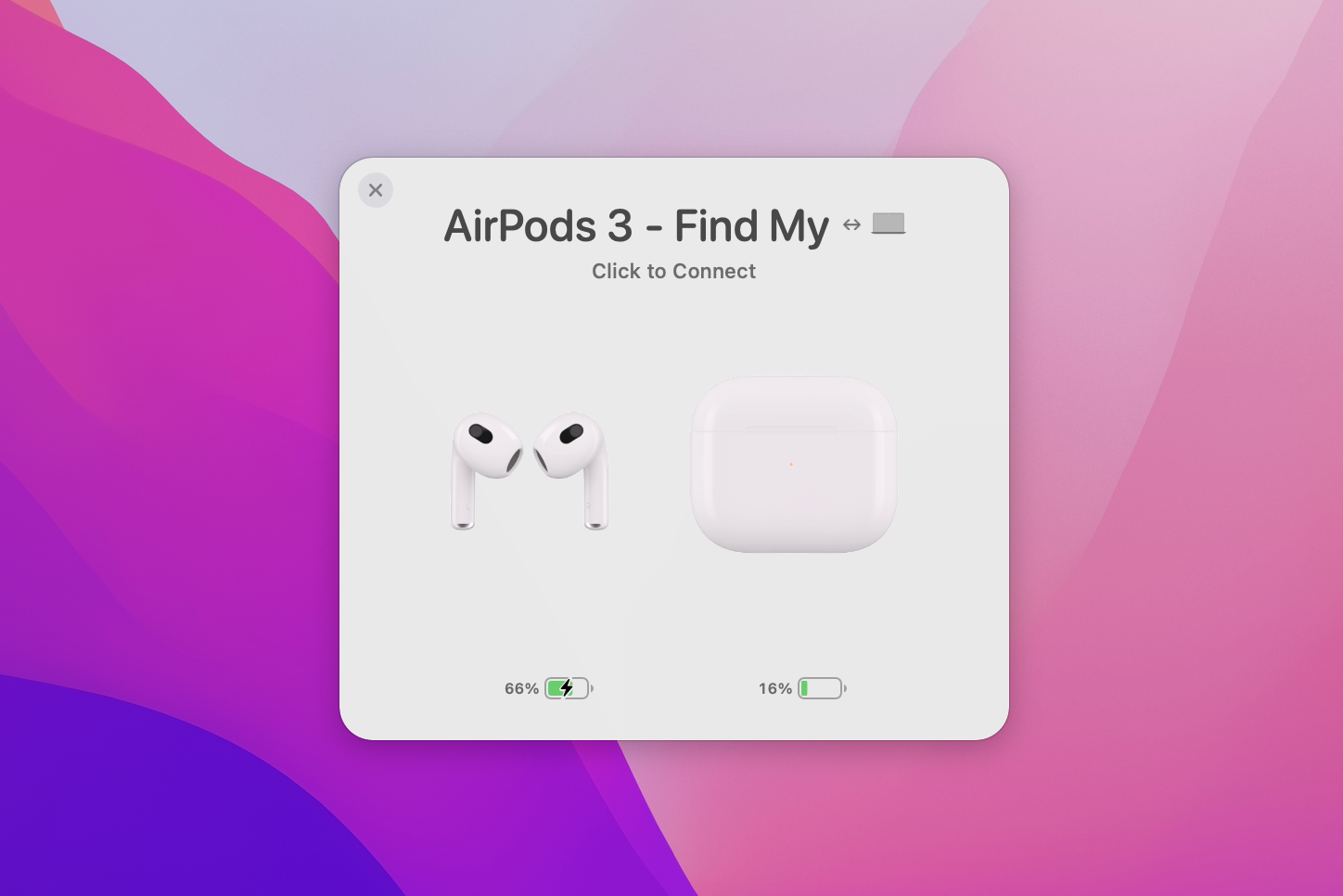 Another tool you might want to try is called ToothFairy. It's a sleek menu bar utility that allows connecting multiple headphones to Mac at the same time — you can even have dedicated menu bar items for each! ToothFairy also allows you to improve audio by enabling higher-quality audio codec for audio output (Preferences > Advanced > Improve sound quality).

How to improve AirPods sound on Mac
If the above doesn't help, enhance the volume with Boom 3D. This Mac app will not only fix AirPods volume control, it will take the volume beyond 100%, and even improve sound quality. So if you listen to music on Mac — whether you use AirPods or your Mac's internal speakers — make sure you install Boom 3D. It comes with custom presets and immersive 3D Surround Sound feature that can elevate any sound experience. Music fans, rejoice!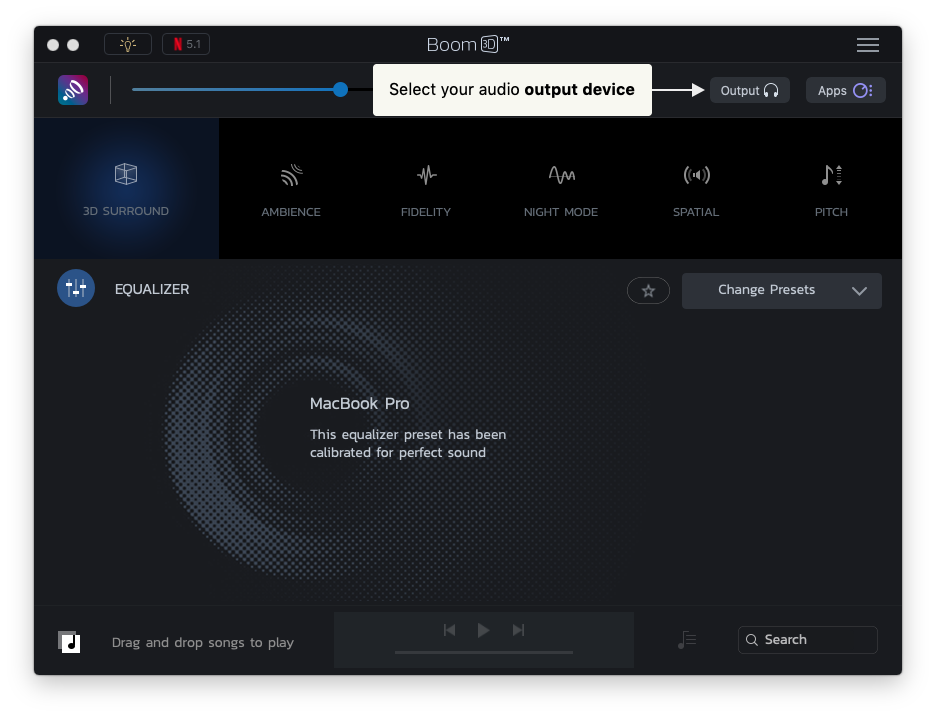 How to find AirPods
When Apple first introduced AirPods, many people were skeptical. Headphones without wires? There's nothing in this world that would be easier to lose! Luckily, Apple took good care of it and made sure you can find your lost AirPods.
You can track the AirPods location with Apple's Find My app available on Mac, iPhone, and iPad. Find My allows you to see your lost AirPods on a map and even play a sound so that it's easier for you to locate them. Let's see how it works on different devices.
How to locate AirPods on Mac
With Find My Mac enabled, you can track your AirPods' location from Mac via iCloud. Once you sign in to your iCloud, access Find My iPhone and select AirPods from the list of connected devices. The map will show the approximate location and you'll be prompted to play a sound.
But before you try to locate AirPods, make sure you add your Mac to Find My:
Open the Apple menu > System Preferences
Click on the Apple ID icon and sign in if needed
Select iCloud in the sidebar and enable Find My Mac.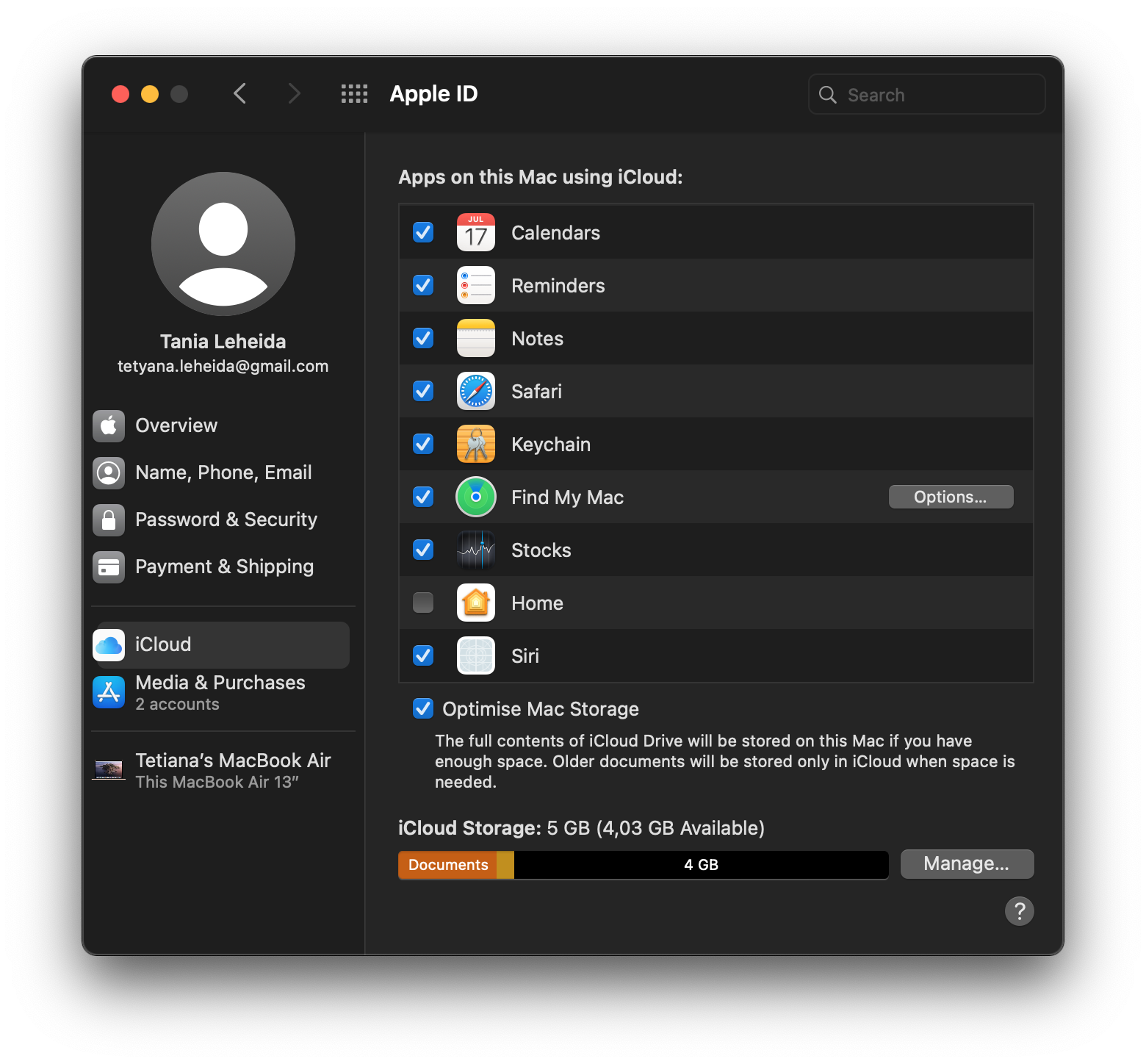 Sometimes, your AirPods might physically be there, but Bluetooth won't detect them. There may be many reasons why this happens, and a fresh start is always a good way to solve it.
CleanMyMac X allows you to refresh your macOS by removing system files and all kinds of clutter. It's the best Mac cleaner out there. And since a thorough cleanup can fix Bluetooth problems, it's definitely worth a try. All you have to do is run a Smart Scan and remove all the unneeded files.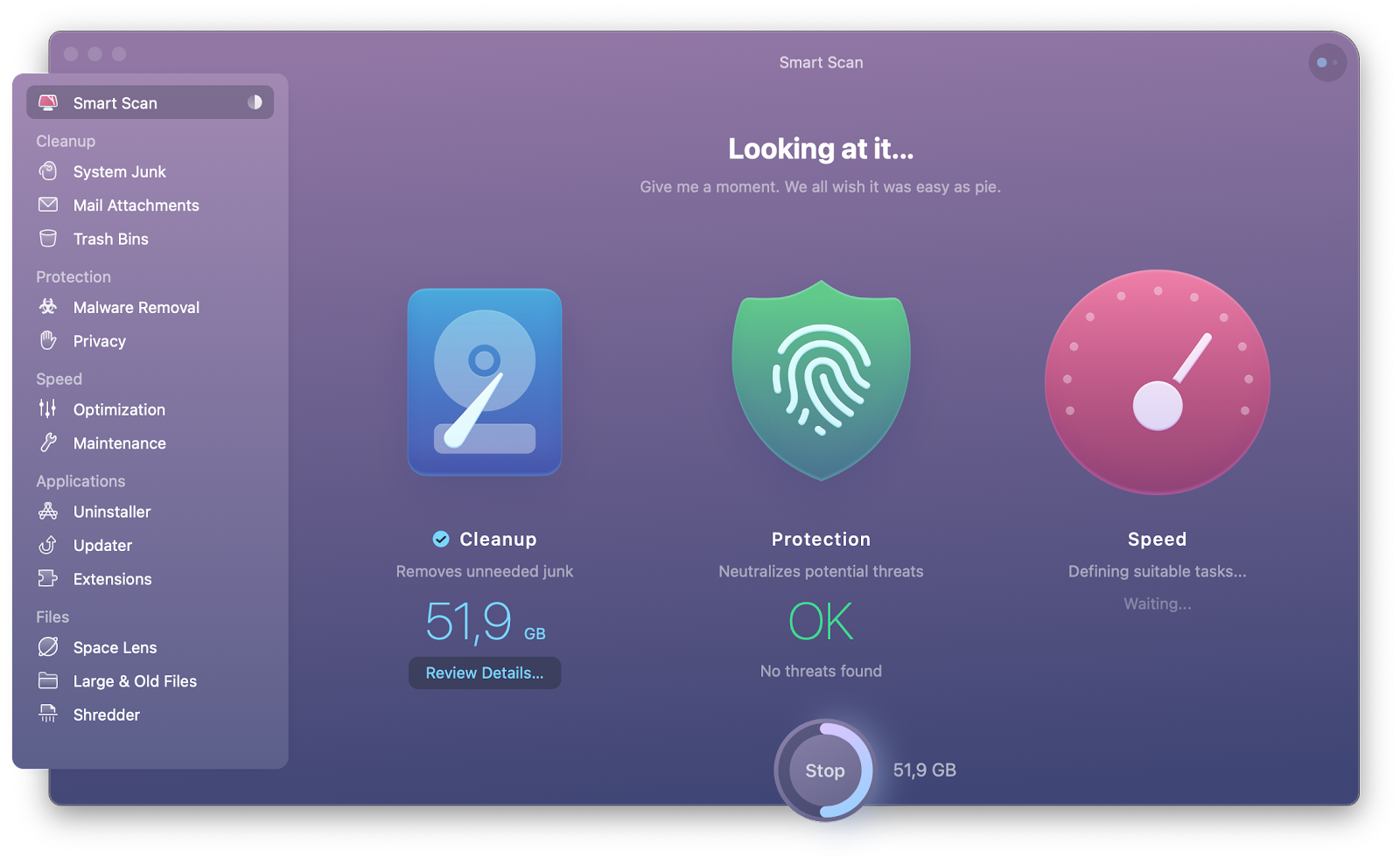 How to find lost AirPods from iPhone or iPad
If the last device you've paired your AirPods with is iPhone or iPad, it's even easier to find them:
Open Find My on your iOS device
Access the Devices tab
Select AirPods from the list
Check the location and play a sound.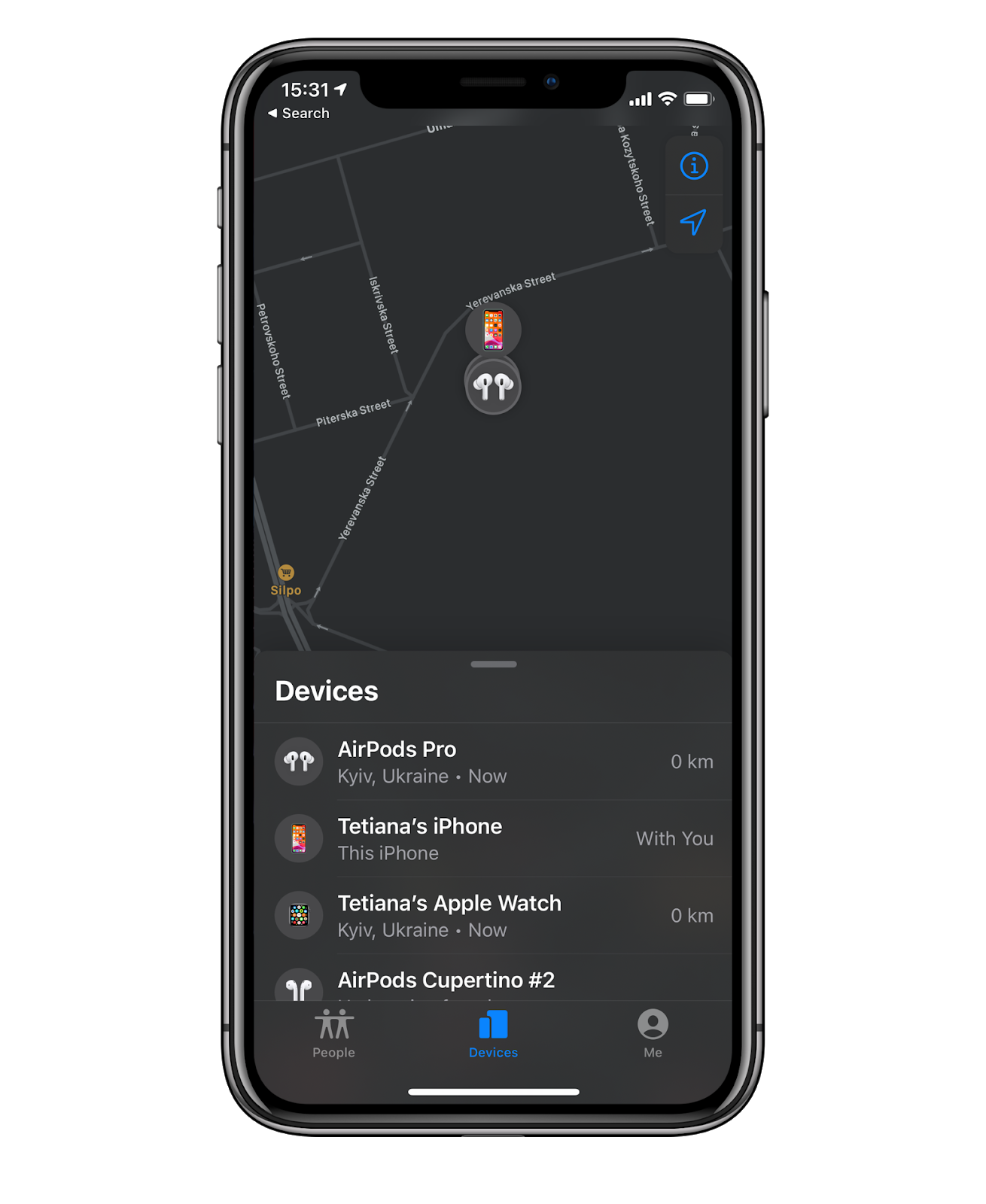 Find my AirPods via iCloud
You'll usually access Find My AirPods via iCloud on Mac. This is a great way to track your device and see its most recent location on a large map. Here's how to find AirPods via iCloud:
Go to iCloud.com and sign in
Click on Find iPhone
Then open "All devices" and select your AirPods from the list
See the approximate location of your AirPods on the map
Tap Play Sound if needed.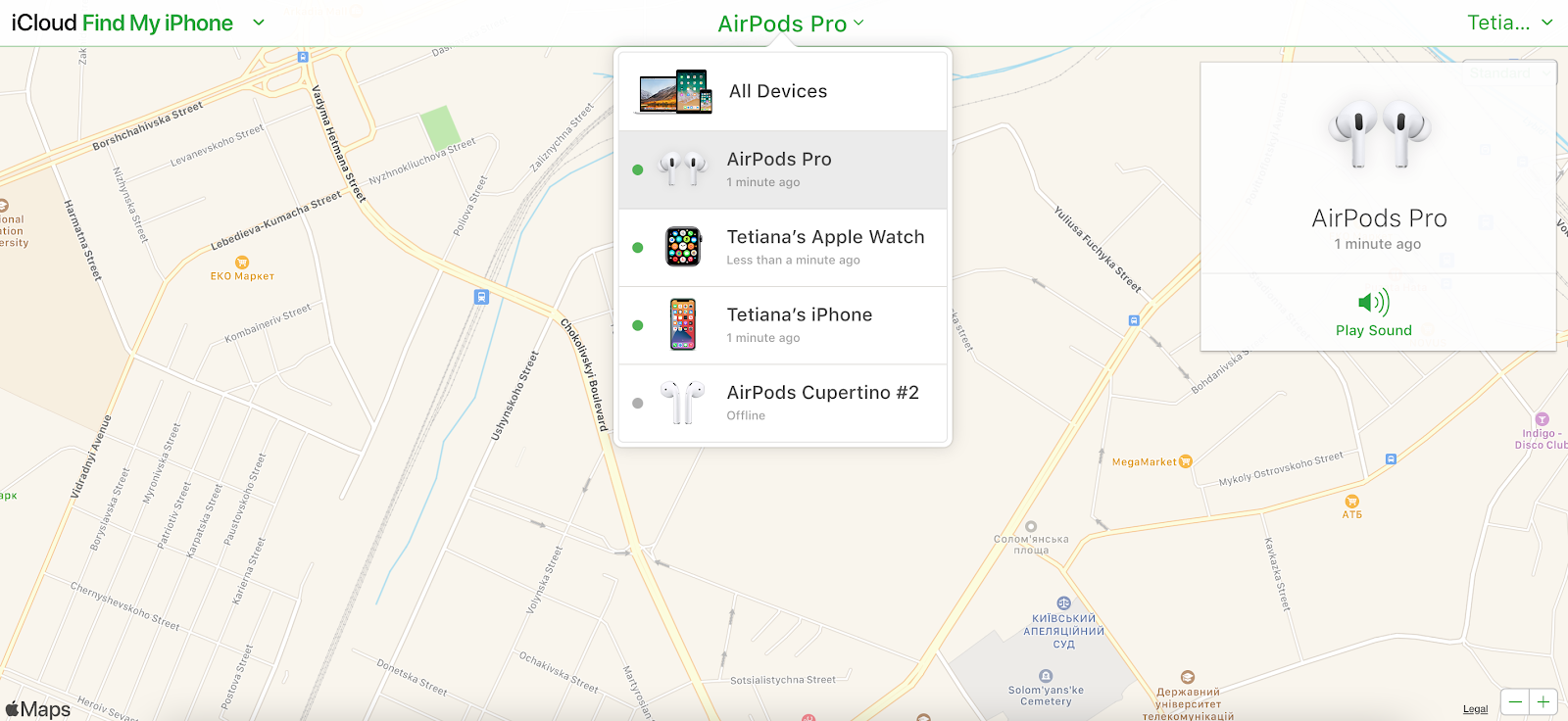 Play a sound to locate AirPods
Whether you use iCloud or an iOS app to locate AirPods, you can play a sound to find them faster. Simply tap "Play sound" in the Find My app. If your AirPods are in range of your device, you'll hear a loud sound or a vibration. AirPods will play sound for about two minutes — but you can turn it off by pressing any button.
Limitations of Find My AirPods
The problem with locating AirPods via Find My is that it will only work with paired devices. So Find My will be helpful only if you can't find your AirPods, but you know they are somewhere nearby. Typical scenario: You were laying in bed, and the next moment your AirPods were gone.
Another limitation is that you won't be able to play a sound on AirPods if they are in the case, obviously. So if you lost both the AirPods and the charging case, the Find My app won't help.
What if I lose my AirPods case?
Can you track AirPods cases? Unfortunately, Find My AirPods doesn't allow you to see the location of a case. However, if it's only the case that went lost, you can order a replacement of a regular case for $59, and a wireless case for $79.
How to quickly solve problems with Apple devices
The Apple ecosystem is the best. With solutions like Find My working across all your devices, you get more control over your daily routine and can maintain your privacy. The only thing that can make the ecosystem even better is Setapp.
Setapp is a subscription service for 230+ Mac and iOS apps available for a monthly fee. Most of the apps are focused on productivity but you also get tons of maintenance and system control tools like CleanMyMac X, Boom 3D, AirBuddy, and ToothFairy. Give it a try and get access to the whole collection for 7 days free.