How to change iPhone name, rename AirPods, change names of Apple Watch or iPad, and all your Apple devices
Whether you want to be able to quickly distinguish your Apple devices in your iCloud, when using Find My, or quickly know where exactly you are sending your files when performing AirDrop, you might find yourself looking for a way to rename your device or several.
Thankfully, it's very easy to do, and in this article, we will guide you through all of the steps.
Your new device name will also sync to iCloud, and you will be able to conveniently manage your devices with their new names. By the way, if you turn your device into a Wi-Fi hotspot, your device name will show up when scanning for a Wi-Fi network in the vicinity, so that's another reason to pick a catchy name.
So let's look at how to rename iPhone, iPad, Mac, Apple Watch, your AirPods, and even your Apple TV.
Why you might need to do it
Like we've said above, one might need to change the name of their iPhone – for the device to be easily identified in iCloud, Find My, AirDrop, when WiFi-hotspotting, and more. Since the default device name format is your account name + 's + the type of the device, i.e., iPhone, iPad, etc. (e.g., Kelly's iPhone), you might want to change the name of your device to avoid broadcasting the type of device you are using.
And even if you simply treasure your high-tech device and have an endearing name for it just for your entertainment, that's reason enough to 'officially' rename your device in the settings too!
Change the names of your Apple devices
Apple conveniently makes it possible to change the names of individual devices, so let's change the name of your iPhone and other toys right away!
How to rename iPhone and iPad name
Let's start with a smartphone. Here's how to change the name of your iPhone: tap Settings app on your home screen and find General. Open the menu and tap About.

The first line is your device name. Tap Name and you'll be able to change it or type in a new one: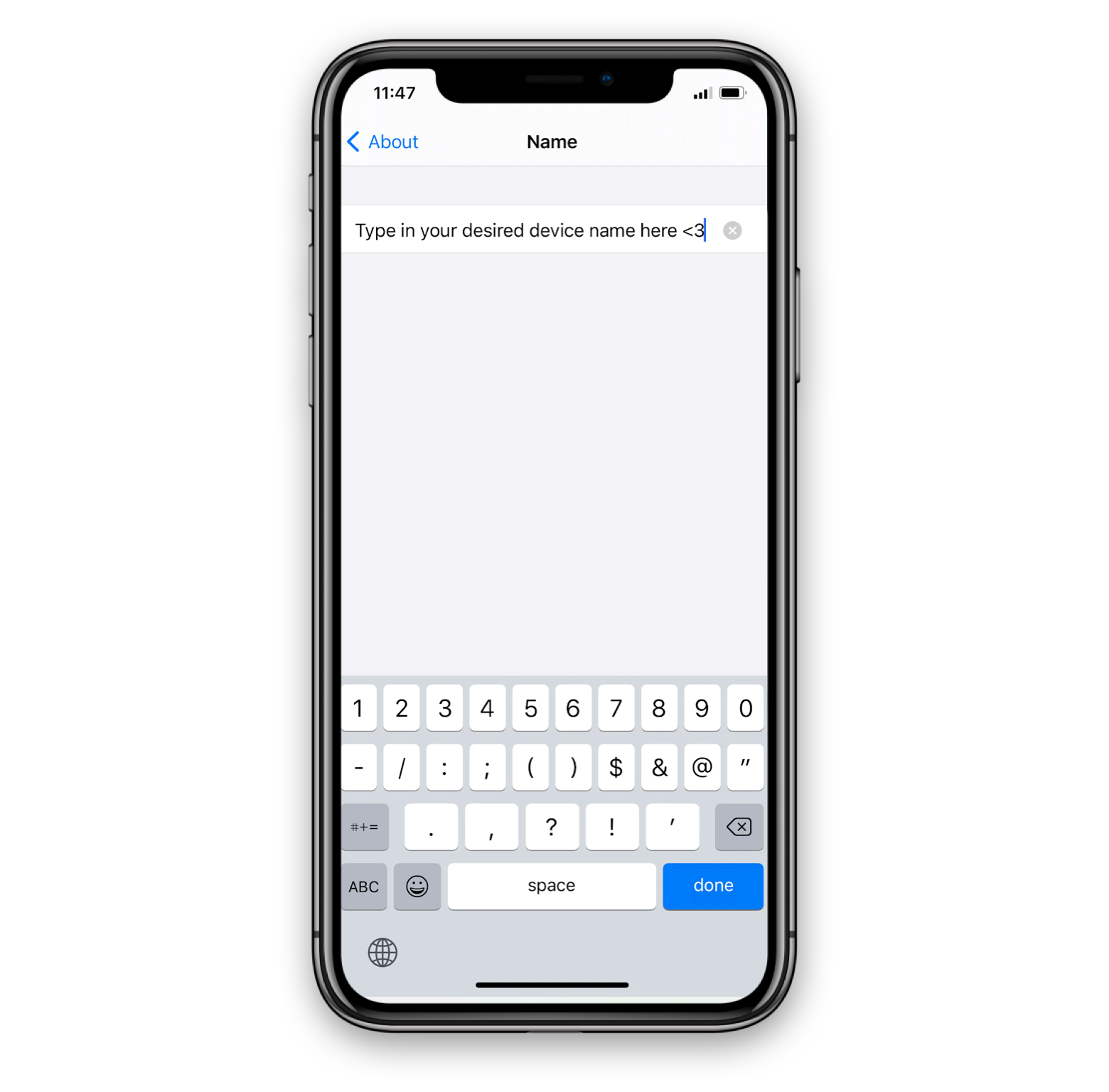 Now that you know how to change iPhone name, you actually know how to change iPad name as well since the steps are exactly the same – Settings > General > About > Name. Tap on the Name and type in your desired iPad name.
And while you are managing the basics, you might want to think about backing up your data or transferring information between devices seamlessly. AnyTrans for iOS can do that seamlessly for you and help transfer files, back up information from your iPhone to Mac, migrate between phones, backup WhatsApp, and more.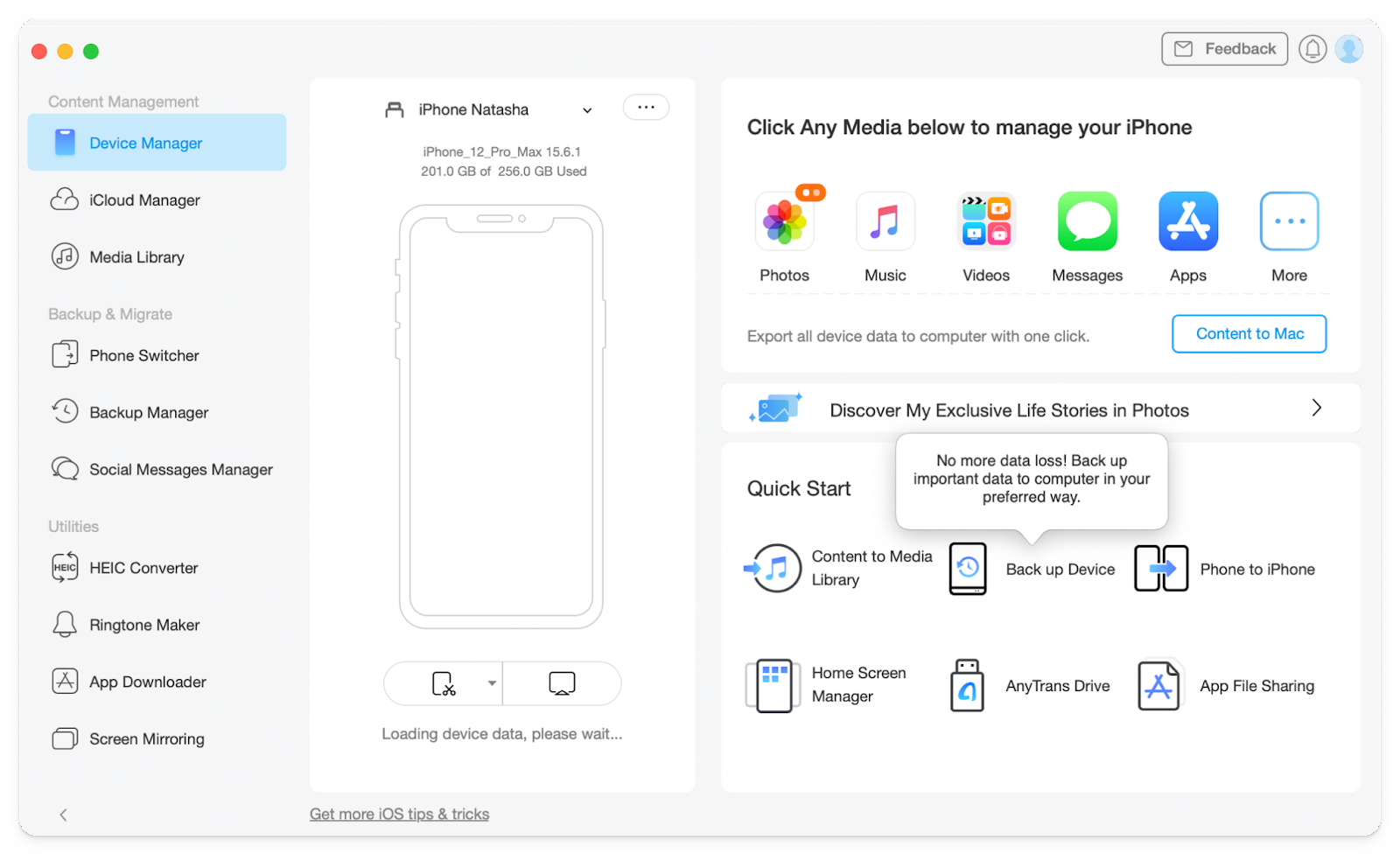 How to change AirPods name
Before you can change name on AirPods, make sure that they are connected to your device and are not in their case. You can then rename them using either your iPhone or Mac. Now, we'll show you how to rename AirPods on iPhone & iPad and how to rename AirPods on Mac.
How to rename AirPods on iPhone:
As was already said, you need to connect your AirPods to your phone and take them out of their case
On your iPhone, go to Settings > Bluetooth
Under My Devices, look for your AirPods
Tap the small blue 'i' icon next to your AirPods' current name to get more information about them
You'll be taken to a new set of options for your AirPods
Tap on Name and change it.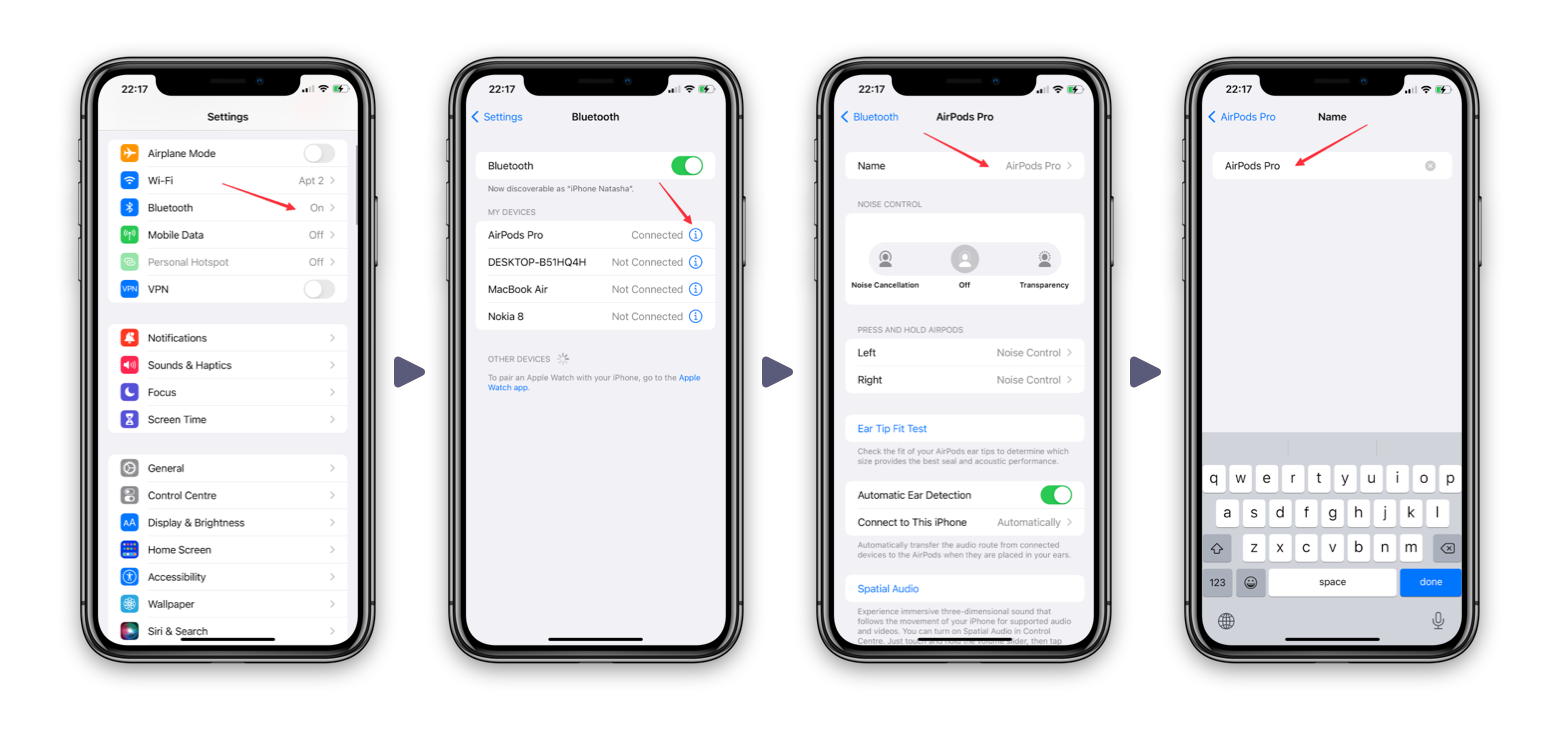 Now that you know how to change AirPod name, let's do the same on your Mac.
How to rename AirPods on Mac:
Go to the Apple menu > System Preferences > Bluetooth
Once you see your AirPods connected to your Mac, right-click on them and choose Rename
Type in the desired name and click Rename.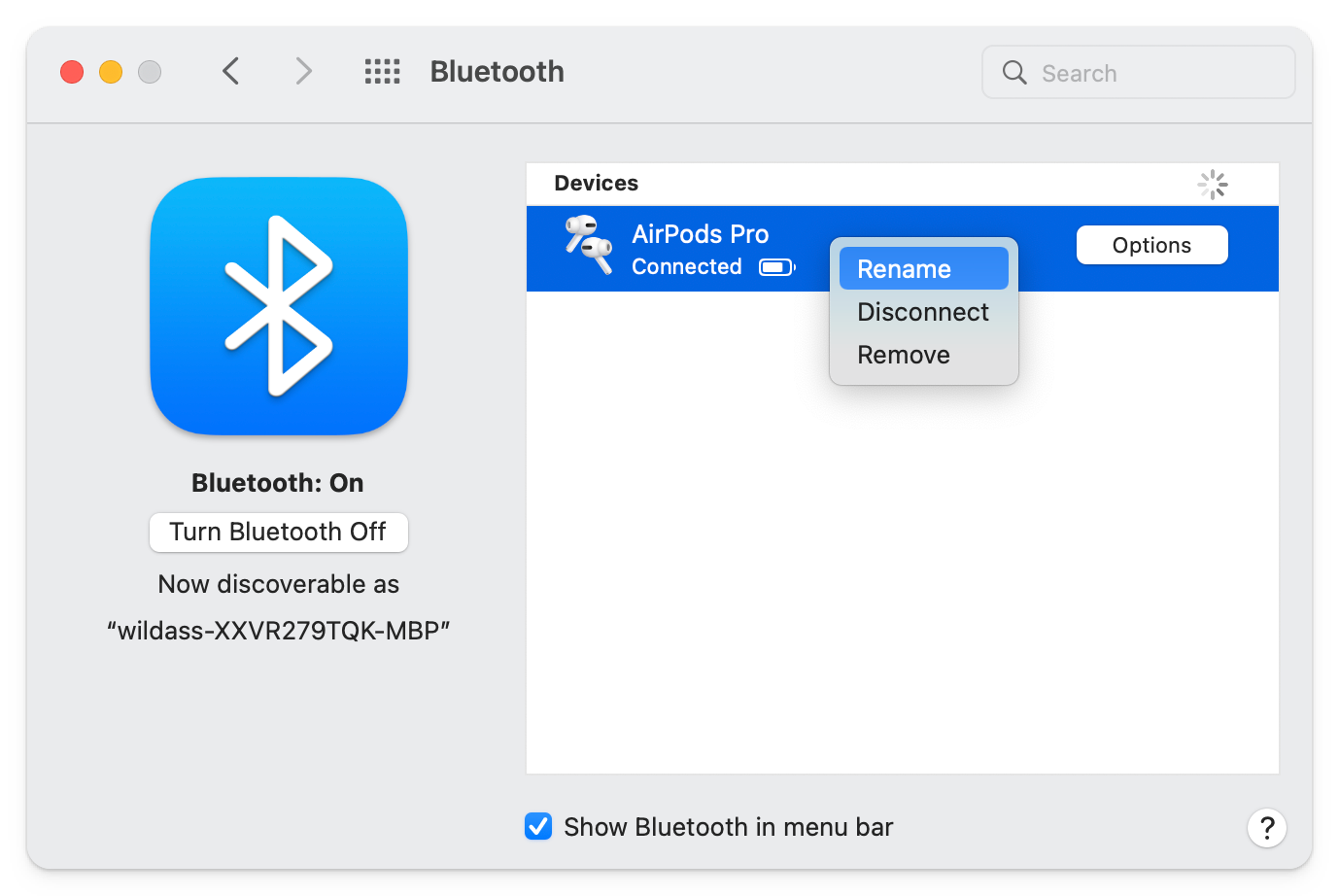 Now you know how to change the name of your AirPods on a Mac. But do you know the easiest way to monitor and manage your wireless devices? AirBuddy is a smart app that lives in your menu bar and provides a quick look at all of your wireless devices' battery statuses. It supports quick action shortcuts for connecting or disconnecting your devices and more.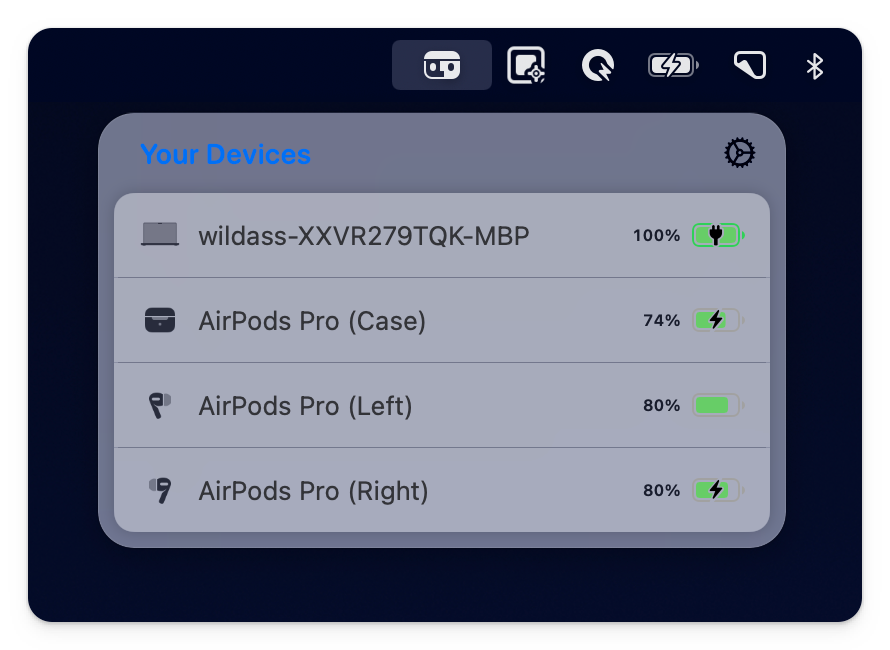 The best things about AirBuddy are that the app has a beautiful interface with a "bubble" pairing screen like the one on iOS and also lets you connect Apple and non-Apple devices to your Mac with just one click.
Why can't I rename my AirPods?
Sometimes, your AirPods switch back to the default name whenever you reconnect to them or you simply can't change the name for some reason. Most likely, this is because of a bug in the firmware that could be fixed in a future software update. So you need to wait until Apple fixes the problem. You can also try to add a space at the end of the name. Some users say it works for them. On top of that, we recommend you run maintenance scripts using CleanMyMac X. Here's what you need to do:
Install CleanMyMac X – you can download it via Setapp
Then open the app, click Maintenance from the left sidebar
Select Run Maintenance Scripts and click Run.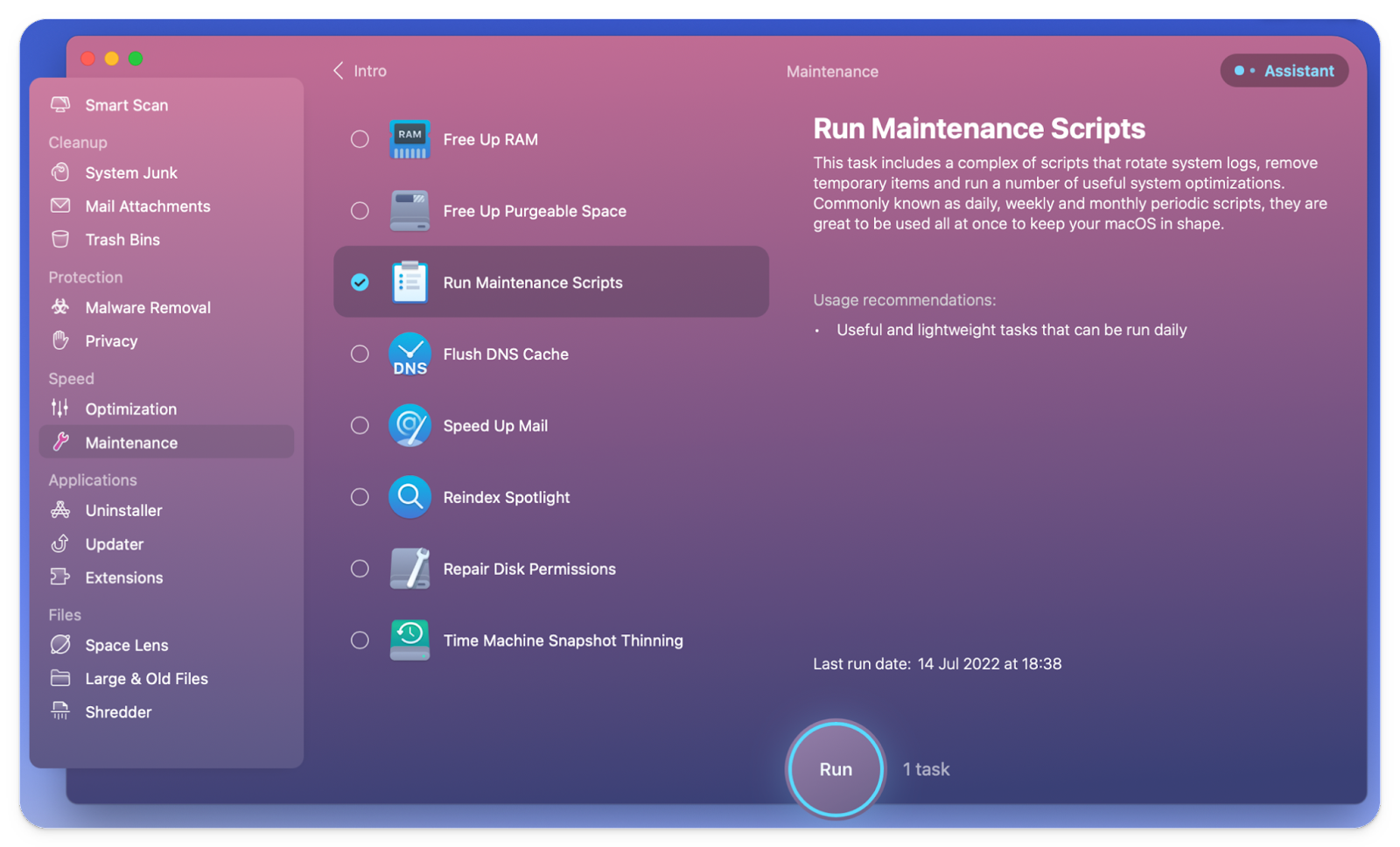 Running maintenance scripts can fix plenty of errors. So, hopefully, you'll succeed in renaming your AirPods.
Tip: If you often connect multiple Bluetooth devices to your Mac, you know how confusing it can be to mix them up. So it would be great to have a place to keep track of all your wireless devices.
ToothFairy gives you full and easy control over all of your Bluetooth headphones, speakers, keyboards, mice, game consoles, etc. Lastly, you can see all of your connections clearly at any time and connect or disconnect with a single click. You can even give each of your devices its own icon, so you can see at a glance on your menu bar what you're connected to.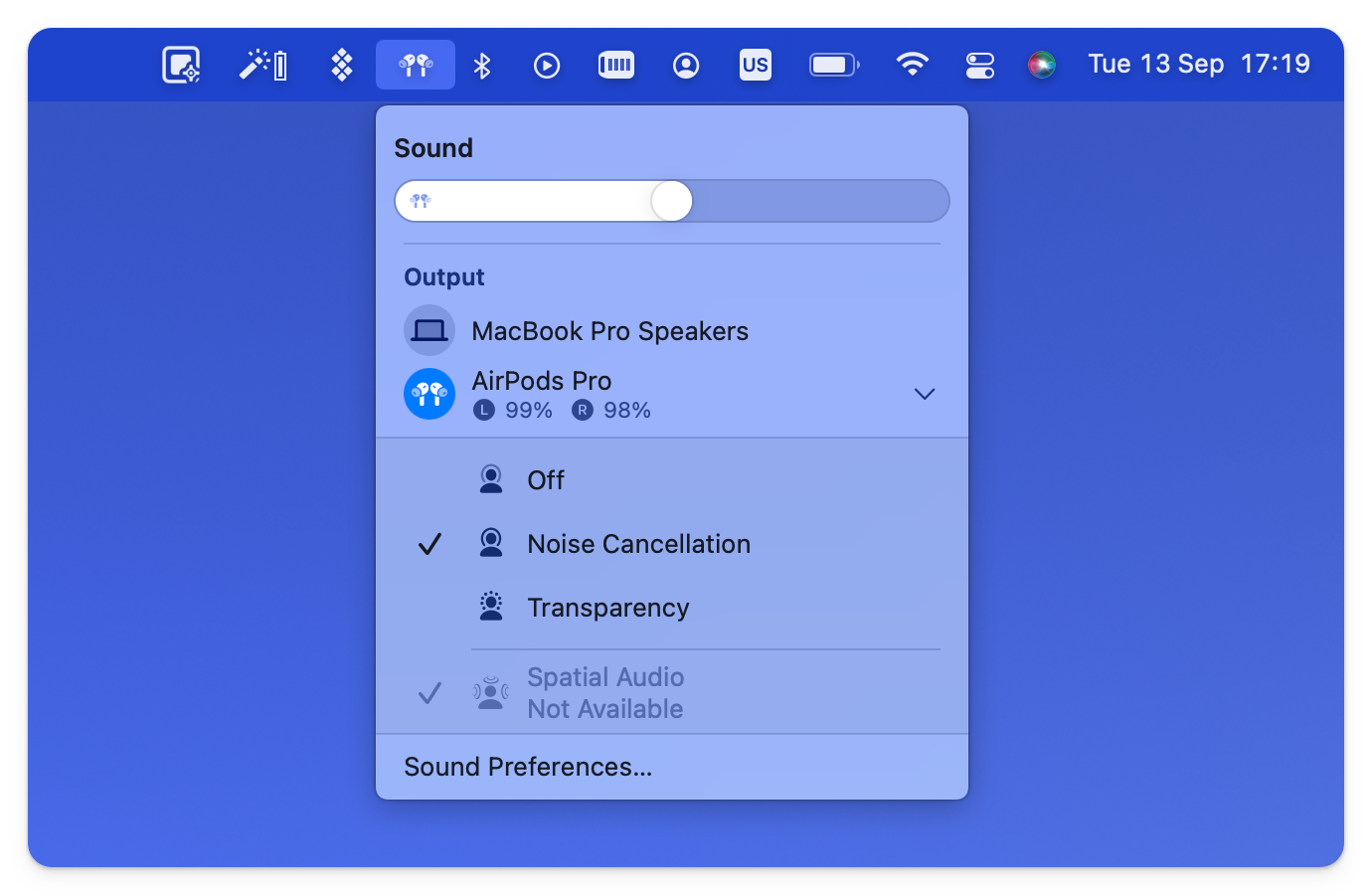 Change the name of your Apple watch
When we learned how to change the name of your iPhone, iPad, and Mac, it was all done on those devices themselves. But what if you need to rename Apple Watch? Since it is an accessory, albeit a powerful one, you need to change its name using your phone.
Here's how to change Apple Watch name:
Open your Apple Watch app on your iPhone and go to the My Watch tab. Next, proceed to General > About. From here, you can easily change name on Apple Watch.
How to change your Apple TV name
Chances are, you've figured out how to rename your iPhone or iPad purely through clicking around your phone's settings, but what about your Apple TV? You probably spend way less time idly browsing your Apple TV's settings. Let us help you out there as well, because you can, in fact, change Apple TV name, and we've learned how.
Follow the steps below to rename Apple TV:
Open TV Settings and go to General > About. There, you'll be able to find the Name option. Type in your new name and select Done.
And voila – your new Apple TV name is live! Renaming your Apple TV might not be the most urgent task, but if you have more than one in your home or live in an apartment building and your neighbor's TVs show up when you browse devices in the vicinity, you may want to clearly distinguish your device from anybody else's.
Tip: If you are managing your Apple TV with the Home app, you can rename them in the app under Rooms menu.
To rename Apple TV through the Home app on your iPhone, go to Rooms and select your device. Find the settings wheel icon at the bottom and click on it. Tap the name of your device to rename it.
Now you know how to rename Apple TV. What's next? Right! You might want to rename your MacBook. Let's find out how to do that.
How to change the name of your Mac
Changing the name on a MacBook can be helpful for a number of reasons, especially if you frequently use AirDrop or Bluetooth peripherals. To improve the experience, you might want to rename Mac giving it a name that stands out.
So let's get started. Here's how to change MacBook name:
Go to the Apple menu > System Preferences
Then choose Sharing
Under the Computer Name, click Edit
Enter the name you want for your Mac
Click OK.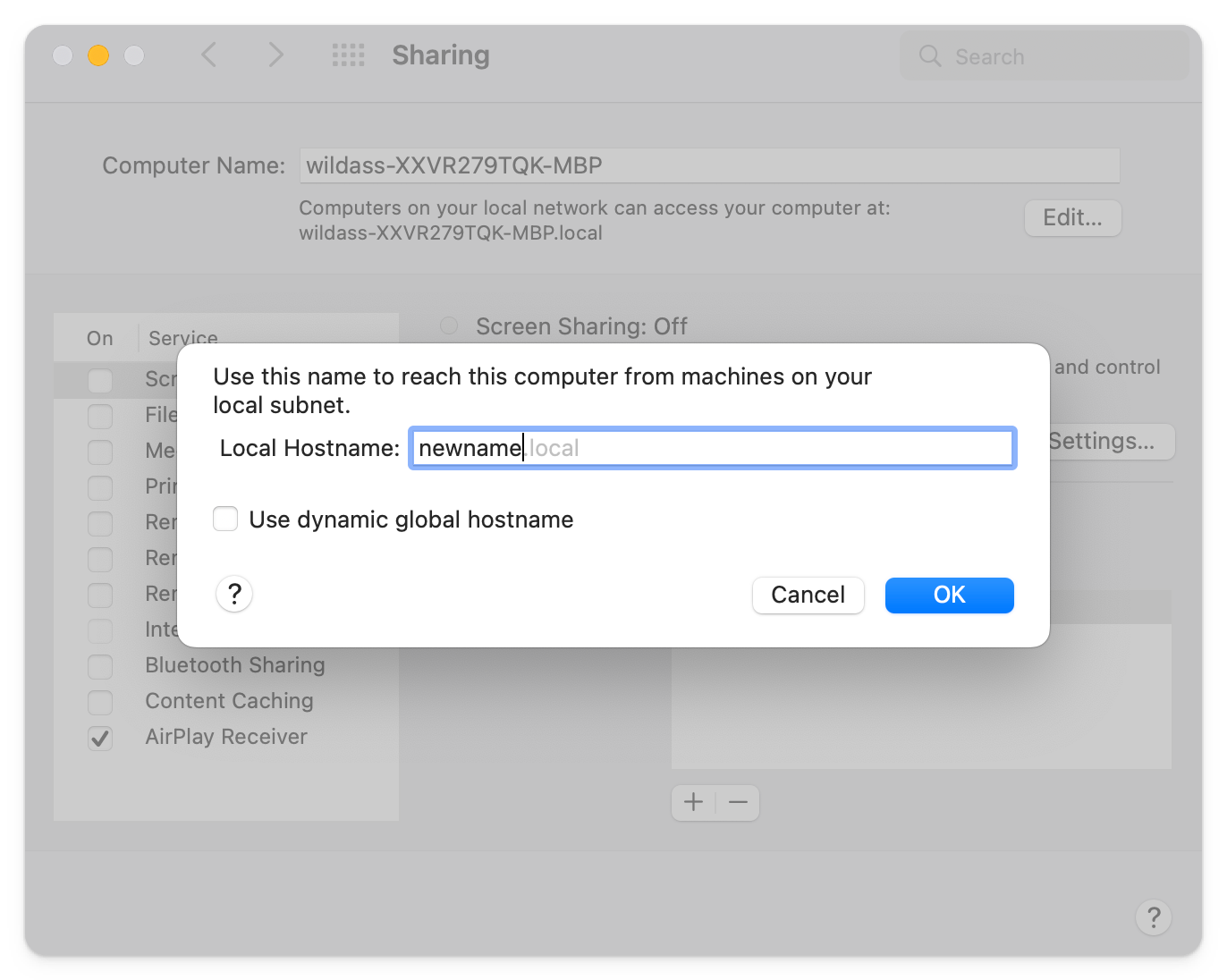 Now that your Mac's name is all settled, time to consider cleaning it up a little. You can use fan-favorite CleanMyMac X to smart scan your Mac and find unneeded system junk, large old files, malware, clean-uninstall apps, and perform other maintenance tasks to optimize your device productivity.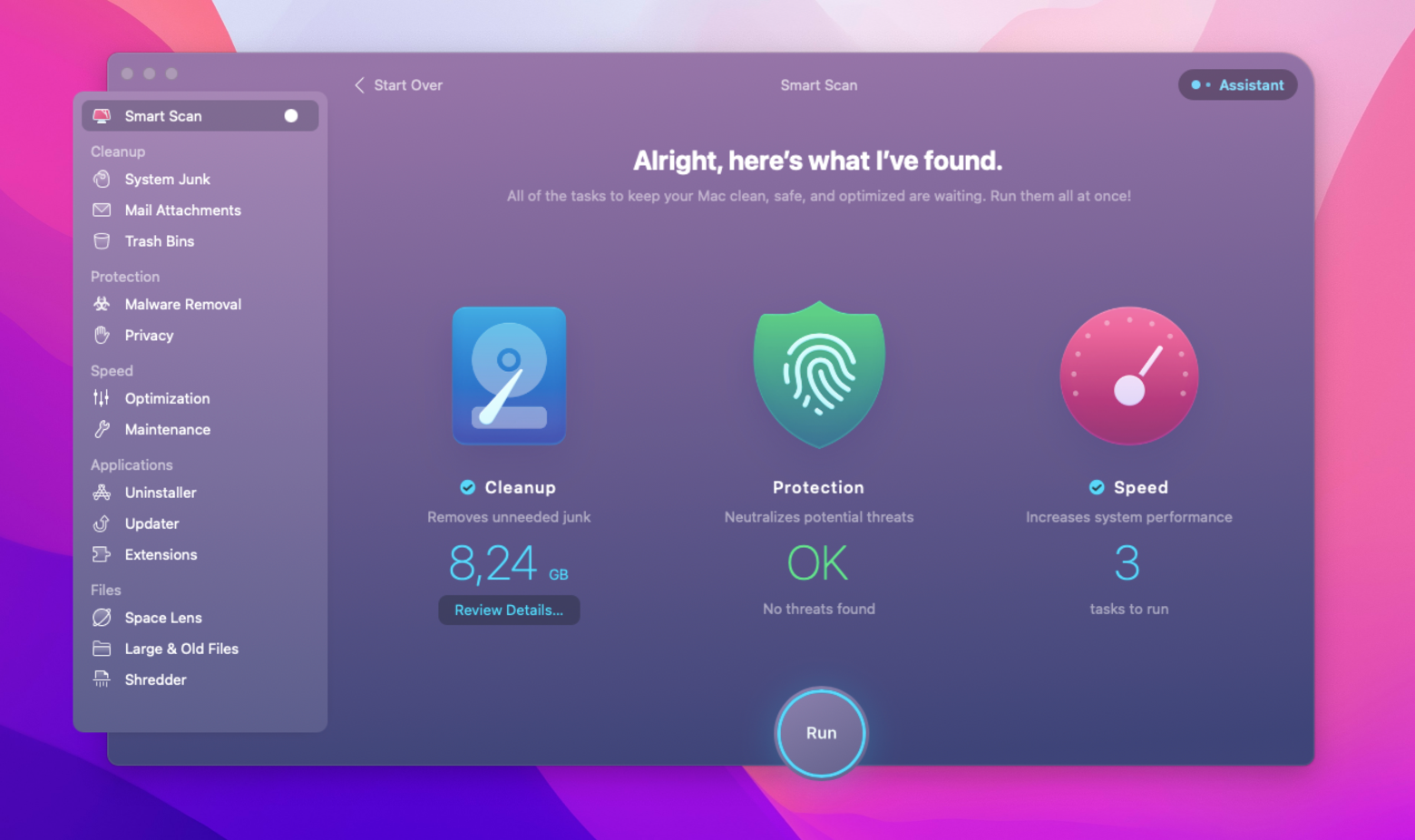 You can also monitor your computer's performance and workload directly in your Menu bar with the help of iStat Menus. Use the app to set up all the needed trackers in your menu bar and stay up to date with your Mac's performance when it comes to CPU load, memory load, temperature, battery life, disk usage, and more.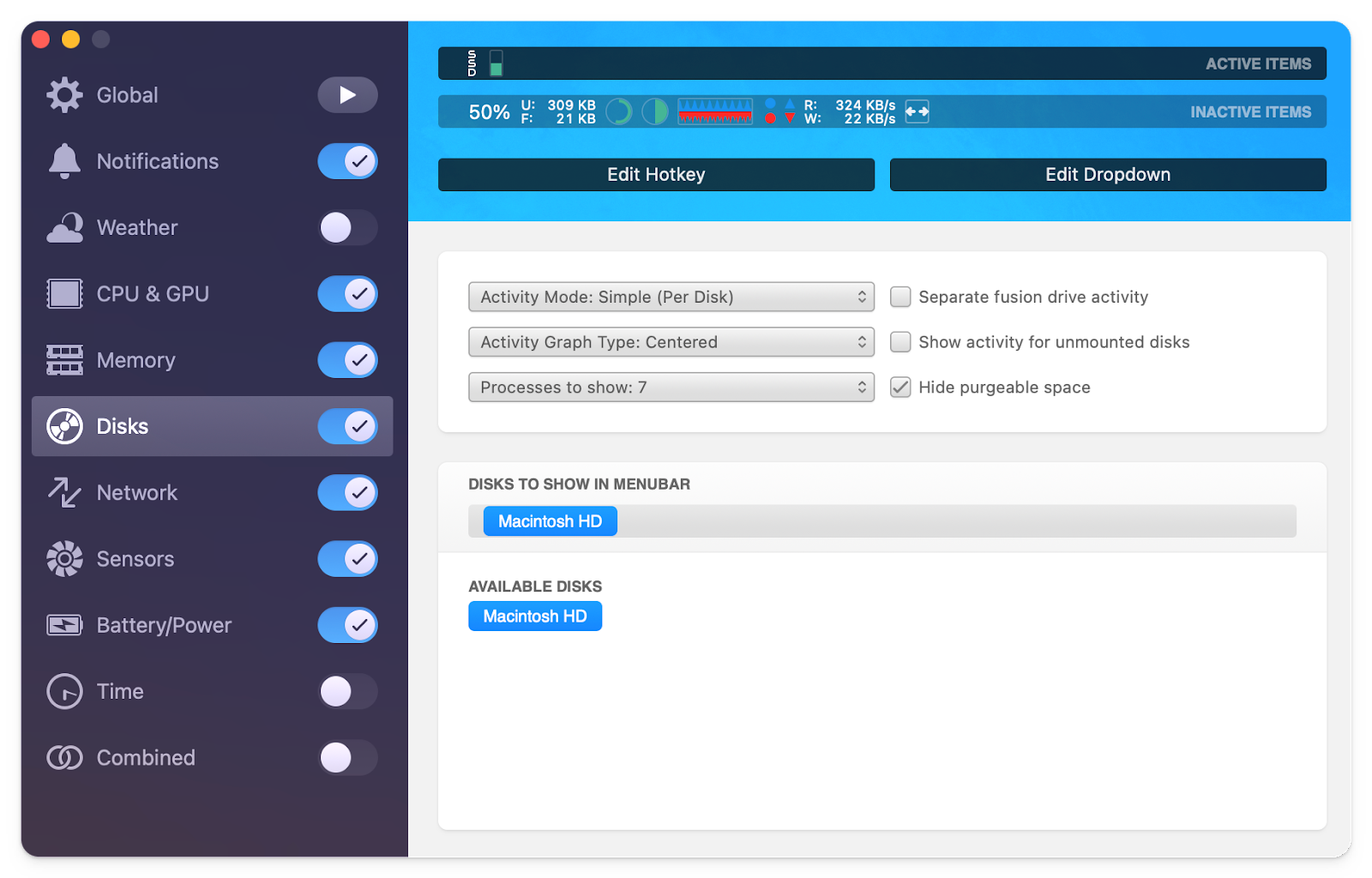 How to rename iPhone, iPad, AirPods, and other devices: resolved
We hope that with the help of all the info above, "How do I change the name of my iPhone, Mac, or AirPods?" is not on your to-do list anymore. Even if you don't want to look up the exact steps every time, as you can see, they are pretty similar for all devices and normally require you to find the device name somewhere in the General settings menu under About.
And if managing your devices got you in the mood to do more, there's no time like now. If you want to backup your data, clean up junk files, check for malware, and perform other maintenance tasks, we hope that the apps we mentioned – AnyTrans for iOS for iPhone backup and file transfers, CleanMyMac X to clean out the junk on your Mac, and iStat Menus to monitor your computer's vitals – can be of help. Furthermore, you might like ToothFairy and AirBuddy which will simplify your Bluetooth connection.
If you want these apps, keep in mind that you can get them not as individual purchases but under a single Setapp subscription and save money! You pay only $9.99 per month and get access to a collection of 240+ Mac and iPhone apps that can help you solve any task you can imagine. Sign up now or try out Setapp for free with the 7-day free trial.