When you get a new Mac, you see its Dock beaming with all kinds of default apps. You add your own to the mix and sort of want to have them all open at all times.
This, however, is not a great idea. Using apps is great, but when you have them simply idling in the background, they continue to consume your Mac's resources (primarily RAM and CPU) without any extra benefit in return.
Even minimizing apps won't help you. Minimized apps work in exactly the same way and take up just as much resources as actively running ones.
What you need to do instead is to close all apps running in the background. So if you're not sure how to close applications properly yet, this guide is for you.
Best ways to close apps on MacBook
Since quitting apps is such a foundational macOS operation, there are more than a few ways to do it.
Use the Close button in the toolbar
The most straightforward way to close applications on Mac is by using the Close button, which is located in the top toolbar of every app by default, next to Minimize and Full Screen.
To close an app, just click the Close button or use the ⌘ + W shortcut.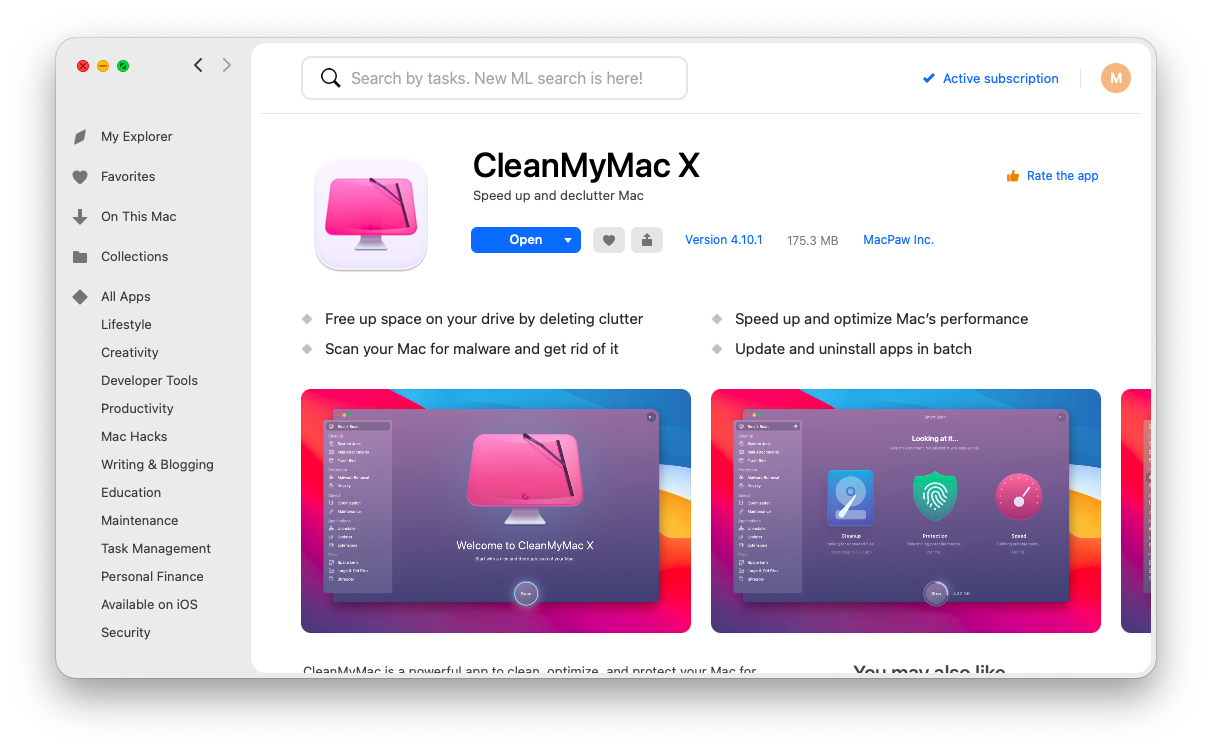 To verify that the app is fully closed (quit), make sure there's no dot below it in the Dock.
Quit apps from the menu bar
One of the most reliable ways to quit apps on Mac is by using a menu bar dropdown selection:
Make sure your app is active
Click on the app's name in the menu bar
Select Quit … from the dropdown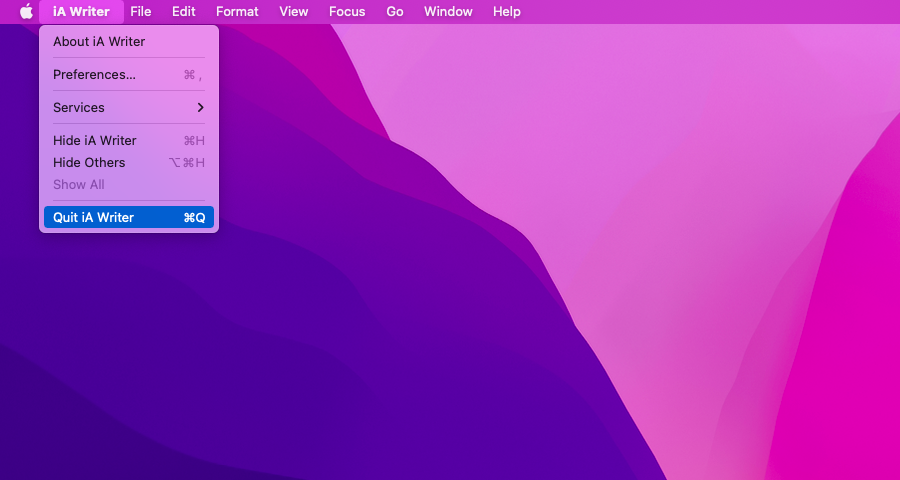 Use the ⌘ + Q shortcut
The fastest way to quit an app from anywhere without taking your hands off the keyboard is to use the ⌘ + Q shortcut, which will completely quit any active app.
Learning to use ⌘ + Q on any app you don't want open will be a significant productivity boost to your daily workflow.
Shut down apps with ⌘ + Tab and Q
A pro-level trick to closing apps as efficiently as possible is to cycle through them first by using ⌘ + Tab.
The problem with ⌘ + Q is that you can only use it on an app that's currently active. At the same time, there's a useful ⌘ + Tab shortcut that lets you move quickly between active apps.
To use the ⌘ + Tab and Q trick, just hold down ⌘ and press Tab a few times. You'll notice a pop up screen moving through active apps. Without releasing ⌘, press Q on any active app to quit it.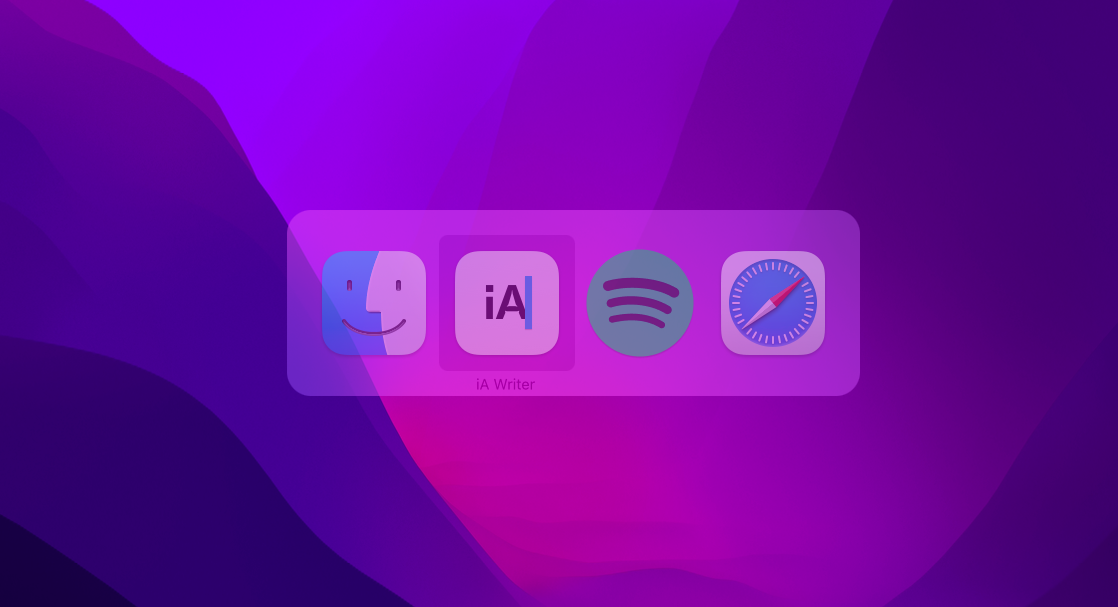 Close apps from Dock
If you want to make sure that any active app in the Dock is closed, you can do so using the Dock's own menu. Simply right-click on any Dock app and select Quit.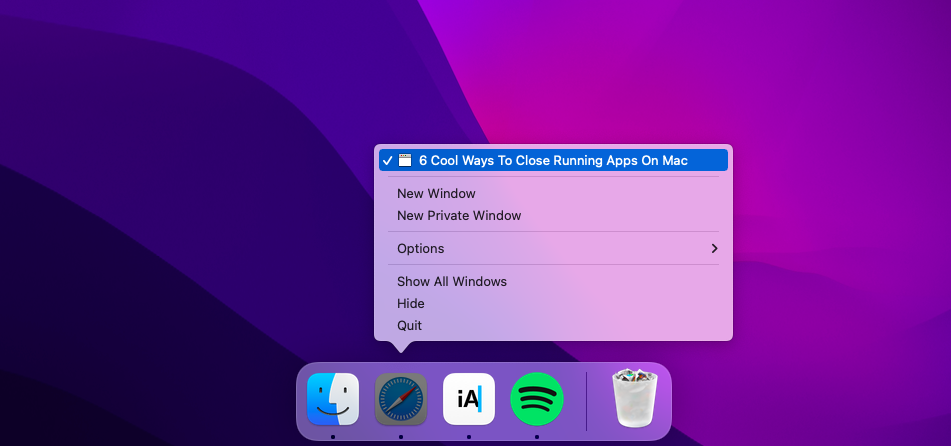 How to close all open apps in a single click
Just like tabs in the browser, some people like to have dozens of apps and windows open all at once. Closing them one by one would take a bit too long — is there another way to go about it?
Mission Control Plus is a nifty Mac utility that adds a few much needed shortcuts to your macOS functionality. Just make sure Mission Control Plus starts at login and press Option + ⌘ + W to close all active apps.
Other Mission Control Plus shortcuts include:
⌘ + W to close the active window
⌘ + H to hide the app
Option + ⌘ + H to hide other apps but the active one
⌘ + Q quit the active app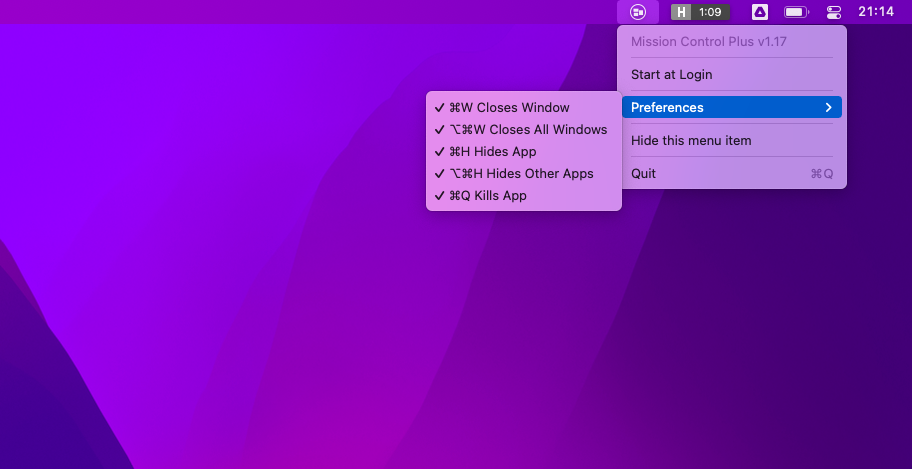 Another interesting although more advanced way to close applications on Mac is by using Automator — a default macOS utility designed to create any missing custom workflows.
To create a workflow that would close all apps:
Launch Automator from the Utilities folder
Select Application and then Choose
Use the search to look for "quit"
Drag Quit All Applications to the right side of the window
Type Run AppleScript into the search
Drag Run AppleScript under Quit All Applications
Switch "Your script goes here" with Tell application "Finder" close every window
Click File ➙ Save to the Applications folder
Move your new app to the Dock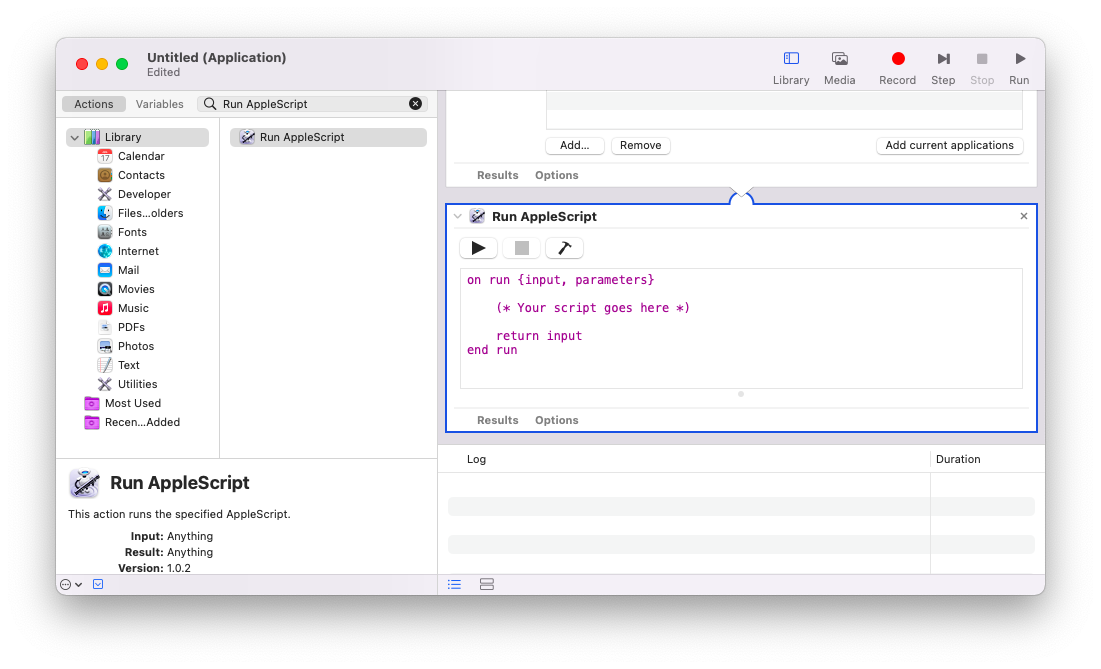 How to force close an app on Mac
The last part of closing apps that has been left unexplored is what to do with non-responsive elements. In other words, how to force close on Mac.
When an app is hung, shortcuts like ⌘ + Q might not work. You might have to try to Force Quit the app through the menu bar or the Dock icon.
Alternatively, you can call up the Force Quit Applications window by using the Option + ⌘ + Esc shortcut. Then just select an app and click Force Quit.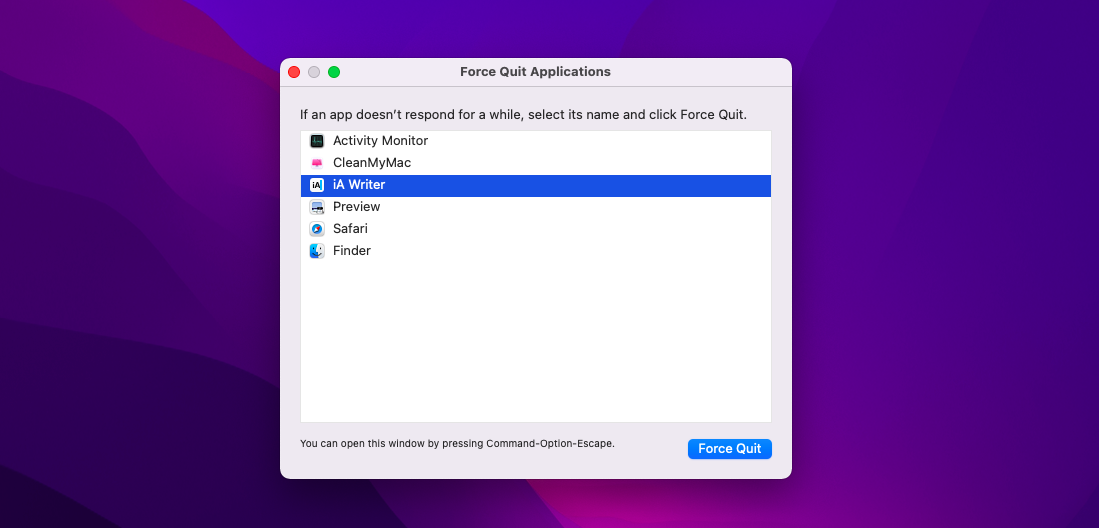 For quitting tasks running in the background, you'd need to open Activity Monitor from your Utilities folder. Use it to select any running process and then click the Stop icon in the toolbar.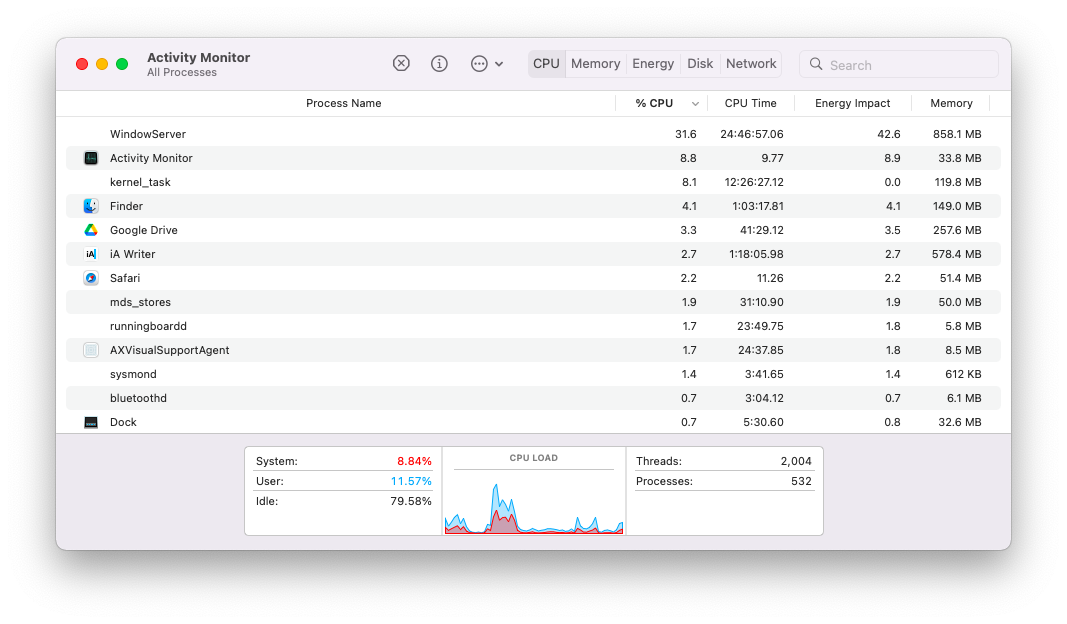 Finally, to avoid closing too many apps, you should make sure that you don't have too many apps open when you're starting up your Mac. Checking which apps are active on Mac startup is easy with CleanMyMac X.
CleanMyMac X has a dedicated Optimization section called Login Items, any of which you can instantly remove:
Launch CleanMyMac X
Navigate to Optimization ➙ Login Items
Check any items you don't want to be open on startup
Click Remove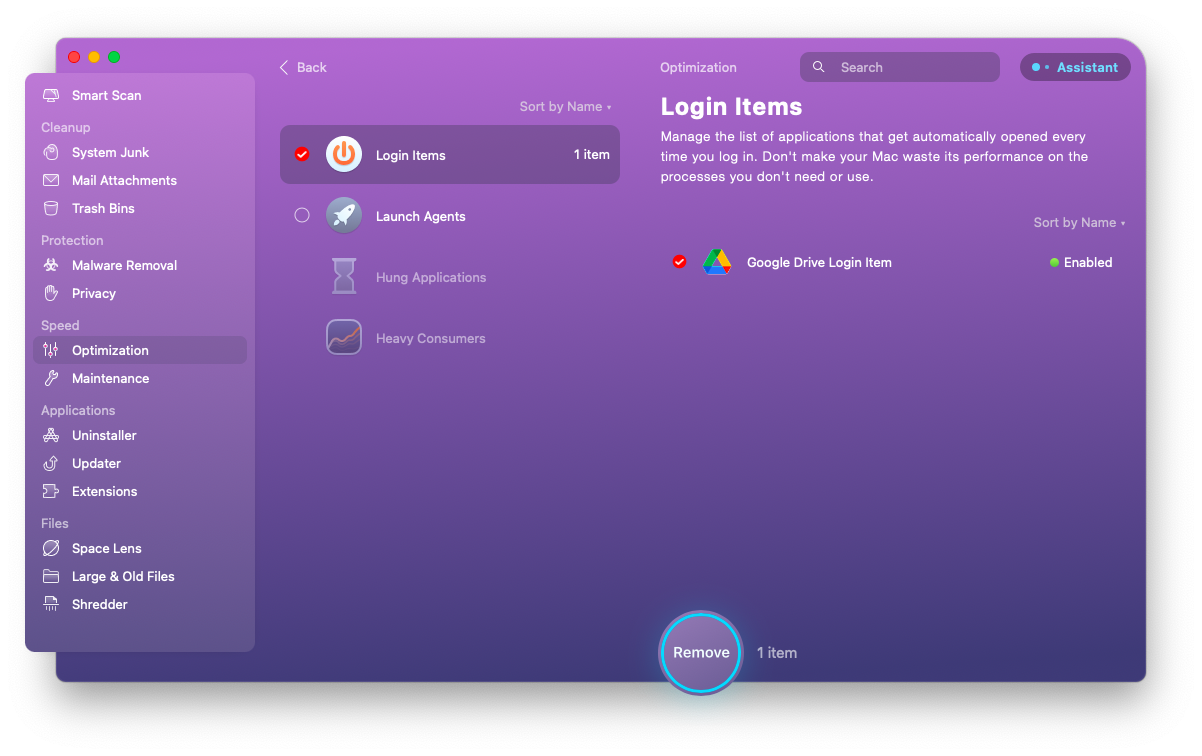 As you can see, learning how to force close a program on Mac takes just a few minutes, and there are various ways for doing so, from the easy ⌘ + Q to the instant window closing of Mission Control Plus. In addition, scanning your startup items with CleanMyMac X might be a good way to ensure your Mac stays fast for longer.
Best of all, Mission Control Plus and CleanMyMac X are available to you absolutely free for seven days through the trial of Setapp, a platform with more than 230 outstanding apps for Mac and iOS. Try every Setapp app today at no cost and see how much better working with your Mac can be.