How to download from SoundCloud to MP3
SoundCloud is not only one of the most popular streaming platforms worldwide, with more than 175 million monthly users, but also a treasure trove of unique tracks, since most of its library is composed of up-and-coming R&B demos and DJ sets. In other words, for anyone who loves discovering original music at its cutting edge, SoundCloud is a must.
What's not that clear though is how you can use the music from SoundCloud for your own experimentation or even how you can download SoundCloud songs and playlists to your laptop or mobile devices to listen on the go. So here's a guide that will walk you through all the best ways to download songs from SoundCloud, depending on the goals you have in mind.

Top ways to download songs from SoundCloud
If you've been a fan of SoundCloud for a while and have a list of musicians that you follow and listen to, it makes sense that you'd be looking for ways to take all that music offline. Luckily, you have a few options to consider.
SoundCloud has its own premium subscription plans in place called Go and Go+, priced at $4.99 and $9.99 respectively. With Go, you get ad-free listening and the ability to download unlimited tracks uploaded by users to SoundCloud through the SoundCloud app. With Go+, you get all the same benefits, plus higher quality audio and access to all the licensed music on top (i.e. similar to Spotify or Apple Music). Part of your subscription fee also goes to support music creators, so it seems like a nice thing to do overall.

What SoundCloud's official subscription doesn't give you, however, is the ability to convert SoundCloud to MP3, so you can use and modify the music you want freely across any devices. Instead, you can look out for downloads made available by the creators themselves or request downloads from them privately.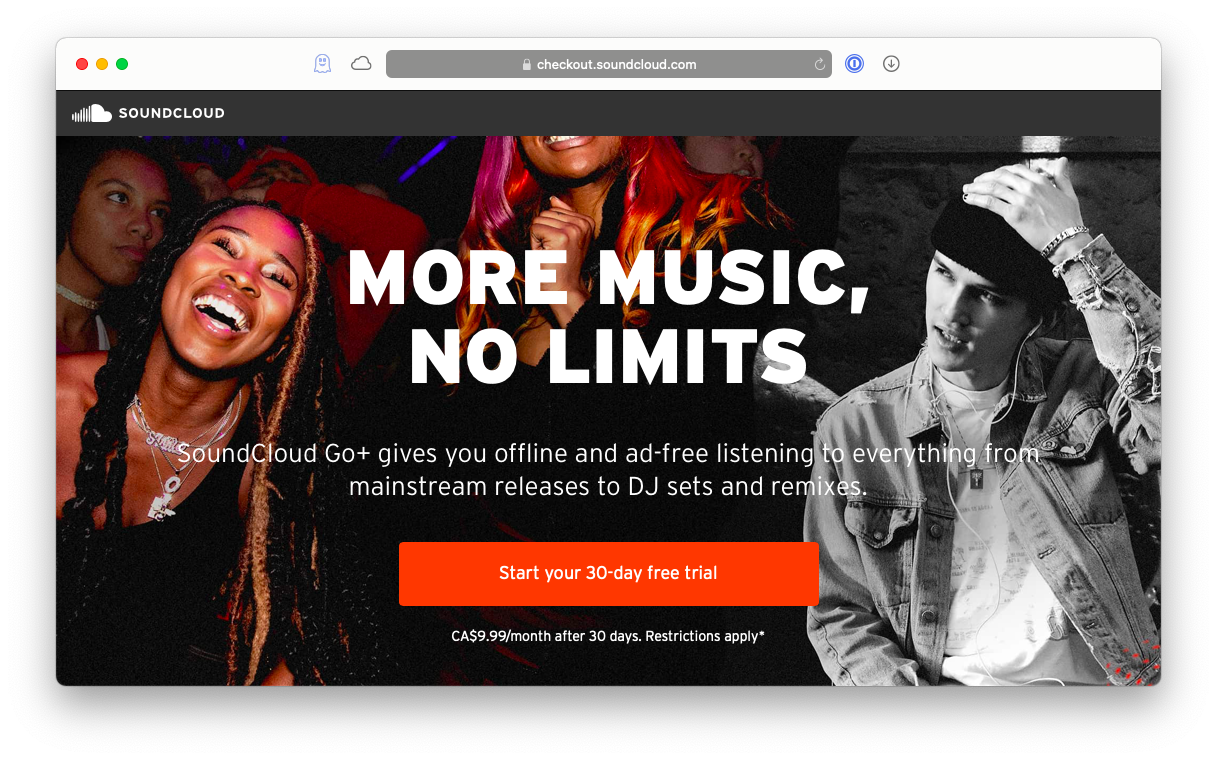 Alternatively, you can use various SoundCloud downloaders. We should mention that getting officially licensed music this way would be considered illegal in most jurisdictions, so only download SoundCloud songs that are actually offered free of charge.
So let's dive into each way to download from SoundCloud in more detail.
How to get music from SoundCloud creators
Since SoundCloud is not only a platform for licensed music like Tidal and YouTube Music but also a way for young artists to share their own mixes and tracks, you can sometimes download SoundCloud songs that were made available by those creators.
Here's how you can officially download songs from SoundCloud:
Search for any track that interests you
Look for a Download link next to Like, Share, and Repost buttons below "Write a comment" field
Click Download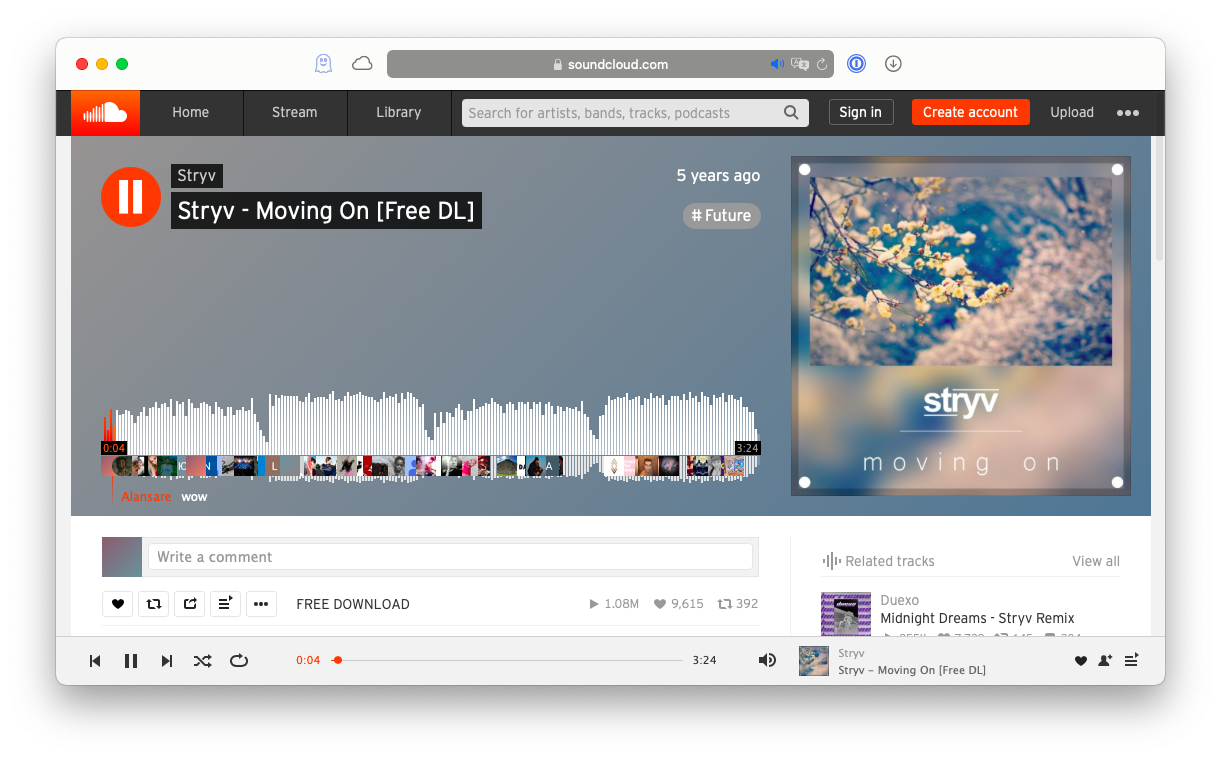 If you're just looking for any free songs to download from SoundCloud to sample or create new mixes, you can actually search the website for "free" and find lots of artists who indicate that the track is available at no charge right in the title.
One thing to note here is that you can download SoundCloud songs this way but not playlists. So if you want to listen to your favorite playlists offline, you have to use another way to get them.
How to convert SoundCloud to MP3 online
The beauty of software is that someone will always figure out how to do something that's not readily available but highly desirable by others. So, since lots of people have been having troubles getting music from SoundCloud to their computers, offerings of SoundCloud downloaders have exploded.
One of the popular options here is soundcloudtomp3.co, which as you can guess by the name is an easy way to convert SoundCloud to MP3 and do it directly online, without installing any extra software. This SoundCloud downloader can use the URL of any of the 125 million tracks on the website and get them to your desktop in no time.
Here's how to get music from SoundCloud:
Copy the URL of any SoundCloud song
Visit soundcloudtomp3.co
Paste the URL into the field
Click Download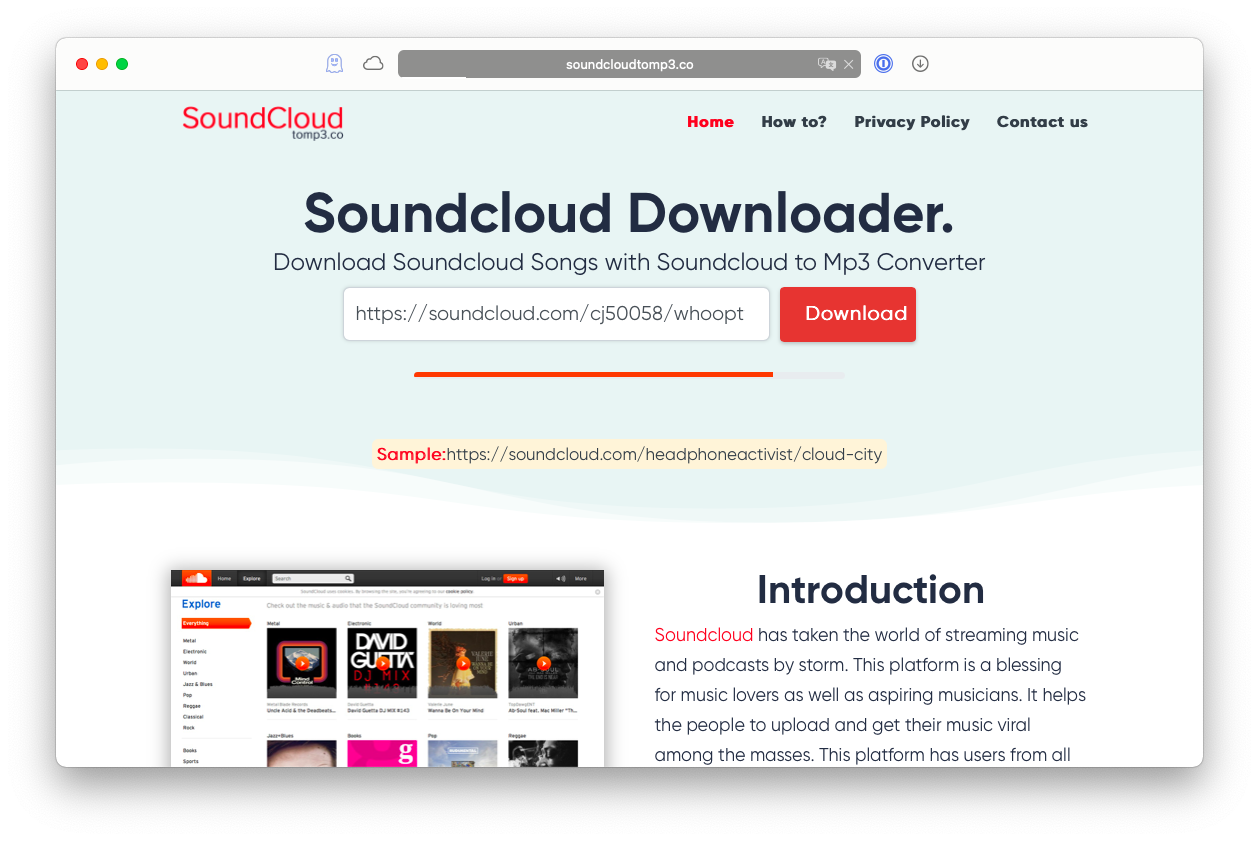 If a new random website opens up, don't worry — just return to the previous window where you'll be able to proceed with a download. Then repeat the process as many times as you want!
How to download SoundCloud songs with PullTube
While you're able to use various online SoundCloud downloaders for free, most of them are infested with ads, malware, spam, and won't give you the high-quality output that you should be looking for.
So if you care about extracting great-sounding audio, keeping your privacy, and not endangering your Mac in any way, a professional desktop app designed to convert SoundCloud to MP3 would be a much better choice.
PullTube is an all-in-one Mac-based audio and video downloader for more than 1,000 most popular websites, from YouTube to Vimeo to Facebook to Instagram — you name it!
The advantages of using PullTube are multifold. You can download multiple URLs at once and get complete playlists to your Mac in seconds. You can choose the format you want to convert your tracks into, whether it's MP3 or M4A. You can trim the audio and only get a specific part of a long DJ set, for example. You can use custom shortcuts and browser extensions to make the whole process truly effortless. And, finally, you can grab subtitles along with any video you're about to download.
To download from SoundCloud with PullTube, simply:
Copy the SoundCloud URL
Launch PullTube
Paste the URL into the bar
Choose your audio format
Click "Download video" (even if it's not a video)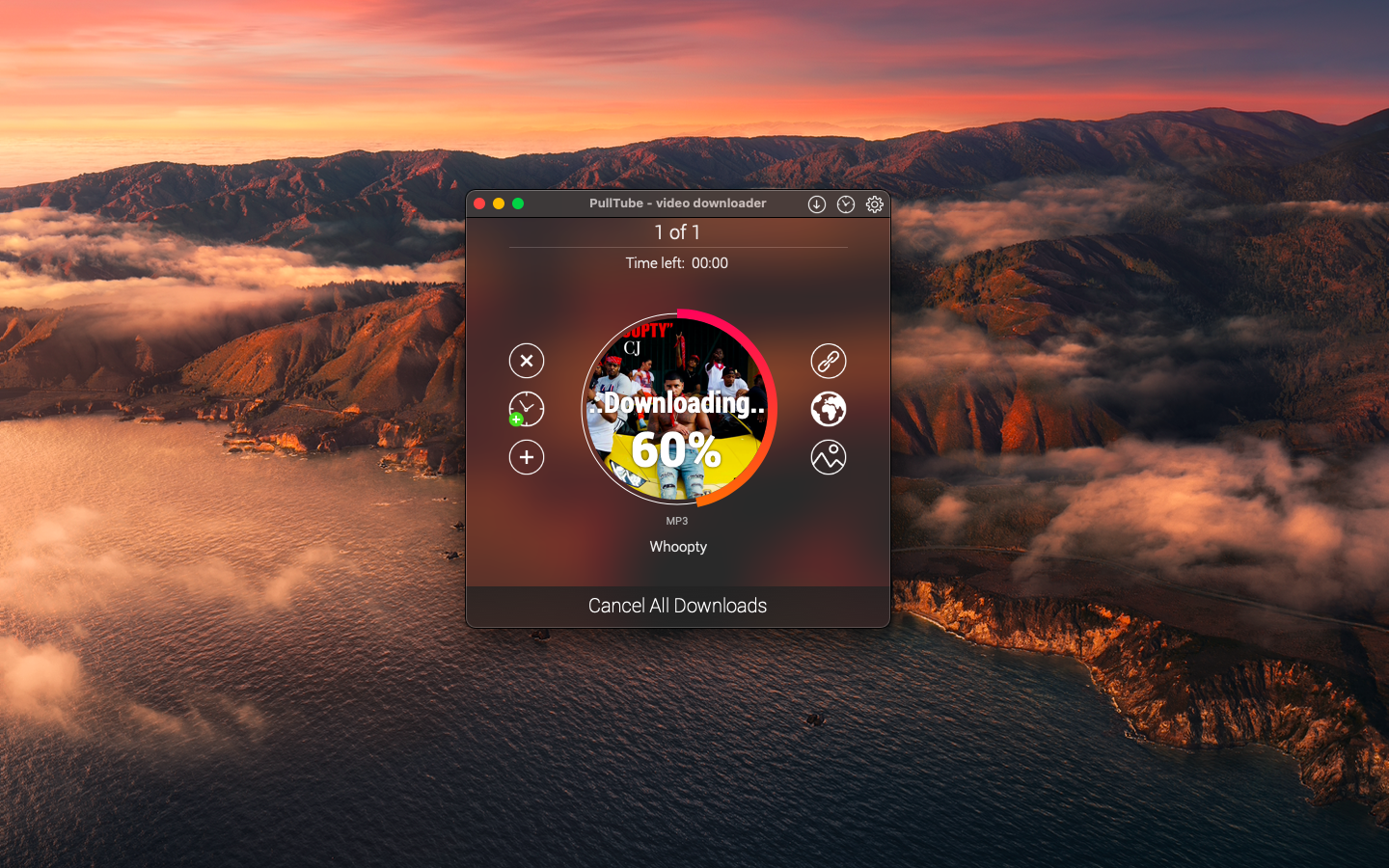 How to download music from SoundCloud with Downie
While PullTube is a great option anytime you need to download songs from SoundCloud, there are other apps as well that might fit you better, so don't stop there.
Downie is another easy-to-use SoundCloud downloader. In fact, it works for more than 1,200 websites and has search functionality built right into the app. And if you've already found an audio track you want to download, just paste in the URL or even drag and drop it onto the window. Multiple extensions for every browser are also available.
Just like PullTube, Downie is able to extract audio from any video file in the MP3 format. But what makes it unique is its beautiful interface and some secret technology that lets you download full 4K videos from YouTube without any loss in quality.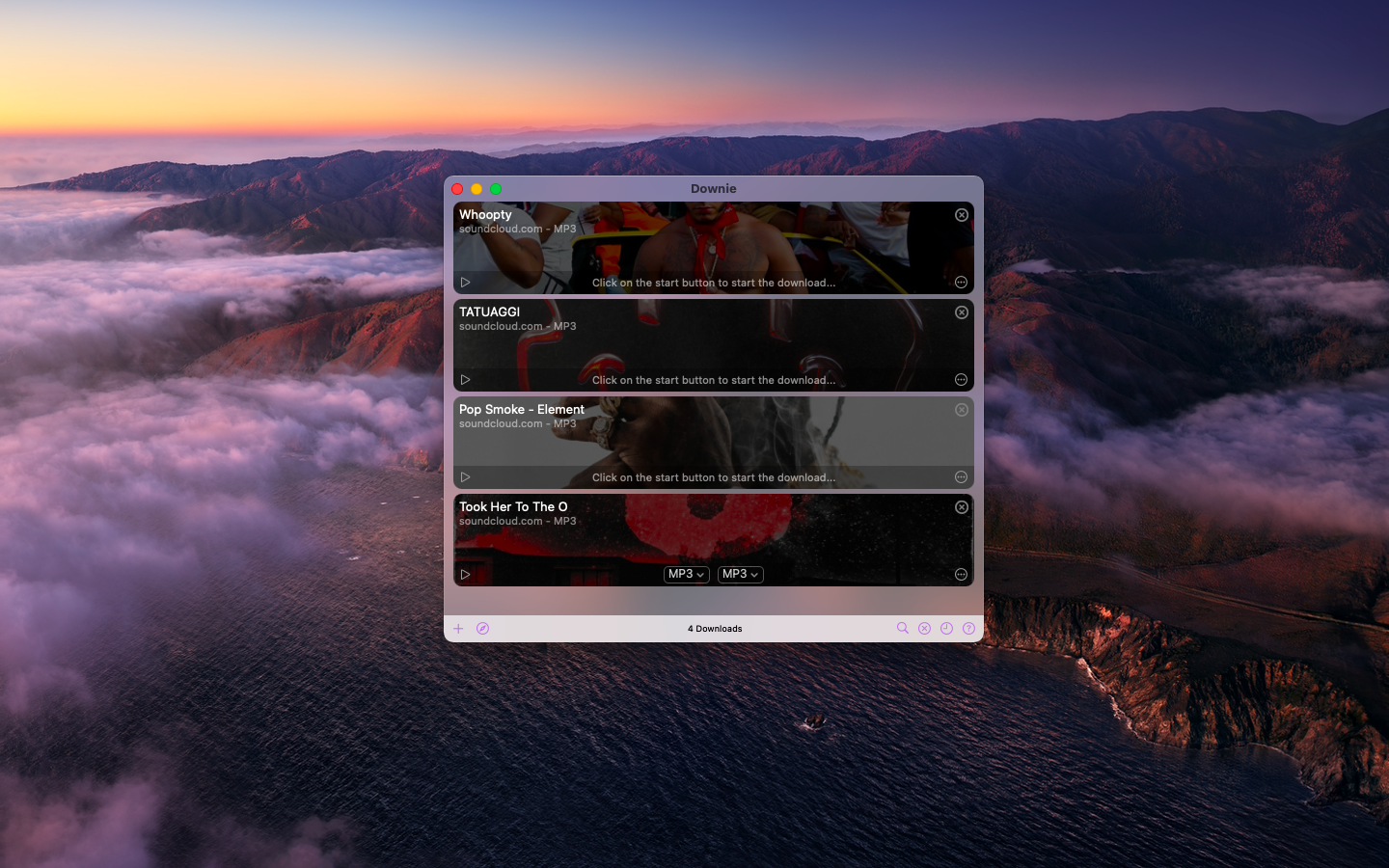 As you can see, filling up your devices to the brim with music from SoundCloud doesn't have to be difficult. You can subscribe for SoundCloud Go or Go+ and listen to anything you want through the SoundCloud app, you can download any track online with a website like soundcloudtomp3.co, or you can use a professional SoundCloud downloader and get the highest quality of audio files with PullTube or Downie.
Best of all, PullTube and Downie are both available to you absolutely free for seven days through a trial of Setapp, a platform with more than 220 best-in-class Mac and iPhone apps ready to solve any problem, from mastering your finances with Chronicle to freeing up storage space with CleanMyMac X. Try every Setapp app today at no cost and find out where you've been missing out!