Your Guide To The New Pandora App For Mac
Pandora isn't just an internet radio station — it's an innovative way to discover new music, comedy, and podcasts you'll absolutely love.
The product of the Music Genome Project, Pandora's unique algorithms are designed to bring you new music based on your established tastes. This differentiates Pandora subscription from other streaming services and positions it as a portal for discovery.
All you need to do is input a band or genre that you enjoy, and the Pandora music website will generate a new Pandora station to deliver songs that match your pick across 500 musical traits.
Even better, you can train Pandora to your tastes by giving a thumbs up or thumbs down to each song. The best Pandora stations are naturally the ones that you've tailored yourself.
Recently, Pandora expanded its services by releasing a new Pandora Mac app. While there are also plans for a Pandora desktop app for Windows, right now the native Pandora app is a Mac exclusive.
Your Guide To The New Pandora Desktop App
The best thing about the Pandora music app is that it comes packed with features that aren't available on the web player. So let's dive into the guide for how to install and use the new Pandora Mac app the right way.
Pandora app download for Mac
First things first, you can find the Pandora app download at pandora.com/desktop. Note that you'll need macOS 10.10 or later. As soon as the app is downloaded, launch the installer and go through the steps to set it up.
Don't forget that you'll need your Pandora radio login information to use the app. If you haven't registered already, you can do so at pandora.com/account/register.
It's also worth pointing out that if you're a student or a member of the US Military (reserve, active service, or veteran), you can get discounts on Pandora Premium. Students can get the premium Pandora subscription for only $4.99, whereas it's $7.99 for military (savings of 50% and 20% respectively).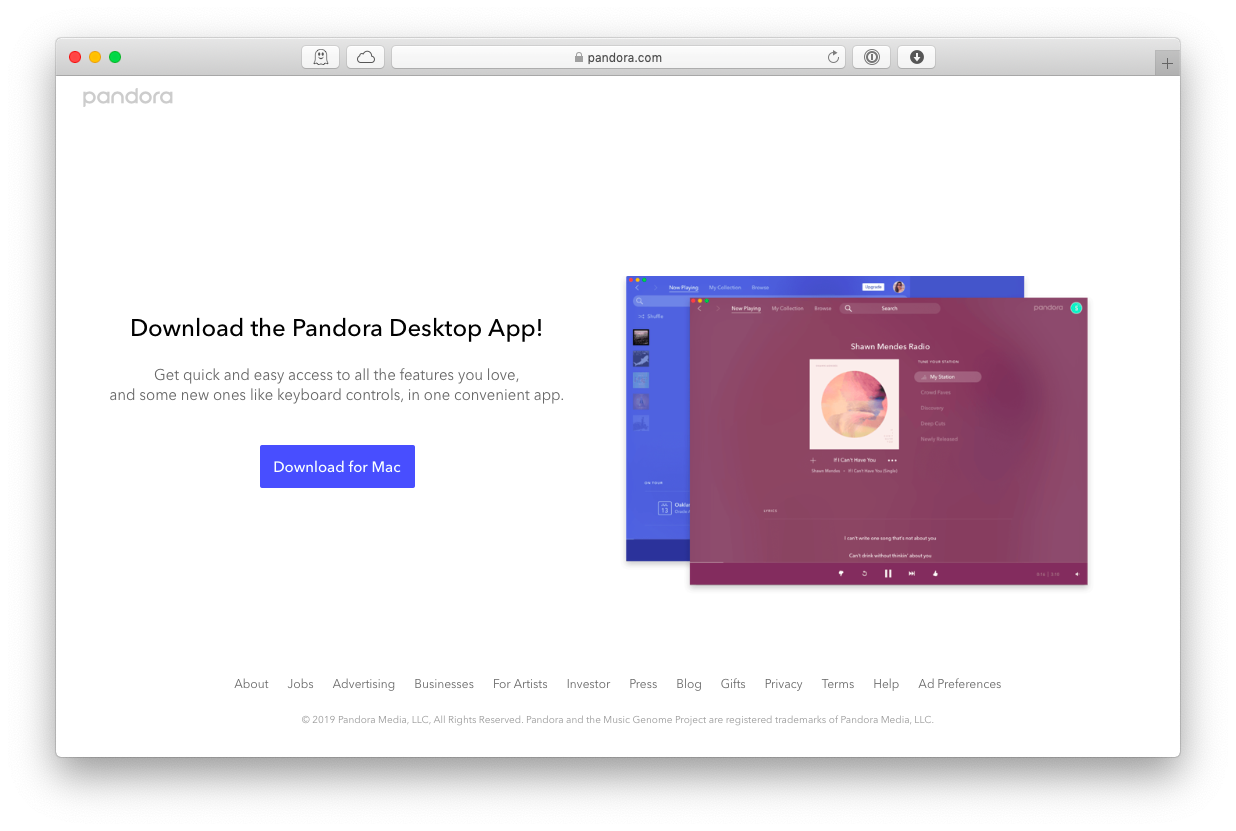 Best Pandora desktop app features
Have you ever been hard at work, listening to music with an open browser, only to close it by accident before remembering it was also your music player? A small annoyance, sure, but it's strangely aggravating when a song you were enjoying cuts out part-way through because you weren't paying attention.
Fortunately, the Pandora desktop app means this irritation is a thing of the past. The app runs in the background, unaffected by how you use your browser. Its sleek, clean design is based on top mobile apps and just as easy to use.
One feature that leaps out is the graphical Now Playing window. The Pandora Mac app's default setting for this notification is to fade in and out whenever a new song starts playing — no more scrambling to find out what track it was.
Convenient Pandora app keyboard controls
One useful feature of the Pandora app that doesn't exist in the browser is a full suite of keyboard shortcuts for controlling the music player. This is especially handy if you're working in another app and don't want to waste time shifting over to your trackpad. Just ⌘ + Tab to highlight your Pandora internet radio player and use the following commands to control the tunes without lifting your hands from the keyboard:
Space: play / pause

Right-arrow: skip song

Plus: like song

Minus: dislike song

Up-arrow: increase volume

Down-arrow: decrease volume

Shift + up-arrow: full volume

Shift + down-arrow: mute
With just a little bit of practice, you'll become a Pandora app ninja, executing commands without even thinking about them. Keyboard functionality is highly underrated and a great Pandora feature overall.
Specific Pandora modes
The Pandora Mac app features something that Pandora online has been experimenting with for a while now: Pandora Modes.
Pandora Modes give you more input into the Pandora stations you create. Want to focus on deep cuts from the artists you love? You can tell Pandora to favor the back catalog. Want to keep up with the latest and greatest? Set the mode to New Releases. Want to keep the party going? Use Crowd Faves.
There's a whole host of Pandora Modes that let you dictate what sort of music Pandora radio will select for you, and the feature is now fully integrated into the Pandora desktop app.
Are there podcasts on the Pandora app?
If you go to the Pandora music website, you'll see that it features Pandora online podcast streaming. In fact, they even launched the Podcast Genome Project in 2018 to recommend new podcasts for their users, similar to what they are doing with Pandora stations. Unfortunately, you can't listen to podcasts on the new Pandora Mac app, as they focus on developing the app for music play at the moment.
This isn't a great loss — there are plenty of podcast apps that don't stream music too. Still, let's hope podcasts become available on Pandora in the future.
How Pandora radio stacks up against the competition
Pandora was one of the first music streaming services to hit the internet. And even today, it still absolutely holds its own with its robust music recommendation algorithms against competitors like Spotify and Apple Music — the app truly broadens your music horizons.
The Pandora app is less feature-rich than iTunes and Spotify, but it doesn't really need to be everything. It plays music, it sounds good, and it frees up your browser admirably.
Basically, what makes or breaks the Pandora app are whether or not you like the service enough to pay for a Pandora subscription. If you love to discover new music, then Pandora offers a curated selection that even Spotify can't compete with. If you're already subscribed to another music streaming service, the Pandora app is not likely to change your mind.
Tune your Mac sound with these apps
While Pandora internet radio's browser app will suffice for some people, there's no beating a native app for macOS. The combination of keyboard shortcuts and not having to search through dozens of tabs to find your music player makes having a desktop app infinitely better. Dedicated apps mean running what you need instead of cluttering up your browser with plug-ins and extensions.
Want to make Pandora internet radio even better on your Mac? Try using Boom 3D, an app that puts you fully in charge of your Mac sound. Boom 3D gives you system-wide volume boosting and equalization options, meaning you can tune up your audio output exactly the way you want.
Macs are beautiful, no doubt, but their sound leaves a little something to be desired — so why not unleash your speakers' full potential. Use Boom 3D's straightforward slider interface to match the style of music being played. And with virtual surround sound, you fully immerse into the experience. Plus, Boom 3D has a remote app, so your Mac could turn into a proper media center.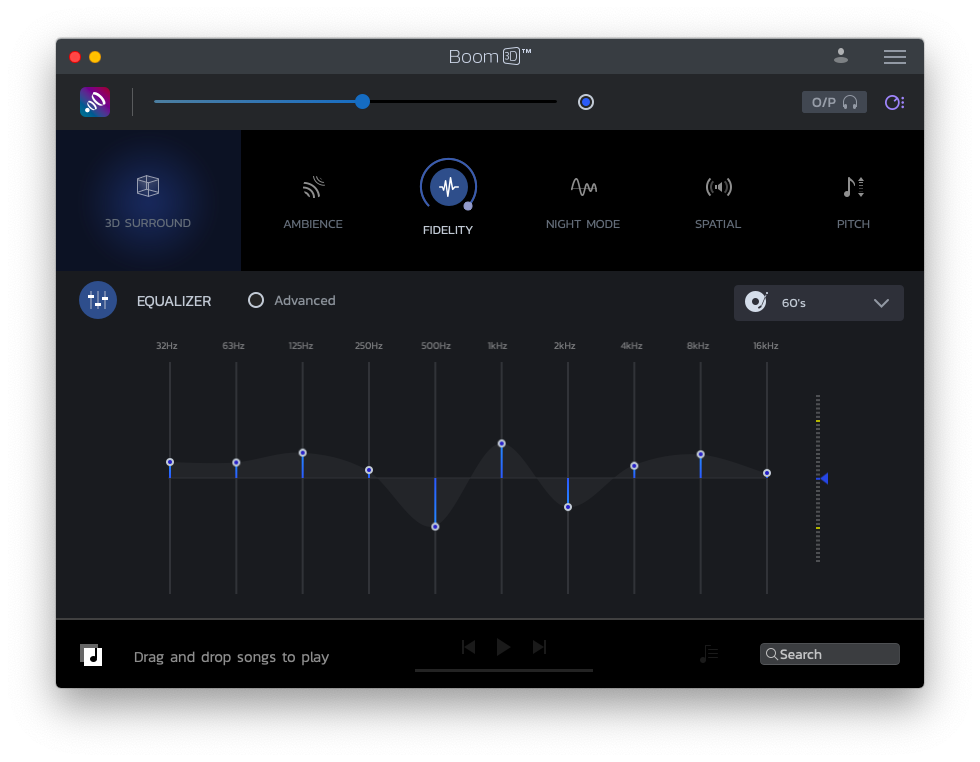 Listening to music on your app is awesome. But if you want to actually make your own music, there's no beating the value of n-Track Studio. This multi-track recording app turns your Mac into a high-level studio setup.
The magic of n-Track Studio is that it's a full Digital Audio Workstation (DAW) at a fraction of the price of its competitors. Not only can it record live music, but it comes with a drum machine and sequencer, so that you can build your tracks from the ground up using its intuitive interface. Whether you're just looking for a program to record your jam sessions or a professional DAW to enhance your workflow, n-Track Studio is a great choice.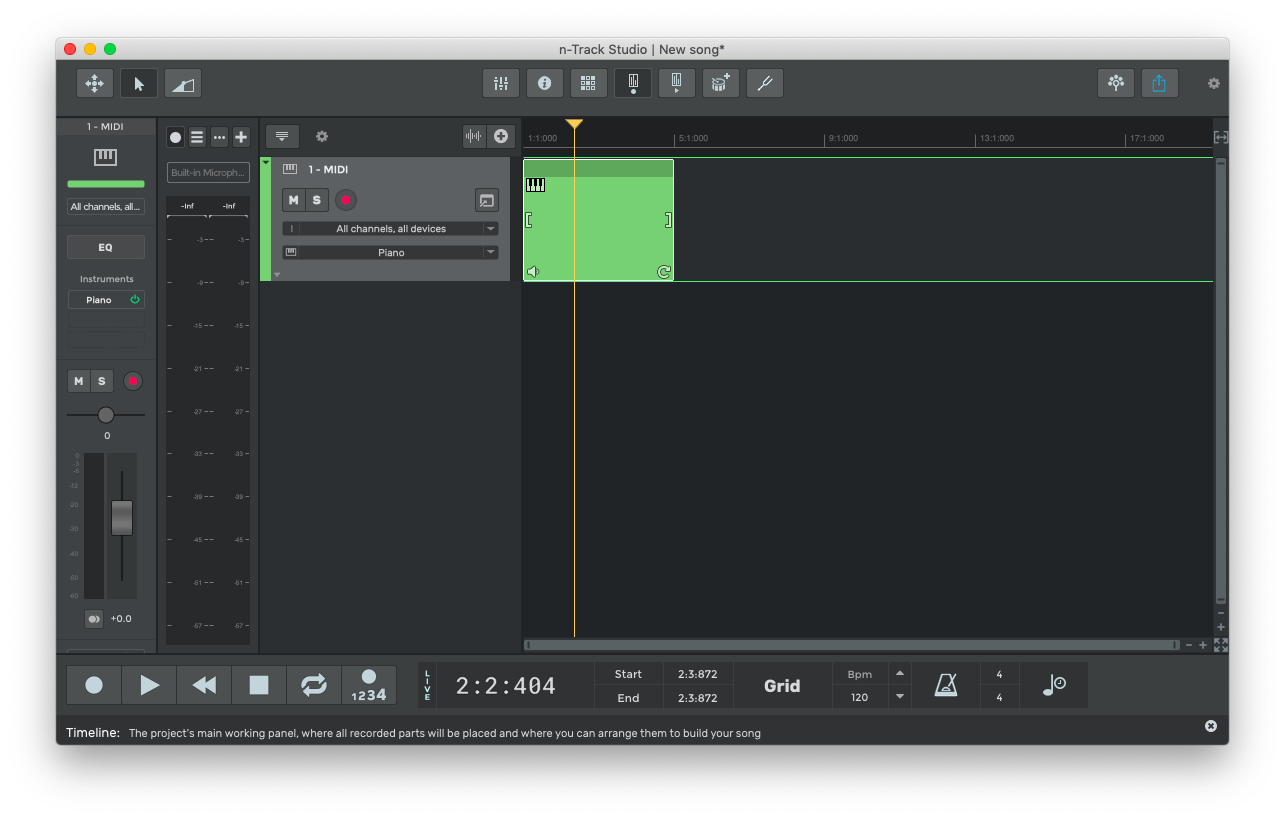 Best of all, both Boom 3D and n-Track Studio are available for a free 7-day trial from Setapp, a massive subscription library of Mac apps, with over 150 titles ranging from task managers to invoice solutions. All apps update automatically, so there's no need to worry about keeping your machine up to date. Now, what are you going to play?