How to use Spotify on Apple Watch in 2023
Thanks to Apple's hyper-connected ecosystem, you can navigate and sync your Apple devices with little effort. Unlocking Mac with Apple Watch? Easy! (You should really set up this unlock method if you haven't yet, it's such a time saver). Paying with your watch without iPhone? Hold Apple's beer! Downloading Spotify playlists to your watch and playing them without iPhone? That's what we'll focus on today. Spoiler: It's possible.
How to get and play Spotify on Apple Watch
Can you play Spotify on Apple Watch? Yes! First, let's figure out how to get Spotify on Apple Watch. Initially, you'll need your iPhone to set it up:
Download Spotify app on your iPhone
Open the Watch app and scroll down
Found Spotify? Click Install
If prompted, type your Apple ID password to confirm the installation on Apple Watch.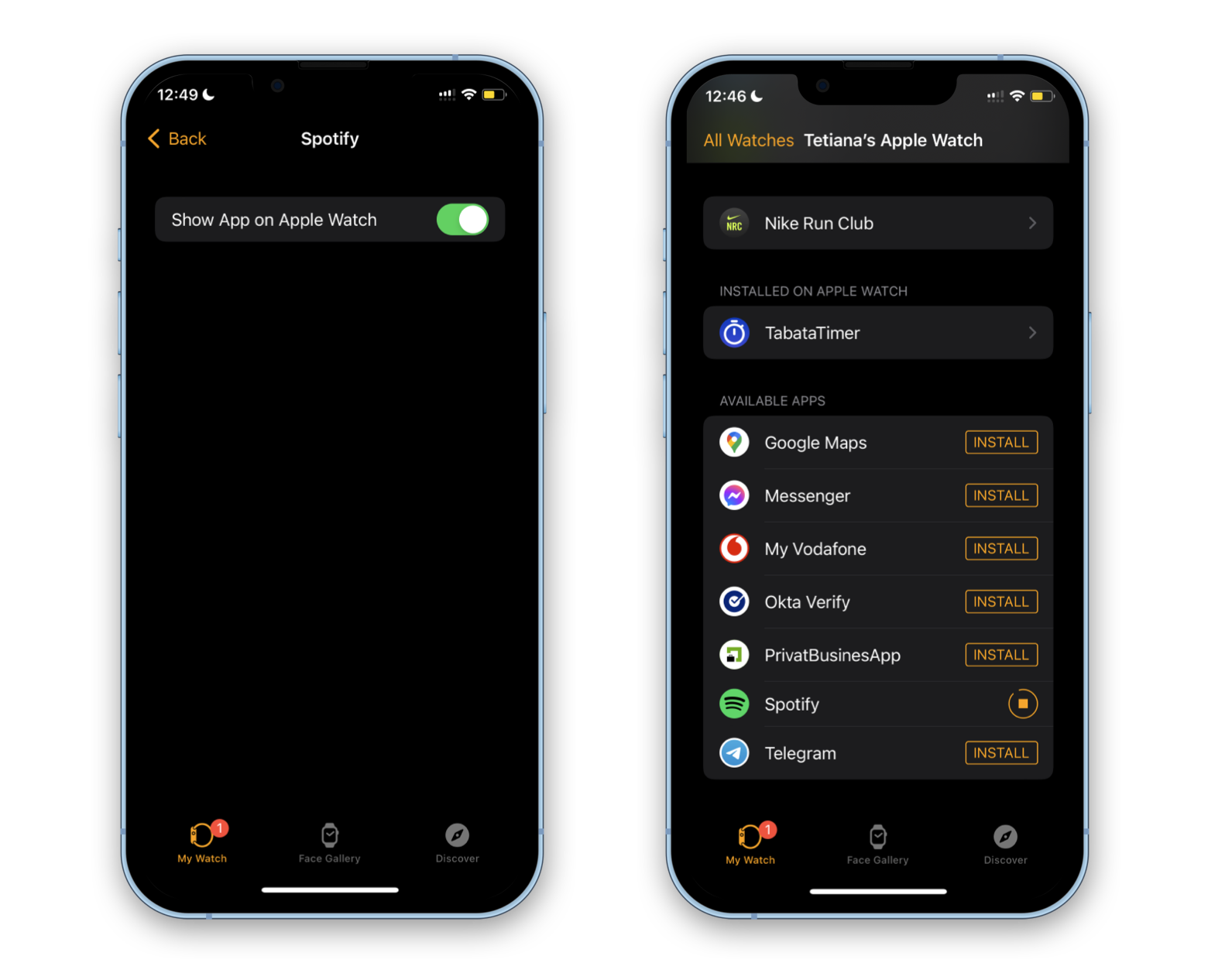 Note that your devices should meet the following requirements to enable Spotify installation on Apple Watch:
iPhone running iOS 12 or later
Apple Watch running watchOS 6.0 or later.
If you can't install Spotify on Apple Watch, try the following:
Ensure your iPhone is connected to Apple Watch via Bluetooth
Log in to your Spotify app on iPhone
Check your internet connection
Update Spotify app on iPhone via the App Store
Learn how to re-download Spotify right on your Apple Watch.
Once you manage to get Spotify on Apple Watch, you'll see it on the Home Screen. Next, we'll explain how to play Spotify on Apple Watch.
How to use Spotify on Apple Watch
We've already praised Apple's connected ecosystem, but we'll do it again. We love it that you don't have to open Spotify separately on your iPhone and Apple Watch when you want to play some music. Once the app is installed on both devices, you can just play any song or podcast on iPhone, and the "now playing" screen will pop up on your watch.
Here's how you can control playback and manage your Spotify library from Apple Watch:
Tap the play/stop/resume button in the middle
Tap the heart to add the now-playing song to Liked Songs
Tap the connect icon in the bottom right to choose where you want to play your audio (if you're wondering "how do I play Spotify through my Apple Watch with my AirPods?" — Spotify Connect is the answer)
Swipe left to see your Spotify library and downloads
Swipe right to see the current album/playlist
Turn the digital crown to change the volume.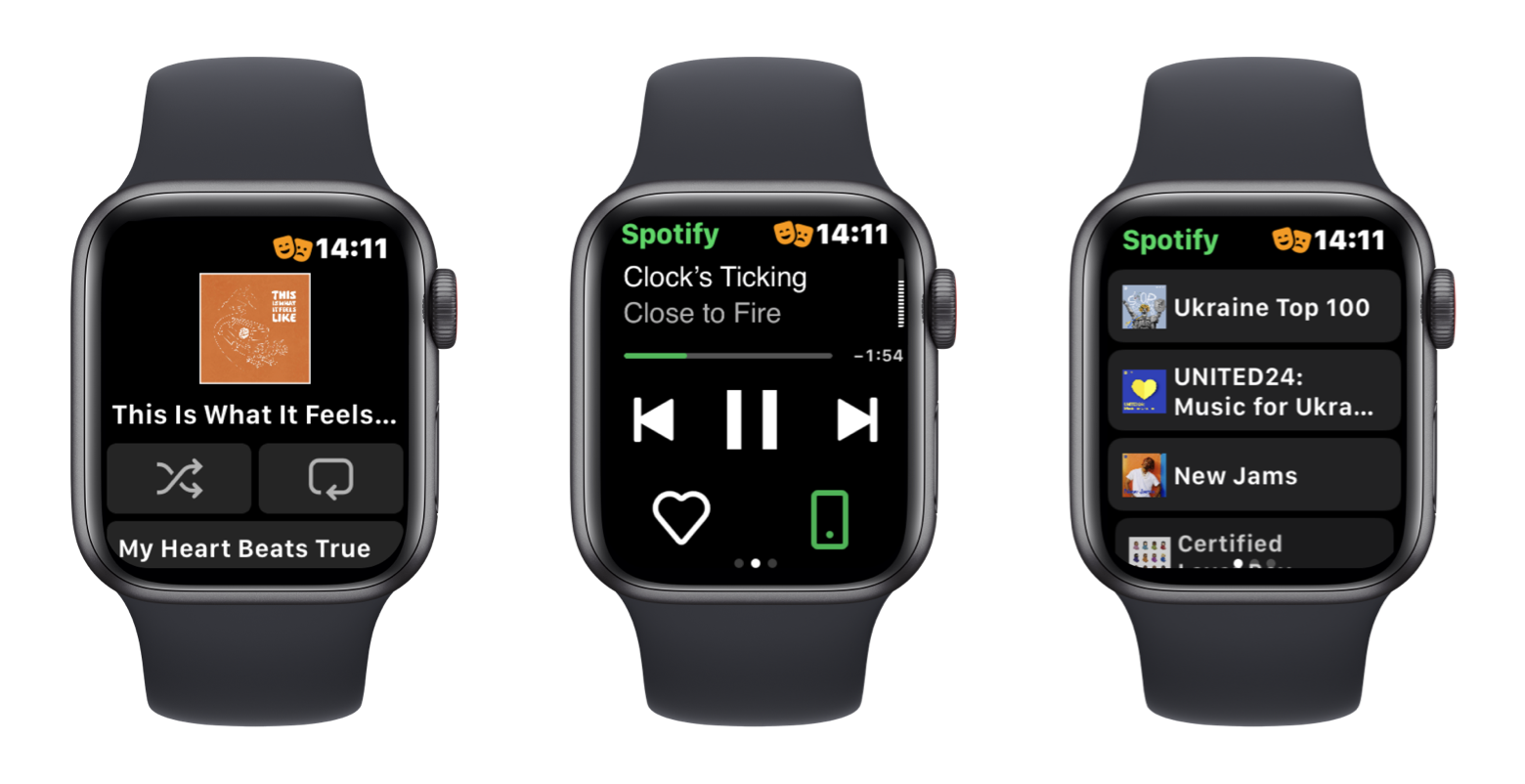 Is it possible to play Spotify on Apple Watch without iPhone offline?
The ultimate question is this: can you use Spotify on Apple Watch if you've left your iPhone at home? Luckily, yes! But there are a few important prerequisites.
You can enjoy listening to Spotify without carrying your iPhone with you, if you have your playlist/podcast downloaded to the watch. The download feature for Apple Watch has been a long-awaited one, and finally Spotify has added it!
Can you play Spotify on Apple Watch without phone if there's no internet connection? The answer is yes, provided you've previously downloaded your music.
Here's how to create your Spotify Apple Watch offline setup:
Ensure you have a valid Spotify Premium account (the download feature is unavailable for free account users)
Check your internet connection — you'll need it to run the download process
Update the Spotify app if necessary. Remember, your Apple Watch should be running watchOS 6.0 or later.
All good? Now let's download some Spotify music to Apple Watch:
Open your Spotify app on iPhone
Find the playlist you want to download and tap the three dots next to it
Choose Download to Apple Watch.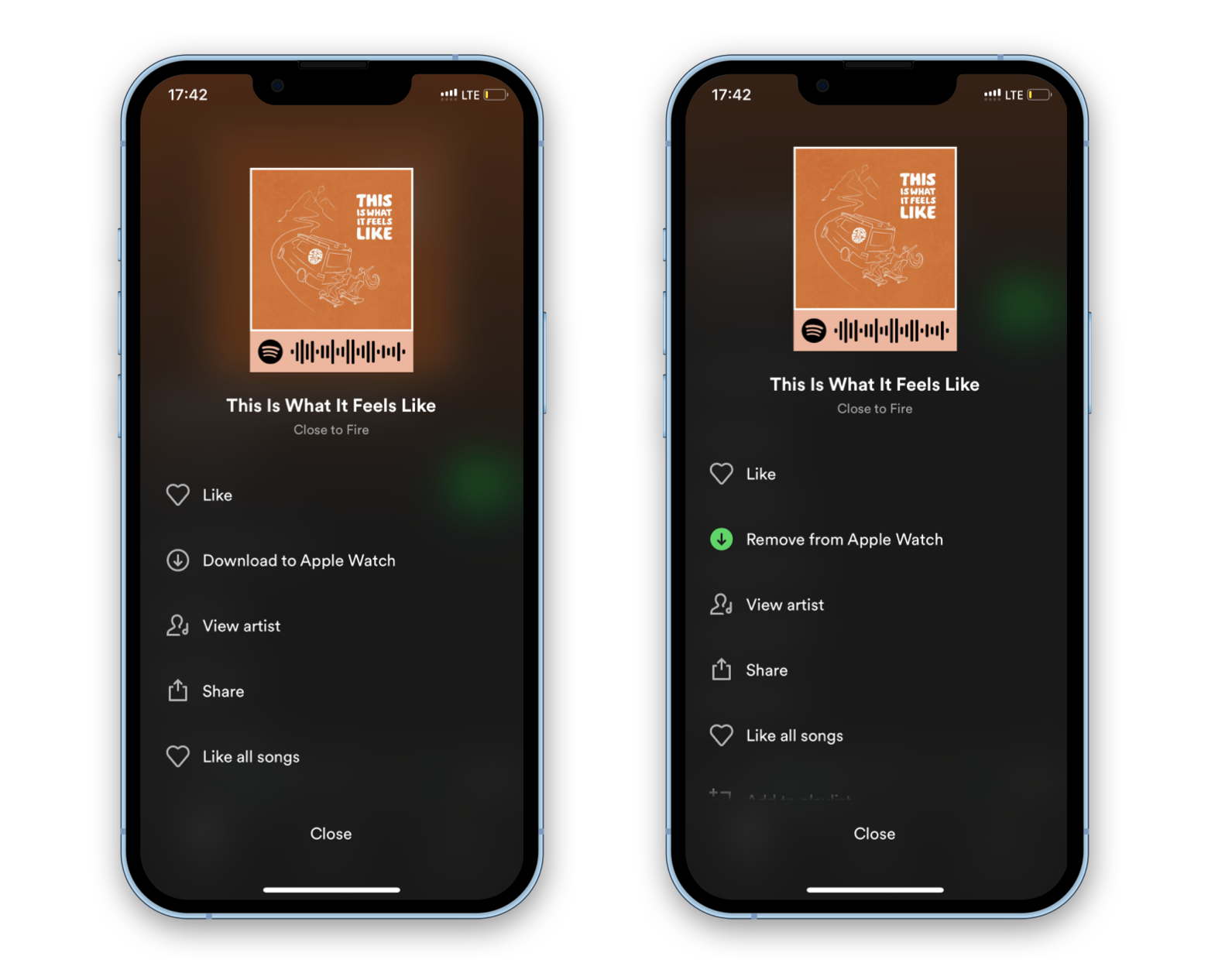 Note that you can only download up to 50 songs per playlist to your Apple Watch.
How to sync your media across Apple devices with ease
Now when you know how to listen to Spotify on Apple Watch, let us give you a tip on how to manage your media content across other devices. This is super useful if you don't want to rely on iCloud due to storage limitations, or if you need to quickly transfer your music, images, and other data from an old device to a new one.
AnyTrans for iOS is a stellar app you won't regret installing on your Mac. Connect your iPhone to Mac with AnyTrans installed, and you'll have an overview of all your iPhone content. You can sync or delete folders, move data from iPhone to iPhone, iPhone to Mac, or Mac to iPhone within minutes. AnyTrans also lets you navigate certain categories of data that other tools rarely deal with, such as contacts, for example.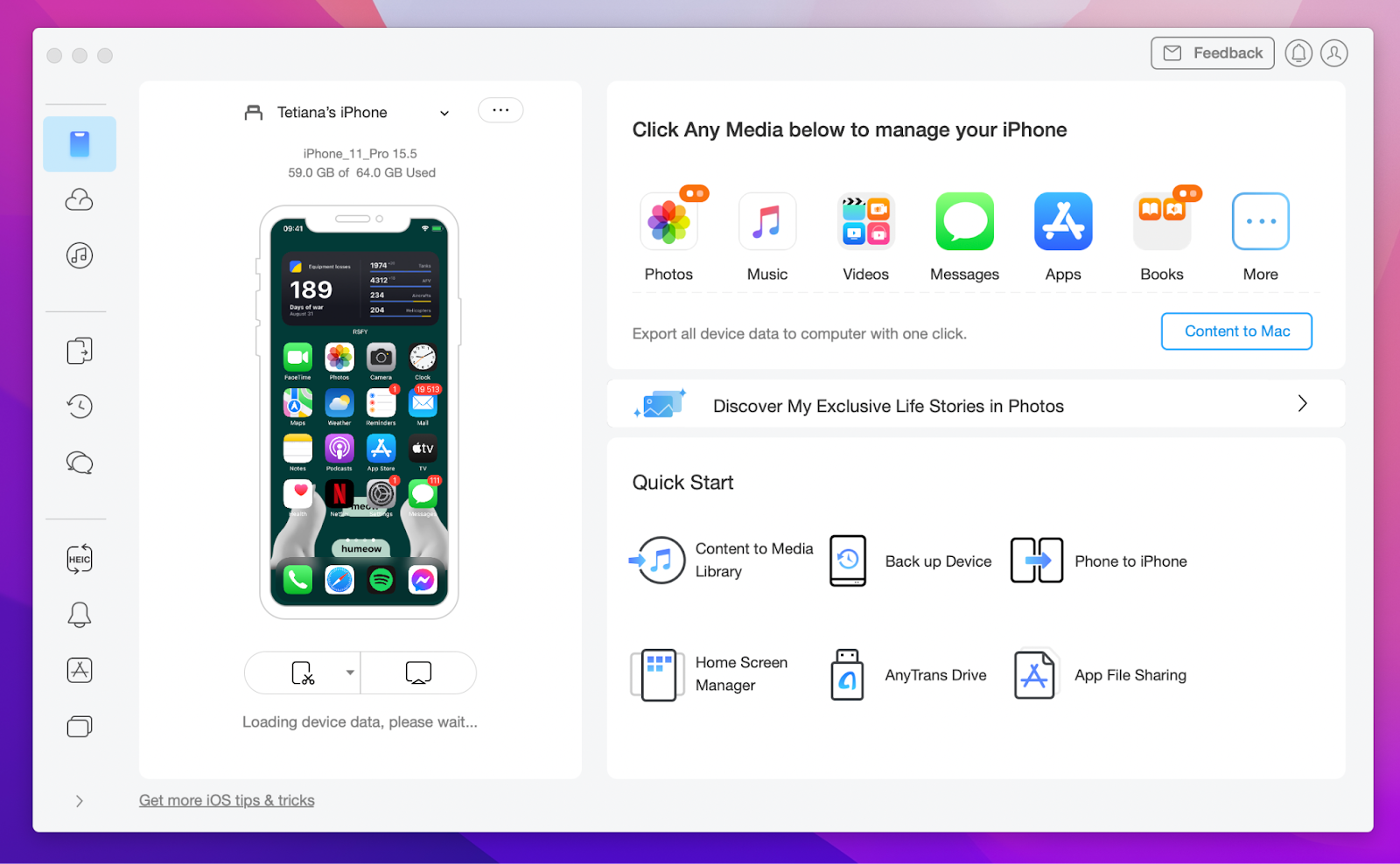 If you're wondering "how do I sync my Spotify to my Apple Watch," the answer is you don't have to! Your library will be synced automatically. However, if you want to access your downloaded music on Apple Watch, you'll have to download it separately. And don't forget about the 50 songs per playlist limit.
Bonus: Get free productivity playlists
Tired of putting the same Spotify playlists on repeat during your workday? Here's something fresh: Setapp productivity playlists.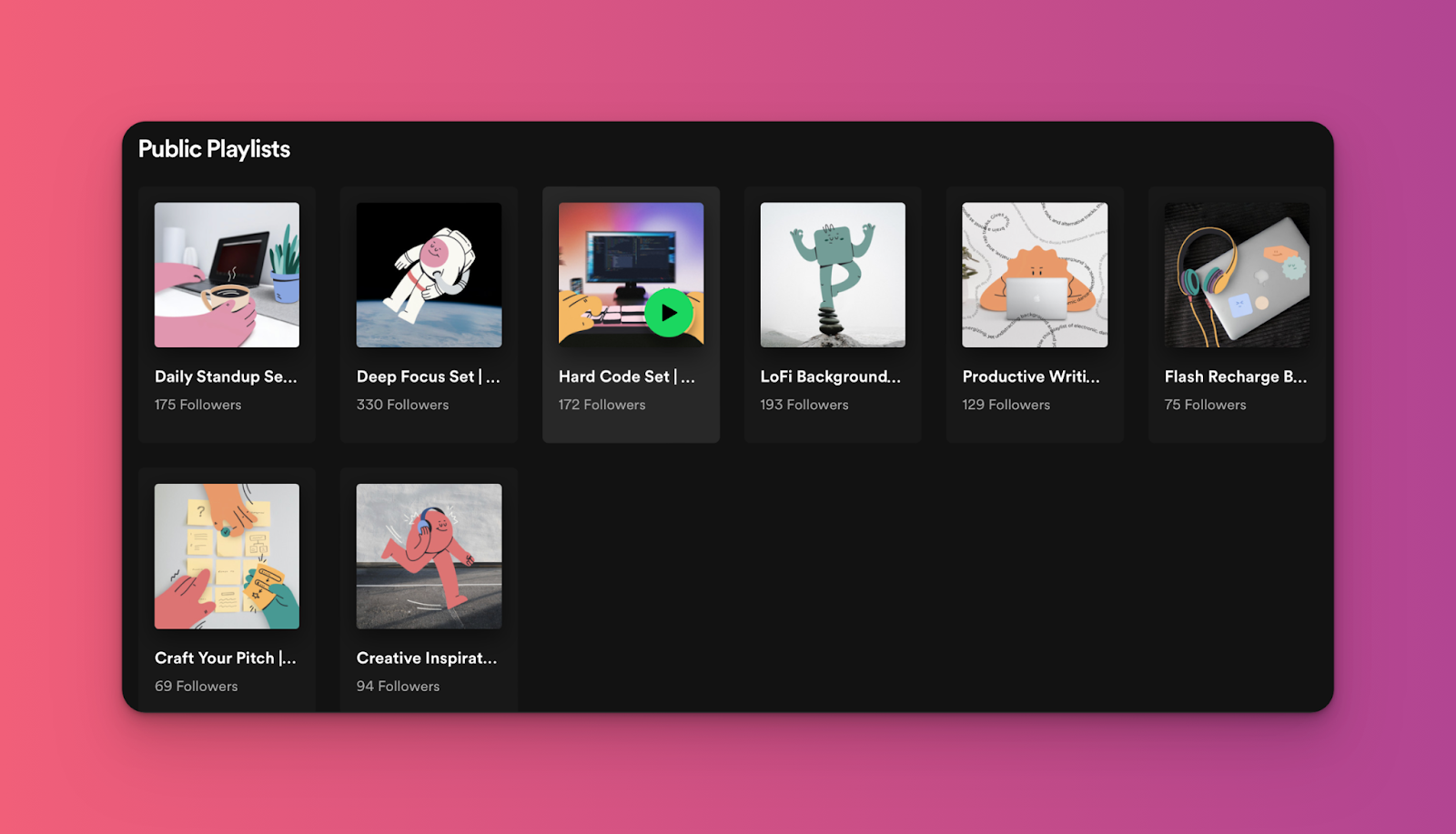 Extra tip: Focus with AI soundscapes
GetSound is the perfect solution if you are looking for a playlist with no pauses, unexpected song switches, or distracting vocals.
The app generates AI soundscapes in real time, based on your location, time of day, and local weather. The sound is customizable and you can pick an environmental layer to go with your location, e.g. Coffee Shop, Forest, Lake, Office, and much more.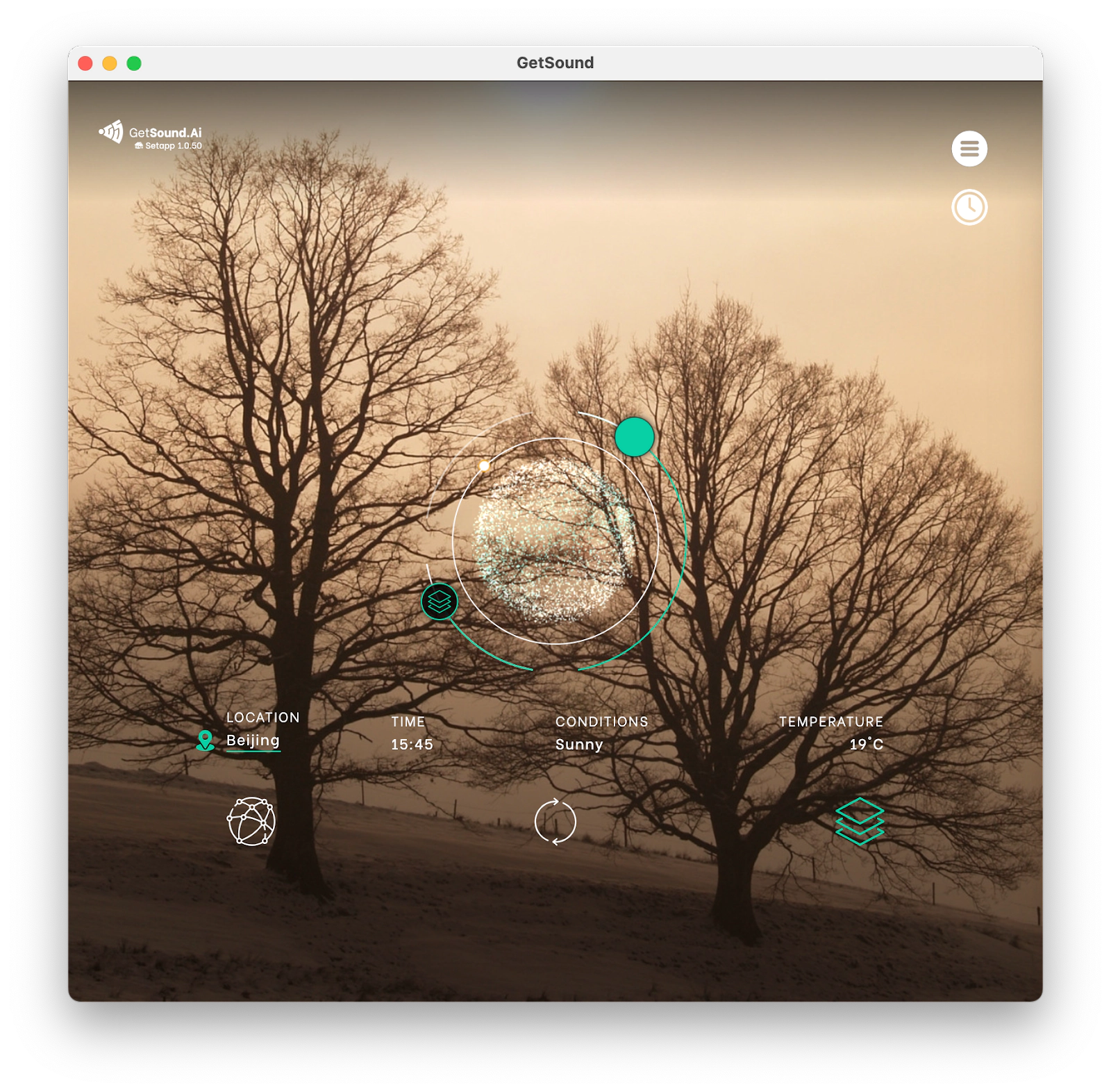 Wait, what's Setapp? Essentially, it's an app subscription service that opens up access to 230+ Mac and iOS apps in one place. But it's also so much more! Setapp has how-tos, app collections, and tons of content that can help you automate your routine and solve tasks faster.
Since Setapp recognizes how essential it is to go through your daily flow with the right tunes, it has curated unique productivity playlists — for daily stand-up, deep focus, writing, etc. They are all freely available on Spotify. So feel free to grab and sync them to your Apple Watch.
And if you're curious to try out Setapp apps, you can sign up for a free 7-day trial. By the way, AnyTrans for iOS that we've mentioned before is included in the subscription. What's more, Setapp has some great music apps such as Lofi Garden — a never-boring menu bar playlist, and Silenz — an app that lets you set up focus mode sound on Mac.
Summing it up, Spotify for Apple Watch is a magnificent perk if you'd like to listen to your music on the go, without an iPhone or internet. The answer to the question "can you play Spotify on Apple Watch?" will depend on which OS version your iPhone and watch are running and what type of Spotify account you have, but listening to music on Apple Watch is generally very straightforward.