Combine all your messaging clients into one
Communicating with friends, work colleagues, and teammates around the world has never been easier, thanks to smartphones and the huge range of options for sending and receiving messages instantly on your Mac.
Often, when you're working, using a phone to send and receive messages isn't convenient — it's much easier use your Mac, especially if you want to share documents and images.
You could, of course, try and encourage everyone you communicate with to use the same platform, but given that some of them will be overseas and others working for companies who have their own policies, using multiple messaging clients is often a necessity.
That brings other problems, namely having to use multiple applications and use lots of login names and passwords. That also means having several windows open and generally cluttering up your screen.
Combine messaging apps you need
The solution is to use an aggregator for instant messaging apps — one app that brings them all together. IM+ is a good choice here. It allows you to connect up to 15 different messaging platforms, including Facebook, WhatsApp, Twitter, Slack, WeChat, Instagram, and Google Hangouts.
IM+ can handle personal messages and chats. You only have to log in once and IM+ connects you automatically to all the accounts you have set up. It's truly a universal messaging app for Mac. You can even set up multiple accounts on the same platform, such as personal and corporate Twitter, and access them all. And to make it easier to tell them apart, you can choose an accent color for each account when it's displayed in the sidebar. Each messaging service appears in the sidebar using its native icon to make it easier to spot and, when you have a new message, a flag appears on the icon, just as it would in the native app.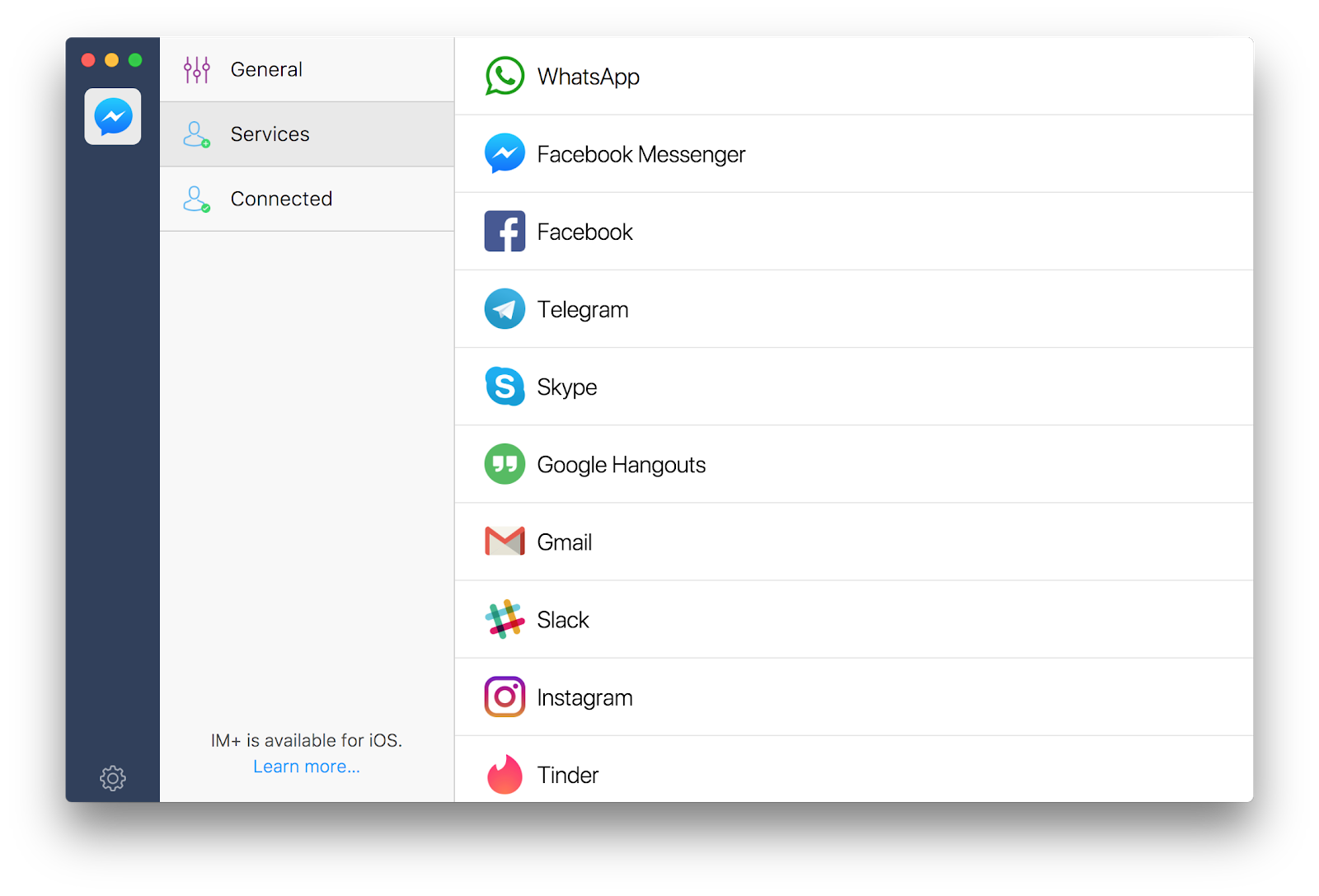 If you want notifications for some services but not others, you can specify that in the settings when you add the account. And if you want to share files, you can do that too!
Putting all your messaging accounts in one app is a huge time saver and makes it much easier to keep track of conversations — you don't have to remember to open each individual app. And if you use IM+ for Twitter, you can even use it to monitor your timeline and mentions, as well as your direct messages.
What about other universal messaging apps
There are no default alternatives to IM+ on your Mac, but you can of course find some from other developers, such as Franz, Rambox, and Trillian, all of which allow you to connect to multiple messaging accounts from one app. And if you'd prefer to work inside a browser, there's All-in-One Messenger. However, if you require native speed, convenience, and polished look, nothing beats IM+ in our book.
Moreover, IM+ is particularly suited for business use by supporting LinkedIn and Slack. And with the inclusion of WhatsApp and WeChat, the app has become a truly global messaging solution. Best of all, you can try IM+ for free with a 7-day trial from Setapp, along with over 150 high-quality Mac apps. Get productive today!